Desktops & Monitors
Dell U2717D vs Dell U2715H IPS
Product Comparison: Dell U2717D vs Dell U2715H IPS
X
This site is a free online resource that strives to offer helpful content and comparison features to its visitors. Please be advised that the operator of this site accepts advertising compensation from certain companies that appear on the site, and such compensation impacts the location and order in which the companies (and/or their products) are presented, and in some cases may also impact the scoring that is assigned to them. The scoring that appears on this site is determined by the site operator in its sole discretion, and should NOT be relied upon for accuracy purposes. In fact, Company/product listings on this page DO NOT imply endorsement by the site operator. Except as expressly set forth in our Terms of Use, all representations and warranties regarding the information presented on this page are disclaimed. The information which appears on this site is subject to change at any time. More info
About the Product
The Dell UltraSharp 27 monitor allows you to enjoy widescreen images without borders. It is ideal for professionals who want to use all the features of a desktop computer.
Let your work come to life in precise color detail, with sharp QHD resolution and extensive connectivity options for outstanding usability.
What customers say about "Key Specs"
Dell U2717D UltraSharp Infinity Edge Monitor
Picture is absolutely gorgeous. These monitors replace a single Samsung 24" that's many years old at this point and the improvement is noticeable.
This display is truly immersive, weather doing mundane office tasks or video games.
It's just the right amount of resolution too. 4K might be okay, but my laptop screen is almost too dense sometimes.
Colors are accurate, the display itself is sufficiently bright, and the refresh rate is good enough for most applications.
This monitor is probably not a good choice if you work with videos or want to watch videos on it due to slow refresh rate, so keep that in mind.
Dell U2715H IPS UltraSharp LED-Lit Monitor
The resolution, although only 2K, is more than enough for almost any application. I never finding myself wishing it was a 4K monitor. The size is also perfect for me - big enough to edit 30MP photos, but not so big you have to turn your head to see from side to side.
Nice size/resolution, beautiful design, thin bezel, nice controls, nice software options (shutting off/dimming the monitor on screensaver is handy) good amount of options on the onscreen menu, decent refresh times, does ok at gaming.
The QHD resolution looks good at 27" - definitely a step up from 1080, but not so much that a good video card won't be able to deliver high frame rate (unlike 4k where you really need multiple cards to get decent FPS)
The monitor's display is very, very good and the 27" size and 1440p resolution are excellent. Some might find the ppi a little on the small side, but it is excellent for me. There is very little backlight bleed and no noticeable input lag - I use the monitor mainly for flight sims.
I find the size of this screen to be just about perfect and certainly a huge upgrade from the 21.5" 1680*1050 monitor I used to use as my main monitor.
Color Supported
16.7 Million
16.78 million
What customers say about "Display"
Dell U2717D UltraSharp Infinity Edge Monitor
The color accuracy is great on this thing. Good brightness and ready to go.
Brightness and contrast have a wide range. This thing can get really bright if needed, but also looks just as great at lower settings when working at night.
This has possibly the best screen I've ever seen. The colors look great.
Colors are trustworthy and the almost complete lack of bezel is actually a plus over the Asus.
Color tweaking options are comprehensive—I ended up using the Custom option with RGB turned to max. It really depends on your room's lighting and conditions.
Dell U2715H IPS UltraSharp LED-Lit Monitor
The color reproduction is superb out of the box, and with calibration it is amazing. It stays in calibration for over a month with no problem.
The color has been dead on, never had any lag issues (those tend to stem from your cpu and gpu guys), and it has held up really well.
The color reproduction is very good, very nice detail in blacks even at extremely low (1,1,1) vs (0,0,0) levels and bright pure whites. The color consistency however leaves something to be desired.
This is a very good all around monitor. It has great color reproduction and contrast, respectable refresh time, and a solid design that allows for easy position adjustment and cable management.
When they engineered this monitor they tried to keep the cost down and went cheap on the internal components. This has caused serious issues with lag and color.
Extras
Security lock slot, Anti-theft stand lock slot, MHL Support, 3H Hard Coating
ENERGY STAR Qualified, Has an arsenic-free glass and mercury-free LED panel
What customers say about "Features"
Dell U2717D UltraSharp Infinity Edge Monitor
The bezel is extremely thin all around, about a half inch, the monitor is light and can be easily raised and lowered without adjusting any knobs or anything.
VESA 100x100 mounting is compatible with most monitor stands/arms.
Most of the controls are on screen – and it is fairly easy to use.
Rotation from landscape to portrait is easy.
The physical display adjustment/menu buttons take quite a bit of pressure to press, but considering how seldom people will be using them, it's no biggy.
Dell U2715H IPS UltraSharp LED-Lit Monitor
I have had this monitor for almost 3 years now, and it still works great. The stand is fantastic, easy to adjust, and hasnt degraded at all over the years.
Decent stand adjusts up and down and includes basic cable tidying ability.
Control buttons are "touch sensitive" and a little awkward but once you get used to them they are fine.Monitor seems to be very adaptable as to height, viewing angle etc. even having a portrait position.
Look smart; nice adjustable height and angle. Nice sharp image, good colour and contrast, even display even from an angle.
Touch sensor menu buttons aren't terrible and I got use to them very quickly. Menu itself is clear and easy to use (classic dell menu).
Inputs
HDMI, DisplayPort, Mini DisplayPort, 5x USB, 3.5mm audio out
2x HDMI, DisplayPort in, Mini DisplayPort in, DisplayPort out, USB Type-B, 4x USB Type-A
What customers say about "Connectivity"
Dell U2717D UltraSharp Infinity Edge Monitor
Love the size and clarity. The USB 3.0 ports are an added bonus. I use this to display my MacBook Pro retina when docked and it's fantastic. The screen is very matte.
The HDMI, DisplayPort, and mini-DP connectors make this monitor great for laptop users who want an outboard monitor.
This monitor comes with plenty of ports for all kinds of connections many simultaneously.
The bad about the USB - they are all in the back. This is not convenient for swamping out USB drives, etc.
This is a great monitor except that it has an incompatibility with the Thunderbolt/DisplayPort connection on a MacBook Pro where the screen will periodically go blank.
Dell U2715H IPS UltraSharp LED-Lit Monitor
This is a great monitor for my Mac Mini (2014) which I use at home. I also have an Apple Thunderbolt monitor at the office, and it's just as good as that one in terms of display quality. However, this one has four video inputs and a USB 3 hub. I get 2560x1440 at 60 Hz on the mini.
The selection of ports is very generous, including a USB port that continues to charge devices when the monitor is off. The audio out is especially nice, as I have my game consoles hooked up to one of the monitors in addition to my computer - I don't need a receiver to get audio from the consoles.
I have a little niggle in that using the included display port cable on a windows machine, programs get re-sized every so often, which isn't a huge problem but is annoying.
Connectivity is another strong side of this monitor. It supports DP1.2 but it has to be switched on in the menus. Does not support VGA and I see this as a positive.
Plugged in via Display Port (glad to finally ditch the clunky bigger DVI), and happy to report no dead pixels (you always hold your breath on that first power-on, dontcha?)
Warranty / Certifications
Dell U2717D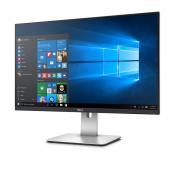 Dell U2715H IPS