Don't want to spend a fortune on expensive revitalizing face treatments but still want to have a well-conditioned skin? The
answer is simple, get a face massager! Read our review and make your choice!
...
Read more
...Read less
CREAMS / GELS COMPATIBILITY
VIJUVE Anti Aging
Anti-Aging & Anti-Wrinkle Device
The Face Massager by VIJUVE is one of the most effective devices for lifting the facial contours and removing wrinkles presented on the market. It's claimed to help users with any skin type to fight aging and we'd definitely agree with this. With 9,000 high-frequency vibrations per minute, it decreases wrinkles (even fine line wrinkles around your eyes) and removes aging signs by lifting your facial contours. Also, it can help you maintain fresher look by improving dark eye circles and making your skin glowing.
Another thing that sold us is its super-easy operation. It's a revolutionary device that has no control buttons on its sleek 5-inch casing - it switches on instantly when sensing skin touch. Likewise, it turns off once it can't detect the contact with skin. On a single battery, it can work for 2-3 weeks depending on use. The device requires an AAA battery, meaning it's great for travel. No mess with wires and adaptors!
Boosts Skin Care Products
As you probably know, skin care products work to the fullest only when they are absorbed deeply into the skin. And the main strength of this massager is its ability to distribute skin care products extremely evenly and make them work better accordingly. While traditional "Hands Alone" approach ensures only 30% absorption, the massager guarantees 95%. So, this anti-aging beast can boost all types of wrinkle lotions, serums, scar creams, facial cleansers, and essential oils. As a result, you will get rid of face wrinkles, sagging neck, puffy eyes, crow's feet, dark circles, and furrow lines much quicker.
Convincing Statistics
If you still have doubts about the effectiveness of the VIJUVE massager, here are some statistics. According to the VIJUVE survey, 90% of users claim that after they've started using this massager their beauty products started to work much better too, and 80% of users claim they've noticed visible results and improvements in less than a month, which is nothing short of impressive. So, if you're eager to get the everlasting beauty, the VIJUVE device will work wonders to your skin. It'll noticeably improve your skin condition and give you that rejuvenated, radiant and youthful look that you've dreamed about. You just can't go wrong with it.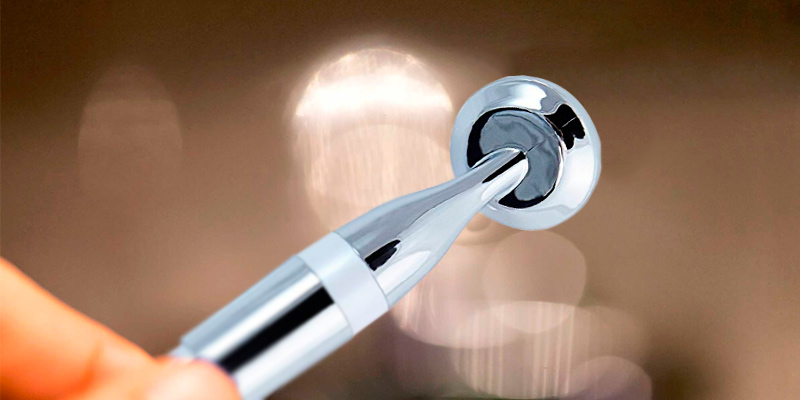 Additional Info
---
VIJUVE Anti Aging
OKACHI GLIYA 7635W1 Wireless
Exfoliate Your Skin Like a Pro
Are you dreaming of healthy, smooth, and radiant skin? It's all about exfoliation and the OKACHI GLIYA Facial Cleansing Brush. This face scrubber can effectively remove makeup, reduce acne, dark spots and post-acne scars.
The massager is supplied with 2 nozzles for normal and sensitive skin. Rotating 360° clockwise and counterclockwise, the incredibly thin bristles penetrate deep into your skin to unclog pores, remove dirt and blackheads, and relieve acne. After deep cleansing with this gentle facial brush, the nourishing creams will be absorbed into your skin more effectively, making it healthy and glowing. 
The massager features 2 adjustable speeds, thus, you can choose the optimal one for yourself. Try this brush and enjoy clean and vibrant skin from the very first use!
100% Waterproof
The housing of this model is made of rubberized silicone that is completely waterproof and complies with the IPX7 standard. Therefore, you can safely use the brush while taking a bath or shower. The ergonomic shape of the anti-skid handle will not allow the device to slip out of your wet hands, so you can completely relax and enjoy a gentle massage.
Innovative Way of Charging
The device uses a built-in rechargeable battery that boasts a huge capacity of 750 mAh. Thus, you can take massager even on a long trip.
We would like to point out that this device features a very unusual way of charging. You just need to put the massager on the charger pad, and it will automatically snap to where it needs to be owing to small magnets. The blue light will turn on and intermittently blink to let you know the device is charging. Once it's fully charged, the light will turn off. The massager can be charged from both the mains and your computer.
Also, you can get a facial steamer for spa-like skin treatment. It creates hot water vapor to promote skin oxygenation and cells regeneration. Using it along with a face brush will help you achieve the best results possible.
---
OKACHI GLIYA 7635W1 Wireless
PIXNOR P2016
Delicate Makeup Removal
A lot of girls who love makeup and things find removing it much more annoying and less fun than applying. Why is that? A regular washing off decorative cosmetics may easily result in rash and skin irritation. And it is also rather a tiring procedure that may take quite a while. Here there's some solution to this problem. Using Pixnor Face massager with a makeup remover will help you brush off all remnants of mascara, lipstick and powder from face and soothe and moisturize skin as well.
More Heads More Options
The first thing that caught our eye was a unique massager design beveled at 90 degrees and 7 different massaging heads for different body areas. This all ensures maximum performance and best massaging effect you'd not expect from a massager at a price like that. So, what's there in the box that we've liked so much? The main Exfoliating Head is used for face cleaning and skin revitalizing procedures. Regular skin treatments with the one will bring noticeable results and skin rejuvenation. Latex soft sponge is great for under-eye massage to make away of dark circles. Make-up sponge removes remnants of decorative cosmetics effectively and quickly without intense scrubbing. Rolling massage head can improve blood circulation and contribute to collagen yield. For people with sensitive skin, the use of soft brush may be more preferable. Use long ultra-fine brush in combination with cream, oil or gel to moisturize skin and enhance its appearance. Us and most consumers agree on evident benefits of vibrating massage, so this massager has got one. Vary intensity settings and direct the head with a vibration on onto different zones for muscle relaxation. The good thing about PIXNOR Facial massager is that it's not bound to power outlet and users can take it around comfortably. Make sure to store a few sets of batteries to be able to use it for as long as you need.
More Products to Consider
Given up on battling against blackheads? The problem is widespread and can easily tear people up. Not with THE BEST Dead Sea Mud Mask anymore. Made from Sunflower & Jojoba, it will quickly refresh your skin and make it shine brighter. A great product indeed!
---
VIDEO
Pixnor 7 in 1 Facial Brush
What customers say about this product
It is small and light weight and very efficient.
Super brush, really soft but cleans the skin beautifully.
Being able to keep it in the shower because of its waterproof capabilities is an added convenience.
I recommend using rechargeable AA batteries, works well and does what I need.
PIXNOR P2016
Lifetrons beaute Ultimate-316 Sonic Ionic
Say "No" to Dark Circles Under Your Eyes!
Swiss-Ultimate Sonic Ionic Under-Eye & Face Massager is ideal for massaging your face and especially the areas under your eyes, lips, forehead, and eyebrows. 3-4 massage sessions per week, 10 minutes each, will help you get rid of dark circles under your eyes. Furthermore, this item will smooth out the wrinkles on your face and preserve the elasticity of your skin. There is an additional advantage of this massager - it can knead your neck and arms. If you wish to perform a deep massage, it's recommended to knead your skin using special massage gels or creams as they will maximize the effect from massaging. Let's also pay attention to the high-tech massage nozzle - it combines the ultrasound massaging with the impact of negative ions. Such a combination ensures a deep and efficient massaging of your skin, saving you from rash, acne, and other skin problems. Moreover, a better blood circulation facilitates the healing of wounds and scars as well as improves muscle tone. Not only will you skin look better, it will be a lot more elastic. Enjoy being fresh and beautiful!
Multifunctional USB Device
This face massaging tool is very convenient in use since the USB port is hidden under the removable cover. Thus, instead of buying AA batteries, you will only have to recharge the battery of this massager from time to time. That's all! Swiss-Ultimate Sonic Ionic Under-Eye & Face Massager has gained an immense popularity with users all over the world because it gives them a chance to perform a massage session at home, at work, and even in a gym. There are 2 intensity modes you can choose from. In case you wish to relax at the end of your working day, switch Steady mode on. If you want to boost yourself up, choose Pulse massage intensity mode! The device comes with free essential oil so that you can perform a deep kneading of your face tissues. Of course, if you use some oils now and they cause no irritations, you are welcome to apply them before massaging. Taking care about your skin has never been so easy!
More Products to Consider
Healthy face skin is a major benefit for a superb makeup: face powder and foundation look stunning on good skin. So, if you want to prevent blackheads on your face, we recommend you to purchase Best Advanced Microdermabrasion Scrub. Since it's suitable for any type of skin (even sensitive), all customers will surely like it!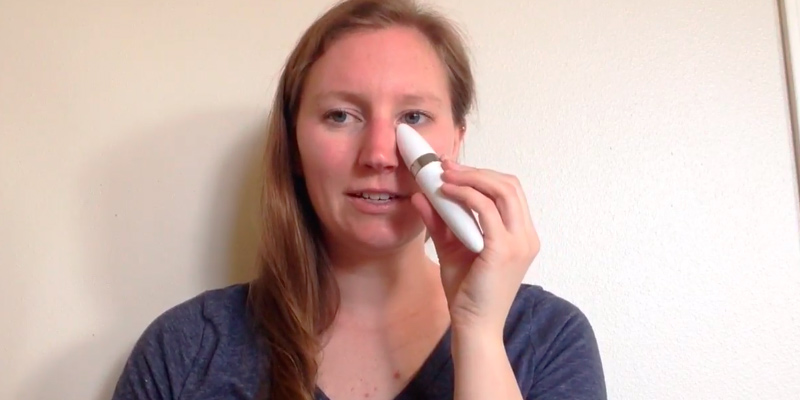 Additional Info
---
VIDEO
Essential Oil Booster – Micro-Vibration Eye & Face #EssentialOilBooster
Lifetrons beaute Ultimate-316 Sonic Ionic
Alpha Ballic Platinum electronic roller
Maximum Benefit with Minimum Effort
Let's be honest, the choice most people do is usually predetermined by a price for a product. We try to save money but at the same we grow suspicious when the price is low. This is quite understandable, for it's very easy to be fooled and end up with a poor quality thing. This isn't going to happen to you with Alpha Ballic electronic roller massager. Despite affordable price, it boasts more than sufficient operating functions to come useful for everyday use. The massager has 2 massaging nodes beveled to rotate at a special angle covering more body per pass. The handle with a wider bit at the head comfortably lays in hand providing ergonomics and additional convenience during use. Yet, there are some other things that make it even a more attractive option. The massager will suit one and all absolutely perfect. Platinum coating ensures that the rollers don't cause allergy and skin irritation regardless of a skin type on which it's used. So, if you couldn't afford any of the things before for a fear to make your skin look even worse, rid of it and try this massager. Use it for face and other body zones with maximum comfort!
Sun-power
To make this facial massager environmentally-friendly, manufacturer equipped it with a solar panel. Hi-tech, really! Neither batteries, no power outlet are required to keep it run. All you need is keep the handle exposed to the sun and not blank its panel. Alpha Ballic facial massager is best used in the open air to refresh body skin and being charged at a time. The microcurrent effect (38 uA) enables total relaxation and an incredible feeling of positive skin treatments at all times.
More Products to Consider
While the massage itself is very good, its positive effect may be doubled with the use of Niacinamide Vitamin B3 Cream Serum 5%. Increase a collagen yield and enjoy a luxury of beautiful silk-like face skin.
---
Alpha Ballic Platinum electronic roller
What Is a Face Massager?
People have long been looking for a way to retain their youth. Our face, neck, and arms are the first zones that reflect age-related changes. Nevertheless, a present-day beauty industry offers a wide range of procedures that can preserve an attractive appearance and skin elasticity as long as possible. But attending a beauty salon is costly and time-consuming. Thus, purchasing a facial massager will be the best solution. A good face massager will not only tone your muscles but also activate regenerative processes in your body, making the color of your skin more natural and healthy. Beyond any doubt, this unit will make you feel much younger!
Do you want to knead other parts of your body? If so, pay attention to body massagers or callus removers. Body massagers will improve your blood circulation while callus removers will remove dry and rough skin from your feet and heels.
What Features to Compare
Target Zones
As a rule, almost all modern massagers are handheld. They are pretty convenient in use since they feature anti-slip handles. But the main advantage of handheld massagers is an ability to accurately target a particular body zone and massage it more intensely. Despite the initial purpose of use, most manufacturers produce facial massagers to be used on other body parts. Consider available options and decide what for you'd like to use your massager. To make massage procedures even more effective, use cream and oil.
Types of Massage
Next things to consider are the types of massage it can perform. For example, an ultrasonic massage can not only improve a blood circulation and make skin more elastic but also minimize scars and wrinkles. If you apply a massager to your legs and buttocks, you can even rid of cellulite. As for a photon therapy, it will deliver a total relaxation, skin regeneration and revitalization. As models with rotating heads can effectively remove an upper layer of dead skin cells, your skin pores will be cleansed.
Functionality
Since most massager models feature various massage intensity modes, it will be possible to choose the one that will suit your skin type. Some facial massager models are delivered to customers together with cosmetic products or goggles for an effective massage. Most modern facial massager models feature Auto Switch off function, so it will be possible for you to relax and be calm about massage session length. Note that some face massagers are mains-operated while others operate on AA or rechargeable batteries. To sum up, facial massagers are compact and portable devices that can prolong the beauty of your skin.
Did you know?
Wrinkle Facts
We bet nobody likes to have wrinkles. But did you know that not all wrinkles are the same? And understanding the different types of wrinkles is the best way to fight them successfully. So, check out these interesting facts:
There are two main types of facial wrinkles - dynamic and static. Dynamic wrinkles appear only when we use our muscles to show facial expressions. They are also called active wrinkles. They can form from a relatively

young age, for example, if you

often wrinkle

your forehead in surprise or screw up your eyes when working on your computer.
Static wrinkles develop as you get older when the natural substances in your body (collagen, elastin, and hyaluronic acid) decrease. Such wrinkles are easier to fight by using skin care products with the aforementioned substances in their composition.
Even when you drive your car, you run the risk of the sun-related wrinkle appearance. A car window usually isn't tinted enough to shield your tender skin from the harmful UV rays no matter whether it's sunny or not. That's why wearing sunscreen or facial creams with UV protection is the best way to prevent sun-related wrinkles.
Frown lines and furrowed brows might mean vision problems. They are typically formed because of the frequent gathering of the tissue between the eyebrows into a fold. The repeated contraction can also lead to the development

of wrinkles on your forehead and between the brows. So, if you notice frown lines, it's time to visit your doctor for an eye exam rather than indicating aging or sun damage.

You probably know that

an unhealthy

lifestyle and poor diet might also cause wrinkles and other skin issues. For example, chemicals and

nicotine

found in cigarettes cause dehydration of your skin and damage the underlying elastin and collagen. As a result, you get more dynamic wrinkles over time.
Fast food and other meals that contain too much sugar might cause the fibers of your skin to become stiff, resulting in wrinkles. Vice versa, a healthy diet high in fruits and vegetables can protect and rejuvenate your skin
.
Facial
Massage Benefits
Collagen is the key element that provides firmness, elasticity and keeps your skin supple and youthful. But as you aging, it decreases in your body. And a facial massage can stop that and even stimulate the production of collagen.

Massage can give our face glow and tone. Also, it gives you a relaxing feeling and promotes blood circulation to your face. It's also called an anti-aging treatment because it reduces wrinkles and tightens facial muscles.

Facial massage can eliminate the puffiness and make your skin firmer. It tightens muscles

and

prevents them from sagging

.

The

last but not the least, massagers can normalize the moisture balance and flush away toxins to increase radiance

.
As you see, the benefits of facial massagers are amazing. However, you should always keep in mind that too much stimulation might have a negative impact on your skin (lead to breakouts). That's why it's best to keep the massage to under 20 minutes.


Sources:
1. How to Give Yourself a Facial Massage, wikiHow.
2. Victoria Moorhouse Shopping Guide: Find the Best Facial Cleansing Brush for You, Style Caster.
3. Facial Massage, Encyclopedia.com.
4. Family Health Team How Ultrasound Skin Tightening Can Firm, Lift Your Face, Cleveland Clinic. November 4, 2014.
5. Elizabeth Tanzi Ultrasound Facial Lifting, The Dr.Oz Show. January 25, 2011.
6. Massage, Wikipedia. August 19, 2016.
7. Cara Litke Sullivan The Anti-Aging Tricks That's Right at Your Fingertips, Redbook. August 18, 2013.
8. Rachel Krause Is the Celebrity-Beloved Facial Massager a Must for Your Anti-Aging Routine? Style Caster.
9. Rachel Jacoby Zoldan How To Give Yourself A Spa-Level Face Massage At Home, Self. March 23, 2016.