Planning to accommodate overnight guests or go on a picnic with an overnight stay? Then, buying a folding bed is definitely a must.
You don't need to keep it always up and you can hide it in a storage. Hopefully, you'll find a perfect guest folding bed for your needs.
...
Read more
...Read less
Zinus Sleep Master
Sleeping surface
If you're looking for a comfortable bed of a high quality to be not disappointed with, consider buying Resort Folding Guest Bed from Zinus a luxurious and ultra-soft memory foam sleeping surface. When folded up, the bed will not set off from any regular bed by its look and size. It easily opens to a twin-size, measured up to 38 inches x 75 inches x 19 inches (together with a frame) and accommodates an adult or two children. The mattress of the bed is made of 1-inch memory foam and 4-inches dense base support foam. The extract of green tea and natural active charcoal, used in a memory foam, help to absorb the moisture and thus, considerably prolong the lifetime of a bed, keeping it fresh and odor-resistant.
Foundation
Unlike some flimsy folding beds that overwhelm the market, Resort Folding Guest Bed ensures incredible stability and reliability. The thick sleep mattress is lied on a solid steel foldable frame that doesn't bend and provides a firm foundation for adults and kids. Resort Folding Guest Bed doesn't require a lot of assembly. To start using it, place the construction on the wheels and you're done. You'll be able to do justice to its quality and convenience right away. The actual weight of the bed is somewhere about 30 pounds, which makes it rock solid and sturdy for use of adults and restless kids. There are cheaper alternatives available, of course, but if you look for a durable and well-built guest bed to serve you for years, there's very little point to look for a better bargain.
Functionality
This is a universal bed for the use of adults and kids, at home and in mobile houses. But, on the contrary to most cheaper camping cots, this bed doesn't yield in traditional beds by its look, quality and design even a fraction. The same color and fabric of a mattress set and a frame make the bed look the whole box-shaped unit, so it can easily blend into any interior and stay folded up all the time if necessary.
---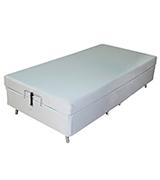 Zinus Sleep Master
LUCID LU04CTMFRB
Sleeping surface
Rollaway Lucid guest bed is an extremely lightweight and comfortable bed, equipped with a medium-plush mattress that doesn't bounce, easily contours to the body of a sleepover and regulates the temperature of a sleeping surface. The mattress has successfully passed the test for the content and overall performance and got a CertiPUR-US certification. This means that you can easily let your children sleep on it and worry not about harmful chemicals and odors that are sometimes found in other orthopedic mattresses.
Foundation
The common fact that most consumers would agree on is that the easier it is to take the bed down, the less strength it provides. Not with Lucid Rollaway Guest Bed. This is the only foldable bed in our review that comes with a 25-year warranty. Is it not sufficient reassurance to change your mind and look at this bed from a different perspective? Designed from a lightweight material, yet, it ensures reinforced support of a spring-supporting poly deck and a heavy-duty powder coated steel bed frame. The weight capacity of the bed is also impressive. If your weight is over 200 pounds, you may need to double up a sleeping surface, but for consumers with weight up to 160 pounds, it should be all right, no doubts.
Functionality
This is a small and portable bed with a simple rollaway folding system for comfortable transportation and easy storage. The bed is mounted on the locking wheels for firm fixation on the floor, safety and mobility options. Whenever the need be, just roll the bed, set it up and provide your overnight guest with exceptional comfort. It's gonna be a good idea to obtain a few cot-sized sheets for the bed, however, they are sold separately and not always available in local shops. The good news is, you can order a perfect size fitting sheet from a manufacturer and be sure that your bed is properly taken care of.
---
LUCID LU04CTMFRB
Zinus Weekender Elite
Sleeping surface
A good folding guest bed doesn't necessarily have to be expensive. If you still doubt it, consider buying Sleep Master Weekender Elite Folding bed by Zinus at an extremely low price. While the construction itself for most might seem quite basic, the sleeping surface would definitely strike with its quality and comfort. The bed comes paired with a high-quality foam mattress, certified and tested for durability and content, that features a 1-inch fiber padding top layer and 3-inches of Pressure Relieving Comfort Foam and measures 75 x 31 x 18 inches, a perfect size for an adult or two kids.
Foundation
What we like about this model the most is its lightweight and yet, solid and reliable steel frame construction, equipped with the casters for enhanced support and comfortable transportation. The foam mattress is laid on the springs, stretched across the width of the bed. This prevents the mattress from downwarping and ensures excellent body support. The casters are fastened in a way to keep the legs firmly fixed in place and not let them move around. All the parts of the bed have been thoughtfully designed by manufacturers to offer their owners steadiness and comfort and at the same time, fit the budget of the most average American families.
Additional Info
---
VIDEO
Night Therapy Weekender Elite Folding Guest Bed - unboxing and review
Zinus Weekender Elite
Coleman ComfortSmart
Sleeping surface
This is a great inexpensive bed that will be very helpful for short trips and home use (when you do not have enough sleeping berths to accommodate your guests). Moreover, you can place the bed in your backyard and doze outdoors for a while. You might find a lightweight construction not very durable, yet it holds up to 275 pounds and can easily accommodate an adult. The bed length is 70 inches so it will be comfortable for anyone who is not taller than 5.5 feet.
Foundation
As we have mentioned before, this bed can support up to 275 lbs since its frame is made of durable metal. The base frame is covered with a lasting polyester and a tight mattress is placed on top of it so you can feel like at home in your soft bed even while being on a picnic or while camping. It is easy to clean all materials from dirt and dust. The bed will save your family budget since it is designed for both adults and children.
Functionality
Despite its low price, this bed is all-purpose and it will serve you for a long period of time. Thanks to its foldable in half construction, you can easily transport it in any car trunk. Also, it will be convenient to store the bed at home due to its small dimensions. For example, you can put it under your bed, in a closet or in a locker. The mattress is not attached to the frame, so it is possible to wash and dry it easily even outside.
Additional Info
---
VIDEO
Coleman Comfortsmart Deluxe Cot
Coleman ComfortSmart
Jay-Be Saver Folding Bed with Airflow Mattress
All Purpose, Affordable, and Comfortable
When choosing a folding bed, you should first of all determine what for you are going to use it. Whether you need it for an extra sleeping place when your friends or relatives come over or you are going to take it along for camping or fishing. Maybe you want to have one to provide your child with a really comfortable bed when he/she stays in a holiday's camp? To cut a long story short, you just need a folding bed for occasional usage. On the other hand, people purchase folding beds to sleep on a regular basis in a dormitory or at a summer cottage. Jay-Be folding bed is designed to meet the requirements of every user and thus, will become a perfect sleeping place for any occasion! Moreover, a medium-built adult would feel comfortable on this quite compact bed that holds up to 264 pounds. The dimensions of Jay-Be are as follows: 15'' x 27.5'' x 73''. People who own this outstanding bed highly appreciate the included Airflow Mattress where the innovative open cell structure allows the mattress to breeze and thus, preserve its freshness and cleanliness for a longer time! All in all, with Jay-Be folding bed, a comfortable and sound sleeping is guaranteed. You can store Jay-Be under your bed and easily transport it in the trunk of your car.
A Piece of Advice: How to Prolong a Service Life
The main benefit of folding beds is a convenience and ease of their adjustment. Therefore, they shouldn't have any complicated mechanisms to ensure that a customer won't get hurt during assembly. Choose a folding to conform to all your personal requirements and acquire an irreplaceable sleeping place to use in your apartment, at the summer cottage, and while camping. But to prolong the service life of your bed, you should follow some simple rules:
- Do not exceed the maximum allowable load of 264 pounds;
- Do not stand with your feet on the fiber and do not sit down on bed too swiftly;
- Do not let your children jump on the folding bed;
- Guard against frame damage;
- Keep the bed in a special storage cover when not in use.
More Products to Consider
JAY-BE storage cover and a folding bed will be a perfect match when you need to hide it away for storage.
Super plush gel-fiber filled pillows will make your sleep even more comfortable.
Additional Info
---
VIDEO
Jay-Be Evo Folding Bed with Airflow Mattress - FutonSofaBedsDirect.co.uk
Jay-Be Saver Folding Bed with Airflow Mattress
What is a Folding Bed
A Folding Bed is a compact sized bed, usually bought for space-saving purposes. If you live in a small apartment or just look for some mobility option, then it's definitely a must thing on a list to obtain. Most folding beds are made in a way to easily collapse to a compact size unit and take very little space to store. Yet, the sleeping surface lies on a sturdy and heavy-duty frame, designed to maintain the weight of both, a child and an adult. A Folding Bed can become a great alternative to buying a spare bed for guests and relatives who'd like to stay overnight. Besides, it's considerably cheaper than a traditional bed, made of solid wooden construction.
Lovers of comfortable rest and sound sleep can be also interested in our body pillows review
What Features to Compare
If you've decided to purchase a Folding Bed for whatever reason, here are some of the important criteria you may want to pay attention to. What makes a bed comfortable is its Sleeping surface. Consider the size of a mattress, how wide and long it is. The least thing you want is to have your legs hanging over the edge of the bed. It's got to be capacious enough to accommodate an adult and considerably tough not to downwarp under his weight. Some Folding Beds come paired with high-quality memory foam mattresses. These are the beds that can become a great inexpensive alternative to a permanent bed and an overnight "station" for unexpected guests. Others would better work as an emergency cot and outdoor equipment. This is where you need to clearly decide what's more important for you. Generally, they are all good, but for different purposes.
The other thing you should definitely take into account is a Foundation of the bed. It's got to be solid, sturdy and reliable. Otherwise, you may get a wobbling bed that will not stay in place, and of course, won't be safe. Pay attention to the material that a bed frame is made of. Not only does it predetermine its steadiness and sturdiness, it will also tell you how mobile and portable the bed is going to be.
When you've finally found a bed that actually meets all your personal requirements, provides enough space and rests on a heavy-duty metal frame, make sure to estimate its overall Functionality. This is the third important criterion that may greatly differ one model from another. While some Folding Beds are designed to be beds only, others can transform to a sofa-style chair or a divan. Functionality is the main factor to consider when looking for a guest bed with mobility options. You wouldn't want to bring around a bulky couchette and spend several hours to get it together. Assumedly, a portable bed should be lightweight, easy to assemble and easy to fold. It doesn't have to be heavy and too big in size. For people who're looking for a spare bed to keep in an apartment, this criterion might be of less importance. Yet, they may get more interested in its storage options and folding system.