If you host overnight guests once in a while and/or need a guest folding bed for camping, you've come to the right place. We've hand
selected some of the best guest folding beds available out there so you can find the most suitable one for your needs!
...
Read more
...Read less
X
This site is a free online resource that strives to offer helpful content and comparison features to its visitors. Please be advised that the operator of this site accepts advertising compensation from certain companies that appear on the site, and such compensation impacts the location and order in which the companies (and/or their products) are presented, and in some cases may also impact the scoring that is assigned to them. The scoring that appears on this site is determined by the site operator in its sole discretion, and should NOT be relied upon for accuracy purposes. In fact, Company/product listings on this page DO NOT imply endorsement by the site operator. Except as expressly set forth in our Terms of Use, all representations and warranties regarding the information presented on this page are disclaimed. The information which appears on this site is subject to change at any time. More info
LUCID Rollaway Twin
Light yet Durable
The Rollaway twin folding bed from LUCID brings an excellent build quality to the table but that's not the only thing that makes this model so special. Let's get into the details and figure out why this model may be worth your attention.
The main part of the bed, the frame, is manufactured from heavy-duty steel which makes it exceptionally stable. On top of that, the frame leaves up to 11 inches of clearance under the bed so that you can use that space for storage.
As for the mattress deck, it features spring supports to provide users with exceptional comfort. The mattress itself is designed with a 1-inch of memory foam and 3 inches of support foam. Just like any other memory foam mattress, this one takes time to expand due to its vacuum sealed nature. In order to preserve its initial density and shape, we recommend you to let it fully expand for at least 1-2 days before use.
The cover of the mattress is made of synthetic silk with the addition of bamboo, which makes it quite breathable. This design will come in handy during the hottest months, providing users with that extra freshness.
What is more, the synthetic material filters liquids and smells that can get through and soak the mattress itself. Plus, it makes it easy to wash the cover. Last but not least, the bottom part of the cover features a special non-slip grip to keep the whole mattress in place once you put it on the metal base of the bed.
Easy to Fold and Unfold
Moving on, let's take a closer look at the bed's dimensions. Once unfolded, it makes 73 x 36 x 12 inches. And thanks to a reliable folding mechanism, it can be reduced to just 44 x 10.5 inches in just a couple of simple motions.
This way you can store the bed pretty much everywhere and it won't bother you when you don't need it. Additionally, the middle part of the frame has 4 caster wheels for quick transportation around your house.
Contrary to other products in the same class, the Rollaway doesn't require any tools for assembly. The whole installation process will take you around 10 minutes, since the main frame part comes already assembled.
Being one of the best folding beds in the medium price range, the LUCID Rollaway will become a good pick for those who are searching for a sturdy model that can accommodate 2 people at the same time.
Additional Info
Last updated price

$

434.42

Stock
In stock
ASIN

B019ECI4SO
---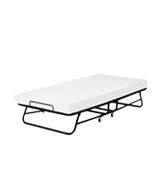 LUCID Rollaway Twin
Inofia Rollaway Extra
Lightweight Champion
This compact model from Inofia embodies everything that a good folding bed needs. First of all, the overall weight of the frame is just 34.6 pounds, which easily makes this model one of the lightest ones available on the market today. Coupled with a 20-pound mattress, you are getting a fairly lightweight folding bed that can be easily assembled within a matter of minutes.
The only thing that we didn't really appreciate in this folding model is that it can take almost 3 full days for the mattress to fully expand, which might not be ideal in case you need an urgent additional sleeping place.
When it comes to the hardware included in the package alongside the bed itself and a mattress, it includes two sets of screws needed to assemble the bed, two sets of wheels (2 regular wheels and 2 wheels with locks for added stability), 2 side handles, as well as a storage strap that reliably fixes the mattress in place.
Superior Comfort and Ease of Use
Moving down the list of features, we would like to say that the package is equipped with a washable mattress cover that can be cleaned in a washing machine together with regular laundry. For added protection, the cover features a zipper-lock that can conceal the mattress whenever needed.
Dimensions-wise, when the bed is folded with the mattress inside, it takes only about 44 x 31 x 13.5 inches of storage space, which is not much and won't clutter your bedroom. At the same time, the fully assembled and unfolded bed doesn't eat up much space either, taking about 75 x 31 x 11.5 inches of space, so even when paired with a 5-inch thick mattress it will easily fit even the smallest rooms.
When it comes to the mattress, measuring 5 inches, it might seem too simple and thin for some people, but, in fact, it's quite supportive and can ensure superior comfort thanks to its 3.5-inch foam layer topped with 1.5 inches of memory foam.
Wrapping things up, by choosing the Rollaway Extra Guest Bed from Inofia, you are getting a high-quality product that can be used as either a portable model or a stationary bed that can be folded/unfolded in a few minutes. The combination of a durable metal frame and a highly-comfortable mattress (with a washable cover) makes this particular product a go-to solution for users who need an additional bed that won't take a lot of space.

Additional Info
Last updated price

$

0.00

Stock
May be out of stock
ASIN

B07QM5HMWH
---
Inofia Rollaway Extra
Milliard Diplomat Twin Size
Go for the Premium
A bed is the kind of place you're going to spend most of your life in. We're not calling you lazy, it's just a matter of statistics – humans literally sleep a third of the day. So if you're in the market for a comfortable sleeping spot you might as well go all out and get the best folding bed available. We're talking about the Milliard Diplomat Twin Size Rollaway folding bed.
The premium quality mattress here is lightweight yet incredibly sturdy. And we're not just talking about the outer shell being resistant to tearing or regular damage, that's already par for the course. No, we mean the excellent 2.5 density rating, which is all thanks to the memory foam. You'll feel yourself sinking into the bed but there'll always be that center of support to keep your back straight. That's essential as sleeping on a mattress that's too soft is not much better than just flopping down on the ground for a snooze while you're camping.
And that's not all, the mattress also has a fireproof fiberglass protection layer so you can drop the bed right down by the campfire without any worries. Admittedly, it might be that same fiberglass and other mattress fillers that emit a nasty odor in the first few days of use. But that's a problem you can solve easily by airing the mattress out for a bit before you sleep on it.
Comfy in Use, Easy in Storage
Unlike a regular bed, a folding bed also entails some storage solutions. After all, you can't just leave it standing on your campsite or in your living room when the product is not in use. Thankfully, the Milliard Diplomat Twin Size bed might be big enough to fit two adult people or several kids but you can also fold it away to practically nothing. The bed is just 14" thick when rolled up so you can put it in your wardrobe or stuff it under the sofa. And don't be afraid of dust or dirt either as the mattress comes with a velvety-soft polyester casing. This really simplifies storage and extends the lifespan of the bed, which is particularly important as the warranty here is bafflingly short at just 30 days.
Considering the amount of space you get on the mattress and its protective qualities that extend its service life beyond any level you've seen before, this high-end bed is worth the admittedly steep price. If you want high quality and a hideaway bed that won't get in your way when it's not in use, the Milliard Diplomat Twin Size Rollaway is a wonderful and high-class choice. It's comfy, compact, and offers the kind of rest you'd usually get only on a full-blown bed.
Additional Info
Last updated price

$

329.99

Stock
In stock
ASIN

B0747418JP
---
Milliard Diplomat Twin Size
Linon Home Dcor Luxor
Not As Simple As It Looks
The folding bed from Linon Home is designed to accommodate an adult and it serves this purpose quite well. So, let's break down the core features that make this model a worthy choice.
To start off, it's the total weight capacity of the bed - this model can support up to 275 pounds without even creaking. Such capacity is quite remarkable, especially considering that the overall weight of the bed is just 41 pounds (when fully assembled). Furthermore, it's the sleeping surface. With the overall dimensions of 31.5 x 79 inches, this folding bed is easily one of the biggest 1-person models on our list.
As far as materials go, they aren't lumpy and don't feel cheap. The base of the bed is made of a durable metal tube frame that, combined with wood slat supports, makes it quite rigid yet leaves just enough leeway for the mattress to fit inside.
The thing that may be a bit inconvenient for some users is the locking mechanism. Since it is made of plastic, it can be a bit hard to close when you fold the bed without folding the mattress first. But once you get the hang of doing so, it won't be an issue for you. That being said, the plastic mechanism isn't flimsy and will be able to withstand quite some beating.
The Closest Thing to a Fully-Fledged Bed for One Person
For your convenience, this folding model is equipped with caster wheels, so it is fairly simple to transport in both folded and unfolded modes. Even with the mattress on, the bed can be easily carried in hands (if you don't want to scratch the floor with wheels).
Bed specifications aside, let's speak about the mattress that comes together with it. Made of polyurethane foam, it gives you the closest feel to pricey memory foam mattresses. Moreover, the combination of the high-quality mattress and the wood slat supports beneath gives your back the needed support, so you will feel well-rested in the morning.
Take note that even though the mattress itself is of high quality, it is not recommended to clean it with the cover on. Otherwise, you may end up with fabric decolorizing.
All in all, this folding bed model will be an excellent pick if you often have overnight guests and don't want them to sleep on an uncomfortable couch. Supportive and easy to assemble, it will be a great option when you need a spare bed.
Last updated price

$

101.49

Stock
In stock
ASIN

B003M5W2J2
---
Linon Home Dcor Luxor
Coleman twin Airbed
Camp with Luxury
Having a place to lay down on while you're out camping feels very nice but setting the bed up is kind of a hassle most of the time. Luckily, that's not the case with the Coleman Twin Airbed Portable Cot. This lightweight model can be folded down to a tiny square and you won't need to have a cart on wheels with you just to move the bed around. In fact, what you'll use instead is the convenient carry bag that you can dump the mattress into. Oh, and don't forget to fold the mattress into a special zippered case first. The case will help keep dust, dirt, and mites away from your sleeping spot to ensure that it's always ready for use and comfy. Even if you forget the bag at home, the mattress can be slotted into your trunk with ease.
Now, admittedly, you might have a harder time finding a place to put down your cup of hot tea that's so nice to have when you're out in the wild, sitting by the campfire. Or you would have if you picked any other bed but the Coleman Twin Airbed has a small bedside table just for that very purpose.
Though it is compact, the table is still pretty sturdy so you can use it reliably whenever you're out in the wild. Not only does it have a cup holder but also enough space for you to have dinner on its surface or keep a few of the travel essentials handy.
Ready in Minutes
The one thing that might make or break a good bed is the mattress. It's the key element and the convenience of using is often the deciding factor. With that in mind, we're happy to report that the mattress in the Coleman Twin Airbed is pretty comfortable if not exactly as great as what you get in high-end expensive models. It's still an airbed, which means it won't give as much support as memory foam. However, it also entails very easy setup since you just plug in the special pump (comes with the purchase) and watch as your sleeping spot is readied automatically. Just make sure you've got the batteries for it as those don't come with the kit and you need 4 D batteries to start the pump. Otherwise, you'll have to huff and puff and blow the mattress up with your own lungs.
Last but not least, we should point out that the steel frame is pretty heavy duty and supports up to 300 pounds so you can enjoy comfortable rest on this bed even if you're a bigger person.
All things considered, the air mattress does make this a bit less comfy than some high-end models but that's also reflected in the very reasonable price. Plus, the side table and the easy setup are both nice bonuses so if you want a hassle-free camping accessory, the Coleman Twin Airbed is a great bargain.
Additional Info
Last updated price

$

144.49

Stock
In stock
ASIN

B00AU6AUSQ
---
Coleman twin Airbed
What Is a Folding Bed?
A folding bed is a compact-sized bed, usually bought for space-saving purposes. If you live in a small apartment or are looking for a portable solution that would be easy to move from one place to another, then it should definitely be on your list of must-have things. Most folding beds are designed so that it will be easy to collapse them to compact-sized units that can be stored upright or under your furniture. With that, they aren't fragile and offer fantastic sturdiness. The sleeping surface of folding beds rests on a stainless steel, heavy-duty frame and can support the weight of an adult. A folding bed can become a great alternative to buying a spare bed for guests and relatives. It is cheaper, more versatile, and it doesn't take up a lot of storage space.

While on the note of folding beds, we'd like to offer you to read our reviews on other sleep accessories that can help improve your sleep. So if you often struggle to fall asleep, consider buying a sleep mask that can block out excess light and make it easier for you to relax. In case you lack support, get a body pillow. If your mattress has lost its rigidity, you can improve its qualities by fitting it with a mattress topper.

What Features to Compare
Sleeping Surface

If you've decided to purchase a folding bed for whatever reason, here are some of the important criteria you may want to pay attention to. What makes a bed comfortable is its sleeping surface. Consider the size of a mattress, its width and length. The last thing you want is to have your legs hanging over the edge of the bed. So, it has to be capacious enough to accommodate an adult and considerably tough not to downwarp under their weight. Some folding beds come paired with high-quality memory foam mattresses. These are the beds that can become a great inexpensive alternative to a permanent bed and an overnight "station" for unexpected guests. Others would better work as an emergency cot and/or outdoor equipment.

This is where you need to clearly decide what's more important for you. Generally, they are all good, but for different purposes.
As an addition, it is also important to know is the mattress of your washable or not, which can be a crucial aspect in the long run. Likewise, it is important to figure out, which parts of the mattress can be washed, be it a machine-washable zipper cover or a memory foam mattress padding that can only be dry cleaned, the specifications are usually quite informative about those aspects.
Foundation

The other thing you should definitely take into account is a foundation of the bed or, simply put - its frame. It's got to be solid, sturdy and reliable. Otherwise, you may get a wobbling bed that will not stay in place, and of course, won't be safe. Pay attention to the material that a bed frame is made of. Not only does it predetermine its steadiness and sturdiness, but it will also tell you how mobile and portable the bed is going to be. While the aluminum tubes are light and undoubtedly versatile, the amount of weight they can handle is quite limited, so, if you need a bed for two we recommend opting for stronger frames made of steel, for example.
Functionality

When you've finally found a bed that actually meets all your personal requirements, provides enough space and rests on a heavy-duty metal frame, make sure to estimate its overall functionality. This is the third important criterion that may greatly differ one model from another. While some Folding Beds are designed to be beds only, others can transform into a sofa-style chair or a divan. Functionality is the main factor to consider when looking for a guest bed with mobility options. You wouldn't want to bring around a bulky couchette and spend several hours to get it together. Assumedly, a portable bed should be lightweight, easy to assemble and easy to fold. It doesn't have to be heavy and too big in size. For people who're looking for a spare bed to keep in an apartment, this criterion might be of less importance. Yet, they may get more interested in their storage options and folding system. Most of the modern folding models are equipped with additional hardware needed for both assembly and effective storage. This hardware can consist of spare wheels, screws, and additional straps that keep the mattress inside the frame, when the bed is folded.