What we love computer games for is the feeling of participation, which is only achieved by immersing into a high-quality image. This
is what gaming monitors are made for. Hopefully, our review will help you choose the best display to enhance your gaming experience.
...
Read more
...Read less
Refresh Rate / Response Time
LG 34UC80
Don't Settle for Mediocrity
Before going into some of the more technical details and explaining why that's actually the case, we'd like to begin this review by saying that the LG 34UC80 Curved UltraWide QHD IPS Monitor is a powerhouse of a display and one of the most versatile models on the market.
Of course, since this is a monitor, one of the biggest secrets to its versatility lies in the kind of color reproduction it offers. With over 99% coverage of the sRGB spectrum, this product will easily prove to be a perfect fit for people that work in the graphic design industry, professional photographers, and just about anyone whose job, hobbies, or preferences require or include the need for highly accurate colors.
Now, if you're looking to purchase an ultrawide curved monitor for work but you're not actually a creative type, the model still has you covered with the On-Screen Control and Screen Split. In a nutshell, the former will allow you to have a full control over the most essential and fundamental monitor settings through an incredibly convenient solution that ensures quick and easy access. Whether you're looking to change the volume, increase or decrease the level of brightness, switch between different picture mode presets, or utilize an array of other options, this little piece of software will allow you to do that with just a few clicks of the mouse.
And, speaking of the Screen Split, the program will prove to be simply indispensable when it comes to customizing the layout of the monitor for multitasking purposes. With it, you will be able to resize and display multiple windows at once, using one of the 14 options, and that's not to mention the four different picture-in-picture (PIP) choices. Suffice it to say, anyone from software engineers to all kinds of computer programmers will be able to appreciate the sort of opportunities these options will open up for them.
Ergonomics to Boot
Having said all of that, no computer monitor would deserve the title of a truly versatile model without catering to the gaming demographic. And while we wouldn't be able to say in good faith that this is one of the best gaming monitors out there, mostly due to the fact that this LG ultrawide monitor features a relatively slow response time of 5 ms and a 60 Hz refresh rate, something that won't bother the fans of single-player games but might alienate the multiplayer crowd, this is still a fairly great gaming option for a couple of reasons.
First of all, the model features a variety of gaming modes, from a couple designed for First-Person Shooters to a bunch of RTS and MOBA pre-sets. Furthermore, the monitor supports the AMD FreeSync, and that means anyone with a Radeon graphics card will be able to experience a truly clean and crisp gameplay with no tearing and stuttering.
In terms of ergonomics, this ultrawide FreeSync monitor has a couple of aces up its sleeve as well, like a USB 3.0 Quick Charge behind the display that will allow you to charge your smartphone or any other mobile device four times faster compared to your average USB 3.0. Plus, the model is fairly easy to put together, with a simple press-and-click display-to-base attachment.

In short, the LG 34UC80 is one of the most versatile ultrawide monitors out there. Whether you're looking for a model to improve the efficiency of your work, to enjoy a good movie, or to amplify your gaming experience, the product in question will not disappoint you, to say the least.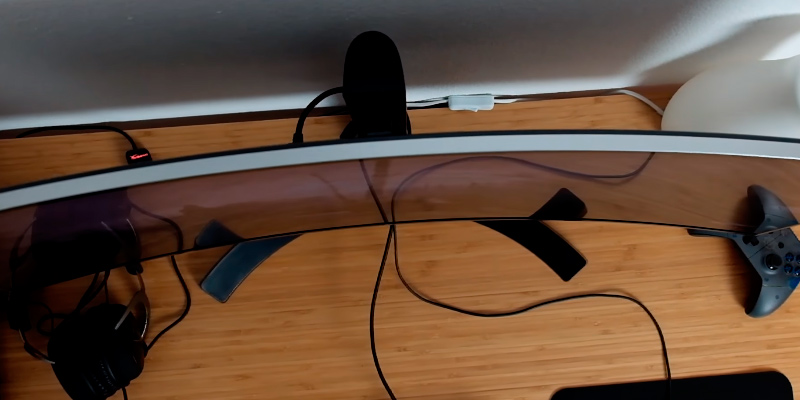 Additional Info
---
LG 34UC80
Dell S2716DG
Trusted Brand
Anyone who has dealt with computers anytime within the last 20 years is sure to know the name Dell. Dell computers have been around for a long time, and they have been well known for their quality systems, especially their systems geared towards the office. However, Dell isn't just limited to computers. They now make a wide range of different devices, including those geared towards gamers. This includes a range of gaming monitors, which hold the same high-quality standards that their other computer components do.
The Dell S2716DG 27" QHD LED-Lit Gaming Monitor with G-SYNC is one such model that really shows Dell's quality. This 27-inch monitor boasts a QHD resolution of 2560 x 1440, high enough to please most gamers. This resolution is twice the size of standard 1080p HD video, so you are getting a lot of screen real estate to play with. The G-Sync compatibility of this monitor goes perfectly with the refresh rate of up to 144hz with a refresh rate of 1ms, which gives you extremely fast responsiveness as well as being able to keep up with even the fastest games. There won't be any noticeable blurred graphics or screen tearing when using this monitor for gaming, with performance that is sure to please even the most demanding gamers.
Perfect Engineering
One of the aspects of Dell's reputation is their fame for their well-engineered system, especially when it comes to ergonomics. This gaming monitor is certainly no exception, as it has the flexibility to meet the ergonomic needs of anyone. The pivot, tilt, and height adjustment features make it easy to adjust the orientation of the monitor to anyone's liking, and the controls to do so are quite intuitive. Adding to the intuitiveness and ergonomics of this monitor are four easily accessible USB 3.0 ports, allowing you to easily attach your mouse and keyboard along with any other USB devices necessary. There are also ports for headphones and stereo, along with the HDMI 1.4 and DisplayPort 1.2 ports.
Another great aspect of this monitor is that it allows for multiple inputs through the HDMI and DisplayPort ports. This allows you to connect your PC to the monitor while still also being able to connect your gaming console through the HDMI port, letting you make this monitor the center of your home entertainment system. It even works well in a multiple monitor setup, especially with multiples of the same model. The flexibility of this monitor along with its high performance gives gamers exactly what they want - a high-quality monitor perfect for all of their gaming needs.
Additional Info
---
What customers say about this product
High refresh rate does make a difference. GSync is a great feature.
Very good picture once calibrated (for a TN panel)
I really like the stand this monitor comes with, lots of tilt and swivel options, and you can adjust the height.
The monitor comes with a good quality DisplayPort cable, which is the preferred way to connect it as some cards do not support the newer revisions of HDMI that are needed to run it at high resolutions and refresh rates.
Dell S2716DG
ASUS VG278Q
No Gimmicks Here
ASUS with their VG series has been one of the first companies to hop on the 144 Hz train, so it really shouldn't come as any surprise that one of their models has been able to make our list again.
What we have here is a monitor that was strictly devised with the gaming demographic in mind. You won't find any unnecessary components here nor will you have to deal with gimmicky features.
The first and one of the most important aspects of a modern-day gaming display is the refresh time. And, as we've said earlier, this desktop monitor features the VG series' staple 144 Hz refresh rate. So, as long as you have the right PC that will give you about 144 frame rates in your favorite video games, you'll be able to play with a serious competitive advantage over your online opponents.
It will help you get an upper-hand in games like League of Legends or Dota 2. It will give you a serious advantage over your opponents in Fortnite and Overwatch. And it will allow you to simply decimate those Counter-Strike and other FPS enemies that are not yet equipped with a 144 Hz monitor.
Of course, just like the absolute majority of gaming monitors, the model features a 1 ms response time, so there will be virtually no delay between the online developments happening in your game and the stuff you'll be seeing on this gaming screen.
Every Trick in the Book
Though everything that we've mentioned earlier pretty much covers the gaming basics, there are still a couple of things that make this monitor a more appealing choice than most of its competition. For example, there's the company's very own Extreme Low Motion Blur, a technology that makes objects in motion appear even sharper. With it, the gameplay will look and feel more fluid and much more responsive.
The monitor also comes equipped with the so-called Adaptive-Sync (a variation of FreeSync). If you happen to be an AMD graphics card owner, you'll be able to experience smooth gameplay and seamless visuals as the technology works with AMD cards to eliminate choppy frames and screen tearing.
Other than that, there's a lot about this model that will improve your performance or the overall gaming experience. In short, there's the GameFast Input technology that further minimizes input lag. There're the Game Visual and Game Plus functions that improve color performance and control.
The ASUS Eye Care Technology will keep eye fatigue to a minimum. Finally, the stand is ergonomically sound, with full height/tilt/swivel/pivot adjustments that will do a great job accommodating any desk.
To rephrase our earlier point, the ASUS VG278Q is a widescreen monitor that is all about gaming. You won't find any extra nonsense here, just a variety of useful features that will improve your gaming experience and give you an advantage over your online opponents.
---
ASUS VG278Q
BenQ RL2455
Gaming on a Budget
The BenQ RL2455 is a budget gaming monitor that will allow you to explore the world of video games without investing too much money into a screen. It isn't the most high-end solution on the market but, for its price, the model has quite a lot going for it.
First, just like those expensive top-of-the-line gaming monitors, the BenQ RL2455 incorporates a 1 ms gray-to-gray response time. Combine it with the company's already renowned ultra-low input lag technology and you have yourself a display that is particularly suitable for console gaming experience.
You won't have to cope with the usual effects of ghosting and smearing. This kind of response rate makes the monitor especially great for fighting games where a quarter of a second is the difference between the sweet taste of victory and the bitter aftertaste of defeat.
Unfortunately, the model's refresh rate is limited to 60 Hz. But this is a budget model that occupies the segment of the market between 150 and 200 bucks, so you can't really hold it against the monitor.
On top of that, if you're looking for a budget screen, there's a good chance your PC won't be able to produce more than 60 frame rates a second in your favorite titles, so the additional refresh rate would've gone down the drain anyway.
Tackle any Genre
While the BenQ RL2455 may not be the most impressive monitor out there performance-wise, it does a lot to compensate for any shortcomings in that department. For the fans of first-person shooters, the manufacturers have implemented Black eQualizer.
This color engine technology will tip the scales in your favor and resolve the ever-present issue of poor visibility in dark areas. The technology does that by brightening these dark scenes, all without over-exposing the bright areas. This way, the screen preserves those vital details, allowing you to easily identify your enemies in those critical situations and take them by surprise.
Sure, the latter technology won't do much for those gamers that prefer other genres. But that's not a problem as the monitor features a variety of display modes. These modes are essentially optimized presets for fighting games, real-time strategies, MOBAs, and anything in-between. There are also the Smart Scaling and Display Mode that simulate custom screen sizes, providing complete control for individual viewing preferences.
Finally, it isn't news to anyone that concentration is the key to victory when it comes to competitive video games. And, with the model's dark-gray frame that reduces the light reflection from the display, you will be able to keep your focus on the game without any distractions hindering your gameplay.
In conclusion, if you don't have a high-end gaming PC that will give you 144 fps in your favorite titles, do not overpay for a 144 Hz screen. Instead, invest in the BenQ RL2455, a gaming monitor that covers all of the gaming basics and comes at a particularly affordable price.
Additional Info
---
BenQ RL2455
Acer GN246HL
High-Quality Gaming Experience
The GN246HL monitor was designed by Acer primarily for gaming. Indeed, the specifications and features of this model focus on high performance and practicality. It has a classic and somehow minimalistic design with an x-shaped stand and LED-lit control buttons on the monitor bottom for a quick access to the OSD menu and turning the power on and off. However, the GN246HL is not lacking elegance either as the black and gold colors on the stand that allows the screen tilting add a style to the overall slim design of this Acer model. In terms of connection interfaces for pairing the display with your PC, gaming console or a laptop you are all covered - there are HDMI, DVI and even analog VGA (D-Sub) ports on the lower side of the monitor back panel.
As this model is gaming-oriented, it comes with a FullHD TN+Film panel providing an astonishing 1ms response time to eliminate a ghosting effect and keep the image crisp. Though this feature is not the only that makes the GN246HL an outstanding gaming option - the impressive 144Hz vertical refresh rate contributes greatly to reducing the "motion freeze" and delivering an ultra-smooth visual experience. With that, this 3D TN gaming monitor provides healthy 170-degree horizontal and 160-degree vertical viewing angles, which allow for some flexibility in choosing your position relative to the central axis of the screen.
No Hindrances on Your Way to Victory
We want to reiterate that having a panel with a combination of 144Hz refresh rate and 1ms response time in your display is not simply beneficial for your gaming experience but is absolutely necessary for an extreme gaming. When your performance in a gaming match depends on your response to the situation in a split second no visual lag or ghosting artifacts must not stand in your way. Aptly engineered, the Acer GN246HL ensures you have everything at hand to show your unadulterated gaming skills.
A Window to the 3D World
In addition to keeping the image smooth regardless of the gaming pace and amount of motion and camera shifting on the video, the high vertical refresh rate is very good for a 3D experience. With a 3D-compatible video card and 3D Vision™ glasses, you can enjoy watching your content in a stereoscopic 3D. The important aspect of using the 3D Vision technology supported on the GN246HL, however, is that the vertical refresh rate of the resulting stereoscopic image you will experience in the glasses is the original monitor refresh rate divided in two. Thus, the model provides a 60Hz refresh rate (the model supports 120Hz max in 3D mode) when watched in 3D, which ensures a comfortable viewing and prevents an eye fatigue otherwise experienced on the displays with lower refresh rate values due to the image flickering.
A Comprehensive Approach
With all the virtues and advantages this monitor has to offer you need not to forget about the importance of the other components of your system that are involved in rendering images on the screen. Keep in mind that the full display potential can be unlocked only when it is used in combination with a potent video card, powerful CPU, and enough RAM to keep the video card's GPU always fed with required data, and a proper connection.
Additional Info
---
VIDEO
Acer G246HL 24" 1080p LED Monitor - Best Cheap Monitor ??
What customers say about this product
Vesa mount compatible. you can use it with your monitor mounting systems.
This monitor is amazing, has a great resolution, the display of stereoscopic images is great performance, the colors are very bright and it costs a glass of work to fix them, the design is very good, very aesthetic and easy to accommodate.
Came with dvi hdmi cables and perfect setting.
Performs as advertised. Sharp contrast, quick response time and no dead pixels.
Acer GN246HL
Infographics
---
What Is a Gaming Monitor?
In modern days we see computer accessories with the word "gaming" in their name more and more often. Anything can be "gaming" - keyboards, mice, headphones, mouse pads, etc. Monitors are not an exception. At the first sight, most users will not see any difference between a traditional and gaming display. Well, maybe they will notice that the design has become brighter. But, same as with other gaming tools for computers, these monitors are also primarily directed at dynamic games. For this very reason, their manufacturers point out such features as speed, convenience of use and general performance, all important for your comfortable gaming experience. If you are a hardcore passionate gamer, or you simply like to play computer games in your free time, then buying this type of monitor for PC will be a nice investment.
If you are only starting to immerse yourself into the world of gaming, and you have decided to substitute your gaming equipment, then you without a doubt will be interested in our reviews on headsets, mouse and PCs for gaming.
What Features to Compare
Choose the right size

The modern market offers a large selection of monitors. Therefore, it's important that you follow some simple guides when selecting a display for gaming. The first aspects to consider are size and connectivity. The display size, shown in inches, will tell you of its diagonal length. The height and width of the screen may vary, depending on the aspect ratio. Most PC monitors for gaming have an aspect ratio of 16:9, but it is not that strange to see, for example, a 16:10 ratio, and the 21:9 aspect ratio now grows more and more popular. When deciding on the dimensions of the display, consider where you will place it. If you have enough space, we recommend you to purchase a monitor with a big diagonal, 27" or more. This way you will be able to embrace the whole field of your game. But if your space is limited by, say, side shelves or an alcove, we'd offer you a 24" PC monitor.
Check out screen resolution

When you have decided on the size of your future gaming PC monitor, look at its resolution. The monitor's resolution is the number of pixels the panel includes. The bigger number of pixels mean a more clear picture and, consequently, more enjoyable gaming experience. Most PC screens have panels with a Full HD resolution (1920x1080) that allows you to obtain a very clear picture on displays with sizes up to 27". Monitors with greater diagonals often have WQHD panels with a resolution of 2560x1440, which provide a clear picture on the increased monitor size. And the manufacturers of 21:9 PC screens use panels with Ultra HD resolution (3440x1440) to maintain the image's ratio. But note that the bigger the resolution of the screen is, the more powerful video card you will need.
Also, do not forget about types of supported incoming video signals. You should select a monitor with the same ports your computer has, otherwise connecting the screen to PC will pose a problem. In the latest years, almost all gaming displays implement various connectivity interfaces. The most widespread are the following:
VGA is an analog interface that conveys video with a resolution of 640x480. This technology itself is quite outdated, but a lot of users still have devices with this connectivity type.
DVI is an interface that transfers both analog and digital signals. There are a few types of a DVI: DVI-I is able to transfer both signals, and DVI-D only transfers digital signals. Depending on its mode, this interface can convey video with a resolution of up to 1920x1080 in Single Link, and up to 2560x1600 in Dual Link.
HDMI is a modern digital interface for transferring data, high-resolution video and multichannel sound. Maximum transferable video resolution is 3840x2160 pixels. It is the most popular video transferring interface.
Display Port is a digital interface that now grows in its popularity. It conveys data, high-resolution video, and multichannel sound, which makes it the main competitor for the HDMI. Also transfers video of up to 3840x2160 pixels.
Decide what panel type you need

After you check the availability of interfaces in your computer, we offer you to consider the panel type and the speed of the chosen model. You may need to check these specs: response time, panel type, brightness, and contrast. The response time means how fast any given pixel is able to change its brightness. This parameter is measured in milliseconds. The lower these numbers, the less distortion you will notice when the shots change. The perception of shots change time is individual and varies from person to person, so don't chase the numbers, better choose what you yourself prefer. The following are the most popular panel types on the market now:
TN panels are the most widespread and affordable. Most

PC monitors

are now made with TN panels. These models have a viewing angle of approximately 160-170°. They fall behind the IPS

screens when it comes to contrast, but are unparalleled in response time. These panels are the best for dynamic games.

IPS panels have a 178° viewing angle, so the image will stay clear from whatever side you look at it. These gaming displays have a very precise color rendering, but generally, have higher response time than the TN panels. If you love good rendering quality and bright colors, this type of

monitor is what you need.
Depending on the panel type and technologies used, monitors also have different brightness and contrast. The brightness parameter corresponds with the intensity of screen glow, and it is measured in cd/m². The contrast is the difference between the brightness of the lightest and the darkest parts of the image. Images with higher contrast look more real. Often manufacturers specify dynamic contrast ratio. It means the difference between the lightest part of an image under the maximum brightness and the darkest part of an image under the minimum brightness. The bigger this ratio is, the more real the picture will look in dynamic action scenes.
Consider technologies applied

You may also want to consider the technologies that have been used to enhance screen performance. It is not a secret that manufacturers chase their clients, and for this very reason, they add more and more features to their products. Thanks to this, you can choose the exact characteristics you need.
FAQ:
Q: What is the difference between a regular monitor and a gaming one?

A: As a rule, gaming monitors are distinguished by their performance concerning the parameters that are crucial for delivering a high-quality gaming experience. There is a whole range of such parameters, which every monitor manufacturer tends to interpret individually. Speaking generally, these gaming parameters relate to image quality, sound quality (in case there are built-in speakers), monitor ergonomics and connectivity features.

Q: What parameters are the most important for a gaming monitor?

A: With the visual experience being the top priority for monitors, these monitors are usually targeted at achieving small response time and high refresh rate. These parameters define the performance of the monitor in rendering images. The response time determines the speed, with which every single pixel of the monitor panel can change its color with all the pixels together forming the resulting image we see on the screen. Thus, the smaller the response time the faster the monitor can render an image and more images it can display per second (frames per second). At that, the more frames per second the monitor renders (the higher its refresh rate) the smoother and more artifact-free gameplay experience it delivers (with 60 frames per second being a common standard of a comfortable gameplay).

Q: Is there any difference in terms of visual performance when it comes to gaming monitors?

A: The major difference between them is the type of the panel and the technologies used. While some models use the so-called TN panels that provide smaller response time, many top-tier models come with IPS or MVA/PVA panels ensuring better color rendering and bigger viewing angles. Each panel technology has its pros and cons, thus you need to decide your priorities.

Q: What is the difference between 60, 120 and 144 Hz screens?

A: As their specifications state, some monitors have a 60 Hz refresh rate, while other models offer the refresh rates from 75 to 144 Hz. As a general rule, the higher the monitor refresh rate is the better are the visuals in dynamic scenes (those with many moving objects and rapid movements on the screen) owing to reduced visual artifacts, such as object traces, image tearing and jitter, etc. However, a higher refresh rate does not always mean better image quality in dynamic episodes as the pixel response time also matters and you may experience better dynamics with a 60 Hz monitor than with some monitors that offer 100 Hz or even a higher refresh rate.