Best T-Shirt Press Machines 2017
Best T-Shirt Press Machines 2017
Custom-made T-shirts are really popular now, they add to the individuality and catch everyone's eye. Which makes it a great way to
earn money! We have compared 5 best T-shirt press machines to help you with this.
....Read more
....Read less
What Is It
If you want to create a unique and inimitable image or wish to imprint the logo of your favorite music band, team, or photo of your beloved, you will need a printer and a T-shirt press machine. A press machine is a versatile device designed for printing photos, images, and logos on T-shirts. A press machine will decorate jerseys or shirts of any kind with an image or tracery to your liking. The operating principle of a press machine is based on sublimation technology. In other words, the image is printed on a conventional inkjet printer with sublimation inks. Then, a press machine transfers the image on the desired material under high temperature. The inks penetrate deep into the superficial layer of the material. As a result, you get a stable image that has no cracks and scratches and does not peel or get dim.
If you are a handmade enthusiast, you may take interest in our review of scrapbooking cutting machines to create decorative elements and adornments.
What To Look For
Capabilities
When you choose a T-shirt press machine, check its capabilities for a start. First of all, they depend on the heat platen size. If a T-shirt press machine is designed for А4 printing, its heat platen can be small (11"х15"). If you consider А3 T-shirt press machine, its heat platen should be at least 15"x15". However, if you pick a 16"х24" heat platen, mind that it needs a considerable power supply. So, consider the capacity of wiring in your premises, too. The size of the heat platen determines the size of printed images. A temperature is very important as each material requires a specific one for successful ink transfer and persistent image. Underheating is as bad as overheating. When a press machine underheats the surface, you get a gappy, dim, and unstable image. Overheating leads to the sharpness loss, color distortion, or melting of working surface. So, the temperature range also determines materials that can be handled.
Controls
Controls are the next criteria to be considered when you look for a T-shirt press machine. A precise temperature control allows choosing the right temperature mode for printing on various surfaces. A timer is essential for adjustment of the printing duration. The pressure adjustment is required to set the desired value for a specific surface. The temperature and time of T-shirt press machines operation are adjusted thanks to the appropriate control units equipped with digital displays that show the set values.
Usability
Lastly, look at the usability of T-shirt press machines. The usability largely depends on the T-shirt press machine type; swing-away or clamshell. The swing-away machines need some space on the sides and behind, while the clamshell models are more space-saving. It should be noted that swing-away models provide better pressure distribution than clamshell models, and they are easier to handle, as their heat platens move aside, providing some free working surface (base). The accessories offered by the manufacturer may also affect the usability of a T-shirt press machine.
...Read more
...Read less
Gecko T-Shirt Sublimation GK100 Heat Transfer Press Machine
Gecko T-Shirt Sublimation GK100 Heat Transfer Press Machine
High Quality in Any Scale
Gecko proved itself as a very convenient device that can be used commercially. The reliability of this T-shirt press machine is provided by the design of its body and precisely controlled elements. The heating elements are evenly distributed across the working surface and ensure a high quality printing. The accurate image transfer needs a uniform pressure over the entire surface. Gecko has taken care of that and designed this press machine so that the pressure could be easily adjusted and distributed all over the surface. Hence, the image will have an even sharpness and a correct color reproduction. We should emphasize the heat platen size of this press machine. The size of working surface is 15" x 15", and the machine is able to print A3 and A4 images. The temperature can be adjusted from 0ºF to 435ºF, so this T-shirt heat press is able to print on a wide range of materials. Besides, the press can reproduce images with various transfer materials such as plastisol, sublimation, inkjet, laser, and color copier.
All-Around Control
This heat press machine can boast not only great printing but also a well-thought-out and simple control system. Gecko comes with a digital timer from 0 to 999 seconds that allows you to set an accurate printing time for a specific material. Once printing is complete, the audible alarm will notify you about that. The adjustable pressure knob and a spring-loaded handle will save you efforts and provide smooth pressure control. The special rubber footings are also worth noting as they make the press more stable and save the floor surface where the press stands. The non-stick coating of the heat platen will ensure convenient and safe handling of the printed materials.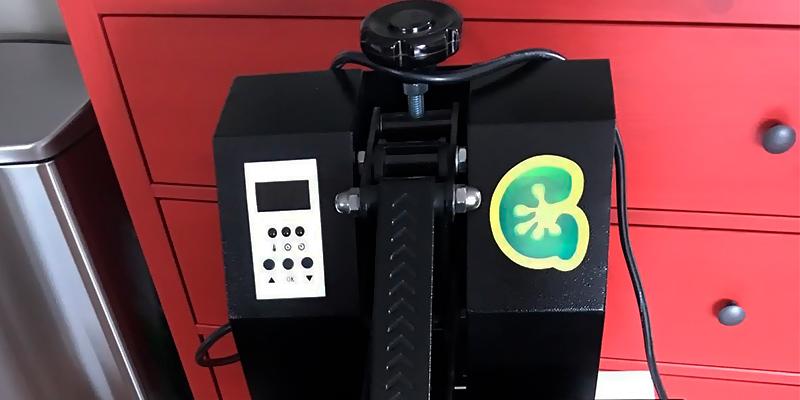 More Products to Consider
To transfer an image with a press, you need to print the image itself first. We recommend picking one of our inkjet printers to print rich and vivid images.

Always use inks compatible with your printer for successful image transfer with the press machine.

---
Gecko T-Shirt Sublimation GK100 Heat Transfer Press Machine
ShareProfit Multifunctional Transfer Sublimation T-Shirt Press Machine
ShareProfit Multifunctional Transfer Sublimation T-Shirt Press Machine
All-in-One
ShareProfit is an interesting acquisition if you are going to manufacture souvenir products in large numbers. This model will be great not just for printing on T-shirts and other clothes, but also for sublimation stamping of cups, baseball caps, plates, etc. made of various materials with different surfaces and density. This press machine will let you expand the range of products. What is more, this model of press machine is available in several supply packages, so you can choose the one that meets your goals. ShareProfit is able to reach the temperature of 430ºF, and the time can be set up to 999 seconds. The unit is equipped with an adjustable multi-spring balancer to apply closing pressure through a spring and plate and evenly distribute the pressure over the platen to get a contrast image with the right picture transitions.
Simple Like Never Before
This T-shirt press machine is a swing-away model, so it requires a bit more space than a clamshell press machine. Still, such design approach made this press machine safe, since the heat platen does not interfere with your hands and you can concentrate on the material positioning on the press. The pressing completion will be accompanied by an audible alarm, so you will always know when the job is done. The press comes assembled, you can start working right after unpacking. As your souvenir range grows, you can buy additional transfer sheets for various types of products. This technologic approach makes this press machine a very flexible and cost-saving option.

More Products to Consider
If you plan to produce mousepads, keychains and other flat products from solid plates, it's important to take care of the working surface in order to prevent it from scratching. One of the options you could use is a tough cardboard, yet it tends to wear out pretty quickly. We'd recommend you to opt for a cutting mat and be sure that the product will last and your worktop will be protected.
---
VIDEO
6 in 1 multifunctional heat press machine
ShareProfit Multifunctional Transfer Sublimation T-Shirt Press Machine
PowerPress Industrial-Quality Digital Sublimation T-Shirt Heat Press
PowerPress Industrial-Quality Digital Sublimation T-Shirt Heat Press
Do Fast, Do Well
PowerPress can be classified as a device that allows you to launch a full-scale production right at home. This is owing to the unit's high power that allows the press to get hot quickly without losing your precious time. Also, the 15"x15" heat platen lets the press handle A3 and A4 images. The heating temperature is 500ºF, and the press machine can make prints on both fabric and solid materials. A durable steel body will work really long even with intense daily use. A short heat-up period needs certain resources, so the power consumption of this heat press is higher than some other models. A high-quality and efficient printing is achieved by silicon gel base board on the lower heat platen that prevents sticking and adds to the uniform pressure application to the printing surface.
Simple in Each Part
Simple and efficient printing is implemented by the digital control unit that allows you to set the printing time and temperature. All the info will be shown on the display located on the left side of the press. The display is divided into 2 units and each shows the time and temperature. When the printing is over, the machine generates an alarm, reminding you to remove the product. We should note the handle design and the products fixation for printing. The handle is made in a way to let you close and open the press machine with minimum efforts. In addition, the handle features a special soft grip that improves convenience and reduces your fatigue. The pressure can be adjusted with an accessory lever located at the handle base.
More Products To Consider
This machine will help you to make T-shirts and DIY goods exceptional by transferring images on them. If you really wish to make unreplicated things, consider buying an engraver. This tool will help you carve an inscription or image on solid surfaces, for example, glass.
---
VIDEO
PowerPress Industrial 15x15 Heat Press
PowerPress Industrial-Quality Digital Sublimation T-Shirt Heat Press
Mophorn Multifunction Sublimation Heat Press Machine
Mophorn Multifunction Sublimation Heat Press Machine
Embodiment of Your Ideas
It's a robust commercial T-shirt press machine with a long lifespan that's been achieved thanks to the heavy-duty steel frame. With this machine, you'll be able to print on just anything: T-shirts and caps, cups and saucers, mousepads and puzzles. The Mophorn will do it wonderfully! The machine is able to print on fabric, such as cotton, flax, nylon, and synthetics, as well as on ceramic ware. The multi-spring balancer allows uniform pressure application, providing homogenous and rich print.

The machine features 6 presses which are the Teflon-coated plated press for jackets and other bulky clothing, pullers, etc., the curved press for caps and hats, 2 mug presses for conventional cups and latte cups respectively, the flat round press for printing on small plates, and the press for larger plates and other round items.
Thus, this press machine will help you turn all your printing ideas into reality. It can be used for home applications as well for small-scale production.

Let's Start!
The Mophorn Multifunction Sublimation Heat Press Machine is incredibly easy-to-use. The printing algorithm is intuitive and easily understandable even for a beginner.
Turn the machine on and check whether the heating platen is engaged with the digital control unit, and select a press, for example, a plate press. Set the pressing temperature and time with " > " and " < " buttons and wait til the press signals you with a sound that the required temperature has been reached.
Lift the platen, lay your artwork, the item to be decorated on the plate, and lower the platen down. You'll see a countdown on the control unit, and once it expires, the press will beep again. Done!
Heat Press for Keepsakes
This T-shirt press will help you create affordable and unique gifts and souvenirs for different occasions.
1. The flicker with logo/drawing will be a great present for travelers, students, night strollers and runners.
2. The magnet with a print or inscription to motivate ("No food after 6 pm"), remind ("Feed your cat!") or just give a reference (phone numbers).
3. A bag or backpack with an original image or logo is surely a chic! Such accessory is always in the limelight.
So, buying the Mophorn heat press machine, you'll be limited just by your creativity. We also recommend buying a laser engraver for fascinating handmade gifts.
---
Mophorn Multifunction Sublimation Heat Press Machine
Power Heat Press Fancierstudio Heat Press
Power Heat Press Fancierstudio Heat Press
Small Rain Lays Great Dust
The advantage of JRFOTO is its compact size. Being pretty small, this heat press demonstrates a great performance and ability to handle a lot of transfer materials. The sublimation printing technology makes this T-shirt maker machine very simple in use, as you need only a printer and conventional sublimation inks to stamp the images. Such design allows you to make a considerable saving on a souvenirs production: the press is compatible with almost any surface, so you won't need to buy a lot of equipment. You can print large and small volumes without the increase in cost. This machine will deliver images of a quality hard to get with other technologies. The image is located "inside" the product, so it is resistant to washing, UV rays, and other environmental factors. Packing such affordable device as JRFOTO, you will be able to print a bunch of products from T-shirts to ceramic items. The heat platen here is 9" x 12" and will fit A4 images.
Say 'No' to Damage
Power Heat falls into the swing-away category and provides particular ease and safety of handling since the heating element is located above your hands. However, this design slows down the workflow due to the increased number of operating steps. The machine needs little space for installation thanks to its compact size, so you can launch your own production in any place. The bottom of Power Heat features special rubber feet that provide stability during operation and save the floor at the same time. The silicon rubber base is glued down to the press; it serves as a protection for working surface and provides an even weight distribution over the surface. The temperature and time adjustment is performed by a single unit with 2 scales.
More Products to Consider
Printing on a T-shirt or jersey is a great way to make it unforgettable. Embroidery is another way, yet it's quite a skilled task taking a time. So, we recommend buying an embroidery machine for fast and delightful fancywork.

---
Power Heat Press Fancierstudio Heat Press