If you are looking for a portable car fridge, but you hesitate which one to buy, this review can do you a great service. We have
chosen the best car cooler bags to simplify your choice.
...
Read more
...Read less
X
This site is a free online resource that strives to offer helpful content and comparison features to its visitors. Please be advised that the operator of this site accepts advertising compensation from certain companies that appear on the site, and such compensation impacts the location and order in which the companies (and/or their products) are presented, and in some cases may also impact the scoring that is assigned to them. The scoring that appears on this site is determined by the site operator in its sole discretion, and should NOT be relied upon for accuracy purposes. In fact, Company/product listings on this page DO NOT imply endorsement by the site operator. Except as expressly set forth in our Terms of Use, all representations and warranties regarding the information presented on this page are disclaimed. The information which appears on this site is subject to change at any time. More info
ICECO JP30 Portable
Portable Yet Roomy
The ICECO JP30 portable car refrigerator doesn't look like a conventional fridge that you would normally take with you on picnics, however, it is capable of much more than a standard model.
First off, it has excellent insulation that enables it to retain the cold inside the storage chamber for up to 10 hours even in extreme heat. Acting as a freezer and as a refrigerator at the same time, the temperature range of the appliance varies from 0° F to 50° F and can be adjusted using the frontal temperature control panel. To make it a tad bit more convenient, it is equipped with a simple LCD screen that shows the target temperature, as well as the selected power mode.
Despite its portable nature, the appliance can fit quite a lot inside the main refrigerator box, which is quite nice. To be more specific, the main compartment can hold up to 36 12-oz cans - enough to suffice for a few days worth of food.
When it comes to the size of the fridge, the model measures 23 x 13.8 x 15 inches and has a weight of 33 pounds, so you are getting quite a compact appliance. To add more, it features a set of ergonomic handles on top of it which make it easier to carry when it's full.
Cools Faster Than Anything
Owing to the dual compressor design instead of a single one, the fridge lowers the temperature inside the storage chamber quite rapidly, allowing you to cool down the contents in just a few minutes and freeze it in less than a couple of hours. Likewise, thanks to the fins on both sides of the compressor assembly, it won't overheat even if you forget to turn it off. Just remember to not cover the actual fins on the sides so the device can blow the hot air out of the compressors without issues.
The thing that we didn't really appreciate about this device is its internal LED light. At times, it can be a bit glitchy, especially when the connection to the car battery is not really stable. Hence, we recommend checking the cable prior to using the appliance to ensure that the light works properly.
Being neither too big nor too small, the JP30 Portable strikes a perfect balance between bulky car fridges and small cooler boxes, making it the best choice for those who can't fit something bigger in their car. At the same time, it still can hold a lot of food and beverages.
In the end, the JP30 portable is a perfect car cooler box for long trips thanks to its quick cooling times and impeccable insulation. Fairly light and simple to carry around, it will definitely become a family favorite both inside and outside of your car.

Additional Info
Last updated price

$

479.00

Stock
In stock
ASIN

B088M3NQYS
---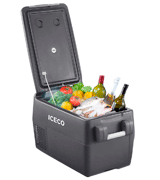 ICECO JP30 Portable
Alpicool T36 38-Quart
Medium Weight With Maximum Performance
Moving away from the compactness of the small cooler boxes, let's take a look at something that is not big enough to be a truck automotive refrigerator but that still is capacious enough to be a medium-sized model - the Alpicool T36.
The dimensions of 28.5 x 14.2 x 14.5 won't win the T36 any compactness awards, however, it is still a medium-size model, so it should fit inside any larger vehicle or in the trunk of a simple town car with ease. To make up for the larger size of the housing, the appliance features a foldable handle to carry it around, as well as a set of transport wheels that make the whole assembly look like a travel case rather than a small refrigerator. Other handy features include an internal LED light that works when the cooler is powered and a set of on-board touch controls that let you set the temperature of the internal compartments. The temperature can be set in the range of 68°F all the way down to -4°F, so there are no big surprises here.
Capacity-wise, the cooler box can fit up to 38 quarts of food or as an alternative - up to 40 12-oz beverage cans, which is not bad for a 30-pound appliance. There are also 52 and 63-quart models optionally available from the manufacturer, so if the 38-quart option doesn't cut it, you can get a larger fridge instead.
Adjust Temperature How You Want
The thing that makes this particular model stand out, though, is its dual-temperature zones that enable using the cooler as both a freezer and as a refrigerator at the same time. Unlike other products in the same category, you can set the temperature for each storage compartment individually, which gives you plenty of options for keeping food and drinks cold while camping. That, coupled with a relatively modest price tag for the whole package, really makes for an excellent device you are likely to use quite a lot and for quite some time in your car.
The thing that we didn't like about the device is how loud it actually is. When not used in the ECO mode, the noise it produces is comparable to a fully-fledged diesel power generator, so it will be preferable to put it into an energy-saving mode before going to your tent at night if you plan a camping trip, for example.
All things considered, though the T36 does have some quirks, it's a good all-around solution for camping and traveling purposes that will likely serve you for years to come, thanks to its dual-voltage nature and compressor cooling mechanism that is both durable and reliable.
Last updated price

$

0.00

Stock
May be out of stock
ASIN

B07MQZRWMB
---
Alpicool T36 38-Quart
AstroAI 16-Quart
A Good Middle-Ground Solution
With so many big car refrigerator models available on the market today, there're not a lot of good options for small cars. While looking at small coolers, we just couldn't skip this AstroAI 16-quart car refrigerator, which, in our opinion, will be an excellent pick for smaller cars and vehicles that don't have a lot of space in the trunk or in between passenger seats.
Right off the bat, let's take a closer look at the capacity of the mini-fridge. With dimensions of 13.8 x 9.6 x 7.1 inches, the cooler isn't too big. That said, it offers just enough space to store up to 33 oz of food or 20 12-oz cans, which makes it ideal for camping purposes. Plus, when empty, it weighs just 20 pounds so it will be easy to transport it outdoors.
Speaking of numbers, the temperature range of this tiny (by car cooler standards) fridge goes from -4°F all the way to 68°F, which means it can be used as both a freezer and a cooler.
Does it consume a lot of power, though? No, not at all. When used on the max power with the compressor running, the unit pulls around 40-48 watts, and once it's cooled, it consumes just 1-5 watts, which lets it save tons of energy. Plus, you get the ECO power mode that will keep those numbers even lower.
What's also convenient is that in addition to the 12/24-volt DC cable, this fridge can use a 110/240-volt connection. This means you can pre-cool the contents at home and use your car lighter connector to maintain the temperature within the storage compartment while the cooler is in the car.
Saving the Battery
Although small, the AstroAI Car Refrigerator is on par with bigger car fridges in terms of performance, perfectly keeping the contents cool and fresh even in the summer heat. This is achieved thanks to the insulated housing of the storage box as well as the body of the refrigerator itself. The tradeoff to this system is its compressor, which requires some space to keep the hot air flowing out of the appliance, so keep that in mind before placing it in any of the tight spots inside your car interior.
Contributing to the ease of use is the LCD panel on top of the housing, which makes it easier to change the temperature and modes in all environments including some of the dimmest areas. Thanks to this, you have plenty of options for operating and configuring the fridge.
To sum it all up, this cooler box from AstroAI will be a go-to-pick for users who would like to have a refreshing drink during long trips but don't want to carry a lot inside of their car. Sitting nicely between larger and medium-sized appliances, this 16-quart model fits plenty of drinks and food while being relatively light and compact at the same time.
Additional Info
Last updated price

$

189.99

Stock
May be out of stock
ASIN

B088FDTTY4
---
AstroAI 16-Quart
CleverMade (7060-H011-00061PK)
Spacious Cooler Bag
If you're looking for an affordable and portable alternative to a car fridge, consider collapsible cooler bags. They are lightweight, durable, and can fit quite a lot of food and drinks, making them suitable for a variety of purposes. A case in point is the CleverMade 7060-HO11-00061PK.
Measuring 18.25"L × 12.25"W × 11.5"H when opened, this cooler bag has enough room to accommodate up to 50 cans of beverages (~30 litres). This is plenty enough to feed a big crowd at the beach party or survive a few days in the wild. At the same time, the weight of the bag is rather modest. The bag weighs only 2 pounds when empty, so it will not add too much weight to the load. Moreover, it has a collapsible design. Thanks to that, you can easily fold it down to a size less than 3 inches, making it possible to store it pretty much anywhere as well as take it with you on all kinds of trips.
Aside from impressive capacity, the CleverMade 7060-HO11-00061PK boasts a solid design. Made with a durable steel wire frame and patented SnapHinge on each side of the cooler, it is a thing that can take some beating. This way, even if you go camping every other weekend, there's little chance that the bag may get damaged and fall apart.
The insulation of the bag is also fantastic. It's comprised of three layers of leakproof material, which allows it to create a perfect seal. On average, it can preserve food cool and drinks chilled for up to 7 hours at 80 °F ambient temperature, which is a pretty decent performance for a cooler bag of this size.
Convenient Add-ons
Overall, this bag looks and feels high quality. If you don't like the gray color, it is also available in olive, light gray and blue steel. On top of that, it's also available with a shoulder strap, so if you plan to carry it in the hands for delivering goods, for example, you can choose a bag with a long strap. Alternatively, you can opt for a cooler bag with reusable ice packs should you be planning a longer journey. 
Is there anything else to add? Well, this bag has a set of quality zippers. In addition to that, it has an additional pocket for things like your keys or wallet and a bottle opener, saving you the need to take any other bags or accessories with you.
Summing up, the CleverMade 7060-HO11-00061PK can be the best choice for those looking for a roomy car cooler bag at an affordable price tag. This bag is made of durable materials and can fit up to 30 litres, making it perfect for beach trips, camping, and whatnot.
Additional Info
Last updated price

$

0.00

Stock
In stock
ASIN

B01KPW8ZEK
---
CleverMade (7060-H011-00061PK)
TOURIT 48-Can
Ideal For Tourists
We don't know for sure if the company dropped one letter from the product's name intentionally or unintentionally, but that doesn't alter the particularity of the fact — the 48-can Cooler Bag from TOURIT is ideal for tourists.
To start off, this bag has a decent volume of 32 liters, which allows it to fit up to 48 cans of drinks. On top of that, it has a rather long cooling time of up to 12 hours, bringing it on a par with more expensive car cooler bags. In fact, very few other cooler bags at this price tag can offer you the same kind of cooling performance.
To proceed with the build quality, the exterior of the TOURIT bag is made of a high-quality Oxford cloth. Not only does this material feel dense and strong, but it is also waterproof, ensuring you can safely use it to carry even frozen foods and drinks without the worry about the liquid trickling out of it. What also adds to the strengths of the bag is that it's very easy to clean. Unlike many other bags, where spilled liquids often turn into a real mess, the maintenance of the TOURIT bag requires very little effort. All you actually need to do is simply wipe it with a dry towel. 
The straps on the bag are adjustable, allowing you to carry it in the most comfortable position, depending on your body build. Furthermore, they are made of durable material. Thus, you can safely carry it when it's fully loaded and rest assured that they won't break apart. 
Decent Cooling Performance
Another area where this bag shines is versatility. Fitted with multiple front pockets, the TOURIT Cooler Bag easily substitutes for a backpack and a purse, providing you with enough space for daily necessities. It also has a bottle opener for hassle-free opening of canned drinks/food on the go. Plus, you get a practical elastic rope. The latter comes in particularly handy for the storage of bulkier things like a towel, coat, or anything else that is heavy or uncomfortable to carry in the hands.
Finally, let's expound on the cooling performance. Looking at this bag's price tag, you'd not suggest it can preserve food for almost half a day without loss in the efficiency. However, that's exactly what sells this model, giving you a product that is both affordable and highly efficient. Made from a high-density insulating material, this bag allows you to keep your snacks and beverages nicely chilled for up to 12 hours, which is long enough to last you a day at the beach! Besides, it's always possible to extend this time even more by adding a set of ice packs additionally.
To wrap up, if you're in the market for a budget-friendly car cooler bag that is easy to carry and spacious, turn your attention to this model from TOURIT. Much more affordable than hard plastic coolers, it's an ideal product for delivery men, traveling, picnics, as well as short-term journeys in the wild.
Additional Info
Last updated price

$

0.00

Stock
In stock
ASIN

B08RSKGYPM
---
TOURIT 48-Can
What Is a Car Cooler Bag?
There are many reasons that make car cooler bags so popular among users. First and foremost, these bags don't take up a lot of space and can be easily carried around due to their flexible design, light weight, and comfy carrying handles. At the same time, they are very powerful, even though their appearance might tell you otherwise. Electric-powered and with a thick layer of insulation, they boast great cooling ability and are capable of keeping the content of the bag cool/warm for up to 4 hours with no need for ice. The extra thermoelectric power can extend this time by several hours, letting the bag serve as a mini version of a personal fridge. In addition to that, these bags provide multiple functions, another reason that makes people want to use them more and more. Despite the "cooler" part in the name, these bags can also be used for heating items which makes them ideal for picnics, trips, commutes, and more.
If you drive a car a lot, you might also be interested in our selection of car massagers. These devices can help relieve pain and muscle tensions in your back and make your trips and commutes much more enjoyable. Also, we recommend taking a look at our car air beds review. With a bed like this, you'll be able to save money while not compromising your sleeping comfort when traveling by car.
What Features to Compare
Compression or Thermoelectric?
When selecting a car refrigerator, you should first decide on the type that will best work for you. Generally, there are two types available: compression and thermoelectric.
Speaking of the former, these work based on the integrated compressor and refrigerant, which allows them to reduce the inner temperature of the bag down to 0°F. The advantage of this type is that you can precisely set the temperature for a freezing chamber, and it can maintain the internal temperature up to 6 hours, making compression models ideal for long-term storage of food and drinks.
Meanwhile, thermoelectric refrigerators cool products by using the internal fan and thermoelectric element. As a result, their operating temperature is directly related to the ambient temperature and, as a rule, such fridges can not cool below 18°F. However, they are more suitable for maintaining the temperature. To specify, the food may stay cool without any power supply up to 8-10 hours. But, still, it is advisable to pre-cool the edibles before loading them into the thermoelectric fridge. Another advantage of this type is the ability to preserve food not only cooled but also heated. All you have to do is just press the necessary button. Finally, these bags are much cheaper.
Design and Capacity
The next point to consider is the design and capacity of the cooler bag. If you're a picnicker, often hitting the beach with friends to enjoy sandwiches and maybe a couple of beers after work or on weekends, buying a cooling bag with a large internal capacity will be the right choice. That said, do not forget - the larger the capacity is, the bulkier this fridge will be. Alternatively, if you don't fancy an idea of carrying a large bag, you may turn towards more compact models which are offered aplenty on the market. These are convenient for placement directly inside the car, and it is easy to fix them using seatbelts, which makes them ideal travel companions (larger coolers can be transported in the trunk).
Do not overlook the availability of unique features, such as handles, straps, additional compartments, cup holders, internal dividers, lights and other extras that can add to the convenience of use.
Power Source
Finally, consider what power source a cooler bag uses. Most refrigerators are powered by a standard car DC socket with a voltage of 12 Volts. Some additional options like built-in battery protection will prevent the possibility of sudden discharge. Furthermore, it's possible to use alternative power supplies or solar panels which can extend the operation time even more.