If you're a professional photographer, you need a special LCD monitor, yielding high resolution and great performance. Here's
a review of 5 best monitors for photographers. Hopefully, you will find the perfect model according to your needs!
...
Read more
...Read less
X
This site is a free online resource that strives to offer helpful content and comparison features to its visitors. Please be advised that the operator of this site accepts advertising compensation from certain companies that appear on the site, and such compensation impacts the location and order in which the companies (and/or their products) are presented, and in some cases may also impact the scoring that is assigned to them. The scoring that appears on this site is determined by the site operator in its sole discretion, and should NOT be relied upon for accuracy purposes. In fact, Company/product listings on this page DO NOT imply endorsement by the site operator. Except as expressly set forth in our Terms of Use, all representations and warranties regarding the information presented on this page are disclaimed. The information which appears on this site is subject to change at any time. More info
Dell U2715H
Image Quality
Oh, this is the best monitor for Adobe Photoshop! With Dell UltraSharp U2715H you will experience great image quality and enjoy 16.78 million colors. The monitor has a fantastic clarity on a large 27" screen with QHD resolution (2560x1440 pixels). Also, this model has the AH-IPS panel which is the newest "hot" technology. It will rid you of most shortcomings of previous versions of IPS displays. Thanks to a thorough factory color calibration, this type of panel is capable of reproducing 99% of sRGB color gamut. It is self-evident that you can adjust brightness, contrast, and sharpness. So, you will get exceptional color clarity right out-of-the-box.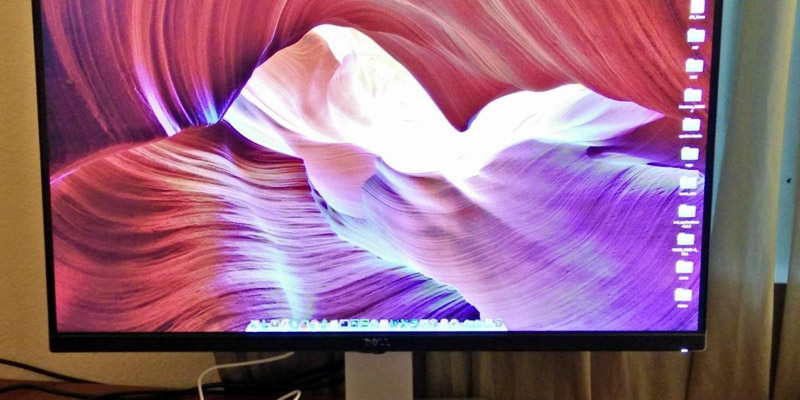 Monitor
This model features a matte screen without any "crystal" effects. Such surface allows you to work comfortably even in a well-lit room. The manufacturer provides an amazing choice of different display sizes as well as the option of using two monitors on a dual stand. Dell offers 6 UltraSharp monitors, 27" (optimal), smaller - 25" and 27". Still, if you have plenty of space on your desk, you can even choose one of the following gigantic models: 29" Ultrawide, or 34" Curved. In general, you can organize your workspace, without overpaying for extra inches and losing on functionality. The best monitor for photo editing ever!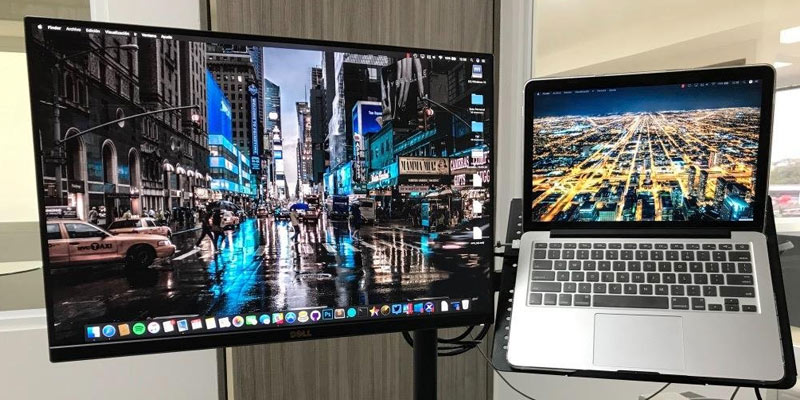 Ergonomics
This photo editing monitor comes in stylish black and silver finishes. Concerning the screen, it has rounded corners and its front bezel is a matte black plastic that makes the outer edge of the screen rather thin. The display provides a full range of ergonomic adjustments. For example, the tilt is smooth and easy-to-use whereas the height adjustment is simple and effortless. Of course, this premium Dell monitor offers a wide range of angles to choose from (90° clockwise or counter-clockwise). It also provides various connection options - 2x HDMI, DisplayPort, Mini DisplayPort, DisplayPort out , and 5x USB 3.0. By the way, USB ports can also be used for charging your gadgets. And, finally, the Easy Arrange function is very useful for photographers and designers since it allows them to drag and drop windows and arrange them properly in most convenient way. So, if you are still looking through tons of computer monitors for designers or architects, don't do it any longer! Just buy Dell!
Last updated price

$

394.99

Stock
In stock
ASIN

B00P0EQD1Q
---
VIDEO
Dell UltraSharp U2715H 27" 1440p IPS Monitor Review
What customers say about this product
Best screen on the market, 4K resolution is amazing.
Great resolution and color accuracy.
I have had this monitor for almost 3 years now, and it still works great. The stand is fantastic, easy to adjust, and hasnt degraded at all over the years.
I have a little niggle in that using the included display port cable on a windows machine, programs get re-sized every so often, which isn't a huge problem but is annoying.
Dell U2715H
NEC EA275UHD-BK-SV
Image Quality
NEC EA275UHD-BK-SV features an AH-IPS panel with the maximal resolution of 3840 x 2160 pixels, 350 cd/m² maximum brightness, 1000:1 contrast ratio, 178-degree viewing angles, 10-bit color depth and W-LED backlighting. Note that for multimedia with sub-4K resolution the company has come up with NEC UP-Scaling technology that dramatically improves image clarity. A clearer picture on the screen of this 4K monitor allows you to detect even the finest details without zooming in. This means at least two things: a photographer can spot all shortcomings very quickly and there's no need to zoom in all the time. A unique feature is the DICOM SIM profile which meets the current medical standards and allows viewing X-ray images.
Monitor
Why is the 4K resolution so important? Even modern smartphones make photos with a resolution of 4032х3024 pixels. That is why professional photographers choose 4K displays for enhancing their images. The NEC EA275UHD-BK-SV is a 24-inch, 4K (3840х2160 pixels) desktop monitor. So, if you want to view Full HD (1920х1080) photos, you will have to 4x zoom it in. This way you'll never skip a flaw and have a chance to achieve a higher image quality. For those who are engaged in professional photo editing, this is truly important, for if the image looks nice and detailed on a Full HD screen, it won't necessarily look same perfect on a screen with a higher resolution. That is why 4K monitors are so popular and demanded by pro users.
Ergonomics
The EA244UHD provides a wide range of connection options: DVI-D and DisplayPort 1.2 connectors, 2 HDMI ports, and 2 DVI inputs. Also, the device has 2 USB 3.0 ports and a Kensington lock. NEC EA275UHD-BK-SV has an external calibration software to work with SpectraView II. By the way, this monitor has 2 built-in speakers (1 Watt each), so it's not necessary to buy an additional acoustic system. This NEC monitor has 2 unique features: Human Sensor and Ambient Light Sensors. They will automatically adjust brightness according to your lightning, thereby saving power. This monitor for photographers can be connected to 6 other monitors to display the same image at a time. This is a very helpful feature most designers need for work. Fantastic!
Additional Info
Last updated price

$

537.08

Stock
In stock
ASIN

B011A8FQUO
---
VIDEO
NEC MultiSync EA275UHD | 27" 4K-monitor | Review and testing
What customers say about this product
I had also read that the accuracy is the same for HDMI and Display Port. I have found that this is not true. Based upon my visual observations, the Display Port gives a little better sharpness in the text displayed. And the refresh rate for the Display Port is 60 Hz.
'm a photographer, so a high quality calibrated monitor is what I wanted, this is it. I have another bigger monitor which isn't quite as good, should've bought 2 of these instead. It provides a high quality high resolution for use with photoshop for today's high resolution camera sensors.
It has vibrant and accurate color, impressive black level, no loss of color when viewing from an angle, and its high resolution it is easy on the eyes to read text. Like all LCD/IPS monitors, there is light leakage, but it is surprisingly minimal.
It came with a build-in speaker. It's something good to have, but the sound quality is pretty awful. I'd pay $20 more for better quality. Wish NEC made a USB soundbar for this.
NEC EA275UHD-BK-SV
ASUS MX27UC
Functionality and Style, Perfectly Balanced
ASUS Designo MX27UC is a nice option no matter how you look—from design to specs, it's a good photographer monitor that rivals the much more expensive ones. Let's take a closer look.
This is a 27" UltraHD monitor with 4K support, which means you'll be able to open quite a few windows with apps/tool panels and see three times as much data as from a 27" FullHD monitor. The detail displaying is over-the-top great, in part thanks to the IPS panel with sRGB color gamut and 178°/178° viewing angles. The ASUS Designo MX27UC is one of the best monitors for photographers as well as video editors. As a bonus, you can charge your gadgets via USB port directly from the monitor when all your computer ports are busy. And to top it all, this frameless monitor looks really good and sophisticated.
Music to Your Ears
ASUS Designo uses a unique SonicMaster technology to enhance the sound. This technology was developed by ASUS in cooperation with Bang & Olufsen ICEpower, a Danish company that produces sound amplifiers. Thanks to this solution, the monitor's built-in 3W speakers offer the clearest sound at a wide frequency range. You can select one of three audio modes—three presets (listening to music, watching movies, gaming) and a manual setting mode.
Specific Image Settings for Any Task
The flicker-free technology is not exactly an innovation but it is still a good thing to have in your monitor to help with eye strain, and here you will find it, too. There are also eight display modes for you to choose from depending on the tasks at hand (reading, gaming, night work, etc.). A unique SplendidPlus Video Intelligence technology will help quickly adjust the image.
ASUS never forgets about gamers, of course, as they are the most passionate when it comes to computers in general and monitors specifically. In this model, avid players will find a GamePlus mode where there are four crosshair options and a timer indispensable in real-time shooters and strategies, as well as FPS counter. The mode settings can be accessed through the OSD menu.
Pinnacle of Designing
The monitor is designed with stylish contrast in mind and was duly recognized: the strict frameless body and sundial-shaped stand of the Designo MX series had received the iF Design Excellence Award.
Additional Info
Last updated price

$

550.71

Stock
In stock
ASIN

B06XPJYVF2
---
What customers say about this product
I have it running with a USB-c cable to DP 1.2 input for best compatibility with the 13 laptop. I don't need my monitor to be a hub, let USB-c from laptop power that directly.
Fast refresh for all of my games. I couldn't be happier.
Chances are you will never use them, but they are better than most monitor speakers.
The monitor is excellent for the price. Beautiful ISP display, great aspect ratio, thin bezels, decent quality for built in speakers, and overall works great.
ASUS MX27UC
ViewSonic VP2468
Multitasking Model
The VP2468 pre-calibrated monitor is equipped with a specially designed by ViewSonic Colorbration which includes the functions of equipment calibration for long-term accurate color transfer. In addition, this professional color management monitor features a number of professional color settings, including preset color modes with EBU and REC709, pre-calibrated non-uniformity correction, 14-bit and 3D LUT, 5 gamma settings and 6-axis color adjustment, that provide accurate color reproduction and allow for customization. 
Due to the SuperClear IPS panel technology, lack of a frame, convenient stand, and adjustable base (turning, rotation and height of the monitor), the VP2468 monitor provides the best viewing experience at any viewing angle.
In general, this monitor is truly multipurpose. You can not only work with graphics, but also process videos, watch movies, play even dynamic games and, of course, do typical office work.
Ergonomic design with an auto-rate function
The VP2468 monitor's design is a step towards users and a completely new vision of how a modern professional monitor can look. The VP2468 monitor provides the full range of settings for increased efficiency, including rotation, tilt and height adjustment. Due to the built-in gyroscope, the image on the screen can automatically rotate if you turn the screen vertically. 
No Frame, No Boundaries
All the main connectors are located in the back of the monitor case and face downwards. The monitor can be rotated 90 degrees so you should be able to connect and place it at a convenient angle to you. As opposed to the majority of monitors for photographers, the control buttons of the VP2468 are placed at the back. Due to that, it looks very much like a frameless one.
Additional Info
Last updated price

$

239.99

Stock
In stock
ASIN

B01HSABSGE
---
What customers say about this product
The monitor's menu system is rather odd, in my opinion. But having to choose between a factory color mode and a custom mode and a calibrated setting is not intuitive.
These border-less monitors look great and perform well and allows for color matching across spectrum. Calibrating these monitors are a snap.
Works great with Macbook and photo apps (Lightroom, Photoshop, OSx photos, etc.) as well as all the other day-to-day apps. And the USB port is remarkably convenient for all those devices.
I look at very detailed text on this monitor for at least 8 hours every day. I experience no eyestrain at all. The monitor's resolution is perfect. Great color too.
ViewSonic VP2468
BenQ BL2420PT
Top Novice Choice
Among those only starting their journey into photography and photo editing, not everyone is willing to spend a fortune on a professional monitor, right? Luckily for these sensible individuals (and for those with a limited budget), there do exist some worthy and capable options in the affordable cost segment. Like this BenQ BL2420PT designer monitor for photo editing.
There are some peculiar functions in this model created specifically for designers. For example, the CAD/CAM mode—a special mode developed for 3D designers, it adjusts the contrast of the color lines on your 3D model to the point when each detail is easily distinguishable even in the most complicated images. Or the animation mode that makes small textures on the dark parts of the image more obvious without overlighting the not-so-dark parts.
Additionally, we'd like to bring to your attention the Display Pilot software. This software is designed to adjust and save display settings like auto image pivoting, PIP, windows locations, etc. for specific apps (initially, for games). When you launch the app, Display Pilot will automatically apply the settings without you having to tweak them every time.
Eyes Are Safe
It's not much of a secret that all monitors emit blue light which is harmful to human eyes and leads to tiredness and headaches. The BenQ BL2420PT photographer monitor has not one but four Low Blue Light modes to adjust the emission. And another feature to lessen the eye strain is, of course, Flicker-Free.
It's Just Solid
When it comes to looks, the BL2420PT is fairly standard if a bit old-fashioned—sharp lines make the black matte plastic body look somewhat "heavy". However, it does have flexible ergonomics settings: you can adjust height, pivot, tilt angle. It is a monitor for comfortable work.
There are also plenty of interfaces: an analog D-Sub and digital DVI-D, HDMI 1.4, and DisplayPort 1.2. Digital ports offer the best resolution, naturally. And, of course, you'll find two USB 2.0 ports for additional equipment and 3.5mm audio in/out. The only drawback here is the quality of the 1W built-in speakers. It is, in fact, lacking, we highly recommend using earphones or standalone speakers when you listen to music or enjoy a movie.
Little Bonus
For the wires and cable to not get in your way on the desk, the monitor's stand has a special hole for them. And at the top of the stand, you'll find a hook where you can hang your earphones.
Last updated price

$

405.43

Stock
In stock
ASIN

B00UAMYTR8
---
What customers say about this product
No problems with the color gradient or contrast. Super nice monitor overall.
All in all, I am very happy that I bought these rather than 4 x 2K Gaming monitors or 1 x 4K gaming monitor, as I use them for a lot more than just gaming and they are still great with games.
The stand is heavy, adjusts every way you could want it to, and looks and feels terrific. Packing was great and setup was a breeze (no tools at all).
This is supported by the xbox one S and X via the HDMI 2.0 port for 4k 10 bit color 60fps.
BenQ BL2420PT
What is a Monitor for Photographers?
If you work with high-quality photos or draw a website layout and logos, you surely need a special monitor to edit and enhance your pictures. So, a professional monitor is one of the essential devices for you. It goes without saying that a good monitor will dramatically improve or maybe even change your photos. What exactly is the monitor for photographers? It is a specific computer monitor that enhances brightness and color rendering, thereby providing you with the ultimate image quality.
But if you are looking for a high-quality computer monitor for other purposes, look through our best computer monitor or best gaming monitors reviews.
Best Monitors for Photographers
What Features to Compare
The modern market offers a huge variety of monitors for photographers and there are many requirements for them. We've decided to make a choice simpler for you and reviewed the best computer monitors by their essential features.
Image Quality
Image quality is a very important feature and it depends on the panel used in each device. Almost all devices for photographers have an IPS (In-Plane Switching) panel. This is a cutting-edge technology that has some sub-divisions: AS-IPS, S-IPS, E-IPS, and H-IPS. The panel can show a very large number of colors (close to 100% of the sRGB colors). Also, the colors are no way distorted while looking at the screen from various angles (can be viewed pretty well above 170 degrees). The IPS panel also provides good contrast, brightness, and deeper black. When it comes to photo editing, a color gamut plays a very important role. It is a specific range of colors that a monitor can display. Photo editing monitors are divided into 2 categories: Standard Color Range (sRGB) monitors and Wide Gamut RGB (extended gamut) models. Standard color range monitors are generally capable of displaying all the colors of sRGB color gamut, while monitors with a wide-gamut RGB are capable of displaying a larger number of colors. On the one hand, extended color gamut monitors are perfect for some specific photo-editing applications. However, photos on the Internet are virtually all sRGB, and what's more important, our browsers can display only sRGB gamut. Thus, sRGB monitors are rather widespread and satisfactory for the vast majority of users. Most screens have 2 major configurable features: Brightness and Contrast. Brightness refers to the overall lightness or darkness of the image. Contrast is the difference in brightness between objects or areas.
Monitor
Which screen is better? With a glossy or matte coating? Both these screens are great. A glossy screen is fantastic for entertainment: for example, for watching movies or videos. And you may think "wow" when you see such display at first. Glossy displays provide more vivid color and better contrast. The only problem is that they reflect light, which can cause a color disbalance. Matte screens are "anti-glare" as they prevent reflections. Matte displays keep glare better due to a polarized coating over the glass. So, you will be able to see a matte screen even in a very bright room. Screen size. There is little to say about this aspect. 24"-27" displays are perfect for photo editing. They allow you to view pictures at a wide resolution. For example, most standard 27-inch monitors feature the resolution of 2560x1440 pixels, but the most sophisticated models can provide you even with 4K (3840x2160 pixels) resolution. The viewing angle is a pretty important feature to consider since if it's too small, the contrast changes and the colors are transformed. Thus, it is vitally important to choose a display with wide viewing angles.
Ergonomics
If you work with a variety of vertically-oriented content, it may be convenient to have a display that rotates around its stand in different directions. Nowadays, almost all models are fitted with a digital connection, HDMI or DVI. You should also check which ports are available on your computer. Note that many monitors let you plug in more than one video input and switch between them. This is really convenient if you prefer using a monitor together with your workstation and laptop. Finally, don't forget to check the availability of USB ports; some monitors for photographers can even have the whole USB hub, which is very convenient if you need to connect lots of storage drives and peripherals.