Desktops & Monitors
Dell S2417DG vs Dell S2716DG
Product Comparison: Dell S2417DG vs Dell S2716DG
About the Product
Discover the power of extreme detail with this Dell 24-inch monitor. The 1440p resolution is ideal for high-intensity gaming, where that little bit of extra detail can make the difference between a win and a loss.
Immerse yourself in stunning edge-to-edge gameplay with the Dell 27 Monitor's crisp QHD resolution, rapid refresh rate and NVIDIA® G-Sync™ technology. Experience sharp and undistorted moving images with NVIDIA G-SyncTM and refresh rate at 144 Hz for sharp, jitter-free graphics that drastically reduce motion blur. Enjoy incredibly swift and responsive gameplay with minimum input lag at an extremely rapid 1ms panel response time.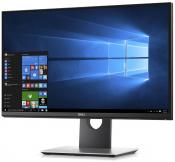 Dell S2417DG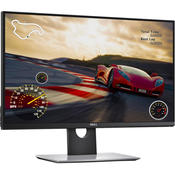 Dell S2716DG
What customers say about "Key Specs"
Dell S2417DG G-SYNC Computer Monitor
This is a great monitor with the quality and price range. It's hard to find 24" monitor with 2560x1440 resolution and 144Hz under 400 dollars. The quality is great so far, I'll update later if there's any deterioration in quality.
I'm using it with my GTX 980Ti with G-Sync active, and it's a sight to behold. Nothing is ever going to look better than maximizing the refresh rate on lower-demand games at 144fps, but games with more demanding hardware requirements will not be able to hit that ceiling.
It's unbelievably smooth (as with all 144Hz and G-Sync monitors), has great colors once properly calibrated (if you get angry with colors out of the box without adjusting you're stupid anyway), is very large without any pixel stretch, and has a great response time (you can set it to "fast" with 1ms)
The Speed of the TN is not really an edge anymore as a person probably cannot see the difference between 1ms and 4ms response time. I am surprised that they didn't incorporate 3D Vision into this monitor as they did in the Asus.
Honestly, I am very displeased with this monitor and have done everything in my power to correct these problems. Things such as changing response time to normal or "fast", followed and preformed every troubleshooting step in dells support forum center. I even reached out to dell without a response.
Dell S2716DG 27" QHD LED-Lit Gaming Monitor with G-SYNC (144 Hz, 1 ms, HDMI, DisplayPort, USB 3.0)
144Hz, 1440p, G-Sync, and excellent colors! It also feels well built and the stand is simplistic and sturdy.
High refresh rate does make a difference. GSync is a great feature.
1440p 144hz is perfect for most situations currently. Picture quality is great. If your hardware can handle it, having 100+ fps is incredibly smooth.
Snappy for gaming. Great response time and no lag I can tell. wonderful for first person shooters.
2k! All my games look amazing. Worked out of the box and the drivers updated automatically.
Color Supported
16.7 Million
16.7 Million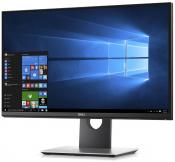 Dell S2417DG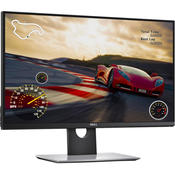 Dell S2716DG
What customers say about "Display"
Dell S2417DG G-SYNC Computer Monitor
Despite being a TN panel, there is almost no noticeable color shift when viewed horizontally off-axis. The colors only shift noticeably when viewed vertically off-axis
Overall the color representation due to the fact that this monitor is a TN panel is really messed up and the colors are washed out. Although this monitor for being a TN panel actually displayed better colors then any TN panel ive ever seen.
The colors are so crisp and nice on IPS. I decided to build another PC that could support a higher refresh rate and larger resolution (1440p). This monitor was exactly in my price range but I'd be lying if I said the TN panel didn't put me off at first.
The colors are a little lackluster, but I'm partially red/green colorblind so this issue doesn't effect me much. Don't expect IPS panel color depth and make sure to calibrate it when you get it and I think you'll be pleasantly surprised at it - I know I was.
The color doesn't pop as much as IPS but that is to be expect, however, I think it's easier on the eyes then gaming on IPS monitor. The color isn't too bright or too crisp where it feels like the screen is stabbing your eyes. This monitor feels mellow and soft.
Dell S2716DG 27" QHD LED-Lit Gaming Monitor with G-SYNC (144 Hz, 1 ms, HDMI, DisplayPort, USB 3.0)
Very good picture once calibrated (for a TN panel)
Every game I've tried is running buttery smooth, and it feels super responsive. It looks good enough that I'm considering moving my xbox off the 4K TV it's currently attached to, and hooking it up to the monitor. I also really like how there is no glare on the screen.
Virtually no light bleed (very, very faint light bleed where the power light is, but that's to be expected).
This monitor is gorgeous and my games are smooth as silk. Read that colors were bad but unless you're doing professional grade photoshop or something in that area, a novice will never have a complaint in that department.
Arma is beautiful now and very smooth, as are all the games I tested using G-sync.
Extras
NVIDIA G-SYNC, Responsive and on-point
NVIDIA G-SYNC
What customers say about "Features"
Dell S2417DG G-SYNC Computer Monitor
This Dell monitor doesn't have any defect. After calibration in the Nvidia Control Panel and the monitor itself, it produced accurate colors, whites and great contrast. Would buy a second one.
I ran a couple of monitor tests which show its really good on the black end of contrast, let down on whites. The colors are a little washed out of the box, but calibration brought the best out of this unit.
The anti glare coating is also very smooth giving the image much more clarity compared to the aggressive coatings found on competing TN gaming monitors. I can verify that it is also real 8-bit giving color a much more natural tone.
I'm no audiophile but the quality of the sound is absolutely terrible, even cheap TV's with built-in speakers sound better to my ears.
The main negative here are the viewing angles, but if you're using it as a single monitor that's not too hard to get around. Out of the box the calibration wasn't too bad, but after I adjusted it a little bit it looks great.
Dell S2716DG 27" QHD LED-Lit Gaming Monitor with G-SYNC (144 Hz, 1 ms, HDMI, DisplayPort, USB 3.0)
I really like the stand this monitor comes with, lots of tilt and swivel options, and you can adjust the height.
Thin border around Monitor looks modern. Games look way better if you have the Horsepower to drive at this resolution.
No dead pixels, nice stand, thin bezel, looks great, so smooth for gaming.
Very nice monitor. Very good colors and viewing angles for this being a TN panel. Ample inputs and the resolution is perfect for the 27" size. Also, a multitude of adjustments (height, tilt, etc.)
I absolutely love this monitor so far. I am actually running a pretty dated GPU but G-Sync makes a substantial difference. As mentioned below, turn off the deep-sleep setting and set up a custom color profile. It really made the monitor look great.
Inputs
HDMI, DisplayPort 1.2, USB, 3.5mm audio out
HDMi, Display Port, USB, Mini-Jack
What customers say about "Connectivity"
Dell S2417DG G-SYNC Computer Monitor
I always hook up HDMI or display port into my monitor to get audio passed through the AUX and into speakers. It works really great for easily switching video sources and not having to swap audio.
The USB3.0 hub is a very, very nice feature. I didn't think I'd feel it was such a big deal until I started using it.
I REALLY like all the USB ports. I have my keyboard hooked up to it so when I turn the monitor off, the keyboard turns off. Very useful when you have a two year old that will randomly bang on the keyboard.
I also had to buy a new displayport because the one that came with the box was completely locked at 24hz. No matter what i did the monitor was stuck at 24hz so that was frustrating.
The audio shouldn't be a huge issue if you're only using this with a PC since you can connect your sound devices directly to the computer but using this with a console with this monitor results in a very poor experience.
Dell S2716DG 27" QHD LED-Lit Gaming Monitor with G-SYNC (144 Hz, 1 ms, HDMI, DisplayPort, USB 3.0)
Beautiful 2560x1440 display, with 144Hz refresh, G-sync, thin bezels, USB ports, and VESA-mountable!
The monitor comes with a good quality DisplayPort cable, which is the preferred way to connect it as some cards do not support the newer revisions of HDMI that are needed to run it at high resolutions and refresh rates.
Also this monitor has an HDMI input that allows me to play my PS3 on the monitor.
my HDMI port does not seem to work well but I usually use Display Port anyways -settings could be easier to get around
The only bad thing I have to say about this monitor is the fact that once it goes into sleep mode when using DisplayPort as the input, it will not wake up. I had to plug in an HDMI cable to disable the Deep Sleep Mode and now it works fine.
Warranty / Certifications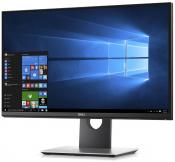 Dell S2417DG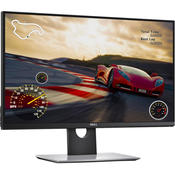 Dell S2716DG