Today, most digital devices we use in our lives have a handy touch screen. Computer monitors are no exception because this technology
makes using a PC easy as never before. Take a look at our brand-new touch screen monitor review and pick the best one!
...
Read more
...Read less
Max. Viewing Angles (H/V)
What is a Touch Screen Monitor
There are lots of computer monitors on the market today, varying from special gaming displays to cutting-edge curved monitors. However, the release of the latest Windows OS such as 8, 8.1, and 10 made it possible to enjoy touch screen even on PC monitors. Thanks to this technology, any user can interact with Windows (or any other supported OS) really fast and without a need for a mouse or keyboard. It's now possible to switch between apps within a second owing to touch screen LED monitors, and you can imagine how easy watching movies is! Moreover, a touch screen monitor for computer makes it a real pleasure to draw pictures, particularly kids adore this option.
You are also welcome to read our comparison of conventional computer monitors. And if you need a computer monitor mainly for watching movies, make sure to pick one of the best curved computer monitors on our shortlist.
What Features to Compare
There are many touch screen monitor reviews on the web. We've decided to make it simple and compared the best touch screen computer monitors by the essential features only.
The first feature you should consider when choosing a touch screen monitor for computer is the Touch Screen Features of every device. There are 2 major types of LCD monitor touch screen technologies used in monitors and other gadgets - resistive and capacitive. Resistive panels are already obsolete - they don't support multi-touch, they react to any object, etc. That's why the vast majority of today's touch screen monitors are based on capacitive panels that are much better: they react only to your hands, support multitouch (which allows using a virtual keyboard, zoom images in and out, etc.). Of course, you should check if the monitor is certified by Microsoft. If it is, you can be sure it's fully compatible with one of the latest Windows versions. Keep in mind that uncertified monitors might be incompatible with Windows. Also, some people want to use Mac OS based computers with touch screen monitors. If you are one of them, be sure to pick the monitor which is fully compatible with the latest versions of Mac OS.
The next step you should make is to check the Display Specification or, in other words, all the crucial features of the screen itself. The first of them is the screen size - a large monitor with a diagonal of 27 inches is considered to be the best for comfortable and versatile use. Such monitors usually support at least Full HD resolution (1920 x 1080 pixels), while some of them support the resolution of 2560 x 1440 pixels, so there will be no granularity on the screen. The image quality heavily depends on the technology used in a panel. We recommend you to pick a monitor with an IPS or VA panel, which provides excellent image quality, wide viewing angles, quick response time, high contrast ratio, etc.
Also, don't forget to pay attention to Connectivity options. It's always an advantage for an owner if a monitor has lots of slots and ports, so you can connect it to nearly any PC unit. For example, the best monitors have the following ports: HDMI, VGA, DVI, and Display port. All of them allow you to connect a tablet or a projection device, for example. Having at least 1 USB port is also important; this option allows you to use a monitor as a hub, to charge your gadgets, and so on. Also, the most multifunctional computer monitors have built-in speakers and a camera, so you don't need to buy them for video calls, conferences, etc.
Finally, you should check the Ergonomics. The casing of the monitor should be durable enough - you will touch the screen every day, so you might accidentally flip the device over. Next, any touch screen monitor must be comfortable in use, so find out to what degree you can tilt it. No need to say, it's far easier to use such a screen if it's in a horizontal position. Also, some people like to attach their computer monitor to a wall, and that's when a VESA mount comes in handy. Most monitors have VESA mount support, though some models have a built-in mount.
Acer T272HL
Touch Screen Features
This Acer monitor model features a 10-point touch screen, meaning it supports 10 simultaneous touching points. With this, flipping through the web becomes a breeze! Zoom in the image using two fingers like you do with your smartphone or tablet. Furthermore, the 10-point screen is good for image editing and turning. And this is just the beginning. It is a somehow rare feature today, but this 27" monitor supports not only Windows 8 and 8.1 but also Mac OS-based computers! What could be better?
Display Specification
Acer T272HL Widescreen Touch Screen Monitor has a 27-inch 16:9 display. The Full HD 1920x1080 pixels resolution offers you the joy of your favorite movies in a reality-inflicting quality. To achieve a higher response time, the manufacturer used here an up-to-date VA panel that boasts 300 cd/m2 brightness. The viewing angles are the same as the IPS panels provide, whole 178° horizontally and vertically alike. You will be able to watch your movies from literally everywhere in the room. That's the best!
Connectivity
The variety of ports makes it possible to connect this large touch screen monitor to almost any device. There is an analog VGA port and digital DVI and HDMI ones, and at the side panel, you will find three high-speed USB 3.0 ports to connect your mouse, keyboard, additional hard drives, etc. You wish to listen to music without buying speakers? Easy! The Acer 27-inch monitor has built-in speakers for you! And to top it all, this marvelous monitor can be connected to your mobile gadgets without having to install any additional software.
Ergonomics
Acer T272HL is really modern-looking and ergonomic in design. The glass is scratch-resistant, no worries here. The stand that comes with the supply allows you to tilt the monitor at any comfortable angle between 10° and 60°. The height is also convenient. And at the back panel, you will find special points suitable for VESA 100x100 mm mount, which will help you easily hang this best-performing touch screen monitor on a wall.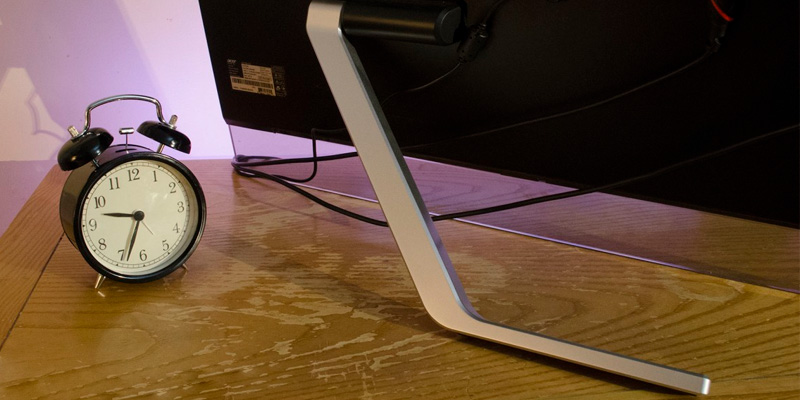 ---
Acer T272HL
Planar PCT2785
Touch Screen Features
Planar Helium is a capacitive monitor supporting a 10-point multi-touch technology, so the display is extremely responsive. There's a glass panel on top of the whole screen; it's scratch-resistant and easy-to-clean. Planar touch screen monitor for PC is compatible with all new Windows versions, including 8.1 and 10. We recommend this computer monitor for software developers and designers, though any common user will also adore this unit.
Display Specification
This LED touch screen monitor is available in 2 screen sizes - 24 and 27 inches. Both are designed for 16:9 aspect ratio, so the image is always wide and natural. The maximum resolution is 1920 x 1080 pixels (Full HD), so the picture is always detailed. No need to remind you that Full HD resolution is the best for watching movies. The response time is rather high - 14 ms, so this monitor isn't actually the best choice for gamers. However, the MVA panel provides high image quality - the colors are vibrant and 'full'.
Connectivity
Planar Helium touch screen LED monitor offers lots of connectivity options, so you can connect lots of devices to this display. First of all, there's an analog VGA port, so you can easily connect Planar even to a relatively outdated PC. For newer computers and devices, HDMI and Display port (w/HDCP) inputs are available. The monitor has a USB hub (2 x USB 3.0 ports), so you can quickly plug a flash drive or any other device in. Planar is a truly multifunctional model thanks to a built-in camera (HD 720p), microphone, and even a couple of 2-Watt speakers (they produce a fairly good sound, despite small size).
Ergonomics
That's a unique monitor with smart design and perfect ergonomics. Special Helium desk stand allows you to adjust the tilt (from 15 to 70 degrees), or you can lay the display flat. Unlike some counterparts, this monitor supports either portrait or landscape orientation, so you can choose the fitting one. If you are going to attach a monitor to a wall, VESA mount compatibility is provided (100 x 100 mm).
---
VIDEO
Planar Helium Productivity - 27-inch multi-touch Windows 8 monitor PCT2785
Planar PCT2785
Dell S2240T
Touch Screen Features
Dell is a well-known manufacturer of different computer monitors and this model is surely worth buying. The touch screen of this device supports 10-point multitouch, so the monitor will be helpful for browsing the Internet and working with images. Dell monitor is compatible with Windows OS (8 and 8.1) - you just need to connect the device to a PC via USB slot, and multitouch will work.
Display Specification
This version of Dell touch screen monitor has a 21.5-inch screen which is quite a good size for any tasks - working with graphics and documents, playing various computer games, watching movies, and so on. The maximum resolution supported by this device is 1920 x 1080 pixels or Full HD. Image quality is awesome thanks to VA panel that ensures excellent, bright colors and extra wide viewing angles (178 / 178 degrees). The maximum brightness of the panel is 250 cd/m2, so you will be able to use this monitor conveniently even in a well-lit room.
Connectivity
Dell model has lots of different slots and ports, so don't worry whether you will be able to connect this unit to a PC or any device. There are digital interfaces - HDMI and DVI, and a VGA input that transmits an analog signal. No need to mention, there's a USB port for flash drives and other similar devices. You can connect a laptop via HDMI or VGA ports or, for example, view all pictures stored on your camera. The model has a special software called Dell Display Manager - it allows you to customize settings for every application or program on your computer.
Ergonomics
Dell is an elaborately designed HDMI touch screen monitor with a large stand. You can tilt the unit (within 60 degrees) and adjust the height for your convenience. Dell engineers have made this model VESA mount compatible - you can easily attach the monitor to a wall. Very often designers, scientists, brokers and others need several monitors to see lots of information in real time. If you are one of such people, you can get 2 of these monitors on a special dual stand, so that you can use both displays simultaneously. The dual stand allows you to adjust every monitor individually.
---
VIDEO
Dell S2240T 21.5" LED Touch Screen Monitor Review
Dell S2240T
ASUS VT207N
Touch Screen Features
This affordable touch screen monitor guarantees a simple input thanks to a 10-point multi-touch support. As to supported operating systems, ASUS monitor is fully compatible with the latest versions of Windows (7, 8, 8.1). Therefore, the majority of PC users can purchase this device and enjoy all the advantages of the touch screen. Even if you don't work with graphics and images, you will find the technology very convenient.
Display Specification
ASUS VT207N model has quite a small screen size - 19.5 inches. Therefore, the maximum resolution is HD or 1600 x 900 pixels. The monitor gives you an opportunity to choose one of 2 suitable aspect ratios: either 16:9 or 4:3. Though this compact monitor is cheaper than most of its counterparts, it boasts an IPS panel which guarantees decent image quality. The colors are vivid and bright enough, but viewing angles aren't the best - 170 / 160 degrees. The screen is good for gamers - the response time is only 5 ms (great result for IPS!). The supported frequency varies from 50 to 75 Hz, so you can choose the right mode for your eyes. Also, this monitor has unique ASUS QuickFit Virtual Scale and Splendid Video Intelligence technologies. The first one allows you to preview images before printing them, while the second one automatically adjusts screen settings in order to display every image as good as possible.
Connectivity
The ASUS VT207N has several input ports through which either digital or analog signal is transmitted: VGA, DVI-D, D-sub. Flash drives, a keyboard, a mouse, an external hard drive and other peripherals can be connected via a USB port, but it's a 2.0 interface, so if you want to transfer data at the highest speed possible, you'd better plug a flash drive into a USB 3.0 input on your PC. In general, the connectivity options this monitor provides are sufficient for any office computer.
Ergonomics
This ASUS HDMI touch screen monitor is very ergonomic and looks like a usual computer monitor. The device has an oval stand bottom that takes little place on your desk. Of course, you can control the tilt of the screen (from +20 to -5 degrees) in order to pick the optimal position. Matte black plastic is resistant to fingerprints. Some users want to save space by attaching a monitor to a wall and this model is suitable for that. It has a VESA mount compatibility. Finally, engineers have done a lot to reduce energy consumption and make the display as eco-friendly as possible: the model has RoHS, Energy Star, and TCO certification.
---
VIDEO
[Review] ASUS VN247H-P 24-Inch Screen LED-Lit Monitor
ASUS VT207N
ViewSonic TD2220
Touch Screen Features
ViewSonic TD2220 touch screen monitor for computer is your best choice for working with various commercial and consumer-oriented applications. This PC monitor's display features dual-point optical touch for you to easily zoom in/out and rotate images. The TD2220 has a surface that is resistant to scratches and can endure heavy usage. The screen features are optimized for Windows 8.
Display Specification
The monitor size is 22 inches, 21.5 inches of which are viewable. The display has a Full HD resolution of 1920 x 1080 pixels, same as most up-to-date models. As the name suggests, Full HD is a perfect resolution for watching your favorite movies and various videos at high resolution and in great quality. The TN panel of this ViewSonic monitor for PC provides the 5 ms response time and the viewing angles of 170° (H) / 160° (V).
Connectivity
The model features various connectivity types. You will be able to use it with most modern computers via the DVI digital port, and with older devices via the VGA analog port. There is an option to connect external audio devices, the only thing necessary to do is to have a cord with a standard 3.5 Jack plug. ViewSonic TD2220 LED-Lit Touch Screen monitor also has several USB ports for connecting external hard drives, flash drives, and devices like computer mice, keyboards, speakers etc.
Ergonomics
The ViewSonic TD2220 is a highly convenient model. It can be tilted 5° forwards and 20° backward, meaning you will be able to adjust the display to a position perfect for you personally. The height adjustment feature is not among the most popular in this kind of devices, so the manufacturer had foregone it for the sake of other, more useful, options. For example, the option to mount this touch screen PC monitor on the wall using 100x100 mm VESA brackets. Additionally, we'd like to point out a pair of 2-Watt internal speakers, which ensure decent sound quality and let you save money instead of buying a full-sized sound system.
---
VIDEO
Product Tour: ViewSonic TD2220 Black 22" USB Optical Multi-Touch Full HD LED backlit monitor
ViewSonic TD2220