The majority of PC users know that any PC needs a specialized device for displaying a picture on the screen and this device is called
a graphics card. A powerful graphics card is a must-have for playing PC games and watching high-res videos. Check our graphics cards review to pick the best one!
...
Read more
...Read less
X
This site is a free online resource that strives to offer helpful content and comparison features to its visitors. Please be advised that the operator of this site accepts advertising compensation from certain companies that appear on the site, and such compensation impacts the location and order in which the companies (and/or their products) are presented, and in some cases may also impact the scoring that is assigned to them. The scoring that appears on this site is determined by the site operator in its sole discretion, and should NOT be relied upon for accuracy purposes. In fact, Company/product listings on this page DO NOT imply endorsement by the site operator. Except as expressly set forth in our Terms of Use, all representations and warranties regarding the information presented on this page are disclaimed. The information which appears on this site is subject to change at any time. More info
EVGA GeForce GTX 1070 SC GAMING ACX 3.0
Discover a Virtual World
The best Nvidia graphics card for the money have the VR Ready compatibility feature, which enables you to connect the virtual reality headsets from the leading manufacturers that utilize the NVIDIA VRWorks technology. The updated VRWorks software toolkit for Nvidia developers aims at offering the virtual application users the level of VR-presence never seen before. The combination of what users see, hear and feel with a physically correct environment modulation to convince the users that the virtual world is real.
Two times higher VR performance: VRWorks Graphics has received a support of the Simultaneous Multi-projection technology, which allows rendering images on VR-displays at their native resolution instead of conventional 2D displays resolution. The Simultaneous Multi-projection also offers geometry reprojection and rendering the image for left eye and right eye displays in one pass.
Surround sound: VRWorks Audio leverages the available NVIDIA OptiX™ path tracing technology to simulate the real-time environmental propagation of sound waves and adjust it in accordance with geometry, shape, and materials of a virtual world.
Interaction and physics: NVIDIA PhysX® for VR detects the collisions with virtual objects during the movement controlled with a game controller to maintain a physically correct visual and tactual feedback. The PhysX® path tracing also enables this Nvidia graphics card to simulate a physically correct interaction with a virtual space around a user, be it a blast or a thump on the water.
What True Gamers Will Appreciate
The EVGA GTX 1070 graphics card for PC offers many additional features and advantages that make it stand out of its predecessors. Among the numerous new technologies implemented in this graphics card the gamers should pay attention to NVIDIA GameStream™. This technology enables high-resolution PC game streaming to your NVIDIA SHIELD device using the processing power of GeForce® GTX™ graphics cards. In its turn, the NVIDIA SHIELD smart TV device makes it possible to play PC games on a large TV screen. You can pair the SHIELD Android device with a 4K TV and enjoy the UHD resolution video at 60 fps and the 5.1 surround sound owing to GeForce Experience software that utilizes the power of Nvidia Geforce 1070 video card. The GameStream™ technology also provides the capability of using your SHIELD (which can be used as a console) in any room of your house by means of Wi-Fi connection. Thus, using a PC with an EVGA GTX 1070 graphics card and GeForce Experience, you can play the latest game titles at the resolution up to 1080р and 60 FPS refresh rate on a big screen alone or in a company of your friends enjoying a cooperative play mode. With that, you will be able to easily connect a wireless mouse or a keyboard to a SHIELD device and play your favorite games using the GameStream streaming from your Nvidia GeForce 1070-powered PC.
More Products to Consider
EVGA SuperNOVA 750G2 is a powerful 750W PSU, which ensures a stable and reliable operation of your PC components. This PSU has an overvoltage and short circuit protection and is quite effective in terms of energy consumption.
Additional Info
Last updated price

$

549.99

Stock
In stock
ASIN

B01GX5YWAO
---
VIDEO
What customers say about this product
The RGB lighting is controlled through EVGA Precision X and is simple to use. Easy to install, control fan speed, and overclock. The card is absolutely massive!
It connected to my PC fine but the 8-pin would not connect to the card. It was definitely the correct cord because it lined up perfectly, but it would get stuck about 3/4 of the way in. Luckily I had a 6+2-pin power cable in my system but without it I would have had to purchase a new cable.
I had a GeForce gtx 980 which I thought was a great card and this card GeForce gxt 1070 outperforms much more in graphics and performance it's a purchase that I don't regret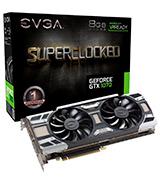 EVGA GeForce GTX 1070 SC GAMING ACX 3.0
MSI GeForce GTX 980 TI
Performance
MSI GTX 980T is the best GTX graphics card for the money which holds the top performance position in our review. As of today, this NVidia GeForce graphics card can run the majority of demanding games at the maximum settings and the resolution of 1080p and higher. The key parameter that provides such a high performance is a large number of computing blocks (shaders) of the GPU, which the clocking frequency can reach 1178 MHz at high loads. The amount of video memory the card carries onboard is 6144 MB, allowing the GPU to quickly access a large number of textures and data. As for the type of this 4K graphics card, it is a modern GDDR5 memory. The memory frequency is 7010 MHz / 7096 MHz with a bus width of 384 bits that ensures a high memory bandwidth.
Features
This graphics card is connected to the motherboard via the modern PCI Express x16 3.0 interface, which ensures compatibility with all the latest motherboards. As for video connectors, this NVidia graphics card is furnished with DL-DVI-I and HDMI outputs for transmitting high-quality audio and video digital signals, as well as with 3 DisplayPort connectors for the digital video signal out. The distinguishing feature of this MSI video card is the capability of outputting the video signal to 4 high-definition displays at a time. The maximum resolution supported by this PC video card when streaming the video to a single monitor is 4096 x 2160 pixels (also known as 4K), which is the largest one available on the market.
Power Consumption and Cooling
For normal and lag-free operation, this DVI and HDMI graphics card requires the power supply unit with a minimum power of 600 Watts. Additional power is supplied through two 8-pin connectors. Twin Frozr V active cooling system includes 2 powerful TORX FAN coolers, which direct the airflow to the massive heatsink with SU heat pipes. For the fans, the combination of traditional profile blades and dispersion blades is used, which allows creating a more powerful airflow and improving the heat transfer from the radiator thus achieving a 17% better cooling comparing to a standard solution without increasing the overall noise levels.
Last updated price

$

604.99

Stock
In stock
ASIN

B00ZPEAFXI
---
VIDEO
MSI GTX980Ti GAMING 6G Performance Review
What customers say about this product
It's a GTX 980 TI... it will run literally anything at high FPS max graphics (with an appropriate CPU, of course)
Runs perfectly, really quiet. Though I have been getting an error message whenever I open up a web browser or anything fullscreen. Driver issue I assumed, it won't go away even after updating the drivers.
The dust covers for the connection slots are a nice touch as well, though they are a hard plastic, so not sure how long they'll "stay" put. If you're looking at getting a TI this one definitely delivers.
MSI GeForce GTX 980 TI
EVGA GeForce GTX 970 SC GAMING
Performance
The GPU of this EVGA graphics card has 1664 shader processing blocks, running at the maximum frequency of 1317 MHz, which is enough to provide high-speed video data processing. The video memory capacity amounts to 4096 MB and the memory type is GDDR5. The memory capacity is large enough to provide the smooth gaming even at resolutions over 1080p. The memory of this PC graphics card operates at the maximum frequency of 7010 MHz and uses a 256-bit memory bus, which results in 224.3 GB/s memory bandwidth. Summarizing the performance analysis, we can say that this graphics card for PC enables the user to comfortably play most modern FPS and TPS games at medium and high graphical settings.
Features
This graphics card is connected to motherboards via the PCI Express 3.0 bus, offering the highest bandwidth for running the most demanding games and 3D-applications. This GeForce graphics card is also backward compatible with the motherboards that have the PCI Express 2.0 interface. The PC graphics card supports up to 4 monitors simultaneously when connected via the integrated HDMI 2.0, DisplayPort 1.2, and Dual-Link DVI connectors. It is important to note that this EVGA video card has a hardware support for Microsoft DirectX 12, so it will be able to run the next generation video games.
Power Consumption and Cooling
For reliable operation, we recommend you to supply the power to EVGA GeForce GTX 970 graphics card via 6+6 pin connectors, using a PSU with the power of 500 Watts. The air cooling of this NVidia GeForce graphics card is performed by the innovative EVGA ACX 2.0 system. This fantastic cooling system boasts the advanced swept blades of the fans, equipped with double ball bearings and low-power high-speed motors. The EVGA ACX 2.0 cooling system provides greater airflow while consuming a fairly small amount of energy, thereby providing a low power consumption and an effective cooling of the card's radiator.
Last updated price

$

327.22

Stock
In stock
ASIN

B00NSXYEQW
---
VIDEO
What customers say about this product
Fast!! For gaming at 1080p I can't imagine you'd need anything else.
It also has the revised ACX 2.0 cooler design, so that's nice.
Amazing performance and has good connectors.
EVGA GeForce GTX 970 SC GAMING
EVGA GeForce GTX 950 SC GAMING
Performance
This GeForce video card provides the performance, which is high enough for allowing you to effectively work with the graphics and playing computer games that aren't too demanding. This GPU has 768 CUDA cores, operating at the frequencies ranging from 1190 MHz (Base Clock) to 1393 MHz (Boost Clock). The onboard video memory capacity amounts to 2048 MB and the memory modules are of a modern GDDR5 type. The memory is operating at 6610 MHz frequency and is implemented on a 128-bit bus resulting in 105.76 GB/s memory bandwidth. All these specifications mean this is a fantastic graphics card for processing photos and videos. You can also use this EVGA graphics card for playing some modern PC games, though you should use low or medium image quality settings to get a comfortable FPS rate.
Features
This PC graphics card is connected to the motherboard by means of the modern PCI Express 3.0 interface. In addition to the support of the most up-to-date PCI Express version, this graphics card ensures the backward compatibility with the motherboards having the older interfaces (PCI Express 2.0 and 1.0). The card is furnished with the following graphic ports: 1 DVI-I, 3 DisplayPort, and 1 HDMI. Thus, the range of video outs this GPU has is on par with the one offered by the modern Radeon graphics cards. The maximum analog signal resolution this EVGA card supports is 2048 x 1536 pixels, while the digital one is 4096 x 2160 pixels. The advanced video connectivity enables a user to connect as many as 4 monitors to this NVidia graphics card simultaneously. As for the modern 3D APIs hardware support, this graphics card supports DirectX 12 and OpenGL 4.5 versions and, therefore, allows running modern video games.
Power Consumption and Cooling
The EVGA GeForce GTX 950 requires an additional 8-pin power supply connector and a 350-Watt PSU for the reliable operation. The proprietary EVGA ACX 2.0 cooling system is designed so that the swept blades of the fans (supported by double ball bearings and actuated by the small motors) provide high airflow with the minimal power consumption. Among the cooling features of this graphics card, we would like to draw your attention to the dB Inverter feature, which allows turning the fans on only when it is necessary. This means that this dual DVI graphics card will run at low frequencies and, therefore, at low fan speeds or even with the fans switched off when you aren't playing computer games.
Last updated price

$

604.00

Stock
In stock
ASIN

B013WQCC8Q
---
What customers say about this product
I am a casual gamer and mega 3D performance is totally unnecessary. However, I was surprised that my graphics card was able to play the latest Steam Fractured Space achieving frame rates of 60FPS.
This is the quietest video card I have ever owned
Very nice Graphics Card. It will take up It takes up two slots in it's height, but it's not nearly as long as them other crazy ones. It's very quiet I do not hear it at all. Sure has a lot of connection ports.
EVGA GeForce GTX 950 SC GAMING
EVGA GeForce GT 730 (02G-P3-3733-KR)
Performance
EVGA GeForce GT 730 graphics card is not the most high-performance one. This VGA graphics card is based on GeForce GT 730 chipset with 384 pixel pipelines, which operate at a frequency of 902 MHz. This compact model of NVIDIA GeForce graphics card supports the CUDA and OpenCL technologies that help it utilize the full processing power of the GPU in a wide range of tasks and boost the performance when running such demanding applications as video/audio transcoding, physics simulation, ray tracing, etc. The 2048 MB memory this PC graphics card carries onboard refers to GDDR5 type. The maximum memory clock frequency reaches 5010 MHz and the GPU exchanges the data with the memory via a 64-bit bus. The memory bandwidth of this low-power graphics card is only 40 GB/s (considerably lower than top-tier GPUs on our shortlist). Resuming the overview of this feature, we should say that this graphics card for PC is not intended for playing modern demanding games. However, this GPU provides sufficient performance for solving the average user tasks. It can also be used in dual graphics card configuration owing to the SLI technology support.
Features
EVGA GeForce GT 730 4k graphics card is equipped with a PCI-Express x8 motherboard connection interface of 2.0 version, which provides high-speed data transfer for games and 3D-applications. Also, this GPU offers a backward compatibility with the existing motherboards equipped with an older PCI Express 1.0 interface. This DVI and HDMI graphics card partially supports DirectX 12 API (so-called feature level 11_0) that has been specifically designed for gaming. This GeForce video card is equipped with DVI-D, VGA, HDMI video connectors allowing you to connect up to 3 monitors at a time. The maximum analog resolution this NVIDIA graphics card can stream to 1 display is 2048 x 1536 pixels, and the digital resolution is 4096 x 2160 pixels.
Power Consumption and Cooling
The power supply requirements of this PCI graphics card model say that it needs an auxiliary 6-pin power supply connector and a PSU with the minimum capacity of 300 Watts. The cooling system of this graphics card is quite simple, which is logical taking its low power consumption and low heat dissipation into account. The cooling system comprises an all-metal heat sink (76 x 40 x 32 mm) with fins, which increases the effective heat dissipation area. For typical everyday tasks (such as working with documents, media files, surfing the Internet, etc.), the cooling system does its job pretty well. Also, this relatively low-power model of NVIDIA GeForce graphics card definitely benefits of good air circulation inside the computer case, so make sure to pick a good one.
Last updated price

$

148.02

Stock
In stock
ASIN

B00L5GZG5C
---
VIDEO
MSI Geforce GT 730 Low Profile 2GB GDDR5 Unboxing Review
What customers say about this product
After using it for a month I can report that it performs very well. Probably among the best video cards you will be able to get for a home theater PC that has a quiet (meaning small) power supply.
Runs all of my games great, I can run project cars on high with some things on ultra! No lag whatsoever, I overclocked this cards core clock speed to 1050 MHz. Runs cool at about 50 degrees celcius when running a graphically intensive game.
Works well, has VGA DVI and HDMI ports which is FANTASTIC. Definitely recommended for someone on a budget.
EVGA GeForce GT 730 (02G-P3-3733-KR)
What is a Graphics Card?
There is hardly a modern high-performance PC that has no powerful discrete graphics card. Discrete graphics card, which is also called an external graphics card, is a separate printed circuit board (which is installed in a dedicated slot on the PC motherboard) with an installed graphics processing unit (GPU), memory chips, individual electric power and cooling systems. The video graphics cards perform the task of processing and outputting the video data to the connected displays. In other words, these gadgets are in charge of rendering the image on a display.
Today the consumer and professional market of PC graphics cards is represented mainly by the products of the two major companies - NVidia and AMD (formerly ATI). These companies are developing the graphics card architectures, chipsets, and reference boards (produced at big third-party factories), based on which many other vendors, the most famous of which are Asus, Gigabyte, MSI, Zotac, and others manufacture their individual products.
If your goal is to assemble a powerful modern desktop PC, we also recommend you to consider such important components as CPU processors and motherboards.
What Features to Compare
Performance
The first thing you need to pay attention to when choosing a discrete graphics card is its performance. The PC graphics card performance is primarily influenced by the type of the GPU and its clocking frequency. The GPU serves for processing the data required for rendering the image on a display, offloading most of these functions from the CPU. The GPU is the most important element of a graphics card for a PC, thus, the more advanced its architecture and the higher the GPU clocking frequency are, the better the graphics card performance is.
The next important feature that characterizes the performance of the graphics card is a memory card. The video memory has four main parameters: capacity (GB), type, operating frequency (MHz), and bus width (bit). The larger the capacity of a PC graphics card is (2 GB and more is recommended), the more data (textures, polygons, etc.), the GPU can store (and access it quickly). The cards are equipped with the video memory of several types, which run on different frequencies and, therefore, have different data transfer rate. Modern graphics cards for PCs use mainly the GDDR5 (GDDR3 for older models) memory type. The entry-level graphics cards for the money have a lower threshold of 1600 MHz (old GDDR3 memory) memory frequency while mid-tier models operate at clock frequencies starting from 3000 MHz (of GDDR5) and 5000 MHz for the high-end graphics cards. The video card memory performance is also conditioned by the memory bus width (as a rule, the larger the bus width the faster the memory). The VRAM bus width of modern graphics cards lies in the range from 64 to 4096 bits.
Features
The second crucial parameter to keep in mind when choosing a video card is its features. Consumer-wise, one of the most important graphics card features is its interface (socket). Modern graphics cards use the PCI Express interface (PCI-E) for motherboard connection (the indication of which usually is followed by the specification of the number of data exchange lines: x8 or x16 - 8 and 16 lines, respectively).
The second feature a consumer should consider is the type and number of video outputs for connecting the imaging devices (displays, panels) to a graphics card. A cutting-edge modern graphics card is equipped with the following video outputs:
D-Sub (VGA) - transfers an analog video signal (an outdated interface);
DVI - transfers a digital video signal (maximum resolution: 2560x1600 @ 60 Hz);
HDMI - transfers digital video and audio signals (maximum resolution: 4096x2160 @ 60 Hz);
Mini Display Port - transfers a digital video signal (maximum resolution: 4096x2160 @ 60 Hz).
Modern graphics cards support the video signal output at the maximum resolution of 4096 x 2160 pixels and are capable of working with 4 monitors at a time.
When selecting a graphics card for your PC, you should take the support of DirectX and Open GL APIs into account. The more recent the version of these APIs is supported by a video card, the more up-to-date visualization technologies the card can use and the more photorealistic image in games it will create. If you use a graphics card with DirectX 11 support only, you will miss out on the performance of the technological advances provided by DirectX 12 API. The support of the SLI (NVidia) and CrossFire (AMD) technologies is also worth mentioning as it allows you to install 2 or more video cards on your motherboard, thus significantly boosting the video performance.
Power Consumption and Cooling
The last item on our list of important parameters for the buyers of graphics cards for PCs is the power consumption and cooling. A graphics card is a PC component that has the highest power consumption rate (when measured at the maximum load) of all the other PC internals. Therefore, if the power supply unit (PSU) does not provide the required power supply, the video card simply will not operate. Video card vendors usually specify the minimum capacity of the PSU required for the normal operation of a video card (however, one should choose a PSU capacity with a power margin of 50 or more Watts). Since the transfer of electric power from the motherboard to a graphics card through the PCI-E interface is usually limited to 75 Watts (due to PCI-E standard specifications), while modern graphics cards for PCs have a higher power consumption, they are equipped with additional power connectors. The availability of 1 or 2 such 8-pin or 6-pin power connectors on a graphics card also needs to be considered. Due to the high power consumption, graphics cards have a high power dissipation. Therefore, to ensure good heat removal and protection from overheating for a graphics card, we should choose the models equipped with an effective cooling system (a large radiator with complex geometry, powerful fan, several fans, liquid cooling, etc.).