Feel like the temperature in your working space is lower than what it should be? There's a simple yet effective solution. All you
have to do is purchase one of these compact personal heaters and your comfort zone will get much more comfortable.
...
Read more
...Read less
Brightown Portable Ceramic Heater
The Sleek One
The Brightown Portable Ceramic Heater is not as personal as most personal heaters we've looked at. We don't mean that in a bad way though. Normally, these heaters look cheap and flimsy, made from cut-rate plastics that do not inspire long-term confidence. We cannot say the same about this product though. Its plastic construction looks tough but also sleek, with the chrome finish giving the unit this elegant profile that will be able to add to most spaces.
You can rotate this compact appliance between different rooms without worrying about messing with the room's vibe. You can also bring the unit to the office. Sure, standing at 9.2" x 7" x 6.2", this portable unit is a little less compact than most personal heaters but the extra inch here and there do not make that much difference. You can still carry the model with ease and even stuff this thing inside most backpacks. The massive handle will let you drag the heater around with you with very little effort on your part, especially considering that the unit's weight barely reaches 3 pounds.
Select any Temperature
Different rooms have different temperatures but, when it is cold outside, these temperatures are usually different shades of uncomfortable, so you need to raise them all, sure, but you also need to avoid going overboard and making the room too warm. That won't be an issue here. The unit comes adopting an adjustable thermostat that lets you select any temperature between 0 and 150 degrees Fahrenheit. Provided that the room's size is limited to ~200 square feet, the heater should be able to quickly reach the desired temperature and maintain it.
When the room is smaller than that or when the temperature is only a few degrees lower than what you'd prefer, you can switch between two heat settings (750 W and 1500 W) to make sure you do not waste unnecessary energy and increase the energy bills for no reason. The fan-only mode is available too, so the unit won't be lying around all useless come summer.
The safety mechanisms are all there, from the obligatory overheat protection to the tip-over switch that makes sure to instantly turn the heater off when the unit is tipped over. The product has been made using flame-retardant materials to achieve zero fire hazard. The exterior does not necessarily remain cool to the touch though, so we would recommend sticking with the handle when grabbing the unit.
To sum up, the Brightown Portable Ceramic Heater is what you need to quickly turn any small space from uncomfortably chilly to snug and warm.
---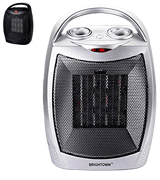 Brightown Portable Ceramic Heater
Lasko 754200 Ceramic Heater with Thermostat
The Lightweight Champ
The Lasko 754200 leaves very little to be desired. From aesthetics to utility, this unit has something for everyone.
The classic design won't be able to add character to most settings but won't be attracting unnecessary attention either. The understated profile won't be making any statements but its clean look should be able to blend into most decorative schemes with ease. You can choose between black and silver housings but, unless that's not an option from a decorative perspective, we would recommend going with silver since this is the color that makes the unit look less bland.
Size-wise, the model is not the smallest unit we've come across but, measuring 9.2" x 6" x 3.7", compact enough to accommodate most spaces without taking much room. Plus, its weight does not go above 3.5 pounds, so you'll be able to move the unit with comfort and ease.
There's this nice little handle that hides behind the control dials that you can pull out and comfortably carry the heater, moving this compact appliance from the kitchen to the bedroom. Its coverage caps at ~300 square feet, which is pretty respectable considering the price point (~25 bucks). The heater comes fully assembled, meaning you can take the unit out of the box and put it to good use right away.
11 Temperature settings
More often than not, personal heaters within this price range are pretty basic. This product is anything but basic. It comes fitted with 11 temperature settings, so you'll definitely be able to choose and maintain the setting that you find the most comfortable. There are also three presets that let you choose between low-heat, high-heat, and fan-only settings. Using these, you'll be able to regulate the heat output and even have the unit remain productive come summer. Drawing and outputting 1500 watts max, the unit is usually able to reach the desired temperature within minutes, providing that comforting warmth and keeping the space nice and cozy.
Without the right safety features, personal heaters can become impersonal safety hazards. These features are here though. The overheat protection mechanism makes sure that the unit does not overheat even when left unattended working hours and hours without breaks. Meanwhile, the housing remains cool to the touch too, so you won't have to worry about accidentally scalding fingers.
Bottom line, the Lasko 754200 can be rotated between different spaces, keeping large apartments comfortable one room at a time.
Additional Info
---
VIDEO
Lasko 754200 Ceramic Heater with Adjustable Thermostat Review
Lasko 754200 Ceramic Heater with Thermostat
Crane EE-6490
Wave the Cold Goodbye
The Crane EE-6490 is one of the better personal space heaters we've come across. For starters, it is pretty damn powerful. Just like most of these appliances, the model comes equipped with 2 heat settings. But unlike most of these appliances, it features a heating capacity of 800 or 1200 W, quite a bit more than your typical personal heater.
As you would imagine, its power alone makes the product in question particularly versatile. We really like it for office use, especially in an open-space scenario. But you can just as well put it in your bedroom or any other place around the house. Despite its powerful nature, the model is surprisingly compact. Featuring 8.5" x 7.5″ x 5.5″ in overall dimensions, it is about the same size as most of its far less impressive counterparts. Plus, the upscale design of the heater really complements just about any room décor. The aluminum brushed housing gives it a sleek look while also making the unit sturdy enough for transportation and everyday use.

Aside from its power, there isn't a whole lot that separates this model from any other similar half-decent unit. It's a ceramic heater, so you get all of the usual advantages of this type of heaters. The cool-touch exterior will prevent you from burning your hands even if you wanted to. It doesn't use oil to create heat, making it a much better choice from an environmental standpoint. But if something goes wrong and the coil of the heater ever gets too hot, the automatic overheat protection will turn the unit enough before anything happens.
Screw That Noise
Generally speaking, with great power comes a great amount of noise. But, fortunately enough, that's not the case here. We don't have the numbers but the heater is oddly quiet, even on the high setting. We wouldn't go as far as to call it silent but you can definitely put it on your nightstand without worrying about the noise, even if you happen to be a particularly light sleeper.
Other than that, there isn't much to cover here. We did say that the heater is cool to the touch but, of course, we're referring to the silver aluminum sides. The black grill in front does get rather warm but not enough to cause any major inconveniences. And if you don't care for a touch of black, the model is also available with white/silver-ish grill.
In short, the Crane EE-6490 is about performance first and foremost. It is a particularly powerful personal space heater that can take on a serious heating challenge. But the fact that it looks pretty good doesn't hurt either. Put this thing on your office desk or make yourself comfortable at home, the choice is yours.
Additional Info
---
Crane EE-6490
Lasko 100
Just Enough Heat
Let's face it - even if you work at one of those progressive companies that offer a substantial amount of freedom to their employees, there are still a lot of issues with a modern workplace, especially when it comes to crowded offices. Take temperature, for example. It is a well-established fact that people experience temperature differently. But you can't set the air conditioner or the central heating system to accommodate every single person in a crowded office, which is why someone will inevitably start to feel chilly come winter. A solution to this issue depends on just how low the temperature is and how cold someone feels in it. If you reckon that just a few additional degrees of warmth will be enough to make you comfortable, there isn't a better option out there than this model from Lasko.
Now, we should get one thing clear - this Lasko personal heater is not the kind of appliance that will be able to warm up an entire room. The model in question has a heating capacity of 200 Watts, which will be enough to warm you up in a chilly office or produce just enough heat to raise the temperature in your room from somewhat cool to comfortably warm, but it will not be even remotely enough to service a large room or a place that is simply too cold for this model to handle.
Simple and Effective
As you would imagine, the lower heating capacity does not come without some benefits as well. To start with, the model is incredibly efficient in terms of energy, meaning you won't have to spend a fortune on electricity bills. Furthermore, this ceramic heater is incredibly easy to use, if not for the fact that it already comes fully assembled with a convenient On and Off control that even a child would be able to operate. The model is also quite compact, so you can carry it around with you from your office to your home, all you have to do is just plug it into an outlet and get yourself comfortable. On top of everything else, you can utilize this household appliance to warm the room that you currently occupy and lower your whole-house thermostat. This simple yet effective method will greatly reduce the wear and tear of your main heating system.
In terms of safety, what we have here is a ceramic heater, meaning that it incorporates the main benefit of this type, allowing the product to deliver a constant source of heat without ever getting hot enough to pose a fire hazard or a burn risk. Similar to the majority of ceramic models out there, it utilizes a cool-touch exterior, so you won't have to worry about accidentally burning your hand when you grab this thing before actually plugging it off, and an automatic overheat protection that is a frequent guest in some of the more expensive personal heaters out there. And, that's about it. Lasko 100 MyHeat Personal Ceramic Heater is an affordable, compact, and convenient solution. If you don't want the kind of model that would cost you a fortune to maintain and your only goal is to slightly increase the temperature to a more comfortable level, this is the best choice for you.
Additional Info
---
What customers say about this product
Okay so I read the reviews, I knew what I was getting. It is small, it heats up your feet, or a section of your chest, or maybe if you're in a cubicle you might be able to generate some warmth. I put it under my desk and stick my feet down there and it keeps me warm from toes to knees.
It's way small, which I may have anticipated had I read the dimensions. It's perfect for lugging back and forth to the office.
They call this a personal heater for a reason - it only heats up the immediate surroundings. My office usually runs about 68 degrees.
Lasko 100
Brightown PTC-002
A Touch of Orange
The Brightown PTC-002 puts the "personal" in the "personal ceramic heater". There is nothing particularly amazing about it nor do we have any specific issues with the product. It does its job and it does it well. If we had to point out the best thing about this heater, it would probably have to be its compact profile. The model adds up to 6.3" x 6.3" x 3.15" in overall dimensions, so you should easily be able to find enough space for it in your house, on your workspace at an office, or even in an RV or tent. Plus, it weighs just 1.5 pounds, easily one of the most lightweight options in its price range.
We can't say that we're particularly fond of the way it looks. We don't mind the black rear but the bright orange front housing certainly isn't a design that will appeal to everyone. It's a good choice for most dorm rooms, a really suitable option for a tent, and not a bad complementary piece for those out-there Scandinavian interior designs. But it won't be too good of a fit for a more standard contemporary or even most modern décors.
One thing that the heater definitely has going for it is the noise. Or, to be a bit more precise, lack thereof. It doesn't reach above 40 decibels, which is pretty good as far as budget heaters go. You should be able to put this thing next to your bed and still sleep like a baby at night.
Safe on the Road
Performance-wise, the model left us with mixed feelings. On one hand, it is rather energy-efficient and it doesn't require more than 400 W to provide a solid heat output. On the other hand, it comes equipped with only one heat setting, so that kind of heating capacity may prove a bit too much or not enough in certain scenarios. There's a convenient power indicator but some may find it a tad too bright at night.
As far as safety is concerned, this personal heater does not disappoint. Made of plastic, it features that standard ceramic heater cool-touch exterior, so you won't be able to accidentally burn your fingertips. Neither is it devoid of the overheat safety protection that immediately turns off the appliance the moment it gets too hot.
Not as frequent of a guest that is present here is an auto-off tip-over switch. This nice little feature shuts off the heater when it is tipped or tilted, mostly just icing on the safety cake but a welcome one nonetheless.
All in all, what we have here is a pretty good budget personal heater option. For a modest price, you'll get yourself a small portable appliance that packs quite a bit of a punch. Aside from the usual applications, you can easily bring the model with you on a camping trip or any other similar outdoor activity.
---
Brightown PTC-002
What Is a Personal Heater?
Winter can definitely be one of the most beautiful seasons of them all, but let's face - it is pretty damn cold. Though there's always an option of hiding from the cold inside your office building, those can get fairly chilly too. Luckily, there's a simple solution to this issue and the one that does not require you to deal with office politics. All you have to do is purchase a personal heater. As the name suggests, a personal heater is simply a smaller and more compact heater that provides just enough warmth for a single person to get cozy and comfortable in a workplace. This kind of device will be the perfect solution if you don't feel like the temperature in your office is exactly where it should be in terms of warmth but you don't have the power to change it or wouldn't want to inconvenience your colleagues. These things are relatively cheap, safe, and easy to operate, so there's little to no reason not to buy a personal heater for yourself the moment you start feeling chilly in your own comfort zone.
Do keep in mind that these heaters will be insufficient if you're looking to warm up an entire room with one of these models. If the latter is the case, you might want to invest in a space heater. And if the temperature is a bit too hot for your liking, a portable air conditioner will do just fine.
What Features to Compare
Personal heaters are compact and seemingly uncomplicated tools but, just like any other source of heat and energy, they still require careful consideration before you end up purchasing one of these things. There isn't really a whole lot of aspects to a device like that but it is paramount you know the difference between them and what to look for in each one of these elements.
Type

The very first thing you ought to decide on before you purchase one of these products is what type it belongs to. There are quite a lot of heaters out there but the majority of personal ones fall under one of these categories: propane, infrared, ceramic, or fan heaters. Propane heaters use a manufactured gas with an identical name. They're fairly similar to orthodox methane gas heaters, with the only real difference being that propane does not emit CO2 or greenhouse gases when it burns. However, these types require propane cylinders that need to be refilled on a regular basis.
Infrared heaters, on the other hand, emit higher temperatures through electromagnetic radiation. They're cheap to run, saving you some money on the fuel bills, easy to install, and they do not create air currents. The only real downside is that they tend to be less effective when placed over 10 feet away from the user compared to other types of heaters. Ceramic models deliver heat by transmitting electricity through ceramic plates. The biggest advantage of this type is that they provide a consistent source of heat without ever getting hot enough to pose a fire hazard or burn risk. The majority of them also offer two different temperature settings.
Fan heaters, as the name suggests, use fans that move warm air from the heating unit to the user. People often choose fan heaters because of their speed. Fan heaters tend to warm up a room much faster compared to any other type out there. They're also usually smaller and pose next to no risk of overheating due to the technology that immediately moves the heat away from the source.
Heating Capacity

Aside from the type, you should also consider the heating capacity of your potential purchase. If you're looking to warm up nobody but yourself in a fairly enclosed and relatively small space, a device that outputs around 200 watts should be more than enough. However, if you aren't buying one of these models just for yourself or you're searching for the kind of product that could warm up a spacious and cold room, you might want to consider a more powerful option.
Safety

The last thing you ought to keep in mind is the safety precautions that the model comes equipped with. Without going into too many details, some heaters may prove to be rather dangerous if they do not feature the necessary safety measures and if the user doesn't know how to operate one, so consider those before you acquire a personal heater.
Did you know?
The winter season is long upon us and the majority of you either have your heaters on by now or are busy desperately looking for one of these lifesavers to warm you up at work or provide some warmth during a cold winter evening at home. Well, if you haven't already, you should definitely turn your recent acquisition on and enjoy some facts about heaters that we have carefully compiled for your entertainment.
Philadelphia Gas Works
Generally speaking, Philly is not the first place you think of when it comes to modernization and innovations. And while that may often be the case, The City of Brotherly Love was actually home to the very first municipally-owned natural gas company. The company that combined the name of the city with their very intentions, Philadelphia Gas Works began its journey in 1836 and is still the largest and longest-operating public gas system in the country.
Home Heating
Though there plenty of heating options out there with different types of heaters being easily available on the market, the vast majority of people use natural gas and electricity in order to warm up their houses and apartments. While propane, kerosene, wood, and other kinds of heating sources are still widely used nowadays, about 15% of all homes in America utilize one of these options.
What Is That Smell Again?
The majority of people that have smelled natural gas in their houses would probably associate it with the smell of rotten eggs. Nevertheless, natural gas is actually odorless, which is why energy companies add some kind of an odorant to it before the gas is distributed so that people would be able to detect it before any actual threat could occur.
Now That Is Hot!
Though you might often feel like it is literally the hottest day ever out there throughout the entirety of the summer season, the absolute hottest temperature on Earth was actually recorded over 100 years ago, on July 10, 1913. Though the place probably wouldn't come as any sort of surprise to the Golden State population. It was on the previously specified day that the Furnace Creek in Death Valley, California reached a scorching temperature of 134 degrees Fahrenheit.
When in Rome
Those pesky ancient Romans were the very first when it came to a variety of nationwide inventions and modernizations and the process of heating is yet another example of how much their civilization was ahead of its time. All in all, Ancient Rome was the first civilization to introduce central heating, with some buildings utilizing the so-called "hypocaust" system, where the furnace-heated air traveled through empty spaces under floors and out of pipes in the walls.
That Might Just be Enough Heat
Although it is obviously important, at least as far as productivity is concerned, to maintain a temperature that'd be just warm enough for a person to do his job with a certain amount of comfort and convenience, it can be very easy to go overboard with heating. Generally speaking, when the temperature reaches 95 degrees Fahrenheit, most people's work output drops by a whopping 45%.
FAQ:
Q: What are some of the other elements that I ought to consider before purchasing a personal heater, aside from the ones that were already mentioned?
A: Though we did already cover the most important aspects that you ought to look out for, it certainly wouldn't hurt to check just how efficient your potential acquisition is in terms of conserving energy. Unless you wish to pay an exorbitant amount of money covering your electric bills, you ought to find a model that would fit your environment and the size of your space. And, speaking of size, you should obviously consider the size of the heater since you wouldn't want a ridiculously enormous device taking up half of your workspace just to boost the temperature a few degrees. Aside from that, some heaters also include certain additional features like different energy saving modes, adjustable thermostats, and programmable timers that will allow you to minimize power usage and contribute to a considerably more economical operation.
Q: How safe are these heaters to use?
A: Now, this is where it gets tricky. The thing is, space heaters are one of the most popular causes of home fires. Other than that, it also highly depends on the model and the type of technology that said model utilizes in order to bring up the heat. If portable heaters are left unattended, these things will be able to easily become potential fire hazards. Having said that, there are a few easy precautions you can take in order to minimize the threat and keep the risk of any dangerous situation from ever occurring to an absolute minimum. To start with, you shouldn't even look towards the older models that do not include all of the latest safety features like cool-to-the-touch surfaces and some sort of overheat protection systems, preferably the ones that include an automatic shut-off function whenever the device heats up to a dangerous temperature. You should also make sure that the heater carries the Underwriter's Laboratory (UL) label. Other than that, try not to place any objects in the proximity of 3 feet around the device in order to avoid overheating anything in the area. It should probably go without saying but you also mustn't use portable heaters near any kind of water source and avoid placing one of these devices in a humid environment. Last but not least, always turn off and unplug the heater the moment you are done using it and never leave it unattended while the device is turned on.
Q: Can I use a personal heater as my main source of heat?
A: Unless you're stuck in a really small and cramped environment, even the most powerful personal heaters aren't capable of generating enough heat to compete with space heaters or a central heating system.
Q: What about noise though?
A: Not dissimilar to the majority of electrical appliances, most personal heaters tend to generate a certain amount of noise while working. But given that most of these heaters don't produce that much heat to begin with (compared to space heaters and other larger counterparts, of course), the amount of noise they generate is negligible more often than not.