A fan heater, without a doubt, offers the easiest way to get warm and heat up a small room in a few minutes. Just switch it on and
set up the desired temperature, the heater will do the rest! Now, it's up to you which fan heater to select!
...
Read more
...Read less
Pelonis Tower Fan
Quick Heat up
Would you like to warm up your room on a cold winter day in minutes and/or make the temperature more comfortable in the morning before getting out of bed? Well, if your answer is yes, here's one such heater.

The first thing that catches the eye about Pelonis ceramic tower heater is its stylish design. The heater resembles a speaker, looks really nice, and will blend perfectly in any interior. Performance-wise, it's no slouch either. It is designed with the oscillation feature and rotatable base which allows it to spread the warmth evenly and extensively so that the heat can hit every corner of a room.

The maximum power of 1500W allows it to warm up quite large premises in a matter of minutes, whether it be your living room, workshop, or garage. For smaller premises, it's better to switch to a more energy-saving mode (900W) which is also offered. Additionally, Pelonis ceramic tower features a digital thermostat and ECO mode that adjusts heat settings automatically, thus optimizing energy consumption to the maximum. As a result, the room gets warmer and your electricity bill doesn't rise.

We can't avoid mentioning the safety features this heater includes. It has the auto shut-off function that is activated in case of overheating or if the machine tips over. Also it has an 8-hour timer which you can use to warm a room for a certain period of time. The entire construction of the Pelonis heater is made of highly durable and flame redundant materials so you're guaranteed to enjoy top-notch and safe performance. Quality and safety are the two major things that Pelonis have always put forward, and this heater is no exception.

Absolute Convenience
This ceramic tower heater by Pelonis has an attractive design and several engineering solutions that make it very convenient in use. Thus, it has an LCD display with control buttons on the top panel that allows you to set a heating mode, temperature, and a timer. You also get a remote control that will come in handy when you need to power the heater up but aren't ready yet to get out of your bed.

This heater is not very bulky with its tower construction so it will take minimal space in the closet. Plus, it includes a handle on the back side which will let you move or carry it easily, even if it's still warm.

Overall, if you need a powerful heater that can warm up even big spaces in the shortest time possible without raising your bill, investing in this Pelonis Toware Fan might be the best solution. Powerful, high-quality, and reliable - it will keep you snug and warm for many years to come.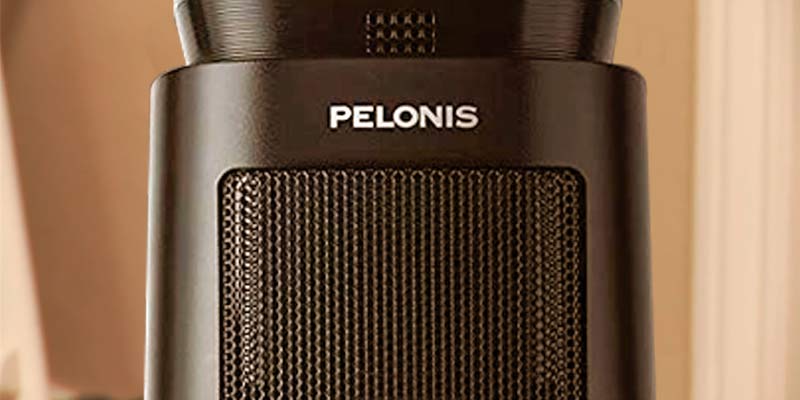 ---
Pelonis Tower Fan
Lasko 755320
Let It Take Care of Your Comfort
When winter is just around the corner, many of us start looking for some extra sources of heat to be sure we feel warm and cozy in our dwellings whatever the weather is outside. In other words, we need a heating unit that will take care of our comfort, preferably, with minimum effort from our side. The Lasko 755320 is exactly that kind of heater.
Classified as a tower heater, it is distinguished by a sleek elongated body that will neatly fit into tight spaces and concise areas. Meanwhile, its neutral bronze color will blend with any interior design and won't stick out like a sore thumb. So, the model will find its place in a room of any size. Taking up minimum space, it won't hinder you from freely moving around.
In addition to a nice design, the Lasko 755320 offers exceptional functionality elaborated with a user convenience in mind. High and low heat settings allow adjusting the blowing intensity to your preference. What makes this unit different from many others is a clever thermostat. Not only does it enable adjusting precise heating temperature but also it controls the unit operation in an Auto mode. When set to this mode, the unit will warm the air in your room up to the optimal level depending on the ambient temperature, and automatically maintain this comfortable warmth. If you want your heater to blow just for a certain period of time, you can set a built-in 8-hour timer to switch the appliance off. It's an especially handy function if you place your Lasko heater in a bedroom and what you seek is some extra toastiness when going to bed. All functions are easily managed by means of several control buttons on the top of the unit paired with an LCD display showing all current settings. On top of that, you can also control the heater operation.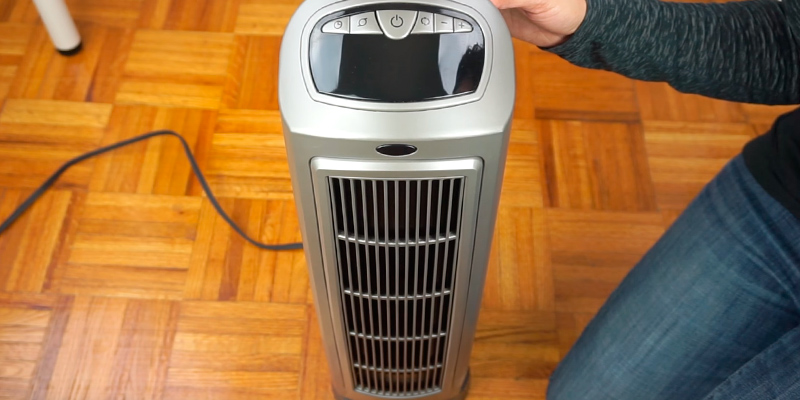 Up-to-par Quality from Lasko
Lasko is a well-known leader among the manufacturers of air heating and cooling equipment for home use. Backed by over 100 years of expertise and production experience, the company is focused on the quality of its products striving to meet the highest quality standards both in design and in performance aspects. The Lasko 755320 is not an exception. With no questions in terms of functionality, the unit also boasts a top-quality construction to maintain efficient and consistent performance. The unit body, grill, and base are all made of premium plastic. It is highly durable, resistant to damages and physical impacts and exudes no unpleasant smells when heated. Inside is a solid ceramic heating element that will deliver consistent warmth and warm up the air times quicker than coils.
By choosing this Lasko ceramic tower heater, you will get a reliable and functional heating appliance that will serve you for years to come and keep you comfortably warm on a cold season.

Additional Info
---
What customers say about this product
Shutoff timer in 1 HR. increments, up to 8 hours. No other heater I checked had that feature.
I have had this product for about a week and I am extremely impressed. I bought this to heat my unheated basement. No heat, no insulation, just some carpet and about 350 square feet.
Small and portable between rooms.
Lasko 755320
Honeywell HCE200B
Your Personal Heater
Whether you're looking for an effective fan heater for a small room or your working space in the office, the Honeywell HCE200B is a suitable solution. This powerful device has two heat settings of 1500 and 900 Watts so that you can choose the optimal one depending on the area you need to heat up. Thus, high setting is what you need to heat up a small room while the lower one is suitable for heating up your personal space. Thanks to the compact size, this appliance can be placed on your desktop so that you could enjoy pleasant warmth even if the indoor temperature isn't comfortable. To choose the necessary settings, you need to use a function switch and a thermostat. First, set the desired heat option with the switch and then use the thermostat to find the most comfortable temperature. In addition to two heat settings and easy controls, you'll also be pleased to know that this electric fan heater from Honeywell features overheat protection and a cool-touch housing that adds to the safety of use of the device greatly. Finally, the Honeywell HCE200B is available in two colors - black and white - so you can choose that model that will look better with your interior. 
To sum up, this mini fan heater is a great choice for those who want a compact, effective, and easy-to-use device at the same time.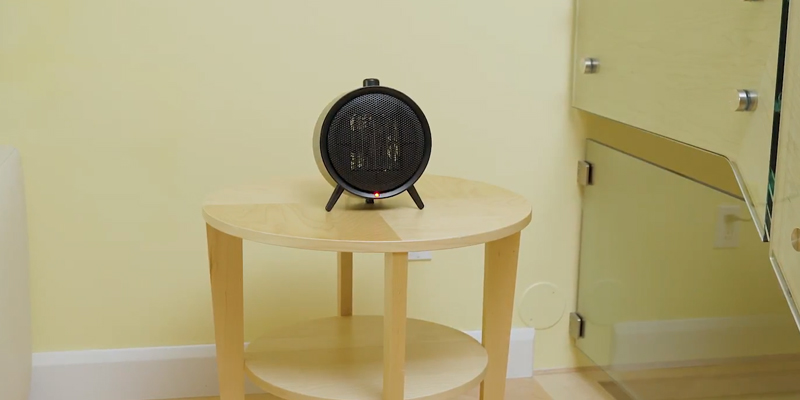 Safety Comes First
Just like any electric fan heater, the Honeywell model should be used with caution in order to avoid burns or even fires. That's why you want to follow some simple safety rules.
First of all, you should always check the power cord before turning the appliance on and avoid using the device if it's damaged.
Secondly, you should remember that fan heaters heat up space around so it's important to keep combustible materials at 1 metre distance from your appliance.
The next thing you want to keep in mind is that it's prohibited to cover a device when it's in use. It can lead to overheating and become a cause of fire.
Small children and disabled people should be supervised if they use a heater.
A heater shouldn't be left unintended when it's working. It's also important to unplug a device after use.
Finally, remember that electric fans are created for indoor use only. However, you also should avoid placing them in bathrooms, laundry areas, and similar rooms with high humidity levels.
Additional Info
---
Honeywell HCE200B
Vornado MVH
All the Basics You Need
Choosing a space heater there are some basic characteristics you rely on and a quality unit is expected to have. These are ease of use, adjustability, and efficient heating performance. With a ceramic heater from AmazonBasics, you'll get those basics and even some more, all at a fairly affordable price. See for yourself.
Packed in a body made of durable black plastic and featuring a sturdy mesh grill, the unit can easily withstand extensive use, no matter if you put it on the floor or somewhere above. Even if you suddenly drop it or it falls on the floor, it won't chip, crack or break.
Seemingly simple and fitted with manual controls, the AmazonBasics compact ceramic heater offers a fully customizable operation. An indicator light will let you know when the unit is plugged in. One of the control dials allows selecting between three blower options. It has a standard high blowing intensity to heat up the air in the room more quickly and a low setting to maintain the heat or gently blow the air around you when using the unit as a personal heater. The third blowing option is a fan mode in which the appliance will only activate a fan to circulate the ambient air for a cooling effect without turning the heating unit on.
The second dial is meant purely for air temperature control. By turning it clockwise or counterclockwise, you can set a thermostat from high to low and vice versa in incremental steps. The heater will maintain consistent heat according to the settings. However, if the room temperature is higher than a thermostat setting, the heater will not turn on. It will start heating only when the thermostat senses the temperature has dropped below the setting. This little smart feature will let you avoid energy overuse and the air overheat.
... and Even More
At the price tag twice lower than that of top-rated models, you'll hardly find a heater that provides more than basic functionality, unless it's a portable ceramic heater from Amazon Basics. In addition to the basic features we have already mentioned above, this model also offers some added little merits. Thus, it boasts an oscillation option, which is typical of more expensive models, to evenly disperse the heat in different directions and warm up the whole room more quickly. Other than that, it also provides a tip-over switch that will automatically shut the unit off in case of tipping over, thus, preventing overheat and excluding the risk of fire. This very feature is of great importance for families with kids and pets bustling in and out. There is more to come. A compact power cord compartment on the back panel will ensure the benefit of compact storage when the unit is not in use.
Affordable yet functional and offering a number of premium features, the AmazonBasics is an optimal budget model for students and those who reside in rented households and apartments as well as for anyone who need targeted warmth on cold winter days.
---
Vornado MVH
Lasko CD09250
Customizable Heat at Almost no Cost
If you need to warm up your home office to work in a comfier environment or heat your bedroom to fall asleep in a toasty room, you do not necessarily have to add degrees on a central thermostat and worry about high energy bills. It is enough to get a good space heater that will keep you warm, and rest assured you don't have to a lot for the electricity. If this is a kind of solution you need then turn your eyes to a personal ceramic heater from Lasko.
With the dimensions of 9" x 5.66" x 3.7", the Lasko CD09250 is a very compact model that can be placed not only on the floor but also on a countertop, window sill, bedside table or any kind of stand. Hence, whether you seek targeted heat at your desktop or need to warm up the air in a nursery or bedroom, this model will cater to your needs. In spite of its compact dimensions, the model is powerful enough to heat up small to medium rooms. It delivers 1500 watts at a high blowing setting and 900 watts at a low setting, which is a really good performance for such a small unit. Apart from two blowing intensity settings, the appliance provides adjustable temperature settings to manage the amount of heat emitted by a ceramic heating element. Thus, you'll get an opportunity to precisely customize the heater operation to your individual needs and achieve maximum comfort.
It's not a secret that the greatest concern about convection heaters is a fire hazard. In this concern, ceramic heaters are considered the safest ones. With that said, the ETL-certified Lasko heater comes packed with simple yet efficient safety features that bring the risk of flaming almost to nothing. During operation, the unit body remains cool and safe to the touch. A ceramic element is safer than any other type of heating elements. Owing to a self-regulation feature, it balances the heat and is less prone to overheating. Meanwhile, an overheat protection will automatically switch the appliance off in case of overheat or short circuit.
All-season Helper
Since ceramic heaters are convection units they normally feature a fan to blow out hot air. In the Lasko CD09250, a fan function can be used independently. It means that the unit can not only function as a heater but also double as a cooling fan ensuring efficient cool air circulation in stuffy premises. Just turn the control dial to fan mode and enjoy some fresh breeze on those hotter days. Though it might seem like nothing special, a fan function is a little nice perk that many premium heater models lack.
Delivering customizable heat and combining the functionality of a heater and a fan in a single unit, the Lasko personal heater will become a great all-season helper that will keep you comfy any time of the year.
Additional Info
---
Lasko CD09250
What Is a Fan Heater?
A fan heater is a very simple heating appliance which is frequently used as an additional heat source in home and office environments. The biggest advantage to a fan heater is that it is able to heat the air in a very short time. Some of the fan heaters can increase the room temperature be several degrees in around 2 minutes, which is nothing short of impressive. Another advantage is that you can pre-set them so that they start to operate a few minutes before you or your family members wake up. Fan heaters can also double as a regular fan to cool premises, allowing you to stay comfortably cool in sweltering summer heat. Fan heaters come in various sizes and styles and often include additional features that add appeal to them. For instance, many modern heaters support the ECO mode which helps cut down the energy consumption to a minimum allowing you to spend less on your electricity bills. The choice of fan heaters is really wide, so you should be able to find a model that will be best suitable for you, depending on your needs. For this review we've picked 5 of the best models available for purchase right now.

While being on the prowl for a heater, you may just as well take a look at our comparison of infrared heaters. And if you need a heat source that you could use both indoors and outdoors, consider reading about patio heaters.

What Features to Compare
Wattage and Heating element
All fan heaters include a heating element - either ceramic plates or a high resistant glowing filament. The glowing filament is heated up more and much faster, however, it dries out air and can emit foul odors if dust settles in and starts to burn. Ceramic heating elements, namely plates, have larger surface area, don't tend to dry air, and have a better fire protection overall.

One of the most important characteristics of fan heaters is the power output. The more powerful the appliance is the bigger the area it can heat up. Calculating the power necessary for warming your living area should be based on the following equation: 10W per 1 square meter. If your room is small but you want to heat it really fast go for a model with higher power rates.

Operating mode and Control
All fan heaters include at least a couple of working modes, which is important. Aside from a heating mode, the majority of heaters can also serve as a cooler. The heating mode itself can be adjusted too. Use the control knobs and dials to set the desired settings. Some models also support ECO mode that maintains the temperature at an optimal level, automatically decreasing it if it goes beyond the set limit, which helps cut down on the energy consumption.

Take note: the cooling mode can be activated only if a heating element is switched off.

Safety
When it comes to heating appliances, safety features are the most important. Look for models that include protection against overheating and tipping and automatically switch off after a certain period of time. Obviously, the heater must not overheat, otherwise it can become a cause of fire. Some heaters might feature automatic antifreeze function which allows the heater to keep the room temperature at a minimum so that you can prevent unheated spaces from freezing.

Extra features
Additional features included in a fan heater can also be very important. A rotating base, for example, will allow the heated air to travel a room quicker so that it can warm up the most remote areas. Special filters will trap the dust preventing it from deteriorating the heater performance, and a built-in humidifier will guard against drying air.

Fan heaters that have a built-in timer can be preset to keep warming a room during a certain period of time and then automatically shut off. LCD screens add to convenience of use, giving you the option to view the current settings. Some others may include a remote control unit allowing you to change heating settings without getting up from bed. If any of these features sound exactly like you want, then make sure to check if a fan heater you choose has them.

Design
Since a fan heater is going to be highly visible in a room, it should have an attractive design. Also, it should include a carry handle and a pair of castor wheels for moving it freely around. If your living space is not very big, consider compact fan heaters that can be tucked in a corner or under furniture. And if you want something posh, look toward models designed in the form of towers, which often resemble speakers.

Did you know?
It's not a secret that heating up your home during cold seasons isn't cheap. Of course, you hardly want to get cold in your own home but you also don't want to spend the largest part of your salary on paying heating bills. That's why we want to share several effective tips that will help you save your money and keep your home warm at the same time:
- Pay attention to weatherstripping. Worn weatherstripping is one of the main causes of heat loss during cold seasons. That's why you might want to spend some money in summer to replace bad weatherstripping so that you could enjoy warmth at home in winter.
- Prevent draughts appearing at your home. One of the most frequent reasons of draughts is wrong door design. By this we mean that the lower part of a door doesn't touch threshold. In this case, cold air from one room (or even from the street) might travel to another room. Draughts can also appear around electrical boxes, gas lines, and electrical cables that lead to your house. Make sure the holes around these things (if there are some) are covered.
- Set the thermostat of your heating system a couple of degrees cooler when you leave your house. It will still be warm at home when you return but you'll be able to cut down your heating bills greatly. You can also carry out the same procedure when you go to sleep. Just make sure you have a very warm blanket.
- One more thing you can do with thermostat is upgrade it and substitute with a programmable model. These devices allow you to set heating programs depending on your routine. Set the device to reduce the temperature when you leave your home and increase it when you come back. Using technologies these smart, you'll save not only your money but also your time.
- If you organize a party at home and all your guests gather in one room, reducing the temperature in the whole house is a sensible decision. But will it be comfortable for you and your friends if you lower the temperature? Yes, it will if you place an electric fan heater. Although you'll still need to waste electricity, it will be more economical than using a furnace. Moreover, you can buy an appliance with automatic mode that is much more economical than the one with manual settings.
- It might sound strange but curtains are one more way to save your money. It is believed that the sun (even if it's freezing cold outside) can make your house a bit warmer. That's why it's recommended to keep curtains open during the day and close them when it's getting dark to provide better protection from cold that might come out from windows.
- Insulate your attic and ductwork. Your attic can be one more place where draughts appear and if it isn't insulated properly, it will also become a place that takes warmth out of your house. If a ductwork that comes from your bathroom or kitchen is damaged, badly insulated, or is installed in a wrong way, you can notice draughts appear in that place too, so make sure you pay close attention to its quality.


Sources:
1. Chris Barnes Feeling the chill but scared of big bills? Choice. June 7, 2016.

2. Adrienne Breaux How To Heat Up a Cold Room, Apartment Therapy. December 13, 2014.
3. Oli McKean How to Buy the Best Electric Heater, Which?
4. Susan Edmunds How to Choose the Best Type of Heater for Your House, Stuff. May 26, 2017.
5. Fan Heater, Wikipedia. June 25, 2017.
6. Space Heater Buying Guide, Consumer Reports. October 2017.
7. Portable Heaters, Energy Saver.
8. Chris Barnes Electric heater buying guide, Choice. May 24, 2016.