A fan heater, without a doubt, offers the easiest way to get warm and heat up a small room in a few minutes. Just switch it on and
set up the desired temperature, the heater will do the rest! Now, it's up to you which fan heater to select!
...
Read more
...Read less
Honeywell HCE200B
Your Personal Heater
Whether you're looking for an effective fan heater for a small room or your working space in the office, the Honeywell HCE200B is a suitable solution. This powerful device has two heat settings of 1500 and 900 Watts so that you can choose the optimal one depending on the area you need to heat up. Thus, high setting is what you need to heat up a small room while the lower one is suitable for heating up your personal space. Thanks to the compact size, this appliance can be placed on your desktop so that you could enjoy pleasant warmth even if the indoor temperature isn't comfortable. To choose the necessary settings, you need to use a function switch and a thermostat. First, set the desired heat option with the switch and then use the thermostat to find the most comfortable temperature. In addition to two heat settings and easy controls, you'll also be pleased to know that this electric fan heater from Honeywell features overheat protection and a cool-touch housing that adds to the safety of use of the device greatly. Finally, the Honeywell HCE200B is available in two colors - black and white - so you can choose that model that will look better with your interior. 
To sum up, this mini fan heater is a great choice for those who want a compact, effective, and easy-to-use device at the same time.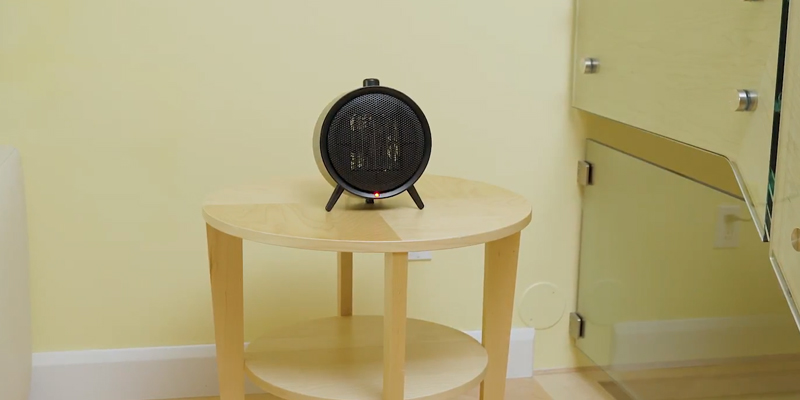 Safety Comes First
Just like any electric fan heater, the Honeywell model should be used with caution in order to avoid burns or even fires. That's why you want to follow some simple safety rules.
First of all, you should always check the power cord before turning the appliance on and avoid using the device if it's damaged.
Secondly, you should remember that fan heaters heat up space around so it's important to keep combustible materials at 1 metre distance from your appliance.
The next thing you want to keep in mind is that it's prohibited to cover a device when it's in use. It can lead to overheating and become a cause of fire.
Small children and disabled people should be supervised if they use a heater.
A heater shouldn't be left unintended when it's working. It's also important to unplug a device after use.
Finally, remember that electric fans are created for indoor use only. However, you also should avoid placing them in bathrooms, laundry areas, and similar rooms with high humidity levels.
Additional Info
---
Honeywell HCE200B
De'Longhi HVY1030
Quiet and Warm
The DeLonghi fan heater is created to bring pleasant warmth to your homes and offices. This blower is quite powerful to heat up a room of up to 150 square feet, thus, you can choose this model to use at home as well as in the office. What we like about this model is that it has two adjustable heat settings, which means you can choose most suitable one depending on the weather outside. But the biggest selling point of this particular heater is that you can use it like a regular fan for cooling the air. On top of such functionality, this fan heater provides many usability and safety features. It boasts SafeHeat Technology which prevents the device from overheating and features an anti-freeze setting that automatically switches the heater on when the room temperature reaches 44°F. This very feature makes the DeLonghi fan heater an ideal choice for those who need a heater for their basement, for example. As this heater has a carry handle, its transportation is easy and hassle-free and if you needed to, you could take it to go. Finally, don't overlook the quiet operation of the heater. It doesn't make any annoying noises that could disturb you or your family. What you should expect from it is only smooth operation and pleasant warmth. 
Advantages of Elaborate Design
A well-thought-out design, coupled with great functionality and safety features, is what contributes to the convenience of use of any device. In this respect, the DeLonghi fan heater ticks all the boxes. It's compact and lightweight making it easy for you to transport it, it has a wide and stable base which keeps it from tipping over, and it features user-friendly and intuitive controls containing two rotary regulators for choosing the desired temperature setting, from cool to warm. What else we'd like to draw your attention is that you have three color options to choose from - white, black, and orange. With this color range, you should be able to pick up the best one to match your space. 
Additional Info
---
De'Longhi HVY1030
Optimus H-1322
Your Optimal Choice
Are you looking for a functional and easy-to-use heater at a reasonable price? Then, the Optimus heater fan might come to your liking. Like the majority of fan heaters out there, this model has several heat settings - low heating (750 Watts), high heating (1500 Watts), and fan, so you can use it not only for heating but also for cooling air. All adjustments are easy to do with the twist of one of the two switches on the body of the heater. If you've done everything right, you'll see the blinking of the light indicator. The Optimus heater fan is one of those devices with which you're guaranteed to feel almost instant effect no matter what mode you select. It is fitted with a glowing filament which allows it to reach the selected temperature in mere minutes. However, these aren't the only benefits the Optimus heater offers. You will also like that it has a compact and lightweight design allowing you to place it anywhere in your room, even on the desk if you want. Another feature worth mentioning is a tip-over safety switch, adding to the safety of its use. This makes it a perfect solution for those who have active kids or pets that might trip over it one day as well as for those who'd like to secure themselves from any unpredicted and dangerous situations.
Troubleshooting
Just like the majority of electric appliances, a fan heater might stop to work one day. However, it's not a reason to panic or to throw it away. Before taking the heater to a service center, you may want to check it yourself first. Here are the common reasons that cause malfunction of heaters:
The most common reason electric devices don't work is that there's no electricity in the network or the appliance is unplugged. Make sure you've connected the heater right.
Your fan might operate but not give off enough heat. A possible reason for this malfunction is the presence of some obtrusion in the way of the heat flow. Avoid drying clothes on a heater. Not only does it often lead to malfunction it also may result in overheating of the appliance and fire hazards.
It is also possible that a fan doesn't work because of your carelessness. You could simply forget to switch it on or select a higher temperature.
---
Optimus H-1322
Brightown PTC-HD-905
Make Your Room Warmer With Brightown
Would you like to have a fan heater that would be small yet effective? If your answer is "yes", then the Brightown PTC-HD-905 is one of the better options you can find out there. While being small in size, this heater incorporates a sufficient amount of power to warm up a mid-sized room. It has two modes - 750-Watt and 1500-Watt settings - and a cooling feature for hot seasons. And as you can judge from the specs, the heater performance is on par with other models, so you can get all that but pay much less. The Brightown PTC-HD-905 is very easy to use. There are only two dials to adjust. Also, this heater is quiet. It doesn't produce loud noises and you can keep it on all day long without causing discomfort to your family. Sure enough, the Brightown PTC-HD-905 isn't the best option for large rooms and open space offices, but it will definitely suffice for the needs of most regular customers needing an inexpensive and performing device to warm up on cold winter nights.
Some Tips to Heat Your Room Better
Wonder how to get the maximum out of an electric fan heater? These 3 tips will help you achieve your goal:
Place the heater on the floor. If you place it on the desk, for example, it won't heat up the air that's lower than the height of your desk since the warm air rises up.
Do not place the heater in proximity to other objects that may hinder its operation. By doing so, you will simply limit the space it can effectively heat up. Also, it's important to always take precautions, in spite of many safety features featured in most modern heaters, and remove all combustible materials away.
If you've chosen a fan with a glowing filament heating element and haven't used it yet, it's recommended to operate it for several minutes in a well-ventilated room. The thing is because the glowing filament heats up fast, it usually emits unpleasant smell during first use. So if you'd like to enjoy the warmth as well as a pleasant climate environment, it's best to run it idle a bit before use.
---
Brightown PTC-HD-905
Holmes HFH131-N-UM
Most Economical Fan Heater
Do you feel cold during winter evenings even with your home heating system on? Then, it's time to think about an additional source of heat that will make the temperature in your bedroom, living room, kitchen, or even your office more comfortable. The 1200-Watt Optimus heater fan will become your personal helper in surviving the unpleasant cold.
With the wattage of 1200, this heater is one of the most economical solutions on the market, making it an ideal choice for people who'd like to save on their bills. It doesn't have any extra features like those we've found in more expensive models but it delivers on what it's intended to - it provides enough heat to keep you warm and cozy. The heater features a reliable design with a cool-touch outer casing eliminating risks of hand burns, and has overheat protection allowing you to keep it on as long as you need. So even though this heater isn't all-inclusive, it's definitely not a bad option, and especially so for those of you who aren't ready to invest in it a large amount of money.
Create Healthy Atmosphere at Home
If you keep a fan heater (especially the one with a glowing filament heating element) on for a long time, it might dry the air in your room that is not a very pleasant and healthy occurrence. Here are some tips to help you overcome the problem of dry air:
Buy a humidifier. This smart appliance will make the air in your room moister allowing you to breathe freely. And if you choose a model with ionization function, you'll also be able to get health benefits.
We bet you want the air in your room to be not only warm but also fresh. Thus, opening windows from time to time, at least for several minutes, will improve air quality.
Don't forget about wet cleaning. By removing dust with a moist cloth, you'll get rid of unhealthy particles in your room as well as prevent dust getting inside the fan prolonging its service life.
Following these simple tips, you'll be able to create a pleasant atmosphere of warmth and health in your home even when it's cold outside.
Additional Info
---
Holmes HFH131-N-UM
What is a Fan Heater
A fan heater is a very simple heating appliance which is frequently used as an additional heat source for homes or offices. The major advantage of such a heater is that it offers the fastest way of heating the air. Meanwhile, in the summer time, the appliance can serve as a common fan that cools the indoor air. A simple operation principle and reasonable price are only a few their advantageous features. So, create a comfortable atmosphere in your home using one of the fan heaters we have already picked up for you! Likewise, you can get acquainted with infrared heaters.
If you'd also like to add the atmosphere of coziness and comfort near your house, we suggest you take a look at patio heaters.
What Features to Compare
Wattage and Heating element
All fan heaters include a heating element - either ceramic plates or a high resistant glowing filament. The glowing filament is heated up more and much faster, however, it dries out air and can smell when settled dust is burning. Ceramic heating elements, in particular plates, have a larger size of the surface area and don't dry the air. More importantly, they have better fire protection.
One of the vital features of fan heaters is a power output. The more powerful the appliance is the bigger area it can actually heat up. The calculation of the power should be based on 100W per 10 square meters. A smaller room will be heated to a set temperature quicker while a bigger space will need more time for this. Therefore, a compact fan heater is a better option for small premises.
Operating mode. Control
Each fan heater has several working modes and it's a really beneficial feature. Generally, apart from a heating mode, the appliance can work as a common cooler. In most cases, heating can be adjustable - you can get desired temps by changing the power. Some models also support ECO mode, they determine necessary power depending on the set temperature. The cooling mode is got by a working fan when a heating element is switched off. The desired temperature in a room can be chosen by either a mechanical or electronic thermostat.
Extra features
Also, for user's convenience and more efficient heating, some models are equipped with additional features. A rotating base, for example, will allow heated air to spread around the room quicker, reaching the most remote areas. Many models are highly protected and have special sensors that switch off the heater in case of overheating or falling over. An automatic antifreeze feature will maintain a minimal temperature inside unheated spaces to prevent freezing. Certain models are also equipped with special filters that free the passed air from dust, and humidifiers that prevent drying air. Fan heaters that feature a built-in timer will switch the appliance off after the set period of time.
Did you know?
It's not a secret that heating up your home during cold seasons isn't cheap. Of course, you hardly want to get cold in your own home but you also don't want to spend the largest part of your salary on paying heating bills. That's why we want to share several effective tips that will help you save your money and keep your home warm at the same time:
- Pay attention to weatherstripping. Worn weatherstripping is one of the main causes of heat loss during cold seasons. That's why you might want to spend some money in summer to replace bad weatherstripping so that you could enjoy warmth at home in winter.
- Prevent draughts appearing at your home. One of the most frequent reasons of draughts is wrong door design. By this we mean that the lower part of a door doesn't touch threshold. In this case, cold air from one room (or even from the street) might travel to another room. Draughts can also appear around electrical boxes, gas lines, and electrical cables that lead to your house. Make sure the holes around these things (if there are some) are covered.
- Set the thermostat of your heating system a couple of degrees cooler when you leave your house. It will still be warm at home when you return but you'll be able to cut down your heating bills greatly. You can also carry out the same procedure when you go to sleep. Just make sure you have a very warm blanket.
- One more thing you can do with thermostat is upgrade it and substitute with a programmable model. These devices allow you to set heating programs depending on your routine. Set the device to reduce the temperature when you leave your home and increase it when you come back. Using technologies these smart, you'll save not only your money but also your time.
- If you organize a party at home and all your guests gather in one room, reducing the temperature in the whole house is a sensible decision. But will it be comfortable for you and your friends if you lower the temperature? Yes, it will if you place an electric fan heater. Although you'll still need to waste electricity, it will be more economical than using a furnace. Moreover, you can buy an appliance with automatic mode that is much more economical than the one with manual settings.
- It might sound strange but curtains are one more way to save your money. It is believed that the sun (even if it's freezing cold outside) can make your house a bit warmer. That's why it's recommended to keep curtains open during the day and close them when it's getting dark to provide better protection from cold that might come out from windows.
- Insulate your attic and ductwork. Your attic can be one more place where draughts appear and if it isn't insulated properly, it will also become a place that takes warmth out of your house. If a ductwork that comes from your bathroom or kitchen is damaged, badly insulated, or is installed in a wrong way, you can notice draughts appear in that place too, so make sure you pay close attention to its quality.


Sources:
1. Chris Barnes Feeling the chill but scared of big bills? Choice. June 7, 2016.

2. Adrienne Breaux How To Heat Up a Cold Room, Apartment Therapy. December 13, 2014.
3. Oli McKean How to Buy the Best Electric Heater, Which? 
4. Susan Edmunds How to Choose the Best Type of Heater for Your House, Stuff. May 26, 2017.
5. Fan Heater, Wikipedia. June 25, 2017.
6. Space Heater Buying Guide, Consumer Reports. October 2017.
7. Portable Heaters, Energy Saver. 
8. Chris Barnes Electric heater buying guide, Choice. May 24, 2016.