A wireless thermostat is a modern and sophisticated solution that will allow you to control the temperature around the house with
the help of your smartphone or any other gadget with a Wi-Fi connection.
...
Read more
...Read less
Nest 3rd Generation
The Smart One
This digital thermostat can be controlled remotely via a special application from any digital device - smartphones, laptops or tablet PCs - and anywhere granted that this place has Wi-Fi coverage. The remote control that comes with a thermostat allows adjusting temperature changes as well as changes in graphics and power consumption, provides quick access to the history of the last 10 days, and sends warning messages if the temperature in your house rises or drops below the set level. All of these settings can be controlled from the distance and no manual configuration is required.
The Nest Thermostat uses smart technology which allows it to adjust the temperature in the house to your comfort level. It features the cooling mode (1, and 2 stages) and the heating mode (1, 2, and 3 stages), and is compatible with humidifiers, dehumidifiers, and conventional fans. The model has a built-in lithium-ion battery which works from 24V using a C wire. Keep note though if you do not have such a wire, you'll need a powerful 4-wire system.
The Nest Wi-Fi thermostat can program itself by virtue of the obtained data from external sensors. With the Auto-Graphics function, the digital thermostat remembers what temperature you prefer the most and creates an individual schedule of your home HVAC devices. You can check the efficiency of this schedule and customize it as you need. Another option is a self-programming Auto-Away function which uses smart thermostats' ability to feel that you are out of the house and automatically switch to a different temperature condition in order to save energy. It also has motion sensors and switches on the screen when you are near.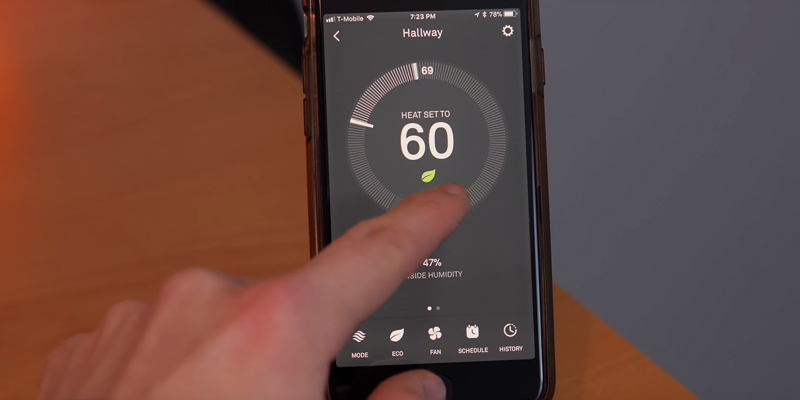 Additional Info
---
VIDEO
Nest Thermostat 3G Installation and Review
Nest 3rd Generation
ecobee Alexa Built-In
Occupancy Detection
The Ecobee Smart Thermostat lands among the smartest, most sophisticated thermostats. Everything from its processing unit to the crisp glass and vivid screen behind that class has been designed with meticulous attention to detail. The price reflects that too. That said, the device earns its keep. First and foremost, the thermostat learns and adapts to the user's schedule, managing separate cold and hot spots and harmonizing the scale according to that schedule/routine.
Between occupancy detection and prioritizing different rooms, the device makes sure that every resident is happy, even when different residents have different preferences regarding temperature and humidity levels.
From there, using the integrated Alexa module, the thermostat lets you make calls, message friends, play songs and podcasts from Spotify, connect Smart speakers, and manage Alexa-enabled products.
Not unlike most wireless thermostats, this device also lets you pre-heat and pre-cool the premises, so you can come home and feel comfortable there from the get-go but without raising the energy bills.
Now we have not even started outlining everything that the SmartSensor™ and Eco+ solutions are bringing to the table but, even keeping things this brief, you can tell that there are miles between the Ecobee Smart Thermostat and its less expensive but also less impressive peers.
ecobee Alexa Built-In
Emerson Thermostats Sensi (ST55)
Plenty of Features in a Simple Package
Emerson Sensi is the perfect example of how something so simple-looking can offer just about anything you would want out of a wireless thermostat. Simply download the Sensi app and you will have access to a rich number of features that the model comes equipped with. The said features include the ability to remotely control the temperature in your home. They also include the geofencing technology. As some of you may know, the aforementioned technology identifies the location of your smartphone and adjusts the temperature according to that location.
People lead all kinds of lives, which is why it's a good thing that this product comes equipped with the sort of technologies that will allow you to program a schedule for each day of the week. And since the model receives convenient weather updates, figuring out that schedule will be particularly easy. The app's interface is another example of something so simple can be so effective. For instance, the app changes the color of its background to let you know at a single glance whether your home system is heating or cooling. It also sends you alerts whenever the wireless thermostat detects inconvenient or extreme changes in temperature or humidity. Finally, the app automatically adjusts between the cooling and the heating mode in order to keep the user as comfortable as possible. It's HVAC compatibility coverage is superb. On top of it, the model's also compatible with iPhone, iPad, any Android device, Amazon Alexa, Apple HomeKit (the c-wire is required), Google assistant and wink smart home platforms.
All in all, we would recommend the Emerson Sensi wireless thermostat to just about any customer who is looking to get as many convenient features as possible for the most affordable price. Plus, the model's sleek, minimalist design will look great on any wall.
Additional Info
---
Emerson Thermostats Sensi (ST55)
ecobee3 lite (EB-STATE3LT-02)
Save Some Money
The Ecobee3 lite Smart Thermostat is the kind of model that has all of its advantages put in the name. The "eco" part of that name is right on the money since this nifty little device will allow you to receive up to 23% savings on heating and cooling costs (depending on your settings). The "smart" part is there not just for show either. The model works with just about any iOS and Android device, even including Apple Watch. Furthermore, with the help of Amazon Echo, you will be able to just ask Alexa to adjust the temperature settings without standing up from your chair or using your smart device.

Of course, these compatibilities are all well and good, but they wouldn't be enough to justify the said "smart" part. On that note, we would like to point out a set of alerts and reminders. The manufacturers made sure to incorporate those in order to offer their customers a certain peace of mind. Simply put, the WiFi thermostat senses when something doesn't work at all or doesn't work according to your programming and sends a convenient alert to your smart device. There's also the vacation mode that the device automatically adjusts to whenever you leave the house, a rather sophisticated solution that allows you to save a considerable amount of money in the long run. Finally, in terms of HVAC compatibility, the model works with most residential heating and cooling systems.
In short, the Ecobee3 lite Smart Thermostat is all about saving money and offering convenient ways to control the temperature around the house. Plus, the installation process is extremely easy since all you need for it is included in the package.
ecobee3 lite (EB-STATE3LT-02)
Honeywell. (TH9320WF5003) Wi-Fi Touch Screen Programmable
Just Comfort, Not Much Else
The Honeywell TH9320WF5003 (an excellent name, friends) is a little basic compared to the models we have reviewed above. That being said, the device is not without its advantages. To name one, the thermostat lets you set the temperature, then set the ambiance, customizing the screen background and matching that background with the surrounding décor. The screen's huge and the information presented on that screen is easily readable.
Before that though, the Honeywell app will enable monitoring and adjusting heating and cooling, tweaking humidity levels, and controlling the fans. The app also includes alerts that will notify you about temperature changes, blackouts, and whatnot.
Again, the model's fairly basic, so you're not offered much besides adjustable program schedules that you can use the customize temperature and humidity for every day of the week. In addition to that though, the thermostat will also give you access to preset energy-saving schedules, making slight changes during peak hours to decrease energy bills.
Bottom line, the Honeywell TH9320WF5003 is not bringing any bells and whistles. Using this thermostat, you'll be able to keep your home comfortable, nothing more and nothing less than that.
Honeywell. (TH9320WF5003) Wi-Fi Touch Screen Programmable
What Is a Wireless Thermostat?
Despite the suggestive name, a wireless thermostat isn't really a thermostat. Instead, what it is is essentially a device that allows you to control the temperature around the house. Though these little household appliances feature a lot of differences between each other, there's also a number of similarities. If your financial means aren't particularly limited, what you should be looking for is the sort of device that comes equipped with a number of specific sensors. The said sensors connect to the heating and cooling systems within apartments, businesses, and, of course, houses, and allow the user to control those systems through the device. Some of the best models will also provide you with the ability to adjust the temperature from a remote location. Furthermore, any wireless programmable thermostat comes with the sort of features that can be used to set different schedules, so you will be able to enjoy different temperatures during the day and night. Plus, you can use it to cool down your house or heat it up whenever you leave it.
Of course, when it comes to temperature control, a device like that is a sophisticated solution and if you do not care for such luxuries, you could always simply purchase a personal fan or a ceramic heater.