In the sea of options, it is sometimes a challenge to find the right heater. Panel heaters are mostly designed for heating small
or medium rooms from time to time, they are a great way to save money on both the device and your bills if used properly. Allow us to tell you a bit about them.
...
Read more
...Read less
X
This site is a free online resource that strives to offer helpful content and comparison features to its visitors. Please be advised that the operator of this site accepts advertising compensation from certain companies that appear on the site, and such compensation impacts the location and order in which the companies (and/or their products) are presented, and in some cases may also impact the scoring that is assigned to them. The scoring that appears on this site is determined by the site operator in its sole discretion, and should NOT be relied upon for accuracy purposes. In fact, Company/product listings on this page DO NOT imply endorsement by the site operator. Except as expressly set forth in our Terms of Use, all representations and warranties regarding the information presented on this page are disclaimed. The information which appears on this site is subject to change at any time. More info
Delonghi HMP1500
Say Goodbye to the Cold
The Delonghi HMP1500 Mica panel heater is able to raise the temperature several degrees in a fairly big room, up to 300 sq.ft in area. Being a Mica-Thermic heater, the heating it offers is more even than your usual convection panel heater, the air won't have "layers" of warmer and colder temperatures.
The device has two knobs, one with the modes of heating—Off, Low at 750 W, and High at 1500 W— and another with an adjustable thermostat. By combining the settings between the knobs, you will obtain a wide variety of heating options for just about any room in the house. The hottest your room will be when you combine the High setting on the first knob with the 6 setting on the second but some users claim it is so hot that they almost never use it. Consequently, the Low + 1 combination is the lightest warming possible with this heater.
More often than not, convection heaters can be somewhat loud during operation thanks to the fan. The Delonghi HMP1500 Mica panel heater does not need a fan so it is quiet as a mouse, you will have all the opportunities in the world to take a nap in a warm room even in the middle of winter and if something wakes you up it will surely not be this device. And, what is most important, is that your pets will adore this heater. Cats and dogs will set aside their eternal fight to curl together near this model to sleep.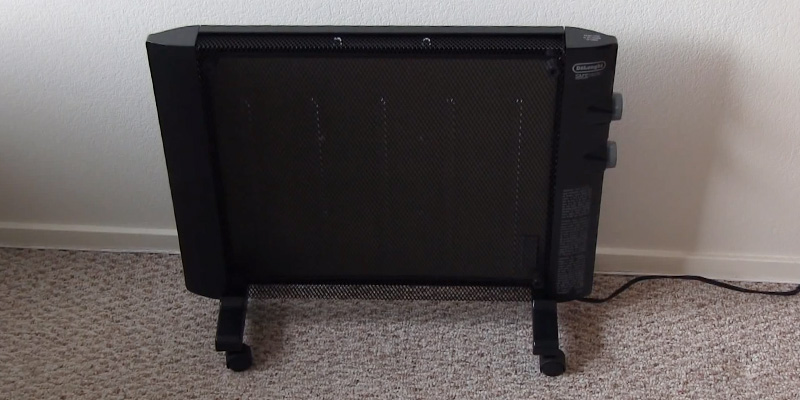 Safe and Versatile
Seeing as your pets will definitely fall in love with this heater, it is important to take all the safety measures seriously. Which Delonghi did to the best of their ability. This home panel heater with a thermostat is equipped with both the tip-over auto shut-off and the overheating protection. Be it your playful golden retriever or a toddler who just loves to crawl around, or maybe you yourself in a hurry, if someone accidentally pushes the Delonghi HMP1500 Mica panel heater to the side, it will turn off in an instant and cool down fast. And if it so happens that the temperature goes too high and there is a danger of overheating, this smart device will also automatically shut off. It's minimal worries for any owner busy with house chores or simply wishing for a couple-hour nap.
When you are not constantly in the same room, you can take this model when you move to another premises: it is equipped with removable legs and caster wheels, as well as a carry handle. And if no moving around is expected (for example, you buy a heater for every room), the mounting kit included in the delivery package is all you need to affix the panel heater to the wall so that it does not get in the way. With its sleek and thin black body, it will look good in whatever interior you have (black looks good with everything, after all).
Additional Info
Last updated price

$

99.95

Stock
May be out of stock
ASIN

B005MMN75G
---
Delonghi HMP1500
New Age Living Phantom 10
The Healthiest Heater
The Phantom 10 from the New Age Living company is one of the healthiest and safest electric panel heaters available. It is asbestos-free and contains neither chemicals nor metals that can harm the health of those around, meaning there is no way it can cause allergies of any sort. There is also no fan so no dust flying around as well. The combination of convection and radiant technologies makes this model really cost-effective. At a power of 750 W, this wall panel heater will effectively warm a room of up to 300 sq.ft to a level where you can feel utterly comfortable during the winter.
The convection technology means that the heat is accumulated on the heating element (aluminum in this particular case) and then released into the air to circulate the room. This model emits heat both from the top and from the front, making the warming up of the room more even than if it only released heat upwards. Owing to this, you won't feel like there are layers of air with different temperatures. It also makes heat distribution more energy-efficient and, consequently, economical. By setting a heater like this in your room, you can save up to 50% on your electricity bills.
It's a Phantom!
The flat panel heater by New Age Living is really thin and when you mount it on the wall of your room, you will forget it's there—like a helpful ghost, it will blend with your interior and will unnoticeably heat up the room so that you, your family, and guests feel comfortable sitting there discussing matters at hand, maybe with a glass of nice wine. A romantic dinner with your significant other will become worry-free and leisure-filled, as will an evening of watching Netflix or reading your favorite book.
There is a possibility to use this panel heater as a free-standing model if you wish so. However, to do that, you will need to buy the legs separately since they are not included originally (though the wall mounting kit is included).
The Phantom 10 heater has a not-so-usual parameter to it, it is IP24 water resistant, meaning it is not afraid of splashing water. Of course, we highly recommend you to refrain from putting it in the direct way of water sprays but an accidental splash will most likely leave the heater fully operational.
As we are already talking about safety, this convection+radiant panel heater does have an overheating protection, and a double system at that, so no worries here. Since it is a primarily wall-mounted device, though, it lacks the tip-over protection so please exercise caution if you intend to use it as a standing model.
Last updated price

$

0.00

Stock
May be out of stock
ASIN

B01B8I58GS
---
New Age Living Phantom 10
Cozy Products Cozy Legs Flat Panel
Local Heating
This panel heater is designed for a narrower scope of application compared to the majority of devices in the class. It is the best choice for those who work at the computer and need something to specifically warm their legs and feet, which, as we all know, tend to get chilly due to the lack of proper blood circulation when you sit for a long time in a not too warm room. Not even warm clothes help that all that much, and sometimes they are not an option, like in the office with a certain dress code.
Why Cozy Legs? A 1500W heater will most certainly heat up a room better than this 150W model. But why pay for heating up the whole room when you basically do not move for hours? Having installed this model on a wall behind your desk or on its (desk's) inner side, you assure your feet are warm and you don't need to pay extra for the heat you do not use. Ten times less energy consumption means basically ten times less money to spend on your bills.
If you don't want or can't mount the heater permanently for some reason, the Cozy Legs Stand is sold separately: with it, you will be able to set your wall panel heater under your desk just like that, without actually mounting it.
Nice Saving Solution
Placing an electric heater right beside your body can, potentially, be dangerous, of course, but not with the Cozy Legs flat panel heater. It has no unprotected heating coils that could in theory cause burns and the temperature it warms up to is not scorching hot either so you are completely safe here. Moreover, since it is low-power, this heater poses way less fire hazard than a more powerful one.
As for the operational process, this radiant home panel heater is absolutely silent, it won't get in the way of your concentration, which is essential when we are talking about the device used when you are working. Only 1" thick, it will be almost unnoticeable under your desk and will warm your feet and legs. 
The device is protected from overheating and there is a built-in thermostat, as well, however, to adjust the temperature settings, you will need the separate Hi-Lo Control Switch. That's a bit of a drawback usually but seeing how low-power this panel heater is, you might not need any adjustment at all, just the ON/OFF switch might be enough.
All in all, we'd say heater is good for use in your study, small nursery, a garage, or in the office. Considering its price and the cost electricity, buying a heater like this for every worker might very well end up being more beneficial to some small company compared to a bulky conditioner that "eats" a lot and offers a redundancy of heat.
Additional Info
Last updated price

$

61.99

Stock
In stock
ASIN

B00FRFFC4W
---
Cozy Products Cozy Legs Flat Panel
NewAir AH-400
Money Saver
The NewAir AH-400 is a small portable panel heater that works using the oil circulating inside. Oil-filled heaters have one major advantage compared to most other types: the oil they have inside takes time to cool down. This is beneficial in a way that the heater, once powered up and heated to a high temperature, can be unplugged from the outlet and will still be warming up space around; depending on the temperature of the heater and the ambient temperature, it can continue warming you for quite some time for free since it won't be using any electricity at all.

By the way, this NewAir heater also has an overheating protection, a feature that will turn off the device automatically once the needed temperature is reached. This way, you don't need to worry about the bills and leave the device on as you go to sleep, for example, or think back to turn it off manually when you are immersed in work or a computer game; everything is just perfect without much attention on your part.
The device is quite small and thin, it will fit near the wall without being obtrusive or under your desk to warm your feet when you work at the computer for hours on end. However, in the second case, do push the heater farther so that your legs don't touch it—the AH-400 can get rather hot at times. The device is equipped with a convenient built-in carrying handle to move it around a room. And, though there are no wheels, since it is also lightweight, only 6.45 lbs, there is no need to worry about it leaving tracks on your floor when dragged around.
Simple Yet Flexible
Besides the overheating protection, the NewAir AH-400 also has a tip-over protection as well, which is a must since this model can't be mounted on the wall and therefore can be accidentally pushed by just about anyone. If this happens, the heater will turn off automatically.
Operating the AH-400 is easy as breathing—there is only one mode, meaning the heater has no switches aside from the ON/OFF one. What it does have, though, is a thermostat so adjusting a temperature is still possible. The thermostat is a simple knob right below the power switch, you can't possibly miss it (it is also labeled in capital letters just in case); by turning the knob, you can set the most comfortable temperature for you, in some cases, it is more convenient than having modes with preset temperatures.
This panel heater does not have a fan. The good thing here is that it is really quiet. However, if you wish for the warmth to spread throughout the room and not just where you sit near the heater, you might want to consider a slow-rotating external fan to blow the hot air around. Seeing as it is an economical 400 W device, it can potentially warm a small or even some medium rooms.
Additional Info
Last updated price

$

53.36

Stock
May be out of stock
ASIN

B009L40S0S
---
NewAir AH-400
TURBRO HR1015
Small and Powerful
Despite being relatively small in comparison to other popular models, the TURBRO HR1015 is one of the most powerful electric panel heaters, it requires 1500W of power. At this power, you will have 5100BTU in 30-second time, enough to effectively heat a room of approximately 160 sq.ft in area. The heater uses a Mica-Thermic technology for heating, its main advantages being more even and faster heat distribution compared to the usual convection heaters with far less air drying. At the given size, it is one of the most efficient heaters.
The TURBRO HR1015 has two adjustment knobs to control the heating process: one for the standard Hi-Lo modes and the second for the adjustable thermostat. The thermostat mode has cute icons to designate the stages of warming between low-temperature warming, energy-saving comfort, and high-temperature heating. The stages are more or less relative, though—same as most home electric panel heaters, the temperature you get will in part depend on the temperature of your room pre-heating. If you aim at a specific temperature at any time, you should probably look for a conditioner with a heating feature. This device will heat the room up several degrees compared to what it was before, though.
ROHS-approved
The TURBRO HR1015 panel heater with a thermostat is as safe as they come, the manufacturer claims it to have passed several important certification tests like ROHS and ETL. The device has both the tip-over and the overheating auto-shutoff features. It does heat up somewhat but the only part that is dangerous to touch during operation seems to be the top, and only at the highest settings. The sides do warm up but not enough to burn, and the knobs, as well as handles, stay cool to the touch so you can turn the heater off or move it farther from you when the temperature starts getting uncomfortably hot.
The design of the HR1015 model is very stylish, it will look especially good in a study or office where we often need additional heating when we work for hours. For the same reason of putting it in the study, it is fan-less—thanks to this, the device makes no noise whatsoever when operating.
The heater is offered in two color solutions, black and white (although white seems more like silver-ish). There are two handles on the sides and four caster wheels to move the device conveniently around the room or between rooms. It is also fairly lightweight, in the case you need it up- or downstairs you can carry it.
Additional Info
Last updated price

$

0.00

Stock
May be out of stock
ASIN

B075QC359K
---
TURBRO HR1015
What Is a Panel Heater?
To an untrained eye, the first thing you notice about panel heaters is that many of them are significantly cheaper than, say, column ones or other analogs. There is a catch to that, of course.

Panel heaters are, commonly, designed to warm the spaces that are not too big. Small bedrooms, studies, nurseries, etc. will benefit from a panel heater better than from any other, bulkier model. Panel heaters are usually quite thin to take up as little space as possible, therefore, they will hardly get in the way as you walk. They are also rarely used for continuous heating during long hours; more frequently, it's to warm up the room for when you need to spend an hour or two there. However, they do heat up pretty quickly and offer a nice cozy feeling, so there's that.
Another benefit is that most "panels" do not get hot to the touch so they are safe to use even with kids and pets in the room. It is not uncommon to find a panel heater under the person's desk—in the case when you work or play on your computer and your feet get cold after some time, a small thin heater with no exposed heating elements is the best.

In the end, it all comes to your intended use. Check out our review to find out if a panel heater is what you need and if yes, which one. You can also see our reviews on oil and infrared heaters for comparison.
What Features to Compare
Type
When panel heaters were first introduced, they were strictly of convection type but today, almost any heater type can be made in (or close to) a panel form-factor. There are differences in the types we recommend you to consider before making the purchase.
Convection panel heaters emit warmth quite fast but the heat might settle in layers, unevenly, that's why it is usually advised to accompany one with a slowly working fan (a desk or a ceiling one). Micathermic models are in a way convection heaters but thanks to the mineral mica surrounding the heating element they offer more even heating of the room. Oil-filled models take longer to heat up and also may need an additional fan but they can also be left unsupervised and used for longer times, some even overnight. Radiant heaters warm the objects in the room and not the air so they are perfect for rooms with draughts; however, their housings do have the tendency to get somewhat hot. There are mixed types as well, they combine the good sides of two types.
Power
The power of the heater means how big a room it can warm up—the more power, the bigger the room. There are several ways to calculate the power you need for a room of a specific size, the most used one for electric heaters being to multiply your room area (in sq.ft) by 10 (as in 10 W of power per 1 sq.ft of a room). So, if you have a room that is 10 ft by, say, 15 ft, its a 150 sq.ft room, therefore, you will need a 1500W heater to properly warm it. However, as already stated above, panel heaters are generally only made for small to medium-sized rooms and to place under your desk to warm your feet and not the whole room so seeing a 500~750 W model is not that rare. Although more powerful heaters do exist today, they might be quite costly sometimes.
Features and Safety
Panel heaters are not usually rich on bells and whistles since they were created as budget models for a fairly narrow use but there are still features you would most likely appreciate, like a thermostat, for example. A thermostat will allow you to adjust the temperature whereas the cheapest models only have the on/off switch without the possibility to set a completely comfortable temperature. The lack of thermostat is not much of a problem if you do not plan on prolonged sessions near your panel heater but if we're talking at least a couple hours, it will definitely be better to have the adjustment possibility.
Speaking of safety, the guidelines are pretty much the same for every device that heats up—you will need it to have an automatic shut-off in the case the heater tips over. Even if its surface does not heat up too much and you can usually touch the device when it is working, the tip-over auto shut-off might save your house from a fire. It is especially important if you have either kids or pets who can wander into the room.
Another useful feature of a heater is an overheating shut-off. This one will turn off your panel heater after its temperature exceeds the optimal temperature. This one works for fire safety as well as when you might accidentally touch the heater's body. You don't want to get burned, do you?
Design
Panel heaters generally come in two types: freestanding and wall-mountable. Wall-mountable models are the best choice for the smallest rooms where a standing model will get in the way and become an obstruction. But wall-mountable models are harder to move, for obvious reasons, so if you plan to use the heater in different rooms, a free-standing option is what you've been looking for. Luckily, they are not too bulky either. They are also often equipped with casters and sometimes handles to make moving them easier.
Did you know?
How ceramic heaters work
When talking about room heating, ceramic heaters are the most widespread today: they are more or less affordable, quite safe, and offer decent warming. How so?
Ceramic heaters are sort of an upgrade from older electric coil heaters we used to have in our houses some years ago. Those electric heaters had (and still have since they are available on the market) metal coils that the electricity went through; the electricity heated the metal which, in its turn, distributed that heat around. The major problem with that was that exposed heating elements were extremely hot, you could not touch them lest you be severely burned. For the same reason, there was always a danger of starting a fire if the heater happened to topple over. Also, since the glowing metal is obviously rather fascinating, little kids and pets were to be shooed from the room while the heater is on or they had to be constantly supervised.
Then came ceramic heaters. Basically, ceramic heaters also use coils to transfer the electricity-based heat to the room. However, the coils in these heaters are covered by ceramic plates that offer a number of benefits. First of all, ceramics transfer heat without getting scorching hot, so it is safe to touch the heater in most cases. Secondly, the plates have openings to let the heat out in a certain direction, which, in turn, meant no more need for blowers, an integral part of electric coil heaters, and no blower meant more silent operation and less maintenance. Finally, ceramics heat up fast so the time needed to warm the area around the ceramic heater is noticeably less than that for a coil model. With the addition of thermostats and overheating/tip-over shutoff features, these heaters became pretty harmless, too, and that's why, despite being a little on the expensive side compared to coil devices, ceramic ones are now a general choice.
How to install a wall heater
Wall panel heaters are quite easy to install, generally, and rarely need the help of an electrician. However, if you are uncertain as to where the wires and pipes are located in the walls, or simply not sure in your skills with the drill, we do recommend you to call in a specialist. If DIY is your forte, though, there are just a couple things to keep in mind during a wall panel heater mounting.
Most wall-mounted models come with a mounting kit—brackets, screws, etc. If there are none, check the manual for what sizes and types to buy.
Also, check the manual regardin

g the height at which to mount a bracket. Some models ask for 4" and some for 8", there are options there. The height needs to be considered to avoid overheating.

Do not mount electric panel heaters too close to an outlet since there are wires inside that can be damaged during and after the installation. However, the outlet should not be too far either—connecting heaters via extension cords or power strips is highly advised against.
When mounting a wall panel heater, see to it that nothing blocks the heat distribution. Curtains should end several inches over the device, remove any furniture from directly near it. Do not dry your laundry on the heater and do not place the cord on it before it is fully cooled down.
Wall panel heaters are not installed inside the wall like smaller electric heaters. Instead, you simply install the mounting bracket and hang the heater on it. If your heater comes with a mounting kit, you will only need a drill.
Mark the point on the wall where the bracket is to be mounted. Use a template or a bracket itself. Usually, the manual sets the height of the holes. A spirit level can help with equal height.
Drill the holes where marked and affix the brackets with screws.
Hang the heater on the bracket and mark the lower points for brackets. Remove the heater.
Drill the lower holes, insert the anchors into the wall.
Hang the heater back onto the bracket. Check that the top side is in fact at the top since panel heaters might be confusing in this regard. Then fix the remaining screws to the lower part of the appliance.
Turn on the heater to see if everything works.