A cold season is behind the door, and you start wrapping yourself up in a blanket when watching TV or wearing two pairs of wools
socks? If so, then it's time to add some extra heat to your living space, and a space heater is just what you need. To help you make your way through a variety of models available on the market and find the best space heater for your needs, we've made a detailed overview of 5 top-rated electric space heaters.
...
Read more
...Read less
X
This site is a free online resource that strives to offer helpful content and comparison features to its visitors. Please be advised that the operator of this site accepts advertising compensation from certain companies that appear on the site, and such compensation impacts the location and order in which the companies (and/or their products) are presented, and in some cases may also impact the scoring that is assigned to them. The scoring that appears on this site is determined by the site operator in its sole discretion, and should NOT be relied upon for accuracy purposes. In fact, Company/product listings on this page DO NOT imply endorsement by the site operator. Except as expressly set forth in our Terms of Use, all representations and warranties regarding the information presented on this page are disclaimed. The information which appears on this site is subject to change at any time. More info
Dr. Heater (DR-968H)
Dual Heating System + Humidifier
Using a winning combination of retro design and innovative technologies, this portable space heater will help you create comfortable indoor conditions for you and your family. For maximum efficiency, the item is equipped with a dual heating system: in addition to a PTC element, it has an infrared quartz tube that heats objects, not the air. Thanks to this feature, the appliance will allow you to keep warm without spending too much on electricity.
In winter months when we use various heating appliances, the indoor air gets too dry, which may cause skin problems, respiratory conditions, dry eyes, and more. Using a humidifier can help increase indoor humidity and create a healthier breathing environment. The Dr. Heater DR-968H is an innovative all-in-one solution that will not only help you keep the room warm, but will also allow you to control the moisture level thanks to the built-in ultrasonic humidifier. The water tank is easy to install, remove, and refill. To turn on/off the mist, just press the humidifier button on the unit's housing.
Efficient as it is, the appliance causes no noise pollution. First of all, the space heater is equipped with an innovative blower that, instead of rotating at high speed, generates high pressure for moving larger volumes of air. Second of all, the built-in humidifier is also silent in operation.
User-Friendly Design
Boasting intuitive controls, this functional space heater comes with a remote, allowing you to adjust the settings without needing to get up from your chair. The LED screen will allow you to monitor the indoor temperature, and the ergonomic control buttons will help you activate the unit's settings and increase/decrease the temperature.
This model has a High and a Low power mode, plus a user-friendly Auto setting. In this setting, the machine will automatically choose either High or Low mode to achieve and maintain the set temperature. Besides, the item is equipped with a 12-hour timer that will automatically switch it off after the programmed number of hours. The removable filter also ensures easy cleaning and maintenance of the appliance.
It is also worth mentioning that this model is UL (Underwriters Laboratories) certified, and it is equipped with all necessary safety features. The unit will shut off automatically if it overheats or gets tipped in any direction.
In a word, this innovative appliance by Dr. Heater will help you create a warm and comfortable indoor environment without spending a fortune on your energy bills.
Additional Info
Last updated price

$

0.00

Stock
In stock
ASIN

B0142T7250
---
Dr. Heater (DR-968H)
Pelonis (PHTPU1501)
Sleek and Stylish
If you are looking for an efficient space heater that will add to your interior, opt for this stylish black and white model. Featuring a small footprint, it will take little space in your room. Meanwhile, the unit has an impressive coverage area of 106-167 square feet, making it perfect for small or medium-sized rooms. Made of high-quality flame-resistant material and a cool-to-the-touch surface, the space heater has overheating protection and a tip-over switch to ensure safe use. Thanks to a rather low noise level (50dB working noise), this model can be used in an office, a living room, and even in a bedroom. The ergonomic carry handle on the unit's back will help you carry it from one room to another.
This innovative device uses ceramic heating technology, and it takes as little as 3 seconds to heat up to 70 °F. The appliance has 2 heating levels, High (1500W) and Low (900W), allowing you to achieve a comfortable indoor temperature in no time at all and maintain it for as long as you need. It also has an energy-saving Eco setting that will help customize the unit's operation depending on the ambient temperature. You only need to preset the temperature within the 40-95 °F range, and the appliance will run until the room temperature exceeds the set one by 4 °F. After that, it will stop and go to a standby mode to restart when the temperature gets lower than the set one.
Handy Controls
This functional appliance is easy to operate. It has a user-friendly touch control panel and a large display. Besides, the space heater comes with a remote control, allowing you to adjust the temperature from up to a 20-feet distance, so you don't need to constantly walk over to it in order to change the settings. The function button will help you select between the High, Low, or Eco settings. For effective heating of a larger area, you can use the oscillation button to activate 70° oscillation. The timer button allows you to preset the start time and the stop time, so you won't have to worry about turning it off whenever necessary.
Summing up, the Pelonis PHTPU1501 indoor space heater will help you quickly heat up your living room, bedroom, or office. The unit has an Eco mode, allowing you to keep warm without spending too much on electricity and an oscillation function, allowing for a wider heating coverage. Finally, it boasts a stylish design and has a small footprint, which makes this item a great choice for both home and office use.
Additional Info
Last updated price

$

0.00

Stock
In stock
ASIN

B07YDBCYT3
---
Pelonis (PHTPU1501)
Brightown (PTC-905A)
Made with the User in Mind
Compact and functional, the Brightown ceramic space heater can keep you warm in winter and cool in the summer. Equipped with a high-speed fan and a ceramic heating element, the unit boasts a wide temperature range — from 0 °F to 158 °F. Just like most space heaters, it has 2 heating settings. At the low setting, it will run at 750 watts, and at the high setting, it will operate at 1500 watts. The second mode is great for a quick heat-up, and the first one will allow you to maintain a comfortable temperature.
Safety comes first, especially when it comes to high-power appliances such as a heater. Designed with the user in mind, this model is equipped with a tip-over switch that will shut the unit off if it gets tilted. It also has automatic overheat protection, so you won't need to constantly babysit the appliance. Needless to say that this reliable space heater by Brightown is made of flame-retardant material. Even more, the appliance is equipped with a sturdy and durable rubber insulated cable. The cable is 6 feet long, so you won't need to use an extension cord.
Though this item is pretty basic, it has an oscillating function that will come in very handy whether you run it in cold or hot weather. When used with the heating settings, this feature will help evenly distribute the warm air; when used with a fan, it will ensure more effective air circulation. To activate the oscillating function, you just need to press a button on the unit's top.
Reasonably-Priced and Functional
Let's have a closer look at the control panel. The unit has 2 dials for selecting the desired mode and heating intensity (this model has an adjustable thermostat) and an oscillating switch. The operation could not be easier. An indicator light will shine to let you know the appliance is running. By the way, the space heater has a pretty low noise level (less than 45 dB) so it won't disturb your work or sleep, making it perfect for both the bedroom and the office.
This compact space heater has a large carry handle on its top. Though some users are not quite happy with its placements (the handle is located above the control panel, which makes adjusting the settings a bit uncomfortable), it certainly makes carrying the unit around a lot easier.
To wrap it all up, the Brightown PTC-905A is a reasonably-priced compact space heater that has all of the basic functions and safety features plus an ergonomic oscillating mode, making this a truly well-rounded option.
Last updated price

$

0.00

Stock
In stock
ASIN

B07XRH8HX7
---
Brightown (PTC-905A)
Lasko 755320
Quick Heatup
Would you like to warm up your room on a cold winter day in minutes and/or make the temperature more comfortable in the morning before getting out of bed? Well, if your answer is yes, here's one such heater.
The first thing that catches the eye about Pelonis ceramic tower heater is its stylish design. The heater resembles a speaker, looks really nice, and will blend perfectly in any interior. Performance-wise, it's no slouch either. It is designed with the oscillation feature and rotatable base which allows it to spread the warmth evenly and extensively so that the heat can hit every corner of a room.
The maximum power of 1500W allows it to warm up quite large premises in a matter of minutes, whether it be your living room, workshop, or garage. For smaller premises, it's better to switch to a more energy-saving mode (900W) which is also offered. Additionally, Pelonis ceramic tower features a digital thermostat and ECO mode that adjusts heat settings automatically, thus optimizing energy consumption to the maximum. As a result, the room gets warmer and your electricity bill doesn't rise.
We can't avoid mentioning the safety features this heater includes. It has the auto shut-off function that is activated in case of overheating or if the machine tips over. Also, it has an 8-hour timer which you can use to warm a room for a certain period of time. The entire construction of the Pelonis heater is made of highly durable and flame redundant materials so you're guaranteed to enjoy the top-notch and safe performance. Quality and safety are the two major things that Pelonis have always put forward, and this heater is no exception.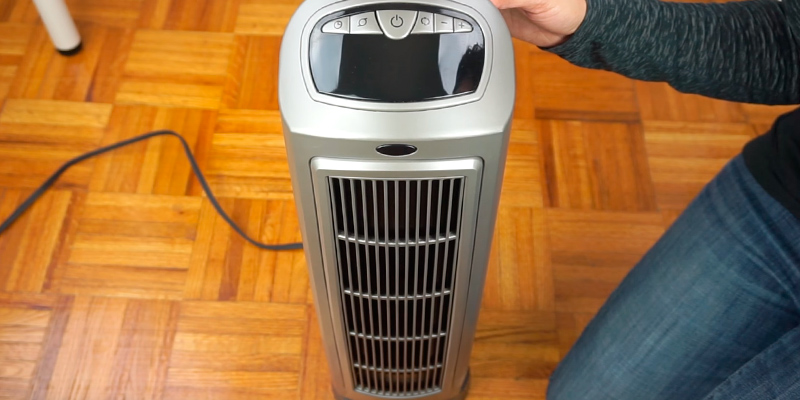 Absolute Convenience
This ceramic tower heater by Pelonis has an attractive design and several engineering solutions that make it very convenient in use. Thus, it has an LCD display with control buttons on the top panel that allows you to set a heating mode, temperature, and a timer. You also get a remote control that will come in handy when you need to power the heater up but aren't ready yet to get out of your bed.
This heater is not very bulky with its tower construction so it will take minimal space in the closet. Plus, it includes a handle on the back side which will let you move or carry it easily, even if it's still warm.
Overall, if you need a powerful heater that can warm up even big spaces in the shortest time possible without raising your bill, investing in this Pelonis Toware Fan might be the best solution. Powerful, high-quality, and reliable - it will keep you snug and warm for many years to come.
Additional Info
Last updated price

$

0.00

Stock
May be out of stock
ASIN

B000TTV2QS
---
What customers say about this product
It has a remote control which means you can turn it on and off from a distance. You don't have to get up or quit doing other stuff to adjust the heat etc.
Temperature readout goes to 90 degrees. I haven't tested it. A comfortable 72 degrees does it for me.
It is also light weight and not too big so its easy to move around the house with.
Lasko 755320
GiveBest (PTC-905)
Mini Space Heater for Maximum Comfort
Though not the most versatile, this portable unit deserves its place in our best space heaters review. First of all, the item is so compact it can be placed both on the floor and on your desk, and it will take up minimum storage space. Lightweight and equipped with a large, comfy handle, it is easy to move around your room and house. Its black color will pair with any interior. The item is recommended for homes and offices, and it can even be used in your bedroom thanks to its comparatively low working noise that does not exceed 45 dB.
Next, equipped with a PTC ceramic heating element and a high-speed fan, the appliance offers 1500 watts of power and can be used to heat up a room as large as 200 square feet. Thanks to the built-in thermostat, you can adjust the temperature from 0 °F to 158 °F. Depending on the ambient temperature, the appliance will cycle on and off to maintain the set temperature. Allowing you to always stay warm, this comfortable feature will also help you save on electricity.
Note that this model has a tip-over protection feature, which means that the appliance will shut off automatically if you tip it forward or backward. That is why it is important to place it on a flat surface. Among other safety features, the unit has an overheat protection system that shuts off the appliance if its parts overheat. Moreover, just like other high-quality space heaters, this model is flame-retardant and durable, besides, it is equipped with a durable rubber cord.
Give the Best to Yourself and Your Family
Because this model offers basic functions only, the operation is very straightforward, and it only has a couple of dials. The one on the left will help you adjust the thermostat, and the one on the right is for selecting the desired setting — a fan-only mode, setting I (750W), or setting II (1500W). An indicator light will let you know if the machine is operating so that you won't forget to switch it off when leaving the house or office.
To put it in a nutshell, this reliable space heater has 2 heating modes and a fan setting. Portable as it is, the item can be placed either on the floor or on your desk and keep you warm while you are working or resting. It will make a fantastic present for yourself, your friends, or your family and will be appreciated any time of year but especially on cold winter days.
Last updated price

$

0.00

Stock
In stock
ASIN

B07XRQ7GHJ
---
GiveBest (PTC-905)
What Is a Space Heater?
As the winter's approaching, most of us start looking for an additional source of warmth to cozy up in front of the TV, which is especially true of those dwellings where the central heating is insufficient. For scenarios like this, no appliance works as great as a space heater. Fitted in a compact yet high-performing body, this heater can effectively heat up from small to large areas like workshops and garages in no time at all, thanks to the oscillation feature.
If you're worried about the space heater driving your electricity bills a lot, do not worry. Made for the purpose to provide an additional source of heat on cold days and nights, it doesn't tend to consume a lot of power and can even help you optimize your energy costs during the heating season. Actually, space heaters may become a real budget saver for owners of large houses by cutting the need to crank up the furnace when it gets colder outside. All you need is to choose a space heater that suits the size of your living space, and it will keep you toasty throughout chilly days without hitting your bills.
T
o further minimize your energy expenses and maintain a comfy environment, we also recommend you consider thermostats. These smart home systems are designed to maintain favorable climate in an apartment or house all year round by automatically controlling the HVAC system.
What Features to Compare
Though space heaters are pretty simple units, they come in a great number of sizes, shapes, and designs that can make your head reel. Hence, there is a basic set of features to check and pay attention to before making a purchase.
Type
Electric space heaters are classified by the heating technology applied and by the mechanisms used to heat the space, all types having their benefits and best suited for certain conditions.
By the heating technology:
Convection heaters. These are by and large compact and portable units using hot air circulation to heat up the air in the space. They use fans to blow out heat generated by a heating element and circulate hot air around the room. Fan-forced convection heaters are the best option for entire room heating.
Radiant heaters. This type rather warms objects than air and delivers direct heat. It will efficiently warm some specific area and come in handy when there is a need for targeted heat.
Micathermic heaters. It's a kind of combination units using both radiant heating and convection. Yet, they apply natural convection instead of fan-assisted technology that makes this type much quieter than the rest.
By the heating mechanism:
Coil heaters use a metal coil or wiring to generate heat. They can produce pretty much heat yet this type is prone to failures due to overheating

and is not the safest option.

Ceramic heaters come equipped with ceramic heating elements that are self-regulating and can automatically reduce their temperature preventing overheat and prolonging the unit service life.
Oil radiators use diathermic oil to transfer heat. They consist of several metal columns filled with oil. The oil is heated by a heating element from the bottom and naturally circulates around the columns exuding heat into the air.
Infrared heaters are another type of radiant heaters using quartz tubes to radiate heat and transfer it to surrounding objects.
Heating Area
The area a certain heater can cover depends on the heater power and type. Thus, coil and ceramic heaters do a great job for small areas and personal spaces while oil-filled heaters are the best option for large rooms. Infrared units are a great source of personal heat and can be used even outdoors on terraces and patios to give you a burst of warmth on a cool spring or autumn day.
As for the power, a rule of thumb is that you need about 10 watts of power to efficiently heat up 1 square foot of area. Thus, a 1500-watt heater (which is an average wattage most units will offer) is intended for a 150-foot space. However, in reality, no two 1500-watt units are alike and the heating area will also be determined by technologies and features this or that model comes fitted with.
Safety
You need to be sure the heating appliance is not dangerous and will not start burning when tipped over. Hence, a tip-over protection is a must. The best space heaters have an auto shut-off mode to prevent overheating as well. So, even if you forget to turn the appliance off, no fire will start.
Usability
Basic features that make the appliance use easier and more convenient include carry handles and wheels, oscillation option for even heat distribution, fan mode only to blow out cool air, a programmable timer to set an operation period, and an adjustable thermostat along with adjustable power level settings to tweak the heating performance to your needs.