When the cold season comes, we all need warmth and comfort in our homes, on terraces or in summerhouses in the cold evenings. If
that is a case, a gas heater can be an effective solution. We will review 5 best gas heaters and try to help you pick the right model.
...
Read more
...Read less
X
This site is a free online resource that strives to offer helpful content and comparison features to its visitors. Please be advised that the operator of this site accepts advertising compensation from certain companies that appear on the site, and such compensation impacts the location and order in which the companies (and/or their products) are presented, and in some cases may also impact the scoring that is assigned to them. The scoring that appears on this site is determined by the site operator in its sole discretion, and should NOT be relied upon for accuracy purposes. In fact, Company/product listings on this page DO NOT imply endorsement by the site operator. Except as expressly set forth in our Terms of Use, all representations and warranties regarding the information presented on this page are disclaimed. The information which appears on this site is subject to change at any time. More info
Mr. Heater F232000 MH9BX Buddy
Performance
This gas heater is designed for both indoor and outdoor use. Therefore, this heater can be placed in a room, garage, home workshop or in the yard. The heater will be able to warm the air in the range of 200 square feet. When the heater is connected to a 20-pound gas tank, it will generate the heat for about 2-4 days. The tank containing 1 pound of gas will be enough to keep your room warm for 3-6 hours in a row.
Usability
This gas heater is easily started by hand with a single press of the button. The heater comes with a fold-down handle for convenient transportation and storage. The Mr. Heater F232000 gas heater can be connected to gas tanks with capacities of 1-20 pounds, providing for longer or shorter time of use. 3 heating settings allow users to vary the intensity of the heat so that your room is nicely warmed no matter how cold it is outside.
Safety
Safety is a major advantage of this gas heater. If this home gas heater is tipped over, it will be switched off automatically. This feature prevents accidental inflammation of both the heater and surrounding objects. If the level of oxygen in a room is low, the heater is automatically switched off just as well. A protective grate installed on the heater body will prevent your hands from burning when you turn the heater on or just warm yourself after getting cold.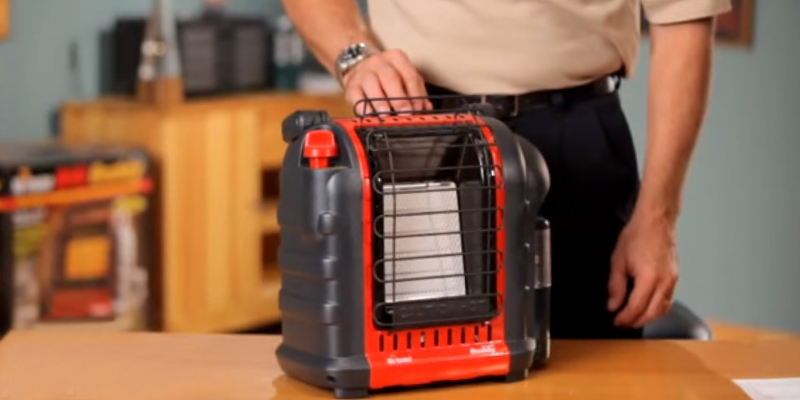 Last updated price

$

69.97

Stock
May be out of stock
ASIN

B002G51BZU
---
VIDEO
BEST PORTABLE HEATER_Mr. Heater F232000 MH9BX Buddy Indoor Safe Portable Radiant Heater REVIEW!
Mr. Heater F232000 MH9BX Buddy
Fire Sense 60485
Performance
The Fire Sense 60485 is a patio heater for outdoor use. It will become your fireplace in a terrace, summerhouse or cafe. The heating range of 180 square feet is quite enough to warm your family and have a good evening outdoors. The tank, which holds up to 20 pounds of gas, will let you maintain the heat for about 10 hours. This will be more than enough for a couple of great evenings spend with your friends or family on a terrace in your backyard. 
Usability
The Fire Sense 60485 patio heater comes with a piezoelectric ignition system that will let you start the heater quickly and effortlessly. Moreover, this patio heater features two heating modes - high and low. Thereby, you will be able to maintain the desired temperature in your room by choosing the appropriate mode. Furthermore, the removable hollow body with convenient handles will let you hide the gas tank inside the heater. As a result, you will save some space on your terrace or balcony.
Safety
While we haven't been informed of any issues with the operation of the heater, you should be pleased to know that if any failure does occur (you never can tell) the gas supply will be automatically stopped and the heater will be switched off, thanks to safety automatic shutoff valve. The wide base of this heater provides excellent steadiness. The heavy-duty wheels will assure the easy moving of your heater over the rough surface in your yard or terrace. The durable stainless steel burners will ensure the safe heating of your home for hours.
Last updated price

$

0.00

Stock
May be out of stock
ASIN

B004S35X02
---
VIDEO
Hammer Tone Bronze Commercial Patio Heater 60485
Fire Sense 60485
Dyna-Glo RMC-FA60DGD
Performance
This high-performance portable gas heater is capable of warming extra large area of about 1350 square feet n size. Such heating capacity will be perfect for construction sites, agricultural buildings,  warehouses and many other premises. When you connect a 100-pound gas tank, this heater will ensure heating for 70 hours, so your house will be warm for a whole workweek. The heavy-duty motor, high-quality components and durable construction will ensure great output of heat in any conditions.
Usability
The Dyna-Glo RMC-FA60DGD is a gas heater with electronic ignition. It starts automatically kindled by the electric spark. This gas heater has two heating settings: low and high. This portable gas heater can be connected to tanks containing 20, 40 and 100 pounds of gas. Hence, you can choose a tank of the most suitable capacity depending on how long you'd like the heater to work. The convenient handle provides comfortable carrying of the heater to any place.
Safety
This natural gas heater will stop working if any malfunctions occur during the operation. The integrated safety sensor provides immediate shutdown of the heater. If this gas heater tips over, it will be switched off; likewise, Overheat Auto-Shut-off Protection will prevent the heater from overheating and the pressure switch installed on the heater back will let you turn the heater off manually in the event of emergency.
Additional Info
Last updated price

$

214.24

Stock
May be out of stock
ASIN

B0044R8Y5I
---
VIDEO
Mr Heater Forced Air Heater
Dyna-Glo RMC-FA60DGD
Camco 57331 Olympian Wave-3
Performance
This is a small-sized portable gas heater that's capable of generating enough heat to warm the area of 130 square feet. This gas heater will easily warm a room, garage, home workshop or passenger compartment of a car. Connected to a tank containing 20 pounds of gas, this heater will keep heating your house for the entire week and will spare both gas and costs. The piezo automatic electric sparker will last for 20.000 starts and will guarantee quick ignition of the heater.
Usability
This propane gas heater can be used as a portable device or mounted to the wall, hung in a vertical position. The optional leg stands will radiate heat upwards according to your particular needs. The heater is started by the piezoelectric starter lasting for 20000 starts. The intensity of heating can be set in three modes, so you can always choose the appropriate heating mode according to climatic conditions in your apartment or house.
Safety
The operation of this home gas heater is absolutely safe. This home gas heater operates only on a low-pressure HD-5 propane gas and is equipped with the safety shut-off valve to prevent accidental inflammation and gas discharge. The protective grate of the heater will protect your hands from the hot radiator and this will be particularly prudent if you have little children. The reliable safety system will make the heating safe.
Last updated price

$

199.71

Stock
May be out of stock
ASIN

B000BUV1RK
---
VIDEO
Olympian Wave Catalytic Heaters (Camco #57331)
Camco 57331 Olympian Wave-3
Hiland HLDSO1-WGTHG
Performance
This patio heater has got a graceful design and the heating range of 50 square feet. This propane heater will be perfect for warming two or three persons on a terrace or in a summerhouse when the weather is cold. This portable gas heater can also be used as an outdoor lamp. Once the tank with 20 pounds of gas is connected to this heater, it will generate the heat for 8 hours, so you will breathe fresh air and enjoy the warmth on your terrace all evening long.
Usability
This patio heater features a piezo multi-spark igniter and a pilot light, providing both heating and lighting at a time. This heater is portable and can be easily moved from one place to another. To switch the heater on, you only need to turn a control knob. The adjustable heating intensity lets you set the optimum temperature for your room. Two wheels at the bottom allow for mobility and free moving of the heater around.
Safety
Safety features ensure reliability in use once the heater is in operating condition (just like all the other models). If there's ever a chance the heater tilts sidewards or tips over, the safety system will activate and automatically shut the device off. The heater has also got a safety valve to not let the gas leak if it does fall. A thermocouple maintains the precise control of temperatures and protects the unit from overheat. All is done with a customer in mind!
Last updated price

$

0.00

Stock
In stock
ASIN

B004KH4LAE
---
VIDEO
AZ Patio Heaters - Glass Tube Heater
Hiland HLDSO1-WGTHG
Infographics
---
What is a Gas Heater
Quite often we do need an additional heating source - whether to spend more time outdoors or warm up a cold room - and this is where gas heaters may come in handy.
Gas heaters are portable devices fed by natural gas. They don't need the power supply and are fueled through the connection of special gas tanks. There are home gas heaters used in private houses and apartments, garages, workshops, etc. The outdoor gas heaters let you get warmed and enjoy the fresh air on a terrace, in a summerhouse and cafe during the cold season. There are also the gas heaters designed for industrial facilities and heating of big areas.
We advise you to pay attention to oil heaters and infrared heaters to warm your apartment, workshop and other premises.
What Features to Compare
Before choosing a gas heater, you need to take into account some important features specified below.
Performance
The performance of a gas heater is the first thing you should pay attention to. The performance depends on the type, heating capacity, and heating range. There are several types of gas heaters: catalytic heaters, forced air heaters, and radiant heaters. 
Catalytic heaters are used for auxiliary or centralized heating of various facilities, including cottages, workrooms, and garages. These heaters feature catalytic panels that are used as heating elements. Catalytic panels consist of glass fiber with inclusions of platinum powder. Thanks to such design, there are no harmful combustion products and foreign odors. In addition, the gas consumption is low, so the catalytic heaters can also save you costs. A catalytic heater with the heating capacity of 3.000-4.000 BTU will be enough to warm the area of nearly 200 square feet.
The forced air heaters are powerful heating units that provide quick and efficient warming of large rooms and premises, as well as open and semi-open areas over 1000 square feet. They are mainly used in industrial buildings and warehouses, car workshops, hangars, agricultural facilities, etc.
The radiant heaters are widely used for warming terraces, summerhouses, sidewalk cafes, etc. These heaters are commonly used outdoors since the harmful combustion products are emitted during the heating. A radiant heater with the heating capacity of 40.000-45.000 BTU is able to warm the air in the range of 10-20 feets.
The runtime of a gas heater depends on the capacity of a connected gas tank. The more fuel is supplied, the longer a heater will warm the air. For example, the indoor heater with a 20-pound gas tank will be warming your room for 100 hours and even more. Yet, the outdoor heater with a gas tank of the same capacity will provide heating for 8-10 hours.
Usability
Next, you need to take into account the usability of a gas heater. The ease of use of a gas heater is largely determined by the principle of ignition. Currently, gas heaters feature two types of ignition: piezo and electronic. When you start a heater with piezo ignition, you need to press a button on the front panel actuating the built-in piezoelectric element that generates a spark and ignites the burner. Once the heater is started, it is enough to simply turn the control knob to get the warmth in a few seconds. The gas heaters featuring electric ignition are turned on with a special button or control knob generating the spark. The heaters equipped with electronic ignition are distinguished by a high reliability even in severe working conditions, therefore, they are widely used at different industrial sites. The multiple operating modes, adjustable heating direction, and connection of gas tanks of different capacity also facilitate the use of heaters.
Safety
Finally, it is very important to pay attention to the safety of a gas heater. Using gas heaters are very much like having an open fire at home, so there's always a risk factor. However, most gas heaters have an extensive safety feature set to eliminate a chance of firing or burning. The safety features include automatic safety tip-over and low-oxygen shut-off functions, protective grates, and carrying handles or wheels for transportation and storage, etc.