During a cold season, no matter if it is freezing outside or you are simply too sensitive to low temperatures, you might seek some
extra heat. But it often happens that you need to warm up only a single room or just a small space without heating the whole house or large premises. This is where a compact and energy-efficient ceramic heater will come to help. Below, we've selected 5 top-selling models to help you find the best ceramic heater for your home or office.
...
Read more
...Read less
Pelonis Tower Fan
Quick Heat up
Would you like to warm up your room on a cold winter day in minutes and/or make the temperature more comfortable in the morning before getting out of bed? Well, if your answer is yes, here's one such heater.

The first thing that catches the eye about Pelonis ceramic tower heater is its stylish design. The heater resembles a speaker, looks really nice, and will blend perfectly in any interior. Performance-wise, it's no slouch either. It is designed with the oscillation feature and rotatable base which allows it to spread the warmth evenly and extensively so that the heat can hit every corner of a room.

The maximum power of 1500W allows it to warm up quite large premises in a matter of minutes, whether it be your living room, workshop, or garage. For smaller premises, it's better to switch to a more energy-saving mode (900W) which is also offered. Additionally, Pelonis ceramic tower features a digital thermostat and ECO mode that adjusts heat settings automatically, thus optimizing energy consumption to the maximum. As a result, the room gets warmer and your electricity bill doesn't rise.

We can't avoid mentioning the safety features this heater includes. It has the auto shut-off function that is activated in case of overheating or if the machine tips over. Also it has an 8-hour timer which you can use to warm a room for a certain period of time. The entire construction of the Pelonis heater is made of highly durable and flame redundant materials so you're guaranteed to enjoy top-notch and safe performance. Quality and safety are the two major things that Pelonis have always put forward, and this heater is no exception.

Absolute Convenience
This ceramic tower heater by Pelonis has an attractive design and several engineering solutions that make it very convenient in use. Thus, it has an LCD display with control buttons on the top panel that allows you to set a heating mode, temperature, and a timer. You also get a remote control that will come in handy when you need to power the heater up but aren't ready yet to get out of your bed.

This heater is not very bulky with its tower construction so it will take minimal space in the closet. Plus, it includes a handle on the back side which will let you move or carry it easily, even if it's still warm.

Overall, if you need a powerful heater that can warm up even big spaces in the shortest time possible without raising your bill, investing in this Pelonis Toware Fan might be the best solution. Powerful, high-quality, and reliable - it will keep you snug and warm for many years to come.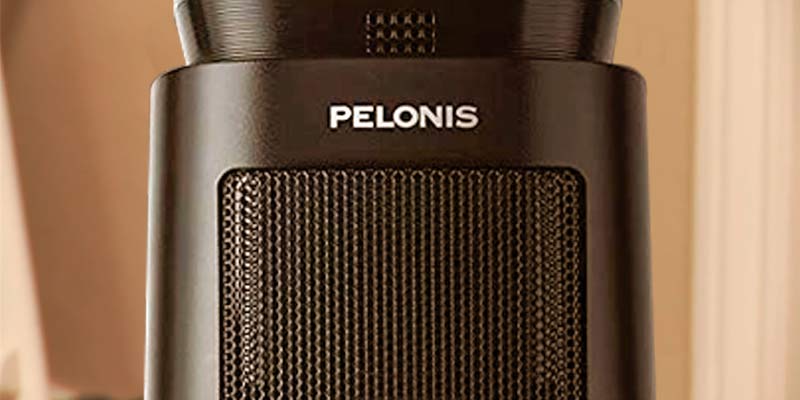 ---
Pelonis Tower Fan
Lasko 755320
Let It Take Care of Your Comfort
When winter is just around the corner, many of us start looking for some extra sources of heat to be sure we feel warm and cozy in our dwellings whatever the weather is outside. In other words, we need a heating unit that will take care of our comfort, preferably, with minimum effort from our side. The Lasko 755320 is exactly that kind of heater.
Classified as a tower heater, it is distinguished by a sleek elongated body that will neatly fit into tight spaces and concise areas. Meanwhile, its neutral bronze color will blend with any interior design and won't stick out like a sore thumb. So, the model will find its place in a room of any size. Taking up minimum space, it won't hinder you from freely moving around.
In addition to a nice design, the Lasko 755320 offers exceptional functionality elaborated with a user convenience in mind. High and low heat settings allow adjusting the blowing intensity to your preference. What makes this unit different from many others is a clever thermostat. Not only does it enable adjusting precise heating temperature but also it controls the unit operation in an Auto mode. When set to this mode, the unit will warm the air in your room up to the optimal level depending on the ambient temperature, and automatically maintain this comfortable warmth. If you want your heater to blow just for a certain period of time, you can set a built-in 8-hour timer to switch the appliance off. It's an especially handy function if you place your Lasko heater in a bedroom and what you seek is some extra toastiness when going to bed. All functions are easily managed by means of several control buttons on the top of the unit paired with an LCD display showing all current settings. On top of that, you can also control the heater operation.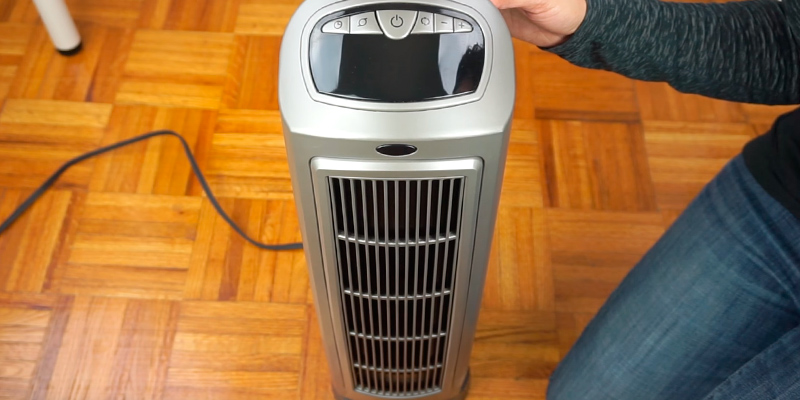 Up-to-par Quality from Lasko
Lasko is a well-known leader among the manufacturers of air heating and cooling equipment for home use. Backed by over 100 years of expertise and production experience, the company is focused on the quality of its products striving to meet the highest quality standards both in design and in performance aspects. The Lasko 755320 is not an exception. With no questions in terms of functionality, the unit also boasts a top-quality construction to maintain efficient and consistent performance. The unit body, grill, and base are all made of premium plastic. It is highly durable, resistant to damages and physical impacts and exudes no unpleasant smells when heated. Inside is a solid ceramic heating element that will deliver consistent warmth and warm up the air times quicker than coils.
By choosing this Lasko ceramic tower heater, you will get a reliable and functional heating appliance that will serve you for years to come and keep you comfortably warm on a cold season.

Additional Info
---
What customers say about this product
It oscillates, circulating warm air and keeping it moving.
It has a energy saving feature where it will only turn on when the temp. gets below the temp. you want it to be.
Mini tower height with digital readout. It can be placed unobtrusively, in the corner of a room.
Lasko 755320
iSiLER Ceramic Space Heater
Heat up in Safety
Strange though it might seem, the smaller the heater, the bigger the safety risks it lends. A lightweight and small unit is easier to skid and users more often tend to put it too close to some other objects or even cover it, which can cause overheating and fire. Hence, safety is a crucial aspect to check and this is where the iSiLer ceramic heater really shines.
First off, the model is distinguished by a specific triangular profile stand that provides steady support and minimizes the risk of tipping over the unit accidentally. So, you won't knock it down easily, no matter whether the heater is placed somewhere on the floor or on the tabletop. Meanwhile, a smart thermostat with an overheating protection option will switch off automatically once the temperature inside the unit goes above 176°F. Other than that, the heater is all made of flame-resistant materials meeting ETL and UL certification standards and features a PTC ceramic element that generates no flame or light. With that, the iSiLer heater is one of the safest models in its class that can be securely used for kids and elderly people as well.
As for the heating performance, you'll be surprised how a small heater like the iSiLer is capable of performing pretty much close to bigger models. Despite the size, the unit packs 1500 watts and a powerful heating element exudes really intense warmth. Hot air freely passes through large air outlets and quickly spreads around the room. Overall, this model can evenly heat up an area of up to 108 sq.m. and is a nice choice for spot heating. So, whether you need to heat a nursery, bedroom, study, playroom or a mid-size living room, the iSiLer will be able to help. And an adjustable thermostat will let you vary the temperature between 41 °F and 95 °F to your comfort.
... and Style
Safe and high-performing, the iSiLer features a cute stylish design. Encased in a vibrant yellow body and fitted with graphite elements, the unit is created in an industrial style and looks very modern. Bright and lovely shaped, it will serve not only as a functional heater but also as a piece of decor that will add a contemporary vibe to any home interior and perfectly blend with any office style. Besides, measuring only 7 inches in the widest part, this model is very compact and will perfectly fit limited-space areas and even take little space on your desktop. And a hefty carry handle on the top allows easily move it to where you need some extra heat.
To resume, the iSiLer is a compact, safe, functional, and stylish heater suitable both for home and for office use.
Additional Info
---
iSiLER Ceramic Space Heater
andily A-750-1500
Enjoy Personal Warmth
Since ceramic models are considered the safest among the heating units, this type is best suited to be used for personal space heat-up. If this is a kind of heating solution you need at the moment, the Andily heater will come down your alley.
This model is one of the most compact ceramic heaters out there. With the dimensions of 8.3" x 6.2" x 4.74", you can put it literally anywhere including even your work desk, table, or window sill. And there is no need to worry about the heat. The unit exterior will stay cool to the touch during the warmer operation and in case of tip-over or accidental overheat, the Andily will turn off automatically preventing any risk of fire or injuries. Two manual dials on the top of the unit make it a breeze to control and operate. Thus, you can choose between low and high airflow intensity and adjust the thermostat accordingly to achieve the maximum level of comfort. Meanwhile, a light indicator on the front panel will let you know when the heater is on for you not to forget to turn it off when you don't need it anymore.
What's more, in addition to a heating option, this model also boasts a "Fan only" mode which means you can easily use it as a mere fan blower to improve air circulation in your personal space on those hotter spring and summer days.
A problem many small and affordable heaters have is a specific smell exuded by a plastic body when heated. With the Andily, you won't face this issue. Offered at a budget-friendly price tag, this unit is made of top-quality materials including durable plastic resistant to the flame. Hence, even if you decide to place the unit somewhere around pretty close to yourself, you won't feel that nasty plastic smell as well as a quiet fan operation won't cause any discomfort.

Heat up in a Blink of an Eye
Choosing an added source of heat, be it a larger space warmer or a personal ceramic heater, we expect it to warm up the space and create a comfy environment as quickly as possible. And this is where the Andily heater will really shine. Despite its diminutive size, this model is packed with 1500 watts of power and efficient heating element, all of this ensuring the heating performance similar to that of much larger heaters.
Ceramic tubes heat up almost in an instant while the fan will quickly blow around the warm air, no matter if you go for high (1500 watts) or low (750 watts) power settings. So, you will feel the air temperature rising and enjoy the soothing warmth in less than 2 seconds after turning on the heater.
To put it in a nutshell, this mini ceramic heater from Andily is an ideal option to add some extra heat to personal space or a small-sized room. It will perfectly fit into rooms where bulkier models will fail and quickly create a comfortable atmosphere for work or leisure. Place it in your den, workshop, garage, bedroom, or restroom and feel comfy on those colder days.
---
andily A-750-1500
Trustech Portable Ceramic Space
Focused on Practicality
For the extra-heat, a compact ceramic heater is hands down the best option since it can be placed anywhere in the house and is energy-efficient while exuding decent heat. In other words, it's all about practicality and the Trustech heater is just the model in point.
Starting with the design, it's a truly compact unit that will easily find its place somewhere in the corner, near the couch or even on the windowsill, desk, or bedside table next to you. Packed in an all-black casing, the heater has a modest look and will blend with any interior, be it an urban or hight-tech style or modern classics. Though compact and lightweight, the Trustech heater is safe to use. Fitted with a tip-over protection function, the unit will turn off automatically if occasionally skidded or knocked over by kids or pets. Likewise, an overheating switch will shut off the heat when the temperature is too high to avoid the risk of inflammation. While operating, the unit body stays cool to the touch and it's only the metal mesh that does heat up. However, a convenient handle on the top will let you safely carry the heater even when it's hot.
As compact as it is, the unit has a powerful and long-lasting ceramic heating element that generates intense heat and is capable of warming up the air in a small to medium-sized room really fast. To customize the heat, the model offers two heat settings at 750 watts and 1500 watts accordingly. So, you can start with the high mode and then switch to a lower heat to maintain the desired temperature. This way, you'll save more on electricity. Besides, an oscillation option will ensure more even and quick heat distribution, thanks to hot air circulation.
Enjoy All-season Convenience
While in winter we seek some added warmth and take out our heaters, in the summer season, we long for a breath of fresh air and cooling breeze and turn on air cons or cooling fans. And what if you had a chance to use the same unit in both cases? Equipped with a fan function, the Trustech ceramic heater provides all-season convenience. It's enough to turn the controller knob to the Fan setting and the unit switches off the heat and generates a powerful cooling air jet that, again, thanks to the oscillation function, will quickly spread refreshing air around the room. This option is a real find for those warmer spring days and stuffy summer nights when the air conditioner is still too much, yet, you want some cool air circulation for maximum comfort.
Summing up, distinguished by the ultimate practicality and all-season functionality and reasonably priced, the Trustech ceramic heater is one of the best models in its class that will perfectly cover your home needs.
Additional Info
---
Trustech Portable Ceramic Space
What Is a Ceramic Heater?
When it comes to choosing a space heater to add warmth and comfort to your home or workplace, there is a whole variety of types and a ceramic heater is one of them. Ceramic heating devices are fan-assisted convection heaters. Ceramic electric heaters are so called due to the use of ceramic plates or tubes as heating elements. When heated by electricity, they transfer the heat to aluminum baffles or fins and a fan blows the hot air into the room.
Being pretty compact in size, ceramic heaters generate a great amount of heat and warm up the room pretty quickly. Owing to a faster heating process, they consume less energy and are considered as one of the most energy-efficient and cost-effective types of space heaters. Besides, ceramic heating elements are more durable and less prone to damages caused by overheat and they are eco-friendly creating no dust, fumes or smell. Producing comfortable heat, ceramic heaters are ideal for spot heating when you need to warm up a bedroom, cabinet, bathroom, or nursery without raising the temperature at the rest of the living area.
If you like to spend time outdoors and want to relax on a terrace with a cup of hot chocolate and have a breath of fresh air even when the summer season is over, you might get interested in patio heaters that will help you create a cozy atmosphere near your house.
What Features to Compare
Heating Area
One of the most important factors to consider when choosing a ceramic heater is the space you need to heat up. The heating area each model is designed for and the unit efficiency directly depend on the output power of a heating element. A rule of thumb to follow if you want to pick the best ceramic heater is that the unit needs 10 Watts of power to heat up a square foot of room area. Thus, a 1500-Watt heater works great for the area up to 150 square feet.
Size
Created rather for spot heating than for maintaining a consistently warm environment in large areas, ceramic heaters are normally not very large and are quite portable. Yet, like any other devices and electric units, they differ by size and design that should be considered if you want to get the unit that fully meets your individual needs and perfectly fits into the space you need to warm up. For wide areas and larger rooms, it's better to opt for a ceramic tower heater distinguished by an upright cylindrical shape while a wall model is ideal for narrow spaces and finely furnished premises. The most widely used kind of ceramic heater is a small portable unit that can be placed under the desk or even on the table and is the best choice for confined spaces.
Temperature Settings and Controls
Another point of attention that should not be overlooked is the number of temperature settings available in your heater. Even the most simple and affordable heaters will offer you the choice between high and low heating temperature. Meanwhile, more expensive and sophisticated models come fitted with several preset temperature modes and often feature an automatic thermostat allowing you to choose any temperature to your liking and switching off the heating element once the set temperature is achieved. Many modern units also boast energy-saving modes and timers. All of these features are designed both for your personal comfort and convenience and for minimising the power consumption to let you save on your energy bills.
Safety
Unlike coil heaters and other electric heaters, ceramic models are considered one of the safest heating units. And for a good reason. Not only are ceramic plates and tubes less prone to overheating but also this type of heater is distinguished by a self-regulating heating element. If the temperature gets too high, it will reduce electric current and switch off the unit preventing overheat and the risk of fire. Other safety features include tip-over switch, antifreeze protection, and cool-touch housing.
Did you know?
Actual Ceramic Heater Performance is not Only About Output Power
Though the heating capacity of a ceramic heater as well as any other heater is defined by the unit maximum output power, you might have noticed that the same heater does not perform the same in different premises and spaces and sometimes even in the same room. And, in most cases, it has nothing to do with the appliance operability. It happens due to a number of factors, besides the heater's power, that affects the appliance performance. The main factors that vary the heating speed and efficiency include:
Ceiling height. Since a warm air tends to go up, it will take a heater more time to heat up a room with high ceilings. And if the room is rather large, heating efficiency will further decrease.

Type, quality, and condition of insulation of the building structure. Poorly insulated houses quickly expose heat instead of holding it inside.

The number, size, and quality of windows in the room to be heated. Windows are poor insulators and cause significant heat loss. Hence, old glass windows emit about 90% of heat they are exposed to.

Overall tightness of the area in terms of the draft. If space is overstocked with furniture blocking the airflow and free air circulation, the heating efficiency will reduce dramatically.

Outside temperature. No house is 100% energy efficient, and homes located in cold regions will experience higher heat loss rate than those in regions with a warm or mild climate. Hence for cold areas and freezing weather conditions, you'd better increase the wattage from 10 to 15 Watts per square foot while estimating the heater performance.
Burning Smell Does not Necessarily Mean the Heater Malfunction
For a new unit you use for the first time, the burning odor is normal and it will usually dissipate in several uses. However, if you notice an unusual odor from the heater that has been already used and remained inactive for a long period, there is a great chance that the smell is caused by the dust build up on a heating element and your appliance simply needs cleaning.
The easiest and most efficient way to clean your ceramic heater is to use a brush attachment on your vacuum cleaner. The vacuum will quickly suck all the dust and lint from the heater surface. Under the regular heater use, clean it at least once per two weeks to maintain an optimal appliance performance.
Get the Best Pair for Your Heater to Create a Comfortable and Healthy Environment
Quickly and efficiently removing the chill and bringing enjoyable warmth to the room, ceramic heaters have a small drawback you would not notice at once but will eventually feel. Ceramic heaters dry the air. And though it might not seem a big deal at a glance, it could turn out a real problem if you use a heater on a regular basis, especially during winter season when the air is already drier. No need to say that too dry air might cause a number of skin problems, respiratory diseases, and even nosebleeds. To avoid this, simply pair your ceramic heater with a humidifier that will not only maintain the necessary air humidity level in the room but also clean the air from dust, bacteria, and allergens. Being a safe and clean source of heat, a ceramic heater will make a perfect tandem with a humidifier to create a comfy and healthy environment in your living space.
FAQ:
Q: What is the difference between convection and radiant heaters?
A: The major difference between these two types of space heaters is in the way they transfer heat. Thus radiant heaters heat the objects instead of air while convection models including ceramic heaters suck the cool air, heat it, and then blow it back into the room by means of a fan maintaining consistent hot air circulation. The main drawback of radiant heaters is that they are hot to the touch when operating and warm up the space pretty slowly. The next thing that differs radiant models from convection units is their scope of application. Radiant heaters work great for open spaces including outdoor areas and large premises with old windows and a lot of furniture. They will quickly warm up somebody sitting right in front them. Meantime, convection appliances, be it coil or ceramic heaters, are much more versatile in use and are suitable both for spot heating and for raising the temperature in an enclosed space in almost no time.
Q: What are the main advantages of ceramic heaters over coil heaters?
A: Both types being electric heaters and offering a clean source of heat without any hazardous emissions or smells, ceramic and coil heaters are not the same. If you are choosing between them, a ceramic heater would be a better option to go for several reasons. First of all, it is very efficient. Heating up to the optimal temperature within mere minutes it converts up to 85% of consumed power into heat. Meanwhile, unlike coil units, ceramic heaters are much less prone to starting an electric fire. Besides, their housing stays cool during operation that, along with an excellent overheat protection, makes ceramic electric heaters a safe choice even for nurseries and playrooms.
Q: Can I use a ceramic heater as the main source of heat?
A: Like any other portable heaters, ceramic units are not intended to replace the primary heating source. Designed for supplemental use, ceramic heaters will hardly be sufficient to maintain a comfortable indoor temperature in the entire household. They are most effective for targeted spot heating or taking the chill away in a single room.
Q: Can I use a ceramic heater in the bathroom?
A: Normally, fan heaters, including ceramic ones, are not recommended for use in wet or damp locations and you'd better refrain from putting them in the bathroom. However, ceramic heaters are known to dry and even overdry the air when used for long periods of time. Hence, if the humidity level in your bathroom is too high, you can put a ceramic heater there for some time, keeping it at a distance from running water. Yet, do not leave it there when taking a shower or bath.
Q: Are there any precautions to be taken before using a ceramic heater?
A: Basic precautions include checking the appliance and power cord for any damages, making sure that the mains voltage aligns with that of the unit, keeping the heater away from inflammable objects and water, and out from the reach of unattended children. Besides, never cover the heater during operation, always let it cool before tucking it away for storage, and store it in a dry place.
Sources:
1. Ceramic Heater, Wikipedia. July 13, 2017.
2. How do Ceramic Heaters Work? DoItYourself.
4. Lynn Rademacher Ceramic Heaters Vs. Electric Heaters, Hunker.
5. Michael Batton Kaput The Cost of Running Electric Heaters vs. Ceramic Heaters, HomeSteady. January 09, 2018.
6. Oli McKean How to buy the best electric heater, Which?
7. Chris Barnes Home heating guide, Choice. December 20, 2017.
8. Kristen Hicks How to Choose the Best Heater [Buyer's Guide], Compact Appliance. December 17, 2015.
9. Portable Heaters, Department of Energy.