Are you looking for a viable heating solution to keep your family warm and cozy on frosty winter days? Baseboard heating system units
will provide all the heat, warmth, and comfort to you and your loved ones without draining your wallet! Read our review to find the best baseboard heater to suit your needs!
...
Read more
...Read less
X
This site is a free online resource that strives to offer helpful content and comparison features to its visitors. Please be advised that the operator of this site accepts advertising compensation from certain companies that appear on the site, and such compensation impacts the location and order in which the companies (and/or their products) are presented, and in some cases may also impact the scoring that is assigned to them. The scoring that appears on this site is determined by the site operator in its sole discretion, and should NOT be relied upon for accuracy purposes. In fact, Company/product listings on this page DO NOT imply endorsement by the site operator. Except as expressly set forth in our Terms of Use, all representations and warranties regarding the information presented on this page are disclaimed. The information which appears on this site is subject to change at any time. More info
Fahrenheat PLF1004
The Company You Can Trust
Fahrenheat® along with such renowned brands as QMark®, Berko® and Leading Edge® belong to Marley Engineered Products. Throughout its long history, the company has been incessantly acknowledged for its ability to stay abreast of customers' needs and employ numerous innovative and cutting-edge technologies to provide high-quality heating and ventilation solutions. The wide product variety together with the uncompromised commitment to highest quality has positioned this company as a marketplace leader. As for the PLF1004 model, it diligently carries on the tradition of unfailingly best heaters. Hydronic heaters perfectly retain heat after being switched off and this unit is no exception. Therefore, this heater will be not only a guarantee of well-heated, comfortable and cozy room but also a key to efficient energy use.
Super Protection
This heater operates at a voltage of 240V, while its maximum output reaches 1000 watts. Such heating capacity allows you to heat a room of 100 square feet in a poorly insulated house. Many users state that this model has become an ideal solution for heating bathrooms and bedrooms.
The heater's housing is made of the high-strength material called Lexan, which can resist scratches, dents, rust and wear marks. Besides, heavy-duty welded steel louvered grilles serve as a barrier for foreign objects and reduce the chance of any unwanted elements falling inside the unit. In addition, the grilles have another function: to direct the heated air flow outward into the room and away from the walls. This model offers excellent overheating protection and comes with a thermal shut-off switch, thereby making the heater perfectly safe to use. If you have little toddlers throwings things and clothes around the room, you should not fear anything falling onto the heater and obstructing the heat. As soon as the temperature starts to rise, the heater will terminate the heating. It will resume operation only when the obstruction has been removed and the temperature has fallen back to normal.
Like most other products manufactured by Marley Engineered Products, this model comes with a full 10-year warranty to protect the whole lifespan of the unit. So we are absolutely sure that in matters of heating Marley Engineered Products is the company that can be trusted, like anybody else.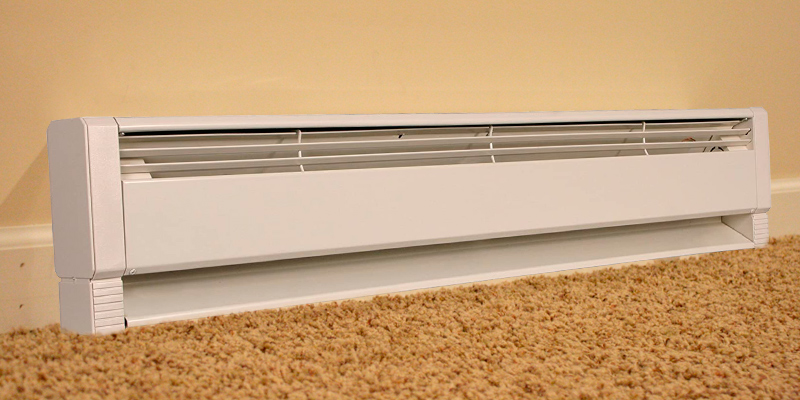 Potential Areas Of Application
Baseboard heaters demonstrate an excellent performance not only in living areas (apartments, houses, hotels etc) but also in non-residential premises (warehouses, sports complexes, retail outlets, stores etc). Many consumers attest to the effectiveness of using such heaters in suburban homes, given that they are so economical, energy-saving, reliable, whisper-quiet and easy to install. Baseboard heaters are successfully employed in heating rooms with cold exterior walls, considerable glass area, full-height glass windows and very high ceilings, where a traditional heating system is not effective. For instance, they provide a viable heating solution for sunrooms, conservatories or winter gardens, where dry heating is preferable. If you would like to enjoy the picture-perfect scenery of snowy winter days in your airy and spacious winter garden while nursing a delicious cup of steaming herbal tea with honey, the baseboard heater will envelop you in warmth and make your time there truly delightful. Baseboard heater will take the chill and cold away by effectively circulating the air and evenly spreading the warmth in every corner of the room. The owners of sunrooms and winter gardens noticed the advantages of baseboard heaters not only because of the superb quality of heating but also because of the heater's aesthetic appearance.
Additional Info
Last updated price

$

148.84

Stock
In stock
ASIN

B001GMH7I4
---
Fahrenheat PLF1004
Cadet 96" Electric
Installation Made Easy
This heater from Cadet is 96 inches long, which paired with its power output of 2000 Watts makes it one of the most powerful baseboard models that can be effectively used in home conditions. That said, it's not the only thing that makes it special.
Similarly to many other baseboard products and, in this case, convection heaters, this one will have a slight odor to it during the first few runs after you turn it on. That being said, the smell goes away rather quickly before it can become an issue.
The thing we were surprised to find out is the fact that this heater model is not a plug-in device and is required to be hardwired to operate properly. With that in mind, you will have to manually connect the appliance to your house's electrical grid.
To make the installation a tad bit easier, the housing of the appliance comes already pre-punched. Likewise, the universal wiring enables mounting the device directly to the side of the baseboard as well as hooking it up to the standard electric grids with wires that come together with the main unit. On top of that, the design of the convector enables wiring it at either side of the housing to make the installation more convenient.
Perfect for Large Premises
When it comes to protection means, the appliance is equipped with a basic, yet highly reliable high-temperature safety system that will automatically shut off the heater if it starts to overheat. Moving on, it is worth noting that this 2000-Watt appliance can retain heat quite well thanks to its convection design. Paired with dimensions of 99.75 x 7.25 x 3 inches, it can act as a great heater for a bedroom, living room, and any other room with a size of up to 300 square feet.
As for some quality-of-life improvements over the standard designs, the heating element of this convection heater features nylon bushings on the sides that make its operation almost silent at times. Surely, it will hum when it's running, especially when warming up, however, once the long heating element gets warm enough, the humming is barely noticeable. Owing to the powder-coated finish, the housing of this heater model is resistant to corrosion, which paired with its reliability makes it a good pick for long-term use.
Wrapping things up, this Cadet baseboard heater will be a good addition to your home heating system in case you want to upgrade an existing one or set it up from the ground up. The combination of good heat output and decent heat retention makes it an optimal choice for medium to large rooms.
Additional Info
Last updated price

$

113.70

Stock
In stock
ASIN

B0062E45NQ
---
Cadet 96" Electric
Heat Wave 1,000 Watt Convector
A Plug-In Device That Beats the Competition
This model from Heat Wave is noticeably smaller than other models in the same price range. Measuring 26 x 5.2 x 8.2 inches, this model is definitely not the biggest one among the other heaters included on our list.
First things first, the appliance features basic controls on the top panel of the housing, which will allow you to pick the required temperature as well as the heat output mode. Owing to an integrated thermostat, you won't need to hook up the appliance to your household temperature control system, which is a plus in our book. Likewise, the integrated control dials allow you to pick the optimal power output mode for the heater from 500 to 1000 Watts. The thermostat controls, on the other hand, enable setting an optimal ambient temperature that the heater will maintain.
Moving on, the Heat Wave convector heater is a plug-in model, which means that you will need a separate power socket in order to use it properly. Although you can use an extension cord, we recommend using the supplied power cable only to avoid potential malfunctions. What makes this heater great, however, is its almost silent operation. Since it doesn't have a built-in fan, it doesn't produce any humming noises and will be a great option for a living room or act as an excellent bedroom heater. On top of that, it's low profile enables placing it pretty much anywhere within the house given that there is a power socket nearby.
A Great Convector Alternative to Basic Models
Being a convector heater, this baseboard model can generate a lot of heat in a short period of time without spending too much power. In contrast with more powerful oil heaters, this model is fairly energy-efficient, albeit slightly worse at retaining heat. That said, the appliance will be effective for use in medium to large rooms with a size of up to 100 square feet (up to 400 square feet using multiple heaters).
Moving on, let's talk safety. Aside from the obvious benefits of using an integrated thermostat, the appliance has thermal cut-off protection that shuts off the heater once the target temperature is reached. Moreover, just like many modern household heaters, this one features a tip-over switch that will automatically turn off the device in case it tips over on its side.
All in all, if you need a reliable baseboard heater that won't let you down in cold winter months, then this model from Heat Wave will be right up your alley. Light, easy to use and install, it proves that a good convection heater doesn't always need to be expensive.
Last updated price

$

52.00

Stock
In stock
ASIN

B0168Z1TA0
---
Heat Wave 1,000 Watt Convector
Homegear 1500W Low-Profile Electric
Excellent for Medium-Size Rooms
Finding a powerful heater that is easy to install and use that is not overpriced can be a bit hard nowadays. Fortunately for you, this model from Homegear embodies pretty much everything a good baseboard model needs to be in one package that won't make your wallet thinner at the same time.
To start off, this heater is a low-profile baseboard model that must be placed on the floor and close to a wall, just like any other model in our review. As for the differences, however, the design of this heater model includes heat retention fins on both the top and the bottom of the appliance. Due to this, the heat will be distributed evenly without dissipating into the wall or baseboard behind the device. Conversely to other products though, this model doesn't simply blow the hot air into the room but warms it up instead.
Furthermore, let's take a closer look at the construction of the unit. The housing of the appliance is made of 25-gauge steel that is additionally coated with powder paint that firmly protects the unit from premature corrosion. Measuring only 27.5 x 5 x 8.7 inches and with a weight of just under 4 pounds, the heater is definitely among the most efficient models taking into account it's size to heat output ratio. The only thing we could wish for, however, is a longer power cord, since the 71-inch one the appliance has included in the box can be rather short for rooms with limited access to power sockets.
Reliability is Key
When it comes to the power modes, though, this heater from Homegear has 2 non-adjustable power output settings and an adjustable temperature dial. The integrated power modes have a 1500-Watt high-intensity setting, as well as an Eco-Mode that delivers just enough heat to maintain the ambient temperature inside the room with 750 Watts.
The only thing that you should be aware of is to maintain clearance in the front and to the sides of the appliance of at least 40 inches in order to avoid creating a potential fire hazard. Likewise, you should never cover the device while it's on or still hot due to the same reason.
In the end, this baseboard model will be a good option for users that need a reliable convection heater that doesn't require a lot of space and delivers a lot of heat when it's needed the most. Simple in operation and highly effective at maintaining the room temperature at a stable and pleasant level ultimately makes this model a worthy pick for the role of a bedroom heater or any other small to medium size area.
Last updated price

$

0.00

Stock
May be out of stock
ASIN

B07ZK6HCMF
---
Homegear 1500W Low-Profile Electric
Cadet Manufacturing 09952
A Basic Baseboard Device That Gets the Job Done
Cadet Manufacturing's 09952 is yet another basic model from the company that is efficient and won't break a bank at the same time. Smaller than the majority of other popular brands, this Cadet heater has a small footprint of just 4 x 36.3 x 7 inches, which enables installing it in virtually any room within your house, given there's access to the electrical grid.
Speaking of electric grids, the installation of the heater involves hardwiring it to your household electrical system. The process is fairly straightforward and will require a few basic tools. Similarly to other products from Cadet, the wiring is possible on either end of the appliance, which simplifies the mounting of the heater to the baseboard by quite a bit. In addition to that, the appliance requires a basic home thermostat in order to utilize it to its full potential and so, we strongly recommend getting one in case you don't have it installed yet.
The only aspect of the appliance that we didn't really appreciate is the fact that it gets noticeably harder to clean as it gets dustier over time. Due to that, we recommend sweeping the dust off the fins of the heater at least once a week, since otherwise, you will have to disassemble its front and side panels to clean it from the inside, which can be rather time-consuming.
An Optimal Choice for Smaller Rooms
Rated at 240 Volts, the Cadet 09952 is fairly powerful and can deliver just enough heat to warm up a room that is just under 100 square feet in size. Furthermore, with a maximum power output of 750 Watts, the appliance is definitely energy-efficient, which allows keeping the ambient temperature inside the house at a comfortable level without making the energy bill longer at the end of the month.
Design-wise, this baseboard model definitely leans towards being a convection heater. With fins located all across the housing just underneath the front panel, it is also quite good at retaining the heat it produced once it is turned off. The construction of the housing itself enables using it as either an in-wall appliance or as a basic baseboard device. On top of that, when combined with a regular thermostat, you will be able to adjust the target temperature, as well as the output power rates as a result.
All things considered, the 09952 from Cadet Manufacturing is simply the best budget-friendly baseboard heater models that you can find for the price. It has a decent power output, which combined with its high energy efficiency makes it an ideal pick for a small house or an apartment.
Additional Info
Last updated price

$

50.71

Stock
In stock
ASIN

B000LNWKK4
---
Cadet Manufacturing 09952
Infographics
---
What Is a Baseboard Heater?
We all want to come home and feel comfortable in every sense of the word. Unfortunately, in winter the desired comfort can be disrupted by very low temperatures. How do you want to pass this winter? Are you going to spend these months shivering from cold since the central heating system can't produce enough heat? Are you afraid that the supplementary heating will drain your wallet? Do you really believe that putting on layers of clothes or snuggling under a pile of blankets is a wise solution? Baseboard heaters will be the answer to your prayers. They are the most energy-efficient heaters available on the market. They will help you save on your energy bills and provide so long-desired warmth and comfort in every corner of your house. In this review, we have selected the best baseboard heaters in order to narrow your search and help you select the most appropriate heater for your home and your needs.
If you are still searching for an alternative heating solution, save your time and check out our review on best oil heaters. If you wish to have comfortable pastime outdoors, have a look at the best patio heaters.
What Features to Compare
Type
In order to select the most effective and efficient baseboard heater for your home heating needs, you have to decide on the type of heater you prefer to use. Different types of heaters are more suitable and hence more effective in different conditions. Basically, there are only two main types of baseboard heaters - electric and hydronic. Their difference lies in the operating principles. The electric models are composed of a series of electric heating elements, encased in metal pipes and surrounded by aluminum fins. The series of metal fins heated by the electric current warm the air directly. The hydronic baseboard heaters operate differently, using a slightly more complex system. The electric current still generates the heat, but this time it warms the air indirectly. The electricity is used to heat the boiler and warm up the water, which then radiates the heat. The hydronic system retains the heat much longer and, therefore, is considered more energy efficient. There are also so-called hybrid models that combine both principles at once. These models offer the mobility and portability of electric heaters, as well as excellent heat retention inherent in hydronic models.
Capacity
The wattage is perhaps one of the main characteristics of the heater. It governs the radiator's ability to heat up the room quickly. If your heater's wattage is too small for your room, it might heat it eventually but it will take ages. To select the appropriate heater, you need to factor in the square footage of the room you plan to install it in as well as consider the type and depth of your house insulation. Older houses usually have less insulation than modern ones and therefore require heaters with higher heating capacity. For poorly insulated houses you can calculate the desirable wattage by multiplying the total area by 10 watts, implying the ratio of 10:1 (or 10 watts per 1 square foot). New buildings usually require an output of only 6 watts per 1 square foot. Thus, if you know the square footage of your room, you can determine the ideal wattage for your baseboard heater and make the most rational and informed decision when selecting the heater you need.
Safety and Convenience
In the end, we would like to turn your attention to the presence of all kinds of additional features in the baseboard heaters provided for users' safety, convenience, and peace of mind. Some heaters are furnished with a built-in adjustable thermostat, which allows the user to regulate the heating temperature in the room. Other models may feature adjustable wattage, which permits a more efficient energy use. For added convenience, portable models usually offer comfortable carry handles for easy transport, which stay cool to the touch even when the heater is on. Certainly, any heater must provide a good level of safety and protection for the users. Covering or obstructing the heater could be very dangerous and lead to a fire. Therefore, it is desirable for a baseboard heater to be equipped with a thermal shut-off switch or overheating protection. This function guarantees that the radiator will turn itself off automatically in case it has been obstructed, something has fallen onto it or been draped over it, and the temperature has risen. When the heater returns to a normal temperature, it will continue heating your room. This safety feature will also protect your heater against premature failure of parts and contribute to its durability.