We all have to cope with the problem of maintaining the comfort in our houses. Modern utility and HVAC systems make it possible by
keeping the desired temperature and humidity level indoors but these systems are not intelligent enough to perform it themselves. Thus, we present you the guide in choosing a digital thermostat, the device for controlling the HVAC systems operation, for your house or office. We' ve selected the best 5 thermostat models available for online-purchasing, including the wireless and smart thermostats, to help you make an optimal choice.
...
Read more
...Read less
Honeywell Wi-Fi Smart Thermostat
Control type
This Honeywell smart thermostat provides a remote control via a wireless (Wi-Fi) connection. With a Honeywell proprietary software for iOS or Android-based mobile devices, tablets or PCs you get the full access to options-rich controls of the thermostat via the internet. This smart thermostat can also be controlled manually, using a wide and bright color touch-screen with a customizable color scheme and a convenient on-screen menu. The touchscreen is quite big in size, and hence, considerably more convenient in use than any of those that are controlled remotely.
HVAC compatibility and power supply
Honeywell Wi-Fi thermostat is compatible with both high-voltage heating and cooling systems as well as heat pumps (except for the 120-240 volts heat pumps for baseboard heating). The digital thermostat is compatible with 110V or higher simpler thermostats and the systems containing a c-wire or g-wire, needed for energizing the device. In case these additional wires are unavailable, you can power this thermostat through an external power source.
Programming type
This smart thermostat model is user-programmable and it offers flexible configuration and scheduling. The device supports creation of program profiles with the facility of use-specific parameters, which can be set according to a business schedule (home, office, etc.) or utility's peak electric rate pricing. You can simply set the temperature you prefer when your home or office is occupied (or unoccupied) and the Smart learning feature will maintain an optimal indoor temperature and energy consumption pattern. This Honeywell thermostat automatically sends extreme temperature alerts to connected network devices.
---
VIDEO
New Honeywell Wifi Smart Thermostat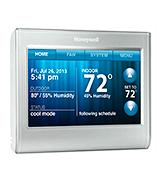 Honeywell Wi-Fi Smart Thermostat
Nest Learning Thermostat 3rd Generation
Control type
This digital thermostat can be controlled remotely by the application on mobile devices such as smartphones, laptops or tablet PCs and literally from anywhere via Wi-Fi connection . Remote control of the thermostat offers temperature changes, changes in graphics and power consumption, history check of the last 10 days as well as the ability to receive a warning that your home temperature is too hot or too cold. This thermostat does not require any manual settings.
HVAC compatibility and power supply
This Wi-Fi Thermostat works with 95% of 24V power that is produced by the operation of cooling (1,2 stages) and heating (1,2,3 stages) systems. Also, forced air, electric, gas, heat pump (auxiliary and emergency heat) can power up the unit. This smart thermostat can also control the operation of humidifiers, dehumidifiers and fans. This model has a built-in lithium-ion battery (included) that works from the power supply via common C wire. If you do not have C-wires, then you need a powerful 4-wire system.
Programming type
Nest Wi-Fi thermostat can program itself by virtue of obtained data from external sensors. With the Auto-Graphics function, the digital thermostat remembers what temperature you prefer the most and creates an individual schedule of your home HVAC devices. You can check the efficiency of this schedule and customize it as you need. Another option is a self-programming Auto-Away function which uses smart thermostats ability to feel that you are out of the house and automatically switch to a different temperature condition in order to save energy. It also has motion sensors and switches on the screen when you are near.
Additional Info
---
VIDEO
Nest Thermostat 3G Installation and Review
Nest Learning Thermostat 3rd Generation
Emerson Sensi Wi-Fi Programmable Thermostat
Control type
This digital thermostat is remotely controlled via the phone app on the tablet (compatible with Android and IOS) or the PC. With the help of this user-friendly application, you can even program your thermostat for the whole week which will help reduce heating and cooling when you are not at home. However, this thermostat doesn't have a history check, so you can't see how much power you spend in total.
HVAC compatibility and power supply
This Wi-Fi thermostat does not require a C-wire since it is powered by 2 AA batteries with 4 heating and 2 cooling stages, including a gas and electric heat pump. As for the hot water system supply, it needs a 'C-wire' (a common wire), that is found in every home, so there is no need to purchase an extra one. Moreover, Sensi also works with geothermal systems, however the thermostat does not have a built-in humidistat.
Programming type
Though this Wi-Fi thermostat doesn't have expensive sensors and ability to learn, it is smart enough to correctly adjust the cooling/heating system and set the timer. Also, it can adjust to your schedule and quickly change the settings at any time. You can start with pre-loaded schedules that reflect the overall daily patterns and quickly tailor it to your unique schedule. So, it is up to you whether you will pay extra for expensive sensors or not.
---
VIDEO
Sensi Wi-Fi Thermostat Review!
Emerson Sensi Wi-Fi Programmable Thermostat
Honeywell TH3110D1008
Control type
This Honeywell thermostat is rendered in minimalistic design and is equipped with two easy-to-use slide switches and two push-buttons for adjusting the values of configuration. The slide switches are used for shifting between the cooling and heating operation modes as well as shutting the controlled system off. A small monochrome screen, that this thermostat is equipped with, has a backlight feature and it displays the current temperature along with the user-set temperature. The device supports manual operation only.
HVAC compatibility and power supply
This Pro thermostat model is designed to maintain a digital control of 24 VAC-powered single-stage heating and cooling systems (gas, oil, or electric heat with air conditioning, high-efficiency furnaces, heat pumps), as well as of 750 mV heating systems. This non-programmable thermostat can draw the power for its operation from a common wire or the battery included. The user can also opt for energizing the device from a common wire with battery backup.
Programming type
Being the best thermostat for those, who do not want to bother with the programming this digital thermostat is of non-programmable type and enables the user to configure only the main parameter – current temperature with neither scheduling nor variations. Despite its Spartan interface, the thermostat is able to continuously maintain the desired temperature with very high accuracy [±1 F (±0.5 C)].
---
VIDEO
Programming Honeywell Pro 3000 Thermostat
Honeywell TH3110D1008
Emerson 1F80-0471
Control type
Emerson digital thermostat was designed with reliability and simplicity of use in mind, thus, it is equipped with simple manual controls consisting of durable pushbuttons and a large 4" high-contrast monochrome display, which is big enough to accommodate all the crucial parameters' values and menu symbols while providing a good readability. This thermostat model has no wireless or touchscreen controls.
HVAC compatibility and power supply
This simple yet effective thermostat is compatible with the vast majority of low-voltage (with 24 volts and millivolt power supply) single stage heating, cooling and gas heating systems. This thermostat model is capable of controlling the operation of 2 or 3-wire hydronic zone valve systems. For its own needs, this Emerson programmable thermostat uses either a power supplied via the wire or 2 AA batteries (which are included in the supply package) with an average life of 20,000 hours.
Programming type
This thermostat by Emerson provides only basic programmability with 5/1/1 day (with a single configuration for the work days and separate configuration for each day off) schedule with a configurable 1 accuracy parameter control. One schedule program of this thermostat offers users four time and four temperature settings to control indoor HVAC operation. The vendor provides such auto features as Auto Changeover and Emergency Management Recovery.
---
VIDEO
Programming an EMERSON 1F80 Thermostat
Emerson 1F80-0471
What is a Thermostat
The room thermostat is ideal for fine adjustment of indoor climate. The principle of thermostat operation is very simple: you set the desired indoor air temperature and the controller turns the HVAC or heat pump system equipment on. The equipment keeps running until the indoor temperature reaches the value set. Thus, when the indoor air temperature drops below the set value, the thermostat automatically turns on the heating system. It can also work the other way: when the room air temperature exceeds the preset value the thermostat activates the cooling system, so the indoor air temperature is kept at a comfortable level in summer.
If you are looking for a device that provides local heating of small enclosures you should see our space heaters review.
What Features to Compare
When purchasing a thermostat device, first of all, one should pay attention to such important device parameter as thermostat Control type. It is this feature that makes it possible to characterize the approach to thermostat's temperature control and, most importantly, ease of use and apprehensibility of the device operation. By control type, the thermostats can be divided into the ones with a manual and the ones with an automatic control. With that the home thermostats furnished with analog control, which is implemented via either dials or mechanical buttons accompanied by simple indicators or LEDs, are controlled manually. Electronic or digital thermostat control in its turn implies the availability of menu buttons (sensor or mechanical) and a display (touchscreen) for critical information output. In addition the electronic type of thermostat control opens the wide possibilities of digital thermostat remote control: you can easily control your home thermostat via an internet Wi-Fi connection from literally any location using a PC, laptop or a smartphone. This clearly shows the advantage of the electronic control type over the analog one.
Having determined the thermostat control type, you should pay attention to such an important feature as HVAC compatibility and power supply. Information about HVAC compatibility and power supply gives you an idea of what house systems you will be able to control with a specific thermostat. Modern thermostats are designed to control the wide variety of utilities, such as heating, cooling systems, including gas, electric, forced air supply systems of low and high-voltage type. These systems are controlled by high or low voltage power, thus, the compatibility with low-voltage or high-voltage HVAC systems determines the device applicability to the HVAC equipment installed in your house.
The third consumer-wise important feature concerning the digital thermostats is the Programming type. By programming type, the thermostats can be divided into non-programmable, user-programmable and self-programmable devices. Non-programmable thermostats have very few configurable parameters such as indoor air temperature or water supply temperature. The user sets the value of such a parameter and the thermostat maintains the temperature value set by operating HVAC equipment regardless of the date, time, and season. User-programmable thermostats are more flexible in operation. Digital thermostats also can be self-programmable: they can automatically adjust and reconfigure the values of parameters controlled based on the data, acquired from the external sensors, i.e. auto-adjust the desired temperature considering the season.