Your home should always be a place of comfort, even in the dead of winter. So a slim heating appliance that keeps your house cozy
is an essential purchase. Today, we've made a top 5 list to help you find the best micathermic heater out there.
...
Read more
...Read less
Bionaire Silent Micathermic
Extend Your Reach
If you've got a particularly large space to heat like, say, a living room, a little heater might simply not be enough. For cases like that, you can't go wrong with a Bionaire Silent Micathermic Console.
This model has a large coverage area, about 150 square feet, more than enough to warm a room or two. Despite that impressive power, the Bionaire Console uses around half the energy that other heaters of its type consume. You can adjust the thermostat or change the power settings to cut your electricity bill even further down.
The Bionaire Console is quite steady as well, all thanks to the wide feet and two wheels propping it up. Moving it around should be easy enough since it has a carry handle as well. However, these smart design decisions are a bit marred by the strange power indicator. It lights up whenever you plug the Bionaire Console in, even when the actual heating isn't on. This may be confusing to some users but it is, of course, not that big of a deal.
With all that said, we find the Bionaire Console to be the best micathermic heater for big rooms. It is indeed quite compact and can fit into any nook but it has a large coverage area that would be wasted on a smaller space. So if you want to warm your whole house and do so with minimal expenses, the Bionaire Silent Console is an excellent pick.
Additional Info
---
VIDEO
Bionaire Micathermic Heatet
Bionaire Silent Micathermic
Delonghi HMP1500
No More Cold
The Delonghi HMP1500 Mica panel heater is able to raise the temperature several degrees in a fairly big room, up to 300 sq.ft in area. The device has two knobs, one with the modes of heating—Off, Low at 750 W, and High at 1500 W— and another with an adjustable thermostat. By combining the settings between the knobs, you will obtain a wide variety of heating options for just about any room in the house.
Seeing as your pets will definitely fall in love with this heater, it is important to take all the safety measures seriously. Which Delonghi did to the best of their ability. This home panel heater with a thermostat is equipped with both the tip-over auto shut-off and the overheating protection. If someone accidentally pushes the Delonghi HMP1500 Mica panel heater to the side, it will turn off in an instant and cool down fast.
When you are not constantly in the same room, you can take this micathermic space heater when you move to another premises: it is equipped with removable legs and caster wheels, as well as a carry handle. And if no moving around is expected (for example, you buy a heater for every room), the mounting kit included in the delivery package is all you need to affix the panel heater to the wall so that it does not get in the way. With its sleek and thin black body, it will look good in whatever interior you have.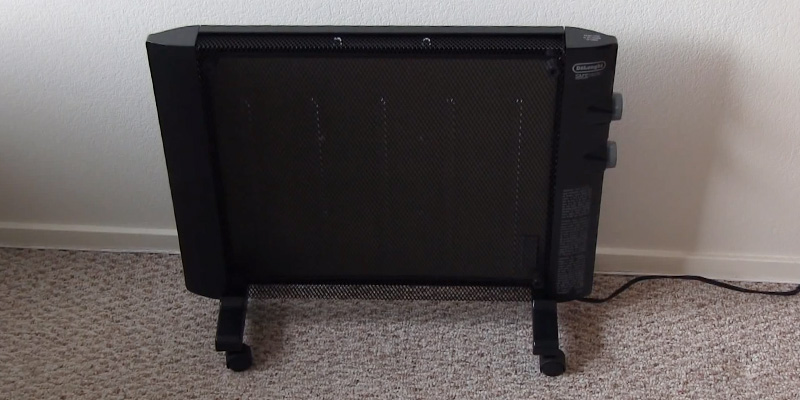 Additional Info
---
Delonghi HMP1500
TURBRO Arcade HR1015
Safe and Cozy
Heating your home can be indispensable when winter comes around, especially in the chilly nights when you shiver under a blanket. However, you can't just leave any heater running as cheaper models overheat and short out or could even cause a fire if left unsupervised. Luckily, there's the TURBRO Arcade HR1015.
This model has advanced overheat protection that turns the device off if the temperature reaches a critical high. Plus, there's the tip-over switch that shuts down your heater if it falls down, like if it's been knocked over by a pet. That's nothing groundbreaking, of course, but many models seem to omit even such essential features.
Combine these with the fact that this small heater covers up to 160 square feet and you get a pretty powerful heater on a dime. After all, you can change the thermostat here and even switch to low power, so you not only save money on the initial purchase but keep your energy bills low.
Admittedly, the TURBRO Arcade HR1015 isn't perfect as we found the power cord to be too restrictive. If it were just a little bit longer, this model would offer more freedom of placement, allowing great efficiency of heating. As is, you might have to buy an extension cord.
Still, that's a minor gripe compared to the excellent build quality, reliable safety features, and pretty powerful 1500 W operation. If you want a reasonably micathermic space heater that you can leave running all night long without waking up to a fire or a staggering electricity bill, this is the one you need.
Additional Info
---
TURBRO Arcade HR1015
Delonghi EW7707CM
Time-Proven Quality
The DeLonghi oil heater is an ideal choice for maintaining consistent heat in pretty large rooms over 350 sq.ft. The modern functionality and some handy updates it offers put this model high above classic old radiators.
First off, ideally sealed steel columns safely keep hot oil inside removing the risk of leakage and the need to refill. Besides, known for their striving for innovations, DeLonghi has redesigned traditional radiator columns and fitted them with special thermal slots to direct the heat flow upwards. This little trick maximizes the heat distribution and allows the columns to stay cool to the touch to prevent burns in case of contact with skin. To freely move a pretty heavy unit around the house, it comes fitted with the patented caster wheels that roll smoothly on any surface.
The power of 1500 watts is more than enough to quickly heat up the oil and continuously maintain a comfy level of warmth in any room. An adjustable thermostat in a combo with three available heat settings will let you tailor the heating mode to your needs and comfort while a ComforTemp option will maintain the optimal room temperature and help minimize energy costs.
In addition to high heating performance and solid design, the DeLonghi oil heater has one more merit many other space heater types lack, which is quiet operation. It makes DeLonghi heater by far the best choice for sleeping areas so that fan blowing and rattling won't disturb you when you have rest.
If you're looking for a functional space heater that needs no maintenance, incurs no extra energy costs and will serve you for years to come, the DeLonghi oil-filled radiator is by far the best option to go for. It offers time-proven quality for your comfort. 
Additional Info
---
Delonghi EW7707CM
Air Choice Mica Panel Heater
Quick Heating
If you want to feel comfortable even during the coldest time of the year, a micathermic heater with convection from Air Choice will be a smart addition to your home. It is super-efficient and can heat up your room very quickly.
To start off, this heater has a pretty decent coverage area (up to 350 sq. ft.). The device is fitted with a reflective heat technology that reflects electromagnetic rays to warm up your room. It works on average 1500 watts but you will start to feel the warmth 3 seconds after you turn it on. It has an adjustable thermostat and 2 power settings. The device is coated with a special black paint resistant to high temperatures, so, it will retain its look even after years of use.
The next thing we like about the Air Choice heater is that it can be used both as a wall-mounted and a free-standing model. All the necessary mounting hardware is already included in the package. There are also 2 sets of legs with castors that make the heater a breeze to move to where you need some extra heat.
Lastly, the safety features of this device include an auto shut off option that prevents overheating and tip-over protection to avoid inflammation. It is also pretty quiet, so, you can comfortably leave it in your bedroom at night.
In conclusion, the Air Choice Mica Panel Heater is one of the top choices. It is quiet, effective, heats the room in a pretty short time, and will deliver consistent heat for as long as you need.
---
Air Choice Mica Panel Heater
What Is a Micathermic Heater?
If you've ever felt a bit too cold in your home, you've likely resorted to using space heaters to get a much-needed warmth boost. However, many models are kind of bulky and will take up a spot too large for your comfort. Besides, you don't want the appliance to take an hour before any effect is felt. So, instead of relying on the old tech, you can turn to an affordable and effective micathermic heater. This type of device uses a mica stone to emanate electromagnetic rays of warmth all around the room. That way you get both convection and reflective heat, which effectively speeds up the device's operation and warms the whole room faster.
But faster effect isn't the only thing that draws people to the mica heaters. They are also quite slim as they don't have to make room for many technical parts, exchanging them for a thin layer of mica instead. This leaves the heaters practically flat and easy to store when not in use. Plus, they can still be wall-mounted for even more convenient placement.
With that said, winter is coming fast and if you want to stay cozy, you should also consider getting a few throw blankets to snuggle up in. Or, perhaps, an ethanol fireplace will add warmth and a certain rustic charm as well.