Infrared heaters are now highly popular for house and office use. They were created to make you feel warm and comfortable, and manufacturers
did their best to improve these devices. Read our fresh review of the 5 best infrared heaters and make the right choice.
...
Read more
...Read less
What is an Infrared Heater
Nowadays, infrared heaters face a high demand, and they have become the devices affordable for everyone. These devices differ from well-known convectors greatly. Infrared heaters transmit the heat not to the air, but directly to objects, by showering them with infrared rays. You can call an infrared space heater a small room-sized sun. The sun rays penetrate the air without heating it, and only when they meet the objects that do not permit light through, they get absorbed, thus heating the object. The infrared room heaters work the same way.
When you buy a device, you obviously wish it worked for years and did not break down. In our infrared heaters review today we will help you discover the ways to choose an infrared heater based on its design features. For this reason, we will look in detail at how the infrared space heaters work, and select criteria for purchasing one.
There are a lot of other devices to heat your room, besides the electric infrared heaters. We think you might also be interested in our Space Heaters review.
...
Read more
...Read less
What Features to Compare
This review will delve into a number of factors you should consider before buying an infrared heater. First, you have to pay attention to the home infrared heater's Heating Level and Design. You should decide whether you need a stationary or a portable infrared heater. Portable electric infrared heaters are smaller in size and have lower power, and stationary infrared heaters can be either wall- or ceiling-mounted. The area heated by the infrared space heater depends on its power. A 100 sq ft room usually needs an infrared heater of 1 kW (1000 W) power. But we suggest that you buy a heater with some backup power storage. It is especially recommended if the infrared space heater is your only heating source, as you have to consider heat leakage through the walls, windows, and flooring. However, when the electric infrared heater is just an additional device for your existing heating system, then you should probably calculate the power based on the operation conditions your infrared heater will be working at. When you have in mind all the information on features, you will have an idea about where and how you can use the infrared space heater, and whether it corresponds to your needs.
The second important factor to think about is, of course, Functionality. You consider it regardless of what device you are looking for, the electric infrared heater included. Usually, we attribute the infrared heater's control, operation modes, and additional features (like timer or thermostat to maintain a constant temperature) to its functionality.
And, finally, pay attention to the infrared space heater's Reliability and Safety. An electric infrared heater is a type of device that should not have adverse effects on your health and should be safe to use. To see if the infrared heater is safe for you to use, look at the type of its heating element. There are four types — halogen, carbon, ceramic, and micathermic. Each type has its own advantages.
A halogen heating element is basically a halogen lamp that emits light in an infrared spectrum. Its main downside is that halogen heating element emits short waves, and they can be harmful to a human health.

A carbon heating element is shaped as a quartz tube with a vacuum and carbon spiral inside.

The strong points of these infrared heaters are fast heating and a higher efficiency coefficient to the heated metal plates.

But, there are also bad sides. The life span of such heating elements is approximately two years, and they need quite a lot of energy — 1 to 2.5 kW. They emit reddish light, capable of irritating the eyes. Also, this type of

electric infrared heaters is not recommended to people with allergies and asthma.

A heating element with a ceramic coating is well-protected, so it does not emit light during operation. And they work for three years at least.

A tube (micathermic) heating element reminds the ceramic one but is made of metal. Note that when you use an

infrared tube heater you will probably hear a crackling sound. The reason for this is that the coefficients of temperature expansion for the steel spiral and the aluminum housing are different.
As for the safety of use, any electric infrared heater must have the means to minimize the possibility of fire. Such means might be in the form of overheating indicators for any type of the infrared heater and/or the tip-over protection for portable models.
...
Read more
...Read less
Dr Infrared Heater DR968
Heating Level and Design
The portable infrared heater from the Dr. Infrared Heater is shaped as a stylish bedside table. All the controlling elements are located on the front panel. This home infrared heater has a special display to inform you about the temperature and the heating mode. The heater can be easily carried to another room as its weight is relatively small, 23.5 pounds. The power of this infrared space heater is sufficient for warming your guest room, some big rooms, or offices.
Functionality
As it has been mentioned above, this home infrared heater is very modern. But it has other state-of-the-art features too. This unique model of Dr. Infrared heater is equipped with a thermostat to control the temperature, a remote control to adjust it, and a timer to set the heating and leave the room (or fall asleep). Furthermore, this space heater has three power modes, one of which is automatic. The automatic mode will regulate heating depending on the room temperature. It is a very smart and convenient device!
Reliability and Safety
Dr. Infrared Heater manufacturers provide a 3-year warranty for this infrared room heater. You can be positively sure that the quality of this product is top-notch. Also, this portable infrared heater is perfect for families with children and pets, as it does not expose heating elements. Naturally, it is equipped with an overheating shut-off switch and a tip-over protection system to add to the safety measures. This infrared heater will serve you for a long time.
---
VIDEO
Dr. Heater Original Model DR-968 Review
Dr Infrared Heater DR968
Optimus H-4500
Heating Level and Design
Optimus H-4500 is a modern floor-standing space heater with an adjustable foot. Has a useful small LCD screen and a temperature control. It is equipped with an adjustable plate that turns slowly 75 degrees from side to side. Due to this oscillation feature, the portable infrared heater distributes the warmth through all the heating area. It is really effective for living rooms, bedrooms, or studies where you do not need to heat one specific object, but the whole room.
Functionality
This infrared portable heater has two heating modes, low power (800W) and high power (1200W). Depending on the temperature outside, you may choose a suitable mode for you. A built-in thermostat allows maintaining a constant temperature, so you do not need to control the temperature on your own. Moreover, this model has a remote control for additional convenience. It's also got a timer! You can set the time for how long your heater will work. This is very helpful, really, particularly so for the users who tend to forget to switch off the device before falling asleep.
Reliability and Safety
The safety system of this electric infrared heater is ensured by overheat protection and automatic shut-off in case the device is knocked over. Customers in the infrared heaters reviews also emphasize that the metal gate on the front is not getting hot, so it is safe to touch accidentally. This is an extremely useful feature if you have kids or pets. The Optimus H-4500 home infrared heater is a smart heater that works for you. The manufacturer's warranty for this infrared space heater is one year.
---
VIDEO
Optimus H-4500 14-inch Oscillating Pedestal Digital Dish Heater with Remote - Review
Optimus H-4500
Holmes HQH307-NU
Heating Level and Design
This portable quartz heater produced by Holmes easily manages heating up medium-sized rooms like studies, garages, or even patios. It can be considered an outdoor infrared heater. It is made in a portable form-factor, is not heavy and has a handle on the back, so you can place it in any corner of your room or carry from one room to another. The control elements are located at the top of the device, so you won't accidentally touch the heating elements while trying to adjust the temperature. The Holmes infrared heater is also available in 2 colors — white and black. Make your choice!
Functionality
Let us point out good sides of this electric quartz heater. This Holmes portable quartz heater is manually controlled and features a thermostat. Also, this infrared space heater offers 2 heating modes, the lower one requires 750 Watts and the highest temperature can be reached at 1500 Watts. Owing to the MaxFlowTM heating system and 2 quartz tubes the air circulates around the room, so the heating is at the high level.
Reliability and Safety
The manufacturer of this portable infrared heater really cares about your safety. Holmes HQH307-NU is equipped with an overheat protection and an automatic shut-off feature in case of tipping over. Furthermore, there is a grid on the quartz tubes to prevent accidental contact. When the tubes glow red, it is the sign that you should not touch the device. And, finally, you can expect this infrared heater to work good and long, as it has a 6-year warranty against defects from the manufacturer.
---
Holmes HQH307-NU
ProFusion Heat HQ1500
Heating Level and Design
ProFusion Heat HQ1500 is perfect for heating up workshops, garages, small shops, and studios, owing to its high-efficiency quartz heating elements and 2 halogen lamps. The device is very convenient and will save you extra space as you can mount it on the wall or hang on the ceiling. More than that, this outdoor infrared heater actually has the ability to be tilted 90-degree vertically, so you can direct the heat wherever you want. That's really convenient!
Functionality
The two heating modes of this infrared space heater allow you to adjust intense heating or make it lower, depending on the heating level you want to provide. Another useful feature was presented by ProFusion manufactures. They have added a halogen lamp to this model for additional light. It means that now you get not only a heater itself but also a light source. High-efficiency 35-Watt quartz heating element and 25-Watt halogen lamp are controlled with an easy-to-pull string. Also, you can turn the light on even without running the heater.
Reliability and Safety
In terms of safety, this heating appliance is secure and trustworthy. The durable, but light metal housing will serve you for a long time. As it is ceiling-mounted, you can't accidently touch it or kick the electric quartz heater so that it causes a fire. Mounted at a desirable height, it will be beyond the reach of children or pets, thus, keeping them safe. In case of overheat, it has a controller that automatically turns the device off.
---
VIDEO
ProFusion Heat Ceiling-Mounted Workshop Heater with Halogen Light — 5200 BTU, 1500 Watt
ProFusion Heat HQ1500
Lifesmart Element Infrared Heater w/Remote
No Fuss, Only Comfort
After exploring the possibilities of this Smart for Life heater, we dare say it is designed to heat up pretty large areas of up to 1500 sq.ft. It became possible thanks to 6 quartz heating elements and a fan system. We would also like to draw your attention to the heat adjustment feature. With it, the heater can be used in rooms smaller than the stated area. There are three heating options here. The Eco mode works at 500 Watts of power, the Low mode requires 1000 Watts, and the High mode — 1500 Watts. Eco stands for economy as this mode will allow you to use the infrared heater wisely to avoid paying large sums of money on electricity. Having purchased this heater, you will receive a remote controller. The auto thermostat feature will keep the set temperature in the room while the timer will offer you the option of automatically turning the heater on and off within the span of 12 hours. With regards to the heater body, it is cool to the touch, meaning your kids and pets will be safe even if they come too close.
On Your Comfort Guard
The issue of safety always arose among engineers and consumers alike. More so when heating devices are in question. This is why Lifesmart specialists did their best taking safety features into account when they designed this portable infrared heater. The heater itself looks like a cabinet with wheels, it is really easy to move it from one room to the other. And the safety is as follows. First, we feel obligated to mention a special protection — the heater will turn off automatically in case of overheating or tipping over. And combined with the fact that the outer body does not heat up, we'd say this is a model for devices with safety issues. Lifesmart is known for thinking of its customers' safety, making it possible for us to recommend this infrared heater for installation in your home.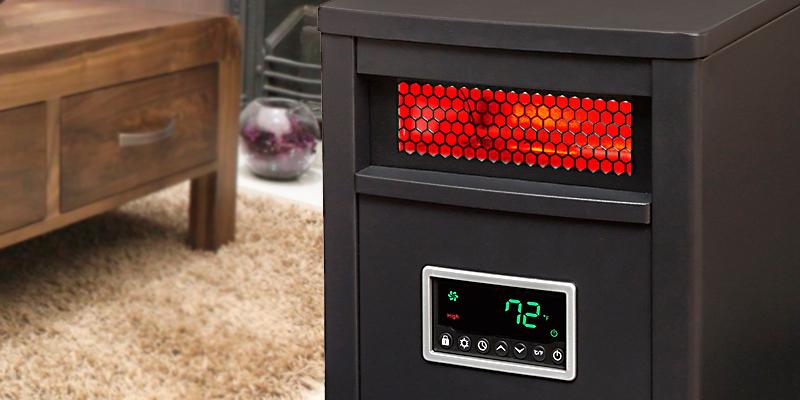 More Products to Consider
Home comfort is not only a favorable temperature but also the right level of indoor air humidity. Make it too high or too low and the comfort is nowhere to be seen. To control it, we advise you to buy AcuRite 00613 Indoor Humidity Monitor additionally.
Additional Info
---
VIDEO
2013 LifeSMART Power Plus 6 Element Infrared Heater - Review
Lifesmart Element Infrared Heater w/Remote