Infrared heaters are now highly popular for home and office use. They were created to make you feel warm and comfortable, and manufacturers
did their best to improve these devices. Read these 5 best infrared heater reviews and make the right choice.
...
Read more
...Read less
Dr Infrared Heater DR968
Smart and Affordable
The Dr Infrared heater is proudly produced in the USA. It boasts high energy-efficiency class, great heating capabilities, safe design, and quiet operation. It uses infrared heat that warms objects in your room like sunlight without stripping your room of moisture. Thus, you won't experience dry skin or parched throats like it often happens with convection heaters. It can work all night long keeping your bedroom comfortably warm and your sleep sound.
The infrared heater has three settings - Auto, Low (1000W) and High (1500W). The Auto mode lets you set the target temperature somewhere between 50 and 86 degrees F. Then, it automatically selects between Low and High settings depending on the ambient temperature in your room. Once the heater reaches your desired temperature, it will blow out the remaining heat on Low setting for a couple of minutes. Of course, you can manually set the item to run on Low or High modes. Stuffed with a dual heating system and high-velocity blower, the heater can make large rooms toasty warm very quickly when running on the highest setting. The heater works amazingly well and quietly. It never gets hot to the touch, which is an obvious advantage for families with small kids. In addition, it has a tip-over protection and auto shut-off overheat function. So, you can sleep soundly with this heater on all night long. The item has a timer, however, it doesn't allow you to program the unit to turn on at a needed time. You can only set it to turn off after a certain amount of time.
The heater comes with IR remote control that can work from all the way across large rooms. Being 24 lbs, this portable space warmer is not very heavy, yet it's equipped with caster wheels for effortless transportation. Plus, they make it easier to turn the heater for changing the direction of the airflow. The unit doesn't take up much space and blends nicely into a classic home décor. It's powerful enough to keep your bedroom or living room warm even without a need to switch the heating on.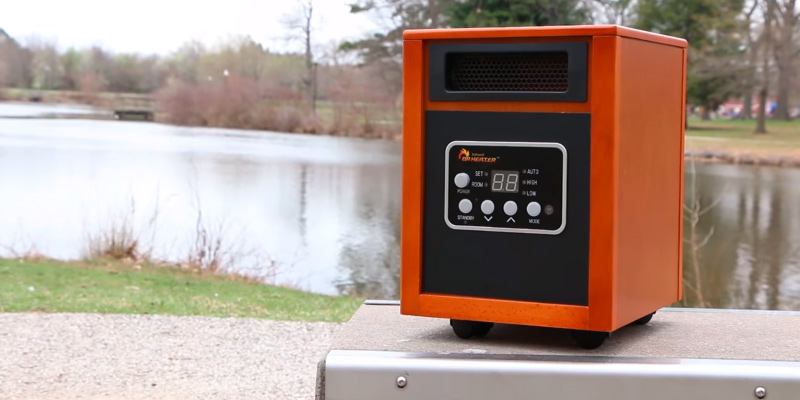 60% More Heat
The best part about this Dr Heater is that it can produce 60% more heat compared to other 1500-watt heaters. It uses
an advanced heating system which ensures amazing heat production. Its high-efficiency blower delivers about 250 degrees F at 3.5 m/s, while its rivals can do only 155 degrees F at 2.2 m/s. It heats rooms
swiftly and efficiently
with no hot or cold spots. With this Dr Infrared Heater Portable Space Heater, you can really c
onsume less electricity, and get more heat!
Additional Info
---
Dr Infrared Heater DR968
Duraflame 9HM9126-O142
A Powerful Boost to Your Main Heating Source
The Duraflame 9HM9126-O142 is a good portable heater that can deliver supplemental heat for spaces up to 1,000 sq. ft. It's nice-looking, fairly quiet, compact and puts out quite a lot of heat for its size. Equipped with six infrared quartz tubes, the unit ensures 5,200 BTU output. The heat is warm, balanced, and soft. If used in conjunction with a furnace or central heating system, the unit can warm up even a very large room in about 20 minutes. Once the heater reaches your set temperature level, it'll go a few degrees higher and go into a Cool-down mode to purge itself. The heat range is between 50 and 97 degrees F. You can adjust it to read Celsius as well. If you want to see the ambient room temperature, you should always have the power button on. Also, there's a timer button on the control panel. Thus, you can set the timer to cut off the heater in increments from 30 minutes up to full 9 hours. The remote control also allows you to program for how long you want the heater to operate as well as select the desired temperature. Surprisingly, the Duracell batteries for the remote are already included in the package.
The heater comes fully-assembled (even with the castors attached). You just need to pull the unit out of the box and plug it in. Framed in high-quality hardwood and wood veneers, the heater is very nice to look at. It doesn't feel cheap or flimsy and looks like a nice piece of furniture. It's offered in Light Oak and Cherry finishes to suit your interior best. The wooden parts of the unit remain cool to the touch. The only slight drawback of this model is its rather short 6-foot power cord. Overall, the heater is well-constructed and feels substantial. And it has an amazing 3-year factory warranty. We would definitely recommend this heater to those looking for a supplemental heat source.
Total Peace of Mind
The heater boasts Patent-pending Safer Plug fire prevention technology that can monitor the plug temperature owing to the built-in thermometer. If the plug temperature rises higher than safe levels, the plug will automatically shut off right away, thus preventing overheating or even fire.
---
Duraflame 9HM9126-O142
Dr Infrared Heater DR998
Four in One
The Dr Infrared Heater DR998 is the #1 selling Amazon heater. It's the world's first 4-in-one infrared heater that deftly combines an air purifier, oscillating fan, humidifier, and a space heater. And each of these functions can be controlled independently. The built-in filter removes microparticles of dust, pollen, and other allergens from the air in your home, while a humidifier can produce a cool mist to add a little moisture to the air, which is especially useful during winters when the air tends to be too dry. No more sore throat, dry sinuses, or cracking skin. And since the humidifier is ultrasonic, it's silent and extremely energy-efficient. However, the best part is that the item has an oscillation fan, making this model an all-year-round option. It can operate together with a humidifier or in a fan-only mode.
Boasting dual heating system (Quartz tube + PTC), the heater is suitable for spaces up to 1,000 sq.ft. You can select the temperature from 50 to 86 degrees F and choose Auto, High, or Low power setting. If needed, you can set the timer to turn off the heater or humidifier at the specific time within the 1-12 hours. Thanks to oscillation function, the warmth will be distributed much faster and more evenly throughout your room. However, note that the fan can be a bit noisy, running on the highest setting.
All in all, if you need a multifunctional appliance that can not only keep your room warm and sufficiently humid in winter but also make the air comfortably cool and purified in summer, the Dr Infrared Quartz heater DR998 is your choice.
Smart Design
"Oscillating" usually means that the whole unit is rotatable, but not with the Dr Infrared Heater DR998. It simply has the inner oscillating slots that swivel back and forth, allowing the heat to come out. The unit distributes the heat evenly. This smart design makes it much more energy efficient.
The humidifier works decently as well. It can produce a powerful jet of cool mist that goes about a foot above the top. You can adjust the mist a little, using a small sliding door. In addition, this door can protect the unit from dust coming inside when it's off. The water reservoir and the bottle are illuminated by blue light, which is a nice touch.

The whole product is reasonably light and portable. For easy glide on flat surfaces, it's fitted with caster wheels. The overall design is good - the power cord is long enough to let you use the heater in any corner of your room, the remote controller works nice, and the toggle buttons are very responsive. The unit has a lifetime filter that can be easily removed and cleaned. As for the safety features, the unit has a cool-to-the-touch body, overheat protection, and tip-over protection.
---
Dr Infrared Heater DR998
Air Choice Portable
Multiple Settings to Choose From
The Air Choice space heater can provide you with a toasty warm atmosphere in your home no matter the weather outdoors. It offers you three heating modes so that you could find the best option for your place. The High mode requires 1500 Watts of power and can warm up your room almost instantly. Working in this mode, the heater will blow warm air just within 5 seconds after turning on. Running on the Low mode (750 Watt), the heater can maintain a comfortable temperature, and on the Eco mode, it is being cyclically on/off to keep your place warm in the most energy-efficient way.
Thanks to the thermostat function, you can set any temperature between 59°-86°F. You have the option to program the thermostat either by touch controls on the screen or remote. So, you can take benefit from the thermostat and forget about constant walks to turn on/off the heater. The Air Choice warmer offers a very convenient and effective way to overcome the cold weather this winter. And not only this, of course. The unit is very durable and can serve you for long years to come. For safe storage, the unit is thoughtfully fitted with a cord clamp on the back so that the power cord could be neatly wrapped around.
Ultimately Safe, Extra Convenient
Made with safety in mind, this electric infrared heater has a tip-over shut-off protection that automatically turns off the unit when it's kicked down accidentally. Also, it's featured with the overheat shut-off function - if the heater reaches the potentially dangerous temperature about 105°F, it powers down to prevent fire.
Yet, the heater is not only extremely safe but also very convenient to operate. It comes with a handy remote that allows you to select any settings while watching TV on your comfy couch. As a safety touch, the remote panel can be locked wherever you need it, which is especially useful for families with small children. The working status can be monitored on a LED display screen on the front of the wooden cabinet.
The last but not the least thing to mention is that the heater carries a smart timer that can be set from 0 to 12 hours. The timer can be adjusted not only to "shut off" the unit but also to "turn it on" so that you can come at a toasty warm home every day! So, if usability, safety, and convenience are the things you value, the Air Choice Electric Space Heater might be a sensible purchase for you.
---
Air Choice Portable
Lifesmart LS-6BPIQH-X-IN
No Fuss, Only Comfort
After exploring the possibilities of this Smart for Life heater, we dare say it is designed to heat up pretty large areas of up to 1500 sq.ft. It became possible thanks to 6 quartz heating elements and a fan system. We would also like to draw your attention to the heat adjustment feature. With it, the heater can be used in rooms smaller than the stated area. There are three heating options here. The Eco mode works at 500 Watts of power, the Low mode requires 1000 Watts, and the High mode — 1500 Watts. Eco stands for economy, as this mode will allow you to use the infrared heater wisely to avoid paying large sums of money on electricity. Having purchased this heater, you will receive a remote controller. The auto thermostat feature will keep the set temperature in the room while the timer will offer you the option of automatically turning the heater on and off within the span of 12 hours. With regards to the heater body, it is cool to the touch, meaning your kids and pets will be safe even if they come too close. The unit has a sleek black body and can become a good addition to either classic or modern interior
On Guard
The issue of safety always arose among engineers and consumers alike. More so when heating devices are in question. This is why Lifesmart specialists did their best, taking safety features into account when they designed this infrared quartz heater. The heater itself looks like a cabinet with wheels, it is really easy to move it from one room to the other. And the safety is as follows. First, we feel obligated to mention a special protection — the heater will turn off automatically in case of overheating or tipping over. And combined with the fact that the outer body does not heat up, we'd say this is an extremely safe model. Lifesmart is known for thinking of its customers' safety, making it possible for us to recommend this infrared heater for installation in your home. So, it's very safe and very powerful small heater that can quickly warm up large areas up to 1,500 sq.ft.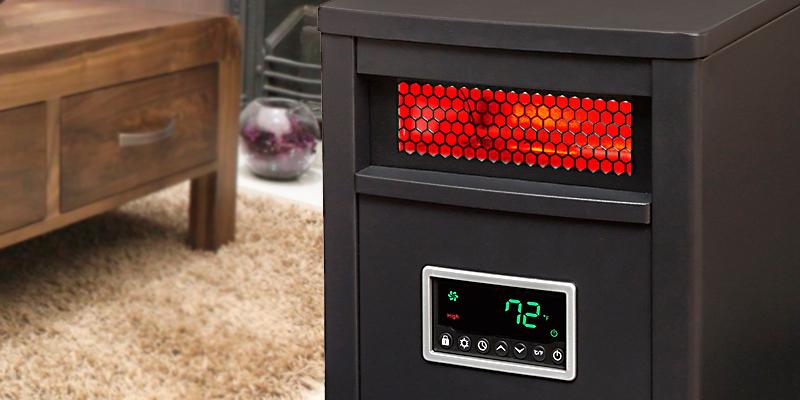 ---
VIDEO
2013 LifeSMART Power Plus 6 Element Infrared Heater - Review
Lifesmart LS-6BPIQH-X-IN
What Is an Infrared Heater?
When it's getting cold and you don't want to wait for hours before your heater generates enough warmth, the best solution is to buy an infrared heater. It's a safe and efficient device that will provide you with natural warmth literally in seconds saving you from having to turn on the whole central heating system when you don't want to.
The distinct feature of infrared heaters that sets them apart from most other heaters available is that these produce the heat in a designated area. Similar to the sun, they use infrared rays as a power source which, instead of heating the air, heat the objects around, creating a more balanced and comfortable temperature in the environment. As a result, the air in that room doesn't get stuffy, as it often happens with many traditional heaters.

Not only do infrared heaters produce the heat very quickly, evenly spreading the warmth via the heated objects around your home, but also they do not consume a lot of energy. Plus, they are absolutely safe to use. Of course, you should not neglect safety precautions and it's best not to sit right in front of it for a long time, but these are the common concerns with all heaters. Other than that, infrared heaters do not impose any kind of hazards.

But if you want to heat your entire home, you may also want to consider using an oil heater or a baseboard heater as an additional source of warmth.

What Features to Compare
This review tells you about the number of things that you should factor in when selecting an infrared heater.

Heating Level / Design

First things first, consider the heating level and design of a heater you choose. Decide on its size and check its power so you know it will be enough to heat up your home. Generally, a living space up to 100 sq. ft. needs a heater of 1 kW (1000 W) power. But if you want to get the most out of the device, choose a more powerful one that will allow you to achieve a comfortable temperature and warm a larger area quicker. What you should also pay attention to is the size of an infrared heater. The good thing is, even some of the smallest models can ensure the power output almost as high as traditional heaters, so it should be easy to find the one that will best suit your needs.

Functionality

The second important factor to consider when buying a heater, as well as any other appliance, is its functionality. By this, we mean the heater's control, operation modes, and additional features such as a timer and a thermostat that will allow you to maintain a constant temperature.

Reliability and Safety

Last but not least, pay attention to the reliability and safety of the heater. Though infrared heaters are rather safe appliances and do not impose any hazards, we still recommend considering what type of heating element is used. In general, you can find four types - halogen, carbon, ceramic, and micathermic.

A halogen heating element is basically a halogen lamp that emits light in an infrared spectrum. Perhaps the only downside of this type of heating element is that it emits short waves which in big amounts might be harmful to human health.

A carbon heating element is shaped as a quartz tube with a vacuum and a carbon spiral inside. The advantage of this type is that it heats up very quickly and has a high efficiency coefficient. The downside is, its lifespan is pretty short - around 2 years - and it needs quite a lot of energy. Some users also do not like the red light and find it rather irritating.

A heating element with a ceramic coating is a good option. It doesn't emit any kind of light during operation. Plus, it has a decent service life - about 3 years and more.

A tube (micathermic) heating element resembles a ceramic one but is made of metal. What you should know about this type is that it might occasionally produce a crackling sound during operation. That happens due to the fact that coefficients of temperature expansion for steel spiral and aluminum housing are different.

As for the safety of use, just like any traditional heater, an infrared one should be featured with some means/controls allowing you to minimize the possibility of fire. These can be overheating indicators, tip-over protection, timer, as well as auto shut-off function switching the heater off in case of a fire hazard. It also should have a reliable and sturdy construction so you can place it anywhere without worries.

Did you know?
How Do They Work?
While conventional models heat the air directly, infrared heaters use a different technology. The gist of infrared heaters is that they produce light! Really, the heat they emit is just a product of light that is completely invisible to our eyes. And the reason why we get warm is that our skin, as well as our garments, absorbs this infrared light. The same goes for the furniture and other objects in your room. It's like being in the direct sunlight vs staying in the shade.
However, you can find several types of infrared heaters today. Some of them direct the infrared light straight onto objects, while others create heat. The latter models contain three parts - infrared light bulb (or a couple of them), a heat exchanger, and a fan.
A Healthier Option?
The biggest edge over gas heaters is that infrared heaters don't overdry the air in your room, providing a healthy environment to live in. As a result, you feel not only pleasantly warm but energetic as well. Another obvious advantage you might not be aware of is that infrared heaters can even help improve your blood circulation, strengthen your cardiovascular system, and boost your immune system. Really! Doctors in some countries already use infrared panels to treat heart diseases. The thing is, infrared heat penetrates deeper than regular heat, thus pushing blood vessels to expand and making more blood to pump through them.
Also, infrared warmers can make the objects in your room to retain heat. They stay dry and the mold can't grow consequently. Less mold, fewer allergy triggers. So, infrared heaters can even double as dehumidifiers to keep objects, walls, and ceilings warm and dry. And since infrared heat doesn't stir up the air, there is no dust circulation across your room. A win-win choice for those suffering from asthma or allergy.
Infrared Heater vs. Oil Heater. Which Is Faster?
If you wonder what heat source can warm up your room as fast as possible, the answer is "an infrared heater". Since they usually heat objects in a room directly, it takes the infrared heaters less than a minute to make them warm. However, if we're speaking about the infrared units that heat the air, everything depends on the room you're going to warm up. Naturally, it takes longer to hit up larger spaces. But again, in less than a minute, infrared heaters can produce warmth. This makes them a much faster solution compared to oil heaters.