Everybody knows about a positive impact of fresh air on human health. Having purchased a window AC, you can easily mount it in your
window and have a healthy cool atmosphere in your home. This review will help you make a right pick!
...
Read more
...Read less
POWER CONSUMPTION/ VOLTAGE
X
This site is a free online resource that strives to offer helpful content and comparison features to its visitors. Please be advised that the operator of this site accepts advertising compensation from certain companies that appear on the site, and such compensation impacts the location and order in which the companies (and/or their products) are presented, and in some cases may also impact the scoring that is assigned to them. The scoring that appears on this site is determined by the site operator in its sole discretion, and should NOT be relied upon for accuracy purposes. In fact, Company/product listings on this page DO NOT imply endorsement by the site operator. Except as expressly set forth in our Terms of Use, all representations and warranties regarding the information presented on this page are disclaimed. The information which appears on this site is subject to change at any time. More info
Midea (MAW10V1QWT)
Powerful 10000 BTU Conditioner
If you live in a place with a pretty hot climate and you need a reliable air conditioner that can serve you not only during the summer months, take a closer look at the Midea Inverter Window Air Conditioner. This smart and functional device will help you stay cool even on the hottest days.
The first thing that we really like about this model is that it is really energy-saving. Despite being pretty powerful, this model is 35% more efficient compared to similar models with an overall efficiency ratio of 15%. Thanks to that, the device is able to cool down the room in a very short time and thus, consumes less energy. Even if you use it very frequently, your bills won't rise.
The other thing that makes this model really stand out from its rivals is the fact that it is really quiet. Due to the special U-shape construction that blocks excessive noise, its level doesn't exceed 42 dB, meaning that this model is almost 9 times quieter than average air conditioners. Thanks to that, you will be able to leave the model on while resting or working and it won't disturb you. And sleep mode helps to make it even quieter.
On top of that, this special U-shape makes the unit more flexible. Thus, the device won't block you from opening the windows in case you need to bring more fresh air into the room while the unit is off.
Smart Controls
The other super convenient thing we want to mention about this device is its controls. First of all, this model is equipped with a Bluetooth module. Therefore, you will be able to connect this window air conditioner to your smartphone and control it from the distance with the help of a special MideaAir App (available both for iOS and Android). Secondly, if you don't want to use your phone as the remote, you can control the device with the help of voice assistants like Amazon Alexa and Google Assistant. The other control features include a 24-hour timer so the device would turn on and off automatically, auto and eco modes.
The MAW10V1QWT will be the best option for those who own big houses and flats with large rooms. It is able to cool down space with the dimensions of up to 400 sq. ft. in mere minutes. It also shows great moisture removal performance of 2.6 pints/hour, which makes it ideal for those who live in extremely dry areas.
Overall, we consider the Midea Inverter Window Air Conditioner one of the very best windows air conditioners you can find so far. It is functional and practical in use, has smart controls, and is very quiet.

Additional Info
Last updated price

$

589.81

Stock
In stock
ASIN

B0866Y33PL
---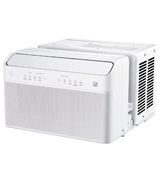 Midea (MAW10V1QWT)
TOSON (8,000 BTU)
Energy-Saving Model
Looking for a window air conditioner that is functional and comfy to use but not overpriced? If so, we highly recommend choosing the TOSON Window Air Conditioner. Boasting efficient and quiet performance, this device will save you during any heatwave.
To begin with, this air conditioner has 3 working modes: fan, dehumidify and, of course, cooling. You will be able to not only change the temperature in the room but also remove extra humidity (up to 2.44 pints per hour).
This 8,000-BTU AC window unit is suitable for pretty spacious places (up to 350 sq. ft.). It can quickly cool down or warm up the temperature in your house or flat and it doesn't even consume that much electricity (around 660 watts). The construction features two extra louvers that allow you to direct the airflow for more efficient and fast results.
A for the controls, apart from the sensor panel that is situated on the front part of the device, the manufacturer also provides a remote in a set. The remote has a decent working range, so you will be able to change the setting without moving from your seat even in a pretty large room. The device boasts all standard modes as well as some unique ones, including a 24-hour timer, Auto modе, Auto restart, Sleep, Timer, and Vertical mode.
Smart Thermostat Placement
The other cool thing about this product is the location of the thermostat. Unlike most models that have the thermostat built in the body of the conditioner, this model actually has it located on the remote control that you usually would have near yourself. Such a smart decision allows this model to actually make the temperature comfortable around you and not only around the air conditioner.
The next thing we really like is the design. The appliance is not too big or bulky, so it should perfectly fit any window. The unit is indeed robust and was built to last, plus it comes with a 1-year warranty that backs its longevity.
Last but not least, the device comes with a reusable filter that can be easily removed and cleaned whenever it is necessary. This ensures you will be breathing only the freshest air.
To wrap the whole thing up, we consider the TOSON Window Air Conditioner a worthy choice for any household. It is an eco-friendly and energy-efficient unit that can cool the temperature as well as help you to control the level of humidity.
Additional Info
Last updated price

$

279.99

Stock
In stock
ASIN

B07PPFWTBB
---
TOSON (8,000 BTU)
LG (LW8016ER)
Powerful Unit From Famous Manufacturer
LG is famous for a lot of its household appliances that offer convenience in use, honest price, and are very reliable. So, those who don't want to struggle from unbearable heat in summer may want to purchase the LG (LW8016ER) Window-Mounted Air Conditioner.
What makes this model so special is that it shows the best results in terms of energy consumption. Even though its consumption is standard 660 watts, thanks to the special technologies that ensure energy-saving performance this model was certified with an Energy Star Certificate.
On top of that, you can cut down your energy expenses by using the energy-saving and timer features. With the help of the latter one, the appliance will turn off automatically after working for a desired amount of time. We also like that this model is really adjustable. Boasting 4-way air direction and 3 fan speeds, it is able to not only cool down the room in a pretty short time but also adjust to the weather outside for the best results.
Like many of its counterparts, this conditioner has a few working modes. You can use it for cooling down and the air in the room as well as for removing extra moisture from the room. Thanks to that, you won't have to spend money on dehumidifiers and heaters.
Compact Design
The other major advantage of this model is that it is very easy to set up. The manufacturer provides clear instructions as well as all the necessary mounting details. Thanks to that, even inexperienced users will be able to set it up by themselves in a very short time. The other good thing is that this powerful unit comes in a relatively decent body. Thus, it won't take a lot of space on your window.
Moving on to the noise level, this horizontal AC produces around 53 dB while working on the highest settings. Although it seems pretty average for an air conditioner, the users state that it is actually a bit too loud for small rooms. But if you have a large house, we hope it won't be a problem for you (note that this device is suitable for places with the size of up to 340 sq.ft.).
Lastly, the appliance has a remote control included in a set. It allows adjusting the modes and working speeds from the distance.
In conclusion, the LG (LW8016ER) Window-Mounted Air Conditioner boasts a pretty great price/quality ratio. With its help, you will be able to maintain the most comfortable temperature in your home at any season.
Additional Info
Last updated price

$

0.00

Stock
In stock
ASIN

B01D3FOD0Q
---
LG (LW8016ER)
Frigidaire (FFRA051ZA1)
Basic Manual Conditioner
The Frigidaire (FFRA051ZA1) Window Air Conditioner is a basic adjustable air conditioner that will become a great addition to every small and medium-sized home. With it, you can fear no heat even if you live in very warm and dry areas.
First and foremost, this model boasts a really small power consumption (450 watts). Thus, even if you use the conditioner on a daily basis, your electricity bills won't rise too much. However, despite the low power consumption, the model doesn't lose to its more advanced counterparts: it still efficiently cools down the temperature in the room in just a few minutes.
Like its main rivals, this basic device can work not only as a conditioner but also as a fan. While the first setting lowers the temperature in the room, the second mode ensures better air circulation in the room same as an average fan. Thus, if you are happy with the temperature in your house, the conditioner will help spread fresh air around the whole house. It actually can be used as a dehumidifier as well, but its moisture removing index is not too high (only around 1.6 pints per hour). So, we would recommend purchasing a separate device for this purpose.
Fits Any Window Perfectly
Moving on to the controls, since this model is one of the basic ones, it doesn't have a remote control in a set. Instead, it features two dials on the front part of the unit that helps you select the needed working mode and fan speed. What makes conditioners with manual controls better than those with the remotes is that these models actually save the previous setting. Thus, you won't have to adjust the device every time you turn it on.
Next, we would like to talk about the mounting process. The device offers adjustable side panels that make this conditioner fit the size of your window perfectly. The overall setup process is not too difficult, so it shouldn't take you a lot of time. The manufacturer states that this model is the best choice for medium-sized and small places. Thus, if your house, flat, office, or other places you are buying it for has the size of approximately 150 sq. ft., this model should be the right fit.
Lastly, we want to mention that this conditioner comes with a very long power cord. Thanks to that, no extension cords will be needed.
In all, the Frigidaire (FFRA051ZA1) Window Air Conditioner is a perfect option for small houses. It is a pretty basic unit that comes at an affordable price yet still is able to keep the temperature nice and cool in summer.
Additional Info
Last updated price

$

189.99

Stock
In stock
ASIN

B07NLMX9N8
---
Frigidaire (FFRA051ZA1)
Della (048-TL-WAC5K)
Affordable Model With Good Performance
With the Della Window Air Conditioner, you and your family can feel comfortable even in the hottest months of the year. The model has a good cooling performance but it doesn't cost you an arm and a leg and is simple to install.
Boasting a decent working power of 540 watts, this 5000-BTU air conditioner can lower the temperature in places with the size of up to 150 ft. Apart from cooling, the device also has a fan mode that helps the air circulates around the house better. Since the fan speeds are adjustable as well, you can make sure that the cool air will spread quickly as well. The device also doubles as a dehumidifier with a 1.25 pint/hour moisture removal ratio.
Since this conditioner is one of the more affordable models, it offers manual controls only. Two dials that are situated on the front of the unit allow you to quickly select the desired setting. Speaking of which, the device has not only different speed modes but also temperature settings. There are 7 different modes that vary in a range between 61°F - 88°F, so you can choose the most comfortable temperature for you and your family. When you find the perfect mode, you can just leave the knob in the desired position and you won't have to adjust it the next time you decide to use the conditioner.
Whisper-QuietConditioner
The other major perk of this device is that it is relatively quiet. With a noise level of only 50 dB, it will be an ideal choice not only for a living room but also for an office and bedroom since it won't disturb you when you sleep. The conditioner boasts pretty simple installation. It can fit windows with the size of 23 to 36 inches (all the necessary mount hardware is included in a set). And helpful instructions from the manufacturer make this process a breeze even for newbies. The overall dimensions of this conditioner are relatively compact: its size is 15.98" x 15.2" x 12.52". Thus, it won't require a lot of space on the window, hence won't block the view.
Like all air conditioners, this one also comes with a filtration system. It comes with an Eco AC filter that can be removed and cleaned and thus, is reusable so you don't have to buy new filters very often.
Lastly, this air conditioner is backed with a 30-day Amazon warranty and can be replaced in case you have any troubles with it. To summarize the whole review up, the Della Window Air Conditioner is a solid choice for this money. If you want to feel comfy in summer, consider purchasing this simple yet functional model.
Last updated price

$

179.96

Stock
In stock
ASIN

B07D8GN1Z1
---
Della (048-TL-WAC5K)
What Is a Window Air Conditioner?
Window ACs have been among the first conditioners used for cooling the air in the room. Compact and relatively small, they are often installed in offices. What's more, most people who rent flats also give preference to the window AC since it doesn't require complex mounting and is easy to move. The owners of detached houses who worry about the look of their facade often go for window ACs too.
On top of that, due to a smaller size, window air conditioners usually consume less energy, meaning that your bills won't rise too much during the hot summer. Some devices also help to remove extra humidity, so you could breathe freely no matter what area you live in.
In our review, we selected only the best options of compact conditioners that will help you create the most comfortable microclimate in your home. If the design of your window does not allow you to install a window AC, you should consider the benefits of portable air conditioners or split air conditioners. These devices will perfectly cool your indoor environment!
What Features to Compare
Operation
Today window ACs are becoming very popular. And if you've made your mind to get one, make sure to consider some very important aspects. There are models with electronic/mechanical controls with a variety of working modes - cooling, ventilation, heating, dehumidification, etc. Basic conditioners work in two modes only, enabling you to cool the room and direct the cooling into the desired direction (at different fan speeds). Others are capable of heating the air as well, which is a great function for a year-round use. Those customers who'd rather rely on automatic operation can consider window air conditioners with Auto Mode. While working in this mode, the device automatically presets and maintains the optimal temperature in the room. Some models allow users to switch to Eco and Energy Saver functions, saving the costs on electricity bills. The row of models is vast, so making the choice shouldn't be challenging. You may also want to consider the way the conditioner is controlled. Most conditioners include remote controllers for easy programming from any corner of the room. It'd add more value to the device if a conditioner has got a scheduled timer. Rotary louvers allow for forcing the air flow in the desired direction while the fan can boost its cooling effect.
Performance
The performance is what tells about capabilities and power of the chosen conditioner. Performance is predetermined by the combination of the cooling/heating power, dehumidification, capacity, and energy efficiency ratio. The heating and cooling power define the coverage area within which a conditioner is going to effectively operate. It is generally measured in BTU (British thermal unit). BTU is determined as the amount of thermal energy necessary to raise the temperature of 1 pound of pure liquid water by 1° F. By removing the extra moisture from the air, the conditioner with the Dry mode can greatly reduce the humidity in your place. So, if you live in a highly humid region, this can be quite an important function. Typically, manufacturers specify how many pints of moisture per hour or day a conditioner can remove. The last but not the least aspect which is worth consideration is its energy efficiency ratio - a correlation between the maximum cooling power and the maximum power consumption. The higher this ratio is, the better energy efficiency the device has. For instance, air conditioners with EER over 10 are recognized as more efficient and performing.
Dimensions
Beyond any doubt, dimensions of a window AC are very important for the right choice. Initially, you should measure the height and the width of your window. If window dimensions do not match the dimensions of the window air conditioner, you will not be able to install this device properly. Yet, if you try to do that, the air conditioner may get broken. But if the dimensions of the window air conditioner match the size of your window, you can rely on simple and quick installation. One more tip - make sure that the outlet is near the window because manufacturers do not recommend using extension cords.
All in all, a good window AC can make a microclimate in your apartment very comfortable even if the weather outside is very hot.