Desktops & Monitors
Dell S2417DG vs Acer Predator XB241YU
Product Comparison: Dell S2417DG vs Acer Predator XB241YU
X
This site is a free online resource that strives to offer helpful content and comparison features to its visitors. Please be advised that the operator of this site accepts advertising compensation from certain companies that appear on the site, and such compensation impacts the location and order in which the companies (and/or their products) are presented, and in some cases may also impact the scoring that is assigned to them. The scoring that appears on this site is determined by the site operator in its sole discretion, and should NOT be relied upon for accuracy purposes. In fact, Company/product listings on this page DO NOT imply endorsement by the site operator. Except as expressly set forth in our Terms of Use, all representations and warranties regarding the information presented on this page are disclaimed. The information which appears on this site is subject to change at any time. More info
About the Product
Discover the power of extreme detail with this Dell 24-inch monitor. The 1440p resolution is ideal for high-intensity gaming, where that little bit of extra detail can make the difference between a win and a loss.
Fasten your seatbelt: Acer's Predator XB241YU WQHD display is about to turbocharge your gaming experience. This monitor combines jaw dropping specs, panel that supports 144Hz refresh rate, delivering an amazing gaming experience. Also, featuring NVIDIA G-SYNC technology to eliminate screen tearing which provide gamers the epic gaming experience and help to secure the victory. Plus, built-in eye protection and ergonomics allow you to press forward into battle without fatigue.
What customers say about "Key Specs"
Dell S2417DG Gaming Monitor
This is a great monitor with the quality and price range. It's hard to find 24" monitor with 2560x1440 resolution and 144Hz under 400 dollars. The quality is great so far, I'll update later if there's any deterioration in quality.
I'm using it with my GTX 980Ti with G-Sync active, and it's a sight to behold. Nothing is ever going to look better than maximizing the refresh rate on lower-demand games at 144fps, but games with more demanding hardware requirements will not be able to hit that ceiling.
It's unbelievably smooth (as with all 144Hz and G-Sync monitors), has great colors once properly calibrated (if you get angry with colors out of the box without adjusting you're stupid anyway), is very large without any pixel stretch, and has a great response time (you can set it to "fast" with 1ms)
The Speed of the TN is not really an edge anymore as a person probably cannot see the difference between 1ms and 4ms response time. I am surprised that they didn't incorporate 3D Vision into this monitor as they did in the Asus.
Honestly, I am very displeased with this monitor and have done everything in my power to correct these problems. Things such as changing response time to normal or "fast", followed and preformed every troubleshooting step in dells support forum center. I even reached out to dell without a response.
Acer Predator XB241YU 23.8" LED LCD Monitor - 16:9 - 1 ms
1080p with up to 180hz OC which is overkill, but nice on 1080p games that have no frame rate limit and paired with a strong GPU.
4ms response in FPS games is ideal, no need for 1ms to see everyone quickly.
1440P looks fantastic. I was concerned that such a high resolution would "shrink" everything and I was right.
Although there are higher resolution monitors available in larger sizes, this is perfect for twitch FPS games that require speed and visual cues in a smaller frame.
I play MMO style games and also some FPS and love this monitor. 32" really shows off the resolution.
Weight
12.72 pounds
14.55 pounds
Color Supported
16.7 Million
16.7 Million
What customers say about "Display"
Dell S2417DG Gaming Monitor
Despite being a TN panel, there is almost no noticeable color shift when viewed horizontally off-axis. The colors only shift noticeably when viewed vertically off-axis
Overall the color representation due to the fact that this monitor is a TN panel is really messed up and the colors are washed out. Although this monitor for being a TN panel actually displayed better colors then any TN panel ive ever seen.
The colors are so crisp and nice on IPS. I decided to build another PC that could support a higher refresh rate and larger resolution (1440p). This monitor was exactly in my price range but I'd be lying if I said the TN panel didn't put me off at first.
The colors are a little lackluster, but I'm partially red/green colorblind so this issue doesn't effect me much. Don't expect IPS panel color depth and make sure to calibrate it when you get it and I think you'll be pleasantly surprised at it - I know I was.
The color doesn't pop as much as IPS but that is to be expect, however, I think it's easier on the eyes then gaming on IPS monitor. The color isn't too bright or too crisp where it feels like the screen is stabbing your eyes. This monitor feels mellow and soft.
Acer Predator XB241YU 23.8" LED LCD Monitor - 16:9 - 1 ms
Despite being a TN Panel, I was able to calibrate it to have vibrant enough colors for visually appealing experience, see my video and photos.
Holy hell do the colors look amazing on IPS, I don't think i'll ever willingly go back to TN (just my preference)
Almost ZERO Backlight Bleed and IPS Glow
Color calibration was a pain and there's a dozens of forums on the net of settings so its hard to find the best one unless you want to spend an hour calibrating it yourself to your liking. I'm posting mine in the pictures below :)
Default color settings are a bit off and requires a bit of tweaking to make it look nice. (But looks amazing after that. best TN panel i have seen so far)
Extras
NVIDIA G-SYNC, Responsive and on-point
Gaming Immersion, Smooth Gaming Action, 100% sRGB color gamut
What customers say about "Features"
Dell S2417DG Gaming Monitor
This Dell monitor doesn't have any defect. After calibration in the Nvidia Control Panel and the monitor itself, it produced accurate colors, whites and great contrast. Would buy a second one.
I ran a couple of monitor tests which show its really good on the black end of contrast, let down on whites. The colors are a little washed out of the box, but calibration brought the best out of this unit.
The anti glare coating is also very smooth giving the image much more clarity compared to the aggressive coatings found on competing TN gaming monitors. I can verify that it is also real 8-bit giving color a much more natural tone.
I'm no audiophile but the quality of the sound is absolutely terrible, even cheap TV's with built-in speakers sound better to my ears.
The main negative here are the viewing angles, but if you're using it as a single monitor that's not too hard to get around. Out of the box the calibration wasn't too bad, but after I adjusted it a little bit it looks great.
Acer Predator XB241YU 23.8" LED LCD Monitor - 16:9 - 1 ms
G-Sync which syncs your frame rate to the refresh rate of the monitor makes the experience on all games seamlessly smooth.
Bezels aren't too thick and the stand is very sturdy with lots of articulation. I also love the slot in the stand which cables go through to have clean cable management.
G-Sync - This is something I won't be able to live without in the future as long as I have NVIDIA GPUs
Has a good stand to adjust up and down or even rotate the monitor.
Stand is really wide and takes up desk space, would of liked a stand like the Asus ROG Swift.
Inputs
HDMI, DisplayPort 1.2, USB, 3.5mm audio out
DisplayPort in, HDMI, 3x USB 3.0
What customers say about "Connectivity"
Dell S2417DG Gaming Monitor
I always hook up HDMI or display port into my monitor to get audio passed through the AUX and into speakers. It works really great for easily switching video sources and not having to swap audio.
The USB3.0 hub is a very, very nice feature. I didn't think I'd feel it was such a big deal until I started using it.
I REALLY like all the USB ports. I have my keyboard hooked up to it so when I turn the monitor off, the keyboard turns off. Very useful when you have a two year old that will randomly bang on the keyboard.
I also had to buy a new displayport because the one that came with the box was completely locked at 24hz. No matter what i did the monitor was stuck at 24hz so that was frustrating.
The audio shouldn't be a huge issue if you're only using this with a PC since you can connect your sound devices directly to the computer but using this with a console with this monitor results in a very poor experience.
Acer Predator XB241YU 23.8" LED LCD Monitor - 16:9 - 1 ms
The additional USB ports are great for connecting devices and even using the USB port that allows for fast charging of mobile devices.
This monitor has an HDMI port, which I plug into my cable box, and a Display Port which can handle higher resolution images from my computer.
Cords should be a bit longer. The USB 3 cable cannot reach my desktop that sits on the floor.
Buttons aren't labeled and you might accidentally hit the input button which if you plugged both the DP and HDMI port in will switch to one another. Would of been nice to have indicators on the buttons.
A bit difficult to get to the cable ports, but this is a once-off hassle and not worthy of diminishing the fabrication and design quality of the screen to any extent.
Warranty / Certifications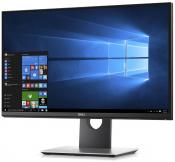 Dell S2417DG
Acer Predator XB241YU