If you want to have a high-performing yet compact PC, you should think of getting one of the best all-in-one desktops. These PCs
have all the components in the monitor itself, so they take little space and require no tiresome assembly. Check our best all-in-one desktop review!
...
Read more
...Read less
HP Envy 27-b110
Performance Without Boundaries
The HP Envy 27-b110 All-in-One computer could have been called "The Giant of Performance". It features the 7th generation Intel Core i7-7700T Processor which makes it work at a supreme speed. Irrespective of what tasks you want it to accomplish, the HP Envy 27-b110 will not let you down. 
The video graphics installed in the computer will impress even the most demanding users. Due to NVIDIA GeForce GTX 950M, you can fully immerse into an exciting computer game or feel on the premiere at the cinema while, in fact, sitting on your cozy sofa. High resolution provides a gratifying user experience: 3.7 million pixels make the images so bright, sharp and saturated that you will be reluctant to avert your eyes from the screen.
The storage of 1TB HHD and 128GB SSD will let you store large files directly to your all-in-one desktop. The HP Envy 27-b110 All-in-One computer can make your working process maximum convenient and enjoyable.

Fascinating Design
You may think that because of being so powerful, the computer should look bulky and unattractive. Of course, it could be true, but not in a case with the HP Envy 27-b110 computer! With a graceful design, this all-in-one desktop computer will make you fall in love with it at the first sight. All the components that make this computer so powerful and productive are elaborately hidden in the thin panel under the screen. The screen itself is WLED-backlit and large enough for you to work not only right in front of it but also remotely using a wireless mouse. The HP Envy 27-b110 is one of those few computers that can provide users with both superior performance and stylish design to adorn any space.
What Else You'll Like in This Model
Apart from unmatched performance and beautiful design, you'll definitely appreciate some of the other features that this computer has. Like most of the other modern desktop computers, the HP Envy 27-b110 is powered by Windows 10, meaning it comes already secured and protected from malicious malware that may harm computer hardware. It also features a microphone and a webcam which, unlike many other models, pops up and down for greater convenience. In addition to the aforementioned features, the HP Envy 27-b110 is distinguished with the powerful Bang & Olufsen stereo speakers that ensure excellent quality of sound that very few other systems can beat.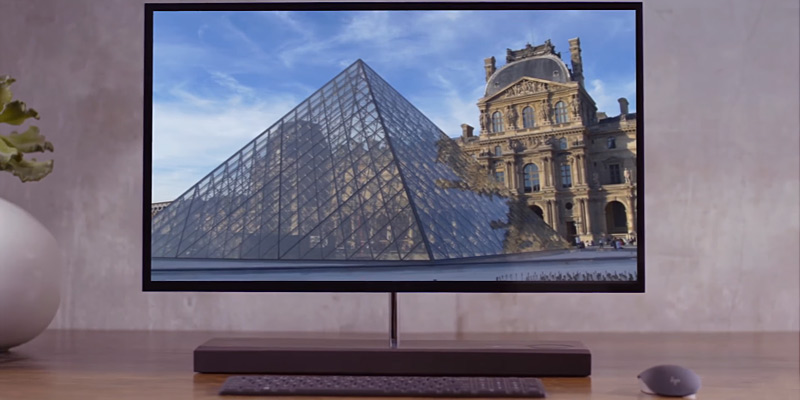 Additional Info
---
What customers say about this product
The HP mouse is actually kind of nice. I'm using it a fair amount. It doesn't have the back-page buttons of the Logitech or the added buttons to allow different functions, but it does work on a flat glossy glass or marble surface. Great pickup, great tracking, great response.
Good port selection, 4x USB 3.0, 1x USB 3.1 Type C (Thunderbolt 3), Gigabyte Ethernet, SD card reader, HDMI In and Out, headphone jack.
So far so good. This thing is fast!!! Graphic is nice. Very simple to set up. If you looking to buy a new computer, I highly recommend this one.
HP Envy 27-b110
Apple iMac MMQA2LL/A
Apple Pursues Its Traditions
Apple Inc. has always pursued the tradition of creating elaborately designed products. That's exactly what people love all Apple gadgets for. The iMac MMQA2LL/A All-in-One desktop computer hasn't become an exception. Despite packing it up with tons of advanced features and innovative technologies, the engineers managed to make it extremely sleek and thin (it has 5-mm profile!). With that, the size of the screen wasn't reduced. Though it isn't the biggest of all we've reviewed, it is yet large enough for comfortable viewing. If you're a graphic designer looking to buy a new computer to replace your old PC, we can safely recommend you to purchase the iMac MMQA2LL/A. With the branded Retina display, it makes any work with graphics as much convenient and detailed as possible. That's basically the biggest advantage of the computer, as you can use it for just about anything - watching movies, playing games, processing graphics, and much more.
Improved Speed
Unlike the previous models that featured Thunderbolt II ports, the iMac MMQA2LL/A comes with Thunderbolt III ports which provide the increased data transfer speed between the computer and connected external devices. Along with the enhanced transferring speed, the iMac MMQA2LL/A provides speedy WiFI connection and the latest Bluetooth 4.2, so it's become possible to exchange even quite big and heavy files over the Internet in almost no time. Such immense performance of the iMac MMQA2LL/A has been achieved not only by enhanced connectivity ports but also high-performance Intel Core i5 processor of the seventh generation that engineers installed.
All You Need
On receiving the package you'll get all accessories necessary for comfortable work. Alongside the computer, the package includes a wireless mouse, a keyboard, and a lighting cable for charging them. Furthermore, the computer features built-in speakers and webcam, so there's no need to buy them additionally. The engineers from Apple Inc. have done their best to make sure that you get all you need in one purchase.
Additional Info
---
What customers say about this product
The OS runs very stable just like other Mac models, and it feel very speedy with the 7th gen Intel processors. Good deal buying from Best Buy too.
When I connected the printer to my new Apple Mac it worked! I had forgotten how Apple designs their programming systems to be all inclusive so components work seamlessly.
Needed a new computer for the wife and she's a Mac person. Got the latest model iMac with 1TB of memory and 18 months interest free financing. What a deal!
Love that this desktop is so thin and takes up little space on an already cluttered desk. I was also please to see the amount of usb ports located on the back.
Apple iMac MMQA2LL/A
HP 22-b016
Your Family Will Love It
Do you want to get yourself a brand-new all-in-one desktop and at the same time economize? This is possible with the HP 22-b016 All-in-One desktop computer. This quality yet affordable model can become a great purchase for any family. Powered by Intel Pentium J3710 1.6Ghz Quad-Core processor, this computer can cope with various tasks, from purely typing documents and surfing the Internet to playing computer games and working with professional video or photo editing software. If you worry that games and software require a lot of RAM, this model has 4GB DDR3L 1600MHz SDRAM, so all of your family members will have enough storage space and memory for their programs.
To Meet Every Need
This compact computer with a 21.5-inch widescreen can fit even a small place in your house. It features a touchscreen display making it possible to navigate apps and menu without using a keyboard and mouse, which makes it especially convenient for those who have little free space on the worktop. If you aren't concerned about every inch of the working surface and have enough room to place some other peripherals as well, the HP 22-b016 features USB 2.0 and USB 3.0 connectors allowing you to do that. As for the hard drive, the HP 22-b016 has 1TB 7200RPM which is sufficient for storing quite a lot of large files in the memory of the computer while not impeding its operation.
Reliable Computer
The HP 22-b016 All-in-One desktop computer has a reliable processor by Intel and Windows 10 operating system which makes its operation stable and robust. Probably, the speed and the graphics coprocessor could have been better, but for home use, you won't ask for more than it already offers. Taking into account the price, performance, and overall specs of this model, we can recommend the HP 22-b016 computer to all those who do not hunt for higher-end computers and seek for functionality, simplicity, and affordability. The HP 22-b016 can also become a good option for those needing a computer for office work that doesn't involve visually appealing tasks. 
Additional Info
---
What customers say about this product
I use it for homework and YouTube and I edit videos on it and it's pretty fast.
Use for small business/ front desk use. Fast modem, good memory, and everything we need for a conference call. If it had a video card you would never need anything else.
This computer is great. Everything built into the monitor is a wonderful idea. No noisy box, no separate speakers to clutter up the desk.
Can be a bit slower when opening websites..connects to Bluetooth..overall very satisfied with this product..
HP 22-b016
Dell Inspiron 24 3000
Screen and Image Quality
Dell Inspiron all-in-one desktop computer has an IPS display with the diagonal of 23.8 inches and the Full HD resolution of 1920 x 1080 pixels. Since the display has an IPS panel, the image quality is very high - the colors are vivid, bright, and quite natural. Moreover, the viewing angles are extra wide - 178 degrees (both vertically and horizontally), so you can be sure that the picture will remain accurate no matter where you are looking at the screen from. The Full HD resolution is the benchmark for nearly all modern movies, so Dell all-in-one desktop will give you pleasure in watching movies.
Performance and OS
Dell is a well-balanced computer that combines all of the latest technologies. This very all-in-one desktop has the Intel Core i3-6100U central processing unit; the CPU has 2 cores and each of them is running at 2.3GHz. The CPU boasts an amazing energy efficiency! As far as the graphics card is concerned, this desktop has an Intel HD Graphics 520 and if the name tells little to you, we will help you - it's a GPU integrated into a CPU. This combo is powerful enough to give the computer a lag-free video performance, quick Internet browsing, etc. Of course, this Dell all-in-one desktop computer performs enough for playing PC games, even at low and medium settings. The RAM capacity of this desktop is 8GB but if you think it's insufficient (however, we think it's enough), there's still an empty slot for an additional RAM card. Now, let's say a few words about storage - this desktop computer has a 500GB HDD, so you will be able to store all your files, music, and movies. Dell all-in-one desktop computer is operated by Windows 10 Home - one of the most popular and cutting-edge operating systems. We assure you, this OS will give you the full functionality for work, web surfing, and entertainment.
Interfaces and Convenience
The package this all-in-one desktop computer comes with includes a wireless keyboard and mouse that are very convenient in use - no cables means no mess on your desk. Moreover, you can control the pointer and type some text even a couple of meters away from the computer! Dell has an adjustable stand - you can tilt it and choose the best angle for you. But remember if you wish to preserve your eyesight, you should sit comfortably in front of the computer. Now let's pay attention to the ports and slots this computer has. First of all, there are 4 USB ports: 2 of them are USB 2.0 and 2 are much faster USB 3.0. If you wish to connect the second monitor, there's an HDMI port. Of course, there's a headphone out port, so you can connect your headphones and listen to music without disturbing people around. As most computers, this Dell all-in-one desktop has a 4-in-1 card reader. No doubt, any modern computer should be capable of connecting to the Internet and Dell has a WiFi support (802.11 ac signal type). Still if there's no wireless network, you can go online by plugging an Ethernet cable into the LAN port. Also, this all-in-one desktop computer has a Bluetooth 4.0 adapter for wireless connection of various devices. Though many people think that discs are outdated, they are still quite widespread and that's why Dell engineers have equipped this all-in-one desktop with a tray load DVD drive (which can read and write DVD and CD discs). In the end, if you like chatting with relatives or friends online, you will definitely appreciate having the HD webcam.
---
VIDEO
Dell Inspiron 24 3000 Series Hands On [4K UHD]
What customers say about this product
I like the stand but most of the Dell AIOs don't have one. Sound is great and the screen is big and bright. Very happy!
This is certainly not the most powerful PC you can get in the market, but with a 500GB hard drive and 2.3 GHz core it's fine for office/school software, web browsing, watching televion shows/films, etc. In other words, the perfect computer for teenagers.
It has a great display and it is fast and has a huge amount of storage. It was the perfect match for replacing an ailing iMac.
So all then need is the keyboard and mouse, both of which come with this set and are both wireless (Duracell batteries included). There are four USB ports, a CD drive, and a memory card port, too. Amazing!
Dell Inspiron 24 3000
Acer Aspire AZ3-715-ACKi5
Make Yourself Feel Like at the Cinema
Why do so many people adore watching movies at the cinema? The main reason for that is that it's only there we can get that incredible feeling of being part of a movie due to the flawless picture on the screen and amazing sound effects. Wouldn't it be great to have the same experience but in the comfort of your own home, with your family gathered around, eating popcorn, and sharing emotions? With the Acer Aspire AZ3-715-ACKi5 Touchscreen All-in-One desktop computer, it's more than possible. The 23.8-inch Full HD screen is able to reproduce a large palette of bright colors making the image on the screen look as much authentic as possible to what a film producer meant it to be. While the Acer TrueHarmony High-Performance Sound System, along with the Dolby audio system, brings the sound on a par with that you can hear at the cinema. Basically, unless you already own a wide-screen TV, the Acer Aspire AZ3-715-ACKi5 can become a nice substitution for a TV-set.
For Comfortable Work
Why many people opt for this particular desktop computer is that it is very convenient to use. In order to provide greater comfort, it comes with an ergonomic tilt adjustable from -5° to 25°. That the display is touchscreen eliminates the need to use a mouse and keyboard. However, both the mouse and the keyboard are included in the package.
Performance
While being a wonderful solution for entertainment, the Acer Aspire AZ3-715-ACKi5 is also great for work. It has the Intel Core i5-7400T Processor of the seventh generation and 12GB DDR4 RAM which makes it perfectly suitable for resource-intensive applications and software. Though the hard drive could work faster, with 1TB 5400RPM it is still more than sufficient for most regular tasks and games.
Additional Info
---
What customers say about this product
Runs stock at 2.4GHz and boosts to 3.0GHz. Plenty powerful for daily usage. Since this is a T processor, the TDP max is 35W.
Very nice display. Strong working CPU and plenty of RAM.
The monitor is quite easy to adjust and the sound so far is good enough that I haven't thought about plugging in my external speakers.
Connected it very easily and set up the Internet and it performed as I expected it too, since I was replacing my old Acer Computer with another Acer, only with more memory and HD. I am a fan of Acer Computers.
Acer Aspire AZ3-715-ACKi5
What Is an All-In-One Desktop?
All-in-one desktops combine the compactness of laptops with the performance of PCs. You might take a usual all-in-one computer for a computer monitor, so you don't need space for placing a system unit. Therefore, using an all-in-one PC saves a lot of space and requires no cables that usually connect a system unit to a monitor and peripherals. No wires and cables mean they won't be on your way, you will never trip over them, and washing floors will be easy. If you choose a model with a wireless keyboard and mouse, a power cord will be the only cable your all-in-one desktop will need. Next, all-in-one PCs are rather performing and they can easily compete with full-size desktops. Manufacturers do their best to squeeze all the hardware into a compact housing of a monitor. Thus, an all-in-one desktop is a stunning device for homes and offices.
However, if you want the top-rated performance, make sure to check out our shortlist of the best Gaming PCs, whereas if compactness is your priority - consider getting one of Mini PCs.
Best All in One Desktops 2017
What Features to Compare
When you are about to choose an all-in-one desktop, start with the Screen and Image Quality. If a conventional PC allows you to switch a monitor quite easily, an all-in-one computer doesn't give you such an opportunity, unless you carry your device to a professional service center where a panel itself will be replaced. So, start with picking the right size (i.e. diagonal of the screen). If you are looking for an all-in-one PC for an office, a college classroom, or a lab - a screen size of 22'' will be enough. However, if you want a device for yourself - pick a bigger screen (24-27''). A large screen allows you to edit graphics with the top comfort. As usual, a screen of a typical 22'' or 24'' all-in-one PC supports Full HD resolution (1920x1080 pixels), which is required for comfortable watching movies, pictures, web pages, etc. Bigger screens (27'' and more) may also support 2K HD resolution (2560x1440 pixels) or even Ultra HD (3840x2160 pixels), but the best screens allow you to enjoy an outstanding 5K resolution (5120x2880 pixels). Such an extra-wide resolution is perfect for creating and editing graphics, for example. Next, find out what type of panel is used in every all-in-one computer. We recommend you to choose models with cutting-edge IPS or PLS panels that boast wide viewing angles and real-life color reproductions. Cheaper models come with TN panels that provide excellent brightness. Some all-in-one desktops come with touchscreen displays.
The next step for you to make is to consider the Performance and OS of an all-in-one desktop. It depends on hardware and the core of the hardware is the central processing unit (CPU). The more powerful it is, the faster your all-in-one computer works. In general, if you are looking for a decent office computer, a low-performing Celeron or A4 CPU and 2-4 GB RAM will be enough. But if you need a computer for some really hard tasks like editing 3D graphics or playing cutting-edge PC games, you should get an all-in-one desktop with the latest-generation CPUs like Core i3/i5/i7 from Intel and at least 4 GB RAM. Don't forget to make a reasonable choice of storage capacity. No need to say, your all-in-one desktop should have no less than 500 GB if you are going to store a lot of data. Most devices have hard disk drives (HDDs), so check the spindle speed (measured in RPM) - the higher it is, the higher transfer rate is. However, solid-state drives (SSDs) are better regarding data transfer rate, so some all-in-one computers have SSDs instead of HDDs. Also, don't forget to consider the operating system (OS) installed on every all-in-one desktop. iMacs, for example, come with Mac OS X, which is believed to be fast, reliable, and lag-free. Other manufacturers offer Windows while ChromeBase all-in-one computers have Chrome OS designed for active browsing. All modern operating systems automatically update to the latest versions and have built-in anti-viral protection, while Mac OS X is immune to virus attacks.
Finally, consider Interfaces and Convenience of the best all-in-one desktops on our shortlist. Any computer must offer a variety of ports and slots to connect all kinds of gadgets and peripherals to it. Thus, the best all-in-one desktop should have at least one USB 3.0 port (which is 10 times faster than USB 2.0). Apple all-in-one computers have Thunderbolt 2 interface, which ensures the maximum data transfer rate of 20 Gbps, so transferring files takes seconds. Also, check out what type of WiFi signal is supported - they are different and if you want to enjoy the fastest Internet possible, choose the device with 802.11 a/c support. An all-in-one desktop should also have a good webcam and sounds system, so that you can participate in video conferences, etc. Moreover, some all-in-one desktops come with a wireless keyboard and mouse, which is a major advantage - no need to buy wired ones. Some all-in-one touchscreen desktops allow you to adjust the tilt or can even be placed horizontally, providing the utmost convenience.
FAQ:
Q: Which OS is better for an all-in-one desktop: MacOS or Windows?
A: The choice depends mostly on your preferences, but there are still some important differences between these two operating systems. Because Apple is in full control over the software and hardware for their gadgets, MacOS is immune to viruses, provides customers with a dedicated support, and offers a more attractive and user-friendly interface. Windows is more flexible, affordable, and better for gamers.
Q: What is RAM? How much RAM should a good computer have?
A: RAM stands for the random access memory. It's one of the most crucial parts of any computer. RAM is the main memory of the computer which programs can use. The more RAM your computer has, the more programs can be installed on your device. For instance, if your computer features 4 GB RAM, it means that 4 GB is available precisely for programs, including the operating system itself. Though the majority of computers offer 8 or 12 GB RAM, the most powerful modern ones have up to 32 GB RAM. Yet, 16 GB is the optimum choice.
Q: When do I need a memory upgrade?
A: There are several cases when you have to upgrade your memory. Before you decide to upgrade your operating system, it's important to upgrade your memory because new OS usually requires more space than the previous version. Before networking your computer it's also recommended to upgrade your memory. In addition, if you notice that your system starts to work slowly, especially when you work on the Internet or run several programs simultaneously, it's the signal that you have to upgrade your memory.
Q: What is stored on a hard drive?
A: If RAM is used by the programs, hard drive stores various personal users' files such as music, videos, photos, folders with documents, etc. Older models possess hard drives of several hundred MB (megabytes) or GB (gigabytes), while modern computers have hard drives of several TB (terabytes).
Q: Can I enlarge the storage space for my files?
A: If you want to get more space for your files, the best idea is to purchase an external hard drive. Their latest models can store the data of several TB which is very useful if you have lots of big files like films or images. The external hard drives are compact and portable and can be connected to your computer with the help of USB or eSATA cable. It's a convenient and affordable way to extend your storage space.
Q: Which extras does my all-in-one desktop need?
A: The computer should be equipped with a microphone, speakers, and a webcam so that you can take part in video conferences or simply communicate with friends using Skype. If your all-in-one computer has a wireless mouse and a wireless keyboard, this will eliminate the need to search for these accessories additionally as well as help you save your money.