Pressurized steam is used not only in the food service industry but also in a home kitchen because it helps immensely in reducing
the cooking time. The appliances used for canning or extra-fast cooking are called pressure cookers and we have picked the most popular of them to help you get the right one.
...
Read more
...Read less
All American 921
All About Quality
If you were looking for a kitchen appliance to cook healthy food and do it quickly, look no further than this All American 21.5 Quart pressure cooker. Designed for use by large families, this pressure cooker allows you to cook large quantities of food as well as to do canning in comfort. The All American 921 is made of high-quality hand-cast aluminum and features a safe and effective metal-to-metal sealing system. To ensure unit durability and leak-free performance, all connection points have edges that are double thick. This eliminates the need for any additional silicone or rubber rings; you can easily open and close the lid. Canning and cooking in this pressure cooker will become a real pleasure, we have no doubt about that.
The only inconvenience about this capacious pressure canner is that it is rather heavy, especially when filled with food. Because of that, the unit might possibly damage some glass/ceramic cooking surfaces, so it is always better to check your stove manufacturer's recommendations.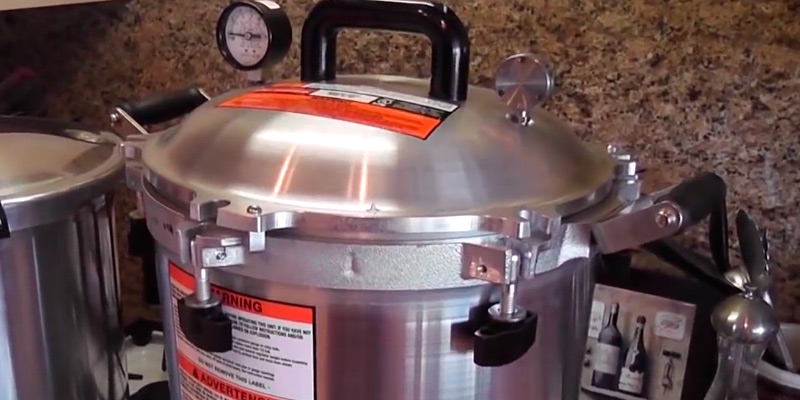 Simple and Safe
This All American pressure canner can be used on both electric and gas stoves. The operation is simple and intuitive. All you need to do is put food ingredients in a pot and place it on the stove. You can further adjust the cooking speed by changing the heat output. The process of cooking is maintained with the help of a geared steam gauge and a safety control valve. Once you select the pressure level you need (5, 10 or 15 psi), the rest will be done without your surveillance. The All American 921 has a heat-resistant cool-touch handle to avoid burns when the cooking is done and you open the lid.
As we have mentioned above, this pressure cooker features a metal-to-metal sealing system. To align the lid with the base and ensure a steam-tight seal, the unit is equipped with six positive action clamping locks. Each lock has a stay-cool grip for the safe and comfortable opening and closing of the cover.
Made of high-quality aluminum, the All American crockpot has a smooth satin finish which is easy to clean after each use. The purchase includes a cooking/canning rack plus an easy-to-follow instruction book with pressure cooking recipes.
In a word, offering a great cooking capacity, user-friendly design, and outstanding safety features, the All American 921 pressure cooker is an excellent choice for home canning.

Additional Info
---
VIDEO
UNBOXING: All American 921 (21 1/2 QT) Pressure Canner
What customers say about this product
This is what made in America is all about. This could not be made of better material and the quality of construction is better than anything I've seen before. This thing will be around long after I'm gone.
The description says it can hold 32 pints but I like using wide mouth pints. It holds 25 of those plus an additional 3 regular mouth for a total of 28 per load. If you're looking to substantially reduce your time and increase production this is the canner for you.
The manufacturer has upgraded the lid handle to a molded Bakelite piece and it's solid as a rock. I can't wait for my veggie garden and peach trees to start over producing so that I can break this puppy in.
Washing after canning can be done with vinegar, so stock up and get used to the smell.
All American 921
T-fal P45009 Clipso
Safety Comes First
A pressure cooker is excellent cookware for making healthy meals in a matter of minutes. However, when it comes to such powerful devices, safety is the key feature to look for. The T-fal P45009 is one of the safest pressure cookers on the market. It is also one of the most convenient models out there. In fact, the unit is equipped with temperature-resistant handles. Next, it has a steam release valve that will let the excess steam out automatically. If you notice there is too much or too little steam, you can reduce or increase the stovetop heat to maintain the desired pressure level.
What makes the T-fal P45009 incredibly convenient in use is a specially designed lid. The unique Clipso system will allow you to open and close the lid with only one hand. At the same time, to ensure the user's safety, it cannot be opened while you are cooking or the pressure is not released. This model features both slow and fast steam release systems; please carefully follow the manufacturer's recommendations when using both methods. An ergonomic pressure indicator will let you know when the pot is no longer under pressure.
For Cooking and Canning
The T-fal P45009 can be used on all cooking surfaces, including induction cooktops. It comes with a steaming basket enabling you to cook more than one delicious healthy dish at a time. Along with the purchase, you will get a book that includes over 60 wholesome recipes so you will never run out of cooking ideas. Featuring a 6.3 qt capacity, the cookware is perfect for both cooking family meals and canning. The item is easy to clean with a sponge and some mild liquid detergent. You can even place it in a dishwasher, just do not forget to remove the pressure valve and gasket before washing. Please, make sure that the valve is clean each time before you use the pressure cooker.

This pressure cooker is made of high-quality stainless steel so it will serve you (and look like new) for years. Besides, some accessories, including a valve, handles, and a gasket, can be bought separately if you need any of them to be replaced. It is recommended to change the seal once a year or so if it is damaged, so it makes sense to always have a spare one.

To put it in a nutshell, the T-fal P45009 is a durable and reliable pressure cooker that has all the necessary features to ensure safe and comfortable use.
Additional Info
---
T-fal P45009 Clipso
Presto 01781
Created for Canning
The Presto 01781 is a huge stovetop pressure cooker that has an enormous capacity of 23 Quarts which makes it an excellent choice if you are going to preserve food by canning. For example, if you love homemade pickled fruit and vegetables - this is certainly the best crockpot. No need to say, if you are running some kind of canning business and sell pickled and canned food, this capacious pressure cooking pot will be indispensable. Though it might be a bit too big for cooking a family dinner, it is perfect for what it is meant for.
Just like the All American 921, this professional pressure cooker is made of genuine aluminum but it is somewhat thinner and that is why it is a lot more lightweight - the item only weighs 10 lbs. Meanwhile, the cookware is durable and its material ensures even heating and quick cooking. There are 2 plastic handles on both sides so you can handle the pot with ease. The sealing ring is made of rubber the durability of which depends on how often you use this appliance.

Tried and True Design
As we have already mentioned, U.S.D.A. prescribes canning only in crock pots like this one. And this appliance is just what you need for preserving food. The capacity is huge so you can cook vegetables, fruit, seafood, poultry, jams, and meat. Please, always refer to the manual to find out the recommended pressure level and cooking time of certain foods. You can also get a special cookbook with hundreds of recipes. Keep in mind that the pressure settings heavily depend on the altitude you live in, so make sure to choose the right one for canning. For example, if you live somewhere high up in the Rocky Mountains, you will need to use a higher pressure for every dish.
The Presto pressure cooker and canner is truly safe to use due to its old-fashioned but extremely reliable design. First of all, it has a simple yet efficient sealing system - you turn the lid to lock it. There is an overpressure plug that releases excessive steam through a vent hole when too much pressure builds up. Moreover, the unit has a geared pressure gauge that is usually extremely reliable and will serve well for decades. This model comes with a cooking/canning rack and is equally good for pressure cooking and boiling-water canning.

---
VIDEO
Presto 01781 23 – Quart Pressure Canner and Cooker Reviews
What customers say about this product
This is a terrific canner. The 23 qt. size is right for the home canner, although I rarely use it to full capacity.
I love it. So far I've canned green beans, pickles, and tomato sauce/juice/salsa. It's flat bottom and light weight work great on my glass top stove.
Does a wonderful job. It's larger than I had expected. I read that the smaller one was not suitable for hot water bathing. That is true for quarts, but not for pints.
I also purchased an extra rack so I could double stack pints. Don't forget that it can be used as a water bath canner as well by simply removing the weight and over pressure plug.
Presto 01781
Fissler FISS-60030006079
Get More Control Over Cooking
If you are looking for a stovetop pressure cooker for preparing a family dinner, consider this Fissler model. Made of high-quality 18/10 stainless steel and equipped with ergonomic non-slip handles, the item is not only heat-resistant and durable, but it is also efficient and functional. Its encapsulated Super-Thermic base will guarantee even heat distribution on all types of cooking surfaces, including induction cooktops. Moreover, the Fissler pressure cooker can be used for steaming, thawing, and even browning foods (in the latter case the lid should be open).
To give you more control over food preparation, the unit has a blue cooking indicator with two white markings. These markings will let you know when the desired pressure level (one ring for gentle and two rings for speed cooking) is achieved. That way, you can increase or decrease the cooking temperature when necessary. In the user manual, you will find the recommended cooking time and the preferable settings for various foods. It also includes a troubleshooting guide that you can consult if any issue occurs.
User-Friendly Design
Positioning and closing the lid is a piece of cake; an ergonomic locking indicator will let you know when the unit is securely closed. As soon as the indicator on the handle turns green and you hear a click, the pressure cooker is ready for the stove. To ensure convenient and safe use, the pressure cooker has a measuring scale on the inside. The "min" marking indicates the minimum liquid amount, the "½" marking will come in useful for cooking expandable foods, and the "max" marking - for preparing foods that don't expand.
To add to its benefits, the unit is simple to maintain; fastened with a screw, its handle can be easily removed for cleaning. Its silicone gasket, handle, and valve are easy to wash by hand; the pot and lid (with the gasket, valve, and handle removed) can be placed in a dishwasher.
In a word, the FISS-60030006079 is a great pressure cooker for preparing wholesome family meals quickly and with minimal effort. Featuring a 6.4 qt capacity, this model is also available in larger and smaller sizes, so it will be easy to find the unit that will best suit your cooking needs.
Additional Info
---
Fissler FISS-60030006079
Mirro 92122A
Affordable Pressure Canner
If you love the idea of preserving foods but you don't have too much money to spare on a pressure canner, consider this Mirro 92122A model. Made of heavy-gauge aluminum and polished for an excellent look, the unit is durable and rustproof. Though this model has thinner walls compared to its more expensive counterparts, it is also more lightweight, which is a great plus. Besides, it has an impressive capacity. This 22 qt canner can accommodate 26 half pint-size jars (double-stacked), 16 pint-size jars, or 7 quart-size jars. In addition, it has all the essential functions you would expect from such a device. It has three pressure options (5, 10, and 15 psi) that make it perfect for canning any kind of food. The unit comes with a 10-year limited warranty for the canner and 1-year limited warranty for the parts.
The 92122A is pretty easy to maintain, however, there are some things we advise you to pay attention to. Note that for this item, hand washing is recommended: cleaning in a dishwasher could dull the polished finish. It is important to thoroughly clean the vent tube and check it before each use. The gasket is easy to clean in hot water with some liquid detergent.
4 Features For Your Protection
The Mirro 92122A has a whole bunch of safety features.
First of all, the item is equipped with safety locks that will prevent its opening if the pressure level is still high.
Next, if too much pressure builds up inside the pot as a result of clogging of the vent tube, a reusable overpressure plug will be activated to release steam.
Even if both the overpressure plug and vent tube are blocked, an overpressure window will let the steam out; however, as the sealing gasket will be forced out too, you'll need to replace it with a new one before using the appliance again. Please follow the instructions on what to do to resume cooking.
Finally, there is a spring safety device on the lid. It will prevent the pot from being pressurized until you properly close the lid.
Summing up, this moderately-priced Mirro model is a convenient and safe device for canning and pickling your favorite foods.
Additional Info
---
Mirro 92122A
What Is a Pressure Cooker?
We have created this pressure cooker review in order to help you select the right cookware for cooking and canning foods. A pressure cooker is a sealed pot inside which the steam is accumulated under high pressure so that any food cooks really fast. No need to say, a pressure cooker prepares foods a lot quicker than a conventional pot. And the food remains healthy: for example, vegetables lose fewer nutrients and meat becomes tender and juicy. Therefore, a pressure cooker is an excellent solution for any household or even for a small restaurant or cafe. Most models in this review can be used for both cooking and pressure canning allowing you to preserve season foods for winter.
You may also be interested in our review on slow cookers, special kitchen appliances used for cooking soups, meat, fish, porridge, jam at low heating settings for a prolonged period of time. Or our other review on unique rice cookers designed for preparing delicious fluffy rice.
What Features to Compare
You might have come across pressure cooker reviews online but they have not been informative enough if you are still looking for this appliance. That is why we have made our comparison as simple as possible and picked 5 best pressure cookers for you and compared them by the most important criteria.
Capacity and Power

The first thing you need to consider when choosing a pressure cooker is its capacity and power. And here you must know that there are 2 types of pressure cookers: electric pressure cookers and stovetop pressure cookers. No need to say, an electric pressure cooker requires electricity whereas a stovetop cooker is basically a metal pot you put right on top of your stove (no matter gas or electric). Any electric pressure cooker has the certain power - make sure it is at least 1000 Watts which is a standard for this kind of kitchen appliances. When you are done with this choice, go to the capacity that shows you how much food you are able to prepare. If you have a common family, you can choose a typical 6-Quart cooker, but if you need this appliance for professional use (for a restaurant, for example) or for feeding a lot of people - make sure to choose a bigger pressure cooker.
Material

If you want to use a pressure cooker for many years without any troubles you should pay attention to the material it is made from. As usual, there are cookers made of stainless steel (both electric or stovetop) and aluminum. Aluminum pressure cookers are usually more affordable but less health-friendly due to the peculiarities of this material. Aluminum cookers look like pots with a multi-layer bottom for even heat distribution; a lid firmly adjoins the pot thanks to a sealing method that most often includes a silicone or rubber ring (though some models have an all-metal sealing system). As usual, a silicone sealing ring is more durable compared to a rubber one. Keep in mind that you will have to change the sealing ring from time to time. The lid usually has a couple of valves to release excessive pressure and one of the valves automatically does it when the pressure becomes dangerously high. Of course, you can set up the maximal pressure level. Stainless steel pressure cookers are more expensive but safer for health. If you choose an electric pressure cooker, you will be able to clean the inner pot in a dishwasher. When you are done with choosing a material, check what weight it has. No need to say, aluminum is lighter than stainless steel.
Cooking Modes

Next, the last yet really important issue to take into account is the cooking modes by which we mean what kind of food you can use a pressure cooker for and what pre-set programs the appliance offers. For example, a stovetop pressure cooker is most often used for canning and stewing whereas an automatic electric pressure cooker is a multifunctional appliance that can serve as a rice cooker, slow cooker, and so on. Therefore, choosing an electric pressure cooker pot allows you to save up the money and get an awesome kitchen helper. And those who want to preserve food need a large canner crock pot.
Safety Features

Finally, you need to be sure the pressure cooker will not blow up and that is why make sure to check the safety and sensors. All pressure cooking pots have a lid lock which ensures the safe position of a lid and prevents its accidental opening. Also, every good crock pot has an overpressure release - if the pressure inside gets too high a special vent (or valve) will get rid of the excess. Electric pressure cookers are totally automatic, while on crock pots you need to set the max. pressure level manually. Sold stovetop crock pots have a sophisticated manual locking system - you just manually do all the locking so the accidental opening is impossible. Also, pay attention to Sensors every pressure cooker has: as usual, electric ones have an LED display that shows the operation modes and a thermal sensor that controls the temperature inside a pot, whereas most stovetop crock pots have just a pressure gauge.
Canning Tips and Tricks
Always choose tempered-glass jars made for canning. Inspect them carefully to make sure there are no cracks or other defects.
Use water bath canning for high-acid products such as acidic fruits and tomatoes and pressure canning for low-acid foods such as meat, seafood, and some vegetables.
Your chosen boiling-water canner should be two

inches taller (at least) than the largest jar you are going to use for canning.



It is known that you need to sterilize jars for at least 10 minutes (at up to 1,000 feet elevation). However, you do not need to pre-sterilize jars in case the canning time is over ten minutes as they will be sterilized during the process (do not forget to add one minute for each next 1,000 feet of elevation). Just clean the jars in warm soapy water and rinse them thoroughly. Having said that, it is still recommended to keep jars in simmering water before canning to avoid the thermal shock that could cause glass cracking.
Make sure your selected pressure cooker comes with a cooking/canning rack. Allowing you to prepare two dishes simultaneously, it will also come in useful for canning. For even heating of your jars, it is important that they do not touch the bottom of the pot. Some units include a couple of racks; you can place one of them on the cooker's bottom while using the other to double stack the jars. It is also advisable to get a spare sealing ring and pressure valve - this will save you a lot of time and nerves if it happens that you need to replace these parts right in the middle of the canning process.
You can use frozen fruits to make jams and frozen tomatoes to make tomato sauce. If you have no time to process some fruit at its season, you can easily do it later, just put it in a freezer for now. However, we would not recommend refrigerating such foods: you need either fresh or freshly frozen berries and fruits to get delicious and wholesome jams
It is important not to overfill the jars - there should always be some space between the product and lid to ensure a good vacuum seal. Unless your recipe says otherwise, this headspace should be 1/4 inch for jams and jellies,

1/2 inch for pickles, tomatoes, and fruits, and 1 inch for low-acid foods.
After filling the jars with produce, it is important to get rid of air bubbles trapped between pieces of food. Use a narrow plastic spatula to let the air out; if the content level drops, add some more to get the recommended level.
Always follow the recommendations as for the necessary canning time (it varies on the food acidity). Luckily, most pressure cookers/canners come with comprehensive recipe books that include all the necessary information.