If you like rice you should certainly purchase a rice cooker. This is a really wonderful device. Now, the rice will be flawless,
tasty and fluffy. That is why we recommend you to look through our review of the best rice cookers.
...
Read more
...Read less
Zojirushi NS-TSC10
Ingenious Cooker
If you are looking for a premium-quality cooker, the Zojirushi rice cooker/warmer will fit the bill. It's an ingenious appliance that is made of stainless steel. It's sleek and stylish, so it will fit nicely on any counter. And it works just as great as it looks. Due to a bunch of different settings it offers, you can always get fluffy porridges and delicate rice. The appliance accepts long-grain, sushi, basmati, jasmine, and brown rice. Just select the type of grain from an intuitive menu, set time, and push a button. The menu modes include: white/sushi, porridge, mixed, sweet, cake, brown, steam, quick cooking (if you don't want to wait), and 2 delay settings. The cooker is supplied with a steaming basket, so it can also double as a steamer. Once the cycle is complete, the device beeps and automatically switches to the warming mode. It keeps meal at a serving temperature for quite a long time.
A black thick inner cooking pan with non-stick coating ensures even heating to give your dishes a deep savory taste. It has 5-1/2-cup capacity and allows you to get up to 11 cups of perfectly cooked rice. There are markings on the inside of the pan to show you the amount of water you need to add. You can also follow the instructions (included in the manual) for the type of rice you are using or watch recipes through their YouTube video links. The cooking pan and the detachable inner lid are pretty easy to clean. Just wash them with a splash of dish soap under hot tap water.
If you aren't going to use the cooker often, you can retract the power cord back for storage (the swing-up handle makes storage and transportation even easier). The good point is that the clock won't need to be reset if the appliance is unplugged for several days. The cooker is supplied with a rice measuring cup, nonstick rice spatula, and spatula holder so that you never have to worry where your spatula is.
MICOM (Microcomputer) Technology
The beauty of this Zojirushi cooker is its "fuzzy logic" programming that ensures perfect rice. Everytime! Thanks to a built-in microchip, the appliance easily adapts to different rice types (it adjusts cooking time and temperature). Furthermore, due to a timer, you don't need to control the cooking process anymore. The device automatically turns itself off when the rice is ready. However, if you want to engage yourself in cooking, an easy-to-read LCD display will allow you to set the proper temperature/mode by yourself.

Enrich Your Menu With...
Brown Rice
This setting can help you cook wonderful and very chewy brown or black rice. In this mode, rice is cooked at a lower temperature so that it won't become mushy.
Sushi Rice

This mode is similar to "white rice" but it uses less water to ensure a firm finish. It's ideal for those sushi-making nights.
Mixed Rice
Mixed rice mode extends preheating for the better absorption of various seasonings. The temperature is slightly lower than regular "white rice". You'll get sweet, delicate, perfectly steamed rice here.
Porridge
The porridge mode will help you cook fluffy porridges with a soft texture. Throw in some porridge and water and then set the timer. The dulcet tones of Zojirushi singing like a songbird will notify you that the cooking cycle is finished.
Cake
Yes! You can bake delicious cakes in this rice cooker.
Steamed Food
Steam veggies and other ingredients to preserve as many nutrients as possible.
Additional Info
---
What customers say about this product
It really is non-stick even if you leave the rice on the " keep warm" setting for hours.
This was just the right size for myself and my little girl. We eat rice everyday and this rice cooker makes the perfect amount for two days worth and the rice tastes and good on the second day as it did on the first.
While I have stainless steel appliances, my kitchen is earth tones, so this fits in nicely on my counter.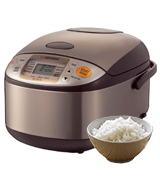 Zojirushi NS-TSC10
Instant Pot IP-DUO60
Cooking Pot Capacity
Cooking pot of the Instant Pot IP-DUO60 possesses the 20-cups capacity. This capacity is enough to have up to 24 cups of tasty rice per one cooking process. The pot has a triple bottom and is made of stainless steel. Its surface is covered with a non-stick Teflon coating. Thus, you can be sure, that your food will not stick or burn.
Cooking functions
Cooking functions of this multitasker are not limited to preparation of rice only. In fact, this device is able to treat you with different delicious dishes. It gives an opportunity to vary between such cooking regimes: a pressure cooker, slow cooker, saute and browning, yogurt maker, warmer, and steamer. Fourteen built-in programs allow you to get diverse dishes at a single click on the button.
Extras
First of all, this device features a special computerized control system. It is based on the 3rd generation technology with a built-in microprocessor. Thus, the process of cooking can be extremely smart. Secondly, the built-in notification will help you control the cooking process. It alarms the user in case the lid has not properly been closed, the water runs out and the meal is already cooked. And what about materials? The body of the Instant Pot is made of fingerprint-resistant and extremely durable stainless steel. The cooking pot has no measures marked on the surface. That is why the device comes with a convenient measuring cup. Detachable components are made of heat-resistant plastic. In conclusion, this kitchen appliance is very energy efficient. It is able to save you up to 70 % of energy in comparison with the other similar rice makers.
Additional Info
---
What customers say about this product
The Instant Pot is so easy to clean with a stainless cleaner, and nothing really sticks to it. So cleanup is so much easier.
Well, this baby is worth its weight in gold!
I eventually purchased the Instant Pot over the others because of the stainless steel insert (no aluminum), the size of the pot (I wanted a larger capacity), and the ease of use.
Instant Pot IP-DUO60
Aroma Housewares ARC-914SBD
Cooking Pot Capacity
The Aroma Digital Rice Cooker has the 8-cups capacity. This capacity allows to serve 4-20 cups of restaurant-quality rice per one preparation cycle. In addition, the aluminum inner cooking pot has a Teflon coating, that guarantees a non-stick surface for the better and more quality cooking. Moreover, it can be removed for a quick further cleanup. The inner cooking pot is dishwasher-safe, and it is a great benefit in regard to the whole maintenance process.
Cooking functions
Talking of cooking functions, we would admit, that they are diverse. With this kitchen appliance, you will have an opportunity to steam, boil, simmer, and warm. This wonderful device can steam veggies, meat, and beans while the rice is cooking below. Programmable controls help to set up the required regime. Thus, you will definitely get a meal in time. Moreover, this rice maker has a function of an automatic warm-up. So, you can taste fluffy and warm rice wherever you want.
Extras
As for additional functions, it is necessary to highlight, that this electric rice maker has a unique sensor logic technology. Due to this technology, the built-in computer can "think" and optimize the perfect time and the temperature condition. Both the inner cooking pot and the rim in outer are quite durable. Moreover, they can be both removed for a cleanup in a dishwasher. One more benefit is that this product comes with a bundle of convenient accessories. They are a recipe booklet, a steam tray, a spatula, a soup dipper, and a measuring cup. As to durability, this particular device is very quality. Its body frame is made of stainless steel and is featured with heat resistant elements. All things considered, the Aroma Digital Rice Cooker will serve you for a long time granting delicious and healthy food.
Additional Info
---
VIDEO
Aroma 8-Cup Rice Cooker and Food Steamer (ARC-914SBD)
What customers say about this product
The markings on the non-stick interior pan are impressions in the pan coated by the non-stick so you need a good light to see them.
It is shockingly light in weight.
The basket is holding up well, after repeated runs in the dishwasher.
Aroma Housewares ARC-914SBD
Tiger JAX-T10U-K
Cooking Pot Capacity
This "Made in Japan" JAX-T10U-K Tiger Rice cooker will totally preserve all the useful elements of the rice making it fluffy and healthy. The capacity of the inner bowl is 5-1/2 cups. And you can get 10 cups of delicious rice at one go. This rice cooker looks solid -the housing is made of stainless steel and the inner bowl is coated with the non-stick ceramic. What is more, the cover is equipped with a silicone gasket. Hence, the heat losses are minimal. Great!
Cooking functions
This indispensable kitchen assistant will help quickly and accurately prepare all kinds of rice. To be specific, due to the microcomputer, this appliance can cook Plain rice, Quick rice, Mixed rice, Sweet rice, Brown rice, Multi-grain rice and Porridge. Furthermore, it also has Steam Cooking, Slow cooking and Synchro-cooking "tacook" functions. The latter is accomplished with the BPA-free plastic bowl that sits over the inner pan. Superb! Just imagine, you can steam veggetables or meat while the rice is cooking below. How doest it work? The steam from the rice rises up and cooks the food in the plastic bowl. Then this steam is released from the top. Thus, it does not return to the inner bowl. Accordingly, the rice flavor is fully preserved and your dishes contain a maximum amount of vitamins.
Extras
The rice cooker comes with the BPA-free plate, spoon and a measuring cup. For the extra convenience, it is equipped with two timers to program the On / Off switch. Featuring the Tiger's Automatic Cooking Logic™ system, this Tiger rice cooker always monitors cooking conditions required to prepare the perfect meal. Thus, the rice never boils away and the temperature is maintained at the same level. As a result - you receive fluffy and sweet rice. Moreover, the auto-save option allows you to keep the temperature of the dish warm until serving. Finally, there is a special range that shows the volume of the meal. Very convenient!
Additional Info
---
What customers say about this product
Perfect for small to average size families and those who enjoy rice base dishes.
With the non-stick coated rice cooking bowl, I was even able to add sweetened condensed milk and dried cranberries to my porridge to get all cooked in.
I got this one because I felt the stainless steel and black would take a lot longer for it to get dirty.
Tiger JAX-T10U-K
BLACK + DECKER RC506
Small but Mighty
The BLACK+DECKER RC506 cooker and steamer is a great little thing to carry on your trips and vacation. It fits in checked luggage and can serve 1-2 person per cooking, meaning it's an ideal option for small families. And since it's so compact and has a small footprint, it will easily find its place on any countertop as well. This rice cooker boasts a nice, minimal design and easy-readable controls. Plus, it features a handy steaming basket for vegetables, fish, or baby food.
With just one cooking setting, the appliance is extremely simple to use. Just fill it, push a plunger (like on a toaster) and you'll get delicious rice in 20-30 minutes. It distributes heat evenly and doesn't burn rice if you follow the instructions. Also, it doesn't overflow or spit water throughout your kitchen. The cooker comes with a plastic serving spoon to prevent accidental scratches, and includes a measuring cup to help you put the right amount of rice and water. The nonstick rice pot is removable and dishwasher-safe.
When the rice is ready, the unit automatically switches to "Keep Warm" mode. Thanks to handy indicator lights, you will always know whether the BLACK+DECKER RC506 is cooking rice or keeping it warm.
Glass Lid
This cooker is made with a user's convenience in mind and that's why it's equipped with a durable glass lid. Transparent lid gives you an opportunity to control the cooking process - it allows you to see if your rice is done or not, and stop the cooking cycle if needed. The BLACK+DECKER RC506 has a plastic cool-touch handle on the top, which is incredibly useful when you want to open the lid and add some water, for example. There is also a small vent on the top for releasing hot steam.
Doubles as a Steamer
The set includes a food steaming basket that you can use while your rice is cooking or independently. It lets you make healthy meals with veggies, fish, and many other ingredients. Now, we're going to tell you how to cook delicious fish in this cooker.
First of all, rinse the whole fish or fish fillet under the warm running water. Then, dry your fish and put it on a cutting board. If you're planning to cook fish fillets, take a sharp knife and make three or four 1/2-inch slits on both sides. As for the whole fish, cut three 1/2-inch clefts on each side.
Season the fish

. You can use soy sauce, sesame oil, ginger, scallions or to cook a Chinese dish. Such seasonings as cayenne pepper, green peppers, chopped onion, garlic, lemon juice and diced tomatoes are good for Cajun-style fish. You can also create an Italian fish sauce with tomato sauce, garlic, oregano, basil, thyme and olive oil

Add 1 to 3 cups of water into the bottom of the cooker, then place a food steaming basket, and put seasoned fish into it. Turn the appliance on

. Check your dish for doneness after 15 minutes, and if needed, recheck every two minutes. The fish should flake easily when poked with a fork.

Serve fish with fresh lemon slices and steamed vegetables.



---
What customers say about this product
Dont use steel spoons that might scratch the non-stick.. The non-stick is good, but will go bad if you abuse it!
For the price, small storage size, and versatility, this is perfect for a 1-2 person household.
I like the materials used and the fact that you don't have to put water in the bottom (the heater element became encrusted with minerals.
BLACK + DECKER RC506
What Is a Rice Cooker?
A rice cooker is a popular kitchen appliance. It does not require the constant manual control and supervision. Moreover, the rice makers exclude undercooking or overcooking. Thus, you will always have a perfect fluffy porridge. All you need to do is to load some rice in a pot and set the time.
We'd like to also draw your attention to one more kitchen device - a slow cooker. It is similar to a rice cooker but is more versatile. So, if you want to vary your menu, this device can be very useful. And, finally, for those people, who do not have spare time for cooking but love tasty food, a pressure cooker will be a good purchase.

What Features to Compare
An important feature of a rice cooker is the Cooking Pot Capacity. This feature determines the price of a product and its ability to prepare a certain amount of meal. But, you should remember that the larger the pan is, the longer it takes to heat the food. Thus, it is better to choose a rice cooker of proper capacity. If you want to purchase a rice cooker for a home usage, the standard 5-cups capacity will surely be enough. And if you need a rice cooker for a professional use, then you will better to consider a bigger device with at least 10-cups capacity. One more suggestion is to check the surface of a cup. It must be covered with a non-stick coating for the best results.
Modern rice makers offer a great number of Cooking Functions. This wonderful device can be used not only for preparing delicious, fluffy, and rich in nutritious elements rice. The rice cookers can perform steaming, pressure cooking and slow cooking. In addition, some modern rice cookers can even bake bread. Cooked with the help of steaming regime, dishes preserve their useful elements and natural taste. Furthermore, these meals do not contain harmful fats.
And the final feature to consider is Extras. Every manufacturer does his best to make the device unique and special. Thus, every rice cooker has special options and additional conveniences. These additional functions simplify the cooking process big time. For example, a timer can shut off the device when the cooking process is over. The heat-up regime will help you keep the dish warm till the required time. An LCD display and notification system will help to control different cooking processes. Moreover, many of modern devices feature special auto-detecting systems. Such systems can easily determine a water level and are able to turn the machine off when this level is too low. Rice makers which do not have special measuring capacities, usually have a volume marking on the inner surface of a cooking pot. And, of course, a very important feature of every kitchen appliance is the material it is made of. For example, the body frame can be either steel or plastic. If you are going to use the rice maker constantly, then it would be better to get a product made of stainless steel. It will serve you for a long time. However, if you plan to use it from time to time, you can buy a plastic model. It will not cost you a fortune and will please your family with delicious meals.