If you are looking for an appliance to cook your favorite pizza, stop thinking over and try one from our pizza makers review! Energy-efficient
and easy-to-clean, it will become a highly appreciated device in your kitchen. Just turn it on and bake delicious crispy pizza in minutes!
...
Read more
...Read less
Wisco 425C-001
For Heavy-Duty Use
If you're in the market for a professional pizza maker to use in your family restaurant, you'll be hard-pressed to find a better option than the Wisco Digital Pizza Oven that has enough space to handle a 13" pizza.
Made with clearness in mind, this pro-grade appliance works great for baking pizzas as well as cookies, pretzels and delicious pies. And if you think that it's all this wonderful oven can do, we would like to point out that it's also suitable for making appetizing sandwiches, frozen shrimps/prawns au gratin, or chicken wings. Moreover, this home pizza oven is a lucky find if you're fond of hot dogs since it bakes them to perfection.
Due to the top and bottom heating elements, pizza is baked from inside out evenly every time. Being digitally controlled, the appliance is really easy to use. The conveniently arranged display allows you to set the required baking temperature and timer. All the operations are done with responsive buttons, so you can adjust cooking time and temperature on the fly. Actually, it works much quicker and easier than those units with a mechanical rotary knob.
The oven is fitted with a removable crumb/spill tray at the bottom that should be removed and cleaned with warm soapy after use. Most of the spillage will fall directly onto this tray, keeping the internal parts relatively clean.
Convert Any Recipe
Take note that the Wisco 425C can handle any recipe intended for a standard oven. And you won't need to change ingredients and their quantity. However, the cooking time may require customization, so you should pay attention to it when preparing a new recipe for the first time.
As for the temperature, we would recommend you to select the closest setting to the recommended temperature in the recipe. For example, if the recipe calls for 370°F, set the Low (350°F) temperature setting. And if you need 425°F or higher, set the High heat (450°F).
The oven is versatile enough to take any baking dish including those made from glass, stainless steel, aluminum, or stone.
As you see, this is a highly professional oven that can bake not only crusty pizzas but also different yummy cookies, pies, pretzels, sandwiches, shrimp, chicken wings, hot dogs, to name a few. With this heavy-duty cooker, you'll get perfect results every time.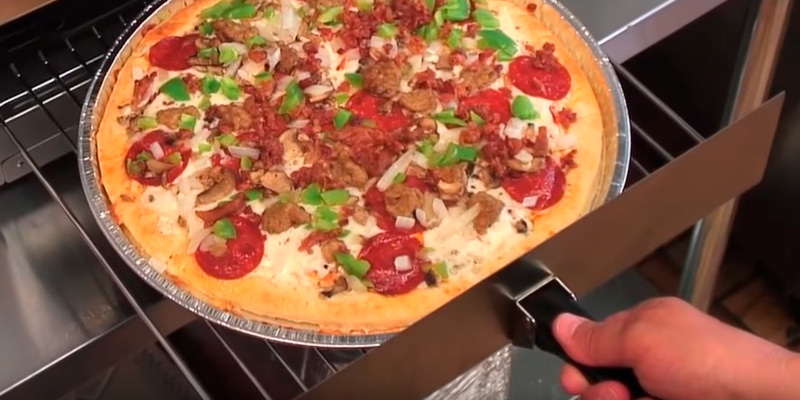 Additional Info
---
What customers say about this product
The fan is nice to vent the unit. Have only used high temperature setting so far
These also have high and low setting and cook evenly and quicker.
The two heating elements cook the pizza even. The two different cooking temperatures is a great feature.
Wisco 425C-001
Hamilton Beach 31700
Fast and Tasty Pizza
The Hamilton Beach company thoughtfully designs its products to make your life easier, and this wonderful cooker is not an exception. What it will do for you is let you save a lot of time ensuring very fast baking of your favorite pizzas.
The model in question has a closed-type design and two heating elements on the top and the bottom for even baking. А baking pan can hold any pizza less than 12" in diameter. During the cooking process, it continuously rotates to bake your pizza evenly from the inside out. It has a durable non-stick coating that ensures no pizza will stick to it.
If you'd like to treat your family with an exclusive meal from pastry, it is hard to find an easier-to-use appliance. Unlike most conventional ovens, it requires no preheating at all. The maximum power of 1200 Watts allows for baking pizza in just 12-14 minutes depending on whether it has been frozen or not.

For those users who would like to check the doneness of their pizzas without opening the lid, the manufacturer has thoughtfully equipped this appliance with an ergonomic viewing window on the top. Also, there are two indicator lights to inform you about what is happening right now.
Easy to Use
As just mentioned, the Hamilton Beach 31700 pizza cooker is fairly easy to use. At first, you need to put it on a flat, dry surface. Then you should place a 12" or smaller pizza on the baking pan. Make sure to remove the cardboard packaging before this. Next, center the baking pan on the rotating drive shaft of the device and close the lid.
The next step is the most important one for delicious results. By turning the dials clockwise you should select the right setting and time.
For the frozen type of pizza, it is always 5 temp setting but you can play with the baking time. For example, if you have a pizza with a regular crust, it's better to select from 12 to 14 minutes. The rising crust requires 21-23 minutes.
Refrigerated pizza with fresh crust needs 4 temp setting and 12-14 minute baking time. For other types of food, you should turn to the baking chart included in the manual.
All things considered, the Hamilton Beach 31700 provides a quick and easy way to bake delicious homemade pizzas. It cooks them 40% faster than a regular kitchen oven, and the viewing window allows you to control the cooking process.
Additional Info
---
VIDEO
What customers say about this product
You can adjust the temperature to how you like your pizza.
It has adjustable temperature and timer. I can see the progress of my pizza by looking through the glass top instead of having to open it. It cooks evenly as well.
Nice timmer feature, cooks frozen pizza very well even with added toppings, but do not pile on too much (high) or you will contact upper cooking grill.
Hamilton Beach 31700
Betty Crocker BC-2958CR
Budget-friendly Option
If you're looking for a simple pizza maker that won't cost you a fortune, the Betty Crocker 2958CR model is surely worth your consideration. This cute red appliance is thoughtfully designed to help you cook a toothsome pizza with minimal effort.
It has a closed-type construction requiring you to put your pizza inside. The top and bottom heating elements will generate a sufficient amount of heat for baking a delicious dish with a crispy golden crust. A self-regulated thermostat ensures that the pizza crust will consistently reach golden, crispy perfection. And the illuminated Ready-to-Bake indicator light will inform you when to drop in your favorite ingredients.
Once the cooking is completed, you'll be able to easily remove the pizza from an ergonomic non-stick coated baking plate. The plate not only delivers just the right level of crispiness but also makes clean up a snap. However, note that it's not recommended to cut the pizza right on the plate in order to prolong its service life.
For a Variety of Recipes
Just like most other closed-type appliances, this one can accommodate 12-inch pizzas which will be enough to treat 2-3 people. Besides pizzas, you'll be able to cook stunning omelets, quesadillas, mini frittatas, nachos, cookies, and croissants. And do that much faster than using a conventional oven, which also means that you'll save some money on electricity bills.
With its power of 1440 Watts, this Betty Crocker pizza maker bakes pizza in 10 minutes on average. However, the cooking time may vary depending on the ingredients and dough thickness.

The appliance has a red indicator light that turns on when you plug the pizza maker in. After the device is on, it takes a few minutes to preheat. And a built-in thermostat identifies the ideal cooking temperature.
For the convenience of use, there is an ergonomic opening handle on the lid. Yet, we recommend you to use heat-resistant oven mitts when you grasp it to prevent burning your fingers. The handle may get hot with prolonged use.
Lastly, we would like to point out that the Betty Crocker pizza maker comes with a recipe book to let your culinary skills shine. So, never stop in your desire to amaze your family and friends with awesome original pastry!
---
VIDEO
Pizza Maker by Betty Crocker
What customers say about this product
It has upper and lower heat elements. so it cooks from both sides. Also great for cooking/heating up other foods. easy to clean too.
Loved function, appearance, and efficiency of what I believe to be same item bought out by BC.
Takes awhile to cool down enough to put away, and I wish the was a power switch instead of just plugging it in, but otherwise it's great!
Betty Crocker BC-2958CR
Presto 03430
Unique Design
With nearly four thousand of positive reviews on Amazon, the Presto 03430 Pizzazz is a definite bestseller among customers. And let's check what makes this model so popular.
At first glance, it becomes obvious that the Presto Pizzazz looks nothing like other models from our survey. It's notable for its open-type design. Owing to this unique design, you'll be able to cook a vast variety of dishes. That is to say, it allows you to bake fresh and frozen pizza, chicken nuggets and wings, fish fillets, egg rolls, and even such delicacies as cinnamon rolls and cookies. Plus, you can have your sandwich quickly warmed up or even crisped to a golden brown.
And those individuals who often host parties will definitely appreciate the ability to cook such snacks as cheese nuggets or sticks, onion rings (breaded), potato skins, potato patties, and taquitos.
The cooking surface with 12" diameter is enough for treating 2 or 3 people to yummy snacks per one go. And the power capacity of 1235 Watts allows for baking them in less than 15 minutes. So, fairly soon, you'll have a new batch of homemade fresh snacks or pizzas. And owing to the open design, you can watch your favorite dishes crisping and the topping melting. It really looks and smells delicious!
Independent Heating Elements
Another thing that makes this cooker a standout is the fact that it has separately-controlled heating elements on the top and the bottom. That means all types and sizes of pizza can be custom baked. For example, you can bake the pizza with both heating elements turned on for 10 minutes and then finish it off with a few minutes of bottom-only heating. This way, you'll get a crisper crust. And vice versa, you can leave the top element on a little longer if your pizza boasts a generous amount of topping.
The device has an ergonomic timer to set up the cooking time (20 min maximum) and it will signal when your delicious pizza is ready. After that, it will shut off automatically.
Overall, the Presto 03430 Pizzazz is a highly-customizable cooker allowing you to experiment with new recipes. With it, you can choose the desired combination depending on the dish you are going to cook.

Additional Info
---
VIDEO
Presto Pizzazz Plus Rotating Pizza Oven
What customers say about this product
It uses the exact same amount of power as our toaster over and takes the exact same amount of time to cook a pizza, but this cooker bakes a pizza much better and evenly.
And it is easy to moderate temperature with the top/bottom/both switch on the top to avoid having parts overcooked or undercooked.
It does offer a lot of control with the dual heating elements.
It has variable cooking functions, where I can cook the bottom / top / or both sides of the pizza if necessary.
Presto 03430
Goplus Stainless Steel
Restaurant-quality Oven
The Goplus Stainless Steel Pizza Oven is a professional-grade device that can blend seamlessly with any contemporary kitchen interior. It's made from high-quality brushed stainless steel and is sturdy enough to survive heavy daily use. So, it can easily become a reliable pizza oven for your family-run cafe.
To begin with, the Goplus oven boasts 360° air circulation all across the chamber. Similar to other cookers, it has two heating elements up and down that increase the heating speed and make the food evenly cooked.

The inner chamber accommodates pizzas up to 12" in diameter and is able to bake a frozen pizza from scratch in less than 15 minutes. Yet, you can set the cooking time between 0-30 minutes depending on the crust size, topping, and personal preference. The timer will automatically shut off the oven after the pre-set time. So, even if you're a quite forgetful person, you have nothing to worry about.
Besides baking crispy frozen pizzas, this mini electric oven is capable of preparing cheese bread, pretzels, and many more yummy snacks.
If you'd ask us to pinpoint some flaws, the only one would be that it's a tad bit tricky to get hot pizzas out of the oven. It would be much easier to do with an additional pizza peel.
All for Your Comfort
As mentioned, this pizza oven is manufactured from brushed stainless. This material is praised not only for its exceptional durability but also for its ability to stay spotless for longer. Actually, the steel does not display fingerprints and is very easy to clean.
To make maintenance even easier, the oven is featured with a detachable chip tray. To clean the crumb tray, you simply need to rinse it with warm soapy water, dry it, and put it back in the oven.
The baking rack is also removable. With a gentle wipe, you can swiftly remove both oil or caked-in food. You'll just need to wait until it cools down.
As far as design is concerned, it's worth mentioning that the oven features a foldable heatproof handle that stays cool to the touch to protect your hands from burns. And non-slip feet make this pizza oven more stable on the counter.
To sum it all up, the Goplus company offers you a restaurant-quality oven that is designed to fit any countertop, be it your contemporary kitchen, office, bar, cafe, or recreation room.

---
Goplus Stainless Steel
Infographics
---
What Is a Pizza Maker?
Pizza is a worldwide famous traditional dish originated in Italy that has become extremely popular worldwide due to a variety of toppings it can go with.

Everyone can choose what to put on their pizza crust (maybe, that's the secret of its popularity), however, not everyone can cook it that well at home. If they do not have a pizza maker, that is. Designed specifically for pizza lovers, a pizza maker takes all the strain off out of the process of cooking and makes it easy even for novice cooks to bake a delicious treat. With a pizza maker you can rest assured knowing that all your pizzas, no matter what ingredients you put on it, will come out perfectly baked from inside out, sporting yummy cheese topping nicely dribbling and melting in your mouth. Sounds like a dream? Not if you have a pizza maker!

Along with a pizza maker, make sure to get a pizza cutter to accurately slice your pizzas without making a mess out of it. And if you plan to hold many pizza parties with your friends, we recommend you also get a special peel for serving your pizzas in a nice manner.

What Features to Compare
Design
Pizza makers can be of two types: open and closed.
Open pizza makers are those that do not have a cover to hide the cooking process. They offer a few important advantages: one is that it's easier to put pizza in it (the dough, that is) and two is that it's easier to see what's happening to the crust without pulling the tray in and out all the time. There's a disadvantage too. Due to the open construction, this type of pizza makers emits quite a lot of heat which can make your kitchen unbearably hot very quickly.

Closed pizza makers, in general, are safer to use and do not produce as much heat. Plus, there's no risk of touching hot surfaces, which makes them a better choice for families that have little kids.

No matter what type of pizza maker you choose make sure to consider the placement of heating elements. To provide even heat distribution throughout the cooking surface, they should be placed on both sides. Naturally, you should also consider if the cooking surface has a non-stick surface so that cleaning and maintaining it won't be a problem.

Power
Power is one parameter that is essential when it comes to any cooking appliance. Here's all simple: the higher, the better. Speaking of pizza makers, the optimal wattage varies between 1200 and 1500. This is enough so that a device can be used for cooking not only pizzas but many other savory dishes, like tarts, pies, omelets, cookies, croissants, and more. In fact, a pizza maker can also be used as a grill letting you roast steaks and fry nuggets on it. Depending on the power, the cooking time may change. But usually, it is around 7-15 minutes.

Extras
Finally, see what extra features are provided with a pizza maker you choose. These are what can make the use of the appliance, if not more enjoyable, more convenient. Temperature control is helpful when you bake thick pizzas with thick toppings since it allows you to prolong the cooking time. The rotating pan included in the package helps even distribution of the heat inside the appliance. Indicators on the housing make it easier to monitor the baking process. Not all but many pizza makers come with additional accessories such as a pan and paddles that add to the convenience of use. Often you will find a recipe book included in the package too.