If you crave the French Fries or another crispy fried food, a deep fryer will be a great investment. Read our review and choose the
best model according to your needs.
...
Read more
...Read less
X
This site is a free online resource that strives to offer helpful content and comparison features to its visitors. Please be advised that the operator of this site accepts advertising compensation from certain companies that appear on the site, and such compensation impacts the location and order in which the companies (and/or their products) are presented, and in some cases may also impact the scoring that is assigned to them. The scoring that appears on this site is determined by the site operator in its sole discretion, and should NOT be relied upon for accuracy purposes. In fact, Company/product listings on this page DO NOT imply endorsement by the site operator. Except as expressly set forth in our Terms of Use, all representations and warranties regarding the information presented on this page are disclaimed. The information which appears on this site is subject to change at any time. More info
T-fal FR8000
Oil Pot Capacity
Wow! This thing can really fry! Chicken wings, French Fries, Eggrolls, Doughnuts, Jalapeno Poppers, Cheese Curds, Steak Nuggets, Beer battered Halibut...Everything you want! T-fal Deep Fryer is not a very big kitchen helper that has an average oil pot capacity - 3.5 liters. Such capacity will allow you to prepare 4-5 servings of tasty crispy food in one fell swoop. So, you are welcome to turn the deep frying into a cinch!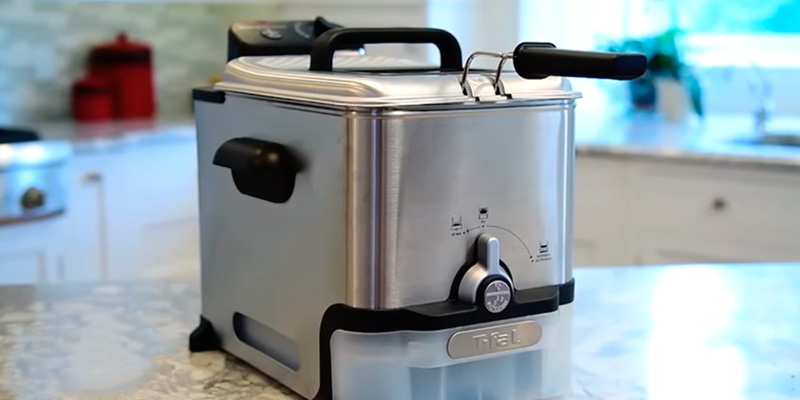 Power
T-fal FR8000 Deep Fryer can solve every problem you may have with frying as it is extremely powerful ( 1700 Watts). The heating element of this deep fryer is immersed and it heats up pretty quickly and gets to the highest temperature (374 F) well. For instance, 12 minutes will be enough for preparing 5 servings of fries. Customers claim that it works like a real champ and even deep frying of frozen foods is a breeze.
Cleanup and Filtration
This model is made of stainless steel and it means that it will serve you for long years. Internal parts are also made of steel. So, clean up is great as well because you can put almost all the pieces (main oil bowl, plastic oil-saving box with lid, lid, basket) in your dishwasher. The heating element is also removable. Hence, it can be easily cleaned with hot water and a sponge. T-fal FR8000 has the unique Easy Oil Clean-up oil filtration system paired with oil drainage system. This system works well and creates no mess. Moreover, the device is also equipped with odor filters that absorb frying smells. A top-notch device!
Operation and Conveniences
It is an easy breezy fryer not only in a cleanup but also in a setup. Assembly is really easy and takes little time. As for extra conveniences, this Tefal deep fryer is equipped with simple mechanical controls. The benefit is that the heating temperature can be adjusted in Celsius and Fahrenheit. So, this model is ideal for worldwide use. There's also a big viewing window in a lid, so you can control the cooking and stop frying when it's enough. Furthermore, since this fryer has small rubber feet, it is easy to move around. The overall look of the device is a candy. It looks stylish and modern.
Last updated price

$

112.28

Stock
May be out of stock
ASIN

B00NQ7QFGM
---
VIDEO
Unboxing T-fal EZ Clean 3.5L Deep Fryer
What customers say about this product
I really like the oil filter so that I can fry a couple rounds before I have to change the oil. It has an easy off and on switch, temperature setting, and oil drain setting.
All in all, this is a good buy for someone who is not much of a cook, who has to feed at most 3 people, or someone quite busy and multi tasks a lot. Most meals can be completed in 30 mins.
The dial which gives the options to either prepare, deep fry, or release the oil is simple enough for anyone to use.
Filter does a really good job of cleaning out the oil for the next run.
T-fal FR8000
Waring Pro DF280
Oil Pot Capacity
If you have a legendary love of crispy French Fries or Buffalo Wings, let us tell you that you will not be able to make decent dishes on a grill or in an oven. But, Waring Pro DF280 easily copes with this task. This little fryer is able to produce restaurant quality food! It goes with one large and two small mesh baskets. The capacity of oil pot is 3.7 liter. So, an average capacity of its bowl and large baskets will allow you to deep fry up to 6 servings of tasty and crispy French fries, mozz sticks, buffalo wings, onion rings, corndogs, cheese sticks and more.
Power
Waring Pro deep fryer has a removable 1800-Watt immersion style heating element. As this deep fryer is an extremely powerful device, it can heat up the oil to a maximum temperature very quickly. Just imagine, this fryer comes up to 375 F temperature in about 15 minutes (from room temperature). Hey, it is able to out-fry even restaurants in terms of quality! So, if you love doing a fried food smorgasbord, this deep fryer will be the best option.
Cleanup and Filtration
You will surely be elated at this wonderful device! This stainless steel fryer looks absolutely stellar on any counter-top. Moreover, it is very easy to clean as it contains a removable bowl and a removable lid. So, you can rinse them under running water or in the dishwasher. But the same doesn't go for its removable heating element. It is advisable to clean it with a sponge. Probably, the only disadvantage of this model is that it does not have filters. But, frankly speaking, it is not the reason to stop considering this fryer as everything that you will fry in it will come out delicious and crispy!
Operation and Conveniences
Oh yeah! This is the best deep fryer for its price range. Waring Pro DF280 has a convenient 60-minute timer and an adjustable temperature control. Its display shows the precise temperature as it is heating up. Hence, you will be able to set the exact temperature of the heating element and cooking time. A big viewing window in the lid allows the user to watch and control the cooking process. To sum up, as far as home deep fryers go, this one is definitely a winner!
Last updated price

$

99.87

Stock
In stock
ASIN

B005Z4935O
---
VIDEO
Waring Pro® Professional Deep Fryer
What customers say about this product
Also, love the large capacity of oil it will hold, can dump a whole gallon in there!
Looks great, works great and it's a great size.
Digital timer is ridiculously easy to set, although I would prefer not to have to reach over the boiling oil to set it.
It is well built and everything bit the electronic part gose in the dishwasher.
Waring Pro DF280
Hamilton Beach 35021
Oil Pot Capacity
At first, you may think that the basket is not so huge. But, that is not so. It can hold a pretty big amount of different delicacies. Hamilton Beach deep fryer can prepare up to 4 servings of French fries, or 3 servings of chicken legs at one go. Its oil pot capacity is 2 liters. So, this model will be an excellent option for a small family or a small company. What is more, due to the square basket, you can easily cook a whole catfish in this fryer. Perfect!
Power
The power of Hamilton Beach 3502 is 1400 watts, and this is enough to heat up oil in a short time. Moreover, this deep fryer is equipped with a magnetic power cord that can be quickly detached to turn the device on/off. As for the maximum temperature, it is 375 F. So, this item doesn't stand out among its rivals. All in all, if you purchase this Hamilton Beach device, the deep frying will be a breeze!
Cleanup and Filtration
This fryer will definitely meet your expectation and become a hit in your home! It works great and is very easy to clean. You will be able to wash the non-stick bowl and lid in the dishwasher. As for the heating element and the control unit, it is desirable to take them off and wipe off dirt and grease with a sponge or wet cloth. Besides, you can easily detach Breakaway magnetic power cord for a total cleaning. Fantastic!
Operation and Conveniences
The manufacturer is really concerned about customers' safety, so this unit has Cool-touch sides. Thus, you or your children will never burn hands in case of accidental touch. In addition, you can fry the food with the closed lid so as to reduce spattering. Moreover, you can also lift a basket with already cooked meals for draining oil while lid is closed. The viewing window will allow you to control the cooking process. To cut a long story short, this is a win-win device with a great variety of extras.
Last updated price

$

49.99

Stock
May be out of stock
ASIN

B00ANEKTTA
---
VIDEO
Review: Hamilton Beach 35021 Deep Fryer with Cool Touch, Black
What customers say about this product
The capacity is bigger than you think, the safety features are awesome, and cleanup was super easy.
Sides do not become too hot so no worries about burning yourself
You can control the temperature and it lets you know when the oil has reached that temp with the green light on the front.
The magnetic cord seems stable
Love this! It is the perfect size to fry up a box of frozen shrimp and a side of fries
Hamilton Beach 35021
Presto 05443 CoolDaddy
Oil Pot Capacity
Short money for a mini deep fryer. This Presto fryer may seem small at first glance, but the capacity of its oil bowl is 2 liters. So, it will be enough for cooking 4 servings of tasty crispy food. Moreover, owing to a round shape, you can load even a whole chicken into a basket. To sum up, if you are looking for a fryer to get crispy delish food (like shrimp, chicken, French fries and more) for two-four persons in one fell swoop, this is exactly what you need.
Power
This is a really powerful little fellow with a perfect size for small cooking jobs. The power of this model is 1500 Watts. So, the oil in the bowl is heated to the set temperature in a short period of time. Customers claim that it heats up to the maximum temperature (375 F) just in 7 minutes. Wow! So, it saves your time, oil, and electricity. Our verdict - Presto deep fryer will allow you to cook food quickly and easily.
Cleanup and Filtration
This is a quite compact deep fryer, it has the following dimensions: 15 x 10 x 9 inches. So, its clean up is a breeze. Everything but the control unit/heating element and the power cord can go into the dishwasher! Thanks to a carbon charcoal filter that absorbs frying odors, you will not feel the smoke and strong grease odors when cooking. Overall, its price is great, durability, size and quality spot on.
Operation and Conveniences
Presto deep fryer was built with cleanliness in mind. It has adjustable mechanical controls that are really easy to use. Moreover, the fryer is equipped with a handy indicator light that signals when the oil is ready for frying. As for design, there's an extra-large viewing window to control the cooking process. In addition, the exterior basket handle lowers the baskets with food into the oil with the lid closed to prevent splashing and spattering. No more burns! And, finally, the pot has a nonstick coating which prevents sticking of food to the bowl. Good additional features for an inexpensive deep fryer!
Last updated price

$

59.90

Stock
In stock
ASIN

B00066XROE
---
VIDEO
Presto Cool Daddy 8-Cup Deep Fryer - The Home Depot
What customers say about this product
However I absolutely LOVE the fact that you can lower and rise the basket without opening the lid making it was safer then some of the other ones because you can let the oil settle and drain off the food before opening the lid.
Good fryer, does what is is advertised but the materials feel cheap. However, it has not disappointed me so far.
Even better, the temperature is automatically controlled, reducing the chances of a grease fire or too-cool oil creating soggy, greasy food.
The door is spring loaded. Yes, you will want to release the lid with one hand and ease the lid up with the other.
Presto 05443 CoolDaddy
Delonghi D28313UXBK
Oil Pot Capacity
This deep fryer is definitely not designed for the intense use. But it is ideal for 2 or 3 people as its oil pot capacity is 1 liter. So, it is enough for 2-3 servings of delicious french fries, fried chickens, mozzarella sticks, and even fried ice cream. The big advantage of this deep fryer is that you are able to cook food without a basket because a heating element is hidden under the frying bowl. Thus, you can easily deep fry the whole chicken without placing it in the basket. But still, if you want to use a basket, you will be pleased to know that this fryer is equipped with a unique rotating basket for frying crispier and healthier food.
Power
Oh, this is the best fryer for spur-of-the-moment meals and snacks. The heating-up time is just 5-6 minutes. It has a 1500-Watt heating element with a temperature range of 300-370° F! The adjustable thermostat has an indicator light that always shows you the current temperature. And don't worry about over-frying. You can set a digital timer and an audible alarm will alert you when it's time to check on your meal.
Cleanup and Filtration
There are so many good things to say about DeLonghi deep fryer! Its housing is made of sleek plastic. Hence, the fryer is very modern and looks fantastic on any kitchen counter. A removable bowl is also very durable as it is made of Teflon. So, it goes without saying that the pieces of food won't stick to the bowl. Thus, its plastic exterior and non-stick Teflon interior make the device REALLY simple to clean! But, that's not all. A unique patented oil draining system will simplify cleanups greatly. Just pull out a special hose (stored in the front) and drain the oil or water. The dual filter system prevents oil vapors and odors from lingering in kitchens. Overall, we recommend this deep fryer with 100% confidence.
Operation and Conveniences
Probably, this is the best safe fryer that can be used even by teenagers who can't live without french fries. First of all, its heating element is hidden under the bowl, so there is no possibility of accidental touch. Secondly, cool touch exterior walls prevent any burns. Next, the lid is not heavy and also comes with a cool-touch handle, so openings/closings are safe and easy. Moreover, this lid is equipped with a viewing window (to control the frying process) and the dual filtration filters to absorb the "deep fry" smell. Concerning controls, this fryer comes with a digital removable timer that alerts users to check on food in time. Super!
Last updated price

$

0.00

Stock
In stock
ASIN

B003ZDNKVA
---
VIDEO
DeLonghi D28313UXBK Roto Deep Fryer Review FRIED CHICKEN
What customers say about this product
We fried Chicken Thighs last night and they were crisp on the outside and so very tender and juicy on the inside. Now am so happy we replaced our old one, since I don't think it was holding the correct temperature.
Very easy to empty and clean out. Also light weight and fits easily in my cupboard.
The only reason why I believe it has no ON/OFF switch and is held in place with a magnet is for safety reasons. So that the unit can been disconnected completely from power in case of an accident.
The first time I fried French fries first, then (with the same oil) I fried rice balls from the freezer (store bought), and one more item that I cannot remember. I do remember everyone was delighted with the results.
Delonghi D28313UXBK
Infographics
---
What is a Deep Fryer
If you are a creative cook who likes restaurant-style French fries, chicken wings, and other crispy fried foods, you should definitely opt for a Deep Fryer. It is a simple kitchen appliance which significantly facilitates the process of deep frying. Moreover, it cooks much healthier food in comparison with pans. To specify, the food contains less cholesterol. The secret is that at high temperatures the food does not absorb the frying fat. This frying fat only envelops the food, forming a crispy crust that is so "hot" among adults and children. But the abilities of deep fryers are not limited only to the famous French Fries or chicken wings. You can deep fry almost anything! Vegetables, cheese, poultry, meat, seafood, fish, fruit? No problem!
But if you want to cook healthy and nutritious food without oil, then our suggestion is to pay attention to Air Fryers.
What Features to Compare
Oil Pot
Probably the most important feature to pay attention to is an oil pot capacity. The pot can contain from 0.5 liters to 5 liters of oil. It goes without saying, that the greater the capacity of the pot is, the more servings you can dish up. For example, if you want to deep fry 5 servings of French fries, it is advisable to choose a model with a 2.2 - 3 liters pot capacity.

As for the shape, a pot can be circular or square. Respectively, a mesh basket for ingredients (which is immersed in an oil pot) will also be of the same shape. Note that if you plan to cook various meat or fish dishes, you should choose a square deep fryer in order that loaded food does not lose its shape. The next point to consider is a special non-stick coating. It is a great bonus as a non-stick pot prevents burning.
Power
The sooner you can get to frying, the sooner you can get to eating. And it is the power that predetermines the cooking time. Pay attention that the fryers with little oil pot capacity (for example, 1- 2 liters) do not require high power (800- 1500 Wats will be enough). On the contrary, if the capacity is more than 2 liters, it is advisable to consider 1500-1800-watt devices.
Cleanup and Filtration
Every kitchen appliance requires care and cleanup. So, removable parts are a great advantage. Moreover, some models have a removable pot which can be even washed in the dishwasher. As for the main heating element, there are models with immersed or non-removable ones. Consequently, deep fryers with immersed heating elements can be washed under running water. As for the models with non-removable heating elements, it is advisable to wipe them with a sponge.
Some fryers have a unique feature "cold bottom" which helps reduce the temperature of the bottom and prevent food from burning. The process of cooking is always accompanied by the release of odors and smoke. Thus, manufacturers equip almost every fryer with special filters in order to avoid spreading of odors around the kitchen. Such filters may be removable or non-removable, as well as single-layer and multilayer. The most effective ones are multilayer carbon filters which have several protection layers. Furthermore, if you plan to use the fryer constantly, we suggest paying attention to models that have oil purification filters. These filters will allow you to use the same oil 10 times and, accordingly, will greatly save your money.
Operation and Conveniences
The next important features to pay attention to are Operation and Conveniences. These two options may significantly affect your choice. For example, some models are equipped with digital displays in order to control modes, temperature and cooking time. Whereas, there are models with mechanical control type. Considering mechanical models, you can only set the oil heating temperature. What is more, some deep fryers are paired with a special timer that will let you know when your dish is ready. How does it work? The fryer will beep and shut off the heating element. For those who like to watch the cooking process, most models have a viewing window in the lid.
So, having found out what to look for when choosing a deep fryer, we hope that you will find the best model according to your purposes. Good luck!