Kitchen Appliances
Instant Pot DUO 60 Plus (9-in-1) vs Instant Pot Ultra 60 (10-in-1)
Product Comparison: Instant Pot DUO 60 Plus (9-in-1) vs Instant Pot Ultra 60 (10-in-1)
X
This site is a free online resource that strives to offer helpful content and comparison features to its visitors. Please be advised that the operator of this site accepts advertising compensation from certain companies that appear on the site, and such compensation impacts the location and order in which the companies (and/or their products) are presented, and in some cases may also impact the scoring that is assigned to them. The scoring that appears on this site is determined by the site operator in its sole discretion, and should NOT be relied upon for accuracy purposes. In fact, Company/product listings on this page DO NOT imply endorsement by the site operator. Except as expressly set forth in our Terms of Use, all representations and warranties regarding the information presented on this page are disclaimed. The information which appears on this site is subject to change at any time. More info
Model
DUO 60 Plus (9-in-1)
Ultra 60
About the Product
Instant Pot® Duo Plus is the next evolution in the Duo Series, the #1 best-selling cooker in the Instant Pot family. The Duo Plus 9-In-1 Programmable kitchen appliance with advanced microprocessor technology incorporates all of the great features that made the Duo the #1 best seller. It has new and improved programs and features to continually support one's fast-paced and healthy lifestyle.
Instant Pot® Ultra 10-in-1 Multi-Use Programmable Cooker is the next generation in kitchen appliances. Designed for the home chef looking for a greater degree of customization and control for even greater precision cooking. The Ultra combines the functions of a Pressure Cooker, Slow Cooker, Rice/Porridge Cooker, Cake Maker, Yogurt Maker, Sauté/Searing, Steamer, Warmer, Sterilizer, and, truly new and unique feature, the Ultra program. The 'Ultra' provides complete custom programming for pressure and non-pressure cooking. Now, one can set the exact parameters desired to achieve perfect results each and every time. And, with the 'Altitude' adjustment, the guesswork is eliminated from recipe conversion to provide a more precise cooking time.
Type of Sealing
Silicone ring
Sealing Ring
Automatic Overpressure Release
Instant Pot DUO 60 Plus (9-in-1)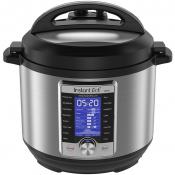 Instant Pot Ultra 60 (10-in-1)
What customers say about "Key Specs"
Instant Pot DUO 60 Plus (9-in-1) 6 Qt Multi- Use Programmable Pressure Cooker
Excellent...quietly does it's job. Stainless steel inner, 6qt. Holds alot.works fantastic.
Good size capacity compromise, cooks foods fast.
Great so far. Perfect hard-boiled eggs. Cooked chicken chili verde in 15 minutes - starting with raw chicken! Awesome capacity.
We loved this at first but after about a month of use we are having problems with the lid sealing properly. We always put the lid on the same way, according to the manual instructions, and this has now happened twice.
The only problem I've had is with the silicon ring that seals it. It picks up flavors and is difficult to get entirely clean.
Instant Pot Ultra 60 (10-in-1) 6 Qt Multi- Use Programmable Pressure Cooker
Bought this to upgrade from my 6 qt duo. Very happy. Easy to use. Large capacity makes it nice for meal prepping. Easy clean up.
Well, sealing is automatic in this model. Opening or closing the lid seals it. The only time "turn to seal" seem to work is when switching from continuous venting to non-venting.
Sealing ring in lid (silicone) picks up all the cooking smells and this ring stinks. The only solution I found to help take the cooking smell out of the silicone is to run the silicone ring through the dishwasher on the top rack laid flat.
The Pressure Seal does not stay and will randomly release steam and then never seal until removed and started over
The sealing ring will smell, I'm sure you've heard, it is what it is, I think all the brands have this issue, what can you do - silicone holds odors sometimes.
Material
Stainless steel
Brushed Stainless Steel
Color
Black/Silver
Stainless steel
What customers say about "Size & Weight"
Instant Pot DUO 60 Plus (9-in-1) 6 Qt Multi- Use Programmable Pressure Cooker
The size is definitely a huge plus. Construction quality is very high. The inner stainless vessel is really impressive quality.
The 6 quart is the perfect size for a family of 4.
Good size capacity compromise, cooks foods fast.
The 6 quart size is good for my family of four.
Instant Pot Ultra 60 (10-in-1) 6 Qt Multi- Use Programmable Pressure Cooker
Good quality materials and easily cleaned.
I like this electric pressure cooker. It works as described and this size is right for me.
This is the perfect size for us and so easy to use, we love it!
It's not made of quality materials and the first time I used it. It made my house smell like burning plastic. The food didn't taste like plastic but 2 days later I can still smell it. It's awful.
I am a bit nervous about the quality of that inner pot, especially since the metal also looks a bit changed in color (by all means not rusty or dangerous-looking).
Type of Sensors
Magnetic sensors
Magnetic sensors
What customers say about "Control"
Instant Pot DUO 60 Plus (9-in-1) 6 Qt Multi- Use Programmable Pressure Cooker
Three new preset buttons - cake, egg, sterilize. It also had the yogurt function which other IP do, but not some of the other makes. Large LCD Screen with Digital Display.
So glad I got this model. Love the blue display and I don't have to scroll through every time with a dumb dial.
It has a big bright display, lights that let you know where you are in the cooking process, and way more features.
The display is really nice and clear. You can tell what function is being used and when pressure is set. The diagram on kid shows you what direction the "steam release" valve needs to be.
The control panel allows me to see just where I am in the cooking process which is wonderful.
Instant Pot Ultra 60 (10-in-1) 6 Qt Multi- Use Programmable Pressure Cooker
The vent/regulator now is controlled by a separate button - the Quick Release button, Push the button into the locking position and it pops the Vent up to release the pressure, turn the quick release knob and unlock the Vent so it drops back down and stops the pressure from releasing.
The dial gives me the sense of more control over how I am adjusting the programs vs just pushing the button.
This one has more attractive controls, more options and flexibility, more presets and one cat sterilize baby bottles or some other staff.
The controls are simple and the display tells you everything that's going on.
The dial and button controls are more intuitive than my in-law's duo series model that I've used at their place, which is evidenced by my mother-in-law being able to use mine without reading instructions versus needing the manual and my help with her duo series.
Cooking Options
Pressure cooker, Slow cooker, Rice, Saute/browning maker, Yogurt maker, Steaming
Soup/Broth, Meat/Stew, Bean/Chili, Cake, Egg, Slow Cook, Sauté/Searing, Rice, Multigrain, Porridge, Steam, Sterilize, Yogurt, Warm, Pressure Cook, Ultra
Extras
15 smart programs, Accessories include – steam rack with handles, recipe booklet, serving spoon, soup spoon, and measuring cup, Up to 70% quicker, Mode indicators, LCD display
Large, blue LCD display with a Progress Indicator, Altitude Adjustment, Central Dial, Dual pressure settings, Steam Release Reset Button, Energy efficient – Saves up to 70% of energy, Inner Pot Fill Markings
What customers say about "Features"
Instant Pot DUO 60 Plus (9-in-1) 6 Qt Multi- Use Programmable Pressure Cooker
Can use it on any surface, the bottom does not get very hot.
Has a ton of features, but like a microwave you just end pushing the +minute button for most things.
The yogurt feature- wow! I used to make it in my crock pot but it was tricky and I would often burn my milk during the "scald" stage. No more baby! It boils the milk for you and then maintains the correct incubation temperature for however long you want
It takes waaay longer to get up to pressure treated than my stove top pressure cooker. Like way longer.
It takes way longer to cool down than my stove top pressure cooker. Consequently it's pretty far from instant.
Instant Pot Ultra 60 (10-in-1) 6 Qt Multi- Use Programmable Pressure Cooker
The Ultra has a cooking graph that displays the progress through the preheat, cooking and warming phases so you know right where you are in the process.
Ultra Program You can set the exact Temp, as low as 104 degree and as high as 208 degrees.
Very happy I took the time and compared features. I love this InstaPot Ultra. I debated between 6 q and 8q. and bought the 6qt. Glad I did. It makes a big pot of soup.
The handle lid holder is a desirable feature which reduces the mess factor. So far, I've steamed hard boiled eggs, steamed white rice, and cooked sloppy joes as well as a chicken dish with the slow cook function.
Feature packed product that can really save the day when running late. Being able to cook a 5 pound roast to perfection in just around an hour, fantastic!
Instant Pot DUO 60 Plus (9-in-1)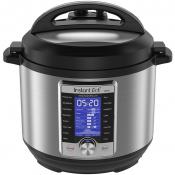 Instant Pot Ultra 60 (10-in-1)
Warranty / Certifications