Bread is delicious. Bread you've made yourself is even better. If you like baking and want to enjoy tasty bread or pastry, you need
to get a breadmaker. Check our brand-new comparison of 5 best bread machines.
...
Read more
...Read less
X
This site is a free online resource that strives to offer helpful content and comparison features to its visitors. Please be advised that the operator of this site accepts advertising compensation from certain companies that appear on the site, and such compensation impacts the location and order in which the companies (and/or their products) are presented, and in some cases may also impact the scoring that is assigned to them. The scoring that appears on this site is determined by the site operator in its sole discretion, and should NOT be relied upon for accuracy purposes. In fact, Company/product listings on this page DO NOT imply endorsement by the site operator. Except as expressly set forth in our Terms of Use, all representations and warranties regarding the information presented on this page are disclaimed. The information which appears on this site is subject to change at any time. More info
Zojirushi BB-PDC20BA Virtuoso Plus
Improved to Be the Best
The Zojirushi BB-PDC20BA Virtuoso Plus is the latest release from the brand, which has been improved to become an absolute leader on the market. With 700 Watts of power, this home bread maker allows you to bake a standard loaf (white or whole wheat bread) in just 2 hours and 25 minutes on a rapid course. Speaking about courses, the Virtuoso boasts an extended range - in addition to standard settings, it has an Italian bread course and four more exclusive ones for specific diet breads (Salt-free, Gluten-Free, Sugar-Free, and Vegan). Besides bread, the machine can also make several types of dough and sweet jams.
Yet, the biggest advantage over most other bread makers is the fact that it's a highly customizable machine that can cater to your specific needs. Owing to the Homemade course, you'll be able to create your own unique settings and recipes. That is to say, you can adjust the knead, rise and bake times according to your preference and experience. In total, the machine memory allows you to store 3 customized settings.
No matter what setting you choose, you can expect for even baking and browning results thanks to double heating elements (on top and bottom) and double kneading blades. As said, the Virtuoso Plus model has undergone some improvements and now it has a strong 3/8" contact between the blades and the shafts compared to the slim 1/8" on the standard Virtuoso. Probably because of a sturdier construction and a beefier motor, it weighs several pounds more albeit being designed in the same-size body. The unit weighs 24 pounds, meaning you'll need to put some effort to move it from one place to another.
Design Peculiarities
The Virtuoso Plus also has a nicer, updated control panel and better computer/sensor circuitry. Along with the course settings, it offers a 13-hour delay timer and crust control feature. Depending on your taste, you can choose between light, medium, and dark crust.
To let you watch the baking process, the machine is made with a viewing window on the top of the lid. By the way, both the lid and the control panel are made from durable plastic, whereas the whole body is manufactured from stainless steel. Hence, the machine feels really solid, expensive, and steady. As for the interior, the unit has a standard baking pan with two handles that can accommodate a traditional 2-lb loaf.
All things considered, if you're in the market for the most sophisticated bread machine, we recommend you to opt for this one. With a variety of "healthy" settings, it's also an ideal choice for those who stick to special diets.
Additional Info
Last updated price

$

287.99

Stock
In stock
ASIN

B07BQ28TQ6
---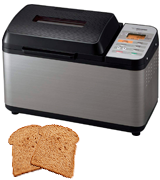 Zojirushi BB-PDC20BA Virtuoso Plus
Oster CKSTBRTW20
Affordable But Multifunctional
The Oster bread making machine is a quite affordable option that has a power of 650 Watts. Though it isn't the best result in our review, this unit can bake flavorful bread loaves. And if you think the Oster bread maker will cook for too long, you're wrong - the heating element is good enough to bake bread in less than an hour.
Moving on, we would like to emphasize that the Oster bread maker has quite a lot of settings that include not only different bread recipes (Basic, French, Whole Wheat, Quick, European) but also allow you to prepare some other dishes such as jam and dough. If you like pastry, like bagels, for example, you can choose Bagel Dough mode and experiment with baking.
Many people don't like waiting for too long till their loaf of bread is ready and that's why Oster offers 2 express bake modes - Ultra Fast for a 1.5-pound loaf (58 minutes) and Ultra-Fast for a 2-pound loaf (1 hour, 20 minutes). The users' manual contains a lot of recipes and detailed instructions about each of the 12 bread settings and 3 crust settings. However, keep in mind that none of the express bake modes allow you to choose the crust color and use the delay timer. So, you can only load the ingredients and push the 'Start' button.

Simple to Use
This moderately-priced bread making machine allows you to cook bread of 3 different sizes: 1, 1.5 or 2 pounds. There's a special button 'Loaf Size' that allows you to select the size you need in the appropriate settings (some of them give no choice). Most recipes are for loaves of 1.5 or 2 pounds. Such a loaf should be just the right size for a common household of 3-4 people.
Speaking about the controls, this Oster appliance has a delay timer Just like expensive bread makers. To specify, the machine allows you to put the baking off for up to 13 hours. Therefore, you can enjoy fresh bread when you get home after a long and exhausting working day. Of course, some settings don't allow using the timer - you can find more details in the informative users' manual that is included with the purchase.
We also liked that the Oster bread maker machine allows you to track the baking process through a small viewing window and adjust all the settings via a large LCD display and intuitive button controls.
To recap, the Oster Bread Maker will allow you to prepare delicious bread, pizza, sweet rolls, jam and more without breaking a bank. What's more, you will be able to do it promptly due to 2 Express Bake settings, making it a stellar option for busy households. 

Additional Info
Last updated price

$

79.99

Stock
In stock
ASIN

B003GXM0EM
---
VIDEO
Oster 2 Pound Expressbake Breadmaker
What customers say about this product
The crust, even on light setting, gives a nice golden, crunchy loaf.
It works, use it to make French baguettes, easy to clean and run. wish it had a timer shutoff option because to make baguettes you need to stop the machine right before it starts baking in order to form the loaves manually.
Footprint and height are smaller than comparable machines but it still has a 2-pound loaf capacity.
The power chord is a good size, and the way the instructions are written corresponds very well to the display buttons.
Oster CKSTBRTW20
Hamilton Beach 29882
Budget-friendly Option
If you are looking for your first bread making machine and not sure whether you'll like homemade bread or baking process in general, it might make sense to turn towards entry-level models like the one from Hamilton Beach. Though featuring no bells and whistles, the Hamilton Beach 29882 gets the job done perfectly well and will allow you to extend your menu options. With its help, you will be able to cook not only bread, but also cakes, jams, flatbreads, croissants, and many other fluffy baked goods your family loves.

The Hamilton Beach bread maker isn't the most powerful, obviously. Yet, its 600 Watts power output should be more than enough for average use. Plus, when switched to the quickest setting, it bakes a 1.5-pound loaf in less than an hour, which is a very good result.

It's worth noting that the Hamilton Beach 29882 has only 2 loaf size options, which are 1.5 and 2 pounds. While we find it okay, some users, who live alone or eat only a little bread, might want to consider smaller models.

Settings
Although this bread machine comes at half the price of other big names, it offers 11 pre-set cooking programs, including French, 1.5-lb express, Quick bread, Gluten-free, Sweet, 2-lb express, Jam, Cake, Dough, Whole grain, and Bake. Three standard crust settings are present as well.

As you can see, the Hamilton Beach 29882 bread machine allows you to cook quite a lot of treats, including even sweet jams and dough for buns and pizzas. And two express settings will be handy for individuals that are short of time and need to get a loaf of bread as quickly as possible.
Preparing a variety of foods is quite simple with this unit - just add ingredients, select the needed cycle, and press start. Plus, you get a chance to bake at a pre-set time (up to 15 hours) thanks to a delay timer, which is also included. This way, you can load the baking ingredients into the pan before going to bed and enjoy freshly baked bread first thing in the morning.

Finally, we would like to say a few words about the construction of this bread maker. It has a sleek black body with a compact footprint and comes fitted with non-slip feet so you can be sure it will stand steadily on your worktop. The coating of the pan is non-stick, which means it will be easy to maintain it and remove bread loaves once they are ready.

All this makes the Hamilton Beach 29882 an optimal buy for first-time bread machine users. It will allow you to try out baking homemade bread without preservatives or trans fats. And all that without breaking the bank.

Last updated price

$

74.99

Stock
In stock
ASIN

B005EPRF1I
---
Hamilton Beach 29882
Cuisinart CBK-200
New Approach to Bread Baking
What distinguishes Cuisinart is that they don't fear to experiment and approach food making differently. And the Cuisinart CBK-200 is a great example of that. What makes it special, you may ask? It's one of the two Cuisinart bread makers that has a convection fan, which enables hot air circulation inside the pan resulting in richer crust color and better crispiness of a bread loaf.

Be ready that due to the fan, the Cuisinart CBK-200 will operate a bit noisy. However, this noise isn't loud and will unlikely draw much of your attention. What's more, the fan can be switched off anytime.

Another remarkable feature of the Cuisinart CBK-200 is a removable lid, which makes cleaning the baking chamber a breeze. The minimalist design of the bread maker adds to the ease of maintenance, requiring just a quick wipe of a damp cloth. Externally, the machine sports a beautiful stainless steel housing with glossy chrome detailing that makes it look very high-tech and allows it to match well any contemporary interior.

Intuitive Operation
Yet, there are plenty of other features about the Cuisinart CBK-200 that are worth mentioning. The appliance boasts 16 menu presets as well as the ability to work according to your custom cycles. And as the controls might seem too complicated for users, the manufacturer provides a detailed instruction booklet with the bread maker. The manual has a timetable for each setting to help you choose the needed loaf size and crust level (light, medium, dark). So, we believe that once you make your first loaf of bread, next time, you'll be able to figure out the settings very easily.
Made with a user's convenience of use, this bread maker creates audible beeps to notify you when it's time to add the mix-ins, remove the dough paddle, or scrape the contents with a spatula (jam cycle). The beep alerts are on by default on most preset programs and, can't be switched off, just like in traditional multi-cookers.
The bottom line, the Cuisinart CBK-200 is a solid bread maker that can bake 2-pound loaves in a bit different way. Owing to the convection technology, the appliance makes delicious bread with a chewy texture and a beautiful brown glow. That effect is surely worth a try.
Additional Info
Last updated price

$

179.95

Stock
In stock
ASIN

B0009VELTQ
---
VIDEO
Cuisinart 2-lb Convection Bread Maker (CBK-200) Demo Video
Cuisinart CBK-200
KBS MBF-010
Perfect for New Cooks
The KBS Pro Stainless Steel Bread Machine is a great option for new cooks and beginners due to its versatility, ease of use, and consistent results it delivers.
Actually, you simply need to follow three easy steps to get it up and running. Namely, you should choose a recipe that you'd like to try out, pour all the ingredients inside the machine, and press a corresponding button. You can choose between three crust settings, loaf size, and mode, as well as 17 different preprogrammed functions to make different kinds of bread and more. With the KBS Pro Stainless Steel Bread Machine, you will be able to cook French bread, gluten-free bread as well as jam, yogurt, and even rice wine. However, keep note that this bread maker is not capable of making pizza dough or croissants. So if these pre-sets are important for you, you may want to consider other entries. 
Aside from the abovementioned 17 preprogrammed functions, there's a 15-hour delay timer on the control panel, allowing you to have a freshly-made crusty loaf of bread first thing in the morning or when you return home from work. You simply need to load up the appliance with ingredients of your choice and you can go do your things without wasting precious time.
The only thing that somewhat mars the impression about the KBS Pro Stainless Steel Bread Machine is the included instructions. The majority of novice users say that they are rather vague and quite hard to follow due to the lack of straightforward directions. 
Reliable Construction
To let you make bread with perfect flavor and texture, the machine is featured with multi-temperature technology that is ideal for releasing enzymes. Additionally, a high-quality ceramic heating element makes half the work by adding extra crunchiness to your bread. It also ensures that the bread will stay tender inside without drying out.
Thanks to the powerful motor, the machine ensures even kneading and prepares dough to perfection, minimizing little patches of flour that you can encounter when making bread by hand. As a nice touch, the unit is made with a large viewing window giving you a clear view of what's happening inside.
While it may not be a crucial concern, the KBS Bread maker is constructed with an emergency power battery. That means the power outages won't get in the way of bread baking and the device will continue working for another 15 minutes after the power cuts out.
All this makes the KBS Bread one of the safest and easiest to use models out there. With a wide range of options to open up, it'll be ideal for beginning bakers.
Additional Info
Last updated price

$

129.99

Stock
May be out of stock
ASIN

B07BYXHYLY
---
KBS MBF-010
Infographics
---
What Is a Bread Maker?
As it goes from the name, a bread machine is a kitchen appliance designed to make bread. With the help of a bread maker, you can save time and effort that you'd otherwise spend kneading the dough and waiting until it rises. Plus, it makes the whole process a lot simpler, which is important especially for those who are not seasoned bakers.
So, if you love bread and want to make it at home without breaking a sweat, purchasing a bread maker will be a sensible decision. There are many different models available, and it should be easy for you to pick the one providing the functions and programs you need. To help you out, we've compared some of the most popular bread maker machines available on the market so you pick the most suitable one for your budget and needs.

If you like baked foods, you may also be interested in our selection of toasters or pizza makers. And one of our bread machines will help you prepare the perfect pizza dough with minimum effort required from you.

What Features to Compare
Power

When selecting a bread maker machine, power should be among the first things to consider as it determines the operation time and the baking speed of a device. To put it simply, the more powerful the bread maker is, the less time it will take to bake bread (or make jam, for example). As a rule, modern breadmakers feature the power rate between 450 up to 1650 watts. Low-powered machines often include fewer modes (programmes) than high-powered bread makers, and many of them do not have the function of dough kneading. So, make sure to check these when choosing a bread machine.
Settings

Settings or a number of modes (programs) are another aspect worth taking into consideration. Depending on how much you're ready to invest in a device, you may find models with a basic and more advanced set of settings. There are bread makers that feature 2 programs as well as those that include 25 modes and more. These programs vary in terms of time and temperature. The combination of these parameters determines the suitability of a breadmaker for certain baking tasks. That said, any breadmaker, regardless of its price tag, has a standard set of settings making it suitable for baking pastry. So, if you don't need the most high-tech bread maker machine with advanced technology, you can safely choose from more affordable models.
Loaf Size

Another feature to look at is the loaf size the chosen bread maker can create. A traditional range of loaf sizes goes as follows: 1 lb, 1.5 lbs, 2 lbs, and 3 lbs. We assume that your choice should be based upon your family requirements. If you live with a large family and go through quite a lot of bread, it's only logical to choose a bread machine that can bake 2-3 lb loaves. And vice versa. If your household is small, there's no sense to go for the biggest volume.

Extras

The last but not the least, we'd recommend you to turn attention to the extra features bread makers offer. Though not necessary, and certainly not critical, many of them are nice to have. A delay timer, for example, will allow you to put off the start time of any program; an audible reminder will send you a signal when a loaf is ready; a viewing window will allow you to see what's happening inside the device. These are only some of the features that can be found in bread maker machines, and this list can be further extended. Hopefully, our rundown of the most popular bread machines available in the market will help you narrow down your choice.