Bread is delicious. Bread you've made yourself is even better. If you like baking and want to enjoy tasty bread or pastry, you need
to get a breadmaker. Check our brand-new comparison of 5 best bread machines.
...
Read more
...Read less
Zojirushi BB PAC20BA
Solid Machine
The Zojirushi BB PAC20BA bread maker is a popular model with many users, and we can see why. Though quite expensive, it will be a good investment for anyone interested in making home bread on a regular basis.

With 700 Watts of power, the Zojirushi BB PAC20BA makes a standard loaf in a little over than 2 hours and that's definitely not long, seeing as you won't need to do any hard work by hand. Plus, the BB PAC20BA has an additional heater on the lid, which allows achieving consistent and even results every time, with the crust being of the right color and thickness.

When it comes to smart capabilities, this bread maker has 10 pre-programmed settings. They include Basic, Quick Dough, Basic Dough, Quick, Quick Wheat, Jam, Cake, Basic Wheat, Sour Dough Starter, and Home Made. As you can see, with the Zojirushi BB PAC20BA you can make not only bread but also several types of dough as well as sweet jams, which makes it a sound choice for those who love baking.

There is also a Home Made mode which allows you to input your own settings and create really unique recipes. This setting supports up to 3 memory settings. Along with the memory settings, the device offers a 13-hour delay timer as well, allowing you to customize the baking time.

The Zojirushi BB PAC20BA bread maker bakes traditional sized 2-lb bread loaves and cakes and is especially great at making french dough, so you can experiment with recipes and prepare all sorts of baked goods.

For Your Comfort
The Zojirushi BB-PAC20BA has a beautiful stainless steel casing that is sure to complement your kitchen. Furthermore, it feels extremely solid, expensive, and stable. However, stability has one downside - the machine weighs 27 pounds, meaning you'll need both your hands to carry the machine (if you decide to place it elsewhere).
On top of the unit, you'll find a large viewing window allowing you to watch the baking process without opening the lid. And in the lid, there's an additional heating element installed, for providing even browning results each time.

As for the interior, the unit has a traditional rectangular baking pan with two handles for easy removal of loaves and two paddles for fast and thorough kneading of baking ingredients.

Long story short, if you're in the market for the best bread machine, this is the one to go for. With a unique top-browning element and dual paddle design, it by far outperforms other models in its price range.
---
VIDEO
Zojirushi Home Bakery Virtuoso® Breadmaker BB-PAC20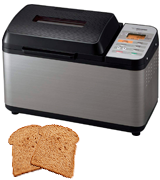 Zojirushi BB PAC20BA
Oster CKSTBRTW20
Affordable But Multifunctional
The Oster bread making machine is a quite affordable option that has a power of 650 Watts. Though it isn't the best result in our review, this unit can bake flavorful bread loaves. And if you think the Oster bread maker will cook for too long, you're wrong - the heating element is good enough to bake bread in less than an hour.
Moving on, we would like to emphasize that the Oster bread maker has quite a lot of settings that include not only different bread recipes (Basic, French, Whole Wheat, Quick, European) but also allow you to prepare some other dishes such as jam and dough. If you like pastry, like bagels, for example, you can choose Bagel Dough mode and experiment with baking.
Many people don't like waiting for too long till their loaf of bread is ready and that's why Oster offers 2 express bake modes - Ultra Fast for a 1.5-pound loaf (58 minutes) and Ultra-Fast for a 2-pound loaf (1 hour, 20 minutes). The users' manual contains a lot of recipes and detailed instructions about each of the 12 bread settings and 3 crust settings. However, keep in mind that none of the express bake modes allow you to choose the crust color and use the delay timer. So, you can only load the ingredients and push the 'Start' button.

Simple to Use
This moderately-priced bread making machine allows you to cook bread of 3 different sizes: 1, 1.5 or 2 pounds. There's a special button 'Loaf Size' that allows you to select the size you need in the appropriate settings (some of them give no choice). Most recipes are for loaves of 1.5 or 2 pounds. Such a loaf should be just the right size for a common household of 3-4 people.
Speaking about the controls, this Oster appliance has a delay timer Just like expensive bread makers. To specify, the machine allows you to put the baking off for up to 13 hours. Therefore, you can enjoy fresh bread when you get home after a long and exhausting working day. Of course, some settings don't allow using the timer - you can find more details in the informative users' manual that is included with the purchase.
We also liked that the Oster bread maker machine allows you to track the baking process through a small viewing window and adjust all the settings via a large LCD display and intuitive button controls.
To recap, the Oster Bread Maker won't break the bank but will deliver you tasty bread, pizza, sweet rolls, and jam. And due to 2 Express Bake settings, it's a stellar option for busy families.
Additional Info
---
VIDEO
Oster 2 Pound Expressbake Breadmaker
What customers say about this product
As mentioned, it does give a nice even crust, which is a big concern with bread machines, and it has a viewing window to watch the bread baking. If you prefer a lighter crust you can go with the medium or light crust setting.
It's programmable, so I can go out hunting or ice fishing and come home to fresh warm bread - works nicely with the programmable crop pot.
Footprint and height are smaller than comparable machines but it still has a 2-pound loaf capacity.
The power chord is a good size, and the way the instructions are written corresponds very well to the display buttons.
Oster CKSTBRTW20
Hamilton Beach 29882
Budget-friendly Option
If you are looking for your first bread making machine and not sure whether you'll like homemade bread or baking process in general, it might make sense to turn towards entry-level models like the one from Hamilton Beach. Though featuring no bells and whistles, the Hamilton Beach 29882 gets the job done perfectly well and will allow you to extend your menu options. With its help, you will be able to cook not only bread, but also cakes, jams, flatbreads, croissants, and many other fluffy baked goods your family loves.

The Hamilton Beach bread maker isn't the most powerful, obviously. Yet, its 600 Watts power output should be more than enough for average use. Plus, when switched to the quickest setting, it bakes a 1.5-pound loaf in less than an hour, which is a very good result.

It's worth noting that the Hamilton Beach 29882 has only 2 loaf size options, which are 1.5 and 2 pounds. While we find it okay, some users, who live alone or eat only a little bread, might want to consider smaller models.

Settings
Although this bread machine comes at half the price of other big names, it offers 11 pre-set cooking programs, including French, 1.5-lb express, Quick bread, Gluten-free, Sweet, 2-lb express, Jam, Cake, Dough, Whole grain, and Bake. Three standard crust settings are present as well.

As you can see, the Hamilton Beach 29882 bread machine allows you to cook quite a lot of treats, including even sweet jams and dough for buns and pizzas. And two express settings will be handy for individuals that are short of time and need to get a loaf of bread as quickly as possible.
Preparing a variety of foods is quite simple with this unit - just add ingredients, select the needed cycle, and press start. Plus, you get a chance to bake at a pre-set time (up to 15 hours) thanks to a delay timer, which is also included. This way, you can load the baking ingredients into the pan before going to bed and enjoy freshly baked bread first thing in the morning.

Finally, we would like to say a few words about the construction of this bread maker. It has a sleek black body with a compact footprint and comes fitted with non-slip feet so you can be sure it will stand steadily on your worktop. The coating of the pan is non-stick, which means it will be easy to maintain it and remove bread loaves once they are ready.

All this makes the Hamilton Beach 29882 an optimal buy for first-time bread machine users. It will allow you to try out baking homemade bread without preservatives or trans fats. And all that without breaking the bank.

---
Hamilton Beach 29882
Cuisinart CBK-200
New Approach to Bread Baking
What distinguishes Cuisinart is that they don't fear to experiment and approach food making differently. And the Cuisinart CBK-200 is a great example of that. What makes it special, you may ask? It's one of the two Cuisinart bread makers that has a convection fan, which enables hot air circulation inside the pan resulting in richer crust color and better crispiness of a bread loaf.

Be ready that due to the fan, the Cuisinart CBK-200 will operate a bit noisy. However, this noise isn't loud and will unlikely draw much of your attention. What's more, the fan can be switched off anytime.

Another remarkable feature of the Cuisinart CBK-200 is a removable lid, which makes cleaning the baking chamber a breeze. The minimalist design of the bread maker adds to the ease of maintenance, requiring just a quick wipe of a damp cloth. Externally, the machine sports a beautiful stainless steel housing with glossy chrome detailing that makes it look very high-tech and allows it to match well any contemporary interior.

Intuitive Operation
Yet, there are plenty of other features about the Cuisinart CBK-200 that are worth mentioning. The appliance boasts 16 menu presets as well as the ability to work according to your custom cycles. And as the controls might seem too complicated for users, the manufacturer provides a detailed instruction booklet with the bread maker. The manual has a timetable for each setting to help you choose the needed loaf size and crust level (light, medium, dark). So, we believe that once you make your first loaf of bread, next time, you'll be able to figure out the settings very easily.
Made with a user's convenience of use, this bread maker creates audible beeps to notify you when it's time to add the mix-ins, remove the dough paddle, or scrape the contents with a spatula (jam cycle). The beep alerts are on by default on most preset programs and, can't be switched off, just like in traditional multi-cookers.
All things considered, the Cuisinart CBK-200 is a solid bread maker that can bake 2-pound loaves in a bit different way. Owing to the convection technology, the appliance makes delicious bread with a chewy texture and a beautiful brown glow. That effect is surely worth a try.
Additional Info
---
VIDEO
Cuisinart 2-lb Convection Bread Maker (CBK-200) Demo Video
Cuisinart CBK-200
T-fal PF311E
Good Value
T-fal needs no presentation. It's the worldwide leading brand that produces kitchen and home appliances at very competitive price tags. But for the most part, the company is known for its superior non-stick coating. And no wonder, this bread maker utilizes this type of coating.
When a loaf is ready, you will be able to remove it easily due to the proprietary nonstick coating of the bread pan and the included paddle. The bread will literally pop up of the pot.

Moving on, the T-fal ActiBread comes with a nice set of accessories which include a measuring spoon, hook, beaker and one blade. Though it lacks a baguette tray, it features many appealing functions.
The T-fal PF311E has an LCD display that shows the current settings, a delay-timer that allows you to start a baking cycle 15 hours before you need a loaf, a keep warm mode that keeps baked goods warm for the next one hour, 3 weight size settings, and 3 crust settings for choosing the crust color (light, medium, and dark). Add to that a powerful heating element and you get a perfect alternative to more expensive bread making machines at a budget price.
Convenient Features
The folks behind T-fal know that nowadays modern society needs healthy food and so they designed the model that can produce healthy and gluten-free baked goods. That is to say, this bread machine is designed for mixing and kneading gluten-free dough which is thinner and less elastic than gluten-containing. A single paddle of this appliance will delicately rise gluten-free dough to perfection.
The functionality of the T-fal PF311E, however, isn't limited to gluten-free options only. Along with 3 gluten-free and 3 well-being programs, it features 9 other settings to choose from: super rapid bread, rapid sweet bread, sweet bread, cooking only, dough, French bread, cake, pasta, jam.
Unlike the previous model, the T-fal PF311E allows you to set the weight of loaf, choosing from 3 options available - 1, 1.5, and 2 pounds. This option makes the T-fal PF311E suitable both for a small household of 1-2 people and for bigger families that prefer to bake bread at home.
For users who've never made bread before, the appliance comes supplied with a recipe book containing 25 amazing recipes ranging from gluten-free and wholesome bread to its sweet varieties.
All in all, if you'd like to diversify your menu without compromising the taste and well-being, the T-FAL ActiBread is a reasonable choice. It houses big functionality but comes at a moderate price tag.
Additional Info
---
What customers say about this product
I can honestly say after figuring out a few recipes (mainly French bread and pasta so far) it's the best bread or pasta I've had.
In terms of the usability of the bread machine. It was easy to set up and use.
Convenient large display window so you can watch the bread baking.
Perfect loafs at any altitude. It even remembered and picked up where it left off after a power failure. Great quality, easy to use.
T-fal PF311E
Infographics
---
What Is a Bread Maker?
As it goes from the name, a bread machine is a kitchen appliance designed to make bread. With the help of a bread maker, you can save time and effort that you'd otherwise spend kneading the dough and waiting until it rises. Plus, it makes the whole process a lot simpler, which is important especially for those who are not seasoned bakers.
So if you love bread and want to make it at home without breaking a sweat, purchasing a bread maker will be a sensible decision. There are many different models available, and it should be easy for you to pick the one providing the functions and programs you need. To help you out, we've spent many hours researching the most popular bread maker machines, so you can buy yourself the best of the best bread makers.

If you like baked foods, you may also be interested in our selection of toasters or pizza makers. And one of our bread machines will help you prepare the perfect pizza dough with minimum effort required from you.

What Features to Compare
Power

When selecting a bread maker machine, power should be among the first things to consider as it decides the operation time and the baking speed of a device. To put it simply, the more powerful the bread maker is, the less time it will take to bake bread (or make jam, etc.). As a rule, modern breadmakers feature the power rate varying from 450 up to 1650 watts. Low-powered machines often include fewer modes (programs) than high-powered bread makers, and many of them do not have the function of dough kneading. So, make sure to check these when choosing a bread machine.
Settings

Settings or a number of modes (programs) are another aspect worth taking into consideration. Depending on how much you're ready to invest in a device, you may find models with a basic and more advanced set of settings. There are bread makers that feature 2 programs as well as those that include 25 modes and more. These programs vary in terms of time and temperature. The combination of these parameters determines the suitability of a breadmaker for certain baking tasks. That said, any breadmaker, regardless of its price tag, has a standard set of settings making it suitable for baking pastry. So, if you don't need the most high-tech bread maker machine with advanced technology, you can safely choose from more affordable models.
Load Size

Another feature to look at is the loaf size the chosen bread maker can create. A traditional range of loaf sizes goes as this: 1 lb, 1.5 lbs, 2 lbs, and 3 lbs. We assume that your choice should be based upon your family requirements. If you live with a large family and go through quite a lot of bread, it's only logical to choose a bread machine that can bake 2-3 lb loaves. And vice versa. If your household is small, there's no sense to go for the biggest volume.

Extras

The last but not the least, we'd recommend you to turn attention to the extra features bread makers offer. Though not necessary, and certainly not critical, many of them are nice to have. A delay timer, for example, will allow you to put off the start time of any program; an audible reminder will send you a signal when a loaf is ready; a viewing window will allow you to see what's happening inside the device. These are only some of the features that can be found in bread maker machines, and this list can be further extended. Hopefully, our rundown of the most popular bread machines available in the market will help you narrow down your choice.