Bread is delicious. Bread you've made yourself is even better. If you like baking and want to enjoy tasty bread or pastry, you
need to get a breadmaker. Check our brand-new comparison of 5 best bread machines.
...
Read more
...Read less
Zojirushi BB PAC20BA
Power
The Zojirushi BB PAC20BA bread maker is a favorite of many users and we understand why. It's a durable appliance that, despite being rather costly, will be a good investment for anyone interested in making home bread on a regular basis. With 700 W of power, the device makes a standard loaf in a little over than 2 hours and that's definitely not long, seeing as you won't need to do any hard work by hand. Plus the BB PAC20BA has an additional heater on the lid, which allows achieving consistent and even results every time, with the crust being of the right color and thickness.

Settings
This bread maker has 10 pre-programmed settings. Here they are: Basic, Quick Dough, Basic Dough, Quick, Quick Wheat, Jam, Cake, Basic Wheat, Sour Dough Starter, and Home Made. As you can see, this appliance can make jam, as well as several types of dough. Perfect choice for those who adore baking. There is also a Home Made mode which allows you to input your own settings and create really unique recipes.
Loaf Size
Unlike many other bread maker machines, this one can bake only a single size of bread - 2 pounds. Of course, it's not a dealbreaker, but for couples eating little bread, that size might appear to be too much. That said, given how healthy and tasty this bread is, we doubt it will be wasted. Besides, running the device for over two hours just to make one pound of bread is not very smart in terms of energy saving.

Extras
The baking pan has small metal rakes that make it easy for you to take it out. Of course, Zojirushi bread maker has a 13-hour delay timer. Also, there is a handy Exclusive Home Made Menu mode with 3 memory settings supported. There is also a LED control panel which shows all the settings and important data.
---
VIDEO
Zojirushi Home Bakery Virtuoso® Breadmaker BB-PAC20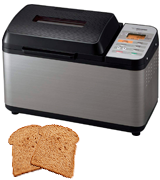 Zojirushi BB PAC20BA
T-fal PF311E
Taste and well-being
The manufacturers from T-fal know that nowadays modern society needs healthy food and so they designed the model that can produce healthy and gluten-free baked goods. The functionality of the T-fal PF311E, however, isn't limited to gluten-free options only. Along with 3 gluten-free and 3 well-being programs, it features 9 other settings to choose from: super rapid bread, rapid sweet bread, sweet bread, cooking only, dough, French bread, cake, pasta, jam. Unlike the previous model, the T-fal PF311E allows you to set the weight of loaf, choosing from 3 options available - 1, 1,5, and 2 pounds. This option makes the T-fal PF311E suitable both for a small household of 1-2 people and for big families who prefer to bake bread at home. Like most bread makers presented on the modern market, this one comes with a nonstick coated inner pan.
Convenient Features
It is made of stainless steel and plastic and comes with a nice set of accessories which include a measuring spoon, hook, beaker and one blade. Though it lacks a baguette tray, it features many functions that make it worth a buy. Thus, the T-fal PF311E has an LCD display that shows the current settings, a delay-timer that allows you to start a baking cycle 15 hours before you need a loaf, a warm mode that keeps baked goods warm for the next one hour, 3 weight size settings and 3 crust settings for choosing the crust color (light, medium, and dark). Add to that a powerful heating element and you get a perfect alternative to more expensive bread making machines at a budget price.  
More Perks For Ease of Use
When a loaf is ready, you will be able to remove it easily due to the nonstick coating of the bread pan and the included paddle. The bread will pop up of the pot quite literally. For users who've never made bread before, the bread maker comes supplied with a recipe book containing 25 amazing recipes ranging from gluten-free and wholesome bread to its sweet varieties.
Additional Info
---
What customers say about this product
I like its versatility - I have tried French bread, a couple of different types of white bread, honey oat, and cinnamon raisin bread and more - with no problems.
This is a well-designed little unit, that functions on-par with waffle machines of its size and competently bakes waffles.
The reason you're looking at this particular model is most likely because it has removable plates that can be placed in the dishwasher.
Perfect loafs at any altitude. It even remembered and picked up where it left off after a power failure. Great quality, easy to use.
T-fal PF311E
Cuisinart CBK-100
Power
This bread maker has the power of 680 Watts. It isn't the best result in our bread maker review, but it's quite good for baking all kinds of dough. You just need to carefully follow the cooking instructions from a user's manual. Keep in mind that it is impossible to bake a loaf of bread within just 25 minutes, no matter how powerful the bread maker is.
Settings
This bread maker machine has 12 pre-programmed settings: Basic/White, Whole Wheat Bread, French/Italian, Sweet Bread, Gluten Free, Cake/Quick Bread, Packaged Mix, Pasta, Bake-Only, Dough, Rapid Bake. There are also programs for other products: Dough and Jam. All the programs are shown on a control panel and you just need to push a necessary button. Pay attention that this bread machine can cook jam which is an advantage. The Rapid Bake mode is available for 1.5-pound loaf only and you can't change it.
Loaf Size
There are 3 available loaf sizes this bread maker has: 1 pound, 1.5 pounds, and 2 pounds. The choice is good enough for cooking for a small or big family, so you will be glad. However, if you need a larger loaf (3 pounds) for a big family you might prefer another model. Keep in mind that some settings are available for a certain loaf size only and it's impossible to choose a loaf size.
Extras
First of all, Cuisinart bread maker has a viewing window through which you can control the baking process. Next, there's a delay timer that allows you to delay the cooking for up to 13 hours. Also, you can set up a Warm Cycle feature and the machine will keep a loaf warm for 1 hour, so you will be able to eat a tasty hot bread when you are back home.
---
VIDEO
Cuisinart 2-lb Bread Maker (CBK-100) Demo Video
What customers say about this product
Shape of bread comes out very could, could be slightly improved. Its timer is hard to decipher and has caused us to open early a couple of times. At this time I can say we like it much.
It works fantastically well! I've made all different types and sizes of bread without any issues.
I love the variable crust color and the fact that you can make large or small loaves.
If the power goes out, it remembers and picks up where it left off.
Cuisinart CBK-100
Oster CKSTBRTW20
Power
Oster bread making machine has power of 500 Watts and though it isn't the best result in our review, this unit is quite capable of baking bread, making dough, jam, and so on. And if you think Oster bread maker will cook for too long, you're wrong - the heating element is good enough to bake bread within just 58 minutes (in express bake modes).
Settings
Oster bread maker has quite a lot of settings that include not only different bread recipes (Basic, French, Whole Wheat, Quick, European), but also allow you to prepare some other dishes such as jam and dough. If you like pastry, like bagels, for example, you can choose Bagel Dough mode and experiment with baking. Many people don't like waiting for too long till their loaf of bread is ready and that's why Oster offers 2 express bake modes - Ultra Fast for a 1.5-pound loaf and Ultra Fast for a 2-pound loaf. The users' manual contains a lot of recipes and detailed instructions about each of the 12 available settings. However, keep in mind that any of express bake modes doesn't allow you to choose the crust color and use the delay timer. So, you can only load the ingredients and push the 'Start' button.
Loaf Size
This fantastic bread making machine allows you to cook bread of 3 different sizes: 1, 1.5 or 2 pounds. There's a special button 'Loaf Size' that allows you to select the size you need in the appropriate settings (some of them give no choice). Most recipes are for loaves of 1.5 or 2 pounds. Such a loaf should be just the right size for a common household of 3-4 people.
Extras
Just like expensive bread makers, this Oster appliance has a delay timer that allows you to put the baking off for up to 13 hours. Therefore, you can enjoy fresh bread when you get home after a long and exhausting working day. Of course, some settings don't allow to use a timer - you can find more information in the users' manual, so you should read it before using the appliance. Oster bread maker machine allows you to track the baking process through a small viewing window. The removable baking pan can't be washed in a dishwasher! Therefore, use a soft sponge or some other rag.
---
VIDEO
Oster 2 Pound Expressbake Breadmaker
What customers say about this product
The crust, even on light setting, gives a nice golden, crunchy loaf.
It works, use it to make French baguettes, easy to clean and run. wish it had a timer shutoff option because to make baguettes you need to stop the machine right before it starts baking in order to form the loaves manually.
It is the American way to make things better with less material.
The power chord is a good size, and the way the instructions are written corresponds very well to the display buttons.
Oster CKSTBRTW20
Breadman BK1050S
Power
Breadman bread maker is quite powerful - 850 Watts which ensures an even heating and baking. Also, the breadmaker is fast: for example, if you want to get a fresh bread within just an hour, you can choose a Rapid mode (it is available for White, Whole Wheat, and French settings) - and you will get a 2-pound loaf.
Settings
Breadman has 14 pre-programmed settings such as White, White Rapid, Whole Wheat, Whole W. Rapid, French, French Rapid, Sweet Bread, Quick Bread, Low Carb, Gluten Free. Also, you can choose a program to prepare Dough, Artisan Dough or Jam and if you need just to bake bread, without kneading the dough, - choose Bake Only. As you can see, some settings are quick variants of 'full-scale' settings.
Loaf Size
Just as the majority of bread makers in our review, this model has 3 available loaf sizes: 1 pound, 1.5 pounds, and 2 pounds. The latest setting is the only one available if you pick a Rapid mode. A usual bread from a supermarket is usually equivalent to a 1-pound loaf from a bread making machine, so you can bake quite a lot for your family.
Extras
This bread maker has an automatic fruit and nut dispenser that makes cooking much simpler. For example, cooking cupcakes will be much simpler compared to the rest of the bread machines. Also, Breadman has a 15-hour delay timer so you can put off the baking according to your own desire and timetable.
---
VIDEO
Breadman 2lb. Professional Bread Machine Video Product Review
What customers say about this product
Even more, it has all of the settings I used on my Sunbeam (although it is missing the cakes, which I didn't use) AND the automatic fruit and nut dispenser!
Nice size for countertops, and not so bulky that you need to put it away after every loaf.
Everything works as promised, however cycle times and duration not reflected on display window nor are they available from support group.
The cord has enough length.
Breadman BK1050S
What Is a Bread Maker?
Just like indicated by the name, a bread machine is a device designed to make bread. With the help of a bread maker, you can save time and effort that you'd otherwise spend kneading the dough and waiting until it rises. Plus, it makes the whole process a lot simpler, which is important, especially for those who are not seasoned bakers. So if you love bread and want to make it at home without breaking a sweat, purchasing a bread maker will be a good decision. There are many different models available, and it should be easy for you to pick one providing the functions and programs you need. To help you out, we've spent many hours researching the most popular bread maker machines, so you can buy yourself the best of the best bread makers.

You may also be interested in this selection of toasters or pizza makers.

What Features to Compare
The first thing to pay attention to is the Power every bread maker has. The baking speed depends on it - the more powerful a bread maker is, the faster it prepares the pastry or bread loaves. As usual, most breadmakers have power ranging from 450 to 1650 Watts. Low-power bread machines, in general, have fewer modes (programs) and some of them do not have a kneading setting.

The next aspect to consider are the Settings that are also called modes or programs. Every bread maker has a certain set of settings - basic or advanced. The number of settings can vary from 2 to 25. The programs are different in terms of dough kneading time, baking time, and temperature. The combination of these parameters allows the breadmaker to cook different types of bread or pastry. All models usually have the common settings such as standard or quick baking. Also, keep in mind that some bread maker machines allow you to set the settings by yourself.
Also, you need to check the Loaf Size - a loaf weighing 1 lbs. is enough to satisfy a daily requirement for a family. Though the best bread makers can bake loaves up to 2 lbs. Therefore, you need to check the model according to a number of people you need to feed.
Finally, there are several more features to consider and we call them Extras. For example, some bread makers have additional settings such as delay timer (which allows you to put the start of the program off), an audible reminder that lets you know when the baking is finished, a viewing window through which you can control the baking process, and so on.