Are you one of those people who can't completely switch to a healthier lifestyle only because you don't love cooking? Well, in that
case, a halogen oven is what you should definitely get for your kitchen. With this appliance at hand, cooking even sophisticated recipes at home will be a breeze and require almost no effort. Look through our selection of the 5 best halogen ovens and make your pick!
...
Read more
...Read less
X
This site is a free online resource that strives to offer helpful content and comparison features to its visitors. Please be advised that the operator of this site accepts advertising compensation from certain companies that appear on the site, and such compensation impacts the location and order in which the companies (and/or their products) are presented, and in some cases may also impact the scoring that is assigned to them. The scoring that appears on this site is determined by the site operator in its sole discretion, and should NOT be relied upon for accuracy purposes. In fact, Company/product listings on this page DO NOT imply endorsement by the site operator. Except as expressly set forth in our Terms of Use, all representations and warranties regarding the information presented on this page are disclaimed. The information which appears on this site is subject to change at any time. More info
Big Boss Oil-less 3-in-1
A Perfect Starter Cooker
If your cooking skills leave much to be desired, yet you still want to be able to cook delicious meals, the halogen cooker from Big Boss will become your perfect cooking companion and a proper starting point in your culinary journey.
First and foremost, the unit is extremely easy to operate. In fact, you just need to load the bowl with food, set time and temperature settings, and let the cooker do its job until the built-in timer turns it off. While dial knobs make adjustments simple and precise, handy tips on most popular halogen oven treats will let you achieve excellent cooking results even if you are completely new to all those time and temperature tweaks.
More than that, delivering a whole variety of cooking options, this halogen oven will make you forget about your stovetop once and for all. You'll be able to fry, roast, grill, broil, bake, boil, and steam using a single device instead of multiple pans and appliances. At 1300 watts, a combo of infrared heat and convection will ensure even cooking from all sides. It will sizzle your foods to an appetizing golden crust from the outside and keep them soft and juicy from the inside. Besides, you are free to quickly defrost ingredients you've just take ou from the freezer or evenly reheat your precooked meals. Overall, the unit encompasses the functionality of a microwave, conventional oven, grill, and a steam cooker saving you the need to buy all those appliances separately.
To make use of the Big Boss cooker functionality to the full, the package includes a handy and comprehensive recipe book with more than 50 delicious and easy-to-cook step-by-step recipes with detailed instructions. You'll have a chance to cook anything from seafood and meat to palatable entrees to match just about any taste.
Enjoy Healthy Fries
The Big Boss halogen oven is complete with a decent set of accessories to further expand your cooking abilities. Thus, two cooking racks will enable you to cook multiple dishes at a time. Just remember to monitor cooking times for different cooks. An extender ring will add four more quarts to an overall cooking bowl capacity to accommodate bigger portions and cook in bigger chunks.
Finally, a basket made of fine mesh is a real find for cooking French fries or grilling veggies. You can set it on top of the lower rack and bake or roast something below or you can use it independently to toss off your favorite fries in a healthy manner. When we say "healthy", we mean virtually without oil. And if you want to achieve an appetizing crust without adding too many calories to your meal, you can spray your fries with a tiny bit of oil using a special sprayer bottle.
To cut a long story short, the Big Boss halogen oven will help you cook like a pro, irrespective of your initial cooking skills, and give you the inspiration to cook more and more.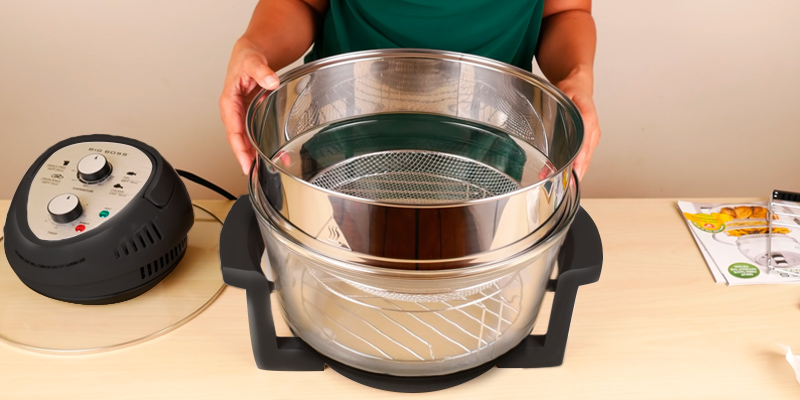 Additional Info
Last updated price

$

75.00

Stock
In stock
ASIN

B00BIFCHSO
---
Big Boss Oil-less 3-in-1
Classic Cuisine 12-17 Quart 1200W
Healthy Cooking Is a Doddle
If the only limitation you face on your way to healthy eating is laborious cooking processes, the Classic Cuisine halogen oven will help you break the limits and bring your diet in compliance with healthy principles.
The very first thing to mention is that this unit will expand your menu options far beyond only steamed or boiled foods. Since it allows for air frying, grilling, and roasting virtually without oil, fried chicken, grilled shrimps, and a whole range of meat roasts will become part and parcel of your diet, making it flavorful and tasty. Meanwhile, your fat and calorie intake won't fly high and you can rest assured no added centimeters will settle on your waist.
A 12-Qt bowl (expandable up to 16 Qt) fitted with two cooking racks will let you cook in two levels and toss off delicious healthy meals for a whole family. A stainless steel fry pan included in the set provides for easy food release and makes bowl cleaning less messy since there will be no baked, scorched, or stuck foods on the bowl bottom. And even if something does stick to the bowl or any accessories, all of them are dishwasher safe, so the machine will do all the dirty work for you.
Operating at 1200 watts, the cooker delivers efficient and consistently high cooking performance. It circulates the heat inside the chamber to make sure your foods are cooked evenly, uniformly, and in a healthier manner. Speaking of which, a healthy cooking style is not only about oil-free cooking. A powerful blast of fan-assisted heat creates a crispy crust on the top of your food while sealing all the natural juices inside and keeping essential nutrients intact. As a result, the meals come out not only succulent and tender but also nutrient-packed.
With an Eye on Safety
Though cooking in a closed environment, halogen ovens are exposed to a high risk of burns since both the bowl and the lid heat up during cooking. This risk is especially high when you open the lid and the splurge of extremely hot vapor bursts out of the cooker and might scorch your hands. To prevent that and keep you on the safer side when handling the hot lid, the Classic Cuisine halogen oven has a number of handy safety features. Thus, when the lid handle is positioned vertically, it shuts the unit off and won't let you turn it on until you lower the handle. Besides, a special lid holder included in the package will keep the hot lid away from your hands when placing it on the countertop.
To conclude, if you want to make your healthier menu more diverse and enrich it with healthy roasts and fries as well as cook in a faster and more efficient manner, you can't go wrong with this halogen oven from Classic Cuisine.
Last updated price

$

61.75

Stock
In stock
ASIN

B01N4PQDJX
---
Classic Cuisine 12-17 Quart 1200W
NutriChef PKAIRFR48.5
Fast and Energy-wise Cooker
Cooking delicious meals fast is the biggest advantage of halogen ovens, which is essential for our fast-paced lives where we often lack time for cooking fresh nutritious treats. And the NutriChef halogen oven really shines in this aspect.
What makes this model stand out straight away is the Rapid Air Circulation technology that works wonders in a combo with triple cooking technologies including convection, halogen, and infrared heat. It further enhances and improves hot air circulation inside the cooking chamber to achieve better heat transfer and ensure more even cooking from all sides. As a result, the foods are crisped and browned to perfection and ideally cooked from the inside, with no hot and cold spots to them. In addition, this technology greatly cuts down the overall cooking time and optimizes the power output. Thus, at 1200 watts, the NutriChef oven cooks up to 50% faster than any conventional oven and, at the same time, consumes up to 75% less energy. So, you can rest assured your energy bills won't increase too much.
Yet another benefit of this model is a 13-Qt bowl that allows cooking several-serving meals as well as cooking two different treats on two levels in one go. It means you can toss off family dinner or a quick meal for kids who have just returned from school in close to no time. Besides, an extension ring included in the package will let you enlarge the bowl capacity up to 17Qt, and cooking a whole Thanksgiving turkey will be a doddle as well.
With Versatile Functionality
We'd be remiss not to mention that the NutriChef halogen oven is not only fast and cost-effective but also exceptionally versatile. Just like other similar cookers, it will enable you to cook with little or no oil to cut down the calorie intake if needed and cook meals that will suit any diet. You'll have an opportunity to boil and steam, roast and fry, grill and broil foods. Many users reported that air fried snacks such as onion rings and French fries come out as crusty and yummy as those you'd normally cook in a deep fryer. Likewise, grilled pork ribs and veal steaks, roasted chicken, and veg are no less delicious and succulent than those barbequed on the open outdoor grills. And you are always free to use some marinades or soaks to further enhance the meat flavor and achieve an even more appetizing crust on the top. Last but not least, the oven can also be used for baking. Pies, quiches, puffy muffins, airy biscuits, and exquisite tender souffles and cheesecake will be as good as those cooked in a regular oven or even better.
With all the multifold functionality you'll get, the NutriChef oven is a breeze to operate. Precise time and temperature settings will let you cook your favorite meals and some new recipes equally easy. Meanwhile, a built-in 60-minute timer will save you the need to constantly monitor the cooking process and will automatically turn the unit off when your treat is ready.
To sum it all up, the NutriChef is a functional, budget-friendly, and energy-wise cooker that will let you cook maximum fast while still adding impressive diversity to your family menu.
Additional Info
Last updated price

$

62.99

Stock
In stock
ASIN

B07LBGDTCQ
---
NutriChef PKAIRFR48.5
Rosewill RHCO-16001
Push-of-a-button Convenience
Halogen ovens make cooking much easier and less time consuming, it's a fact. Yet, most of them will still take your time to fiddle with optimal time and temperature setting ratios fo various dishes, thus, often bringing your cooking options down to several dishes you cook most often. However, there is a really big potential behind these simple cookers and the Rosewill RHCO 16001 will let you enjoy it to the full.
Just like pretty much any halogen cooker, this model is suitable for a whole variety of cooking techniques. It will let you boil, steam, and bake as well as fry, roast, grill, or broil without a single drop of oil. Besides, it will even fit for simply heating up pre-cooked foods. Whatever you use it for, the unit will deliver even results, with no hot and cold spots or uncooked tops and undercooked bottoms you might experience with conventional ovens. A combo of convection and powerful infrared heat will perfectly do its job here.
Yet, what makes the Rosewill oven confidently stand out among the rivals is electronic controls. Apart from the habitual thermostat (up to 475°F) and timer (up to 120 minutes) settings that make it easy to experiment with some new recipes, the unit also boasts as many as 8 pre-set cooking modes. Each activated at the touch of a single button, these modes will let you cook hamburgers, steaks, pork chops, salmon steaks, chicken pieces, whole chicken, and pizza with no trial and error or guesswork engaged. Besides, the wash/dehydrate button allows using the oven as a functional food dehydrator or launch a self-cleaning function to make maintenance a breeze.
For Family-sized Meals
With all the versatility and ease of operation it offers, the Rosewill halogen oven is also an irreplaceable helper when it comes to family cooking. While a 12-Qt bowl itself has sufficient capacity to accommodate multi-portion meals, an extender ring coming in the unit set will further increase the cooking chamber capacity up to 18 Qt. Hence, it will be big enough both for accommodating whole poultry, including even smaller turkeys, and for two-tier cooking. You'll be able to grill veg on the top rack and roast chicken breast on the lower rack for a wholesome family dinner, and do a lot more. And 1300 watts of power is enough to cook quickly and serve your meals as soon as possible.
All things considered, the Rosewill RHCO 16001 is a perfect match for any busy family kitchen as well as for those who seek versatility for their daily menus without the hassle of complicated cooking processes.
Additional Info
Last updated price

$

61.99

Stock
In stock
ASIN

B01HHYEGPG
---
Rosewill RHCO-16001
Wisfor A-169
A Perfect Back-Up Oven
Whether you've got no room for a conventional oven or are just looking for a more efficient kitchen appliance, a halogen oven is a device you'd not want to be without! Not only do they reach full heat much faster than any average oven, but they are also able to deliver much tastier results, thanks to the fan that circulates the air better and more evenly inside. The Wisfor A-169 is just a case in point.
What we have on hands is a multipurpose convection cooker that works on 110 V, making it ideal for cooking pretty much anything, from meat, steaks, and pork to vegetables and whatnot. It combines infrared and hot air movement, which allows it to quickly cook meals, taking up to an hour's worth of cooking time. The Wisfor A-169 is also quite roomy inside. With a 12.7Qt bowl that can be expanded with a ring up to 18 quarts, it provides ample space for cooking even a turkey, making it the perfect back-up oven for Thanksgiving preparations.
Not unlike most other similar models, the A-169 has separate dials for setting cooking time (up to an hour) and temperature (302 °F- 482 °F). When it comes to the use, everything is easy and intuitive. Just put the food into the bowl, set the time and temperature, put down the handle, and off you go—the oven will do the rest for you!
A Rich Set of Accessories
The design of the Wifsor infrared halogen oven is quite remarkable, too. It's made of superior quality materials with stainless steel internal heating element, making it more durable and resistant to damage. The bowl of the unit is made of glass that not only looks attractive but also makes up for hassle-free cleanup after use.
Finally, you can't but like a rich set of accessories that comes supplied with the unit. Compared to most other similar models that only include some basic tools, this one comes with four baking needles, dual racks, extender ring, stove rack, bread rack, tongs and steam basket, which can greatly expand your meal options! Also included is a user manual with recipes. Some users note that the instructions lack information on how to use the included accessories, but in practice, most people get the knack of the device quite quickly.
Bottom line, with its high power and efficient hot air movement, the Wisfor A-169 Infrared Halogen Oven is ideal for preparing steaks, chicken, vegetables and many more. The unit not only cooks healthy and tasty meals, but also keeps them juicy without excessive use of oil, making it a smart choice for all health conscious customers.
Last updated price

$

0.00

Stock
In stock
ASIN

B07SR8R8RY
---
Wisfor A-169
Infographics
---
What Is a Halogen Oven?
Every homemaker probably dreams about all-in-one kitchen appliance to bring both simple and unusual culinary ideas to life. Of course, almost every family has a microwave oven in the kitchen to defrost, heat or even bake and roast different stuff. However, the performance of these functions leaves much to be desired sometimes. Moreover, microwave ovens need a lot of energy to consume. In this case, a halogen oven can become a great alternative.
Generally, a halogen oven is a portable and pretty compact appliance consisting of a bowl (usually made of glass) installed over a base and a power head with controls on the top which is the core of the unit. Fitted with a halogen bulb, this oven uses far infrared heat combined with a fan-assisted convection technology to deliver consistently perfect cooking results. This way, halogen ovens not only cook much faster to save energy but also can perform the functions of a microwave, toaster, slow cooker, grill, dehydrator, and a conventional oven. On top of that, a halogen cooking technology offers a healthier way to cook all-loved grilled dishes with literally no oil. And the meals will come out appetizing and delicious.
Avid meat lovers, those who often throw barbecue parties, and simply all experienced home cooks will also appreciate replenishing their kitchen arsenal with
a cooking thermometer
to always cook their meals in a proper way.
What Features to Compare
Functions
If you want to make the process of cooking easier and faster and meanwhile diversify your cooking options, functions are the first issue to consider before choosing a halogen oven for your kitchen. Basically, the majority of halogen cookers can defrost foodstuff, heat pre-cooked dishes, bake pastry, roast or/and broil meat, steam vegetables and do all of that in a much quicker manner without taking time to preheat since infrared beams start producing heat immediately after turning on the unit. In addition to a standard set of functions, some more sophisticated modern models can also boil, air fry, and barbecue foods.
Controls
Controls are also of the utmost importance as they determine the ease of operation. Depending on the type and price-tag of the model, you can come across electronic and mechanic controls. Units with digital control panels are pretty handy to use and adjust as all available options and programs are displayed on a screen. This type of controls provides more precision and flexibility in operation adjustments. Yet, it should be mentioned that electronic models are usually more expensive. On the other hand, mechanical halogen cooking pots are more affordable and even more simple in use. They only have two dials for time and temperature settings that you can turn to any desired position. Units with manual controls are a better choice for beginner cooks and those who use a halogen oven for some basic cooking tasks.

Materials
Pay attention to this criterion as this is what the durability of a halogen oven depends on. An oven's bowl can be made of either glass or heat-resistant plastic. Glass is one of the most natural and harmless materials. It doesn't oxidize, is resistant to dishwashing detergent and easy to maintain. As for plastic, make sure to check whether it's BPA-free. An oven's base is usually made of reinforced plastic to withstand the weight and temperature of an oven's bowl. The attachments can also be made of a different material, but the most durable are those made of stainless steel.
Usability and Attachments
It's not a secret that details matter. So, let's pay attention to small things which will make the use of your halogen oven a better experience.
Handles located at the base let you move it from one place to another together with a hot meal in a bowl.
High and low cooking racks are what help you cook several meals in one go. A cross-wire rack might be useful in case you want to dry herbs or fruit.
An extension ring is a special tool that can increase the volume of an oven up to 18 quarts. This accessory will come in handy if you're planning to cook a holiday dinner or just a big meal for a family.
By using tongs, you'll protect your hands from direct contact with hot elements and won't run a risk of getting burnt. For extra protection, some models come with a special lid stand.
A majority of halogen cookers have a self-cleaning option which saves your time and makes its maintenance simple. Moreover, all the parts of these cooking pots (except for a lid with dials) are dishwasher safe.