Those consumers who'd like to control what kind of meat or food goes into the stuffing and vary recipes according to their needs,
opt for meat grinders. Meat grinders will not only let you produce the desired ground meat, but also keep your diet healthy. Choose the one to suit you best!
...
Read more
...Read less
X
This site is a free online resource that strives to offer helpful content and comparison features to its visitors. Please be advised that the operator of this site accepts advertising compensation from certain companies that appear on the site, and such compensation impacts the location and order in which the companies (and/or their products) are presented, and in some cases may also impact the scoring that is assigned to them. The scoring that appears on this site is determined by the site operator in its sole discretion, and should NOT be relied upon for accuracy purposes. In fact, Company/product listings on this page DO NOT imply endorsement by the site operator. Except as expressly set forth in our Terms of Use, all representations and warranties regarding the information presented on this page are disclaimed. The information which appears on this site is subject to change at any time. More info
LEM 17791 Big Bite #8 .5HP
A Surprising Combo of Power and Performance
Turning a chunk of meat into soft and uniform mince is not an easy task and doing it manually might take pretty much elbow grease. That's why electric meat grinders are indisputable winners when it comes to meat mincing. Choosing a good meat grinder, we would intuitively incline to higher power models to achieve quick and efficient grinding results. And it is hard to imagine high performance to be packed in a low-power design. Yet, this is exactly what will strike you in the BIG Bite grinder from LEM.
Strange though it might seem but hosting only 350 watts of power (which is a pretty low power characteristic for this type of appliances), this machine can grind about 7 lbs of meat (which is close to a commercial-grade output). Such an amazing result is delivered by a combination of redesigned grinding plates and powerful steel gears with roller bearings. Other than that, the auger in this model is fitted with the patented Big Bite™ technology. Featuring a wider distance between the spirals, it easier captures even larger chunks of meat and grinds up to 30-50% more meat in less time as compared to other grinder models. The auger design prevents clogs and ensures smooth grinding operation without stalls.
With that said, it means you can grind big batches of meat in almost no time. And you'll constantly have premium grinding results. The coarse grind in this model is close to medium grind in other meat processors. Hence, you don't actually need a medium grinding plate. Meanwhile, a fine grinding plate will let you achieve a perfect texture and consistency of the mince you'd normally buy in the store. Moreover, there is no need to worry about your energy bills, the unit will consume minimum energy even for grinding a big game or venison.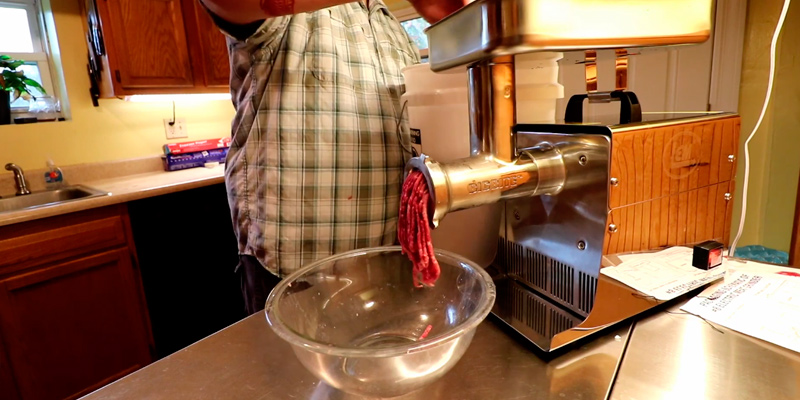 Solid Steel Quality
LEM is a popular brand and a true leader in game processing. LEM grinders excel not only in grinding performance but also in construction quality. The Big Bite No.8 grinder is not an exception. The model will outperform and confidently outlive almost any other grinder in this class and even many units in a high-power range. All of this is owing to an all-steel design. Not only the exterior and a meat tray but also all other parts including grinding plates, an auger, blade, and feeding chute are made of first-grade stainless steel. All components are durable and corrosion-resistant, building up a rugged construction suitable for extensive daily use that will serve you for years to come.
In a word, if you seek a reliable and high-performing electric meat grinder that will meet a number of your home processing needs, you'll be hard pressed to find a better option than the LEM Big Bite, a meat grinder that ensures low energy consumption without the loss of output.
Additional Info
Last updated price

$

434.52

Stock
In stock
ASIN

B074F8PWVX
---
LEM 17791 Big Bite #8 .5HP
STX International STX-3000-TF
Heavy-duty Beast for Your Home Kitchen
If you're looking for a commercial-grade grinding performance squeezed into a reasonable price tag, there is hardly a better option than the STX International Turboforce meat grinder. The price of this model is not the lowest in the range, yet, a truly affordable one for the kind of performance this mincer will deliver.
With the peak output power of impressive 3000 watts, this model will run at about 1200 watts under load and can consistently chop through up to 6 pounds of meat per minute at a high speed. An outstanding motor power combined with 3 available grinding speeds makes this model by far the most powerful in its class and a market leader among grinders for domestic use. The unit will cope with all sorts of meat, be it a delicate chicken fillet or some fibrous chunks of beef, duck, or lamb and can even grind some smaller bones for pet food. The only thing to remember is that it takes some time for the motor to cool down after a long operation, so don't give it hard times and make some breaks.
As powerful as it is, the grinder is pretty simple in use. As soon as you attach a proper cutting plate, you can choose what speed (Low or High) you want to grind your meat at. If you clog or overload it, you can just turn the grinder into the reverse speed. Bingo! You will not have to open the unit up, as the reverse speed will let you set the opposite direction of rotation and unscrew the bits. Additionally, the STX grinder comes with a range of attachments and blades for various cutting jobs. So, making fresh homemade sausages, delicious stuffings for pastries, and roasting burgers will be an easy task.
A Choice of an Avid Meat Eater
If you cook for a large family of meat eaters or regularly throw BBQ parties in your garden, you know firsthand how much time meat mincing can take. In this case, many would give up and make a choice in favor of store-bought ground meat. Yet, with the STX Turboforce grinder, you won't have to face that kind of choice.
This model applies a size 12 grinding head in contrast to smaller size 5 and 8 grinders. This means it can grind 2 to 3 times more meat than other grinders within the same amount of time. Made of top-quality food grade cast aluminum, the grinding head can withstand continuous heavy workloads and is not prone to damages. The Turboforce auger comes with an advanced variable design that will let you grind larger portions of meat at a single setting. All of this along with a wide feeding hopper opening ensures faster and easier mincing and makes this model suitable for bulk processing and grinding.
Bottom line, if the commercial-grade power, excellent functionality, and high grinding speed are what you need for your home kitchen, look no further. The STX Turboforce will cater to all your needs. It's a great choice for a family of enthusiastic meat eaters and will even come in handy in a small burger bar.
Additional Info
Last updated price

$

0.00

Stock
May be out of stock
ASIN

B0012KJBR0
---
VIDEO
STX Turboforce 3000 grinder review
STX International STX-3000-TF
Gourmia GMG525
For Meat Gourmets
Are you a fan and connoisseur of haute-cuisine meat dishes? Kielbasa, bratwursts, Kibbeh, picadillo, Italian sausage, and andouille are as familiar to you as traditional burgers, meatballs, and meatloaf? Spicy, smoky, succulent, flavorful, and genuinely meaty, those treats make your mouth water and surely make you want to be able to cook them in the comfort of your home. Yet, store-bought pre-ground meat can't compare to fresh meat blends you'll make by yourself form the best chunks of meat. This is where an electric meat grinder from Gourmia will be of great help.
Straight off, with 1000 watts under its hood, it is not the most powerful meat crusher out there. At the same time, the average motor output in a combo with all-metal grinding and cutting gear ensures consistently high and efficient grinding performance. In other words, the unit will easily mince any kind of meat you normally use for cooking, be it pork, beef, veal, chicken, turkey, or lamb as well as tougher to grind game meat such as deer, venison, and elk. You'll be able to mince up to 3 lbs of meat per minute, which is a decent rate to cover home grinding needs and cook delicious treats from fresh meat for your family and friends.
A 3-section low-speed auger will give the meat a fine and tender texture while a sharp-edged steel cutting blade will smoothly cut through fibers, fat and thin tendons for homogeneity. Besides, 3 grinding discs allow varying the cut size between fine, medium, and coarse to your needs and the kit of special tubes will help you stuff sausages and make Kibbeh quickly and effortlessly.
... and for Beginner Cooks
Grinding performance aside, the Gourmia electric mincer stands out for a convenient design thought out to a single detail and will be easy to get the hang of even for beginner cooks who have never used an electric meat grinder before. The unit assembly is really a piece of cake since you only need to attach a grinding head with a meat tray on the top and screw in the auger with a blade and the needed attachment. Then switch the button on and off you go. Just feed meat pieces into a hopper and the grinder will mince them in mere seconds. To push the meat through the grinding head, the set comes complete with a special meat stomper that will also keep your fingers away from the rotating screw. Meanwhile, a reverse mode will ensure easy unjamming of a piece of tough meat or bone. Once you try the Gourmia meat grinder in action, you'll see that making ground meat at home is almost a child's play and a recipe book is yet another bonus that will help novices start cooking like pros.
Simply put, with the Gourmia electric grinder, you'll be able to cook restaurant-quality gourmet ground meat dishes in the comfort of your kitchen, no matter your cooking skills.
Additional Info
Last updated price

$

43.81

Stock
In stock
ASIN

B01MF58RD2
---
Gourmia GMG525
Sunmile SM-G31
A Real Find for Light-duty Needs
In motor-driven units, whether be it a power tool or an electric kitchen appliance, the output performance largely depends on the motor power. Hence, we intuitively lean toward more powerful models to get the most out of their performance. However, "the more the better" is not always the right principle. And choosing a meat grinder for your home kitchen, you should first analyze your needs to find the model that will cater to them. Thus, high-power and high-performance units are intended for heavy-duty needs and extensive workload while light-duty cooking needs require less power. This is exactly where the Sunmile meat mincer will come in.
Sunmile is an expert in small-scale appliances and knows how to make a small unit delivering high enough performance. The secret behind the Sunmile meat grinder is a quality design and a specifically built motor. The model is distinguished by an all-metal construction with a steel body, aluminum grinding head and cutting elements made of genuine stainless steel. The only plastic parts you'll get are sausage tubes and a stuffer. So, the machine can easily withstand extensive use and its durability is beyond any doubt.
As far as the motor is concerned, the rated peak power of 800 watts might puzzle you first. Yet, don't let it fool you. Thanks to a self-developed design with an all-copper coil inside and lower operational loss, the Sunmile can beat even 2000-watt grinders. It will operate smoothly and flawlessly yielding enough force to mince up to 2.5 lbs per minute which is a decent grinding speed that will meet common home grinding needs for sure. Besides, a wider feed chute along with a large-capacity meat tray will let you quickly cope with pretty large amounts of meat.
No Function Is Missing
As the name suggests, a meat grinder is supposed to mince and chop different kinds of meat and achieve various grind sizes. Moreover, most modern models also allow stuffing homemade sausages and even making pasta. Though pasta accessories are not included in the Sunmile set, the rest of standard grinder functions are available. Thus, 3 cutting plates will let you achieve large, medium, and fine grind for cooking anything from juicy burgers and meatloaves to delicate pies and mouth-melting meatballs. 3 sausage attachments are also there to make a whole variety of pork, beef, lamb, or even deer sausages to roast on a griddle or grill on the open fire. With that said, the Sunmile functionality is not inferior to that of top-rated mincers and definitely more than efficient for everyday home cooking.
To conclude, despite a relatively low motor power, the Sunmile grinder can compete in performance with more powerful units and will become a great choice for small families with light-duty meat grinding needs.
Last updated price

$

59.99

Stock
In stock
ASIN

B005EPJAY8
---
Sunmile SM-G31
Ivation IV-EMG181S
A Kitchen Helper You Can Fully Trust
Cooking needs of different families and households differ a lot and greatly depend on food preferences of family members as well as on their culinary aspirations. Ground meat is a basic ingredient for a myriad of tasty recipes and a meat grinder is a must-have kitchen tool for all kitchens. If you plan to buy one for your home but are not sure about your grinding needs yet, you won't go wrong with the Ivation electric meat mincer. Providing a perfect balance of power and reliability, it will meet all your current needs and those future needs you don't even know about.
What you'll get is a pretty compact unit with a small footprint (7"x10") for a compact storage and convenient space-wise placement on the countertop. An all-metal construction and moving parts of the first-class stainless steel and aluminum make sure the grinder is not prone to damages, can handle heavy-duty workloads and will serve you for years to come. Behind a steel housing is a high-performing 1800-watt motor that generates a lot of power to cope with all sorts of grinding tasks from light-duty mincing a tender chicken breast, fish fillets and soft meats to the tougher grinding more fibrous beef, deer, or fowl. It will even cut through soft bones to complement your pet raw diet. 3 grinding plates will let you make coarsely or finely ground meat for different types of dishes while a set of sausage tubes and a Kibbeh attachment will be greatly appreciated by all BBQ lovers and fans of Asian cuisine.
Notably, all that amazing functionality comes packed in a rather simple design. It will take you only a few minutes to put the grinder together and then disassemble it for cleaning. The unit maintenance is a snap as well. Just wash the grinding head and all the moving parts under warm running water and wipe them dry to prevent rust and discoloration.
Unmatched Safety for Your Peace of Mind
All electric meat grinders are fitted with some sort of safety features to protect the user and the unit during operation and the Ivation is not an exception. Yet, in addition to a basic circuit breaker to avoid motor overheat and a feed chute with a pusher for hand protection, this model offers several more safety options to ensure the highest possible level of protection. Thus, there are dual switches that need to be in the same position to engage an ON mode and Reverse mode. This will help prevent the motor burn-out and prolong its service life. Meanwhile, all parts in contact with the food are made of food-grade materials which means you won't be exposed to any metal oxidation by-products. Besides, the unit is ETL-certified ensuring due electric safety.
Designed with the focus on safety, smooth operation, and consistently high grinding performance, the Ivation mincer is an ideal choice for a household with varying grinding needs that range from making a traditional mixed mince for meatballs or some quick-to-cook everyday stuffed dishes to stuffing large batches of homemade sausages for BBQ parties or bulk processing venison.
Additional Info
Last updated price

$

0.00

Stock
May be out of stock
ASIN

B079BZX7KX
---
Ivation IV-EMG181S
Infographics
---
What Is a Meat Grinder?
Today, a kitchen of an experienced home cook often resembles a professional restaurant kitchen. Mostly, it is thanks to a vast variety of kitchen appliances and cookware meticulously designed to make certain laborious cooking processes easier and help home cooks upgrade their culinary skills to a professional level. Countertop blenders and smoothie makers, stand mixers and hand mixers, food processors and food choppers, food scales, food slicers, pasta makers and a lot more other appliances take the strain out of ingredients preparation and help achieve appetizing cooking results.
A meat grinder is a popular kitchen device engineered to replace a mincing knife and automate the process of chopping and mixing raw meat. The meat loaded in a funnel makes a distance through a screw conveyor and comes out as a mince through a hole plate fixed on a tube. Depending on the size of holes, you can easily vary the thickness of the ground meat and prepare all sorts of meals in no time. In addition, many models are equipped with special attachments that allow not only grinding mince but also chopping potatoes and other veggies. With an electric meat grinder in your kitchen arsenal, you can cook a whole variety of delicious homemade dishes and will always know what your mincemeat is made from.
What Features to Compare
Performance
The very first point of check you should pay your attention to is the unit performance that is usually determined by the grinding speed and the ground meat quality. First of all, it should be mentioned that grinders are divided into electric and manual devices. The difference between these two types is obvious. The use of manual grinders requires constant control and manual handling while electric units don't require so much effort. As a result, electric grinders will definitely outperform manual models and make a much more efficient option no matter how often you cook. So, if you've decided to purchase an electric model, primarily consider the power of the motor since this is what the grinder performance largely depends on. The higher the power, the more meat the grinder will be able to process and the better output quality will be. The motor power of modern electric grinders can vary from impressive 3000 W up to moderate 800 W and the grinding capacity will range from 2 to about 11 lbs of meat per minute accordingly. Hence, you should align these rates with your cooking needs.
Functionality
Variable cutting speeds along with a number of attachments and grinding plates determine the functionality of any particular grinder. They define the thickness of stuffing and the type of meat it can grind - a gentle fillet or fatty chunks of meat. Upon using some special attachments, meat grinders can even produce pasta. Functional options also shouldn't be neglected. For instance, some electric meat grinders have the reverse button. How does it work? Just with a push of this magic button, you'll be able to cope with hard pieces that get stuck between the blades. The reverse button will activate the grinder knife, making it change the direction, and all stuck pieces will be pushed through the holes of the plate.
Reliability and Safety
If you usually grind a lot of meat, make sure that the motor is powerful enough not to overheat during continuous, heavy load work. In order to not let that happen, most manufacturers have implemented various technologies and wrapped their grinders in solid, durable housings. For example, most electric grinders are paired with a special safety fuse that prevents overheating of the motor. In regard to housing, the common materials for grinders are plastic and stainless steel. For higher efficiency and cost reduction, they are often combined. As a rule, most compact, lightweight meat grinders are made only of plastic. They are easy to maintain and use, but they won't grind a lot of meat. Their main task is to process small, pre-sliced pieces of meat into stuffing, or dough into pasta. More powerful grinders are usually made of durable stainless steel. Consequently, they are all quite bulky, but their productivity is hard to beat.
Did you know?
Grinding Tips
The biggest claim about all electric meat grinders, including even high-power meat crushers, that makes some customers hesitate about a purchase is that a grinding head often gets clogged with uncut meat. And only those users who know some easy grinding tricks never have this issue. To help you get the maximum of your electric mincer and always achieve smooth grinding results, below, we share some useful grinding tips.
Prepare your meat. It is considered that the softest and finest meat chunks are the easiest to grind. And it's true. Yet, what's the point in grinding if you can easily roast, grill or saute such high-quality meat chops. Meanwhile, experienced chefs consider cheap and fatty parts the best for grinding. The whole trick is in proper meat preparation. First of all, you should remove the skin and excess fat if any and chop your meat into smaller cubes or strands to facilitate feeding and cutting. Once chopped, meat pieces should be chilled. The best way will be to spread cut meat over a tray and put it into a freezer for about 30-40 minutes to let it get close to a freezing point. Chilled meat holds its shape better and passes through the auger more smoothly.

Chill the gear. Normally, all the cutting gear and a grinding head assembly are made of steel or steel and aluminum. Most users would simply fetch the grinder out of the drawer, assemble it and start grinding. Yet, if you put a meat tray, an auger, blades, and plates into a freezer to let them cool, you'll be amazed at the difference in the resulting grinding performance. If you need to grind just a couple of pounds of beef chuck for hamburgers, keep your tools in the freezer for about 30 minutes. Yet, if you have bulk meat processing on the agenda, let the gear freeze.

Don't neglect helper tools. Almost any modern electric grinder comes complete with a stomper to push the meat through the hopper. But many users load meat chunks into a feeding chute and expect the screw quickly cut them through. And the unit will do it. However, if you use a stomper to push the meat onto the auger, you will create some extra pressure for better meat passage. This will help prevent clogs and achieve a more homogeneous and delicate mince texture.
Home Ground Meat Benefits
Many people still prefer butchery processed meat but even more turn their heads to home grinding and for a good reason. Here are several indisputable facts that speak in favor of home ground meat:
Safety. Grinding meat in your own kitchen, you are sure about the cleanliness of the countertop, dishware, and the gear you use while you can never be sure how clean the factory is or a butcher shop where meat is processed. Hence, with the pre-ground meat, there is no guarantee you won't be exposed to some harmful bacteria.

Meat quality. Commercial meat grinders can turn to a smooth paste almost anything from tendons to skin and bones. So, you never know what the processed mince is made from and how fresh those ingredients were.

Fat content. Making your own ground meat, it is only you who decides how much fat will go in, whether you want a healthier lean blend or a juicier one with more fat.

Taste control. In the end, it is all about taste. When you have control over the meat quality and the content of your mix it will come out not only fresher and healthier but also more delicious. And once you take a home ground meat for the dish you used to cook with store-ground meat, you will taste the difference.