If you'd like to diversify your menu but do not consider purchasing a bulky food processor, a good alternative would be to buy
a hand mixer. Smaller in size and more lightweight, it's just the right thing for quick whisking and mixing tasks. In this review, we've covered five best-selling models of hand mixers to help you make the right choice.
...
Read more
...Read less
Breville BHM800SIL
Create Just About Anything
The Breville BHM800SIL Handy Mix Scraper Hand Mixer is a great device to use for creating different types of desserts or mixes. The Quiet Scraper Beaters are supplemented with a rubberized coating that provides the highest quality contact with the bowl for thorough mixing and does not create noise or friction, while also significantly improving the durability of the attachments. This works well in conjunction with the high powered 240 W motor, letting you mix even the toughest ingredients into a smooth texture, all without wearing out either the attachments or the mixing bowl.
Speaking of the attachments, this model comes with a set of scraper beaters, which were already mentioned above, along with a pair of dough hooks and balloon whisks, giving you the perfect set for whatever you wish to mix in the bowl. The attachments are all highly durable and also lightweight, making them easy to handle without adding too much weight to the mixer. 
The unit includes a storage compartment that clips on underneath the mixer for both the attachments and the power cord, allowing you to keep them all together in one place without having to hunt around for them or risk losing them. Basically, this is one of the handier mixers we've seen.

Mix at Any Speed
Many mixers come with a very limited number of speeds, but this one doesn't. This model includes 9 different speeds that allow you to choose the perfect speed for mixing ingredients however you wish. There is also a boost selection that adds a little extra speed to your current setting, perfect for times when the ingredients need just a little more oomph from the mixer. The selector switch for the different speeds is quite simple to use, letting you quickly change the settings on the fly without having to fumble around with the device. This is one of the better mixers for getting that precise speed that you need.
This hand mixer includes a number of innovations that help make it one of the perfect kitchen tools. This unit can automatically detect which attachments are currently connected, allowing it to automatically adjust the speed of the device to the perfect setting depending on the used attachments. The mixer itself feels very strong and durable, although it is a bit on the heavier side, which may make it uncomfortable to use for a long period of time. Having said that, the holding handle is non-slip and has a comfortable feel, which helps mitigate the heaviness of the unit. All in all, this powerful and fully functional hand mixer is one of the best companions you can have in your kitchen.

Additional Info
---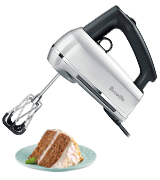 Breville BHM800SIL
Cuisinart HM-70
Knead, Beat, Mix
Have you encountered a hand mixer that just wasn't powerful enough to handle all of the tasks that you threw at it? If so, then don't worry, you're not alone. The Cuisinart HM-70 Power Advantage hand mixer was made for those who require a bit extra power in order to handle even the toughest mixing tasks. The 220 Watt motor of the Cuisinart HM-70 generates enough power to mix all types of ingredients, even larger pieces of food. With this electric handheld mixer, you will be able to knead dough and beat frozen chunks of thick butter, all with only a minimal amount of effort on your part. It automatically adjusts the power to cope with various ingredients, so you won't have to worry about finding just the right speed setting for whatever task you are working on.
The Cuisinart HM-70 hand mixer is equipped with a full set of attachments required for making all types of meals, including bread dough and smoothies. You will find a couple of dough hooks, a few standard wire beaters and a spatula (it helps you clean the bowl of the remaining ingredients). With all these accessories included in the box, you'll have no need for any additional equipment, making this particular model a great choice for those who want a mixer to come with everything they need.

A Well-made Mixer
This Cuisinart hand mixer offers 7 different speeds for mixing all types of ingredients with minimum effort. The easy-start function allows users to launch beaters at a low speed and keep the liquids mixing without any worries of splatter. The highest speed level will let you quickly knead dough and finely process nuts and frozen food. Along with the automatic power adjustment mentioned earlier, you'll find that this hand mixer can cope with any mixing task without requiring you to fine tune its performance.
As if the power and performance of this Cuisinart hand mixer isn't enough, the overall design of the unit is quite stunning, making it a great complement to any kitchen. This model is available in several colors so that you can find the one that comes to your liking and which matches your kitchen interior. Being small in size, it doesn't take a lot of space on a kitchen table and doesn't require any special storage place. The Cuisinart HM-70 has an extra-long swivel cord, that's easy to pivot to any side while the mixer itself sturdily rests on its heel, and a small LED screen to display a chosen mode. With all of these features added together, it is easy to see why this Cuisinart hand mixer is an optimal choice for those who want a hand mixer that can handle any task.

---
VIDEO
Cuisinart Power Advantage 7-Speed Hand Mixer (HM-70) Demo Video
Cuisinart HM-70
BLACK + DECKER MX1500W
Ergonomic Design
Most hand mixers tend to have one thing in common: they all seem to be less than ergonomic. Sure, the mixer may work with fantastic results, but using it for more than just a short time can tire you out fast. Why don't manufacturers make them a bit more ergonomic? Well, at least one of them has, as you can see with the BLACK + DECKER MX1500W Lightweight Hand Mixer. This model combines great performance with an ergonomic design that makes it extremely easy to hold, even when you are needing to do extended mixing sessions. Your hand simply won't tire out nearly as quickly as it does with most other mixers.
Not only does this mixer have an ergonomic design, but it also has great performance. The 175 Watts of power, while being a bit on the low end compared to the other mixers reviewed here, is still more than sufficient for effectively mixing all kinds of ingredients in a short amount of time. This mixer isn't just about raw power, though. It offers 5 different mixing speeds that will let you choose the exact speed you need for any given task. In addition, for those who need a little more power, the Power Boost option gives you a bit of extra performance for extra tough mixing jobs, so you should find this mixer able to handle everything.
Convenient Use
Along with the mixing performance and ergonomics mentioned above, this mixer has a few handy features that add to the overall convenience. The heel of the unit is made to rest flat on any surface, so you don't need to worry about finding a stable place to put it. There is also a bowl rest provided to let you rest it on a bowl. These two things make its use much more convenient, as anyone can tell you that finding a good place to rest a hand mixer without these features can be a bit of a pain.
The beaters that come with this unit are professional-grade units that will do a great job with many different mixing uses. Whether you need to mix a sauce, batter, dough, or anything else, you'll find the beaters to be more than up to the task. On that same thought, though, only one type is included, so those who may require different styled beaters for specific tasks will need to purchase them separately. Having said that, there is little that the included beaters can't be used for, so most people probably won't ever need to purchase additional ones. Overall, the good performance of this hand mixer coupled with its ergonomic design make it a great choice for those who want a model that is utterly convenient to use.
Additional Info
---
BLACK + DECKER MX1500W
KitchenAid KHM926CA
Great Selection of Attachments
This KitchenAid mixer is one of the less powerful models on this list, at 175 Watts, but it still has plenty of power to mix most ingredients that you could throw at it. It works perfectly with mixing and blending eggs, flour, shredded meat, and most other ingredients, mixing and blending them together to suit your tastes. Mixing together batter of any type is quite easy, and this mixer can handle it without breaking a sweat. For tougher mixtures, it might be best to try mixing smaller amounts at a time rather than trying to mix a full bowl, although even then it should still be able to work fine.
One of the areas in which this mixer really shines is the included attachments. In addition to the standard mixing heads, you also get a Pro Whisk, which is perfectly suited for whisking ingredients without having to strain your hand or arm. The Dough Hooks let you mix together even the toughest dough with ease, and the Blending Rod gives you the ability to blend ingredients without needing to invest in additional equipment. Few other hand mixers include a comparable set of attachments, which you should find quite useful for a variety of kitchen tasks.

Ergonomic and Light
The 9 speeds included with this hand mixer make it one of the more versatile options that you can find. The abundance of speed settings gives you the ability to set the perfect speed for your mixing needs, without worry of the chosen speed being too fast or too slow. In addition, the Soft Start feature gives you the ability to start the mixing at a slow turn, with the speed gradually building up. This is perfect for preventing the accidental splattering of ingredients when doing a light mix, and ensures that you are never mixing too fast. Separate mixing speed combinations are also included for specific ingredients.
Few hand mixers can really match the overall construction and ergonomic design of this model. Featuring a Soft Grip handle, this mixer is light and quite easy to hold, as well as to move around during use. This helps greatly in preventing arm and hand fatigue while in the process of mixing food. The included attachments are also quite easy to attach and remove, which can be done with a single-handed push of a button. The power cord can even be locked on either side of the mixer in order to prevent it from getting in the way while in use. The overall quality of this hand mixer will be sure to please even the most critical cooks.

Additional Info
---
KitchenAid KHM926CA
VonShef 13/328
Easy to Control Mixer
Hand mixers aren't always known as being the most complicated devices, but sometimes getting them to work the way you want them to can be perplexing. This especially applies to the speed of mixing, but can also apply to how easy the mixer handles as well as many other things. The VonShef 13/328 Electric Hand Mixer is one appliance that has made everything about its operation simplified to the point of making it as easy as possible to operate. This hand mixer basically works with all controls of the mixer being controlled by your thumb. This includes the speed settings, the Turbo button (more on that later), as well as the Eject button for removing the attachments. This lets you make all changes while in the middle of mixing, preventing you from having to stop in the middle of the process.
As well as being easy to operate, this hand mixer is very easy to handle. The design of the unit gives it an extremely sleek retro appearance that definitely makes it one of the best looking mixers available, but also its lightweight design and easy to grip handle let you maintain firm control over it at all times. The soft grip of the handle also ensures that it won't slip out of your hands at any point, even if your hands are wet.
Turbo-Powered
As usual, the power of a unit can show just how performing and effective a hand mixer is, and this is definitely true of this model. This 300 W unit is the most powerful of all of the units we have reviewed here, making it the best choice for those who have heavy-duty hand-mixing needs. This unit offers 5 different speed settings, all of which can be selected quite easily with your thumb during operation. For times that you are mixing batter but just can't seem to get all of the lumps out, the Turbo button lets you temporarily boost the speed to the highest level to beat out even the most stubborn lumps.
No hand mixer is complete without its attachments, and this unit gives you just about everything that you need. Included are two standard beaters as well as two dough hooks and a balloon whisk, giving you all of the tools you need, no matter what you are cooking. Attaching and detaching the attachments is extremely easy, with the eject button letting you do so without having to set the unit down. The attachments are completely dishwasher-safe as well, letting you clean them easily after use. All told, this heavy-duty hand mixer from VonSheft is both powerful and easy to use, making it a great addition for any kitchen.
Additional Info
---
VonShef 13/328
What Is a Hand Mixer?
A hand mixer is a small kitchen device used to quickly mix wet/dry ingredients into a uniform substance. It can serve as a small alternative to a food processor and help you cope with quick whisking tasks.
Hand mixers are easy to use and maintain. All you need is to attach a beater or whiskers in place and it will be ready to use. Cleaning accessories is an easy task too and in most cases, you can simply throw them in a dishwasher.

Speaking of performance, hand mixers aren't as potent as stand mixers or food processors, of course, but they will definitely deal with whipping eggs, kneading batter, and mixing other stuff. Plus, many of them come complete with several speed settings and a Turbo button, enabling you to easily plough through various ingredients for baking/making all kinds of delicacies and goods.

So, if you need a hand mixer, you've come to the right page. In this article, we offer you to take a look at a selection of the best hand mixers that will suit anyone - from novice to expert bakers. Of all the models we've come across during our research, be sure these five beat the rest in all concerns.
For more specific tasks, check out our Kitchenaid mixers reviews too.

What Features to Compare
Power

First of all, consider the power of a hand mixer: the higher this number will be, the faster the mixer will be able to stir things up. Generally speaking, 100-150 Watts of power output will be enough to stir and whip eggs, batter, creams, soft drinks and delicate food ingredients. That said, if you need a hand mixer for more heavy-duty baking, we recommend choosing from models that can yield 200-250 Watts or more.

Accessories

Hand mixers may come complete with such accessories as beaters, kneaders, dough hooks and whiskers. These tools remarkably broaden the scope of application of a mixer and will allow you to stir a greater variety of ingredients with ease. Most hand mixers are able to recognize what attachment has been inserted in the device and automatically adjust its operating speed to the most suitable level depending on the task at hand. This is a handy feature which can eliminate guesswork and ensure splash-free mixing.

Speed Settings

You should also consider how many speed settings are offered. This number may vary from 3 to 5 to even 15, depending on the price and brand of a mixer. It's worth noting though that the number of speeds is important but doesn't necessarily determine the tool's efficiency and it's essential to take into account speeds together with power so as to make sure the device will be able to cope with the tasks you need. Along with speed settings, consider if the mixer has a Turbo mode and a Pulse button. The former will be useful when you need some extra power and the latter will allow you to mix things at a varying speed.

Design

Finally, pay attention to the design of a hand mixer. More often than not, hand mixers are made from plastic and have an ergonomic handle to reduce hand and wrist fatigue during use. However, you can also find models with a chrome look and those made of stainless steel. Mixers with a metal housing look very stylish and, as a rule, are more durable than plastic models. Some mixers may also have retractable cords so you can compactly store them in a drawer or kitchen cabinet. Hopefully, our reviews of the best-selling hand mixers will make it easier for you to make up your mind and pick a model that will suit you most.

FAQ:
Q: What are the advantages of hand mixers over stand mixers?
A: The main benefit of hand mixers is their compactness. Usually, they have a very small footprint and can fit any storage space easily. In addition, hand mixers are easy to use and make a perfect choice for people who cook only for their close friends or families and don't need to bake for more than 4-5 people at once. You can choose a bowl of any size for mixing and easily clean the hand mixer. Last but not least, hand mixers are more affordable than their stand competitors.
Q: What other parameters, besides the power, speeds, attachments, and construction, should I consider when choosing a hand mixer?
A: Don't forget that it's a hand mixer, so you should feel comfortable while holding it. It's better when the mixer has a non-slip grip to prevent sliding in hand. A swivel cord will be good for left-handed people. In addition, the mixer shouldn't be too heavy, the most appropriate weight is between 800 grams and 1 kilo. Finally, after mixing you'll have to clean your device, so try to choose the mixer without unnecessary buttons or small details, which will take more your time during cleaning.
Q: How many speeds should a good hand mixer have?
A: If you want to be able to prepare different kinds of cream, batter, and dough, your hand mixer ought to have at least 5 speeds. The best hand mixers offer up to 9 speeds. It's also essential for the mixer to have a low start speed, which will free you from cleaning unneeded cream splashes from your kitchen walls and floor. If you don't want to spend time on choosing the right speed, then, while selecting the hand mixer, pay attention to the Burst Power button on the mixer which activates the turbo mode that can help you quickly mix all ingredients.
Q: Which useful attachments should my mixer have?
A: The essential attachments are beaters, whisks (or balloon whisks), and dough hooks. Beaters are suitable for a variety of tasks: from preparing batter to mashing potatoes. For more efficiency, the hand mixer should be equipped with two beaters. Balloon whisks perfectly cope with whipping cream, frosting, and egg whites. Dough hooks can't be found in all hand mixers, but if you often need firm dough, for example for buns or bread, then this attachment will be of great use to you. Extra attachments might include whisks for milkshakes, spatulas, etc. Try to choose the attachments with long arms because they mix ingredients more thoroughly and make fewer splashes.
Q: How should I store my hand mixer properly?
A: Though hand mixers are rather small in size and usually come with special bags for storage, it's still important to store them properly. Here are a few tips:
Be careful with a cord. Rather than wrapping it around the handle, fold it carefully to avoid doing damage to it;
If the cord is retractable, simply hide it inside the appliance after each use;
Make sure to dry it out completely before stowing away in a case.
Q: Are there any tips on how to prevent ingredients from splattering?
A: If your mixer doesn't have a low start speed, but you aren't keen on cleaning your kitchen after each mixing, there's a life hack that you might like. Take a big sheet of wax paper and put it between the mixer body and necessary attachments (whisks or beaters). The attachments should spin easily. When you start mixing, the wax paper will save your cooking space from unwanted mess.
Q: How can I use my hand mixer in a more efficient way?
A: There are a few tips following which you'll be able to get the most out of a hand mixer without shortening its service life. One of them is to use the included attachments in accordance with their intended purpose. That is to say, if you decide to use a whisk to knead dough, not only will you be disappointed with the end result, but also you will run a risk of damaging the appliance. Another tip is to keep the mixer unplugged when you do not use it. Also, do not operate your mixer at high speeds. Let it gradually reach the needed speed. This will help you to prevent splattering, and will also add to the service life of the motor. Next, do not mix tough ingredients for more than 3 minutes as this might cause its overheating. Finally, do not forget to clean it regularly.