Sometimes getting a large and expensive food processor makes no sense, but it's impossible to cook delicious food without a hand
mixer than whisks, stirs, and beats food ingredients. So, we tested a lot of hand mixers and made a shortlist of 5 best of them to help you make your pick!
...
Read more
...Read less
Breville BHM800SIL
Power
The Breville BHM800SIL Handy Mix Scraper Hand Mixer is a great device to use for creating different types of desserts or mixes. The Quiet Scraper Beaters are supplemented with a rubberized coating that provides the highest quality contact with the bowl for thorough mixing and does not create noise or friction, while also significantly improving the durability of the attachments. This works well in conjunction with the high powered 240 W motor, letting you mix even the toughest ingredients into a smooth texture, all without wearing out either the attachments or the mixing bowl.
Attachments
Speaking of the attachments, this model comes with a set of scraper beaters, which were already mentioned above, along with a pair of dough hooks and balloon whisks, giving you the perfect set for whatever you wish to mix in the bowl. The attachments are all highly durable and also lightweight, making them easy to handle without adding too much weight to the mixer. This unit includes a storage compartment that clips on underneath the mixer for both the attachments and the power cord, letting you keep them all together in one place without having to hunt around for them or risk losing them.
Number of Speeds
Many mixers come with a very limited number of speeds, but this one doesn't. This model includes 9 different speeds that allow you to choose the perfect speed for mixing ingredients however you wish. There is also a boost selection that adds a little extra speed to your current setting, perfect for times when the ingredients need just a little more oomph from the mixer. The selector switch for the different speeds is quite simple to use, letting you quickly change the settings on the fly without having to fumble around with the device. This is one of the better mixers for getting that precise speed that you need.
Construction and Design
This hand mixer includes a number of innovations that help make it one of the perfect kitchen tools. This unit can automatically detect which attachments are currently connected, allowing it to automatically adjust the speed of the device to the perfect setting for the used attachments. The mixer itself feels very strong and durable, although it is a bit on the heavier side, which may make it uncomfortable to use for a long period of time. Having said that, the holding handle is non-slip and has a comfortable feel, which helps mitigate the heaviness of the unit. All in all, this powerful and fully functional hand mixer is one of the best companions you can have in your kitchen.
Additional Info
---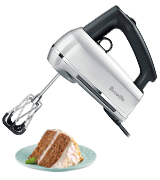 Breville BHM800SIL
Cuisinart HM-90S
Power
This Cuisinart hand mixer has the power of 220 Watts, which is a good result considering that many other models do not give even that much, hardly reaching 200 W performance. With the Cuisinart HM-90S, you will have an ability to handle a great variety of blending and mixing tasks, beating batter, whipping eggs, and kneading dough without a problem. The blender we've got on hands has more than enough power to cope with any type of ingredients, both dry and soft, making it a solid choice for most any user.
Attachments
The Cuisinart hand mixer comes including many different attachments. Apart from classic beaters and dough hooks, it also has professional-type whisks (1.75" in diameter) and a convenient spatula for mixing. Thanks to their construction peculiarities, the whisks allow you to make a dense mix of ingredients with lots of tiny air bulbs that are important when it comes to such 'foamy' dishes like cream, souffle, and so on. With such a rich set, you will not need to look for any other attachments elsewhere. 
Number of Speeds
The Cuisinart hand mixer boasts 9 available speed modes, so you can easily pick the right one for any dish you cook. There's a small LED display that shows you what speed mode is currently on. And there are 2 switches for picking the higher or lower speed. Also, this 9-speed hand mixer includes 3 low start speeds that prevent the ingredients from splattering over your kitchen table.
Construction and Design
This hand mixer is very simple in use. First of all, it has a power cord with a rotating connection that won't limit your movements. We have already mentioned the LED display that shows speed modes - it's very convenient and it doesn't distract you from mixing. 1-touch speed controls are also very handy - you can switch the speeds by a small movement of your finger. Finally this best handheld mixer goes with a snap-on storage case where you can store all the attachments, so that you don't lose any of them.
Additional Info
---
VIDEO
Power Advantage PLUS 9-Speed Hand Mixer: Cuisinart at Abt Electronics
What customers say about this product
The beaters look light weight, and I was worried that they wouldn't stand up to heavier chores, but there's been no problem.
It has a powerful motor. Most mixers had around 100-150 watts while this one has 220 watts.
Feels well-built and durable. It has a metal casing which is also nice.
The dough hooks work well for creaming cream cheese too.
Cuisinart HM-90S
Hamilton Beach 62682RZ
Power
The Hamilton Beach hand mixer boasts high power, allowing this kitchen appliance to cope with all kinds of blending. You can easily whip some eggs, add dry ingredients and get the mix you need for a certain recipe. If you pick this handheld mixer, you will never regret it and this appliance will surely become a reliable cooking assistant. Or, you can make some tasty cake dough and cook a fresh and healthy cake for your family. For such a good price, that's a superb device!
Attachments
This hand mixer comes with the common attachments used on these devices: traditional beaters and a whisk. If you need other attachments, the manufacturer offers them separately. For example, you can use dough hooks for kneading dough. Or you can get a special attachment for making milkshakes that are certainly good for children. However, most cooks prefer using the attachments included in a package - they are fully sufficient for daily cooking.
Number of Speeds
The Hamilton Beach hand mixer offers 6 speed options, so you can easily pick the right one. Many other kitchen appliances come with just 1 or 2 speed settings and very often they are insufficient - the blending speed might be either too low or too high. However, that won't happen to Hamilton Beach. Moreover, there's a QuickBurst button - if the speed setting you've chosen can't cope with the ingredients you are mixing, just push this button and you will get extra power for truly tough speeds.
Construction and Design
This hand mixer is designed to combine the maximum convenience and easy storage. The Hamilton Beach comes with a special snap-on storage case, which is big enough to accommodate all attachments. Moreover, if you need to make a pause while mixing (to add some other ingredients, for example) this kitchen appliance has a Bowl Rest feature that allows you to put the unit right on the edge of the bowl and, therefore, avoid mess and drippings.
Additional Info
---
VIDEO
Unboxing $12 Hamilton Beach Hand Mixer 62682RZ
What customers say about this product
Beaters are strong and sturdy enough for beating a large pot of mashed potatoes for Thanksgiving Day.
so surprised to find the whisk attachment in the box. A great value and works great so far
This is a wonderful hand mixer, it is lightweight yet has a lot of power
Has a nice long cord, which my previous mixer did not have
Hamilton Beach 62682RZ
KitchenAid KHM926CA
Power
This KitchenAid mixer is one of the less powerful models on this list, at 175 Watts, but it still has plenty of power to mix most ingredients that you could throw at it. It works perfectly with mixing and blending eggs, flour, shredded meat, and most other ingredients, mixing and blending them together to suit your tastes. Mixing together batter of any type is quite easy, and this mixer can handle it without breaking a sweat. For tougher mixtures, it might be best to try mixing smaller amounts at a time rather than trying to mix a full bowl, although even then it should still be able to work fine.
Attachments
One of the areas in which this mixer really shines is with the included attachments, the Stainless Steel Turbo Beater II accessories. In addition to the standard mixing heads, you also get a Pro Whisk, which is perfectly suited for whisking ingredients without having to strain your hand or arm. The Dough Hooks let you mix together even the toughest dough with ease, and the Blending Rod gives you the ability to blend ingredients without needing to invest in additional equipment. Few other hand mixers include a comparable set of attachments, which you should find quite useful for a variety of kitchen tasks.
Number of Speeds
The 9 speeds included with this hand mixer make it one of the more versatile options that you can find. The abundance of speed settings gives you the ability to set the perfect speed for your mixing needs, without worry of the chosen speed being too fast or too slow. In addition, the Soft Start feature gives you the ability to start the mixing at a slow turn, with the speed gradually building up. This is perfect for preventing the accidental splattering of ingredients when doing a light mix, and ensures that you are never mixing too fast. Separate mixing speed combinations are also included for ingredients that require mixes at different speeds.
Construction and Design
Few hand mixers can really match the overall construction and ergonomic design of this model. Featuring a Soft Grip handle, this mixer is light and quite easy to hold, as well as to move around during use. This helps greatly in preventing arm and hand fatigue while in the process of mixing food. The included attachments are also quite easy to attach and remove, which can be done with a single-handed push of a button. The power cord can even be locked on either side of the mixer in order to prevent it from getting in the way while in use. The overall quality of this hand mixer will be sure to please even the most critical cook in the kitchen.
Additional Info
---
KitchenAid KHM926CA
Oster 2500
Power
Here we have the Oster 2500 Inspire hand mixer, one of the more popular hand mixers on the market, and for good reason. This Oster hand mixer has the power of 240 Watts, which makes it powerful enough to mix different ingredients for various dishes without any trouble. Most people find the power of this hand mixer's motor to be quite capable of even the toughest mixing jobs. For example, beating cream or kneading several pounds of dough or batter will be a piece of cake for this particular hand held mixer. With such an awesome appliance, you will be able to enjoy cooking without the worries of your tools causing any problems with the process.
Attachments
This isn't the best hand mixer in terms of the contents of the entire package, but the set of attachments is quite typical: 2 whisks and 2 dough hooks. Feedback provided by many owners of this particular model indicates that the included attachments are more than sufficient for everyday cooking tasks and they typically don't require any additional beaters. There are quite a few mixing tasks that can be accomplished without any problems with the attachments provided with this model, so don't be dissuaded from purchasing it based on the number of attachments that come with it.
Number of Speeds
The majority of experienced homemakers think that 5 speed settings of this model are enough for a conventional hand mixer and for mixing ingredients for all the dishes you can think of. This Oster hand mixer also has a Burst-of-Power button, which helps you mix even the densest ingredients thanks to a temporary burst of extra power. Of course, you shouldn't use Burst-of-Power for too long, but for short times, it works wonders. The other speed settings provide plenty of mixing speeds, ranging from slow to fast, giving this model a great degree of flexibility in its use.
Construction and Design
It's easy to hold this handheld mixer thanks to the ergonomic handle, but the streamlined shape of the mixer makes it impossible to put the appliance upright. That's why you need to prepare the surface for the mixer. Also, this Oster hand mixer has a special One-touch ejection system - you just push it and the attachments will be removed, so you don't need to stain your hands and do it manually. This hand mixer has proven itself to be a truly capable model that many users enjoy.
---
VIDEO
Review:Oster 2500 Inspire 240-Watt 5-Speed Hand Mixer, White
Oster 2500
What Is a Hand Mixer?
A hand mixer is a small kitchen device used to quickly mix wet and dry ingredients into a uniform substance. Today, instead of mixing eggs manually with lots of efforts, one can turn the mixer on and save much time. In addition, the results will be way better. All hand mixers are easy to clean from food remnants. Beaters and other accessories are easy to remove and attach. Almost all accessories are dishwasher safe. In addition, wire-beaters don't have any aluminum intrusion and therefore, they resist rust very well.
If you need an appliance that not simply mixes food, but can also chop it, cut, beat, etc. - pay attention to handheld and countertop blenders from our reviews.
Homemakers who are looking for a versatile kitchen gadget that would perform more tasks than basic mixing should proceed to read our review on the food processors.
What Features to Compare
Firstly, you need to know that Power of a hand mixer is an important issue. The higher the power is, the faster the mixer will stir the ingredients. To begin with, you should decide on a purpose the mixer will be used for. If you are planning to stir and beat butter, cream, soft drinks or food - 100-150 Watts is quite a suitable power. But if you need to mix up the dough and similar products, it's much better to pick more powerful mixers, with a power about 200-250 Watts.
Hand mixers include different additional Attachments. Thanks to these accessories, you will be able to cook various dishes only with the help of mixer! Usually, wire beaters of a mixer are made from a more durable material than the body of a mixer itself. But if you need just to stir soft ingredients, you can buy any basic electric hand mixer. On the other hand, if you want a multifunctional device in your kitchen, consider buying a mixer with lots of accessories in a package.
Number of Speeds is another essential feature. It is important to know that most hand mixers have 3-5 speeds, but some models offer more - over 12. A large number of speeds allows users to mix any ingredients, even the densest bits, with minimum effort. The gear change is one of the most important technical specification, usually controlled by a step switcher. Several models have a "Pulse" button. With its help, the ingredients will be mixed with a different speed for the best result. A variety of speed settings will also let you avoid splattering the ingredients.
We'd also like to draw your attention to Construction and Design of handheld mixers. The body of this kitchen appliances is usually made of plastic but with metal elements. This surely enhances the durability of a mixer. Compact mixers will become a great solution for owners of small kitchens. They don't take a lot of space and easily fit any cupboard. An ergonomic design allows you to use a hand mixer for a long time without any difficulties. Some models offer a comfy storage for a swivel cord right in the unit.
FAQ:
Q: What are the advantages of hand mixers over stand mixers?
A: The main benefit of hand mixers is their compactness. Usually, they have a very small footprint and can fit any storage space easily. In addition, hand mixers are easy to use and make a perfect choice for people who cook only for their close friends or families and don't need to bake for more than 4-5 people at once. You can choose a bowl of any size for mixing and easily clean the hand mixer. Last but not least, hand mixers are more affordable than their stand competitors.
Q: What other parameters, besides the power, speeds, attachments, and construction, should I consider when choosing a hand mixer?
A: Don't forget that it's a hand mixer, so you should feel comfortable while holding it. It's better when the mixer has a non-slip grip to prevent sliding in hand. A swivel cord will be good for left-handed people. In addition, the mixer shouldn't be too heavy, the most appropriate weight is between 800 grams and 1 kilo. Finally, after mixing you'll have to clean your device, so try to choose the mixer without unnecessary buttons or small details, which will take more your time during cleaning.
Q: How many speeds should a good hand mixer have?
A: If you want to be able to prepare different kinds of cream, batter, and dough, your hand mixer ought to have at least 5 speeds. The best hand mixers offer up to 9 speeds. It's also essential for the mixer to have a low start speed, which will free you from cleaning unneeded cream splashes from your kitchen walls and floor. If you don't want to spend time on choosing the right speed, then, while selecting the hand mixer, pay attention to the Burst Power button on the mixer which activates the turbo mode that can help you quickly mix all ingredients.
Q: Which useful attachments should my mixer have?
A: The essential attachments are beaters, whisks (or balloon whisks), and dough hooks. Beaters are suitable for a variety of tasks: from preparing batter to mashing potatoes. For more efficiency, the hand mixer should be equipped with two beaters. Balloon whisks perfectly cope with whipping cream, frosting, and egg whites. Dough hooks can't be found in all hand mixers, but if you often need firm dough, for example for buns or bread, then this attachment will be of great use to you. Extra attachments might include whisks for milkshakes, spatulas, etc. Try to choose the attachments with long arms because they mix ingredients more thoroughly and make fewer splashes.
Q: How should I store my hand mixer properly?
A: Though hand mixers are rather small in size and usually come with special bags for storage, it's still important to store them properly. Here are a few tips:
Be careful with a cord. Rather than wrapping it around the handle, fold it carefully to avoid doing damage to it;
If the cord is retractable, simply hide it inside the appliance after each use;
Make sure to dry it out completely before stowing away in a case.
Q: Are there any tips on how to prevent ingredients from splattering?
A: If your mixer doesn't have a low start speed, but you aren't keen on cleaning your kitchen after each mixing, there's a life hack that you might like. Take a big sheet of wax paper and put it between the mixer body and necessary attachments (whisks or beaters). The attachments should spin easily. When you start mixing, the wax paper will save your cooking space from unwanted mess.
Q: How can I use my hand mixer in a more efficient way?
A: There are a few tips following which you'll be able to get the most out of a hand mixer without shortening its service life. One of them is to use the included attachments in accordance with their intended purpose. That is to say, if you decide to use a whisk to knead dough, not only will you be disappointed with the end result, but also you will run a risk of damaging the appliance. Another tip is to keep the mixer unplugged when you do not use it. Also, do not operate your mixer at high speeds. Let it gradually reach the needed speed. This will help you to prevent splattering, and will also add to the service life of the motor. Next, do not mix tough ingredients for more than 3 minutes as this might cause its overheating. Finally, do not forget to clean it regularly.