Desktops & Monitors
Acer XB270HU vs Acer Predator XB271HU abmiprz
Product Comparison: Acer XB270HU vs Acer Predator XB271HU abmiprz
Model
XB270HU
Predator XB271HU abmiprz
About the Product
In competitive gaming, every frame matters. Introducing Acer's XB Series gaming monitor - the WQHD resolution monitor that can keep up with your game play. Through NVIDIA G-Sync technology, on-screen action is smooth and clear and minimizing distractions.
Advanced IPS panel technology provides the best color without compromising any speed. See game worlds in all their glorious colors. Game with no compromise. Super-fast refresh rates and IPS color come in an aggressive new design.
What customers say about "Key Specs"
Acer XB270HU Widescreen Monitor
Wow. 1440p where have you been all my life? Good resolution.
Gaming is also awesome, some games really benefit from the higher resolution.
2560x1440 resolution. This is a huge one, because once you go to 1440p, you'll never want to go back to 1080p.
144hz refresh rate. For gaming, this is even more important than 1440p.
The whole screen feels more responsive because of the faster refresh rate.
Color Supported
16.7 Million
16.7 Million
What customers say about "Display"
Acer XB270HU Widescreen Monitor
The color contrast is welcome, and I like that adjusting my head a bit won't distort the color.
Ok, so on to the monitor itself, it's almost perfect, IPS (great color).
The IPS panel is great because you don't have to sit perfectly level and straight at your monitor to get good colors.
The color is outstanding. Pictures are lively and vibrant.
No dead pixels and excellent colors.
Extras
Revolutionary Gaming Performance, Quad HD and G-SYNC, Ultra Fluid Motions, Viewing Comfort
NVIDIA® G-SYNC®, Flicker-less Technology, ComfyView, Low Dimming Technology
What customers say about "Features"
Acer XB270HU Widescreen Monitor
G-Sync technology is so useful for gaming.
Comes with a very sturdy monitor stand that supports all of your ergonomic needs.
My friend recommended something with more features like IPS and G-Sync. Great monitor.
Nice display, premium price for new features.
Somewhat limited OSD options. The only control you have over the picture is brightness, contrast, gamma, red, green and blue levels.
Inputs
DisplayPort 1.2, 5x USB 3.0
HDMI, 5x USB, DisplayPort
What customers say about "Connectivity"
Acer XB270HU Widescreen Monitor
I am using Displayport-to-thunderbolt cable to get this monitor connected to my macbook pro 2013. Easy connect.
Got this monitor for Christmas. Good and easy connect.
Great connect. Easy connectivity. I like this.
No USB cable included for connectivity.
The DisplayPort connection was cheap garbage.
Warranty / Certifications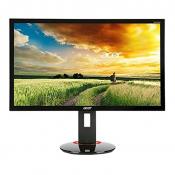 Acer XB270HU
Acer Predator XB271HU abmiprz