Whether you want to give a complete look to your bed, add style to your living room or simply snuggle in warmth while lying on the
coach or sitting in the armchair, a throw blanket will fit all those cravings. Our review will help you select the one to suit your budget, climate and home design.
...
Read more
...Read less
X
This site is a free online resource that strives to offer helpful content and comparison features to its visitors. Please be advised that the operator of this site accepts advertising compensation from certain companies that appear on the site, and such compensation impacts the location and order in which the companies (and/or their products) are presented, and in some cases may also impact the scoring that is assigned to them. The scoring that appears on this site is determined by the site operator in its sole discretion, and should NOT be relied upon for accuracy purposes. In fact, Company/product listings on this page DO NOT imply endorsement by the site operator. Except as expressly set forth in our Terms of Use, all representations and warranties regarding the information presented on this page are disclaimed. The information which appears on this site is subject to change at any time. More info
Sunbeam TSF8US-R470-33A00
Warm Up in Mere Seconds
Have you ever found yourself in a situation when you came home from the freezing cold, longing to shake off that winter chill and snuggle under the blanket? Oops! A throw blanket or comforter is cold itself, and it will still take some time to warm up while you're craving for the long-expected warmth at once.
If a cup of hot tea, warm slippers, and an ordinary throw are not enough to take the chill off, a heated throw blanket from Sunbeam will come to help. Actually, it's a regular fleece blanket equipped with a highly sensitive wiring system to deliver immediate and consistent warmth. All you need to do is connect it to the mains and select one of 3 warming settings to your liking. That's it! In a matter of seconds, you will feel relaxing warmth hugging your body.
What makes Sunbeam so good is the ThermoFine technology. This amazing smart blanket can adjust the heat relying on the room as well as body temperature. You won't be overheated in a small and warmer room, and if you're fresh from the street and frozen all over, it will promptly help you to get back to normal.
Sunbeam comes with 180 GSM for one side and 360 GSM in total. In other words, it's even more comfortable than a regular blanket.

A Safe Electric Blanket
Designed with user safety in mind, the Sunbeam electric throw offers an option of automatic switch-off in three hours of continuous operation. Thus, you can nestle down on the couch watching your favorite movie or TV show and even doze off or fall asleep relaxed and comforted, while Sunbeam will be caring for your safety. A very nice touch from the manufacturer that really cares about their customers' wellbeing.
On top of that, a compact remote 1.8 m power cord contributes to easy, convenient, and hassle-free operation and control. Yes, the cord between the connector and controller could be somewhat longer for more convenience. Still, it's a small price to pay for getting rid of all the discomfort and wintertime chills.
Worrying about the inevitable washing session? You shouldn't be. This blanket is made of soft yet durable fleece that is machine-washable and dryer-friendly. Less fuss, more comfort for you and family – even for your older pets that need some warmth in their lives.
Overall, this electric throw blanket lets you forget about discomfort and dive into warm coziness almost in no time.

Additional Info
Last updated price

$

34.99

Stock
In stock
ASIN

B008BF2MFM
---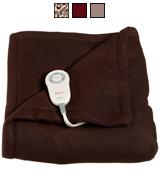 Sunbeam TSF8US-R470-33A00
Chic Home TB3900-AN
Ultimate Comfort and Homey Coziness
There is hardly anything more comforting than snuggling under a super soft, large throw. This is the feeling you will get with a Chic Home throw blanket. Thrown over an armchair or lying on the couch, it makes the room more appealing and invites you to cuddle with its beautiful plush design for a relieving relaxation and pleasant rest.
Made of extra soft velour, it will feel like velvet and impress you with luxurious comfort and softness. Meanwhile, shaggy texture adds coziness and creates a homey atmosphere. Wrap yourself in a Chic Home throw blanket to immerse into the warmth and tranquility, whatever the weather is outside.
Even if you don't have a fireplace at home, this blanket will make you feel like you're sitting near one on winter holidays. You will feel comfy and protected, while the room interior will get a distinctive character and style. After all, this blanket is called "Chic" for a good reason. Make your guests envy your taste and a passion for comfort.
Do not hesitate about the light beige color. It's not a problem since this throw blanket requires no extra care. No extra fuss and a luxurious look – in other words, a great find for your home.

A Versatile Wonder
What can you use this blanket with? Actually, it will fit a full-size bed if needed, as well as a sofa or loveseat. You can experiment with it just the way you want to achieve that perfect look for your bedroom or a small apartment. It will also look top-notch on your social media pictures, emitting coziness and comfort.
Never worry about the quality of this blanket. Each and every one of them is made under strict control and from the best materials. The weaving technology is exceptionally fine, just as you would expect from Chic Home.
This throw blanket is easy to clean, which is a big plus, of course. Though dry cleaning with a vacuum cleaner or brush is preferable, you can wash it with cold water in a gentle cycle to remove any stains. To prevent tearing and preserve an attractive look of the throw, a low-heat tumble dry is recommended. Besides, to add fluffiness and avoid lumping, you can put two tennis balls in the dryer.
Refresh your living room or bedroom décor and enjoy your time in the comfort of your home with Chic Home throw blanket. Or give it to someone as a beautiful practical gift.

Last updated price

$

24.17

Stock
In stock
ASIN

B017XYQ9G4
---
Chic Home TB3900-AN
Elegear Fleece
Fit for Any Season
Looking for a perfect "happy" blanket? Elegear is proud to present the super soft fleece model that keeps you warm in the cold weather – and comes in amazingly beautiful colors.
Home, office, traveling – a nice warm blanket is a must for anyone that values their comfort. This blanket comes with Japanese Heatwarm technology that gives your body a quick +2 °C (~5 °F) heat boost. Just cuddle under this big soft cover, and you'll feel warmer – and better – almost in a flash. Note that this blanket is also perfectly lightweight, so no overheating when you're wrapped up in it.
While ordinary blankets come with 250 GSM, Elegar adds more comfort by increasing the number up to 350 GSM. This means the blanket is tightly fluffy and perfect for all seasons, being not too warm for the summer – and not too cold for the winter months. No need to buy two separate blankets; Elegear has got you covered all year round, in the most literal sense.
Whether you're a fan of bright, eye-catching colors, or you need a single darker color to match your bedroom, you'll have it all. Elegear blankets are available in multiple colors to match your taste or home interior with ease.
Soft & Skin-Friendly
This blanket is extremely soft – think of hugging a cloud or a cute little animal – but also very durable. Thanks to the unique double-wave technology, the fleece is tighter and more stable. Even after a lot of washing, it won't be falling off or losing shape. Finally, no annoying shedding and thinning with time. A great opportunity to buy this blanket as a gift that will last longer and make the owner happy.
Don't worry about the static electricity in the cold season. Elegear's fabric comes with conductive yarn to eliminate this issue. Now you can relax your entire body while wrapped up in the blanket – and not be bothered by anything.
Elegear takes good care of your skin. The blanket is printed and dyed with colors that are environmentally friendly and hypoallergenic. Forget about itching – and treat yourself to soft warmness, day or night.
Want to give one of these amazing blankets to your kid? Absolutely no problem. This product is OEKO-TEX certified, and your small one will absolutely love the feel of it. If you pick the multicolored option, be prepared for some big excitement.
To sum up, Elegear offers one of the softest, coziest, and most durable blankets for your comfort.

Additional Info
Last updated price

$

0.00

Stock
In stock
ASIN

B09MTQHR36
---
Elegear Fleece
Chanasya Super Soft Fur Faux
Refined Luxury
Chanasya Faux Fur Throw Blanket is all about elegance, sumptuousness, chic, and sophistication. Whether you need some extra warmth over your feet on a cold night or look for something to add style and emphasize your room interior, the Chanasya blanket is an amazing choice.
Depending on other decorative elements, furniture, accessories, and home textiles you use for your room design, this gorgeous faux fur blanket can add an exquisite classy look or bring glamorous style to your interior. Though made of 100% polyester, it is second to none compared to the more expensive natural fur. The throw will perfectly fit a photography prop or find its place in front of a fireplace.
Chanasya takes good care of your body temperature. The blanket has two sides, one being warmer and the other one cooler. Whatever the season or room temperature, this universal model will come in handy and give you hours of great comfort. You can even sleep under it – and not feel overheated or wake up freezing in the middle of the night. Forget about the extra blankets and get one that will easily cover your needs.

One Size Fits All
The size of this blanket is 65 x 50 inches and will fit multiple pieces of furniture, from a chair to an adult bed. Your pets will also love it, so beware – you might need to buy a second one for yourself after your dog or cat completely takes over the first one. If you need them calmed down and staying in one place, try luring them to rest on the blanket – and they'll most probably stop getting in your way, if only for some time.
Unlike natural fur blankets, a faux fur throw requires no extra care and will endure both manual and machine wash. Just avoid washing and drying it at high temperatures to keep a luxury look of your Chanasya blanket and prolong its lifetime in your household. This premium-quality faux fur throw blanket is a decent alternative to a fur throw that will add an elegant touch to any room design.
If you or your kids are into historical or fantasy cosplay, take notes. Chanasya blanket can easily be used in the place of an expensive real fur cloak – and make for amazing photo sessions.
All in all, this throw blanket is light, durable, and extremely soft to snuggle up by the fire, on the couch, or use it as a regular blanket for overnight guests.

Additional Info
Last updated price

$

24.99

Stock
In stock
ASIN

B00XLV72H4
---
Chanasya Super Soft Fur Faux
Lavish Home Classic plaid
Time-Proven Classics
What does winter mean for you? It is not only the season of cheerful Christmas holidays and lovely family get-togethers. For most of us, it stands for snowy cold weather and freezing nights.
When it's chilly outside, the best thing to imagine is the wood nicely cracking in the fireplace and a cozy armchair or even a rocker with a warm throw welcoming you to sit near the fire and enjoy a cup of hot drink. Lavish Home throw has the same traditional plaid pattern that appears on numerous pictures of eye-catching winter interiors and classic Christmas cards. The edges are decorated with beautiful tassels, accentuating the throw look and adding an exquisite touch to your home.
Lavish Home blanket has just the right look for domestic photo shoots. Your social media crowd will love seeing it wrapped around you or calmly resting on a tall chair. Having guests? Invite them to feel the softness of this blanket, and they will envy your impeccable taste in home décor.
This amazing throw blanket is loved not only by humans but also pets. Be careful, though, as your critter may steal the blanket from you and happily make it their own.

Use It Anywhere – And Everywhere
Along with its classy style, Lavish Home throw blanket ensures quality and comfort. Finely knitted of 100% acrylic fiber, it is light, soft, and comfortable to the touch. Though it is not wool, acrylic makes for a smooth Cashmere-like texture, extremely easy care, and long-lasting use. It won't pill, shed, or shrink after wash and will retain its bright coloring.
This handy throw blanket is 50 x 60 inches, which means it is not too large – and definitely not overweight. In fact, some would call it too light, but that's really a matter of personal preferences. It is the right size and weight to serve as a comfy lap or shoulder blanket, but if you want it around you, absolutely no problem. This blanket is a great find for home, office, or car; let it into your heart, and it will become your best friend in the cold season.
Lavish Home throw feels like a hug and is perfect for wrapping up on the couch on winter evenings, keeping in your car for days out, or just as an attractive piece of home textile that will enhance the look of any room and can make a perfect gift. Say, how about a Christmas present to the family or relative?

Last updated price

$

21.95

Stock
In stock
ASIN

B00G90KUXW
---
Lavish Home Classic plaid
Infographics
---
What Is a Throw Blanket?
A throw blanket is an extremely popular bedding item often confused with a regular blanket used mostly in bedrooms. Yet, throws stand out for unmatched versatility and can be used almost anywhere in your household where you need some extra comfort, warmth or style. Thrown over the couch, armchair, chair or sofa, this blanket will ensure a homey feeling and coziness, cuddle you with warmth on a cold day and add texture, color or design trends to your interior. Commonly, throws are offered in varieties of colors, designs and styles to any taste. You can also choose between numerous distinctive patterns and prints including flowers, images, animals, stripes, plaids and even cartoon characters and toys to be suitable for any ages and fit any occasion. Throw blankets are designed to give your house a fresh and new decorative look as well as wrap you with a comforting warmth when it's chilly outside.
If you care for a healthy sleep and seek to emphasize your bedroom interior, we recommend choosing one of the gorgeous bed in a bag sets. Enjoy a comfy rest and add fashion to your bedding!

What Features to Compare
Size
Along with style and comfort, it is essential to decide on the size of the throw blanket you need. The size varies and greatly depends on the blanket's intended use. Thus, to decorate your couch or bed or wrap yourself while watching TV or reading, you might need a bigger throw, while a smaller size will fit children or come in handy for a den, parlor, alcove, and even gazebo or terrace.
Material
The next thing to consider is the type of material used. Today manufacturers use a whole variety of materials and their combinations from synthetic fabrics for more affordable, lightweight and easy-to-store items to natural wool for extremely warm and luxurious models. Yet, it's worth saying that all materials have its pros and cons. Thus, synthetic fabrics are hypoallergenic and easy to care. Meanwhile, they are less breathable as compared to natural materials. As for the wool, it efficiently retains heat, which makes them perfect for a cold climate. However, wool can be scratchy, causing discomfort to sensitive skin, and is a little heavy for summer.
Care
Finally, pay attention to cleaning requirements indicated for different types of throw blankets. An appropriate care is essential to maintain an attractive look and prolong the service life of your throw. Mind that some models are washable, while others require only dry cleaning.