Juicers bring all the vitamins and nutrients from fruit and vegetables directly inside your body in liquid form. Fresh juices are
useful, nourishing, hydrating and full of nutrients. Check the best juicers we've selected for you to enjoy fresh healthy juice both summer and winter.
...
Read more
...Read less
Fruit and vegetable to juice
Juice pitcher / Pulp container
Omega J8006
Best For
The only question you can ask about the Omega J8006 is whether there's any fruit it cannot juice. Since this is a masticating juicer, the way in which it operates allows for squeezing juice out of most any fruit or vegetable be it a hard carrot or a soft, juicy tomato. The Omega J8006 is able to handle any task. What's more, unlike most other juicers often having trouble juicing different kinds of greens, the Omega J8006 handles them without breaking a sweat. 
Efficiency
The efficiency of juicing in most juicers depends on these two parameters: speed and power; and that's where the Omega J8006 stands out. Being a masticating juicer, this model doesn't require high speeds to squeeze juice. The efficiency of the juicer is based on its powerful 150-Watt motor that allows it to literally crush vegetables and fruits down, leaving only dry pulp behind. The fact that the Omega J8006 isn't used at high speeds also means that it's less prone to overheating, which also means that the juice preserves a maximum of vitamins and minerals. 
Ease of Use
The Omega J8006 boasts the ease of assembly — the first thing you will benefit of before juicing. Furthermore, after the assembly, you only need to wash the fruit and cut the large ones, as the Omega J8006 has a relatively small 1.5" chute. Place the fruit into the feed chute and start squeezing them. Use a plunger with an elastic seal to push the fruit through. The juicing process is rather quick, the juice flows into a 1-liter juice container, and the pulp gets into a 2-liter pulp bin. The juice screen is already installed in the juicer, and if you need to completely separate the pulp from the juice, you can install the additional sieve onto the juice pitcher so as all the pulp remains in the sieve. The clean-up after processing juice is extremely simple. The juicer can be cleaned by hand with a special brush that comes in the kit, or you can simply put the removable parts into the dishwasher. The juicer features lots of extra functions thanks to many additional attachments and nozzles. For instance, they allow you to extrude pasta, make baby food or nut butter, and even grind coffee beans.
Safety and Reliability
The Omega J8006 is so safe that even a child can use it. Its small chute and plunger make the juicer auger out of arm's reach, thus, keeping your hands safe. When processing juice from hard fruit or fruit with pits, the auger might become jammed. To continue juicing, the juicer has a reverse mode which lets you turn the auger in the opposite direction and release it. To protect the juicer from overheating in case of hard fruit or prolonged juicing, Omega J8006 will stop the motor if overheated, thereby keeping the juicer in working order. The auger and the nozzles of the juicer are made of reinforced plastic, allowing this juicer to withstand any juicing load and ensures durability. The body is also made of durable plastic. The rubberized feet of the Omega J8006 reduce vibration during juicing, and won't allow it to slide on the working surface.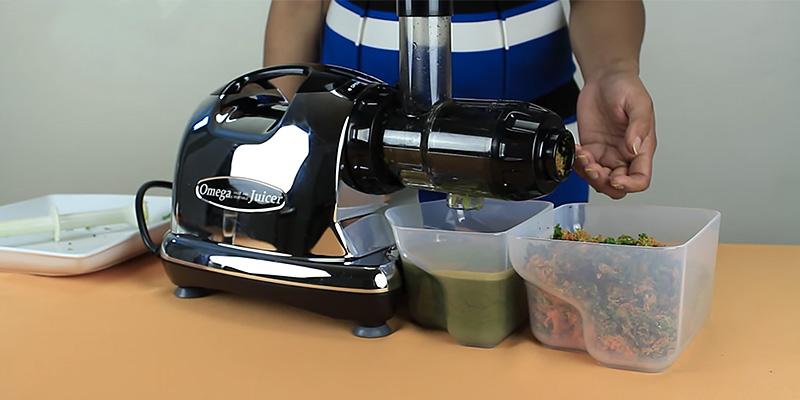 Additional Info
---
What customers say about this product
The juice comes out nice and cool due to the slower auger speed of 80rpm.
It disassembles to clean very easily, and the parts are dishwasher safe which makes cleanup simple. I'm very satisfied with the purchase.
You can tell by the weight (it's compact but heavy!).
Omega J8006
NUTRIHOME AMR509
Machine's Yield and Speed
If you prefer cold-pressed juice, the NUTRIHOME AMR509 masticating juicer is what you need. This juicer squeezes fruit slowly and generates a very small amount of heat, as opposed to centrifugal juicers, which allows it to retain the high content of vitamins and enzymes essential for our well-being. The NUTRIHOME AMR509 can process most of fruit and vegetables we are used to making juice from as well as mash greens and make nut butter.
Performance-wise, the NUTRIHOME AMR509 operates at the speed of 80 rpm/minute. This allows it to produce less heat and foam than most other juicers do. And even though the process of squeezing may take you a bit longer than it'd take you if you used a centrifugal juicer, the final results will leave you satisfied. You'll have a glass of fresh, delicious, and vitamin-rich juice to start your day off right!
Quiet Operation
Another distinct feature of the NUTRIHOME AMR509 juicer is its whisper-quiet operation. At 60dB, it doesn't seem to produce noise at all, which allows its comfortable use at any time of the day. 
Easy Maintenance
Maintaining the NUTRIHOME AMR509 juicer is a breeze. It comes with a separate pulp jug, which you can remove and wash under tap water or in a dishwasher. All accessories and parts of the machine are dishwasher safe. The manufacturer covers the juicer with a ten-month warranty and guarantees a lifetime technical support to all their customers, which speaks of the product high quality and reliability.
Start Your Day Off Positively
If you're looking for new juice recipes, we'd recommend you to try out the Classical Vegetable Juice that can help boost and speed up your metabolism. For juicing, you will need carrots, not sweet apples, celery, and ginger. It is as simple as that, but it is very effective. Drinking such juice every day will not only invigorate you but help you lose some weight as well. 
---
What customers say about this product
Excellent juicer, much better than traditional high speed juicers
It is a slow juicer that gets all the juice with no pulp. Exactly what I was looking for.
In comparison to my old juicer it is compact and very quite in operation.
NUTRIHOME AMR509
Breville JE98XL
Copes with Everything
This juicer can process juice from vegetables, fruit or berries of all sorts. These can be hard seedless vegetables (beets or whole carrots), soft fruit (such as cantaloupe), citrus, and even leafy green vegetables (like spinach or kale) which most centrifugal juicers have difficulties with. Its large feeder tube allows for processing even a whole fruit. The Breville JE98XL is able to juice literally everything in no time, so don't hesitate to purchase it.
High Efficiency
The efficiency of this juicer is just one more reason for buying it. Its powerful 850-Watt motor allows it to extract juice from almost any ingredient. The juicer has two easily controlled speeds, a low speed for juicing soft fruit and a high speed for juicing hard fruit and vegetables. The Breville JE98XL has a specially designed stainless-steel Nutri Disc which, together with the patented juicing technology, produces less heat while juicing and allows you to get the maximum of vitamins and nutrients in the juice.
Extra Features
Juicing with the Breville JE98XL is easy and convenient. We are sure that you will feel this as soon as you assemble it. The wide 3" feed chute allows you to squeeze juice out of whole middle-sized apples or other large fruit without need to pre-cut them, thus saving your time. Use the plunger to push all the ingredients towards the cutting elements to make juicing even easier and, in such a way, you won't get hurt by any means. The quality of the juice is also provided by a stainless steel mesh filter basket and a foam filter to keep pulp and foam away from your juice. The juice flows through a direct central feed system into a 1-liter juice container while all the pulp goes into a large, 2.5-liter pulp container. After juicing you can clean all removable parts by hand, or rather use a special cleaning brush from the kit to clean up efficiently and safely. Note that almost all removable parts are dishwasher-safe.
Safety above All
The safety of the Breville JE98XL is ensured by a special locking arm that won't allow you to run the juicer with the cover open. This juicer also has an overload protection which will turn the juicer off and light the LED if the device gets overheated. The reliability and durability of the juicer are also provided by the materials it's made of. The cutting elements and the filter screen are made of wear-resistant stainless steel. The internal parts that come in contact with juice are made of BPA-free plastic.
Additional Info
---
VIDEO
Breville -- Adèle Schober Presents Juice Fountain Plus JE98XL (Juicer in Fat, Sick & Nearly Dead)
What customers say about this product
Great first time juicer. It has two speeds. It's fairly easily to clean.
Using a produce bag in the pulp container makes clean up go so very fast with no real mess to clean.
It's more compact than my old juicer, and I think it's better looking, too.
Breville JE98XL
Hamilton Beach 67601A
For Super Quick Results
The Hamilton Beach 67601 Big Mouth Juicer is rated as a "Best Buy" for a good reason. Fitted with a powerful 800-Watt motor and wide 3" feed chute, this juice extractor delivers superior performance. The extra-wide chute can tear through almost anything you put in the cup, including such fruits and vegetables as apples, oranges, mangoes, pineapples, carrots, cucumbers, and more. Carrots and apples don't even require scrubbing or pre-cutting into smaller pieces, however, oranges, pineapples, melons should be peeled before placing in the chute. Also, take note that the fruits with large seeds or pits (nectarines, apricots, peaches, plums, cherries) must be pitted before processing.
The wide feed chute isn't the only thing that reduces preparation time. The extra-large pulp bin allows for continuous juicing without a need to stop midway. So, if you're looking for a high-performance appliance to quickly make
large quantities of fresh juice, the Hamilton Beach 67601 is a solid fit. Just t
ake the plunge and go.
Yields Much More
The flawless performance and amazing effectiveness of the Hamilton Beach 67601 are probably two main reasons why this juicer is on our shortlist. With the peak power of 800 Watts, this one-speed machine easily extracts juice even from the toughest fruits and vegetables. And it yields up to 24% more juice than similar models in its price range. Besides fresh juice, the appliance allows you to make soy, almond, or rice milk to diversify your healthy routine.
Easy Cleaning
The fresh juice flows into a 600-ml pitcher and owing to the high juice spout, the juice can be funneled directly into a glass, pitcher, or other containers. Another advantage of the juicer is a huge pulp bin that collects a lot of leftover pulp. To make the cleanup an effortless process, you can place an ordinary plastic grocery bag in the pulp container, and simply discard it after juicing is complete. By the way, the juicer is very easy to assemble and disassemble. And all its parts, except only for the motor, are completely dishwasher safe. The food pusher, juicer cover, and pulp bin are made of durable BPA-free plastic, while the strainer and the strainer bowl are produced from stainless steel. As a nice touch, the juicer is supplied with a handy cleaning brush. It has micro-soft bristles that quickly brush off excess fiber buildup or pulp.
Additional Info
---
Hamilton Beach 67601A
BLACK+DECKER JE2200B
Basic Model
While being admittedly less powerful than other juicers on this list, for those who do not gulp down juice glass after glass, the BLACK and DECKER JE2200B will be a good option. It's made by one of the reputable producers of kitchen appliances and it's easy to see that it's been designed with durability in mind. Now, before we delve deeper into details, let's make it clear right away that this juicer will suit you only if you do not expect to feed it with everything you have in your fridge. It's designed specifically to extract juice from soft and medium-hard fruit, meaning it will have a hard time processing tough ingredients, should you decide to test your new appliance. But if your needs are average, the BLACK and DECKER JE2200B will leave you satisfied.
High Efficiency
The BLACK and DECKER JE2200B has a 400-Watt motor. The juicer has sufficient power to quickly process your favorite fruit, vegetables or berries, leaving fairly dry pulp in a large pulp container. This juicer is centrifugal, allowing you to get a glass of fresh juice quickly and easily. The BLACK and DECKER JE2200B doesn't boast many speeds, but this juicer can still surprise you with the high quality of fresh juice it can process at its only speed.
Low Maintenance
Considering the ease of use of this juicer, you can notice immediately how easy this juicer is to assemble and disassemble. Perhaps it will take you some time to get familiarized with its special shaped chute. Yet such an unusual shape pays off by the fact that both the size and shape of this chute allow you to control the size of the fruit. The feed may hold only the pieces of optimum size the juicer can cope with. The squeezed juice will flow directly into the 300-milliliter juice pitcher and the pulp will go to the built-in 800-milliliter pulp container. Thanks to such arrangement of the pulp container and the cord storage, the juicer is space-saving and compact to store.
Extra Reliable
The BLACK and DECKER JE2200B has a well-thought-out security system. Its dual locking system will prevent the juicer from starting unless all the details are securely attached. Such mechanism will protect you from getting hurt and keep the juicer in a working order every time it starts. The filters and the cutting parts are most frequently exposed to the effects of load and juice. That's why this juicer has blades made of stainless steel which adds to the reliability and durability of the cutting parts. The juicer base has rubberized feet that reduce vibration and slippage when the device is working.
---
VIDEO
Review of Black and Decker Juicer
What customers say about this product
On the plus side, the motor is fairly powerful, cutting through kale, celery, and diced ginger.
Clean-up is pretty easy and I find the pulp pretty dry so I feel like I am getting good juice from my produce.
I had to take a gamble and try it because my other concern was space and this was compact.
BLACK+DECKER JE2200B
What Is a Juicer?
Juicing has become really popular in recent years, and not without a reason. A glass of fresh juice (175-300 ml) can fulfill the recommended daily supply of vitamins, minerals, and fiber. In this best juicer review, we compare the most popular juicers to help you find the best juicer extractor to fit your needs.
These Juicers can be used daily in restaurants, cafes and at home. A modern juicer machine is able to squeeze juice from any fruit or vegetable, preserving all the vitamins, minerals, enzymes and amino acids! All you need to do is load fruit or vegetables into the chute, set the speed, start the juicer, wait for a few seconds and voilà, you can enjoy fresh and healthy drink. And if there's more juice than you'd like to drink, it can be stored in a container in your fridge.
If you like fresh fruit desserts, also be sure to check out countertop blenders which will help make many delicious treats.
What Features to Compare
Drinking fresh juice is a step to a healthy lifestyle. If you want to drink fresh juice every day, it is best to have a juicer that provides quick and easy juicing.
Best For
To make sure that you will enjoy your new juicing experience, please consider what you're going to use the juicer for. Juicing capabilities and the type of the juicer determine which produce (fruit, vegetable, greens, etc.) the juicer can work with. Considering types, masticating and centrifugal juicers are the most popular juicers you can take advantage of. A centrifugal juicer chops fruit or vegetables up with a grater disc. At the same time, the juicer spins the fruit or vegetables at high speed and separates the juice from the pulp with the centrifugal force. The juice then gets to a special container, and the pulp remains behind in a pulp bin. A centrifugal juice extractor requires less preparation and juices fast, but it doesn't work well with leafy green vegetables or wheatgrass. A masticating juicer has an auger that crushes fruits, vegetables, greens, then compresses them and squeezes the juice. A masticating juicer is relatively slow, so it can process leafy greens. Moreover, the produced raw juice preserves all the useful elements longer, with less heat and oxidation.
Efficiency
Efficiency of a juicer machine is another important parameter to consider. To get the best out of your juicer, please remember that speed and power of a juicer greatly influence its performance. For example, the power about 400–1000 Watts is just enough for a domestic centrifugal juicer, there's just no need to strive for higher rates. Such power will provide the desired rotational speed of the centrifuge for effective juicing. A masticating juice squeezer works at low speed, so a 150–400 watt juicer works great for juicing any fruit, vegetables, or green. 2–3 speeds will be enough for daily domestic juicing, and most juicer models typically have from 1 to 9 speeds. Higher speeds are best for juicing hard fruit and vegetables (carrots, beets, apples, etc.) while lower speeds work best for soft produce (peaches, pumpkins, watermelons, etc.). By adjusting the speed, you can control the density of produced juice. Note that you usually get more pulp in your juice when juicing on higher speeds.
Ease of Use and Additional Features
Convenience features not only make juicing easier but also influence its performance and functionality. The first important thing here is the size of the chute. Again, the juicer should be chosen depending on what fruit or vegetables you want to juice. For example, the average size of an apple is about 2.8 inches, so, to squeeze the juice from a whole apple without any pre-cutting, the chute must be bigger than 2.8".
Special filters in a juicer provide better control over the quality of juice and the amount of foam in it. A handy pusher (plunger) will serve to safely push the fruit through the feed chute to the blades of the juicer. Additional indicators and lighting will also provide extra convenience when using a juicer.
Keep in mind that the juice container and the pulp bin of the juicer should be big enough to allow for producing enough fresh juice for yourself or your whole family. Remember that raw juice is a perishable product, so the volume of the juice pitcher should match the quantity of juice consumed.
Some juicers feature an anti-drip system which will allow you to control the juice flow to the pitcher or even pause the flow to change the juice container. Take into account that this feature is extremely useful when juicing directly to a glass or cup from which you are going to drink.
In order to make cleaning easy, it is better to choose a juicer with removable working parts, including dishwasher-safe parts that are easy to clean and wash. Furthermore, some juicers come with a special cleaning brush for quick and easy clean-up of small cells and sharp details.
When buying a juicer, it's hard to expect any other options in addition to juicing. But best juicers can surprise you with a whole set of extra features for other tasks, such as making nut butter or grinding coffee.
Safety and Reliability
Safety and reliability of the juicer are also important points. It is desirable that the juicers have locking systems that prevent misassembly and ensure proper closing of the covers. There might be situations when the motor might heat up during prolonged juicing. To prevent overheating, the juicer should have a protection system against overheating. If the motor heats up or is loaded up to a certain value, the sensors will activate and stop the operation of the juicer. This will keep your juicer in good condition and, following the advice provided in the manual, you'll be able to continue juicing. Rubberized feet of the juicer will hold the juicer machine firmly on the table and reduce its vibration during juicing.
When working with a masticating juicer, the material of an auger should be strong enough to avoid breakages when juicing hard fruit or fruit with seeds. Also, there are cases when the auger gets blocked or scrolled against the crushed mass. A reverse mechanism, which scrolls the auger in the reverse direction, will help unlock and push out the crushed mass and seeds.
In addition to the material of the internal parts, the material of the housing affects the reliability of the entire juicer. One of the best materials of the housing is stainless steel which, in addition to its durability and strength, makes the juicer look great in any kitchen interior. With the advancement of technology, some plastics have also acquired an excellent strength that can be compared even with metal. Plastic does not mean unreliability.