Lemons are the unsung cooking heroes. The oft-neglected lemon juice is the most universal seasoning there is. The best lemon squeezers
will allow you to extract that juice with ease, so you can start transforming the dullest dishes into fancy-tasting delicacies.
...
Read more
...Read less
Zulay Kitchen Heavy Duty Solid Metal Bowl
No Mercy
The Zulay Kitchen Press Squeezer is made from the strongest 18/8 stainless steel, making this implement not only resistant against rust and corrosion but also granting it pretty much unbreakable tank status. Despite the model's tough construction though, this thing is great at squeezing citruses' seeds. You'll be able to crush Meyer lemons, limequats, Key limes, Mexican limes, Lisbon lemons, Eureka, Tahiti limes, and more. The heavy-duty bowls will be juicing limes, large lemons, and even handling small-sized oranges with relative ease.
The softest, lightest squeeze will be enough to make these lemons, limes, and oranges beg for mercy, which's unfortunate since the tool's not the merciful kind. Aside from making sure the seeds do not reach the cup, this handheld implement will be maintaining excellent pulp control without any assistance from separate accessories.
Even so, the model's designed without sharp edges, so despite its rough demeanor, the tool poses a threat only to citruses. On the somewhat negative note, the hinge that holds the bowls gets loose with time, so you'll probably have to adjust it.
In closing, the Zulay Kitchen Press Squeezer measures only 8.7 x 3.4 x 2.4 inches yet can tussle with the biggest, bulkiest lemon juicers and different squeezes in terms of sheer effectiveness.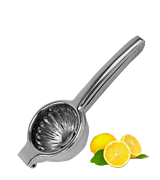 Zulay Kitchen Heavy Duty Solid Metal Bowl
KitchenAid KD070OHMEA
The Aid is Coming
The KitchenAid KD070OHMEA will be able to provide ample aid around the kitchen, that much is certain. The model's not that compact and will take up more space inside utensil drawers than some might be comfortable with but, from where we're standing, that's not the biggest prize you can pay.
First, the tool's been specially designed to make sure that the press sits flat on the countertop, providing extra leverage. Pushing the handle down, you'll be easily squeezing every last drop of juice from the citrus. What's more, the model comes fitted with this unique hopper that ensures the juice is contained within the press, while the integrated spot enables easy pouring. Besides that, there's a strainer inside the hopper. This little implement will be catching unwanted pulp and seeds, keeping the juice clean and fresh.
Construction-wise, the aluminum and nylon that the product's made with is BPA-free and dishwasher safe, so cooking, baking, making cocktails, and maintaining the press should come with no challenges down the road.
Bottom line, the KitchenAid KD070OHMEA will make squeezing juice the easiest, most effortless task around the kitchen. Plus, the handle is pretty easy and comfortable to handle (sincere apologies), so even children will be able to use this press.
KitchenAid KD070OHMEA
Zulay Metal
No Fatigue
If you are limited in terms of tabletop space and a full-blown lemon squeezer with a cup won't fit your kitchen, we recommend purchasing a small model like the Zulay Citrus Press Juicer. With this handy device, you will be able to enjoy fresh drinks whenever and wherever you want.
First of all, this handheld squeezer for lemons and limes comes in a classic, old-fashioned, but still very convenient shape that allows making the juicing process much easier. Thanks to the smart design, you won't feel much fatigue in your arms even after squeezing lots of fruit. The handles are well-shaped, so they won't slip off your hands while in use. Next, this lemon press is fitted with a built-in strainer, so you have no risk of losing it. The strainer offers passable quality but if you press too hard, some fruit pulp may end up in your juice.
The body of the juicer is made of heavy-duty plastic. The strainer is made of aluminum. As for the cleaning, this model is top-rack dishwasher-safe. After purchasing this kitchen appliance, you can get a lifetime warranty after registration.
To sum up, with the help of the Zulay Citrus Press Juicer, you will be able to enjoy fresh lemon juice with ease. You can use it with a dish of any capacity to make as much citrus drink as possible.
Zulay Metal
Chef'n FreshForce
Best Bang for Your Buck
The Chef'n FreshForce Citrus Juicer looks somewhat shoddy compared to premium models, probably courtesy of the durable yet cheap-looking bright green nylon the tool's coated with. The press is compatible with dishwashers (top-rack only though) but the manufacturers recommend hand-washing anyway.
Having said that, the product has its moments too, primarily the pretty innovative dual-gear mechanism that is able to increase the pressing power and reduce hand fatigue. Thanks to this mechanism, the tool can produce about 20% more juice compared to most juicers.
To add more, despite its questionable appearance, the nylon coating that we've mentioned above lends the model's handles the firmest grip and makes them easy to squeeze without applying extra pressure. The coating also protects the surface from scratches, so you can press this thing as hard as you want against the 'tops without worrying about grazing and scraping them. Last but not necessarily least, this durable nylon will be able to absorb shock and protect the press from drop damage, so you won't have to proceed with extra caution when using this tool.
In other words, though not without its flaws, the Chef'n FreshForce Citrus Juicer provides excellent value, allowing you to squeeze more juice while keeping the price more than reasonable.
Chef'n FreshForce
OXO Good Grips Manual
Good Grips are Easy Grips
The OXO Good Grips Citrus Squeezer has probably the most straightforward, intuitive design, which is usually what you want from these tools. In accordance with the company's name, the easy-grip handles allow you to squeeze enough juice from most limes and lemons without putting considerable effort into it. The supple rubber padding on these handles will be absorbing pressure and reducing hand fatigue so that you can squeeze and squeeze without experiencing noticeable strain.
From the construction standpoint, the tool's nothing to sneeze at, made from tough die-cast aluminum that will not start deforming eventually. The non-stick plastic coating protects the aluminum from scratches and also from rust and corrosion, except that the coating does not last, so we would recommend erring on the side of caution when using this tool. On the maintenance subject, the product is more than compatible with most dishwashers and is pretty easy to clean with hands too, so you won't be spending too much time and effort on cleaning.
In short, the OXO Good Grips Citrus Squeezer is nothing if not affordable, practical, and pretty efficient, letting you extract more value from the least delicious citruses and waste very little time on cleaning and maintenance.
OXO Good Grips Manual
What Is a Lemon Squeezer?
Lemon juice is something that people use more than most extracts, with its acidic zing able to brighten any recipe, turning the dish from something that's somewhat tasty into the most appetizing, mouth-watering meal you've had in weeks. Without the right tool though, squeezing juice from lemons, limes, and other citruses takes more time and effort than most people are comfortable with. Fortunately, lemon squeezers do not cost that much and, with these tools, you can easily squeeze every bit of juice that the citrus has to offer.
The difference between these squeezers usually boils down to the bowl and handles. Sometimes, the bowl comes adopting a hopper that contains the juice within the press and maybe even a strainer inside that hopper to make sure the pulp and seeds do not get inside the cup. In the meantime, the handles ought to be comfortable enough to allow you to squeeze them without feeling any pain and discomfort and firm enough to prevent the hands from slipping.
Garlic presses, avocado slicers, and spiralizers will also let you work with different fruits and vegetables to not only experiment with different recipes but also stick with the healthiest ingredients.