Do you want to make soup in just 30 seconds? Or a cocktail in 15 seconds? Nowadays, the market is full of handheld blenders.
In order to select the appropriate one, we suggest you to look through our immersion blender review and choose the best one!
...
Read more
...Read less
Equipment and Functionality
KitchenAid KHB2561OB
Equipment and Functionality
Equipment paired with this electric hand blender is great! It includes 3 stainless-still blades that work equally well for grinding meat and beating milk. This hand blender has got a few nice attachments with help of which you'll be able to quickly beat up the eggs and even chop the food right in a chopping bowl. The beauty about this blender is that it's easy to store. The blades come wrapped in special guards so you've got no chance to cut yourself. The 33 ounces container is also included in the kit.
Number of Speeds
This kitchen aid hand blender has 5 different speeds. So that you can choose the optimal one and start cooking a meal! Also, thanks to such variety of speeds, you can start the process at a low speed rate and then slowly go faster. It is a great feature for of KitchenAid KHB2561OB that will make blending easier!
Power
Kitchenaid immersion blender has not huge capacity, only 180 Watts. But, with the help of a good kit, you can quickly cook whatever you want. Thanks to the sturdy construction, you can even crush the ice. Most other models cannot cope with such hard ingredient. This is where Kitchenaid surely stands out. You will be able to prepare different variants of refreshments!
Design and Construction
This model will serve you for several decades, thanks to the metal body. KitchenAid KHB2561OB hand blender has a comfortable soft rubber grip. All included attachments are easy to disassemble and clean. In addition, you can store all accessories in the special storage case. This great addition will make you feel special!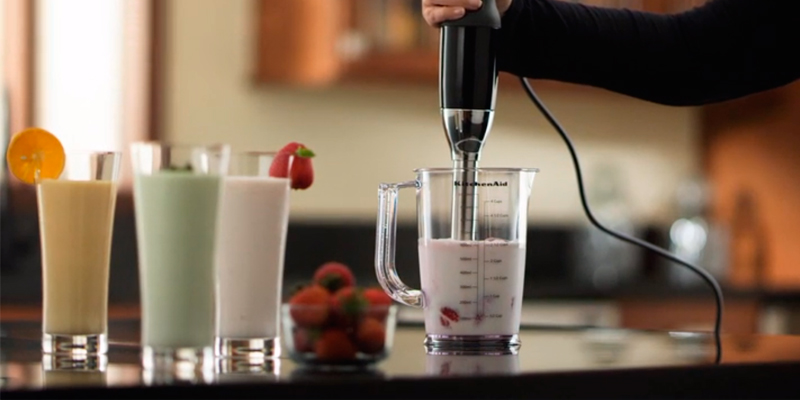 Additional Info
---
What customers say about this product
Love the fact you can remove the mixer blade and shaft for cleaning.
Works as advertised. Compact and easy to maintained.
Easy to use except for the speed control
The storage case is another nice touch. No need to dig through crowded drawers to find the pieces that you need, they are all right at your fingertips.
I also like the whisk for small whipping jobs where I don't want to get the Mixer dirty.
KitchenAid KHB2561OB
Breville BSB510XL
Equipment and Functionality
This Breville hand blender has got a blending stainless steel shaft and a sharp blade, so it will serve you for several decades. The chopping bowl (25 Ounces) can grind and mix any food. The set also includes a container (42 Ounces) for storage and whisking, which is very comfortable in usage. Moreover, you will not be able to damage your dishes thanks to a non-scratch guard.
Number of Speeds
This multi quick hand blender has 15 speeds, so you can pick the optimal one and start cooking! This speed range is certainly a great option! You can start blending at a low speed and then, switch to a higher speed. It can crunch the ice as well as grind both soft and hard pieces of food. At a reasonable price, it does ensure versatility.
Power
This model is the most powerful one (280 Watts) in our hand blender review. This unit can cope with any ingredients without overheating. So you can blend the harder chunks with minimum effort. Thanks to Breville BSB510XL power, you will be able to process the food as fast as it's possible and please your family with consistent results!
Design and Construction
Breville BSB510XL blender has an ergonomical handle for comfortable usage. You can use this hand blender in any deep container! This means that you will not splash anything because of a specially designed arched shaft and a lengthened blender body (measured at18 inches). This device has up-to-date design: black color of a handle and a metal blending shaft.
---
VIDEO
Breville -- Tips and Tricks: the Control Grip BSB510XL
What customers say about this product
The blender itself is not small, but it fits very comfortably in my hand and is easy to use.
t works perfectly. I have used it to cream soup in the pot, make smoothies with frozen fruit, and to make mayonnaise. It handles all of these with ease and the clean up is super simple.
The ergonomics help control the blender even when it is running at full power. Also the design helps keep the blender from sucking onto the bottom of the pot when in use.
All parts that come into contact with food/liquid are BPA-free.
The whisk attachment works great for beating eggs and making whipped cream.
Breville BSB510XL
Conair Cuisinart CSB-75BC
Equipment and Functionality
This Cuisinart CSB-75BC immersion blender has a standard stainless steel attachment for grinding. The 16 ounces container for different cooking operations is included. In addition, this container can be reheated in the microwave. As we see, this blender has a simple set of accessories! But if you are not looking for excess, we recommend you to take a closer look to this kitchen device.
Number of Speeds
This model has 2 speeds (low and high), so you can grind your product with appropriate one. This smart stick hand blender works with soft and solid products. Cuisinart hand blender is easy to use item, thanks to the one-touch blending button. It can be down-dropped in deep containers, so you do not have to worry about splashing.
Power
The power of Cuisinart hand blender is 200 Watts. This index is middle one in our shortlist. It is fairly enough for preparation of different dishes. With the help of Cuisinart CSB-75BC you will be able to cook and mix liquids. However, don't try to blend solid products and especially ice, it may damage this device.
Design and Construction
This Cuisinart CSB-75BC immersion blender is made of durable metal. It is easy to hold (even in small hands) thanks to ergonomical grip. There are plenty of available colors: red, pink, white, brushed chrome and so on. Select the one that fits your kitchen decor the best and enjoy the taste of different dishes!
---
VIDEO
Smart Stick® 2 Speed Hand Blender in Brushed Chrome Demo (CSB-75BC)
What customers say about this product
It's powerful, efficient, easy to use and clean, and amazingly convenient.
This product works well and has proven to be durable (lasted 2 years so far without any problems).
It has a great grip and does the job needed
We really like that the blending shaft is dishwasher safe.
The Smart Stick comes with a deep mixing 'bowl' and has only 2 parts clean. I find it's half the time, half the work, and half the clean-up!
Conair Cuisinart CSB-75BC
Hamilton Beach 59765
Equipment and Functionality
Hamilton Beach 59765 hand blender is equipped with a stainless steel blending wand. Also, the whisk attachment is included in the kit. So you will be able to prepare dough or beat eggs without any problems. A chopping bowl allows you to cut products directly into the bowl, what is very comfortable. All things considered, this blender has all necessary devices for good cooking.
Number of Speeds
This Hamilton Beach 59765 immersion hand blender is a special device with low and high speeds (what is very convenient for different meals) . We do not recommend you to use both speeds for one preparation. It can lead to overheating and breakage of the item. In addition, please, use low speed for soft products and high - for hard!
Power
This model has average power like most typical hand blenders - 225 Watts. Yet, it's enough for cooking all sorts of meals. Speed settings allow you to chop even the hardest pieces of food. Comfortable model of a hand immersion blender is ideal for different operations. All members of your family will definitely like it!
Design and Construction
The body of Hamilton Beach 59765 is made of plastic, but it's not so bad. If you use this blender properly, it will serve you for a long period. This hand blender has a convenient long cord (5 f), so you can move freely all around the kitchen. Also, Hamilton Beach has various types of complementation - 2,3 or 4 pieces may be included into the set.
Additional Info
---
Hamilton Beach 59765
Cuisinart CSB-79
Equipment and Functionality
Cuisinart hand blender has a large measuring bowl (16 oz.), so you can easily measure the amount of each ingredient precisely according to the recipe. The bowl is very handy for making cocktails. A mixing beaker also holds capacity of 16 oz. A special chopper / grinder attachment allows you to chop nearly anything: from edible greens to cheese, nuts and chocolate. Also, Cuisinart hand blender has a stainless steel whisk that allows you to beat up different products (eggs, for example).
Number of Speeds
Cuisinart hand blender has 2 available speeds. There are 2 buttons so you can choose the right speed very fast. No need to say, if you need to mix or chop soft products, a slower speed must be chosen while harder ingredients and products require a higher speed. The right choice of the speed makes using this hand blender easy. Also, you will avoid an overheating of the electric motor if you choose the right speed.
Power
The power is an important feature of hand blenders. Cuisinart engineers have equipped this hand blender with a 200-Watt electric motor. When compared to some other applianced on our shortlist, its power is rather moderate yet more than enough to cope with multiple tasks. It will easily chop vegetables and fruits, grind nuts and chocolate, whisk eggs, etc.
Design and Construction
Any hand blender should fit in your hand comfortably. This appliance is designed to provide a grip as convenient as possible - the handle is very ergonomic. The housing is made of stainless steel which is superior to plastic in terms of durability. All the attachments can be quickly replaced. Another important issue to consider is the clean-up. A whisk, a blending shaft and both bowls (a beaker and a measuring cup) are totally dishwasher-friendly, so you don't need to bother yourself with washing the attachments after use. Moreover, a mixing cup is microwave-safe.
---
VIDEO
Cuisinart CSB-79 Smart Stick 2-Speed 200-watt Immersion Hand Blender
What customers say about this product
The chopper blade makes the best fresh salsa, the whisk whips cream and the stick blender is a must have in any kitchen.
Easy to use, ergonomically fits your hand, light weight.
The rubber grip at the bottom of chopper attachment helps when i chop by not sliding around as my old one did.
it's nice to know it's BPA free.
I like the attachments variety, construction of attachments, and the attaching mechanism of the attachments appears as though they will last 20 years or more.
Cuisinart CSB-79
Infographics
---
What Is a Hand Blender?
A hand blender is a useful kitchen appliance that consists of a jar for food and stainless steel rotating blades at the bottom. It is a compact and lightweight device that's convenient to store even in a small, limited in space, kitchen. A hand blender can meet most of your cooking needs. Premium or less expensive, hand mixers can puree, mix, emulsify, blend food and perform many other functions to make substances you need. Some of the more expensive models can also be used for crushing ice and reducing small solids. The market has many different kitchen appliances designed for blending purposes, like, for example, food processors, countertop blenders, and more. But if you need just a small thing to mix food and other substances from time to time, a hand mixer will definitely suit you perfectly. For this article, we've selected 5 most popular models so you can choose the one that fits you most.
What Features to Compare
The most important feature while choosing a hand blender is Equipment and Functionality. These two concepts are linked very closely! The equipment of electric hand blender will influence directly on operation, which you can perform with the help of this device. If you think that a handheld blender has only a standard attachment, you are surely mistaken! So, what attachments does a blender have? It may include a whisk attachment for dough (which can replace a mixer)! The hand blender can also have the attachment which can cut the products into cubes. Such option facilitates the preparation of salads and soups by times. In addition, a convenient chopping bowl helps you save time and chop the food directly in the bowl. The set may also come with different stainless-steel attachments for grating and shredding.
The Number of Speeds is a vital feature. Hand immersion blenders can have from 1 to 24 different speeds. Switching between speeds is performed continuously or stepwise. A wide selection of speeds allows you to choose the most appropriate one for different products. For example, you can start grinding the meat at a low speed and then gradually increase it to the higher. Take note, if you want to whisk eggs in a small container, it is better to start with a low speed, because you can sparkle splatter everything. Thanks to the smooth switching of speeds, you can accurately select the appropriate mode.
Power is the main feature while choosing the best hand blender. The more power this device has, the faster you will cope with food processing. You can hardly notice the time difference between hand blenders while beating up the eggs. But when you are cutting vegetables (onions, carrots etc.) or cooking cream soup, you can notice that a powerful hand blender copes with the cooking task for a less period of time. Therefore, the immersion blender with little power is unlikely to cope with frozen vegetables or minced meat. But there may be some exclusions because the technologies are constantly moving forward. For example, the new advanced lithium-ion technology allows users to crush ice with the power indexed at 7 Watts only.
While choosing the best hand blender, you should also pay attention to the Design and Construction. The body of the blender can be plastic or metal (stainless steel or aluminum). Models with a metal case are usually more expensive. Yes, we can point out that metal units are usually stronger and more durable. However, the metal housing also makes a blender heavier. For many customers, it may be not a very good feature because the owner has to hold it in hands for a long period. You should know, that the plastic covering is not bad if handled carefully. In addition, the presence of anti-slip inserts on the body is a great addition! They can be rubber, elastic and, so-called, soft-touch plastic.