Want to remove excess moisture from your bathroom, closet, basement, or garage to breathe fresh and healthy air all around your house?
Then get a small dehumidifier! Although this appliance, like the name says, is very compact and small, it's more than effective at lowering humidity level as well as eliminating musty smells. We have rounded up only the best small dehumidifiers available on the market to simplify your choice a bit.
...
Read more
...Read less
Moisture Removal Capacity
Pro Breeze Dehumidifier for Damp, Mould, Moisture in Home
Ultra Quiet, Ultra Efficient
The Pro Breeze PB-03-US is a great little machine that packs a big punch. While being extremely compact and portable, it can significantly improve air quality in spaces up to 2200 cubic feet in size, due to how much moisture it can easily squeeze per day (up to 18 ounces!). The Pro Breeze PB-03-US efficiently eliminates damp, mold, mildew and musty smells. It has a 52-ounce capacity water tank that takes about 3 days to get full, making it very easy to maintain it and control. Plus, there's a red LED light on the casing that will notify you when the tank is full and needs emptying. The procedure of draining water is easy and quick. Simply drain the water reservoir and then place it back.
Designed with ultra-quiet Peltier technology, the dehumidifier uses thermo-electric cooling, which makes its operation almost whisper-quiet, especially compared to units that use compressors. Though some users note that you still might hear it should you place it in a completely quiet room we wouldn't describe it as loud, for sure. Its operating noise is reasonably quiet and unlikely to capture your attention. Quiet operation isn't the only advantage of this dehumidifier, though. Thanks to the Peltier technology, it is not only quiet but also extremely energy-efficient, consuming almost twice less power than compressor-type units.
So, if you are an eco-conscious user that needs a small unit for removing excess humidity and mold smells from your kitchen, bathroom, laundry room, bedroom, closet, or any other midsized spaces which are prone to damp air, the Pro Breeze 2200 electric dehumidifier might be a solid pick. After setting it up in your room you can be confident that your skin and lungs will thank you!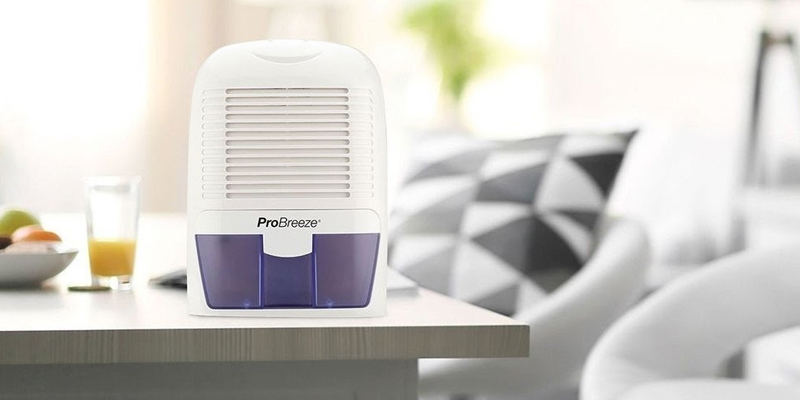 Optimal Conditions
Like many other small dehumidifiers, the Pro Breeze PB-03-US will achieve the most optimal performance between 59 - 86 degrees F. Below 59 degrees F, it will have a bit limited performance, while below 41 degrees F, it won't work at all.
Also, the device won't be able to remove moist from the air if the water tank is full. However, you won't need to worry that the water in the tank might overflow. The unit has a built-in sensor that will automatically switch the device off once the water tank is full. As you see, the Pro Breeze electric humidifier is not only an effective but also safe appliance with no risk of overflow.
Additional Info
---
Pro Breeze Dehumidifier for Damp, Mould, Moisture in Home
Trustech E01
Not Just for Lowering the Humidity
Trustech offers users a brand new dehumidifier that not only pulls the moisture out of the air but also cleans it and sterilizes it. The thing is that its air outlet is fitted with a photocatalyst filter screen and UV bactericidal negative ion air purificator that allow it to eliminate harmful bacteria. Plus, it has the UV light that filters the air.
As for dehumidifying function, the Trustech E01 can remove up to 15 ounces of excess moisture per day. It has a large 68.32-ounce water tank that needs around 4-5 days to completely get full. According to the manufacturer, this dehumidifier is best suited for enclosed spaces that are smaller than 269 square feet in size, making it suitable for most any room, including living rooms, offices, bathrooms, bedrooms, basements, RVs, garages, etc. Due to the ultrasonic technology, it produces only a quiet humming (40 dB) that doesn't sound annoying, so you can safely place it even in your bedroom or study without worrying that it might disturb your sleep or what it is you do.
After we've briefly covered performance, let's say a few words about how the Trustech E01 looks. The unit has a modern black design which makes it more of a practical option compared to white models that seem to magnet dirt and dust. This means you won't need to clean it too often and it will be enough to give it a quick wipe only once in a while. The dehumidifier has several indicators - dehumidifying, purifying, tank-full and defrosting - so you can keep an eye on the current settings and change them when necessary. The Trustech E01 is easy to use and has only a few buttons. Once the water container is full, the unit sends an audio alarm which beeps loud enough for you to hear it. In case you are not at home and can't hear this sound, the unit will automatically shut itself off in a short while. What we'd also like to point out about the Trustech E01 dehumidifier is that it's eco-friendly and doesn't consume a lot of electricity - you can safely run it all night long.
In all, if you need clean and dry air to create a healthy and relaxing environment at home, look no further, the Trustech E01 can be your best choice!
How to Improve its Efficiency
The manufacturer gives its customers some useful tips on how to improve the efficiency of the dehumidifier: 
The power adapter might emit some heat to achieve the best performance. That's why you should keep two sides of the air inlet and the top outlet from being blocked.
Run the Trustech compact dehumidifier only when

the humidity levels are

higher than 50 percent

. If the

humidity level is lower than 45 percent, the unit will shut down automatically to ensure optimal

air quality.



---
Trustech E01
hOmeLabs HME020018N
Best Bargain
If you need a frills-free machine that can effectively remove extra moisture in small bathrooms or closets, the hOmeLabs HME020018N humidifier may be a worthy investment. On top of its more than affordable price tag, this humidifier offers you the benefit of a small footprint, making it easy to find place for it in a room as well as move it from one room to another. With a 16-oz tank reservoir, the humidifier can extract up to 9 ounces of extra moisture to purify the air in enclosed rooms and spaces up to 150 square feet in size. This also means it can work non-stop for almost two days in a row without emptying. To let you know when the humidifier needs emptying, there's a LED indicator light that starts to blink red when the water tank's full, and there's a safety shut-off function that automatically shuts the unit down if you ignore this notification for one or another reason. Another safety feature is the ETL certified adapter which protects the appliance from overheating. By the way, the hOmeLabs HME020018N humidifier is very energy-efficient and uses only 25 Watts, which is nothing compared to what most electric appliances usually consume. Not only that. It is also very quiet. Equipped with the thermoelectric Peltier module, the hOmeLabs HME020018N emanates only some slight white noise, making it a great option for bedrooms and nurseries.
This dehumidifier has a long power cord and is very easy to operate. You simply need to plug it in, switch it on, and press the "start" button. Keeping it running for at least a few hours a day will let you lower humidity to a comfortable level so you can have better living conditions as well as protect your home from irritating allergens like dust mites and other tiny pests that lurk in high-humidity spaces. So by purchasing this small dehumidifier from hOmeLabs you can kill two birds with one stone - 1) eliminate musty, damp nature of small rooms, and 2) improve your respiratory system. For sure, the hOmeLabs HME020018N is one of the best bargains around which you just can't afford to miss!
Low Maintenance
The unit requires very low maintenance. To keep this dehumidifier working at its best, you can clean it once per week. For this, take a soft, smooth cloth and clean the surface. Then use a soft-bristled brush to remove dust from air inlet grills. Also, try to empty its water tank once it's full so that no bacteria could appear inside.
Additional Info
---
hOmeLabs HME020018N
Hysure Mini Dehumidifier
Compact in Size but Big on Functionality
The Hysure portable dehumidifier does a great job of keeping basements and bathrooms from becoming a swamp. It has such small dimensions it could easily fit on your desk or workbench. But despite its compact design, this dehumidifier has a lot to offer in terms of performance and functionality. Small as it is, the Hysure Mini Dehumidifer is able to effectively extract up to 10 ounces of water daily at optimum conditions (86°F, and relative humidity RH80%). It has a spill-proof water reservoir with 23.6-ounce capacity meaning that you can run it 24/7 up to two days without draining the chamber. For extra safety, like many other dehumidifiers, this one has an Auto shut-off function so you can have a peace of mind if you leave home and do not empty it on time.
Using the Peltier technology, the Hysure Mini Dehumidifer is whisper-quiet in operation. It produces less than 33 dB and can be safely used in a baby room, bedroom, or other indoor spaces (up to 2150 cubic feet). By absorbing damp and condensation, it'll definitely make any environment much healthier.
The dehumidifier is very simple to use and has a smart design. To reduce the distance of the air entering/exiting, the manufacturer has made the unit ergonomically shaped - the back air outlet is quite close to the front air inlet holes. What we didn't like that much about this model though is that it doesn't have any light indicators that could tell you when the water chamber is full so you could drain it on time. However, that minor flaw doesn't detract from all other merits of the appliance especially seeing as the manufacturer made up for it by fitting the device with the Auto shut-off function.
The distinguishing feature of the Hysure Mini Dehumidifer is that you can buy it in black or white color, which makes it a suitable option for almost anyone, regardless of what color your room is. So if the design of the appliance is as important for you as its performance and functionality, and you need a small thing to purify the air in midsized spaces, investing in the Hysure Mini Dehumidifer is the only right decision.
Precaution Tips
To ensure a longer service life of the appliance, the manufacturer recommends sticking with the following tips:
To ensure safe work of the dehumidifier, never place the power adapter in damp places. It's also recommended to install the unit in well-ventilated areas.
Wipe the unit clean with a soft wet cloth. Keep away from using chemical cleaning products.
Always make sure that the front air inlets and top air outlets aren't blocked while the dehumidifier is working.
Before each use, check whether the humidity and the current temperature meet basic requirements. The temperature should be ≥ 68 degrees F, relative humidity ≥60%.
Keep in mind that the performance of the dehumidifier is also affected by such factors as the space size and air flow speed (windows/doors are closed or not).
---
Hysure Mini Dehumidifier
Eva-dry Edv-1100 Electric Petite
Best For Small Spaces
The Eva-dry Edv-1100 has rather average air dehumidifying capabilities and moderate coverage area up to 100 square feet. However, the manufacturer didn't claim it would suit big spaces. The whole idea of the Eva-dry Edv-1100 was that it would squeeze extra moisture in small areas, such as bedrooms, nurseries, storage rooms, bathrooms, and even closets. This way, if you place it in a closet with wet clothes, they will dry out much quicker. The Eva-1100 air dehumidifier can remove up to 8 ounces of water from the air per day.
This small air dehumidifier is extremely simple in use. You won't need to peruse long and overly detailed instructions. All you will need to do is plug it into a standard 110V outlet and press the "Power" button. The Eva-dry Edv-1100 is designed with the Peltier thermoelectric technology and it means that it has no noisy compressors so you can safely place it any room you want. Plus, it uses very little energy so if you want to run it all night you can do so as well.
On the negative side, the Eva-dry Edv-1100 has no drainage system, meaning you will have to empty its water tank manually. However, we do not consider it big of a problem. The unit has a convenient water chamber which can be easily removed and drained into the sink. For the user's convenience, the model has a special light indicator that will notify you when it's time to remove water from the tank, and is made out of sturdy and heavy-duty plastic that is easy to keep clean. 
Cares About Your Safety
As you already know, the moisture that a dehumidifier squeezes from the air is what fills a water tank. This water, which is what it apparently is, by no means must contact the electric grid, so for this very purpose, most manufacturers of dehumidifiers equip their devices with a safety auto shut-off function. The Eva-dry air dehumidifier is no exception. You can have a peace of mind knowing that even if you leave home unexpectedly and leave the device running and its water tank gets full, the device will shut down automatically eliminating risks of spills that could cause current failure. So you can have the Eva-dry air dehumidifier running all day and all night without being worried that an accident might happen. A perfect option for those people that care not only for the optimal humidity level but also want to make the air in their home fresh and free of allergens.
Additional Info
---
VIDEO
Eva-dry Edv-1100 Electric Petite
What Is a Small Dehumidifier?
Moisture is in the air! Ideally, it should be somewhere between 45% - 65% RH; if it's higher than that, the likelihood of mold, mildew, germs, dust mites, and different bacteria lurking in that environment greatly increases. And if they do lurk in, they can become a trigger of many allergic reactions, respiratory illnesses, and skin diseases, like sneezing, stuffy noses, coughing, asthma, pneumonia, eczema, and more. To solve these and many other issues related to the overly humid air, manufacturers recommend taking advantage of a dehumidifier. This device can quickly get the humidity level down to a normal level and create a much healthier environment for you and for your family. Dehumidifiers come in different sizes and shapes so you have a great range of options to choose from. If the air in your place is very humid, like so humid you can sense moisture literally in every corner of your house, then we would recommend you take a look at full-size dehumidifiers that are best suited for large spaces. In case you only need to remove excess moisture from one room, like, for example, your bathroom, closet, garage, baby room, wardrobe, or basement, we see no reason to overpay for a big thing - a small dehumidifier will be enough. Though small in size, this appliance does a great job of removing moisture from the air and performs as well as intended. So if you notice that one of your rooms starts to resemble a kind of rainforest, with all ensuing consequences, a mini dehumidifier is what you need.
What Features to Compare
Performance
The first thing you should take into account while choosing a mini dehumidifier is its performance. The performance defines the amount of moisture it can squeeze from the air and those spaces it's suitable for. The moisture is usually measured in pints or ounces per day. The more powerful the unit is, the more excess water it removes. As for the maximum coverage area, it varies greatly from model to model. If you need to dehumidify a closet, laundry room, bathroom, or any other tight space, it's sensible to choose models with less than 1200 cubic feet coverage. But if you're going to normalize humidity level in a small bedroom, office, kitchen, or study room, opt for more powerful models with more than 2000 cubic feet coverage.
Size
Pretty often the size of the unit determines the amount of water it can hold. Hence, those models with larger water reservoirs are bulkier. Though, if the free space isn't an issue for you, we recommend you to pick units with capacious water basins. You won't need to drain water too frequently even if the dehumidifier works 24/7 - 1-2 times per week will be enough. However, if you're limited in space, it would be wiser to choose smaller units. Also, take into account that the air inlet and outlet grills shouldn't be blocked for optimum performance.
Health Safety
Though dehumidifiers are designed to remove excess moisture from the air, some of them have additional filters to eliminate airborne bacteria. Moreover, you can find mini dehumidifiers equipped with UV lamps that kill germs and other allergy triggers. This advanced type of dehumidifiers is the best pick for those with breathing problems and families with kids.
Convenience
The last but definitely not the least thing to consider is the convenience of use. High-end units often come fitted with different indicators, audible notifications, and safety features. Almost all modern dehumidifiers have a shut-off function that automatically turns the device down once its water tank is full. If you're going to install a unit in a bedroom, we highly recommend you turn your attention to the models that use Peltier modules instead of noisy compressors. They operate quietly and won't disturb your sleep.
Did you know?
What Is the Recommended Humidity for a Home?
As many pediatricians say, maintaining an ideal level of humidity in your home is essential for the overall well-being of your family. The optimal humidity level should range between 40-60%. And the experts recommend that the most suitable human humidity should be close to 45%.
Why Is Proper Humidity so Important?
Maintaining a proper indoor humidity is essential for your health. Extreme fluctuations of moisture in the air might cause different hazardous effects:

Low humidity might cause respiratory issues and damage your wooden doors, windows, and some kinds of furniture. Moreover, too low humidity might increase static electricity and make you more vulnerable to electric shocks.
Alternatively, high humidity can promote mold and mildew growth, thus acting as breeding grounds for fungi, germs, and bacteria so harmful to your health. Overexposure to high humidity might also lead to such health problems as dehydration, muscle cramps, and others.
How to Gauge Humidity Level?
The humidity level can be simply measured with a hygrometer. This device can instantly and accurately calculate the relative humidity indoors. However, if you don't own this smart appliance, you can conduct the "ice test." For this, you'll need to put three ice cubes in a glass of water and wait for three minutes approximately. If the moisture droplets don't form on the glass, this means that the air is too dry, and you must moisten it. Also, there are some more simple ways that can help you determine the humidity in your room:
If fog and condensation form on your windows or some mold appears on your walls/ceilings, this means that there is too much excess moisture indoors.

If you suffer from static electricity this means the humidity is too low and you need a humidifier.
What Should You Do if the Humidity Level is too Low?
In the winter period, the humidity levels naturally drop because the cold air holds much less moisture compared to warm air. Plus, families that use extra heating sources often suffer from the overly hot air. To make things better, you can use a humidifier. It'll ensure the optimum humidity level and prevent dry skin and susceptibility to various respiratory illnesses. Plus, your hard floors, furniture, electronics, and millwork will thank you later.
What Should You Do if the Humidity Level is too High?
If the humidity levels are overly high, you might notice too much condensation around your house, especially on your windows. Also, the humid air might travel through your walls and ceilings, thus causing mildew on your clothes, peeling paint on your walls, and rot in woodwork. And to lower the humidity in your home, you can, of course, turn on a dehumidifier. But if you don't have one, you can:
Always use exhaust fans in your kitchen and bathroom while cooking and showering. If you haven't got fans, you can simply open the window to let fresh and dry air in.

Try to reduce the amount of water for cooking. Cover pots and pans. Also, reduce the number of plants in your home.