Wanna drink some sparkling beverages? That's the best way to cool off in a summer heat! And what's amazing, you don't need to go
to the store and spend money any more - it's possible to make soda right at home. You just need a soda maker! Check out our review and make your best pick!
...
Read more
...Read less
KitchenAid KSS3121CU
Type and Material
KitchenAid soda maker is a countertop carbonation machine that helps you create some sparkling drinks whenever you wish. You just need to have some clean cold water to be fizzed within less than 30 seconds. KitchenAid has a large lever with 4 settings, thanks to which you can fully control the carbonation process. Moreover, this unit has a pressure gauge that shows you when it's high time to stop. We would like to draw your attention that this soda maker machine is made of metal, so it's quite durable and will serve you for years. The casing is offered in a variety of colors: red, black, white, blue, silver, tangerine, green, and aqua sky.
Cartridge Compatibility and Yield
This best soda maker machine comes with a standard 3-ounce CO2 tank that allows you to make up to 6 liters of sparkling water per one go. Of course, it isn't a lot and that's why KitchenAid offers a spare CO2 cylinder that can carbonate as many as 60 liters of fizzy drinks. And this is already some quantity, so we recommend you to use a huge cartridge. And if you run a business like for example a cafe or a small restaurant, KitchenAid soda maker will certainly be helpful - you will be able to serve exclusive fresh cool beverages to your visitors.
Convenience and Package
KitchenAid soda maker is so simple in use that even your kids will be able to make a bottle of a delicious fizzy beverage. You just need to fill a 1-liter bottle (included in a package) with fresh water, attach it to the carbonator properly, then push a lever - and your fizzy drink is ready. The Snap-lock feature holds the bottle in place securely during the carbonation process. As for flavors, there are 60 different SodaStream products that will satisfy any drinker's taste. For example, you can choose one of the diet flavors (peach, pear, diet cola, etc.), energy flavors (Xstream), Cola (TM), and so on. The choice is immense, so you can try them all! A great benefit is that flavors and syrups from other producers can be also used. And if you make your own syrup, all-natural and delicious, just add it and you will get your own unique soda drink. In the end, let's take a look at the package content: apart from the soda maker machine itself, you will also get a 1-liter BPA-free plastic bottle, a 3-ounce starter CO2 tank, and 3 flavor packs.
---
VIDEO
DIY Home Soda - Product Review Soda Stream by Kitchen Aid
What customers say about this product
This is the prettiest sodastream out there and looks great if it has to sit on your counter.
You can find the cheaper SodaStream version that will do the exact same thing, and this uses SodaStream CO2 canisters anyway, but if you want something a little more panache, you can't go wrong with the KitchenAid.
The best part is, we don't need to worry about running out of soda water (90% of what we drink) anymore.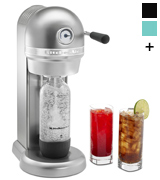 KitchenAid KSS3121CU
SodaStream MAIN-19168
Type and Material
SodaStream Fountain Jet soda maker is a really handy kitchen appliance thanks to which you can experience an immense richness of flavors and refresh yourself in the summer heat. It's a countertop carbonator that is used at homes, offices, cafes, canteens, and so on. If you have a big family - this appliance is surely for you. If you own a small cafe where sparkling beverages are served - SodaStream is also a must-have. And even if you want your white collar workers to feel ease and stay positive all day long - this soda maker will be really useful. The casing of this soda maker machine is made of durable plastic. The bottle (1-liter) is also made of BPA-free plastic.
Cartridge Compatibility and Yield
It's one of the best soda makers in terms of cartridge yield, i.e. it can carbonate far more water than other appliances in our review. Fountain Jet soda maker comes with a small 3-ounce CO2 tank; this capacity is sufficient to fizz up to 6 liters of sparkling beverages. But its capabilities are not limited to a 3-ounce tank only! You can additionally buy a large CO2 cylinder, capable of making up to 60 liters of fizzy drinks. And this unit is unique because there's an option to choose a CO2 container with the amount of CO2 for 130 liters of sparkling beverages. This way, you can buy a huge tank and enjoy soda for at least a week. As for the carbonation speed, fizzing takes under 30 seconds.
Convenience and Package
SodaStream Fountain Jet is pretty simple in operation. You just need to fill a bottle with cold water (tap water or filtered water), fix it properly, and push a carbonation button on top of the unit. The carbonation is over when you hear a whistling sound. Keep in mind that a bottle is made of plastic, so don't fizz water too much - the bottle can simply blow out under the excessive pressure. Apart from home-made lemonade, you can make one of more than 60 SodaStream flavored drinks. Add a bit of syrup - and you will get a tasty sparkling beverage, which will be healthy and really refreshing. If you think SodaStream flavors contain some dangerous chemicals, there's nothing to worry about! The manufacturer guarantees that none of the flavors contains aspartame or corn syrup. Thus, you can experiment and try lots of flavors without any worries. Finally, let's mention the supply package this SodaStream soda maker comes with: you will get a starter 3-ounce CO2 tank and a BPA-free bottle. It's self-evident that the bottle can be used many times and it's even dishwasher-safe.
---
VIDEO
SodaStream Home Soda Maker Review
What customers say about this product
I love carbonated water! I wish the unit came with a full sized co2 tank :/ the little one ran out sooo fast
I really liked the fact doesn't need power to run: no batteries, outlets, power cords, or charging anything. I will say that finding B&M stores to swap empty tanks with you can be hit-or-miss.
It will be 60 liters later (theoretically) before it has to be removed and reinserted again. But, I do have a couple of complaints regarding design that seem like they could be easily addressed.
SodaStream MAIN-19168
Hamilton Beach Fizzini
Type and Material
Hamilton Beach soda maker is a compact handheld siphon. The carbonation occurs when gas is released through a special valve - you just need to attach a cartridge and push the CO2 release knob. You will get a sparkling water within just 10 seconds, after which you can add syrup and get a real fizzy drink. The whole soda maker machine is made of plastic. The bottle is made of BPA-free plastic that releases no harmful substances at all. Hamilton Beach soda maker is offered in several colors: white-silver, blue-silver, red-silver, and green-silver. Thus, you can pick the color you like the most and that will fit your kitchen interior.
Cartridge Compatibility and Yield
This soda maker uses small 8-gram CO2 cartridges, made of stainless steel. These cartridges are absolutely friendly to human health and can be easily recycled. Thus, never throw them away in the street! Each CO2 cartridge can be used only once and it can't be refilled with gas. The amount of gas is sufficient for fizzing 1 liter of water or, in other words, the bottle. Also, it's quite clear but let's emphasize once again: Hamilton Beach soda maker machine can't use other cartridges. So, be ready to buy lots of them!
Convenience and Package
Hamilton Beach soda maker is extremely convenient. This appliance is very compact and takes very little storage space. You'd love carrying it around. Our customers say that most of the time they bring it together with a small fridge on trips. The unit is very simple and convenient to use. Of course, we recommend you to carbonate the full bottle since each CO2 cartridge can be used only once. The bottle has a lid, so you can put it in the fridge and refresh yourself wherever you feel hot. Now, you might ask: how to add a syrup? It's simple: once the water is fizzed, you just need to fill a glass and add any syrup you like. As for the package content, Hamilton Beach comes with a BPA-free bottle and 10 replaceable CO2 cartridges.
---
VIDEO
What customers say about this product
I like the portability of this compact unit. It functions fine and is exactly what is needed to fizz a bottle of water. I like the actual bottle a lot.
I bought this for my boyfriend and he absolutely loves it. He carbonated all kinds of weird drinks that you wouldn't think were good carbonated. However, its been awhile since I bought this, and sad to say he hasn't touched it for a long time due to the CO2 cartridge problem.
Overall I really like the concept of the product. It is very portable, lightweight, and easy to use.
Hamilton Beach Fizzini
SodaStream 1519511010
Facts About Soda
Naturally fizzed water has been known since the very ancient times. The 'father of medicine', Hippocrates, mentioned this kind of water in his multiple writings. It was used for curing the ill, who not only drank naturally fizzed water but also poured it and bathed in it.
Later, in 1767, a British chemist Joseph Priestley created carbonated water for the first time. He worked at a brewery and used gas emitted owing to fermentation.
Today, an average American consumes about 150 liters (or 159 quarts) of soda, 4 times as much as in 1950s.
The largest producers of soda are such famous companies as PepsiCo Incorporated, The Coca-Cola Company, and Dr. Pepper Snapple Group.
Designed by Yves Béhar
The first thing we would like to mention is the stunning design of this soda maker. The item was designed by Yves Béhar - a renowned industrial designer. He provides services for such important companies as Kodak, MINI, Prada, Samsung, Puma, and others. The housing is really elegant; it's made of high-quality plastic with several aluminum inserts on the sides. Thus, this soda maker will certainly fit in any interior. This is a countertop soda maker, which means you place the bottle properly, then push the button and the water gets carbonated. The bottle itself looks pretty stylish too. It's made of BPA-free plastic and has an aluminum lid. The capacity of the bottle is 1 liter (1.06 Qt) - enough for an individual use. However, the manufacturer doesn't recommend washing the bottle in a dishwasher or in hot water. Hand-wash the bottle and it will serve you for years! No doubt, SodaStream soda maker is one of those kitchen appliances that add freshness and fun to our lives! A worthy purchase!
Functional and Autonomous
Probably, some people might be surprised to find out this soda maker requires neither electricity nor batteries. How does it work? It's so simple! The cartridge has a pressurized CO2 gas and when you place the bottle and push the lever, gas does its job! A single cartridge is sufficient for making up to 60 liters of fizzy drinks and you can replace it in any of 15,000 stores. The installation of the cartridge is simple: fit the cartridge into the gasket and tighten it (just like a light bulb). Bottle installation takes seconds, too: you just need to place it properly and snap it lock (by pushing it up and forward). When everything is ready, push the button and you will get your drink done in a matter of seconds! The LED indicator shows you how carbonated the drink is. There are 3 available carbonation levels: mild, medium, and high fizz. However, you might need to get used to the sound the unit makes when it's running. It isn't loud but still some people don't like it.
If you adore adding syrups and flavoring soda, keep in mind that fruit syrups should be fizzed mildly whereas Cola requires strong carbonation. Of course, it's up to you! You can experiment and try different flavors. Refresh yourself, your family, and your guests using this excellent soda maker!
More Products to Consider
The original package contains 1-liter bottle only, which might be not enough for a big household, all loving drinking soda. If that's the case, there's an option to purchase more bottles separately. For discovering new flavors, you can always get more packs with a variety of syrups. 
Additional Info
---
What customers say about this product
Carbonation works well, and it doesn't seem to have any leaks or wasted CO2. While older models had you pressing buttons until the unit "buzzed" a certain number of times, this one doesn't bother with that
It is, of course, all plastic which is fine. That makes it lightweight and easy to manage, and I say that as someone who owns a mostly-metal SodaStream unit.
There's no lever or button to press. Instead, you press down the entire front face of the unit until the appropriate LED lights up for up to three fizz levels. As SodaStream devices go, this is one of most elegant and simple I've used.
SodaStream 1519511010
SodaSparkle SK-1L
Type and Material
SodaSparkle soda maker is a handheld siphon which is really compact and safe in use. This carbonator is particularly useful at home since it allows you to quickly make some fresh sparkling beverage and, thereby, quench thirst. Surely, you can use a SodaSparkle when you are on the go. All the components of this soda maker machine are made of plastic. The bottle is made of BPA-free plastic and causes no harm to human health (the quality of plastic is ISO-certified). This soda maker is offered in 2 classical colors: black and white.
Cartridge Compatibility and Yield
This soda maker machine uses small 8-gram CO2 chargers (cartridges) and no other options are supported. The cartridges are recyclable and small; each of them can be used only once, so we recommend you to buy them in bulk. Each charger can fizz 1 liter of water. However, you can use a 1.3-liter bottle (instead of a 1-liter bottle included in the package) and a charger will still be able to carbonate it.
Convenience and Package
This small kitchen appliance will certainly be useful for any modern family. The SodaSparkle is affordable, durable, and it requires less than 30 seconds to make a liter of sparkling water. Moreover, even your kids can experiment and try new flavors - they just need to screw the activating body down on the bottle and CO2 gas will be released automatically. You can't control the level of carbonation - just the whole bottle at a time. Since the bottle has a lid, you can make a beverage and take it with you. Driving and enjoying your favorite taste... What can be better? Finally, let's not forget about the package: SodaSparke comes with 5 CO2 chargers and a 1-liter bottle. The flavors can be purchased separately.
---
VIDEO
What customers say about this product
This is essentially a heavy duty clear food-grade plastic bottle that can take pressure, an insert cap that lets you attach the cartridge holder to the top to gas up your water, and then, a normal cap so you can refrigerate your soda.
SO much better/cheaper/easier than our SodaStream which broke after only 5 months. Just buy the cheaper disposable chargers instead of the "official" ones
This thing is amazing! Super fast, super easy. It made the water so much more carbonated than we thought it would.
SodaSparkle SK-1L
Infographics
---
What is a Soda Maker
What's the best way to refresh yourself in the summer heat? No doubt, it's a glass of a cool sparkling beverage... You can always go get it in the nearest store, cafe, or fast-food restaurant but it's much simpler (and a lot healthier!) to make some fizzy drink yourself. That's when a soda maker machine comes in handy! With this fantastic appliance, you can create your own flavors and make fantastic thirst-quelling drinks for your family and friends. Soda makers carbonate water (i.e. fill it with CO2) with the help of cartridges (also called canisters, tanks, chargers, etc.) that store pressurized CO2 gas. Try doing it once and you will be amazed at how interesting the fizzing process is. There's another important advantage of soda makers: you know perfectly well what your beverage is made from. Are you sure all the ingredients of the drinks sold at department stores are health-friendly? You wish... Therefore, go ahead and discover the world of various flavors and save up using a convenient soda maker.
Remember that any beverage includes water and it must be as clean as possible. Thus, we recommend you to read our review on the best water filters. Would you like some fresh water on a hot summer day? Then, a water cooler is the appliance you surely need.
What Features to Compare
There are lots of soda maker reviews online but let's be honest: can you make the right choice? Probably, no. That's why we have decided to make it all much simpler for you. We have picked 5 different soda makers and compared them by their most important features. So, let's start!
Type and Material
The first thing you should decide on is the type of a soda maker. Basically, there are 2 kinds of soda making machines: countertop carbonators and handheld siphons. Countertop soda makers are fairly large and they have a relatively big cartridge with pressurized CO2; you install the cartridge properly, then just push a button (or sometimes a lever) and the carbonation starts. Siphons are usually small and portable; they are attached to the top of the bottle and then you either push a certain button or just slide the siphon to start carbonation. Since siphons are small, CO2 tanks for them are also very compact. As a rule, most soda makers allow you to control the level of carbonation and you can easily pick the one you like. Don't forget to check out the material each soda maker machine is made of. You don't want to buy a new appliance every year, do you? That's why the most durable soda makers are made of metal. Of course, they are heavier, so mostly countertop soda makers have a metal body. Also, pay attention to a bottle: any soda maker comes with a special bottle for carbonation. Most of them are made of BPA-free plastic, hence, they are safe for you and your kids. However, metal is also sometimes used - there are soda maker machines with aluminum bottles and they are very good at keeping a beverage cold for a long time. Thus, a metal siphon is a great appliance if you want to make a fizzy beverage and drink it later. Of course, a usual plastic bottle can be placed into a fridge and you will always have a chance to refresh yourself.
Cartridge Compatibility and Yield
Soda maker machines require gas to carbonate your cool beverages. The cartridges are sometimes called tanks, canister, chargers, carbonators, etc. Portable siphons usually work with small 8-gram CO2 chargers which can be used only once and a new charger must be used for another bottle of soda. The amount of gas in such a small charger is sufficient for carbonating the bottle. However, we should warn you about the compatibility of cartridges - many soda maker siphons use 8-gram chargers but it doesn't mean they are compatible with every of cartridges. Buy only the chargers certified by the manufacturer. Needless to say, it's far better to buy a lot of cartridges and save up. Countertop CO2 cartridges are much bigger and can make quite a lot of fizzy beverages. As usual, these cartridges can make 60 liters of soda, though some extra-capacious CO2 tanks can make as many as 130 liters of fizzy drinks. If you need a soda maker machine for business (if you are running a small cafe, for example), a countertop soda maker is surely an indispensable appliance.
Convenience and Package
Finally, you should know how convenient each soda maker is. For example, very often countertop soda maker machines have a pressure gauge that tells you about the pressure in the bottle and, therefore, prevents it from blowing out. Unlike siphons that use disposable CO2 chargers (which require no pressure control), countertop carbonators should alert you about the pressure. Some countertop soda makers make a whistling sound, telling you the pressure is already high enough. As for maintenance, it's really convenient to control the carbonation process of countertop soda maker machines with the help of either a lever or a button. Keep in mind that over-carbonated beverages aren't good for children, so we recommend to carbonate drinks for kids less than those carbonated for adults. Also, most manufacturers of soda makers include their own flavor packs in the package; you just need to carbonate water, then add some syrup, and a fizzy drink is ready. Thus, check what flavor packs (if any) are included. It goes without saying, you can additionally buy quite a lot of different flavor packs and enjoy your favorite soda tastes. Surely, you can also make your own syrup (there are lots of recipes on the web) and make all-natural fizzy drinks. All in all, stop splurging your money and make your favorite sparkling beverages yourself!