Each of us would definitely like to get more safety, convenience, and energy efficiency at home. Smart plugs are capable of offering
us these benefits. Just select the right smart plug and enjoy easy remote control of your home appliances.
...
Read more
...Read less
Maximum Continuous Current
X
This site is a free online resource that strives to offer helpful content and comparison features to its visitors. Please be advised that the operator of this site accepts advertising compensation from certain companies that appear on the site, and such compensation impacts the location and order in which the companies (and/or their products) are presented, and in some cases may also impact the scoring that is assigned to them. The scoring that appears on this site is determined by the site operator in its sole discretion, and should NOT be relied upon for accuracy purposes. In fact, Company/product listings on this page DO NOT imply endorsement by the site operator. Except as expressly set forth in our Terms of Use, all representations and warranties regarding the information presented on this page are disclaimed. The information which appears on this site is subject to change at any time. More info
Gosund WP3
Give Your Home a Smart Update
Whether you are a tech savvy or have just tapped your toe into smart home systems, smart plugs are hands down the easiest way to give your home some smart abilities for better control and optimal power appliances operation. And the kit of the mini WiFi outlets from Gosund is surely one of the best solutions in this concern.
For starters, given the fact that you'll get four plugs in a single set, the model is reasonably priced. And for the money you'll pay, you'll really get a lot. Round-shaped three-prong mini sockets easily plug into any standard outlet without obstructing the adjacent sockets. A handy push button on the side will let you power the plugs on and off manually and a sturdy blue LED light will inform that the unit is on. All sockets just need WiFi and a stable 2.4GHz network to operate that makes them a choice for anyone since no specific hub is required. With bodies made of flame-retardant plastic, the plugs will even help minimize the risk of fire in case of overloads.
Yet, where the model really excels is functionality. A Gosund app will turn your iOS or Android smartphone into a remote controller for the plugs providing the benefit to adjust and manage the devices plugged into smart sockets from wherever you are. Thus, you can set an aircon to turn on to enter a perfectly cool home when you come back from work on a hotter day or schedule your coffee maker to brew a cup of Joe just when you wake up. Programming different scenarios for your lighting and electric devices, you can also set a group of outlets for Google Home or Alexa and share them with other family embers for easy control. To add more, the plugs will even let you monitor the energy consumption of devices to optimize overall electricity use and cut down your energy bills.
To cut a long story short, with the Gosund smart plugs, you'll be able to easily upgrade your home automation level without spending a fortune and closely control your energy consumption at the same time.
Additional Info
Last updated price

$

27.99

Stock
May be out of stock
ASIN

B079MFTYMV
---
Gosund WP3
TP-LINK (HS103P3)
On Guard for Your Home Safety
Even if you have some kind of home security system, adding some extra protection will never go amiss, especially if you are an active traveler and spend a lot of time away from home. The TP-LINK smart plug is a type of device that will both add remote control features to your common home appliances and come to help further enhance your home protection.
First off, the TP-LINK HS103P3 is a WiFi-enabled model that needs no hub or bridge to operate and just requires a stable WiFi connection. The device comes in a kit of three items, so, you'll be able to add smart abilities to several rooms straight away. The plugs themselves look very neat and will perfectly blend with any modern interior. Besides, they are compact enough not to stick out like a sore thumb and you can easily fit two plugs into an ordinary two-outlet socket.
Controlling and managing the plugs is a breeze via the Kasa app that will take you virtually no problem to install on your iOS or Android device. Apart from wireless control, the model also offers voice control using Alexa or Google voice assistants. Meanwhile, the app unlocks a whole lot of options that go far beyond regular on/off functionality. Thus, in addition to remote home appliances control from literally anywhere, you'll be able to schedule the work of such devices like a fan, humidifier, heater, or air conditioner to maintain a favorable home environment or bundle light fixtures and some units in groups to turn them on and off in a single click as well as set timers for automatic appliance disconnection.
More than that, this model from TP-LINK boasts a special "Away Mode", in which the app will make the plug turn the light and some household appliances on and off at given periods of time to let it look as though you are at home. This way, you can keep burglars at bay and prevent unauthorized invasions when you are traveling or somewhere on vacation.
In a word, distinguished by versatile functionality and great connectivity, the TP-LINK smart plugs will let you both make the household appliances control more convenient and enhance your home safety.
Additional Info
Last updated price

$

21.99

Stock
In stock
ASIN

B07S57PQSM
---
TP-LINK (HS103P3)
Amazon Wi-Fi
Best Pal for Alexa
Though compatibility with Amazon Alexa only is regarded as the Amazon smart plug drawback by some users, this is what makes it a solid choice for all Alexa fans and owners of Echo speakers and hubs who will have a chance to greatly extend the automated abilities of Alexa controlled homes.
To integrate your Amazon plugs into the Alexa ecosystem, you need to pair it with the Alexa app free to download both for iOS and Android devices. While the Alexa app installs without bugs on any smart device, it also offers intuitive controls for the plug connection and management. So, whether you are an experienced Alexa user or new to it, you'll get the hang of your smart plugs functionality in close to no time. Other than that, not only will you get remote and voice control over any appliance plugged into the Amazon smart socket but also you'll be able to schedule the plug operation and create routines for the desired remote control over your home devices.
Just like many other smart plugs, the Amazon is a WiFi-enabled unit. Yet, what makes it different is a powerful WiFi module supporting the 802.11b/g/n standard that will maintain flawless and stable WiFi connection and ensure good coverage even if your router is placed pretty far from the plug.
All told, this smart plug from Amazon is a handy solution for those who seek to add smart functionality to standard domestic sockets and enable Alexa voice control to whatever is plugged in them.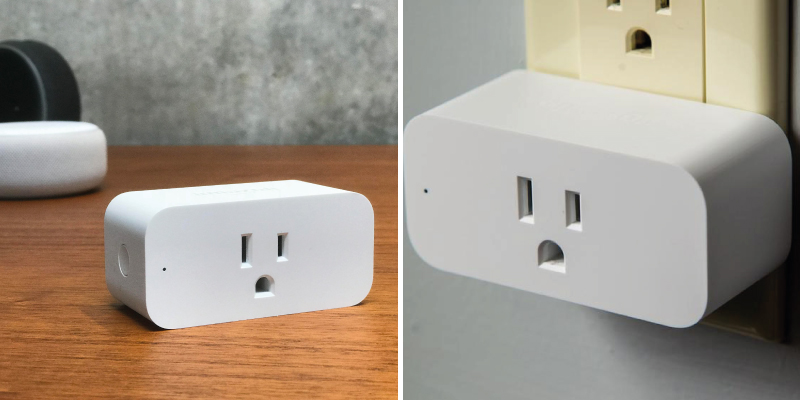 Last updated price

$

24.99

Stock
In stock
ASIN

B01MZEEFNX
---
Amazon Wi-Fi
Samsung SmartThings
Affordable Smart Things
If you are in the market for affordable and easy-to-connect smart plugs to turn your humble home electric appliances and lights into smart devices, the SmartThings smart outlet from Samsung will hit the spot.
At almost half the price of top-liner models, this plug offers premium functionality, solid technology, and versatile compatibility. Enabled via WiFi, this plug needs no SmartThings Hub to work (and if you do have one, you can easily integrate the outlet with other smart devices). To make it function properly, though, you need the SmartThings app readily available for iOS and Android. Besides, this model is compatible with all the most popular and widely used voice assistants including Bixby, Amazon Alexa, and Google Home Assistant. The only negative here is that it might take you some trouble to install the app on some smartphones and synchronize it with all the SmartThings plug you want to connect. Yet, once installed and paired, the app will give you full control over the plug and in addition to the on/off functionality will also give access to such options as power usage reports and flexible scheduling.
The device itself is pretty compact and features a non-obtrusive design. As such, it will neatly fit into any regular socket without blocking or interfering with adjacent outlets. An LED indicator on the front part will light green to show that the device is on. Connecting to any standard 120V network, it can easily withstand the load of 15 Amps and will remain stable even under minor voltage drops at ±10 V.
Cutting to the chase, the SmartThings is one of the best smart plugs in a lower price range that makes a decent alternative to more expensive units.
Additional Info
Last updated price

$

0.00

Stock
May be out of stock
ASIN

B07PY4YPTF
---
Samsung SmartThings
Philips Hue (552349)
Flexible Smart Connection
If you are fed up with unstable WiFi connection and the need to constantly readjust the smart plug settings or reboot the whole system, swapping to devices that don't solely rely on WiFi will be an option. This is where the Philips Hue smart plug will come into play.
Many users consider it one of the best devices of this type among plenty of products available and for a good reason. The model confidently stands out from the crowd offering flexible control options either via a Hue app or directly via Bluetooth. The good thing about Bluetooth connection is that you can use it independently to incorporate any ordinary lamp into your smart lighting system. Besides, it offers stable connections and smooth operation, irrespective of WiFi. Yet, this sort of control is more appropriate particularly for lighting, and doesn't provide remote control when you are away from home.
To make the Philips Hue interact with other smart devices and adjust it remotely, you need a Hue Bridge. Connecting the plug via Zigbee, not only will it provide a better range but also will let you make full use of all the plug benefits that include but are not limited to complete remote control, light and appliances on/off scheduling, creating your own light scenarios, etc. With that, if you are just planning your first smart home power system, it might be a reasonable idea to invest in a bridge to set up a whole Philips Hue System. Yet, if you already have some other smart devices such as smart bulbs and also have some other hubs like Google Nest Hub or Amazon Echo, you are free to connect your Philips smart plug to those via Bluetooth and use the Hue App or voice assistants for remote control.
All things considered, though seemingly simple, the Philips Hue smart plug is one of the most versatile devices of this type that provides solid connectivity and multiple levels of control for your utmost convenience.
Additional Info
Last updated price

$

29.98

Stock
In stock
ASIN

B07XD578LD
---
Philips Hue (552349)
What Is a Smart Plug?
Now, more and more people are getting practical benefit from Smart Home solutions that constantly surprise even the most sophisticated users. Smart bulbs and smart switches, smart locks, and smart sprinklers come to make our daily life easier and more convenient as well as level up our home security. Smart plugs are also a part of this intelligent system, yet, what sets them apart from other similar devices is that they can help you convert your non-smart home into a smart one without the need to replace the existing appliances.
Controlled by a smartphone, a smart plug allows users to turn on and off any appliance plugged into a standard wall outlet. Rather than switching on a conditioner or humidifier as you come back from work, why no to do that while you're still on your way home? In addition to simple remote control, many advanced modern plugs also provide the benefits of voice control as well as a whole bunch of programmable features to optimally use your household electric devices and meet your comfort.