A silent mouse, also known as a soundless or silent click mouse, isn't that much of a different beast compared to your run-of-the-mill
computer peripheral. There's just one thing - it doesn't make quite as much noise, making it a better choice for open spaces and cohabitation scenarios.
...
Read more
...Read less
VicTsing USAA2-CA32
The Silent Assassin
There is not a whole lot to dislike about VicTsing USAA2-CA32. Equipped with a sensor that boasts 5 DPI settings with a maximum value of 2400 dots per inch, this thing makes for a great budget silent gaming mouse. Featuring an optical tracking technology, the model gives you the sensitivity and precise tracking that you need to not fall behind your online opponents or to use the mouse on a wide range of surfaces.
Standing at the top of our list, it does not disappoint in the whole "silent" department either, as one would imagine. With its quiet button design, the model is more than suitable for public spaces and small apartments.
By the way, even though it is one of the more affordable prospects on the silent mice market right now, the model delivers just as much on the durability front as it does on the performance one. Each button has a lifespan of 5 million clicks.
Speaking of which, the model gives you 7 of those buttons, 2 of which are programmable. Needless to say, you should be able to put those standard 2 programmable buttons on the left side of the mouse to good use.
Finally, thanks to the multi-stage power saving mode and the automatic sleeping function, the device's durability extends to the battery. With the LED backlighting turned off, this thing will give you 12 months of runtime on a single battery.
All in all, VicTsing USAA2-CA32 is arguably the best silent mouse on our list and definitely one of the better models in this price range. It is just as noiseless as the next silent model but its specs and durability make the device suitable for gaming purposes and an excellent long-term investment.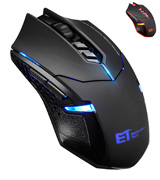 VicTsing USAA2-CA32
Logitech M330 Silent Plus
Elegant Simplicity
The folk at Logitech seldom give you the most advanced, cutting-edge peripherals. Nevertheless, the company still remains one of the biggest names in the business and one of the most reliable brands. A detailed look into just about any of their products will be enough to surmise why that's the case, so let's go with the Logitech M330.
Again, on the surface level, there's nothing fancy or particularly interesting about this peripheral. But it isn't in the business of being interesting. It is in the effectiveness business and it does its job quite well there. Incorporating the company's very own noise reduction technology, the model eliminates about 90% of the noise, all while retaining the same click feel that is seldom present in other silent mice.
With 2.67 x 1.51 x 4.15 inches in overall dimensions, we wouldn't necessarily call it a mini model but it is just the right size for offices and not a bad travel model.
Longevity of their products has always been the calling card of Logitech and M330 follows in the footsteps of its predecessors. Thanks to the auto-sleep mode, the mouse is able to deliver a whopping 24 months of runtime, on a single battery no less. You add to that the ergonomic shape of this device, with contoured grips using soft rubber pads, and you have yourself a mouse that's as durable as it is comfortable.
In other words, Logitech M330 does not excel in the performance department. But, thanks to its longevity, practical design, and simplicity, this silent mouse will be a particularly great fit for offices. If you're looking to start a small company or reequip your employees with silent models, this is the one to go for.
Logitech M330 Silent Plus
Noiseless JNL-101k
Bland but Quiet Enough
Noiseless JNL-101k, true to its name, is a noiseless mouse first and foremost. It isn't the most balanced option on the market right now and more of a model for people who simply need a silent peripheral and do not have too many requirements.
Of course, it would be virtually worthless if it didn't deliver on its "noiseless" premise. Fortunately, it does just that. The company's patented Noiseless Click switches produce about 95% less noise than your average computer mouse. Being as quiet as it is, the model will prove a great fit for libraries and dormitories.
Other than that, there isn't much to it. With a maximum DPI of 1600, calling it a gaming mouse would be an overstatement but it should cut it for occasional casual gaming sessions. Plus, it is a wired mouse, so you won't have to deal with the Bluetooth delay. On top of that, the 6-feet cable incorporates a special coating that prevents it from tangling. It is reinforced where the cable meets the mouse and at the USB end, so it also isn't as prone to wear and tear.
For the most part, it is a comfortable mouse that incorporates an ergonomic right-handed design with rubber side grips. That said, the scroll wheel doesn't feature the same noiseless technology, so you'll have to be gentle with it.
In short, Noiseless JNL-101k is a silent mouse, plain and simple. Its driver is automatically detected by Windows, making this device a decent travel peripheral and a nice substitute mouse. It is large enough to be comfortable but not too large to cause any inconveniences with transportation.
---
Noiseless JNL-101k
VEGCOO C8 Silent Click
Dress the Part, Act the Part
VEGCOO C8 has that awesome futuristic gaming aesthetic that you don't often get from budget PC peripherals. Fortunately, with this particular peripheral, it isn't just about aesthetics either.
Despite the ridiculously modest price tag, the model doesn't just dress the part - it plays the heck out of that part. Though it is a wireless mouse, thanks to the adopted advanced tracking technology, this thing is surprisingly accurate and precise.
The people behind most of these silent models only "silence" the main left key, leaving the rest as noisy as the rest of them. That isn't the case here. Both left and right keys are equally silent so you'll be able to say goodbye to that disruptive clicking noise as you work, play, or do whatever it is you do at your computer.
For the most part, it is the same wireless mouse that relies on the usual 2.4 GHz Bluetooth adapter, not dissimilar to the rest of them. But, unlike most of its counterparts, the model incorporates a large built-in 400mAh rechargeable lithium battery. It lasts for about 30 days, doesn't take a whole lot of time to recharge, and it will allow you to save a little money on batteries. Add to that the LED backlighting that randomly changes its colors and what we have here is nothing short of a steal.
To sum it up, for its price, VEGCOO C8 is pretty fantastic. It doesn't look as bland as your typical budget mouse. With a maximum DPI of 2400 and the aforementioned adopted advanced tracking technology, it doesn't just look like a gaming peripheral, it is a gaming peripheral.
---
VEGCOO C8 Silent Click
VicTsing USAE4-VTGEPC071AB
Minimalism is the Right Course of Action
Remember the fan-favorite Microsoft 3.0 mouse, with its minimalistic profile that somehow looked incredibly sleek despite a seemingly orthodox appearance? So do we. It was a great mouse and this model from VicTsing is, for the most part, a great modern-day alternative, with a modest price and quiet keys.
As you'd imagine, by far the biggest selling point of this mouse is the overall design. For one, it is one of the very few models in its class that incorporates a truly ambidextrous design, making it equally suitable for left- and right-handed individuals.
The streamlined profile will likely prove comfortable regardless of your grip. The sweat-resistant rubber oil coating is particularly smooth, making the mouse a real pleasure to work with. The fingerprint-resistant finish keeps the peripheral in a top-notch condition without requiring much maintenance. Finally, with 4.5 x 1.3 x 2.4 inches in overall dimensions and just 2.5 ounces of weight, the mouse is particularly small and portable.
As far as the technical part of the equation is concerned, this soundless mouse is impressive enough for a below 10-buck model. The 2.4 GHz wireless Bluetooth technology gives you a precise enough track, eliminates delays, dropouts, as well as interference. The maximum DPI of 1600 dots per inch will be more than enough for most tasks. Plus, you can tone it down to 1200 or 800, using the DPI button located, as per usual, just below the scroll wheel.
All things considered, this device from VicTsing is easily the best silent mouse for people who value that minimalistic aesthetic but aren't willing to compromise the performance aspect of the equation in favor of appearance. Practical, accurate, attractive, and affordable, you cannot go wrong with this one.
VicTsing USAE4-VTGEPC071AB
What Is a Silent Mouse?
Some people like the sound of their mouse clickety-clicking away, creating sort of a soothing background melody that helps find their working groove. But not everybody's quite as appreciative of it. Living in a small apartment, your significant other unlikely feels as excited about that clicking noise distracting her from her sleep, chores, or just leisurely hobbies. Your colleagues won't always be ecstatic about that noise either. So, what's the solution? Well, you could "silence" your device but we would recommend going with a proper silent mouse instead.
Shockingly enough, a mouse like that is exactly what it sounds like - a computer peripheral that produces less noise than your average mouse. Different companies rely on different technologies to make their products generate less of that clicking noise, so the end result isn't necessarily always the same. That said, any mouse advertised as a silent model will likely prove a whole lot quieter than an ordinary mouse. Of course, at the end of the day, these devices feature most of the same design solutions, parts and elements, so looking for the right silent click mouse is a process that's barely different from looking for a standard mouse.
Some of these models are perfectly suited for gaming purposes. That said, most of them could hardly hold a candle to a proper gaming mouse, so consider our reviews of gaming mice and Razer mice if that sound like something that's more up your alley.