A trackball mouse is a type of a computer mouse that looks as if you have turned your mouse upside-down. They bring many
benefits to their user, and in many fields too, from convenience to health related issues. Here we offer you a review of five trackball mice we consider the best.
...
Read more
...Read less
X
This site is a free online resource that strives to offer helpful content and comparison features to its visitors. Please be advised that the operator of this site accepts advertising compensation from certain companies that appear on the site, and such compensation impacts the location and order in which the companies (and/or their products) are presented, and in some cases may also impact the scoring that is assigned to them. The scoring that appears on this site is determined by the site operator in its sole discretion, and should NOT be relied upon for accuracy purposes. In fact, Company/product listings on this page DO NOT imply endorsement by the site operator. Except as expressly set forth in our Terms of Use, all representations and warranties regarding the information presented on this page are disclaimed. The information which appears on this site is subject to change at any time. More info
Kensington Expert
Ergonomics
Kensington Expert Trackball, being completely symmetrical as it is, will befit left-handed users the same as right-handed. The body of this optical trackball mouse is made in a rectangular plate shape with the ball in the middle. This ball is what controls the cursor. This Kensington trackball mouse is heavy, and it will steadily stand on your desk. In the box with this product you will also find a rubberized detachable wrist rest, provided in order to prevent tiring of your hand even during long hours of work.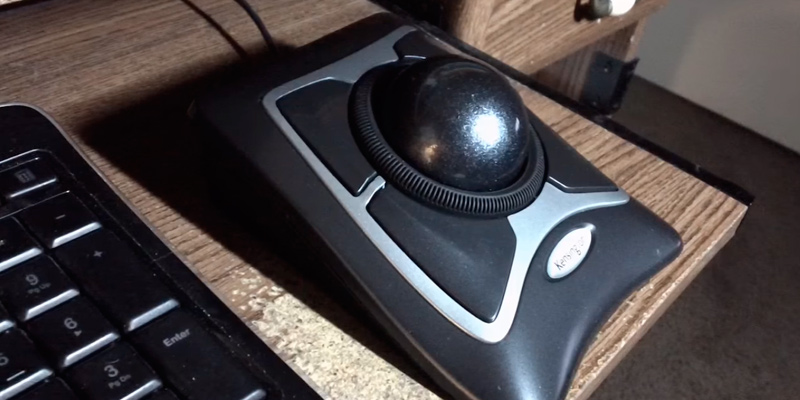 Functionality
There are four programmable buttons on this optical trackball mouse. They are located in the corners of the device. Also Kensington Expert Trackball has a scroll ring. The ball itself is rather big and will perform great for professional work by experienced users. The TrackballWorks™ software can be downloaded from the official site and will allow you to set sensitivity, or to program any of the four buttons so they perform the function you want. And the DiamondEye™ optical tracking technology makes precise positioning of a cursor an easy task.
Connection Type
This Kensington optical trackball mouse must be connected to your personal computer by using a USB cable. The length of the cable delivered with the mouse is standard for most traditional mouses (6 feet). And as this trackball mouse is immobile on top of your desk, its placing shall not cause any real troubles. For those who like this mouse, but are bothered by the necessity of a wire, the manufacturer also offers a wireless option.
Last updated price

$

81.26

Stock
In stock
ASIN

B00009KH63
---
VIDEO
Kensington Expert trackball mouse review
What customers say about this product
Advanced customization features, such as slow, and linear options (press and hold a key while scrolling) facilitate precision movement.
The weight of the unit, plus the rubber feet, sufficiently prevent sliding.
Wired is safer choice if you use it at a desk.
The material quality seems fine. It's not that light, thus not moving easily. The ball feels smooth.
Kensington Expert
Logitech Trackman Marble
Ergonomics
Smooth curves of this Logitech Trackman Marble Mouse lie perfectly in your hand. The buttons are located exactly where they should be. The fingers seem to be drawn to the two big buttons on the sides, what with their convenience. The ball is controlled by a pointer and a middle finger, and the process of manipulating it is simple and comfortable, its smooth movement and precision are guaranteed. And because this optical trackball mouse is symmetrical, you will be able to use it with both right and left hand.
Functionality
Logitech Trackman Marble Mouse has four programmable buttons. Two big buttons are by default set to perform as the right-click and left-click buttons, and two smaller buttons are meant to be used as forward/back. This Logitech trackball mouse is not equipped with the scroll wheel but it is possible to set this option on any of the buttons in case you need it. The ball has black dots all over it which means that this trackball mouse uses a patented Marble Optical technology. This technology is designed to increase the precision of cursor positioning.
Connection Type
Logitech Trackman Marble optical trackball mouse has to be connected to your computer with the use of a USB cord. The cord has a length of five and a half feet which is long enough to place this Logitech trackball mouse almost in any place that will be convenient for you. The delivery package also includes a PS/2 connector. It will enable you to connect this great device to any old computer, if it has a Windows XP or any newer operating system installed.
Last updated price

$

21.30

Stock
In stock
ASIN

B001F42MKG
---
VIDEO
Logitech TrackMan Marble Review
What customers say about this product
Being an optical ball, it is extremely accurate and reliable.
My first trackball was the size of a Que ball and I loved it. This is the next best thing.
I like this mouse a lot. I prefer a corded one, no battery worries. It's very responsive.
This particular mouse come with four programmable buttons. Really it's just two if you keep the standard right and left click.
Logitech Trackman Marble
Logitech M570
Ergonomics
Logitech M570 wireless trackball mouse looks just like your ordinary mouse. The only thing that makes it different is a ball you put your thumb on. This design makes it extremely easy to go from a regular mouse to Logitech M570. The body of the manipulator is covered in matte plastic and is very pleasant to touch. Ergonomic shape supports your wrist perfectly, and allows you to comfortably work whole day. This Logitech trackball mouse also has a light weight, enabling you to transport it along with your laptop.
Functionality
This Logitech trackball mouse is equipped with five buttons and a scroll wheel. After you download Logitech SetPoint™ (Windows) or Logitech Control Center (Mac OS X) software from the official website you will be able to program buttons according to your personal needs. The "Forward" and "Back" buttons will simplify moving over the Internet page or quickly scrolling through a document. The laser sensor allows for precise monitoring of the ball movement, and owing to low power consumption the batteries work longer with this wireless trackball mouse.
Connection Type
You can connect this trackball mouse to your computer with the wireless technology. The key feature of this Logitech M570 is a Logitech® Unifying technology, and it means that you can connect up to six Logitech devices to a single mini receiver. It may be a keyboard, one more mouse, a wireless headset, or all of those together. Also thanks to optimized consumption of power one AA type battery will work up to 18 months.
Additional Info
Last updated price

$

32.99

Stock
In stock
ASIN

B0043T7FXE
---
VIDEO
Best Ergonomic Mouse? Logitech M570 Review
What customers say about this product
The optics are very accurate, the shape is pretty good fit for right handed people, and the button layout feels good in my hand.
this thing is great, it's small size, great design and great price.
Found this to be a very comfortable mouse that has good wireless range .
The additional programmable buttons allow you to speed up your work or gaming experience!
Logitech M570
Kensington Orbit
Ergonomics
Most of the Kensington trackball mice are absolutely symmetrical, and K72337 is the same. It will be perfectly comfortable to use regardless of whether your response hand is your right or your left. The ball is of a medium size. This trackball mouse has a good positioning with either a point finger or a middle finger on. The buttons are located on the sides. It has a rubber wrist rest. Using Kensington K72337 trackball mouse is the same as using an ordinary mouse, but instead of a scroll wheel you have a ball under your finger. Owing to its design, Kensington K72337 will be good for professional users and beginners alike.
Functionality
To control this Kensington trackball mouse you have two buttons, a ball and a scroll ring. Many users note the latter to be extremely smooth, and rubberized coating makes it pleasant to touch. Buttons' size and placement are designed the way to not bring you discomfort during the periods of use. And you can reprogram them with Kensington TrackballWorks™ to increase functionality. To do this, go to an official Kensington website and download the software.
Connection Type
This optical trackball mouse is delivered complete with a traditional USB cable that is a meter and a half long, so it should not raise any difficulties to place the Kensington trackball mouse on the top of your working desk. Kensington K72337US is a trackball mouse compatible with the most popular operating systems such as Windows, MacOS, and ChromOS, it will easily connect to most of the existing personal computers and laptops.
Last updated price

$

34.99

Stock
In stock
ASIN

B002OOWB3O
---
VIDEO
Review of Kensington Orbit Trackball with Scroll Ring
What customers say about this product
This mouse has amazing precision, the scroll ring is also great and it just feels great in my (average sized) hands.
The ball also has enough weight where you can fling the cursor around the screen when needed.
Cord length is long enough to put this where you need it.
Good quality material. Haven't noticed any heavy wear and tear.
Kensington Orbit
Logitech Trackman (904369-0403)
Ergonomics
The only trackball mouse in our review with a Soft-touch coating. This type of coating is very pleasant to the touch, and it will prevent your hand from sliding off from the trackball mouse. Logitech Cordless Optical Trackman is shaped the same as any traditional mouse, but unlike most mice it has a tilted wrist position, which is more natural for your hand. This way your wrist will sustain much less pressure if you work for a long time. The ball is located at the top of the mouse under the pointer and middle fingers. It is easier to manipulate the cursor in this way. This optical trackball mouse has rubber feet that along with its weight help it to be steady in place. All in all, this Logitech trackball mouse has a wonderful ergonomic design.
Functionality
This cordless trackball mouse is equipped with 8 buttons and a scroll wheel for fast viewing of Internet pages and documents. Each button can be programmed to perform any action you wish, thus multiplying the mouse's functionality. The ball is medium-sized, so a beginner will not have any problems dealing with it, as won't a pro user. And thanks to the Logitech's Optical Marble technology (black dots in the ball) the positioning of cursor becomes faster and more pinpoint. Thanks to its capabilities, Cordless Optical TrackMan Logitech trackball mouse will be a good purchase for users with high expectations of the trackball mouse's functionality.
Connection Type
Logitech Trackman trackball mouse is a cordless trackball mouse which means it is not limited by the length of the cord. You will be able to place it in the most convenient location, and the cord itself will never get in your way. Some reviewers point out that the wireless receiver is a little too big to use it on a laptop, but it does not give rise to unfavorable criticism when used with a personal computer.
Last updated price

$

169.95

Stock
In stock
ASIN

B00006B9CR
---
VIDEO
Logitech Trackman Cordless Optical Mouse (review)
What customers say about this product
I love trackballs and have been buying Logitech trackballs since they went optical, as mechanical trackballs always "grunge up".
This is a replacement for my trackman it took a little to get used to the size and button/ball placement but after I got used to it the mouse works fine, I like having the scroll wheel which was the one thing my trackman was missing so far the battery life has been great.
This wireless version works great and very easy to use or setup.
The materials are good, and the construction seems to be good. So overall, it's the dated design.
Logitech Trackman (904369-0403)
Infographics
---
What is a Trackball Mouse
Computer mouse has changed a lot through its history. Nowadays we see a varied range of its types, shapes, and colors. But maybe the most interesting and odd ones, at first glance, are trackball mouses. You won't see them on every user's desk, many people even do not know of their potential. Trackball mice, as any other manipulators, are made to control the cursor. But they are quite different from traditional mice, both in appearance and in the way of managing. The first thing that catches your eye is a big ball. Its placement is what caused these mice to be called an 'upside-down mouse'. This ball is what actually controls the cursor movement on the screen. At first, this might seem inconvenient but try a trackball at least once and you probably won't wish to go back to your old mouse. Here you can manage the cursor with only a finger! Other advantages of a trackball mouse include space saving, a possibility to work on any surface, and a precise positioning, which will be useful in modeling, design, or just ordinary office work.
Of course, you can use a trackball mouse not only for work, but also for various games, but we think that maybe traditional gaming mice might be better for this purpose.
What Features to Compare
One of the main features of a trackball mouse is its Ergonomics. This feature is strongly affected by the design of a device. The selection of the trackball mice is wide, so it is not that difficult to find one well suited for you. Just pay attention - the mouse must have the size and shape good for your hand. For example, size. You will not be satisfied with a trackball mouse that is too big or too small, your hand will get tired in no time. Unsuitable shape will cause discomfort. The weight of the trackball mouse can also be different. Heavy models are good to use on your desk, as they are harder to move. The light ones are easier to take with you when you use a laptop and go somewhere. One more important thing to take into consideration is the material your trackball mouse is made of. We suggest you buy a mouse with rough or rubberized coating, it will prevent your hand from sweating and slipping from the device.
One more point that is vital is your mouse's Functionality. Here you should consider the ball size, the number of buttons, their placement and the sensor type. A ball is the main operating part of a trackball mouse, its size affects the positioning precision. However, a big ball is harder to master, it is better suited for people with trackball experience. Starters might be better off with a small or medium sized ball as those are easier to use. Concerning the number of buttons there are no real rules or stereotypes. The thing is, the more buttons you have on your trackball mouse, the more options you will be able to perform with only one finger. In addition, the possibility of programming these buttons will give you an opportunity to set a certain function to each button. So choose this parameter according to your needs. For example, if you are going to use a trackball only to work on the Internet and with documents, then only a few additional buttons will be enough. But to work in graphic editing programs or do a 3D-modeling, it will be useful to have as many additional features under your finger as possible.
Never forget about the Connection Type. Same as any other mouse, a trackball mouse can be either wired or wireless. If you plan to do most of your work at your desk, you may decide on the wired trackball mouse. In that case look at the cable length - with the longer cable you will have more freedom of placing your trackball mouse. And if you often change working places and wireless device is your choice, then pay attention to the time it works from the battery.