Having the same operation principle as an ordinary PC mouse, wireless mouse devices communicate with the controlled hardware via
a radio or Bluetooth transmitter. We have selected the best 5 models available for ordering online and analyzed them in our review to help you decide on the best option.
...
Read more
...Read less
X
This site is a free online resource that strives to offer helpful content and comparison features to its visitors. Please be advised that the operator of this site accepts advertising compensation from certain companies that appear on the site, and such compensation impacts the location and order in which the companies (and/or their products) are presented, and in some cases may also impact the scoring that is assigned to them. The scoring that appears on this site is determined by the site operator in its sole discretion, and should NOT be relied upon for accuracy purposes. In fact, Company/product listings on this page DO NOT imply endorsement by the site operator. Except as expressly set forth in our Terms of Use, all representations and warranties regarding the information presented on this page are disclaimed. The information which appears on this site is subject to change at any time. More info
Logitech MX Master 2S
Top Performance on Any Surface
You're probably aware of the following situation: being tired of sitting on the same workplace, you take your laptop with a mouse, and make yourself comfortable on a cozy sofa with a coffee table. However, marble, glass, and carpet are rather tricky surfaces for wireless mice. But not for the Logitech MX Master 2S 910-005131 Wireless Mouse! Its 4000 dpi laser sensor allows the mouse to work superbly on any surface, including wood, glass, marble, denim, etc.
What also differs this mouse from others is its ability to work on three computers simultaneously. When you move the cursor to the edge of one screen, it appears on the screen of another computer. This way, you can copy or cut text, images, etc. from one device and paste them into another one. It's possible thanks to the dual connectivity of the mouse. You can connect the devices via the special USB receiver or Bluetooth technology. You'll definitely appreciate an ability to work at once on several computers without any need for external drives.
Forget about Searching for New Batteries
Although the majority of wireless mice require AA or AAA batteries, the Logitech MX Master 2S 910-005131 Wireless Mouse works on the embedded rechargeable battery. It means that users don't have to run to the nearest shop for a new set of batteries if the mouse stops working suddenly. On the one full battery charge, the Logitech MX Master 2S 910-005131 Wireless Mouse can operate up to 70 days. When the battery level goes down, you can recharge it from your computer using a micro-USB cable. So, it's a pretty convenient and budget-friendly option. 
Elaborate Design
The design of the Logitech MX Master 2S 910-005131 Wireless Mouse really impresses. It has a convenient grip, so your hand will always be in a natural position and won't get tired if you type for a long time, surf the Internet, or play computer games. The mouse has five programmable mechanical keys and two scroll wheels, so apart from vertical scrolling, you'll be able to scroll horizontally as well.
Additional Info
Last updated price

$

59.99

Stock
In stock
ASIN

B071YZJ1G1
---
What customers say about this product
On the precision and movement feel, I again give it 5 stars.
It's well-weighted and can shift from click-to-click to free spin mode if you spin it fast enough.
This is a very nice, very high quality wireless mouse.
The thumb rest is great and all of the materials feel high quality. I have largish hands, so having a larger mouse is good for me.
Logitech MX Master 2S
Apple Magic Mouse 2
Connection Interface and Autonomous Mode Operation
The Apple Magic Mouse 2 has a Bluetooth wireless connectivity and allows quick pairing with any compatible Apple devices. This cordless laser mouse is compatible with all the Mac OS versions starting from the 10.11 version and newer. This Apple wireless mouse allows operating your PC or a notebook easily owing to the simple synchronization of the mouse with the controlled device via the settings menu. This Magic Mouse 2 is a redesigned wireless mouse solution, which is made fully rechargeable owing to its built-in lithium battery and you will not need any additional batteries.
Ergonomics
An elegant glossy white plastic case brings the aesthetics that makes this device stand out from the wireless mouse competitors. This outstanding white wireless mouse will not only serve as a manipulator but also accentuate the elegance of your choice. The low profile case of this Apple cordless laser mouse makes it sit comfortably in your hand and eliminates the discomfort of continuous use. This wireless computer mouse has a symmetrical design with a continuous bottom shell that allows for its effortless movement and precise tracking.
Functionality
Magic Mouse 2 has no mechanical keys on its case with all the control performed via the built-in multi-touch panel. The Multi-Touch surface integrates all the key control functions enabling you to control the user interface in its entirety. You can switch between the open web pages in your Internet browser by swiping, as well as switch between the explorer windows and applications, use the scrolling function when viewing the documents and even zoom in and out of the images by double tap/click on this touch surface. The sensor resolution of this white wireless mouse is 800 dots per inch, which is practically an optimal value for a wide range of use scenarios.
Last updated price

$

74.00

Stock
In stock
ASIN

B016QO5YNG
---
VIDEO
Apple Magic Mouse 2: Unboxing & Review
What customers say about this product
Use it for drawing programs and photo editing. Very precise and easy to use
Great ergonomic feel, excellent battery life, perfect size for travel!
Easy to use and travel with. The wireless mouse is the way to go.
Built with quality material and awesome design and functionality.
Apple Magic Mouse 2
Logitech M510
Connection Interface and Autonomous Mode Operation
The Logitech M510 wireless mouse uses an RF-receiver for the connection to the controlled device. To establish the connection you just need to plug the bundled small USB-receiver into a vacant USB slot of a PC or a laptop. What is interesting about this Logitech wireless mouse is the Unifying technology, which support allows synchronizing of up to 6 different input devices with one USB RF-receiver. The wireless operation of this mouse is maintained by two pre-installed АА batteries, which charge you are always aware of owing to the battery indicator. In addition to the battery charge level indication this cordless mouse can conserve battery energy by switching the smart sleep mode On and Off.
Ergonomics
This modern wireless mouse has a contoured shape with the curved sides to sit comfortably in your hand. The broad palm area ensures the comfort of use and allows your palm to remain in a comfortable position. The mechanical button arrangement of this cordless optical mouse is optimal for the right-handers and provides an easy use of its features. This comparatively small wireless mouse by Logitech weighs only 0.28 pounds and balances the tracking precision with an unfatiguing continuous operation. On top of the built-in convenience features, you can choose between the color options (black, blue, red).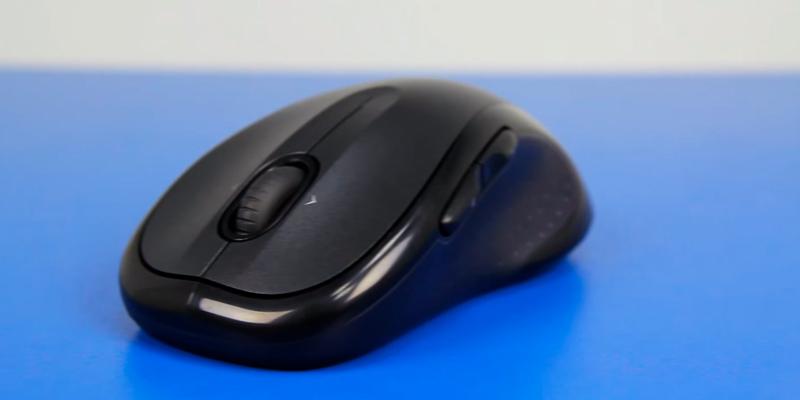 Functionality
The M510 wireless mouse model has 7 buttons permitting a user to perform a wide range of actions with the device. There are three programmable buttons (require the installation of the Logitech Options software, which is freely downloadable). For example, you can assign the web-pages scrolling function to the side buttons to facilitate your Internet surfing. The mechanical scroll wheel can be tilted left and right to perform additional actions with the same control element of this wireless mouse for a PC or a laptop. The programmable buttons will be of a great interest for the gamers, who may want to use them for performing complex actions and enrich their gaming experience.
Last updated price

$

25.62

Stock
In stock
ASIN

B003NR57BY
---
VIDEO
Logitech M560 Wireless Mouse
What customers say about this product
Very precise with laser - and works on more surfaces than with a normal optical mouse.
Great mouse with easily control. A little weight and big for my small hand.
It responds quicker than my wired mouse and you can adjust the sensitivity and it also features a wheel on top for easy scrolling through larger documents.
Two programmable buttons makes it a convenient choice for gamers who want to add a little extra.
Logitech M510
Microsoft H3S-00001
Always Up and Ready
Talking about the Microsoft Sculpt Comfort wireless mouse the first thing that every user probably experiences is the mouse's ability to operate on a surface of almost any type and at any time. The corresponding Microsoft department has been designing PC mouse devices for more than 33 years already and has achieved much in that field thanks to which all their products are of high quality and packed with cutting-edge technology. One of the technologies embodied in the Sculpt Comfort wireless mouse is the BlueTrack Technology. The technology allows for an effective and precise mouse movement tracking on any surface ranging from glassed marble to carpeting. Such high performance is achieved by the use of high-precision optical sensor and the light-emitting diode of a new type, which generates a wider and more powerful beam. The only surface this cordless mouse by Microsoft is unable to operate on is a completely transparent glass. The support of Bluetooth wireless connectivity eliminates the need for a USB transceiver and makes the Sculpt model a completely cordless mouse for PC. Having synchronized the Microsoft Sculpt mouse only once with your PC, laptop or another compatible mobile device enables a consequent easy and convenient use of the mouse.
Fits Your Hand Perfectly
The Sculpt Comfort cordless mouse has almost perfect size and weight balance, which make its manipulation a real pleasure. The Sculpt measures only 2.70 inches widthwise and slightly more than 4 inches lengthwise, thus fitting most of the users very well. With that said, the mouse weight of 0.29 pounds is a typical value for the majority of wireless mouse devices. Speaking of the controls, the device is equipped with a multi-function scroll button that supports not only an up-down scrolling but also a left-right scrolling. This multifunctional wheel/key enables users to quickly move the cursor around and scroll through open Internet pages and documents in two directions. On the left side of the wireless mouse, there is customizable Windows touch tab with a Microsoft logo, which enables you to access the Start Menu or the TaskView with one click. It is safe to say that having such wireless mouse is convenient and reasonable. All those who go on a business trip frequently or just do not like having many wires stuck in their PCs or laptops will definitely appreciate the Microsoft Sculpt Comfort Bluetooth Mouse.
More Products to Consider
Additional Info
Last updated price

$

0.00

Stock
In stock
ASIN

B00BZC31WQ
---
VIDEO
Precision Portable Mouse - Microsoft Sculpt Comfort Bluetooth Portable Mouse
What customers say about this product
This is one of the best mouse ever used. It is very precise and amazing on any surface. Will never look for any other mouse.
Has a good size and weight, movement and pointer response are super smooth.
Works perfectly, connects every time, fantastic range, connects to windows 10 no problem. Takes one hell of a beating in my ruk without issue
The build quality is excellent, the mouse looks nice, is made of quality materials, and works well.
Microsoft H3S-00001
Sharkk SK137G
Connection Interface and Autonomous Mode Operation
The Sharkk SK137G wireless mouse was designed with an extended OS compatibility in mind. The SK137G model enables you to remotely control a PC, laptop or even a tablet PC. The connection of this cordless mouse to a controlled device is established with a radio frequency transmission technology so you need to insert the bundled USB transceiver into an unoccupied USB slot of the controlled device. Two batteries serve as a power source for this ergonomic wireless mouse and the Auto-Sleep feature maintains a conservative energy consumption. This feature makes the SK137G cordless mouse enter into a sleep mode after 8 seconds of idle operation.
Ergonomics
The SK137G model has a unique vertically oriented design, which is aimed at providing a maximum comfort during the use. The ergonomic design of this cordless optical mouse allows preserving the position of your hand, which is natural and thus does not result in experiencing an unnatural stress and loads in your wrist. Contrary to numerous small wireless mouse designs available on the market, this model has a big plastic case, which fits for the right-hand control only due to its ergonomics.
Functionality
The Sharkk SK137G cordless mouse for PC offers 6 mechanical buttons for the interaction with the elements of the user interface. With that, this wireless mouse has a dedicated button which enables the adjustment of the mouse resolution for more accurate and convenient tracking. In total, the SK137G cordless mouse supports 3 sensor resolution settings: 800, 1200 and 1600 dots per inch. There are also the side buttons that can be used for a quick switching between the web pages when doing an Internet browsing.
Last updated price

$

0.00

Stock
May be out of stock
ASIN

B016MXPQMA
---
VIDEO
Sharkk Ergonomic PC Mouse Unboxing & Review
What customers say about this product
This mouse also features optical tracking for smooth movement and adjustable DPI settings (100/1600) which is great performance for the needs that I have.
It's weighted, has a great texture, and has excellently placed back/forward and DPI buttons. Overall designed very solid and feels like it should cost twice as much.
I use the wireless version at work and this one at home. Very good mouse for the price.
Also, the texture of the plastic is really nice; very high quality like.
Sharkk SK137G
What Is a Wireless Mouse?
One of the most commonly used devices for interacting with the human-machine interface (HMI) or a user interface is a PC mouse. The rapid development of wireless technologies spurred the popularity of wireless mouse devices. Wireless computer mouse devices or wireless mouses allow operating not only a PC but all the portable and digital devices supporting the corresponding technology. Probably the most important advantage a cordless mouse offers is an entire freedom of the user movement due to the absence of constrictions imposed by the connection cords, thus contributing to the convenience of use of the wireless mouse. For instance, if you intend to use your notebook mostly on the road then using a cordless mouse for your work is a much more convenient option. As a cordless mouse for laptop or similar wireless mouse devices are capable of operating for several dozens of hours without an external power supply, those people, who travel or go on business often will feel right at home with them. It is worth noting that you should monitor your cordless mouse battery charge level in order not to get the battery drained when you least expect it. If you've opted to use the most up-to-date devices our review will help you pick the best wireless mouse.
For those gamers, who want to take the advantages of the advanced input devices to dominate the virtual battlefields we offer choosing an optimal device by checking our gaming mouse review.
What Features to Compare
When choosing a wireless mouse the first thing you should consider is the Connection Interface and Autonomous Mode Operation of the device. There are several interface types used for the wireless connection of the mice to PCs and other supported devices, though the most widespread and popular are the Bluetooth connection and radio frequency connection called the RF-connection for short. Wireless computer mouse devices that use the Bluetooth connection can work with the mobile devices and laptops, which have a built-in Bluetooth receiver. However, such cordless mouse devices are easily connected to desktop PCs or laptops using a small Bluetooth transceiver (adapter). As for the RF-wireless mouse devices, they are paired with a special transceiver. The transceiver can be plugged into any vacant USB port and serves for transmitting the signal from the mouse to the device controlled by it. At this stage of considering the best wireless mouse parameters, you should pay attention to the operating system compatibility of the wireless device in question, which provides its normal operation under the given OS. Another important cordless mouse feature to pay attention to is the mouse power source, which conditions the type and number of the batteries required for the mouse operation. The rechargeable batteries are a preferable choice for the home use of a cordless mouse as you can always recharge the batteries when depleted. On the other hand, the wireless mouse devices powered by conventional batteries can work much longer on one battery pack – up to several months in case of durable batteries use.
After clarifying the convenience factors that affect a wireless computer mouse connection it's logical to focus on the convenience of use of the device itself, which is influenced by the device Ergonomics. There are several key factors contributing to the convenience of cordless mouse devices use, therefore, it is important to highlight them. Wireless mouse devices come in different shapes and design options, thus, you need to select the one, which has an optimal shape and design for yourself. With that, it is essential for the mouse to fit your arm nicely and be easily operated. A cordless mouse may have a symmetrical (ambidextrous) design and suit the use with both left and right hands, though some models are made for the right-handers only. The weight of a wireless mouse conditions the ease of its operation in the long-term use so you have to "weigh" all the options and find the most balanced one.
As you proceed with the singling the convenience and connectivity features out you come to the consideration of a wireless mouse Functionality or its capabilities of controlling the user interface. Some wireless mice are equipped with a sensor panel or a touch surface instead of mechanical buttons, which is much more multifunctional and provides better control but is far less common. The more buttons your cordless mouse for PC or a laptop has, the more interface control actions you can perform with them, while the feature of assigning the desired function to a key (key programming) is a nice addition and is no less useful. The programmable key mice will likely catch the gamers or avid web-surfing users fancy. Among the functionality aspects we analyzed is the mouse sensor resolution, which directly impacts the accuracy of the mouse pointer control. While 800 dpi (dots per inch) will suffice for the wireless mouse devices intended for the office and enterprise environment, the mouse intended for gaming or working with a specialized software greatly benefits from a higher resolution as well as from the support of a stepped resolution scaling by the user.
FAQ:
Q: Laser or optical mouse: which one is better?
A: There are two principal differences between the laser and the optical mice: resolution and surface. Average optical mice can track between 400 and 800 dpi which is quite enough for surfing the Internet or typing. Users that need extra sensitivity of their mice, such as graphic designers or gamers, should look for resolution of 2,000 dpi and higher which is standard for laser mice. As for the surface, the optical mouse works well only on the non-glossy surface, while the laser one can function properly even on glass or marble. So the choice depends on your needs: if you're searching for a wireless mouse that is suitable for ordinary daily tasks and affordable, then the optical mouse is for you, but if you want a sensitive mouse with high performance on any surface, then the laser mouse will be perfect.
Q: Is there any difference between the glossy and the matte mouse?
A: It's far and away a matter of taste. Matte mice usually look more stylish than the glossy ones, yet so many men so many minds. Glossy mice are easier to clean because the matte layer can be damaged while cleaning. In addition, with a flow of time frequently used left- and right-click buttons of the matte mouse may become glossy which can spoil the overall image of the mouse.
Q: I need a wireless mouse, but I don't want to replace the batteries every month. Are there any alternatives to regular batteries?
A: Despite a great number of advantages of the wireless mice over their wired competitors, the main reason for customers against buying a wireless mouse is AA or AAA batteries which should be frequently replaced. If you don't want to worry about having flat batteries at the most inconvenient moment, then built-in rechargeable batteries will suit your needs. Though the charge is smaller than in regular batteries (about 40 days compared to 80 days), you can easily charge the mouse from your computer at any time. Besides, it's more cost-effective than regularly buying new batteries.
Q: Are ergonomic mice better than traditional ones?
A: Ergonomic mice have a special shape which places your hand into a natural position. Their aim is to relieve your hand from tiredness during long hours of work. Due to the ergonomic design, your fingers and wrist will be in a comfortable position while working. The only disadvantage of ergonomic mice is that they usually offer right-hand only design.
Q: Why do I need programmable keys on the mouse?
A: If your mouse is equipped with more than standard left- and right-click buttons, you may program these extra buttons for different purposes. If you're a gamer, you can use these buttons for important actions in the game. Such buttons are also used for horizontal scrolling or command "back" in the browser. Usually, programmable keys are located on the side of the mouse.
Q: Should I clean my wireless mouse?
A: For the best performance of the mouse it's recommended to clean it. Try to avoid cleaning the mouse, using alcohol, because it can spoil the color. The best way to clean the mouse is using a can of condensed air and cotton swabs. Don't touch the laser with the swab, use it around the laser. Be careful with the mouse in order not to damage it.
Q: Are there any tips how I can prolong the life of my mouse?
A: It's necessary to clean your mouse from time to time to avoid having small food pieces or hair inside the mouse as well as unpleasant dirty spots on the mouse surface. If your mouse runs on two disposable batteries, you'd better replace both batteries simultaneously. Though certain wireless mice work flawlessly on different surfaces, on the glass surface your mouse will need more power. Also, when you travel, put your mouse in a special carry pouch to avoid damaging it. If you're careful with your device, it will serve you for a long time.