Nothing beats joysticks in action games, even more so in flight simulators. With a good flight stick, you will go sky-high. Literally
albeit virtually. In this review, we discuss the benefits of the most popular simulator sticks.
...
Read more
...Read less
X
This site is a free online resource that strives to offer helpful content and comparison features to its visitors. Please be advised that the operator of this site accepts advertising compensation from certain companies that appear on the site, and such compensation impacts the location and order in which the companies (and/or their products) are presented, and in some cases may also impact the scoring that is assigned to them. The scoring that appears on this site is determined by the site operator in its sole discretion, and should NOT be relied upon for accuracy purposes. In fact, Company/product listings on this page DO NOT imply endorsement by the site operator. Except as expressly set forth in our Terms of Use, all representations and warranties regarding the information presented on this page are disclaimed. The information which appears on this site is subject to change at any time. More info
Thrustmaster T.16000M
Ambidextrous Joystick
The majority of our planet population is right-handed and for centuries this was a cause for discrimination. So much so that in some countries lefties were considered bad luck or even devil's children. But sophisticated world gets rid of bias step by step and this prejudice was one of the first we parted ways with. In theory. But in fact, even today most equipment is manufactured for right-handed people; some devices are still out of reach, others take time to adjust for a left-handed person.
Thrustmaster T.16000M FCS HOTAS is a device created by an open mind, its design allows simple control over the aircraft whatever your dominant hand is. Forget about a long adjustment period to your new stick.
Another benefit here is a variety of highly responsive buttons that do what you want them to regardless of which side you push them from. This will significantly quicken your gaming, make the whole process much more effective and comfortable. And magnetic sensors make the device infinitely more stable than we all are used to. Moreover, both the stick and the throttle have their own buttons!
The connection of the controller is performed via two USB cords (one for the flight stick and one for the throttle). If your PC lacks interfaces, a USB hub will come in handy.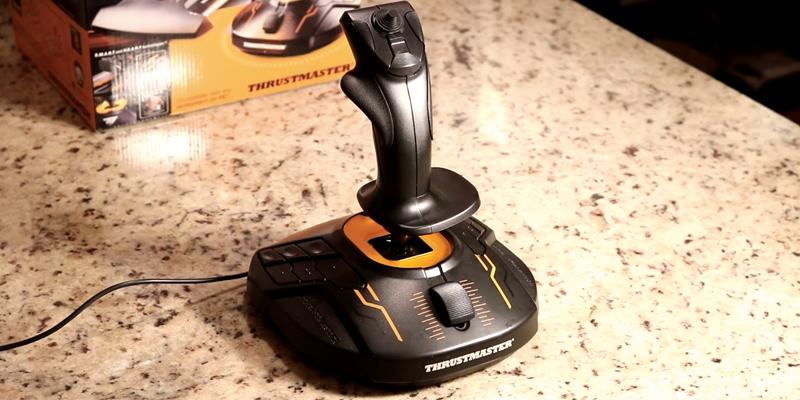 Additional Info
Last updated price

$

190.00

Stock
In stock
ASIN

B01KCHPRXA
---
What customers say about this product
Build quality and function is excellent. Good precision and a ton of axes all buttons and controls easily accessible.
The most important feature on this particular model is the rudder control on the thruster. it is a lot easier and more accurate than trying to control all three degrees of freedom on the stick.
The weight distribution is spot on so it stays put while you're playing and everything is pinpoint accurate.
Thrustmaster T.16000M
Logitech Extreme 3D Pro
Perfectly Balanced
Being a passionate gamer often requires quite a lot of money endorsement, what with the high-performing gaming PCs/laptops, a monitor, good speakers or/and headsets, a mouse with a pad, a keyboard, etc. What about a desk and a chair that won't make you cringe with pain after hours of playing? There are so many things you can't forego! Many of us decide that joystick is a luxury and we can skip this purchase. Well, Extreme 3D Pro twist handle joystick by the famous Logitech company is a nice solution for this problem. The eight-way rubber hat switch and twelve fully programmable buttons (plus rapid-fire trigger) offer a number of functions to control your aircraft during a game, and if you need to configure the settings, there is a special software for that. This high-precision stick makes the gaming process comfortable since controlling your aircraft becomes easy as a breeze.
Additional Info
Last updated price

$

36.89

Stock
In stock
ASIN

B00009OY9U
---
VIDEO
War Thunder with Logitech Extreme 3D Pro Setup
What customers say about this product
The joystick moves in three axes (X, Y, and Z for twist/rudder), has a slider (throttle), an 8-way hat switch, and 12 buttons.
Great feel, good button location for mid-sized hands and nice sturdy base.
It has a rubber-padded, weighted base, providing decent stability when the stick is pulled hard to its extents.
Logitech Extreme 3D Pro
Thrustmaster T-Flight Hotas X
Real-looking Joystick
Simulation is all about making you feel like you really are a driver or a pilot or just truly engaged in general. That means that details are of the utmost importance, be it a steering wheel, a gaming chair or, in our case, a joystick similar to those used in a real aircraft.
Thrustmaster T-Flight HOTAS X Flight Stick is a full-size stick-and-throttle; it is thoroughly balanced and designed with attention to details, and the option to use it jointly as well as separately is a good thing when we talk about gaming comfort. After all, comfortable gaming allows for fewer mistakes, which can be vital during a flight.
The joystick is compatible with PS3 and PCs and will be an excellent addition to your favorite action games like Digital Combat Simulator, Elite Dangerous or War Thunder (the selection is too wide to name them all). If you are looking for a real-looking aircraft controller, Thrustmaster T-Flight is one of the best options.
Additional Info
Last updated price

$

58.52

Stock
In stock
ASIN

B001CXYMFS
---
VIDEO
Fairly Angry Mike: Thrustmaster T.Flight Hotas X - Review
What customers say about this product
This joystick is amazing! great options for assigning functions and good feel and stability in all axes
The unit is substantial enough in size and weight to really add to the immersive experience.
The detachable throttle control and the numerous programmable on stick buttons make this a very flexible and nimble unit.
Thrustmaster T-Flight Hotas X
Logitech Saitek X52
The Most Ergonomic
Logitech G Saitek X52 flight control system is one of the most user-friendly devices you can find in the class. The main reason for that is the perfect balance of both the stick and the throttle, a design well-thought through by the tech specialists to provide pinpoint precision throughout the gaming process.
Among the numerous additional features presented by the manufacturer, we think it is worth mentioning a small multifunction LCD display to see the info on buttons configuration clearly. Another addition we'd like to point out is the backlighting of the buttons. If you prefer playing in a dark room (for better game immersion or just out of habit), this will simplify the process as you would still see the buttons perfectly clear and won't miss them. Enhancing your flight controlling skills becomes marginally easier and, consequently, much more fun with this Logitech G Saitek X52 joystick.
Additional Info
Last updated price

$

149.99

Stock
In stock
ASIN

B01LY285ZH
---
VIDEO
Saitek X52 Pro Joystick Review HD
What customers say about this product
Can be mounted to a custom rig.
The quality and feel are amazing. It works great and I would highly recommend it to friend's. It genuinely is a high precision setup.
The throttle has some real weight and resistance to it, and the stick is buttery smooth with no drift.
Logitech Saitek X52
Qanba DRONE
Certified by Sony
Quanba is a Chinese company that designs joysticks. And they are so good that the renowned Sony noticed them and certified their product for use with PlayStation 3 and 4.
The design of the Quanba Drone fighting stick seems bulky at the first glance but, nevertheless, the device is lightweight. You can put it on your lap to play, flat surface is not mandatory here. However, for those who do prefer desk surface, the stick has a special padding, which is a good thing as it prevents sliding. Control buttons are significantly bigger than average ones and they work smoothly (same goes for the stick). Buttons cleaning and replacement, if deemed necessary, won't pose any problems, you'll just have to unscrew it, take what you need, change/clean it, and screw it back. Quanba Drone stick is a valuable purchase for gamers with a passion for fighting games.
Last updated price

$

79.99

Stock
In stock
ASIN

B01I0GEDEY
---
What customers say about this product
The buttons are very responsive and I haven't had any drops in inputs since I bought it
The design is excellent for playing in your lap or seated on the the ground and even has a space in front for the cables to sit when not in use.
The cord stores away nicely and is long enough that I can sit back on the couch. No complaints what so ever.
Qanba DRONE
What is a Joystick
Originally, a joystick is an essential part of any aircraft cockpit. A computer joystick, respectively, is a type of game controller designed for flight simulators. Usually, they resemble a moving stick with a base and a variety of buttons. The buttons are mostly programmable for the user to customize them according to the specific game's requirements. Some models also feature a throttle.
To make the immersion into the gaming world complete, you might want to choose a virtual reality headset, a device that offers you a 3D experience in a game world. And an option for playing quality games on-the-go, a handheld game console.