Just fancy a boiling hot summer day and you're desperately looking for the ways to escape this sweltering heat! Surviving the hot
summer without AC seems nearly impossible but a misting fan can be a worthy alternative. Enjoy the refreshing mist and cool breeze with the best misting fan from our review!
...
Read more
...Read less
NewAir AF-600
Cool Down in Style
Those who live in hot and dry climates, especially those in a desert climate, know how miserable summers can be. Scorching heat that in a dry environment is no less miserable than the same in a wet, humid climate. Hot is hot, no matter where you are. However, a dry climate does have some advantages, namely in that it is generally a bit easier to cool down when some moisture is added to the air. Couple that with some air movement or circulation, and that is usually enough to make the climate quite palatable, even when the temperature is at or about triple digits.
The NewAir AF-600 Outdoor Misitng Fan is the perfect companion for those hot summer days in the desert. This misting fan has everything that you need in order to cool down properly without needing to break the bank for outdoor cooling solutions. Not only that, though, but the fan also has a nice, stylish appearance that will look great wherever you put it, especially on your patio. The five blade configuration of the fan helps to provide maximum directed airflow, yet the blades still look more decorative than functional whenever they are not moving. Basically, you don't have to worry about this misting fan being an eyesore on your patio, whether or not it is in use.
Three Speed Settings
Of course, this fan isn't just all about looks. As we already mentioned, this fan works as well as it looks. Included with the fan are three different speed settings that give you plenty of choice in adjusting the flow of air throughout your area, letting you customize it to perfection. You also have the option to enable oscillation of the fan, giving it a much wider area that it can help cool down while distributing moisture into the air. These options, along with the height and tilt adjustments options, ensures that you can effectively cool off an area of up to 600 square feet without having to resort to any other expensive equipment.
As this is a misting fan, it requires a source of water in order for the misting function to work. For those that have a garden hose on your patio, you will be pleased to note that all you need to do to add the water source is connect your garden hose to the fan and then open the flow of water. The fan will do the rest evenly distributing moisture throughout the covered area. Just keep in mind that the hose will require a tight fit in order to not leak, and the fan's base may also need periodic tightening in order to ensure that it stays perfectly upright. For anyone who needs a misting fan to help cool off those hot summer days outdoors, this model will easily prove itself to be useful.
Additional Info
---
NewAir AF-600
Lasko 7050 Misto Outdoor Misting Fan
Portable Misting Fan
The Lasko portable misting fan is designed for outdoor comfort. It's a perfect choice for gardens, patios or pool sides. The unit requires a connection to a water supply system. Owing to the 9' water hose included, it can be easily connected to a standard garden hose outlet, without needing any additional special equipment. Moreover, this outdoor misting fan provides excellent resistance to UV rays. Therefore, the unit can be used in outdoor areas for a long time and can withstand high temperatures even in very hot weather, yet maintaining its original look. As an additional benefit, the fan has a sturdy base that keeps it stable on lawns or uneven surfaces.
This model of an outdoor misting fan is capable of decreasing the temperature up to 25° F from the ambient temperature in the cooling area. Due to the constant pressure of the water supply, the unit can provide continuous outdoor operation for any needed period of time to keep you cool and refreshed. This excellent portable fan features 3 high-performance misting nozzles which create a fairly dense mist for you to enjoy a breath of cool, fresh air, so you can be sure that you can change the settings to provide maximum comfort.

Plenty of Features
This Lasko outdoor misting fan has 3 fan speeds and a user-friendly control panel with a mechanical switch on the right side. Additionally, it comes with a tilt adjustable head and 90° rotation automatic levers which provide even distribution of cool and humid air. The unit has a water shut-off valve that prevents spillage in case of a water hose disconnection. The product meets all North American safety standards and has the ETL certification, which guarantees total safety in use. You can use this fan on your porch, patio, or even on a flat surface in your yard without fear of it posing any risks.
As mentioned before, this unit is highly portable, making it an ideal model to take with you on camping trips or picnics, provided that it will have access to a pressurized water supply. Even if not, the fan function can still work, just without misting, so it may prove itself quite useful for providing a comfortable climate wherever you go. This also means that the fan can work quite well for providing airflow in wet or humid climates, and the safety of using it in such an environment won't be an issue thanks to the built-in ground-fault circuit interrupter. In short, this portable outdoor misting fan can provide you with maximum comfort in almost any environment.
---
VIDEO
Review: Lasko Misto Outdoor Misting Fan
Lasko 7050 Misto Outdoor Misting Fan
Arctic Cove MBF0181
Take and Use Anywhere
Hot summer weather isn't only an inconvenience at home. At least at home, most people have access to the inside of their house whenever they need to cool down, thanks to air conditioning and running water. However, there are usually no such conveniences whenever you are doing something outdoors during a hot summer day, especially when going camping or doing some other similar outdoor activity. Such times are when some kind of portable cooling option would be quite nice, as you can't always count on shade and a breeze doing the trick.
The Arctic Cove MBF0181 Bucket Top Misting Fan is the perfect option for those who need a portable misting fan that will work well for them anywhere. This misting fan is powered by a rechargeable 18-volt battery, meaning that you can use this anywhere, even if you don't have access to a power outlet. The small form factor and lightweight design of the fan also make it highly portable and easy to take with you virtually anywhere. In fact, it's even small enough to take with you on a hike if you so desire. If you are going to use it somewhere without access to a water supply, there is an optional 5-gallon bucket that can be purchased separately that will work perfectly well for carrying your own water supply for the fan.
Quiet Operation
The portability of this fan may be enough of a selling point for a lot of people, but it has a lot more to offer than just that. Along with its high portability, this fan operates in a quiet manner, meaning that you won't have to deal with a ton of distracting noise just to cool yourself down. The fan does not include any speed settings, so you will need to make do with the default air flow speed. Having said that, the air flow provided by the fan is strong enough to reach some distant areas without being too strong for those who are closer to the fan, so you should find that it provides a good breeze wherever it is located.
The misting operation of this fan works quite well, with it being powerful enough to project a mist to wherever the air flow can reach. Just keep in mind that the mist provided by this fan is relatively thick, and there is no option to adjust it, so those who are located close to the fan while it is misting may find themselves getting wet. That said, the moisture is thick enough to provide an adequate cooling effect on even the hottest summer days, making this device the best misting fan for those who live in extremely hot places such as the deserts of the Southwestern United States. For these people, along with everyone else, this portable misting fan will make your summers more pleasant.
Additional Info
---
Arctic Cove MBF0181
XPOWER FM-48
High Durability
Fans are not always known as being the most durable appliances. Although some people may have fans that have lasted them for years, more often than not they tend to break down, especially at the worst possible time. Any device that has constantly moving parts is prone to running into mechanical problems at some point, and outdoor fans are certainly no exception. In fact, they are the poster children for this rule. That's why it is important to find a fan that is made with durability in mind, as this is something that you will want to last you for a long time.
The XPOWER FM-48 Outdoor Misting Fan is just such a device that was made with durability in mind. The case of this outdoor misting fan is made of impact-resistant polypropylene, making this fan extremely durable and able to withstand the elements, something that any outdoor fan is likely to be subjected to at some point. Along with its high durability, the fan includes a convenient carrying handle and a place for winding the cord, adding heavily to its practicality. All this along with its portable design means that you can take and use it virtually anywhere provided that you have access to a power outlet and a pressurized water supply.
Adjustable To Your Needs
The high durability and compact form factor are good enough reasons for many people to want this fan, but for those who need more features, there are plenty here to like. This outdoor fog fan includes three different airflow speed settings that let you adjust the airflow to light, medium, and heavy, letting you customize it to your own preferences. What's more, the fan can be adjusted in its tilt, letting you mist a wide area high up, or a more localized area directly. This allows the fan to be equally useful in both large and small spaces, such as on patios, in backyards, or even an outdoor play area for children.
Another great use for this fan is as a powerful indoor induction motor that can be used indoors without the misting function in order to remove excess moisture from areas. This makes the fan great for such tasks as drying floors or paint, or even just for basic air circulation. The fan works on a 138 Watt motor, and despite its high power, it actually draws only a minimum of electricity, meaning that operating this fan even at the highest speed won't start causing havoc with your electric bill. With all of the advantages that this portable misting fan brings to the table, most anyone will find this fan to be quite useful, no matter where they live.
Additional Info
---
XPOWER FM-48
Dynamic Collections Scrolls
High Speed Outdoor Fan
There are a few requirements that anyone should have when looking for an outdoor misting fan. For one, they should be durable enough to withstand constant exposure. Any device that is left out in the sun for hours at a time is certain to experience some kind of degradation with its materials, especially whatever outer protective layer it has. Any kind of degradation of this material can make the device more susceptible to other problems. Also, it needs to be powerful enough to cover a wide area, as an outdoor misting fan that only covers a very small area is of no use to most people.
The Dynamic Collections Scrolls Outdoor Oscillating Fan with Misting Kit gives you exactly what you want and need in an outdoor misting fan. The casing of this fan is supplemented with an all-season protective coating resistant to UV radiation and fading, making it highly resistant to the negative effects of being exposed to the sun for hours at a time. What's more, the base of the fan is heavily weighted, making it stationary and preventing it from being easily tipped over. It is also well-balanced enough to handle the high-speed output of the fan without it upsetting itself or becoming unbalanced due to the force of wind or even from its own oscillation.
Versatile Options
Along with the previously mentioned features of this misting pedestal fan, it has plenty more that help make it a desirable option for keeping things cool in the summer heat. The fan fully supports the misting function, only requiring access to a water source to provide its misting capabilities. The fan includes 3 speed settings that range from 900 to 1280 RPMs, making it powerful enough to effectively cover and cool down an area of around 500 square feet. This should make it sufficient for any patio, porch, or outdoor play area that needs to be cooled with some airflow and mist.
This fan also includes plenty of adjustments for height and orientation, letting you set it as high or as low as is practical for most use cases, ranging between 40 to 51 inches. The oscillating feature of the fan lets you cover a wide area in conjunction with the misting function to ensure that everyone gets to experience its cooling effects instead of just a select few. The power cord is long enough for it to easily reach a power outlet from most areas without needing an extension cord, and even has an ETL Wet Listed safety rating, meaning you can safely use it without worry of it causing injury in wet conditions. All in all, this highly effective misting fan will be a welcome addition to any home or backyard.
---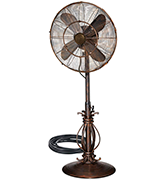 Dynamic Collections Scrolls
What Is a Misting Fan?
Summer is the hottest season when the outdoor and indoor relative humidity decreases greatly, and you want nothing but to get a breath of fresh air. Indeed, there's nothing better than dipping into the cool refreshing water on a hot summer day and feel a pleasant fresh breeze after getting out of the water. But what if you are at work, at home or on a trip, eager to feel some refreshing moist air. In this situation, investing in the best misting fan for wherever you are or want to go is the best way out! Actually, a misting fan looks like a traditional pedestal fan but it features a built-in humidifier which produces a cool mist that disperses humidity throughout the room. The misting fan can be conveniently used in various settings. For instance, you can install it at home, on your patio, near your pool, in bars, restaurants, factories, warehouses, etc. Besides, such device is truly indispensable when you go out for "hot" adventures like parties, outdoor events, and any other environments which need to be cooled.
If you are looking for the first-class stationary cooling system, you should consider buying the air conditioners or the window air conditioners.
What Features to Compare
Type and Construction
A misting fan is a portable cooling device, which emits a directed flow of moist air by spraying or evaporating water. These fans are distinguished by the humidifier type and construction. Typically, humidifiers come in 2 types: ultrasonic and spray.
Ultrasonic humidifiers operate in the following way: the membrane in a water tank constantly vibrates and splits water molecules into fine particles, forming a water dust cloud which passes to the fan through the channel and disperses. It should be noted that such humidifier type is characterized by high cost-effectiveness, both in terms of water and energy use.
As for spray humidifiers, here the water is forced through specially designed misting nozzles by means of a high-pressure pump, creating a fog of ultra-fine water droplets with an average size of less than 10 microns. These tiny droplets instantly absorb heat from the environment and turn it into water vapor (gas). The energy used to convert water into gas cools the air. Such cooling technology produces a large volume of fine mist, thereby using large amounts of water. Spray humidifiers can be used for commercial and industrial purposes as well as for cooling outdoor areas like patios or gardens. You can even use some of these models during cold seasons if your space heater dries the air and burns up oxygen.
Regarding the construction, the manufacturers offer a huge selection of models: floor standing, table, compact, and personal.
Floor standing fans are available with or without a water tank. Those without a water tank come with a line and sill cock for connection to a water source. When looking for the right fan, take into account where you intend to use it. For home and patios, it's reasonable to select a unit with a built-in water tank. Indeed, these misting fans will please you with their extended functionality.
But if there is no possibility to refill the tank, for example, in the garden, in the cafe or in the garage, then take a close look at the models that can be connected to a water pipe. Such fans can operate for a long time without user's control.
Yet if you want to enjoy fresh saturated air wherever you go, then pay attention to the compact portable models. They are very convenient as you just need to fill a tank with water and use this super unit anywhere you wish. Compact fans may differ in the form, construction, and supply sources. For instance, the market offers hand-operated or battery-operated water misting fans.
Performance
Similar to other household appliances, humidifier misting fans have key performance features. When using a fan indoors, you should pay attention to its air flow (usually measured in CFM) and the coverage area. If you need to cover a huge area, a fan should have large blades and a constant water supply or at least a pretty big water tank. However, for a small room or a summer garden, a unit with a built-in water tank and a small diffuser will be quite enough. It's also important to know how much water and electricity a fan uses.
Features
Some models have automatic vertical louvers for an even air distribution or a 360° oscillation for wide area coverage. The user-friendly electronic controls allow you to make fine settings, selecting the most appropriate operation mode. Besides, you can easily control your fan from across the room with a handy remote control. One more important feature to pay attention to is a noise-free operation. All in all, take into account all the peculiarities that may affect your choice.