A garage vacuum cleaner may seem like a less versatile option. But it has any other type of vacuum cleaner beat when it comes to
suction power, length of the hose, quiet operation, and the number of attachments that can be used to handle all kinds of cleaning jobs.
...
Read more
...Read less
Hoover GUV L2310
Keep Your Garage Clean
If you're the kind of person who doesn't shy away from working with your hands and your garage isn't just a place where you put your car but an actual workshop where you build and fix a lot of stuff, you might want to give the Hoover GUV L2310 a try. Though a powerful and capable device in and of itself, the first thing we would like to mention about this product is all of the attachments that come with it. In addition to the vacuum itself, you will receive 2 extension wands, 2 crevice tools, 1 floor nozzle, 1 upholstery nozzle, and 1 dusting brush. You'll also get a base storage rack and a tool storage pouch, so you won't have to crack your brain wondering where to put all of these attachments. With their help, you will be able to handle just about any task around the garage, from sprucing up the upholstery and cleaning your workbench to sweeping the floor of the garage clean.
Having said that, it's not just the attachments that make this garage vacuum such an attractive choice for handymen. Using the 10-amp, 120-volt powerful motor, the model provides you with enough suction power to vacuum just about anything from nails and screws on the floor to mulch and other debris on the bed of your truck. But despite the model's power, it doesn't produce a whole lot of noise, so you will be able to do your job without disturbing your family or your neighbors.
To rephrase our earlier point, the Hoover GUV L2310 is a garage utility vacuum that will suit those individuals who love spending time in their garage as it doubles as a workshop. Building and fixing a number of different items leaves behind a lot of dirt but, with this product, you'll be able to vacuum it all.
Additional Info
---
VIDEO
Hoover L2310 Reviews; Get Your Best Hoover L2310 Reviews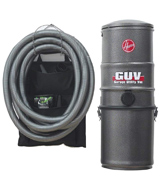 Hoover GUV L2310
Vacmaster VQ607SFD
Around the House
If you need a garage vacuum cleaner, your best bet is usually a wall-mounted model. The problem is, a vacuum like that can seldom be used anywhere else and you cannot always afford to invest in two or more vacuums. Which is why the Vacmaster VQ607SFD might be your best if you need a flexible cleaner. Since the whole thing adds up to precisely 14.8 x 13.2 x 20.5 inches in overall dimensions and 16 pounds in weight, you'll be able to easily move this portable vacuum around the house. It doesn't look too bad either as the stainless steel tank gives this product a much more professional and sleek look. Admittedly, it isn't the most important aspect of any garage vacuum system, but an attractive design is never really a bad thing. Plus, the design is also weather-resistant, so you can always take it outside whenever needed. And wrapping up its design elements, we would be remiss not to mention the handle on top that will help you carry it around.
Of course, for a vacuum cleaner to deserve the title of a versatile model, two conditions have to be met. First, it should include a number of attachments and extra accessories. In this case, it is a reusable foam sleeve, multi-surface floor nozzle, 2-in-1 utility nozzle, crevice tool, round dust brush, and 2 extension wands. Among other things, the multi-surface floor nozzle is particularly important as, just as the name suggests, it will allow you to work with any surface, adding extra points in versatility. The second condition is power and the capacity of the dirt tank and this model has that covered as well. The 7-amp motor offers enough suction power to handle most tasks and the 6-gallon tank will allow you to store a lot of dirt in that tank, so you'll be able to spend less time emptying it up.
To sum it up, the Vacmaster VQ607SFD is the garage utility vacuum you need if you would like to keep your garage clean but you also need a vacuum cleaner that will prove its worth in other areas, capable of handling different applications around the house. Get this product and you won't need another vacuum cleaner.
Vacmaster VQ607SFD
Shop-Vac 5989300
Durability and Performance
Choosing a home appliance, we want to get the most out of it, especially when it comes to household units that really facilitate our lives and save our time on domestic routines to spend it on some more pleasant things and activities. Hence, we usually seek high-quality products with bunches of useful features and functions we'll be able to apply to get some work done easier, more quickly, and efficient. And for most of us, maximum functionality and high reliability are of utmost importance. This is exactly what you will get with the Shop-Vac 5-gallon wet-dry vacuum cleaner.
Like all models from a powerful Shop-Vac Stainless Steel series intended for professional use and commercial applications, this unit features a durable stainless steel tank that makes it suitable for operation even under harsh conditions. Meanwhile, a motor power of 9.9 amps paired with a suction power of 320 air watts allows efficiently collecting even large debris as well as quickly sucking up large amounts of liquids. The accessory set including 3 extension wands, a 10" nozzle, a crevice tool, and a gulper nozzle will let you easily get into tricky areas and tight spaces and perform all kinds of cleaning with ease. Whether you need to remove the dust from chandeliers and from under the furniture, clean the ceiling panels, suck up the waste from drainage pipes outside the house, clean carpets, and upholstery, combat the spills in the laundry caused by a washing machine overflow or tackle a big mess in your garage, you'll find the necessary attachment in the set and the unit definitely offers more than enough power for that. Besides, by attaching the hose to a rear outlet, you can turn your vacuum cleaner into a powerful blower that will come in handy for the applications where you need a powerful air jet.
With the Shop-Vac 5989300, you'll get a professional-grade cleaning unit to tackle both minor and heavy dry or wet messes in your dwelling, garage, basement, or workshop as well as outside your household.

Shop-Vac 5989300
Stanley 4.5 Gallon, 4 Horsepower
Vacuum Everywhere
Wall-mounted vacuum cleaners aren't known for their versatility but we cannot say the same about this product from Stanley. For instance, as you could've guessed, this is a wall-mounted model. But dissimilar to most wall-mounted models, this vacuum cleaner was constructed in a way that makes it really easy to remove from the wall bracket. Of course, that means that emptying up the tank will be a lot easier as well. But that also means that you can use this device as a portable vacuum. To help you with that, the people behind this product have installed a convenient handle on top of the unit, so you'll be able to carry it around with enough ease and comfort. Featuring 12.8 x 23.5 x 12.2 inches in overall dimensions and 16 pounds in weight, the model is smaller than your typical garage vacuum and a lot lighter.
Of course, if you do not care about any of that and you simply need a garage cleaner, this appliance is no slouch either. The motor features 4 units of horsepower and the dirt tank boasts a considerable capacity of 4.5 gallons. Plus, there's a convenient blower port than instantly converts this model from a vacuum cleaner to a blower. About the only gripe we have with this vacuum is the 20-inch hose that might prove to be a bit short for people looking to clean up a sizable garage.
Other than that, the model from Stanley is easily one of the most versatile and flexible garage vacuums out there. Using this appliance, you will be able to keep clean not just your garage or a workshop but any other room in your house.
Stanley 4.5 Gallon, 4 Horsepower
Bissell 18P03
No Dirt off Bissell's Back
Generally speaking, the only thing that makes wall-mounted cleaners inferior to regular vacuums in one particular area is that they aren't quite as good when it comes to sucking up liquids. Well, Bissell Garage Pro is a bit of an exception to this rule. Unlike your run-of-the-mill wall-mounted model, this wet-dry vacuum will be able to pick up wet messes as well as it will handle dry ones.
Other than that, there's quite a lot about this device that makes it such a popular choice among all kinds of customers. For starters, there's the 12-amp motor that boasts more than enough suction power for your typical garage cleaning needs. Whether you need a model that could vacuum your car or tidy up your workshop, this model will be able to handle it all.
With the help of a 32-feet hose, you should be able to easily reach inside your car without inconveniencing yourself with its positioning. The 4-gallon dirt tank is nothing to write home about in terms of capacity. But in terms of design, the tank is semi-translucent and the vacuum has an LED full water indicator, a nice little touch that will always let you know when it is time to empty the tank. And just like the majority of wall-mounted models, this device includes 7 different attachments and an accessory bag, so you'll be able to handle all kinds of cleaning jobs and storing them won't prove to be too much of an issue.
In conclusion, this wall-mounted vacuum cleaner was designed to handle all kinds of spills and messes, be it liquids, dirt, or grime. The blower function makes it great for keeping your workshop free of debris. The additional attachments will make car detailing an absolute breeze.
Additional Info
---
Bissell 18P03
What Is a Garage Vacuum?
On the surface, there isn't that much of a difference between a regular vacuum cleaner and a garage one. They both just suck in air, right? Well, while that is certainly true, there's actually quite a lot that differentiates the latter from the former. The first obvious dissimilarity is that the majority of garage vacuums are usually mounted to the wall. And because, this way, you get to save quite a lot of space, the manufacturers have the freedom to pack these vacuums with much more impressive hardware. Which is why your average wall-mounted model features more powerful suction capabilities, a longer hose, quieter operation, and a number of additional attachments that seldom or never accompany regular vacuums. Because of the more impressive hardware, wall-mounted vacuum cleaners are generally used for some of the more heavy-duty purposes. They're far better than standard vacuum cleaners when it comes to cleaning the interior of your car. If you're the kind of person who has somewhat of a workshop going on in your garage, these kinds of vacuums are perfect for cleaning up sawdust and debris after working with all kinds of messy materials.
That being said, if you live in an apartment or if you're simply not interested in keeping your garage as clean as possible, these vacuums won't do you much good. But you could certainly find some use for robot vacuum cleaners and handheld vacuums.