How often did you try to clean in between the sofa and armchair or get into the corners behind the furniture with a traditional vacuum
and failed? This is where a smaller handheld vacuum will come in handy. This super-smart and compact little helper will get where a full-size vac cannot reach making cleaning easy and hassle-free. Still, don't have one? Choose one of 5 top-rated models we've selected for you.
...
Read more
...Read less
Black & Decker BDH2000PL
Design
The Dyson BDH2000PL vacuum cleaner is one of the best-selling mini vacs available on the market today. It boasts compact size and cordless design, making it ideal for quick on-the-spot vacuuming. The vac is light in weight and comes with a special pivoting nozzle that can clean where many other models won't reach. When the cleaning is done, the nozzle can be folded for compact storage. Yet, the feature we love best about this vacuum cleaner is its high-capacity Li-ion battery that provides up to 17 minutes of continuous operation from one charge. That's the longest time compared to similar models. More to that, the recharge time makes only 6 minutes, meaning you could easily use it for cleaning your whole house without long interruptions.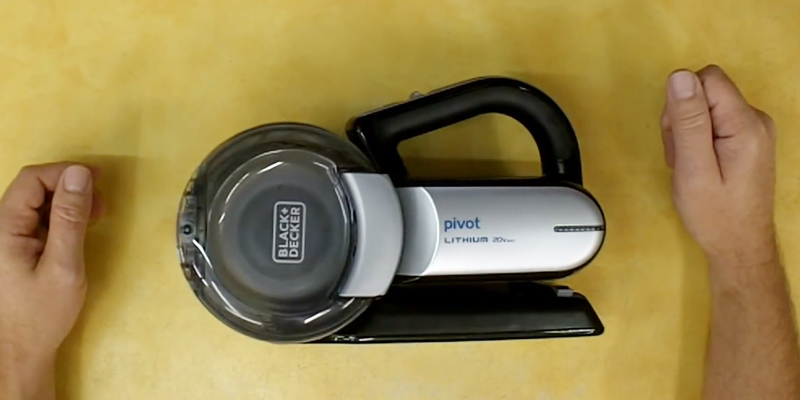 Power
Despite its cordless design and compact dimensions, the Dyson BDH2000PL features a high-performance motor that allows it to pick all kinds of dust and debris, be it pet food, popcorn, crumbs or lint or hairs. Furthermore, like other cordless Black & Decker vacs, the Dyson BDH2000PL features the cutting-edge cyclonic action that spins rubbish away from the filter right into the dust container.
The notable advantage of the Dyson BDH2000PL is that, unlike its rivals, it doesn't "suffer" from the gradual decrease in power when its battery's running low. Powered by the 20V Lithium battery, the vac provides fade-free operation for 17 whole minutes.
Attachments
What sets this handheld vacuum cleaner apart from other models is an exclusive pivoting nozzle designed to cope with odd jobs most traditional uprights can't handle. Unlike any common crevice tool, this one is able to pivot up to 200 degrees so it can reach far corners of your house, it is extendable and has a wide mouth allowing it to scoop up large debris. Besides that, it features a small flip-up brush that makes it suitable for cleaning fine surfaces and upholstery. In all, though not very rich, it includes a bundle of all attachments needed for cleaning not only floors and carpets but also shelves, stairs, cupboards, upholstery, and other delicate things. Add to that the power of the vac and what you get is a true powerhouse able to handle any cleaning job.
Usability
Speaking of usability features, the Dyson BDH2000PL features a 3-stage filtration system with a pleated filter designed to prevent clogging. This means that the vac not only cleans surfaces but also ensures high-quality cleaning. It has a transparent container and you can see how much dust has been collected inside the appliance without opening it. When the container is full, it's easy to detach it and rinse under running water. 
Additional Info
---
VIDEO
Black & Decker 20V MAX Lithium Pivot Hand Vac Review Model BDH2000PL
What customers say about this product
Also the plastic door feels really cheap and has the cheapest, most light-weight lever to open/secure.
I've left it off the charger for a couple of days and it ran fine so not battery drainage going on when sitting idle.
Plenty of suction power to suck up sand, dirt, and even gravel.
The brush pivots up when needed and is never lost. A nice feature is that it comes apart for easy cleaning. Overall a super unit, it wins over the Dyson and Hoover and Shark, by far.
Black & Decker BDH2000PL
Shark SV780
Design
The Shark SV780 is a handheld cordless vacuum cleaner that provides incredible portability and mobility required for performing all kinds of cleaning tasks. It features a lightweight construction for hassle-free operation and has an overall compact size for space-wise storage. 
The cleaner is powered by a 18V rechargeable battery that provides impressively long run time. The only drawback to this cleaner is that it takes about 20 hours to fully recharge. Still, we do not regard it as a big mishap, considering that people usually use handheld vacuum cleaners for completing quick clean-ups, and rarely need to operate it longer than 10-15 minutes. So if you do not plan a thorough cleaning in your house, you can charge it for less than 20 hours and count on effective cleaning performance during 10 minutes of time. 
Though the Shark dust buster isn't designed to substitute for a conventional upright vacuum cleaner, it will come in handy for a variety of light-duty cleaning tasks where a full-size vac might turn to be inefficient, and can be used even by kids willing to take on some cleaning duties. 
Power
This model is driven by a direct current electric motor generating the power of 1500 watts. It might be not the most powerful model on the market, but it certainly does what it is designed for. Paired with the twister cyclonic technology, the motor maintains a really strong suction allowing you to tackle almost all kinds of dirt and debris. It will easily pick up pet hair, sand, mud, grass and even small leaves, which might have stuck to your shoes while you've been out for a stroll, from different types of flooring, and will lend you a helping hand in removing sawdust and wood choppings in your workshop, garage or shed. 
Attachments
The advantage of the Shark Pet Perfect II hand vac over other cleaners is that it comes packed with a rich set of attachments that expand its application making it suitable for a vast number of cleaning jobs. The vac has a basic crevice tool for cleaning in narrow spaces like in-between and behind the furniture, a standard dusting brush for dusting carpets, upholstery, and smooth surfaces, and a motorized pet hair brush specifically designed for deep cleaning. This brush is ideal for removing pet hair and ground-in mud. If you're a pet owner and you often find fluffy furballs on your couch, the Shark SV780 will help you tackle this problem.  
Usability
The Shark mini vac offers some great convenience features. It is fitted with a washable filter and an easy-to-empty bagless dust cup so that you do not need to think about buying replacement bags. Also, it has a handy wall-mountable charging base allowing you to hang it on a wall so that you can save some usable space in the room. All of the attachments are easy to store in the same place, on a special base.
Additional Info
---
VIDEO
Shark Pet Perfect Portable Vacuum Review
Shark SV780
Black & Decker CHV1410L
Design
The Black & Decker CHV1410L is a brand-new model which has managed to conquer the market in a record amount of time. Like the rest of the models on this list, the CHV1410L is cordless; what distinguishes it, though, is a long battery life. Dissimilar to most handheld hoovers, the CHV1410L's operation time is 20 minutes, which allows completing quite a number of cleaning tasks. The recharging time isn't long, either, and takes no longer than an hour. We'd also like to mention the Smart Charge technology which is used here to protect the battery from overcharging and reduce the energy consumption by up to 50%.
Power
The CHV1410L comes fitted with a powerful electric motor that yields a voltage of up to 16 V that is quite a good output for a compact appliance. It maintains a consistent suction power thanks to the Cyclonic Action technology which spins all dust and small debris preventing the dust bowl and filter from clogging and ensuring flawless operation and efficient cleaning. All of this makes this small dust buster powerful enough to handle cat and dog food, pet litter, dust, some ground around flower pots, small wood chips, ash etc., making it a versatile tool to use both inside and outside your house.
Attachments
This handheld vacuum cleaner has a relatively long narrow nozzle with an extendable crevice tool to pick up dust behind the furniture, in the furniture, on shelves, picture frames, and in other hard-to-reach areas and tight spaces. The nozzle has an attached flip-up brush for cleaning upholstery and delicate surfaces prone to scratches and damages. By attaching this brush, you can use the CHB1410L for cleaning the interior of your car and save money on purchasing a special car vacuum cleaner. Even though there's a whole lot of attachments you could additionally buy for the CHB1410L, a lot of users find the original package more than substantive for cleaning tasks they usually need to perform.
Usability
The CHV1410L is very easy to assemble/disassemble for cleaning. In spite of its handheld design and overall small dimensions, it has quite a large bagless dirt bowl, which is very easy to remove and wash under water. To ensure superior quality of cleaning, the manufacturer fitted the CHV1410L with a washable filter and pre-filter. By maintaining them clean, you'll ensure a long performance and consistent suction power of your cleaner. 
Additional Info
---
VIDEO
BLACK + DECKER CHV1410L 16 volt Lithium Cordless Dust Buster Hand Vac
What customers say about this product
Battery charge has been more than sufficient for our use, we've not had it run out of charge during use, or even hint at being near dying.
Lightweight and compact сlean stuff as expected.
Extending snout works well to get in-between seats in truck.
It is very easy to change the filter.
Black & Decker CHV1410L
Eureka 71B Corded
Design
The Eureka 71B EasyClean is a corded handheld vacuum cleaner. Which means those that have been looking for a portable solution might not find it suitable as the Eureka 71B EasyClean requires a power outlet. For all the rest, this vac has a lot of benefits to offer. At a cost of a slightly bigger design, the engineers of the Eureka 71B EasyClean packed in it immense power and performance making it a commendable rival to conventional hoovers. To make up for the lack of mobility, the Eureka 71B was fitted with a long 20-foot power cord ensuring that the user can operate it with convenience, and if this length isn't enough for you, the operating area of the cleaner can be further enlarged with an extension cord. Another obvious advantage of the Eureka 71B EasyClean corded cleaner is that it is able to provide continuous and powerful performance on demand. You won't need to waste any minute waiting for it to recharge like you would've done with any of the cordless models. The Eureka 71B EasyClean is always ready to go.
Power
The Eureka 71B Corded EasyClean vacuum cleaner is equipped with a 5.5 Amp electric motor that generates consistent suction power allowing the vac to effectively gather fine hair, dirt particles, and spills. Instead of sweeping a broom picking up fine debris, run the Eureka 71B Corded EasyClean cleaner and let it suck in all rubbish in one quick pass. The Eureka 71B Corded EasyClean cleaner is one of the few vacs out there that can boast of two motors: one generates the suction power and the other one revolves the brush. 
Attachments
The Eureka handheld vacuum looks slightly different from other cleaners present on the market, but mostly because of the attachments it comes fitted with. It has an on-board stretch hose with a narrow-ended crevice tool and features a wide mouth with a riser visor, a rotating cover over the brush roll. All of this allows using it in confined spaces - between furniture, cushions, blinds and seats, along the walls and corners, on carpets, stairs, as well as vertical surfaces like upholstery etc.
Usability
Powerful and high-capacity, this dust buster vacuum is very convenient and easy to maintain and use. The controls are located on top of the handle for a user's easy reach. A bagless filter, along with a dust cup, is easy to remove and clean. The cord compactly wraps around the body of the cleaner for its convenient storage. 
If you've been looking for a decent alternative to a full-size vacuum cleaner but of a portable size, look no further than the Eureka 71B EasyClean. Relying on the electric power, this handheld vac produces sufficient amount of suction power to cope with all kinds of dirt and dust and it has the right size to slip and clean in tight spaces where a conventional vac wouldn't get to. A great option for customers living in small apartments, dorm rooms, and RVs. 
---
VIDEO
Eureka EasyClean Corded Hand-Held Vacuum, 71B Product Review
Eureka 71B Corded
Black & Decker BDH2000L
Great Choice for Spot Cleaning
Suddenly dumped a bowl of popcorn while watching a movie and those little popped seeds stuck deep between the couch cushions? Your lovely spitz is constantly scattering food around the feeder? These are the tasks for mini-vacs. Yet, not all handheld vacuum cleaners are the same. Varying in size and design, some models are less suitable for certain cleaning tasks than others. But if you need a handy tool for tricky spot cleanups, look no further.
The Black and Decker BDH2000L mini vac comes with a slim and long nozzle that perfectly fits into tight spaces, cramped areas, and hard-to-reach nooks. In addition, the package includes a flip-up brush for quick and easy dedusting, cleaning stairs, and sucking up debris alongside, under, and in-between furniture.
The unit design is very compact and lightweight. Weighing less than 4 pounds, it is easy to carry and won't strain your wrists. And you will like its cord-free operation that gives a complete freedom of movements and you won't be bound by the need to work near an electric socket.
This model will become an efficient helper when you need to clean under low furniture, pick up dust on moldings, curtain rods, and door panels, dedust sofa and armchair seats and headrests, clean between cushions, vacuum stairs, and pick up any other minor spot messes around the house.
Packed With a Smart Battery Technology
The biggest issue with cordless vacuums is a short battery life and limited runtime. Yet, the BDH2000L boasts a smart battery technology prolonging the battery life and allowing you to get the maximum out of your cleaner performance.
As it features no memory effect, the lithium-ion battery is able to hold the charge for up to 18 months and will keep your vac ready for work whenever you need. Speaking of operation, this battery provides up to 30 minutes of continuous runtime which is more than enough for most usual cleaning tasks, and recharges in about 3 hours, which is also quick enough. 
Enjoy the Ease of Maintenance
Functional and easy to handle, the Black and Decker hand vac is also very easy to clean and requires no special maintenance. Thanks to a clear dustbin, you will always know when it is time to discard the waste. The unit offers simple one-step emptying causing no mess and keeping your hands away from the dust and debris inside the container. Besides, a filter efficiently capturing fine dust particles is easy to wash and replace when necessary.
... and Up to Par Suction Power
This model delivers really powerful suction allowing it to tackle both fine dust and light debris and larger wastes, deeply stuck pet hair, or even ground in dirt. All of this is thanks to a rather forceful for a mini vac 20V motor combined with a cyclonic action that keeps the filter clean and maintains consistent sucking performance.
---
Black & Decker BDH2000L
What Is a Handheld Vacuum?
Everybody knows what a vacuum cleaner is - this appliance is used in every home and apartment. However, a conventional corded vac is pretty bulky and quite difficult to get into tight spaces and narrow areas and it appears almost useless when you need to cope with rather tricky cleaning tasks such as cleaning sofas, couches, and armchairs, shelves, in between the furniture, etc. Need an alternative? There is one. It's a handheld vacuum cleaner. Being a smaller, more compact and portable version of a traditional vac, this handy appliance will make troublesome cleaning in hard-to-reach places as easy as never before. Commonly these are lightweight and easy-to-carry devices with ergonomic design and impressive suction power. Since it can go almost anywhere, the handheld vac is suitable for the whole variety of applications, be it removing dust from ceiling fans and behind TVs, cleaning pet rugs, removing spills, crumbs, and food remnants from any surfaces or cleaning car upholstery.
However, if you need a high-performing vacuum cleaner for cleaning large areas, check our review on canister vacuums that deliver extremely powerful suction and can remove the finest dust.
What Features to Compare
Design
All handheld vacuums fall into two major categories. There are cordless models powered by rechargeable batteries and corded vacs powered from the mains. No need to say, that when you seek a fully independent operation and want to use your dustbuster literary anywhere, a cordless model will be preferable. Along with portability, another good thing about any cordless handheld vacuum is that it is always ready for use. No need to unwrap a cord and look for a power socket. Simply turn it on and start cleaning. Yet, you should always remember to check the battery charge. The main advantages of corded models are powerful performance and continuous operation. The only con is the working area limited by the length of a power cord. Though these models usually feature pretty long cords and you can also use an extension.
Power
It is important to consider the power of an electric motor that a handheld vacuum comes fitted with. The more power the motor generates, the higher suction level it will create and the better overall appliance performance it will deliver at the end. It's notable that any corded handheld vacuum cleaner will appear more powerful than its cordless rivals.
Attachments
If you are going to clean narrow crevices you must be sure your vac can handle it. To tackle different kinds of surfaces and coatings, mini vacuums usually come packed with a number of handy attachments. Some models feature a special pet hair brush which is a must-have item for any pet owner, especially if you have a long-haired cat or dog or even several pets. Meanwhile, a rubber contour nozzle will help you efficiently clean smooth marble, stone, and glass surfaces and a crevice tool will cope with dirt and dust in places that are too tight for a brush roll.
Usability
For easy and convenient use, almost all models are ergonomically designed and feature comfortable handles ensuring a secure grip for long-term operation without fatigue. On top of that, most modern mini vacs are equipped with efficient filters to capture all the dust and remove it from the airflow to protect you from breathing it in. It's a highly helpful option, especially for allergy and asthma sufferers.
FAQ:
Q: Do I really need a handheld vacuum cleaner?
A: No housekeeping arsenal is complete without a vacuum cleaner. No matter whether you live in a large homestead or a city apartment, you're likely to own a full-size vacuum cleaner, be it an upright or canister model. When it comes to handheld models, they aren't designed to replace a tradition vac; the primary purpose of a handheld vacuum is to clean in those spaces and areas where a conventional vacuum cleaner cannot get to. Usually, these are tight spaces between walls, hard-to-reach areas under and in-between the furniture, stairs, corners, picture frames, shelves, air vents, ceiling fans and chandeliers. If you've ever tried to clean in these spaces using a full-sized vac, you know how difficult this may be. That's where having a handheld vac will prove useful. Small and powerful, handheld vacuum cleaners are best suited for performing quick clean-ups around the house and in a car. If you perform clean-ups on a daily basis, and if you do not like an idea of dragging around a bulky vac, purchasing a handheld vacuum cleaner may become a great solution making these chores for you a breeze.
Q: Bagless vs bagged filters
A: Most handheld vacuums apply bagless filtration system. Such systems are easier to clean and maintain and you can easily dispose of the dust and dirt without the need to replace the bags. Eventually, bagless system allows you to save your budget on buying replacement bags. Yet, there is one advantage of bagged models over bagless ones. A bag filter is a more hygienic option securely trapping all debris, dust particles and possibly bacteria and allergens inside. For this reason, bag filters are recommended for allergy sufferers.
Q: How shall I clean the filter unit?
A: Bagless filters require regular cleaning, depending on how often you use the vac and what kinds of debris you use it for. Generally, the filter requires cleaning every 2-4 weeks. As a rule, filters need to be washed manually in cold or lukewarm water and dried well before putting them back into the vac. 
Q: Does a powerful motor mean more suction power?
A: Not necessarily. A final performance and suction power depend not only on the electric motor amperage but also on the overall design, filtration system, and efficient airflow. Thus, to deliver the suction power comparable to that of full-size models, handheld vacuums often use cyclonic technologies to intensify the airflow not only to force the dust into a dust collector but also to increase the suction power.
Q: What shall I do if my vac loses suction power?
A: If you notice that your handheld vac is not that efficient as it used to be, there are several main reasons for that:
The dust bin is full and needs emptying. Handheld models are usually equipped with clear dust containers allowing you to see when it's time to empty it.
The

filter

gets

clogged with dust particles or hair and needs thorough cleaning to restore the suction force.

The nozzle or other detachable accessories get clogged. Make sure, there are no bit items stuck inside.
Q: Is a handheld vac suitable for sucking up water?
A: Most handheld models are meant for cleaning dry mess. Yet, there are mini vacs designed to tackle both dry and wet messes. Make sure to read the specifications of the vac you've chosen to know for sure whether or not it's suitable for wet cleaning. Picking up water with a dry-only appliance may lead to its breaking.