How often did you try to clean in between the sofa and armchair or get into the corners behind the furniture with a traditional vacuum
and failed? This is where a smaller handheld vacuum will come in handy. This super-smart and compact little helper will get where a full-size vac cannot reach making cleaning easy and hassle-free. Still, don't have one? Choose one of 5 top-rated models we've selected for you.
...
Read more
...Read less
X
This site is a free online resource that strives to offer helpful content and comparison features to its visitors. Please be advised that the operator of this site accepts advertising compensation from certain companies that appear on the site, and such compensation impacts the location and order in which the companies (and/or their products) are presented, and in some cases may also impact the scoring that is assigned to them. The scoring that appears on this site is determined by the site operator in its sole discretion, and should NOT be relied upon for accuracy purposes. In fact, Company/product listings on this page DO NOT imply endorsement by the site operator. Except as expressly set forth in our Terms of Use, all representations and warranties regarding the information presented on this page are disclaimed. The information which appears on this site is subject to change at any time. More info
Black & Decker BDH2000PL
Decent Power in a Cordless Format
The Black and Decker BDH2000PL vacuum cleaner is one of the best-selling mini vacs available on the modern market and for a good reason. With all the ease of use and maneuverability offered by handheld models, in most cases, they lack suction power and are more appropriate for occasional cleans. Yet, it's not the case with the BDH2000PL. See for yourself.
The unit boasts a compact size and cordless design that makes it ideal for quick on-the-spot vacuuming. The vac is light in weight and ergonomically shaped to let you handle it conveniently and clean in comfort without excess fatigue. Yet, the feature we love best about this vacuum cleaner is its high-capacity Li-ion battery. Packing 20 volts, it provides up to 17 minutes of continuous operation from a single charge. That's the longest run time as compared to other similar models in the same class. More to that, the recharge time makes only 6 minutes, which means you could easily use the vac for cleaning your whole house without wasting time for long recharges.
Despite its cordless design and compact dimensions, the BDH2000PL stands out for high performance. Fitted with a mighty motor that delivers consistently strong suction power, the vac can pick up all kinds of dust and debris, be it pet food, popcorn, and crumbs or fine particles, lint and hard-to-notice hairs. Furthermore, like other cordless Black & Decker vacs, the BDH2000PL is distinguished by the cutting-edge cyclonic action that spins rubbish away from the filter right into the dust container, thus, ensuring much more efficient cleaning results than other vacs of this kind.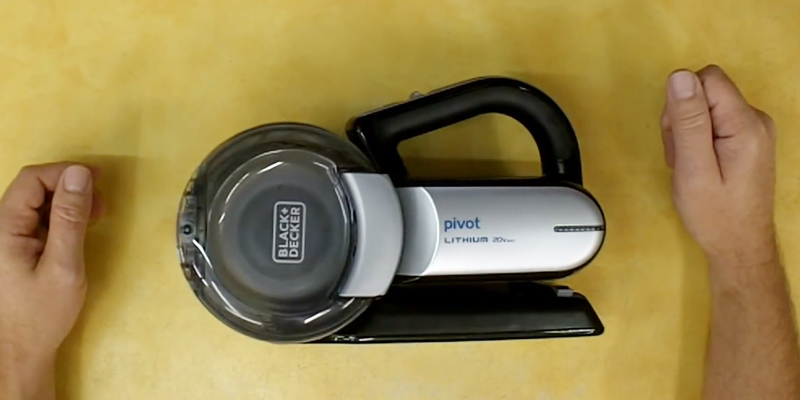 Thought-out Design Details
What else sets this handheld vacuum cleaner apart from other models is a thought-out design with an exclusive pivoting nozzle created to cope with odd jobs most traditional uprights can't handle. Unlike any common crevice tool, this one is able to pivot up to 200 degrees, so, it can reach far corners of your house, it is extendable and has a wide mouth allowing it to scoop up large debris. And it folds for a compact storage on a special charging base. Besides, the cleaner features a small flip-up brush that makes it suitable for cleaning delicate surfaces and upholstery. In all, though not very rich in attachments, the package includes a bundle of all tools needed for cleaning not only floors and carpets but also shelves, moldings, stairs, cupboards, beds, couches, car interior, etc. Add to that the power of the vac and what you get is a true workhorse able to tackle almost any cleaning job.
Speaking of usability features, the Black and Decker BDH2000PL features a 3-stage filtration system with a pleated filter designed to prevent clogging. A transparent dust container will let you monitor the amount of dust without opening the appliance and know when it's time to discard it.
All things considered, if you seek efficient cleaning performance in a compact format, you'll surely get it with the BDH2000PL handheld vac from Black and Decker.
Additional Info
Last updated price

$

79.14

Stock
In stock
ASIN

B00IOEFBKS
---
VIDEO
Black & Decker 20V MAX Lithium Pivot Hand Vac Review Model BDH2000PL
What customers say about this product
The unit folds up nicely and looks pretty smart on the counter with it's charging stand. Very convenient and spatially compact.
Battery life is pretty good, and the suction is pretty good for something this size.
Excellent product design both in terms of function and aesthetics.
I highly recommend this vac. Love the swivel feature too, which makes it convenient to reach just about anywhere (along with the built in brush and crevice tool attachments).
Black & Decker BDH2000PL
Homasy VTHMHM207AWUS
Cleans Everywhere
The Homasy handheld vacuum is a very efficient cleaner for daily use. Right off the bat, we would like to tell about its suction power, the biggest concern for most customers. The vacuum is designed with a 100W ultra-high power motor that can deliver fairly strong cyclonic suction to lift light or heavy debris. Once the dirt is sucked, it's filtered by a 0.3-micron cloth media. That means that the vacuum can suck out even unseen dust mites and bacteria hidden in your sofas and mattresses, let alone daily pet hair and other debris. The item has a 600-ml dirt cup and can collect quite a lot of debris per one go. Yet, the tradeoff for that large container is a bit heavyweight.
On the positive side, the Homasy cordless mini vacuum comes with a generous set of accessories. Besides the vac, the package includes 3 different types of attachments, a charging base, cleaning brush, and a pair of spare filters. Take note that even though the filter is washable, the manufacturer has thrown in an extra couple just in case.
With three attachments from a bundle, you'll be able to thoroughly clean upholstery, walls, stairs, corners, and other hard-to-reach areas while a unique rubber jar attachment will allow you to get rid of liquid messes, sucking up to 100 ml., which is a very handy addition.
Long Battery Life
Yet, the main strength of this mini vac is its incredible run time. It uses a 2200mAh high-capacity lithium-ion battery that provides up to 30 minutes of runtime. This is about the longest run time you can get right now, which coupled with a large dirt cup will let you clean several rooms with ease. Plus, you will be able to do so not only quickly, but also with no cables holding you back.
The most impressive thing is that the battery of this vacuum requires only 3-4 hours for a full recharge, which is much less than many similar models. Thanks to the indicators on the casing, you will know exactly when it is low on charge and it is necessary to recharge it. Also, the battery is armed with all types of protection, including protection against overheating, overcharging, short circuit protection, as well as input voltage/current. Finally, the battery can cycle up to 500 times that is about three times more than other brands.
All this makes the Homasy Portable Handheld Vacuum a perfect option for tough jobs and larger areas. It can clean just everything before its battery runs low.
Additional Info
Last updated price

$

51.97

Stock
May be out of stock
ASIN

B078YPBDST
---
Homasy VTHMHM207AWUS
Black & Decker CHV1410L
An Energy Saving Vac
The biggest flaw of all cordless models including the handheld ones is a pretty short operation time due to quick battery discharge. That's what makes cordless models more appropriate for occasional cleans. However, the Black & Decker CHV1410L is somewhat different at that point.
It's a brand-new model that has managed to conquer the market in a record amount of time. Like the rest of the models on the list, it is cord-free. Yet, what distinguishes it though, is longer battery life. The continuous runtime this handheld hoover provides per single battery charge is 20 minutes, which will let you complete quite a number of cleaning tasks. And the next thing you'll appreciate is charging time. It won't take you more than an hour to juice up the battery to the full. A feature that made such operation time optimization possible is a special Smart Charge technology applied in this model which helps not only to protect the battery from overcharging but also to reduce overall energy consumption by up to 50% and, as a result, prolong the runtime.
Though energy-saving, the CHV1410L comes fitted with a powerful electric motor that yields a voltage of up to 16 V that is quite a good output for a compact appliance. Besides, it maintains a consistent suction power, thanks to the Cyclonic Action technology, which spins all dust and small debris preventing the dust bowl and filter from clogging and ensuring flawless operation and efficient cleaning.
The CHV1410L is very easy to assemble/disassemble for cleaning. Despite the handheld design and overall small dimensions, the vac has quite a large bagless dirt bowl, which is very easy to remove and wash under the water. To ensure superior quality of cleaning, the manufacturer fitted the CHV1410L with a washable filter and pre-filter. By maintaining them clean, you'll ensure long performance and consistent suction power of your little cleaner.
... Ideal for Minor Cleans
When you plan a spring clean, you'll hardly be able to do without a full-scale vac but when your goal is a spot clean to pick up dust here and there, remove some food spills or something like that, a mighty handheld cleaner like the Black and Decker CHV1410L is a real savior. This small dustbuster is just right for handling cat and dog food, pet litter, dust, some ground around flower pots, small wood chips, ash, etc., all of these making it a versatile tool to use both inside and outside your house.
The vacuum cleaner comes complete with a standard number of functional nozzles to cover the most common cleaning chores. It has a relatively long narrow nozzle with an extendable crevice tool to pick up dust behind the furniture, in between the furniture, on shelves, picture frames, and in other hard-to-reach areas and tight spaces. The nozzle has an attached flip-up brush for cleaning upholstery and delicate surfaces prone to scratches and damages. By attaching this brush, you can use the CHV1410L for cleaning the interior of your car and save money on purchasing a special car vacuum cleaner. Even though there's a whole lot of attachments you could additionally buy for the CVB1410L, most users find the original package pretty much sufficient for regular cleaning jobs they have to handle around the house.
To resume, if an affordable and functional little vac is what you need for minor household cleans, you can't go wrong with the Black and Decker CHV1410L.
Additional Info
Last updated price

$

59.00

Stock
In stock
ASIN

B006LXOJC0
---
VIDEO
BLACK + DECKER CHV1410L 16 volt Lithium Cordless Dust Buster Hand Vac
What customers say about this product
Charging stand. The charger is a corded disc, and to charge you simply rest the vac on the plate. It is contoured so you can tell when the vac is seated correctly, and also the blue light comes on.
Light enough for the kids to clean up their own messes. They love using it!
Extending snout works well to get in-between seats in truck.
It works really well picking up kitty hair (we have four we rescued) on hard tile floors and dust bunnies. I love it for that.
Black & Decker CHV1410L
VacLife Handheld Vacuum
A Match for Thorough Cleans
Nifty smaller handheld vacs are perfect assistants in minor and on-the-spot cleans. Saving you the need to drag out your bulky canister vacuum, they help maintain multiple home surfaces spic and span. Yet, not all handheld vacs are the same. So, if you need a compact vac that will be capable of thorough cleaning, you can't go wrong with the VacLife.
Just like pretty much any cordless handheld model, the unit is fairly lightweight. At 2.59 lbs, it will be a breeze to handle and make cleans rather enjoyable than exhausting, especially given its cleaning performance. Packing 18V of power, this little gent will suck up dirt and dust almost like a full-scale beast while a smart bundle of accessories will further contribute to its functionality.
Thus, in the pack, you'll get three additional attachments. A crevice tool, which is common for all vac types, will easily sneak in between the sofa cushions and into tricky nooks and corners. A dust brush tool is meant for upholstery, rugs, and carpets and will work wonders picking up pet and human hair or other stubborn debris. And a soft extension hose is a great addition for reaching each and every corner of your car or cleaning at heights and on the shelves. That said, with the VacLife, you'll be able to tackle any medium or light-duty tasks around the house in close to no time.
Some other frills this handheld vac comes complete with include a built-in LED light that will let you conveniently clean in poorly lit spaces and enhance visibility when cleaning in the evening and a storage bag to neatly store the unit with all accompanying tools when not in use.
Highly Efficient Filtration
Doing a great job on all sorts of debris, the VacLife handheld vac also gives dust particles no chance to return into the air. One more standout feature of this model is a smartly designed HEPA filter. Made of stainless steel mesh, it will serve you for quite a while and can easily withstand up to 500 washes, with no impact on the filtering performance. In the meantime, it is times more efficient than paper filters. Multiple layers of super-fine mesh trap the dust and allergens to exhaust back relatively clean air. One other good piece of news is that the package comes complete with a bonus filter that will save you the need to buy any replacement parts for a long time.
The only gripe you might have about this vac is that it is somewhat hard to take apart for cleaning. Yet, once you get the hang of disassembly, it will be a quick and easy task next time.
Cutting down to the chase, despite its compactness and lightweight design, the VacLife is a mighty handheld vac that will be perfectly suitable for thorough cleans in spots and spaces where other vacs fail.
Last updated price

$

29.99

Stock
In stock
ASIN

B07XM5F1F3
---
VacLife Handheld Vacuum
BLACK + DECKER HHVI315JO42
Small but Mighty
What sells the Dustbuster from Black and Decker first and foremost is its portable design. The unit weighs only 2.11 pounds and measures not more than 13.0 x 7.9 x 5.3 inches, which makes it easy to handle without experiencing fatigue or strain in your arm. At the same time, it doesn't lack power and, despite being rather small, demonstrates strong performance, making an easy job of most light cleaning tasks, such as picking dust, debris, hair as well as dedusting upholstery.
Another highlight of the model is a wide mouth design which makes it much more efficient when it comes to collecting bigger debris like crumbs, cereals, etc. Because of a wider nose, the cleanup will take less time too, something you won't usually get with most other handheld vacuum cleaners. The list of benefits of this Black + Decker Dustbuster Vacuum doesn't end here though.
What's also remarkable about this model is an increased bowl capacity. While the vac looks so lightweight and small, it comes with a 31.8-oz dust bin, which both facilitates the unit's maintenance and gives more time for cleaning. Besides that, the vacuum provides a very decent run time. It works off a rechargeable battery that provides up to 20 minutes of operation. This is more than many other handheld vacuums offer, and it's a decent time to tackle the tough cleaning job.
The only culprit of the model is its charging time. After the battery is completely exhausted, you will need to charge it for up to 10 hours, which is objectively long. That said, recharging the thing in advance will solve that problem.
Only Essentials
With regards to the attachments that come included with this vacuum, there aren't too many of them, especially compared to other entries reviewed on this shortlist. However, you get everything needed for quick clean-ups - a crevice tool that will allow you to clean dirt in tight spots and a dusting brush for vacuuming upholstery and furniture.
It's worth noting that the BLACK+DECKER dusbuster doesn't bust dust, which is ironic for a vac with the name like this. Also, due to a wider mouth design, it does seem to miss pet hair sometimes, cleaning only up to 85% of it, which makes it a less suitable option for households with pets. However, all of these aren't real shortcomings of the unit, that is, unless you are not after a vacuum cleaner intended specifically for removing pet hair. For all the rest, it offers a great value for the money, covering most cleaning jobs around the house.
Additional Info
Last updated price

$

43.99

Stock
In stock
ASIN

B01DAI5BZ2
---
BLACK + DECKER HHVI315JO42
What Is a Handheld Vacuum?
Everybody knows what a vacuum cleaner is - this appliance is used in every home and apartment. However, a conventional corded vac is pretty bulky and quite difficult to get into tight spaces and narrow areas and it appears almost useless when you need to cope with rather tricky cleaning tasks such as cleaning sofas, couches, and armchairs, shelves, in between the furniture, etc. Need an alternative? There is one. It's a handheld vacuum cleaner. Being a smaller, more compact and portable version of a traditional vac, this handy appliance will make troublesome cleaning in hard-to-reach places as easy as never before. Commonly these are lightweight and easy-to-carry devices with ergonomic design and impressive suction power. Since it can go almost anywhere, the handheld vac is suitable for the whole variety of applications, be it removing dust from ceiling fans and behind TVs, cleaning pet rugs, removing spills, crumbs, and food remnants from any surfaces or cleaning car upholstery.
However, if you need a high-performing vacuum cleaner for cleaning large areas, check our review on canister vacuums that deliver extremely powerful suction and can remove the finest dust.
What Features to Compare
Design
All handheld vacuums fall into two major categories. There are cordless models powered by rechargeable batteries and corded vacs powered from the mains. No need to say, that when you seek a fully independent operation and want to use your dustbuster literary anywhere, a cordless model will be preferable. Along with portability, another good thing about any cordless handheld vacuum is that it is always ready for use. No need to unwrap a cord and look for a power socket. Simply turn it on and start cleaning. Yet, you should always remember to check the battery charge. The main advantages of corded models are powerful performance and continuous operation. The only con is the working area limited by the length of a power cord. Though these models usually feature pretty long cords and you can also use an extension.
Power
It is important to consider the power of an electric motor that a handheld vacuum comes fitted with. The more power the motor generates, the higher suction level it will create and the better overall appliance performance it will deliver at the end. It's notable that any corded handheld vacuum cleaner will appear more powerful than its cordless rivals.
Attachments
If you are going to clean narrow crevices you must be sure your vac can handle it. To tackle different kinds of surfaces and coatings, mini vacuums usually come packed with a number of handy attachments. Some models feature a special pet hair brush which is a must-have item for any pet owner, especially if you have a long-haired cat or dog or even several pets. Meanwhile, a rubber contour nozzle will help you efficiently clean smooth marble, stone, and glass surfaces and a crevice tool will cope with dirt and dust in places that are too tight for a brush roll.
Usability
For easy and convenient use, almost all models are ergonomically designed and feature comfortable handles ensuring a secure grip for long-term operation without fatigue. On top of that, most modern mini vacs are equipped with efficient filters to capture all the dust and remove it from the airflow to protect you from breathing it in. It's a highly helpful option, especially for allergy and asthma sufferers.
FAQ:
Q: Do I really need a handheld vacuum cleaner?
A: No housekeeping arsenal is complete without a vacuum cleaner. No matter whether you live in a large homestead or a city apartment, you're likely to own a full-size vacuum cleaner, be it an upright or canister model. When it comes to handheld models, they aren't designed to replace a tradition vac; the primary purpose of a handheld vacuum is to clean in those spaces and areas where a conventional vacuum cleaner cannot get to. Usually, these are tight spaces between walls, hard-to-reach areas under and in-between the furniture, stairs, corners, picture frames, shelves, air vents, ceiling fans and chandeliers. If you've ever tried to clean in these spaces using a full-sized vac, you know how difficult this may be. That's where having a handheld vac will prove useful. Small and powerful, handheld vacuum cleaners are best suited for performing quick clean-ups around the house and in a car. If you perform clean-ups on a daily basis, and if you do not like an idea of dragging around a bulky vac, purchasing a handheld vacuum cleaner may become a great solution making these chores for you a breeze.
Q: Bagless vs bagged filters
A: Most handheld vacuums apply bagless filtration system. Such systems are easier to clean and maintain and you can easily dispose of the dust and dirt without the need to replace the bags. Eventually, bagless system allows you to save your budget on buying replacement bags. Yet, there is one advantage of bagged models over bagless ones. A bag filter is a more hygienic option securely trapping all debris, dust particles and possibly bacteria and allergens inside. For this reason, bag filters are recommended for allergy sufferers.
Q: How shall I clean the filter unit?
A: Bagless filters require regular cleaning, depending on how often you use the vac and what kinds of debris you use it for. Generally, the filter requires cleaning every 2-4 weeks. As a rule, filters need to be washed manually in cold or lukewarm water and dried well before putting them back into the vac. 
Q: Does a powerful motor mean more suction power?
A: Not necessarily. A final performance and suction power depend not only on the electric motor amperage but also on the overall design, filtration system, and efficient airflow. Thus, to deliver the suction power comparable to that of full-size models, handheld vacuums often use cyclonic technologies to intensify the airflow not only to force the dust into a dust collector but also to increase the suction power.
Q: What shall I do if my vac loses suction power?
A: If you notice that your handheld vac is not that efficient as it used to be, there are several main reasons for that:
The dust bin is full and needs emptying. Handheld models are usually equipped with clear dust containers allowing you to see when it's time to empty it.
The

filter

gets

clogged with dust particles or hair and needs thorough cleaning to restore the suction force.

The nozzle or other detachable accessories get clogged. Make sure, there are no bit items stuck inside.
Q: Is a handheld vac suitable for sucking up water?
A: Most handheld models are meant for cleaning dry mess. Yet, there are mini vacs designed to tackle both dry and wet messes. Make sure to read the specifications of the vac you've chosen to know for sure whether or not it's suitable for wet cleaning. Picking up water with a dry-only appliance may lead to its breaking.