Mini vacuums are compact, lightweight, agile, and powerful to clean up small messes. They easily suck up dust or crumbs in hard-to-get
places around the house. Actually, they can reach just any spot where a full-size vac usually fails, so it's really an essential appliance in your household. For this review, we have selected the best mini vacuums that can make cleaning easy and hassle-free.
...
Read more
...Read less
X
This site is a free online resource that strives to offer helpful content and comparison features to its visitors. Please be advised that the operator of this site accepts advertising compensation from certain companies that appear on the site, and such compensation impacts the location and order in which the companies (and/or their products) are presented, and in some cases may also impact the scoring that is assigned to them. The scoring that appears on this site is determined by the site operator in its sole discretion, and should NOT be relied upon for accuracy purposes. In fact, Company/product listings on this page DO NOT imply endorsement by the site operator. Except as expressly set forth in our Terms of Use, all representations and warranties regarding the information presented on this page are disclaimed. The information which appears on this site is subject to change at any time. More info
Shark WV201 WANDVAC
Ultra Sophisticated
Trying to make cleaning as effortless as possible, Shark has come up with the new ION W1 vac, an extremely lightweight and portable dustbuster. It boasts a stylish design, weighs only 1.4 pounds and is very easy to maneuver, thanks to its sleek and compact construction, which is certainly a very beneficial feature, especially for elderly people or those individuals with limited mobility.
Another great thing that contributes to the ease of use is single-touch emptying. You simply need to push the latch to release the dust container, and all the debris will fall out right into the trash bin. This way is quick, simple, and, more importantly, hygienic - no getting your hands dirty.
Despite incredibly light weight and small dimensions, the ION W1 has very strong suction. Equipped with a high-speed brushless motor, this little beast delivers an 80-air watt suction, which is almost twice more than other cordless vacuums offer. Hence, it easily picks up both large debris and fine dust. However, the price for this unbelievable suction is relatively short run time. After a full charge, it runs about 15 minutes and even less (5-10 minutes) if used on tough surfaces. On the upside, it charges fairly quickly compared to other models - only 2.5 hours for a full charge. So, the vac can quickly get back in business.
The best thing is that the cleaner comes with the ION charging dock that can always keep it ready for work. Both the vacuum and the charger look stylish, meaning you won't need to hide them in the closet when not in use. This dustbuster really looks nice sitting on a countertop, desktop, or any other prominent places.
Excellent for Pet Owners
The thing that makes this dustbuster very appealing for pet owners is a special Multi-Surface Pet Tool that comes in the set. Using this attachment, you'll be able to increase the cleaning path up to 3.6 inches and remove per hair from tough surfaces like carpets and upholstery. And if you need to clean car interior or other tight spaces, you can benefit from using the Duster Crevice Tool.
The vac has a pre-filter screen to capture larger debris and a fabric filter to trap smaller particles and dust. The filters are washable, meaning you can save much money on replacements in the long run. The manufacturer recommends rinsing the filters under lukewarm water once a month to keep the vacuum working on its peak performance.
All in all, this handy little vacuum has lots of uses around the house. It has enough power to remove a pet's hairballs from furniture, bugs from corners, dust from hanging pictures, and more. The Shark ION W1 is the answer to the everyday messes.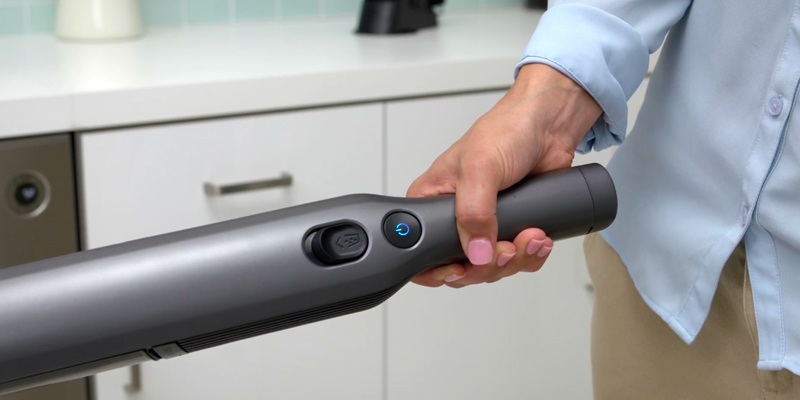 Additional Info
Last updated price

$

119.99

Stock
In stock
ASIN

B07FX5K4D6
---
Shark WV201 WANDVAC
Homasy VTHMHM207AWUS
Cleans Everywhere
The Homasy handheld vacuum is a very efficient cleaner for daily use. Right off the bat, we would like to tell about its suction power, the biggest concern for most customers. The vacuum is designed with a 100W ultra-high power motor that can deliver fairly strong cyclonic suction to lift light or heavy debris. Once the dirt is sucked, it's filtered by a 0.3-micron cloth media. That means that the vacuum can suck out even unseen dust mites and bacteria hidden in your sofas and mattresses, let alone daily pet hair and other debris. The item has a 600-ml dirt cup and can collect quite a lot of debris per one go. Yet, the tradeoff for that large container is a bit heavy weight.
On the positive side, the Homasy cordless mini vacuum comes with a generous set of accessories. Besides the vac, the package includes 3 different types of attachments, a charging base, cleaning brush, and a pair of spare filters. Take note that even though the filter is washable, the manufacturer has thrown in an extra couple just in case.
With 3 attachments, you'll be able to thoroughly clean upholstery, walls, stairs, corners, and other hard-to-reach areas. And the unique rubber jar attachment enables you to suck up to 100ml of liquid if need be. Very handy addition.
Long Battery Life
Yet, the main strength of this mini vac is its incredible run time. It uses a 2200mAh high-capacity lithium-ion battery that provides up to 30 minutes of runtime. That said, Homasy vacuum possesses one of the longest run time on the market of handheld cleaners. 30-minute battery life along with a large dirt cup will be more than enough to cover cleaning needs from your kitchen to bedroom. And all that with no power cord to hold you back.
Surprisingly, this capacious battery requires just 3-4 hours for replenishment. You won't need to wait forever for a full battery and will be able to monitor the battery status due to indicators on the casing. Also, it's worth mentioning that the battery has overheating protection, overcharging protection, short circuit protection, as well as input voltage/current protection. On top of that, the battery can cycle up to 500 times that is approx 3 times more than other brands.
All this makes the Homasy Portable Handheld Vacuum a perfect option for tough jobs and large houses. It can clean just everything before its battery runs low.
Additional Info
Last updated price

$

51.97

Stock
May be out of stock
ASIN

B078YPBDST
---
Homasy VTHMHM207AWUS
Black & Decker HNV220BCZ10FF
For Small Cleaning Jobs
Need something light, simple, and affordable for little cleaning jobs around the house? Then this BLACK+DECKER Handheld Vacuum can be a solid fit for you. It's small, competitively priced, and seems to be powerful enough for small jobs. The item is simple in operation and all you have to do to get started is push and hold "ON" button. Once the button is released, the vacuum will turn off.
This mini vacuum produces 16 air watts that are fine for picking up small messes like spills, dust bunnies, and other small debris from carpet, hardwood, and hard floor. This hand vac can really have many uses around the house. For example, it can clean kitchen tables, office desks, chairs, or countertops. Also, you can use it to remove dust from a computer keyboard or for cleaning other electronics. Moreover, you can use it on window sills, corners or any other areas where a full-sized hoover just can't get to. It can even vacuum inside your fridge to effectively remove crumbs. Or it may clean excess lint on top of your dryer.
Actually, you can find many uses for this little helper. The only thing to remember is that it's sufficient for 10-15 min cleanups only. And the bagless dirt bowl isn't that capacious accordingly - it's 12.5 oz. Yet, we believe that's enough for small messes.
Simple Operation
What we particularly like about this vacuum is that it's unpretentious in maintenance. It comes with a charging wall mount and a base allowing for one-step charging and storage. The "docking" stand is small and neat-looking, so it's unlikely to spoil the integrity of your interior. The set includes two screws (and molly bolts if needed) that enable you to quickly mount the charging base to a wall. We find this permanent installation quite handy as the dock will never get lost. Plus, it allows you to store the vacuum docked on the stand when not in use. Hence, it will always be charged and ready for use.
As for the maintenance of the device, you can use mild soap and damp cloth to clean the casing of the vac. To clean the dust bowl and filter, you should remove both of them and wash in warm soapy water. The filter must be replaced every 6-9 months and it's not a problem to get one - they are easily available from your BLACK+DECKER dealer and do not cost an arm and leg.

All in all, this mini vac is an excellent appliance for cleaning small messes. It's lightweight, reasonably powerful, simple to use, and requires low maintenance.
Additional Info
Last updated price

$

29.99

Stock
In stock
ASIN

B01DAWQU12
---
Black & Decker HNV220BCZ10FF
HOTOR Car Vacuum
Keep it Clean
The vac from HOTOR is a pretty good option for people who absolutely cannot stand seeing their car filthy and messy. That said, you don't have to be a neat freak to appreciate all that it has to offer.
As it is with most appliances, it is the power of the machine that is often the biggest deciding factor to its worth. Fortunately, there's not much to complain about here on that front. It may not seem like the most imposing tool out there but the 12v will easily handle just about anything you'll throw its way. The vac easily picks up dry leaves, crumbs, dust, and anything of the kind.
Of course, it is a bit of a different issue with trash stuck in the carpet. If you do not loosen it beforehand, this handheld car vacuum probably won't be able to lift it up. But that is where the complementary main brush comes in. With it, you'll be able to break up some of that trash and dirt. After that, the vac will pick it up with ease.
Along with that brush, you'll get a crevice tube that will allow you to clean the cracks in the car. That tube will also prove to be quite useful if you intend to use the vacuum around the house, especially in the kitchen, with its multitude of household appliances.
In addition to the brush and the crevice tool, the manufacturers have included a soft long tube. Using the latter, you'll be able to clean some of the more hard-to-reach areas.
Take it With You
Other than that, there really isn't much left to say here. Unlike most other entries on our list, the model features a corded design. Some view it as a disadvantage but there's actually quite a bit of an upside to it as well.
First, it uses your car cigarette lighter as the source of energy, so you won't have to bother recharging the battery between every cleaning session. Furthermore, the 16-foot cord is long enough to reach any part of the car.
The vacuum cleaner comes equipped with LED backlighting, so poor lighting conditions won't stand between you and a clean car. On top of that vacuum and all of the attachments, you'll get a zippered carrying case. There's enough space in it for the cleaner itself and all of the additional parts. With it, you will be able to carry it with you, leave it inside your car, or rotate between the trunk and garage.
Again, whether you're the kind of person who likes to keep his car clean and neat or you're the type to only clean it once in a blue moon, the HOTOR UK000109BL car vacuum cleaner will be able to match your needs. Plus, the vac doesn't make a whole lot of noise.
Last updated price

$

0.00

Stock
May be out of stock
ASIN

B07FXRRHWT
---
HOTOR Car Vacuum
RYTEK ZY-3301-A
Versatile Vac
Meet the premium car cleaner, the RYTEK handheld vacuum that looks fantastic and works even better. Although it costs less than other vacs from big names, you'll be able to see that it's a high-quality product immediately after unpackaging. The vac not only looks like a premium model, it also works like one.

The strength of the RYTEK is a powerful built-in motor. With 120 Watts power output, it allows picking up all kinds of debris, both large and fine, and makes this job super quick. Besides, it is also suitable for removing wet debris and stains, making it an affordable alternative to big wet-dry vacs.

What further adds scores to this vac is that, while being small in size, it is able to clean dirt in one quick pass, sparing you the trouble to go over the same area several times. This helps reduce time and makes the process of cleaning less daunting. Plus, the RYTEK handheld vacuum operates very silently; compared to some other entries on this list, this one hardly produces any noise.

Further down the list is the package, which is very good here. Out of the box, the item is supplied with a bunch of additional accessories. It includes a crevice tool for reaching tight corners, a soft hose for cleaning in the nooks and crannies under seats and a brush attachment for scraping pet hair and other fine debris from upholstery. The latter will also come in handy when you need to clean the interior of your car.

So Convenient
Obviously, with such performance under the hood, you can't expect this vac to be cordless. This is a corded model that provides a great amount of power to handle various types of dirt. To power it up, you have a long cord reaching 16 feet in length and the option to charge it through a cigarette lighter. This all makes it possible to use it not only indoors but also outdoors when cleaning garden furniture, your vehicle, or in the shed. Along with a long power cord, this model boasts a very lightweight construction letting you easily carry it in hands. So, although this isn't a cordless model, handling it is still very convenient. As a nice bonus, the manufacturer supplies the vac with a storage bag where you can stow it away when not in use or transport, if you choose to keep it in a car.

So, no matter whether you need a cleaner to live in your vehicle or the one to take with you, the RYTEK handheld vac will fit the bill.

Last updated price

$

0.00

Stock
May be out of stock
ASIN

B07NCJW742
---
RYTEK ZY-3301-A
What Is a Mini Vacuum?
A mini vacuum is one of those modern conveniences that can make our life better. It's a very compact appliance that delivers unbelievable suction to remove small messes in a single touch of a button. Naturally, because of the compact design, this type of vacuums is very lightweight and easy to handle. Plus, it allows you to get in all those nooks and crannies where a full-size vac fails. A little vac can easily reach those tricky corners behind the furniture, in-between couch and armchair, behind TVs, under car seats, and other hard-to-get places. Also, this easy-to-carry device can be just indispensable for cleaning small messes left by kids or pets here and there. Simply put, a mini vac is suitable for the wide array of applications indoors and outdoors. Of course, it's not a substitution for a conventional hoover, as it's not as powerful and has a smaller dirt cup. Nonetheless, it's another must-have thing in your household that can make quick cleanups easy and hassle-free. That's why we have rounded up the best mini vacuum cleaners you can benefit from in numerous ways.
Actually, there is pretty much to take into account when choosing a little handheld vac, and below, we're trying to shed light on the major aspects worth your consideration.

What Features to Compare
Type
Mini vacuum cleaners fall into two main types - cordless and corded models.

Cordless vacs are naturally more portable. They are powered by rechargeable batteries and have no cords to hinder your movement and limit your cleaning area. They can be used just anywhere. Besides portability, the other good thing about cordless handheld vacs is that they are always ready for use if charged timely. You won't need to unwrap a power cord and look for a power outlet nearby. Simply turn it on and go. However, the trade-off for those conveniences is a relatively short run time and decreased performance. That's why cordless mini vacuums are mainly good for light cleaning jobs.
As for corded dustbusters, they are less independent but more powerful. They deliver strong suction power and continuous operation. The only gripe is that you'll be restricted by the length of a power cord. Though, you can use extensions if needed.
Performance

As mentioned, corded vacs appear to be more powerful than their cordless rivals; however, that's not true for all dustbusters. So, always check the suction power of a chosen model prior to purchasing. The more power a vac offers, the more debris it will be able to suck per one go.
If you make your choice in favor of cordless mini vacuum, check the battery capacity as well. This aspect will determine how long you will be able to vacuum without a need to recharge the unit. By the way, charging time also matters. The quicker, the better. Who knows when you kid spills Cola the next time or your pup do a mess on your carpet?
Attachments

The set of extra accessories defines what type of surfaces you'll be able to clean with ease. For example, if you are going to clean narrow corners and other tight spots, a crevice tool will be a welcome addition. Upholstery and car interior? Special brush attachment will be able to tackle that. Need to reach hanging picture frames on walls or remove spider webs from a ceiling? Look for an additional extra-long hose. Last but not least, you can benefit from a special pet hair brush if you own a pup or cat.
Filtration

Most mini vacuum cleaners come with the filters that can keep all collected dirt inside the bin. The filters trap all the dust to protect you from breathing it in, which is very important for allergy and asthma sufferers. Vacs with HEPA filters are considered the best since they not only sift dust but also purify the air. Plus, they need no replacement.
Did you know?
Before the Invention of Handheld Vacs
The vacuums have a very long history. The very first carpet sweeper was created in the 1860s by Daniel Hess. It was powered manually and used bellows on top to create suction power and two water chambers to trap dirt. It was too bulky and never mass produced.
Another early model, the "Whirlwind" sweeping machine was patented by Ives W. McGaffey. Although it was awkward to operate, it was commercially marketed.
The first powered cleaner, "pneumatic carpet renovator" was invented at the end of the 19th century. Later, the powered vacuums have undergone many improvements but remained "luxury" for families. Only after the Second World War, hoovers become a popular household item among the middle class. Canister type models were the most popular for domestic use.
Today, upright vacuums are most popular in the US, while canister cleaners dominate in the European market.
It Was the Moon Science That Gave Us the Dustbuster
When you use a mini vac to clean up dirt around your house, you probably see no connection between this handy appliance and outer space, right? But actually, it's the moon science that has given us this modern wonder. So, let's dive deeper into details and figure out how it all began.
The Black & Decker company has cooperated with NASA for some time. Between 1963 and 1972 the Black & Decker engineers developed inner mechanisms for the devices used during Apollo, Moon-landing project. Namely, one of the main tasks of Apollo 11 astronauts was to gather lunar rock and soil samples and bring them to Earth. A special drill was required for that, a drill that could penetrate hard lunar surfaces. Black & Decker produced that special drill using a magnetized motor that was powered by batteries. Later on, the same technology proved to be useful on Earth as well. Using the same parameters as it did for the lunar drill, the Black & Decker company manufactured a range of cordless tools for different applications. The DustBuster was one of them. It was introduced to the mass market in January 1979. It weighed less than two pounds and had enough suction power to suck up dust or crumbs in hard-to-reach places. It was the first battery-operated handheld vac ever.
Dry or Wet
Do you know that today, you can find handheld mini vacuums for wet cleaning? Just like dry vacuums, they contain a motor that supplies power to the fan. But in wet vacs, this fan takes liquid and debris, whilst moving the air through the nozzle. Also, these cleaners are designed in such a way so as to prevent the liquid from getting in the internal components. Some models are fitted with a filter cartridge which separates dirt and liquid, while others come with a special liquid-collection cup that should be attached to their nozzle.