Flatbed scanners are the most popular photo scanning devices thanks to their high-quality features. The market is overflown with
these devices. Our flatbed scanner review will help you choose one of 5 best flatbed scanners on the market to digitize your images and documents.
...
Read more
...Read less
X
This site is a free online resource that strives to offer helpful content and comparison features to its visitors. Please be advised that the operator of this site accepts advertising compensation from certain companies that appear on the site, and such compensation impacts the location and order in which the companies (and/or their products) are presented, and in some cases may also impact the scoring that is assigned to them. The scoring that appears on this site is determined by the site operator in its sole discretion, and should NOT be relied upon for accuracy purposes. In fact, Company/product listings on this page DO NOT imply endorsement by the site operator. Except as expressly set forth in our Terms of Use, all representations and warranties regarding the information presented on this page are disclaimed. The information which appears on this site is subject to change at any time. More info
Epson Perfection V600
Type and Size
Epson Perfection V600 is a desktop flatbed scanner. The size of the glass allows scanning A4 images and 3D objects (8.5" x 11.7"). On the front panel, there are 4 quick-scan buttons to make a fast digital copy and send it via e-mail or instantly convert into PDF. These large flatbed scanners are connected to computers via USB 2.0 interface but they are also compatible with the USB 3.0. V600 is supported by most modern operating systems. And the pre-installed TWAIN and WIA drivers enable all the scanner-supportive applications to work with this device.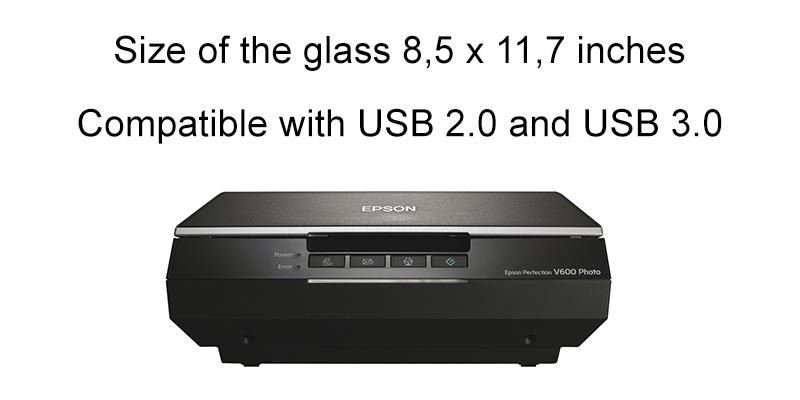 Scanning Quality
This best flatbed photo scanner has an Epson MatrixCCD™ linear array with an optical resolution of 6400 dpi. And the 48-bit color depth allows reproducing colors with high precision, really close to being identical to the original picture. Parameters like these make it possible to scan photos for further editing and printing without any distortion. Same as most large flatbed scanners, this Epson flatbed scanner uses an LED lamp. This type of lamps does not need time to heat up, so your high-resolution flatbed scanner for Mac and Windows is always ready to work. The scanning speed depends on the dpi you set. For example, to preview the page you will need to wait 4 seconds, and scanning of an A4 sheet at 300 dpi will take 28 seconds or less. Scanning of 4" x 6" photo at 400 dpi will take approximately 18 seconds.
Additional Features
Epson Perfection V600 high-resolution flatbed scanner works perfectly well with the 35mm film and 6 x 22 cm medium-format film (there are 2 film holders), so you will be able to digitize old films from your collection. The DIGITAL ICE technology will help you restore your time-damaged photos at least partially. This technology performs analysis in the infrared range, so it senses only mechanical defects. Your computer uses this information to re-touch the photo where it is damaged. The image aligning feature automatically recognizes the photo angle on the glass and aligns the scanned image the right way. Color Restoration will fix the digital copies of your old photos with color correction. Also, this high-resolution flatbed scanner for Mac and Windows is shipped with the software to simplify your interaction with the scanned images. Epson Creativity Suite will help you quickly and easily send the images via email, post them online, or just change their size and resolution. ABBYY FineReader Sprint is able to recognize the printed text and convert it into the formats appropriate for text-editing applications. Owing to the Epson Scan app, configuration and scanning are going to be a snap.
Additional Info
Last updated price

$

229.99

Stock
In stock
ASIN

B002OEBMRU
---
What customers say about this product
Plus, this Epson also scans paper photographic prints because it's a flatbed.
The main things I'm scanning is 35mm negatives and 35mm slides and boy do I have a lot of them!!! I only scan prints if I don't have the negative or slide for them.
I have since solved the issue of it crashing. Somehow the software set itself for compatibility to Windows Vista. I've switched it back to Windows 10 and it has been running smooth like it should be. Hope that might help some people.
Epson Perfection V600
Xerox DocuMate 3220 Duplex Color
Type and Size
Xerox DocuMate 3220 is a duplex scanner, meaning it's a two-in-one device. You can use it as a flatbed scanner or load your documents to the ADF and leave them to be scanned automatically with a sheetfed option. Either way, it will be really fast. The sheet sizes are A4 standard 8.5" x 11.7". To start the operation, just connect the scanner to your computer via a USB cable and install all the necessary drivers from the disc included in the shipping package. The software includes TWAIN and WIA drivers.
Scanning Quality
The optical resolution of this ADF/Flatbed scanner by Xerox is 600 dpi, and we assure you it provides some great quality! You can scan two sides simultaneously too, so making a digital copy of a dual-sided document is a piece of cake. The color depth is general 24 bit, which is the second best among popular devices. Xerox DocuMate 3220 makes 34 color images per minute at 150 dpi and 23 black-and-white images at 200 dpi.
Additional Features
A single button pushed, and your document is scanned! The easiest task there is, it saves you a lot of time. With a Visioneer Acuity, you will be able to edit your document by cropping it and removing the background where it is necessary. There is also an option to save your files in PDF format for fast and convenient indication. OmniPage Pro will recognize the text to forward it to your mobile devices and edit in office apps.
Last updated price

$

0.00

Stock
May be out of stock
ASIN

B004HWXMVG
---
VIDEO
Visioneer TV: Xerox Documate 3220 Setup and Installation
Xerox DocuMate 3220 Duplex Color
Canon Office Products LiDE120
Type and Size
Canon Office Products LiDE120 is also a desktop flatbed scanner. To scan your documents with it, you will need to place the sheet on the unmovable glass and the mobile ruler with the lamp along with the reading array will scan it. This Canon flatbed scanner scans one A4 image at a time. The data are transferred via a USB 2.0 or higher interface. This Canon reflective scanner is powered the same way too, so you will only need one cord for it to work. The model is compatible with most of the operating systems popular on the market. And it also supports the WIA and TWAIN drivers, so that you could easily use it from any application with the scanning feature.
Scanning Quality
The flatbed photo scanner from Canon features a Contact Image Sensor (CIS) with a 2400 dpi optical resolution to make high-quality copies of documents and photos. A 48-bit color depth allows for digitizing all available colors and gradations without losses, so when you finish the scanning, you will receive a picture that is an exact copy of the original. This high-resolution flatbed scanner also provides a good speed of the scanning array. For example, scanning of an A4 sheet will take 16 seconds at the 300 dpi resolution. Note that the scanning speed depends greatly on the quality settings and the document type.
Additional Features
With Canon Office Products LiDE120 flatbed photo scanner, you will be able to send your digitized documents and photos directly to the cloud, just set the compatible software, like Evernote or Dropbox. Autocorrection will help you enhance text and images in the digitized documents. The Auto Photo Fix will automatically analyze the image and optimize the correction settings so that the image gets more vivid and realistic. Also, the software will be of great use for removing small defects, like scratches and dust. This reflective scanner features 4 buttons for quick operation. With them, you will easily copy the document, convert it to PDF, send via e-mail, and turn on the auto recognition of a document type. The latter is for saving the digital copy in the appropriate format.
Last updated price

$

299.99

Stock
In stock
ASIN

B00LN0NUOO
---
VIDEO
Canon Scanner LiDE 120 Unboxing, Hands On & Review
Canon Office Products LiDE120
Canon CanoScan 9000F MKII
All of Your Most Important Moments
While searching for a desktop scanner with a variety of features and the ability to make high-quality digital copies, we, of course, included several models by one of the leading manufacturers. Canon CanoScan 9000F happened to be among them. The first thing that we have found appealing was its stylish design and convenient placement of buttons. The switching between options is really simple. Then we dug deeper and found the slide and film scanning feature. Being the last generation that had our photos taken on film instead of digitally, we find this feature extremely useful. Now, if you wish, you can digitalize all your family archive including the negatives for the photos that had faded with time or got lost or damaged. To scan a 35 mm film, you will need only 18 seconds of your time. And the photos will be at a resolution of up to 1200 dpi, which is quite clear. And a task as simple as scanning your average A4 sheet of paper at 300 dpi will take mere 7 seconds.
We think this flatbed scanner is good enough not only for home but for office use too. It has all the necessary features to scan and process the information and provide you some quality images. You can also create email attachments with only a few clicks. Save your time, use Canon CanoScan 9000F MKII Color Image Scanner.
Why Negatives?
Many experts agree that scanning negatives can give you images of higher quality than with scanning a printed photo. The reason for that is that the photo has its own resolution that limits the options for scanning. You can improve such scan a bit, but not very much. At the same time, scanning a negative means scanning the original image. Also, the negatives have higher contrast, so the image you obtain will come out much clearer. If you plan on saving your photos for years to come, make them the best you can. Scan the negatives.
Additional Items
Additional Info
Last updated price

$

0.00

Stock
May be out of stock
ASIN

B00AGV7TQG
---
VIDEO
CanoScan 9000F Mark II Film Scanner Review
What customers say about this product
Very quiet, fast operation, with high color resolution.
ScanGear (or IJ Utility included within the Canon Driver package) are useful and apparently adequate. ScanGear's Advanced menu without thumbnails appears to be very similar to Linux XSane with having a few additional customizations.
The quality of the scans is excellent; i mean really extremely good.
Canon CanoScan 9000F MKII
Doxie Flip
Type and Size
Doxie Flip was designed as a flatbed scanner, but it is much smaller than its competitors. The scanning surface amounts to the A6 format, so you will fit a 4" x 6" image there. It has no exact connectivity interface, the data are saved on an SD card, from which you can later copy them to your computer, smartphone, or tablet. There is a card reader for connecting the SD card to your PC. This reflective scanner is powered by 4 AA batteries. The distinctive feature of this portable flatbed scanner is its transparent scanning window. Remove the lid, place the scanner upside down on your photo, and watch the scanning process. It will allow you to position the picture you scan the right way. It is also possible to leave the lid up, as this wireless flatbed scanner can automatically define the object's borders and color the rest in black. The device weighs 1.26 lbs. so carrying it around will require no real efforts.
Scanning Quality
With this portable flatbed scanner, you will be able to digitize images at the resolution of up to 600 dpi. These numbers mean you will receive clear and precise high-quality copies, good enough not only for uploading to the Internet but also for further printing. And the quality of such printed image will be top-notch. The scanning speed at the standard resolution (300 dpi) is 7 seconds, and the batteries hold the charge long enough for you to create approximately 200 copies. If you decide you need a higher resolution and increase it to 600 dpi, the scanning will take 15-20 seconds. The digitized document is saved in JPEG, PDF, or PNG, depending on the data type it contains.
Additional Features
On the front panel of this wireless flatbed scanner, you will find a colored LED display and 5 navigation buttons. The buttons are intended to change the scanner settings, set the date and time, adjust the turn-off time. In the top part of the display, on the status bar, you will see the battery life indicator and the number of the copies left. The digitizing status is also displayed there. On the side panel, there are the On/Off button, the memory card slot, and the Scan button. Such placement of buttons is convenient when you flip the reflective scanner for scanning. You will need Doxie's software on your PC to edit images. It allows you to edit photos quickly and to send the scanned reproductions directly to the cloud storage. The AutoStitch Doxie feature finds several images that overlap and then stitches them together and creates one large seamless image. So, the small size of this wonderful portable flatbed scanner won't stop you from scanning large pictures. And the Intelligent Auto Adjust function automatically recognizes document's contents and crops it to the desired size.
Last updated price

$

0.00

Stock
May be out of stock
ASIN

B00E00FSDU
---
VIDEO
Doxie Flip Portable Flatbed Scanner w/ Auto Stitch SD Card & Case with Meghan Murray
Doxie Flip
What is a Flatbed Scanner
Nowadays, storing your data digitally is getting more and more popular (and convenient). Up-to-date photo and video cameras record data on digital media. Most documentation processes also involve computers; the data is stored on servers, and not in large dusty storage rooms like years ago. In a digital format, the information can be stored for much longer than its paper-based equivalent. But this is all true about modern devices. What if you had old photos and important documents? You'd want to prolong their life and not to worry about the paper being torn or damaged any other way. This is what the flatbed scanners were created for. High resolution and other parameters will allow you to digitize your photos with maximum precision to save them forever. Or you can scan documents to transfer the data from paper to your computer and, for example, send it all via e-mail to your business partners, friends, or relatives. With some models, you can even scan old slides, films, and negatives, and the flatbed film scanner will automatically convert the colors. A pile of documents can now be stored on a single USB-storage device.
If you need to scan a lot of documents (for example, in the office), you may be interested in our shortlist of Document Scanners with automatic sheet feed for scanning.
What Features to Compare
Mostly, flatbed scanners are multifunctional devices. But there are actually models with particular features. And they can be of different sizes. Decide on what documents you would like to make digital copies of, and after that choose the scanner's Type. The most often people need to scan documents and photos and for this purpose a desktop flatbed scanner is perfect: you just put the picture on the glass surface, under which a scanning array moves, and the device does the rest. These models are easy to find, affordable, and user-friendly. Their only downside is usually a bulky size. If you aim at scanning a moderate amount of documents and your desk space is limited, then a sheetfed scanner might be a better choice. Such models have an unmoving scanning array, and the scanning itself is performed by dragging the paper sheet through the device. They are small in size and portable, but you will be able to scan only separate sheets, such devices can't digitize a book or a booklet. There are reflective scanners that can be used anywhere, they are called portable. They are, too, small in size and allow you to scan 4" x 6" images, but at the same time, the software of such portable flatbed scanners is able to join few scanned images into one. Before making the final decision, we recommend you to find out its weight: you wouldn't enjoy carrying a heavy device around, would you? The variety of connectivity options is also helpful, and the wireless option will make it easier to place the scanner anywhere you feel convenient. Also, if you are looking for a portable model of a flatbed photo scanner, be sure to check the time it works on a battery.
The main purpose of reflective scanners is to digitize images. And the higher the Scanning Quality is, the better the device is. The main parameter affecting the said quality is the scanning resolution. A higher resolution gives you a more detailed digital image, though it takes more time to complete. For text documents, it is enough to have 200–300 dpi, but if you are scanning an image you are going to edit or magnify further, then the resolution of 600 dpi will be better. The next important parameter is the color depth. It shows how precisely the color will be displayed when digitized. The color depth is measured in bits, and every color has 8 bits of data. Scanners operate in an RGB three-color range, therefore, the 24-bit color depth is usually enough to display colors pretty accurately. And, of course, it is important to look at the flatbed photo scanner's scanning speed. Usually, the manufacturers indicate this parameter in averages, but some tend to point out the minimum time needed for low-quality scanning. Also, note that with changing the scanning resolution the time also changes.
Finally, there are Additional Features of the scanner that widen its potential. There are reflective scanners that can scan old photo films and slides and, thus, have additional modules to do so. Such an option will be interesting to those who have a large collection of negatives at home. The technologies for image correction, automatic content recognition, or the option to cut the scanned area will simplify the digitizing of large quantities of images. With the feature that allows sending files directly to the Cloud Storage, you will not have to worry about forgotten or accidentally deleted photos. And the software supplied with the device itself will make it easy to edit photos or recognize and edit the text.